If there was one thing I knew before I visited York, it was that it has an incredible food and drink scene.
There are so many quirky and unique places to eat in York you'll be spoilt for choice. You know the kind; a little bit out of the ordinary, something different, bizarre even, and most likely… haunted!
The city of York is famous for its ghost walks and some pubs even have their own resident ghosts! A place with that much history is bound to have a few ghouls lying in wait for an innocent victim to come along… just kidding!
But seriously, though. People don't talk lightly of it.
Many have told tales of ghosts they've spotted in the bars (city gates in York), pubs, churches, graveyards, and old buildings.
So, if you're feeling peckish and a little bit brave, I'll let you in on where you can find them!
Beyond the ghosts, there are also some amazing places to eat in York that are extraordinary and unique.
A train carriage, a Viking bar with drinking horns, a shop selling potions, it's all there waiting for you. Here are the 9 unique places to eat in York you cannot miss!
10 quirky and haunted places to eat in York
1. House of the Trembling Madness
Okay, even the name of this place sounds cool right?! The building where the quirky House of the Trembling Madness is located is over 700 years old and has its own hauntings!
They also regularly hold séances of the occult to pierce the veil of the spirit world. As you walk into the old building you'll see timber-framed ceilings and taxidermy heads on the walls!
There are chairs made from beer barrels and tables are romantically lit by candlelight.
As above and so below, their bar and shop have an incredibly diverse collection of craft beers and ales from all over the world!
So, you'll be struggling to choose. I went for their draft beer called Gloria. It was utterly delicious.
The House of the Trembling Madness also has its own Madness Apartment for rent. So, if you're feeling brave, you can see if you can last the night in there or spot one of the spirits that haunt it!
2. Guy Fawkes Inn
If you don't know who Guy Fawkes is and you're in York, let's get you informed! Guy Fawkes, or Guido Fawkes, is infamous in the UK as the man who tried to blow up parliament.
He's the reason that we celebrate Bonfire night on November 5th each year. It's a bit grizzly really, but we celebrate it because of his execution!
You may have heard the famous rhyme in school or from the movie V for Vendetta. But, there's so much more to it!
"Remember, remember, the Fifth of NovemberGunpowder treason and plot I see no reason why gunpowder treason Should ever be forgot"
People in the UK will light bonfires, let off fireworks, make straw figures and ask for a 'penny for the guy', eat bonfire toffee, toffee apples, and much more on that night.
Even to this very day. It's a tradition that's been passed down since his death in 1606.
Who is Guy Fawkes?
Guy Fawkes was born in York in 1570 in Stonegate and went to school in the city too.
He eventually sold his estate in York and fought in the Eighty Years War for Catholic Christian Spain.
On his return to England, James I is on the throne who is a Protestant Christian and Guy Fawkes doesn't like that very much. He denounces James I calling him a heretic along with his Scottish pals.
So, he plans to blow up parliament with eight Catholic conspirators who want to assassinate the Protestant King James.
Unfortunately, the Gunpowder Plot backfires when they send a letter to Lord Monteagle to
"retyre youre self into yowre contee whence yow maye expect the event in safti for … they shall receyve a terrible blowe this parleament".
Long story short, Guy gets caught, jailed, and tortured in the Tower of London, tried at Westminster and hung drawn and quartered in London with his head put on a pike.
His body was ordered to be cut and dispatched to the "four corners of the Kingdom" as a warning to other traitors.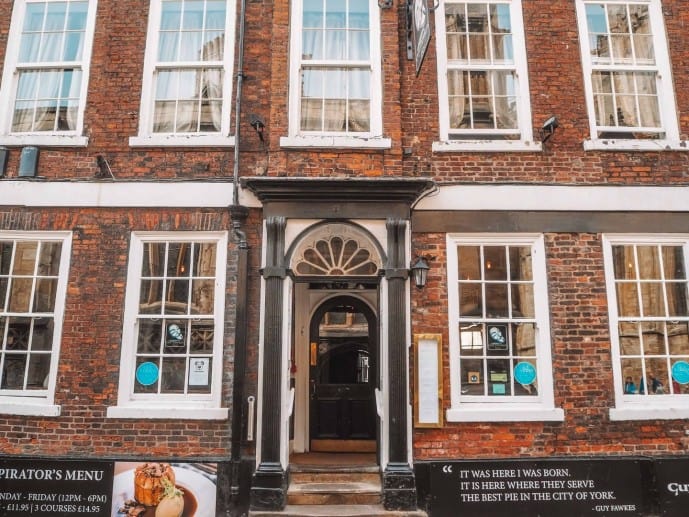 Guy Fawkes Inn today
Today in York you can visit the place he was born that is now converted into an awesome pub and guesthouse called the Guy Fawkes Inn! You can pop in for tea, local ale, or some pub food.
It's famous for ghost hunting, so you may find a few more spirits than the ones in your glass…
3. The Golden Fleece
The Golden Fleece is a famous pub in York in a building that dates back to 1503, making it one of York's oldest inns. The pub was licensed in 1668.
Opposite the Shambles, it was once owned by John Peckett who used to be the mayor of York. It's famously haunted by his wife Lady Alice Peckett, who walks the corridors, and the staircases and moves furniture to her bidding.
14 other spectres have been sighted here, including a Canadian airman who fell to his death, Roman soldiers, a young Victorian boy trampled to death, and One-Eyed Jack, a red coat who sits at the bar with his pistol.
It was featured on the Most Haunted TV series in 2005 and still has signs about it today. You can pop in for a drink at their pub, enjoy some tasty pub grub or stay at their Inn to do some ghost hunting of your own should you dare.
WARNING: This is Yorks's most haunted pub and one of England's most haunted sites!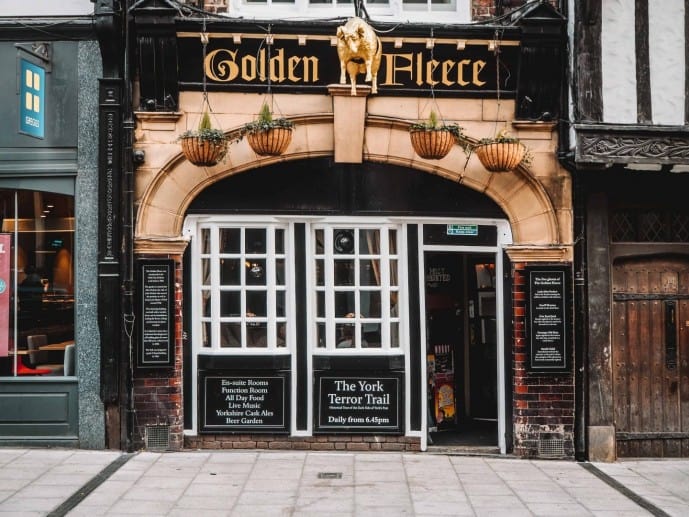 4. Ye Olde Starre Inne
The Ye Olde Starre Inne is York's most historic pub, a Grade II listed building that dates back to 1644, making it the oldest licensed pub in the city. It was licensed the year that the Roundheads took siege of York.
When you're walking through Stonegate, you cannot miss the famous street sign that hangs above it from 1733 calling you inside.
'The Old Star' refers to a nickname given to King Charles I, a monarch on the throne at the time. As you walk through the medieval snickelway, you'll find a pub with a great atmosphere welcoming you in.
Here, you can get some great pub food and find a fine selection of cask ales including their own Starre Inne Ale that they brew exclusively for the pub.
It does have its own resident ghosts including two cats that were bricked up alive which I was horrified to find out was a custom at the time!
There's also a British Royalist officer from the 17th century who stands in a red coat and beaver hat. Some have heard blood-curdling screams of dying officers in the cellar too!
5. The King's Arms
The King's Arms is another famous pub in York that's known for its flooding. It even has a flood meter as evidence on the wall. But that doesn't stop it being It's one of the busiest pubs in the whole city!
It's located on King's Staith which is right on the River Ouse. As the city has two rivers flowing through it, the River Ouse and River Foss, York is more susceptible to floods. In the year 2000, York suffered the worst flood in 350 years!
The King's Arms is located in a 17th-century building but wasn't licensed as a pub until around 1783. It also took the name of Ouse Bridge Inn until it went back to the original King's Arms in 1974.
Their sign has Richard III out front, a famous king from the House of York and the last of the Plantagenet dynasty.
He is popular in the city as he halved the cities tax burden. But, he is also known for controversially taking the crown over his nephew Edward V.
Edward was one of the two 'Princes in the Tower' who mysteriously disappeared after they were found, illegitimate successors. Richard III eventually died in the Battle of Bosworth when Henry Tudor (Henry VII) took the crown.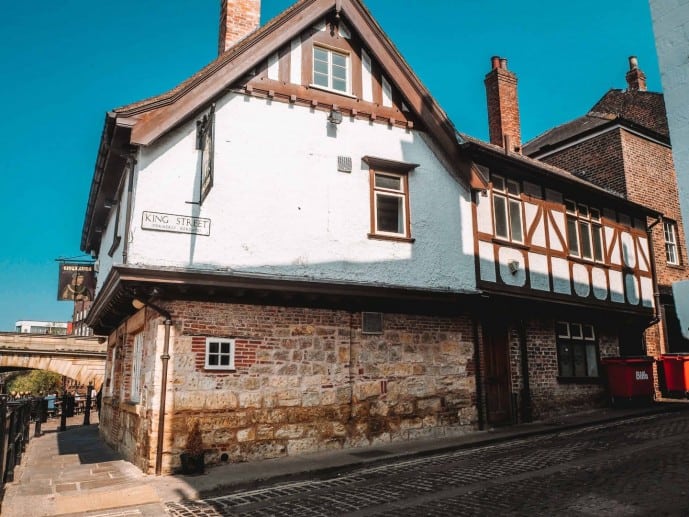 6. The Potions Cauldron
This is more of a café but it's a truly magical one! The Potions Cauldron is located at The Shambles number 9 ¾!
The Shambles is famous for being the finest example of a medieval street in England but also the inspiration for J.K. Rowling to invent Diagon Alley.
York has really taken on the Harry Potter theme and the Potions Cauldron is no different.
But, what I loved about this Harry Potter shop is that it's more of an experience than just a gift shop.
Here you can create your own slush puppy potion drink, have a coffee or a flat witch with your own chocolate frog and buy dragon eggs and Butter Beer too!
Don't forget to be sorted by their sorting hat, see their castle of Hogwarts made out of Lego, and pose for being a wanted wizard! Oops, sorry Ministry of Magic!
For more information on Harry Potter spots in York, you can see my guide here!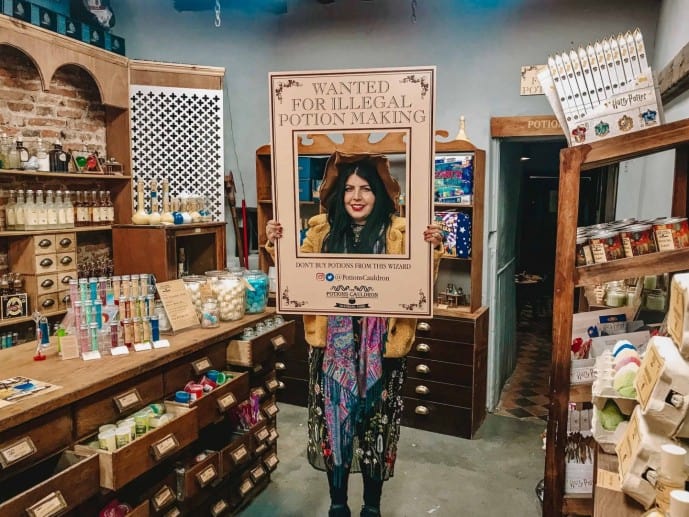 7. The Countess of York
If you're looking for unique spots to eat in York, the Countess of York should be at the top of your list!
This is a luxury dining experience like no other, I mean, when else can you say you've dined onboard a carriage used in the Orient Express?
The Countess of York is a beautifully restored 1956 Pullman-style rail carriage with a fascinating history.
First, it was a mail coach, then it worked for Bulmer's carrying crates, next it was used on the Orient Express, then was renamed Valiant and became a movie star!
Lastly, it was bought by the National Railway Museum, restored to its former glory, and sits proudly in their garden.
Today, you can board the Countess of York for some high-class dining on board and treat yourself to one of their magnificent afternoon teas.
I loved my experience here, so much so I wrote a Countess of York afternoon tea review for you to read.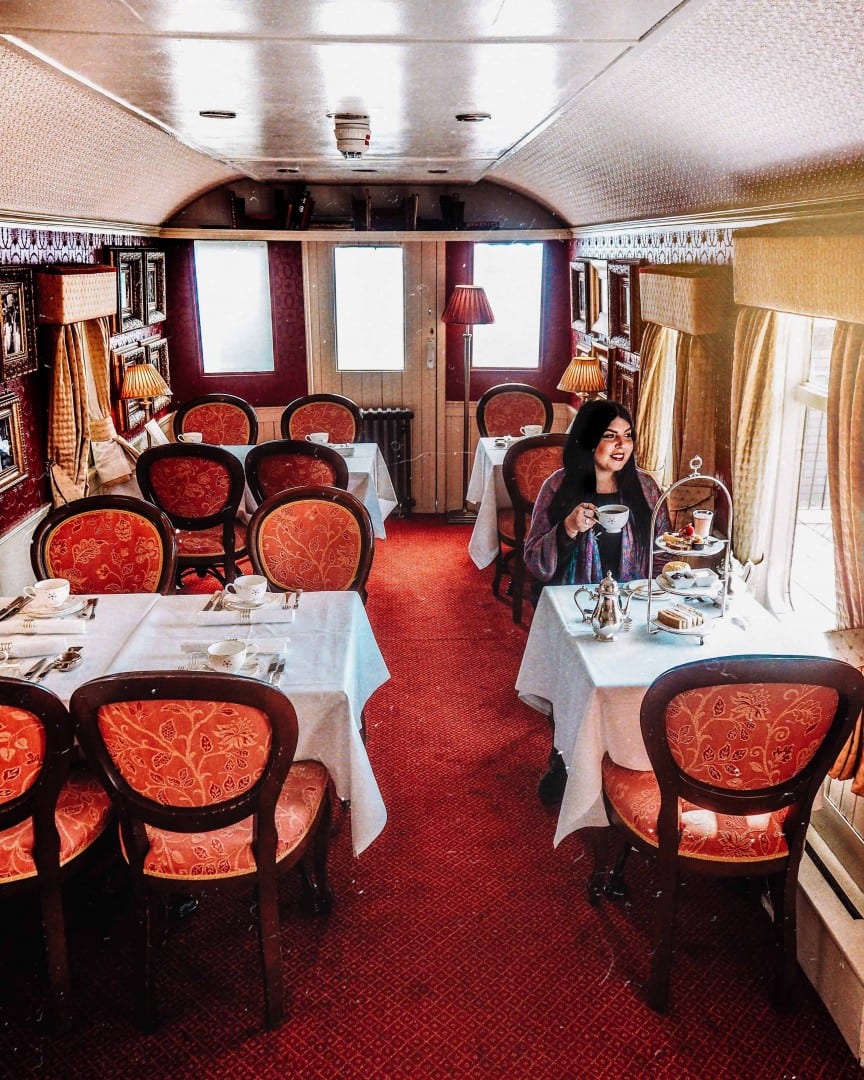 8. Valhalla Bar
Did you know that the Vikings invaded York in 866AD and called it Jorvik?
After the Coppergate dig from 1976, it allowed historians to better determine what happened and find objects to paint a more accurate picture of the era.
Today, you can visit the Jorvik Viking Centre to be transported back in time and even attend the annual Viking festival each year.
Personally, I couldn't wait to visit York as I love watching the Vikings! Seeing Ragnar Lothbrook in Lindisfarne and Ivar the Boneless take over York was fascinating. So, I wanted to experience it. There is no other place to visit if you love your Viking history than Valhalla Bar.
As soon as you walk in you'll see Viking Shields on the wall and long tables to sit on. They serve mead in Viking horns (deposit required) and some Viking-themed platters if you're feeling peckish.
I treated myself to Thor's platter, Son of Odin, God of Thunder.
It was like a Ploughman's with pie, cheese, ham, bread, and salad and washed it down with their Valhalla IPA. I would have ordered a Viking horn but as you can't put them down it would have been hard to eat my meal too!
They also do Odin's platter, All-Father, and The Sif Goddess of the Harvest. You can see their whole menu of offerings here.
9. The Black Swan Inn
Another haunted pub with its own resident ghost is The Black Swan Inn. The inn stands in Peasholme Green and dates back to the 15th century where it was a Merchant's house.
There have been many ghostly sightings including a man in a bowler hat, a black cat, a jilted bride who sits by the fire, a Victorian boy who's a pickpocket, and a Highwayman called Jack to name a few.
Apparently, their chair by the fire is cursed and there have been a pair of legs walking into the Landlord's flat!
If you're still feeling brave enough to pop in you can treat yourself in their bar or order some food from the kitchen. But, get in quick, they stop serving food around 7.45 pm.
10. Evil Eye Lounge
Last, but by no means least, is the Evil Eye Lounge.
This eye-catching cocktail bar and its entrance cannot be missed on Stonegate. It's almost like a speakeasy hidden behind their gin shop.
As well as specialising in cocktails they serve up some tasty Asian cuisine which makes a change from all the pubs on this list! You can see their menu here.
As the coolest hang-out in town, you may be waiting a while in the queue, but it's well worth the wait.
Fancy a York ghost walk or tour?
York has SO many Ghost walks to choose from and they range from £3 – £7 in price.
They all run on different days and from different locations so make sure you pop into the Visit York visitor centre to find out which one is happening that night. There's no need to reserve, you just turn up and pay your money to the guide.
Here, your ghost host will take you to all the haunted spots in York and tell you about the history and previous sightings. These ghost walks are really not to be missed, so make sure you leave time one evening while you're here!
Or you can go on a York Ghost Bus Tour or visit the York Dungeons to learn about famous criminals and torture!
Where to stay in York
If you're looking for a place to rest your head after all that ghost hunting then you must check into the Principal in York that has its own fair share of history.
Built at the same time as the York Central Railway station in 1878, it used to be called the Station Hotel to cater to tourists visiting the city.
Later it was taken over by the British Transport Hotel Company until it was privatised.
Today, it's owned by the Principal Hotel Company and it's a beautiful hotel property made of Scarborough brick. If you think that it looks like a palace from the outside, it's even more gorgeous inside!
It's right in the heart of the city centre where you can easily access all the main attractions on foot!
I had a junior suite that felt like it was made for royalty with a magical view of York Minster.
You can read my complete Principal in York review here!
Read more of my posts on Yorkshire
A complete Harry Potter Guide to York
The Shop That Must Not Be Named review
Having afternoon tea on the Countess of York
The odd story behind York's shortest street!
A day trip to Whitby to see Dracula
A go-to Whitby photography guide
Why you must visit Robin Hood's Bay
The top places to visit in Scarborough
The ultimate travel guide for Staithes
Like it? Pin it!