It will come as no surprise to many that the Welsh town of Hay-on-Wye is crammed full of amazing second hand bookshops. I mean, it is the World's First Book Town after all.
But, what do you do when all those incredible bookstores close their doors for the day? Well, don't despair. Your bookish dreams are not lost. You can still pay a visit to the Hay Castle Bookshop!
This 24-hour honesty store is perfect for those who may want a bit of a late-night read or book-haul.
It's a tradition that's been running here since the 1960s but it's the bookshop we never knew we needed in the 21st-century.
Want to know the best part? These open-air bookshelves are lovingly tucked away in the historic ruins of Hay Castle!
This accessible library is any bibliophile's dream and a haven for history lovers too. Here's a complete guide and why you must visit in Hay-on-Wye.
The history of Hay Castle
Of course, Hay Castle wasn't always a sanctuary for the written word. There weren't always bookshelves placed within these fortified walls. That's a relatively new addition.
However, this ancient stronghold has stood here for nearly 1000 years and has been a witness to nearly all of Hay's historic chapters.
It was originally constructed in the 1060s, around the time of the Norman Invasion of Britain.
This was the era where the Normans would build castles pretty much anywhere in Wales to advance on capturing land and asserting authority. Hence, why there are not one but two castles in Hay-on-Wye!
A century later, once the Normans had taken over the area, the de Braose family then rebuilt the fortification out of stone in the year 1200.
But, a Norman family living in Wales at that time was no easy feat. In fact, the castle was attacked and burned constantly in the name of Welsh independence!
You see, this castle on the English-Welsh border was an important chess piece in strategic warfare.
It started with the First and Second Baron Wars. Then, the war of the Welsh Princes and, finally, the rebellious Welsh Uprising led by Owain Glnydwr.
Later on, after all of Wales had been conquered, it also became caught up in the famous War of the Roses. This fought over the right to the English Crown.
It wasn't until the 17th century that the castle finally saw a bit of peace. This was when a Jacobean mansion was built alongside the medieval keep and it became a private residential home.
Unfortunately, the property again caught fire in 1939 which caused major damage. But, its future was about to change when a local entrepreneur from Hay would purchase Hay Castle and transform it into something new!
Introducing Richard Booth a.k.a the 'King of Hay'
Richard Booth is known as the founding father of this wonderful bookish town. He single-handedly transformed this sleepy rural parish into a vibrant independent economy!
It all started around the 1960s when Booth came to the realisation that many boys like himself leave their small towns in the countryside to go to university in the bigger cities. But, where does that leave the smaller, rural economies?
So, after he inherited his Uncle's estate, he decided to start the very first secondhand bookshop in Hay-on-Wye. It was called the Old Fire Station and opened in 1961. At this time, he also purchased Hay Castle to save it from ruin.
He opened up the castle grounds to the public and placed bookshelves outside to create an honesty bookshop.
Sometime later, Booth learned that many libraries in the USA were closing down. So, he immediately flew overseas, bought as many books as he could, and then opened up a dozen more bookshops in the town!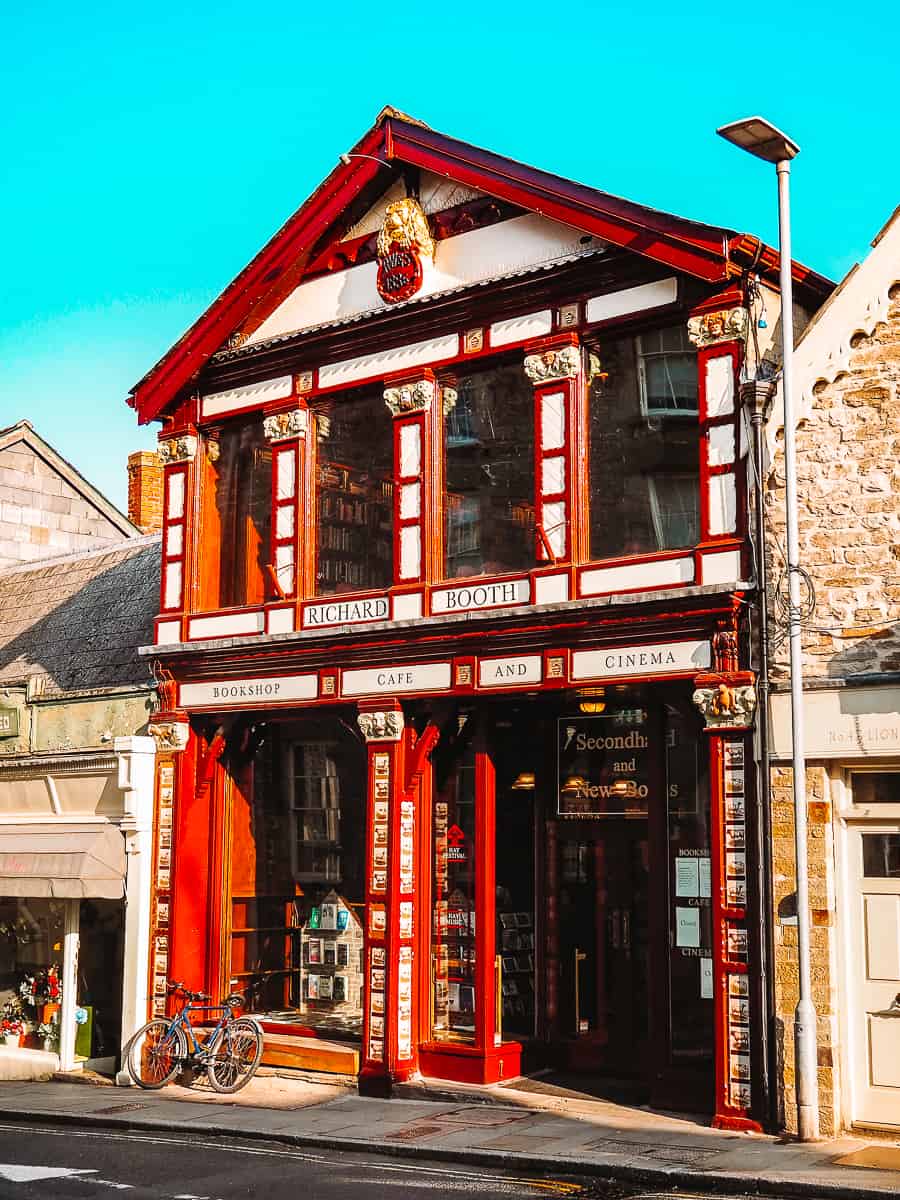 They proved extremely popular but Hay-on-Wye was truly put on the map when Richard Booth called himself the 'King of Hay'. This was in reaction to the governments' failure to support independent businesses.
He proclaimed that Hay-on-Wye was its very own sovereign state and he placed his throne within Hay Castle.
Although this move seemed bonkers to many, he became an overnight media sensation and tourism in Hay-on-Wye skyrocketed!
Ever since thousands of visitors descend on the town every year. This is further enhanced by the annual Hay Festival that is often called 'Woodstock for the mind'.
Although Richard Booth is no longer with us today, he leaves behind a literary legacy in Hay-on-Wye and a Book Town Empire! Many countries around the globe have now followed his example.
If you would like to learn more about the Booth legacy in Hay-on-Wye, click here to read this post!
Hay Castle Bookshop – A 24-hour honesty store!
The Hay Castle Book Store has been a tradition since the 1960s! That's well over 60 years now.
It started as part of Richard Booth's grand vision for this Book Town. One of his innovations was creating this open-air, fully self-service bookshop.
Although the town does have over 30 pre-loved bookstores today. The Hay Castle Bookshop is really unique and never fails to draw in the crowds.
Whether that be curious bookworms, passing tourists, or photographers who love to capture this bookish scene in amongst residential buildings.
There's something so magical about bookshelves being installed outside and within the old castle ruins. It's romantic and like something akin to a fairytale!
What's more is that this bookshop is accessible to all, 24 hours a day, every day of the year. So, there are no restrictions on visiting.
It's perfect for busy lifestyles, early risers, or those that fancy a twilight book haul!
Even though these bookshelves do now have rooftops, I have no idea how they keep them looking so fresh and dry. But, without fail, the shelves are lovingly restocked every week with new books.
There is a really diverse range you can find here too. From fictional novels, biographies, folios, history, mysteries, children's books, and poetry.
Make sure you plan some time to have a good rummage. You never know what you may find.
How much are books at Hay Castle Bookshop?
Although the books used to have different pricing for paperbacks and hardbacks. The honesty bookshop now has a fixed price of just £1 per book.
That's such a bargain as you can't get much for 100 pennies nowadays! But, I have to admit, I did struggle to buy just one book here. You may find those pounds add up in no time.
All proceeds go towards the restoration and upkeep of Hay Castle. So, bring your bookbag and dive deep!
But, how do you pay for them if there is no till or staff?
Honesty shops can be found all across the UK, mostly in quaint countryside villages. I've even seen them in Europe and the States.
You'll often find cottages that have little tables outside their homes selling potted plants, seeds, old books, baked goods, eggs, and even firewood.
Some countries have entire shops with groceries on offer and no one keeping an eye.
How it works is that you simply be honest. They set a price for their products and you pop your money through the letterbox. It's all about trust.
Or, in the Castle Book Stores case, you'd choose your books and pop £1 per book in the honesty box that hangs by the bookshelves.
Then you just leave and take your brand new books home with you. Simple as that. It's such a lovely concept!
How to find the Hay Castle honesty bookshop in Hay-on-Wye
Although this little gem is tucked away in Hay, it's easier to find than you would think. Just simply follow the old fortification walls along Castle Street.
Soon enough, you'll come across an old wooden door set in an archway that acts as a 'book passage' to the honesty shop!
You'll find the Hay Castle bookstore lies at the front entrance of Hay Castle. The shelves can be found on the bottom tier of the grounds against the ancient walls.
The easiest way to access Hay-on-Wye would be to drive. The Oxford Road Car Park is the preferred option and from there it's only a five-minute walk to the honesty shop.
Or, if you're using public transport, you can take a bus from the larger town of Hereford.
The nearest train station is also located in Hereford some twenty miles away. From here, you can take a bus connection to the book town.
Can you go inside Hay Castle?
Not yet. After Richard Booth decided to sell Hay Castle in 2011, it's now been taken over by the Hay Castle Charitable Trust.
Their aim is to transform it into a tourist attraction in the town and create a centre for heritage, education, and the arts.
It's currently undergoing a major renovation that aims to open its doors to the public soon. So, even the castle grounds are blocked off and covered in construction until then.
Unfortunately, this meant that over half of the Castle Honesty Book Store was closed on my visit. But, I was grateful there were still some shelves open to purchase from.
Click here to keep updated with developments
What other shops are owned by Hay Castle Trust?
Just because Hay Castle is currently closed for restoration, that doesn't mean you can't visit the other incredible shops owned by the Hay Castle Trust.
These can be found dotted around the town but most of them are centred in the colourful courtyard known locally as The Backfold.
They're easy to locate and you'll pass them as you walk into Hay-on-Wye from the Oxford Road Car Park. It's only a minute walk from there.
You'll find the incredible Hay Stacks Vinyl which also sells books and The Thoughtful Gardener amongst others. They are well worth popping in and taking a look!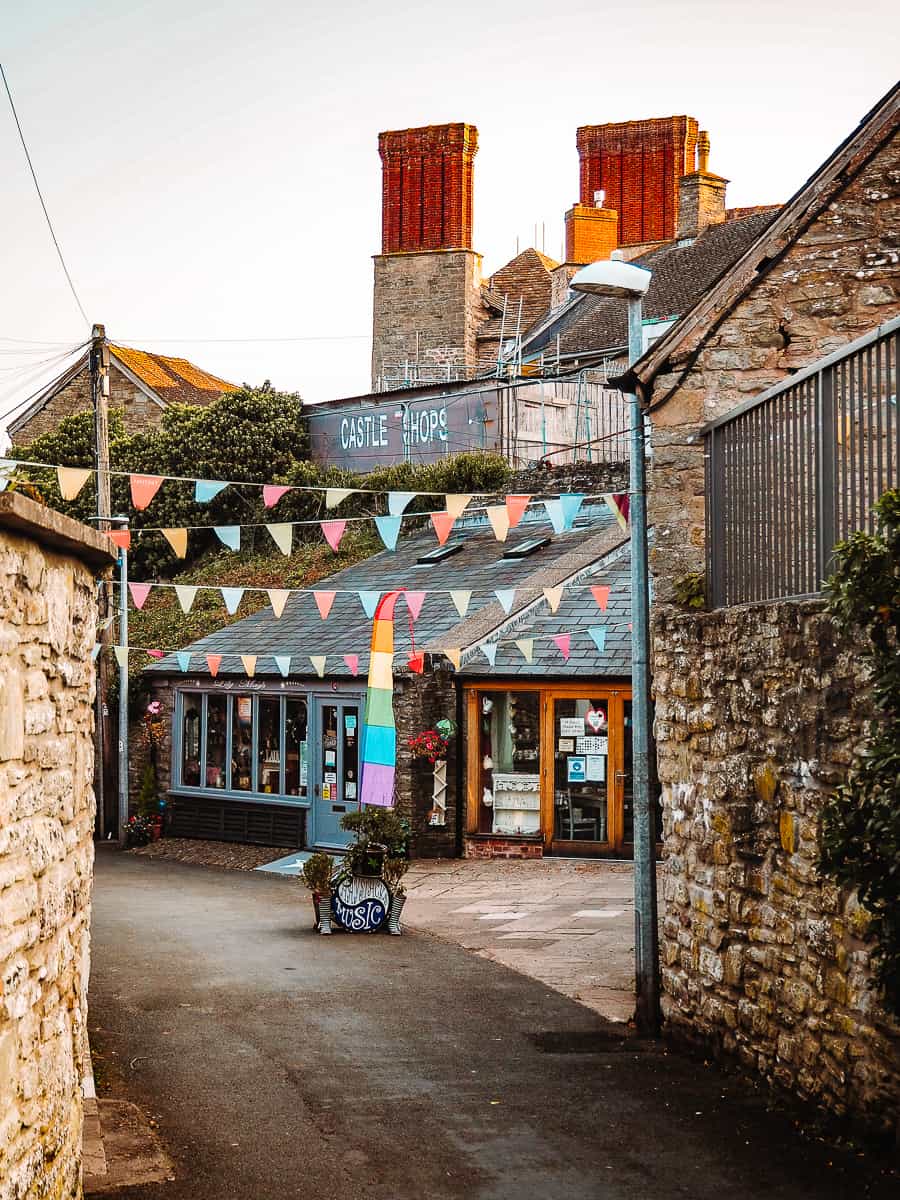 Looking for more amazing bookshops in Hay-on-Wye?
As Hay-on-Wye proudly boasts the title of the World's First Book Town, you're guaranteed to find a bookshop on nearly every street here!
It's a bibliophiles paradise and you can be sure to find a pre-loved bookshop that you'll love. There are so many to choose from and all have their own unique specialities.
First off, you must visit Richard Booth's Bookshop. It's where the tale of Hay-on-Wye first began, but beyond a first chapter, the bookshop is absolutely stunning. Make sure you also pop into their cafe and independent cinema too.
Another one of my favourites was the Murder and Mayhem bookshop owned by the Addyman group. They stock any sort of crime fiction, mystery, and true crime book you can think of!
Then, you can explore any number of second-hand bookshops in the town. From the Hay-on-Wye Booksellers, Clock Tower Books, and even the Cinema bookshop. You're bound to find something on your visit.
Click here to read a list of the best bookshops in Hay-on-Wye!
Read more of my related posts on South Wales
Exploring The Warren at Hay-on-Wye
Why you must see the crookedest church in Britain!
A complete guide for visiting Llanthony Priory
The very places to visit in Monmouth
A complete guide to the Monnow Bridge in Monmouth
How to find King Arthur's Cave in Wales
A complete guide for Crickhowell Bridge
Where to stay in Hay-on-Wye
The Swan at Hay – The Swan at Hay is one of the top rated hotels in the town that is situated in a delightful Georgian building. It's had a recent refurbishment so it's the perfect mix of traditional architecture but with modern conveniences. You'll get great views of the countryside from their boutique rooms plus you have the added benefit of a top rated restaurant onsite. Click here to book your stay.
The Old Black Lion – This traditional coaching inn has been providing weary travellers with a rest stop since the 17th century and is almost an institution in Hay-on-Wye. It stands on one of the original entry gates of the walled town from the 13th century. A colourful chapter in its history even saw Oliver Cromwell stay here while the Roundheads besieged Hay Castle! Nowadays, it's a comfy traditional inn. Click here to book.
Save this Hay Castle Honesty Bookshop guide for later!