Did you know that the tallest waterfall in South Wales is located in the Brecon Beacons? It's called Henrhyd Falls and it cascades in a gorge within the Nant Llech Valley.
It's almost 90 feet high and it's one of the only waterfalls in the UK that allows you to walk behind it!
Although many people flock to hike Waterfall Country, I would highly recommend choosing this hidden gem if you want to escape some of the crowds.
It's one of the easiest waterfalls to access in the Brecon Beacons and this spectacular cascade provides a wild swimming spot. Movie buffs may also recognise this place as a Batman filming location from the Dark Knight Rises!
Here's a complete guide on how to visit the incredible Henrhyd Falls.
The history of Henrhyd Falls
It is thought that Henrhyd Falls was formed millions of years ago and dates back to the last Ice Age.
Its formed by the Nant Llech river which is minor river in Powys. The name translates to 'slab stream' due to the sandstone that forms around the gorge.
Coal miners would often be found digging on this layer and the lip of this waterfall is nicknamed 'Farewell Rock'.
This is because the miners would say 'farewell' to it as there was little chance of finding coal below.
In the 1800s, the area was surveyed by a Canadian geologist called William Logan. He found some of the earliest fossilised trees! They are now on display outside Swansea Museum.
Today, the area is in the care of the National Trust and has risen to fame due to being a film location in the Dark Knight Rises!
Henrhyd Falls Batman filming location
You read that right, this remote waterfall in a sleepy area of the Brecon Beacons starred in a Hollywood blockbuster!
In the Dark Knight rises, you'll see Christian Bale as Bruce Wayne disappear through the waterfall to his Bat Cave. The production team didn't need any special effects as it really does look like that in real life!
Also, Joseph Gordon-Levitt makes a rather dramatic entrance through the falls by rope swinging into it! He then wades through the water inside, trying to discover the entrance to Batman's lair.
Although it is possible to walk behind this waterfall as Batman did, I'm sorry to be the one to disappoint you. There is no lake behind it leading you to a secret headquarters.
But, it's well worth a walk down here to discover what lies behind it for yourself!
Amazing Henrhyd falls facts
Henrhyd Falls is a 90 foot cascade which is the tallest in South Wales!
The falls are thought to have been formed near the end of the last Ice Age, millions of years ago.
It comes crashing though the Graig Llech Gorge into a small lagoon below which allows for wild swimming
The lip of this waterfall, made of sandstone, is nicknamed 'Farewell Rock'. Coal Miners used to dig this layer and say 'farewell' as there was little chance of finding coal below.
The area is a Site of Special Scientific Interest (SSSI). The erosion around the gorge of Nant Llech produces fossils. The Canadian geologist, William Edmund Logan, discovered some early fossilised trees and you can find them outside Swansea Museum.
This waterfall rose to fame in 2012 when it was featured as the entrance to the Bat Cave in the Dark Knight Rises starring Christian Bale.
It is one of only a few waterfalls in the UK that has a pathway that allows you to walk behind it.
When is the best time to visit?
Technically, there is no bad time to visit and Henrhyd falls is open every day, all year round. It will completely depend on what you would like to see!
A lot of visitors like to walk behind the waterfall and so the best time for this experience would be in late spring and summer. This is when the water flow is lowest and it would also be the safest time to go.
I visited in mid-September and the falls were a very light trickle. This meant I could explore the area without issue and walk behind the cascade.
But, on the other hand, many people like to see this waterfall when it's in full force and see the water crashing down into the lagoon below!
To see the waterfall at its heaviest, I would recommend visiting in late autumn and in the middle of winter.
You'll also get to see it like this when it's been raining really heavily for a few days. Which, admittedly, is not hard for Wales!
When it has been raining, be mindful that the walk to the waterfall will be a lot muckier and will require a good pair of waterproof walking shoes or wellies.
How to get to Henrhyd Falls in the Brecon Beacons
The tallest waterfall in South Wales can be found on the fringes of the Brecon Beacons National Park.
This is around 40 miles away from Cardiff and will be around an hours drive from there.
In the Brecon Beacons itself, you'll find this waterfall near to the attractions of Craig Y Nos Castle and the National Showcaves Centre for Wales.
It's the perfect add on for a trip to Pen-y-Fan, Penderyn Distillery, Dinas Rock or the Four Waterfalls Walk which is near to this area.
As it's in a remote location, the easiest way to access the waterfall walk would be to drive. However, be prepared for winding single track lanes!
The Henrhyd Falls postcode is SA10 9PH for the car park (33 Dol Henrhyd, Coelbren, Neath)
Camper vans may struggle to drive through these roads. There was a huge build-up on my visit due to a camper van coming head to head with another car! It was a bit of a nightmare and required lots of reversing back.
If you're not driving, there is a First Bus service that can drop you off on Dol Henrhyd road to access the walk around Nant Llech.
Henrhyd Falls Car Park
There is a FREE car park for those that are driving provided by the National Trust accessed at SA10 9PH. This is the best place to park and the closest you'll get to the waterfall.
It's a large gravel park that has plenty of spaces. However, this does tend to get full on weekends and bank holidays.
I would personally recommend visiting early morning or later in the evening during the week to avoid crowds. I ended up getting here around 5 pm on a Wednesday and there was barely anyone there.
If the free car park is full, I've read reviews that an overflow car park has now been provided by landowners in the area due to high demand.
It's not free though and it will cost a pretty steep £4 per car at an all day charge.
This is quite a lot considering the walk will take you an hour at most. It's not like the four waterfalls walk where it will take you half a day!
How long is the Henrhyd Falls walk & is it difficult?
Compared to other waterfalls in the Brecon Beacons, Henrhyd Falls is actually one of the easiest to access!
From the car park, the walk will take you around 20 minutes one way to reach the cascade through the valley. This is at a leisurely pace.
Although it's a short walk, it is rather steep and there are a lot of wooden steps, walkways and rugged terrain to traverse.
I have a hip dysplasia but I found the walk fine as it was quite short. The only challenge was the first hill and some slippy steps I managed to fall down which I will explain below.
If you find walking over uneven pathways difficult and steep inclines are a challenge this would not be the walk for you. It's definitely not accessible for wheelchairs or pushchairs.
What to expect on the walk down
From the car park, you'll find a helpful information board that provides some great details about the falls and the surrounding area.
From here, you can walk through a kissing gate and this will be the start of your walk down to Henrhyd Falls.
This first path will be the steepest one you take. There are a few benches on the side of the path that you can rest on if you need it.
After that, the walk is relatively flat save some wooden steps and a bridge that have been provided in the valley.
I don't know how I did it but I actually managed to slip down these steps on the way back from the falls. It was like I was going down a slide and hit every single step on the way down.
When I reached the bottom, I didn't move for a long time as I genuinely thought I wouldn't be able to get up and walk. I was alone, there was no one around and I had no signal on my phone so I panicked big time.
Luckily, I was fine. I didn't fracture my coccyx but it was really badly bruised which meant I couldn't walk or drive without my lower back muscles seizing up for weeks.
I can laugh about it now but at the time it was agony and it still hurts now when I sit for a long time – a few months later!
Once you're over these slippy steps, it's just a short walk through the forest to access the waterfall area. This will be quite rugged and can get boggy as there's little sunlight.
Learn from my painful lesson and really watch your step as you walk around here if it's been raining. Have a good pair of ankle-supporting shoes to support you and don't rush!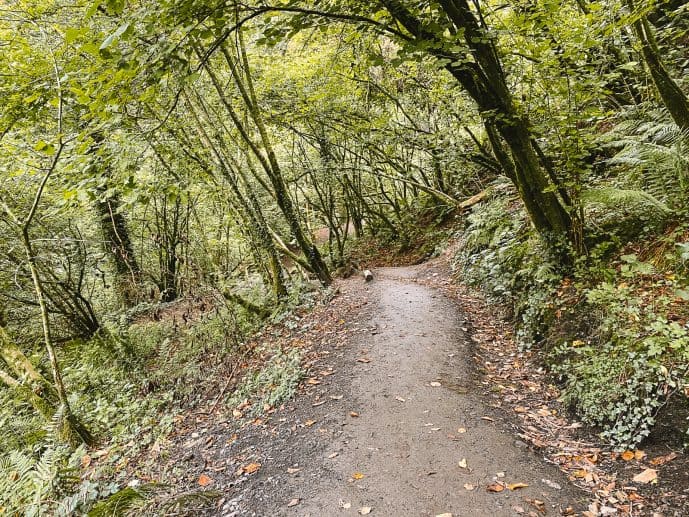 Watch the waterfall cascade from the viewpoint
Once you've arrived through the forest, you'll be amazed at what lies before you!
The enclosed wooded pathways open up to this massive circular gorge in the valley and you'll get a great view of the waterfall.
Even though the water flow was quite low on my visit, you could still feel the force of the cascade. There was water spraying everywhere and the fall made a racket as it crashed into the pool.
There is a small area around the lagoon that allows you to view it from afar. There are no benches or facilities down here but there are plenty of logs and rocks to perch on.
On my visit, a local artist was filming a music video so I got a little bit of a concert too!
Can you walk behind Henrhyd Falls?
YES, you can! One of the best parts about visiting this waterfall would be the fact that you can actually walk behind it!
Just like in the Batman movies, you can disappear inside and explore. Although you won't find a Bat Cave, you will definitely enjoy sitting behind the water awhile and watching it fall.
It was the first time I had ever walked behind a natural waterfall and I was amazed. Prepare to get wet!
The pathway to walk here, however, is not very exciting. It's a single-track pathway that is narrow and quite uneven which can get very slippy if it's been raining.
I found it quite a struggle. But, I took my time and you can use the gorge walls to lean on.
Always check to see if someone is walking the other way before you attempt it as there is not enough room for two people on this path.
If the waterfall is in full flow, it can be risky and dangerous to walk behind Henrhyd Falls. So, use your judgement and approach with caution.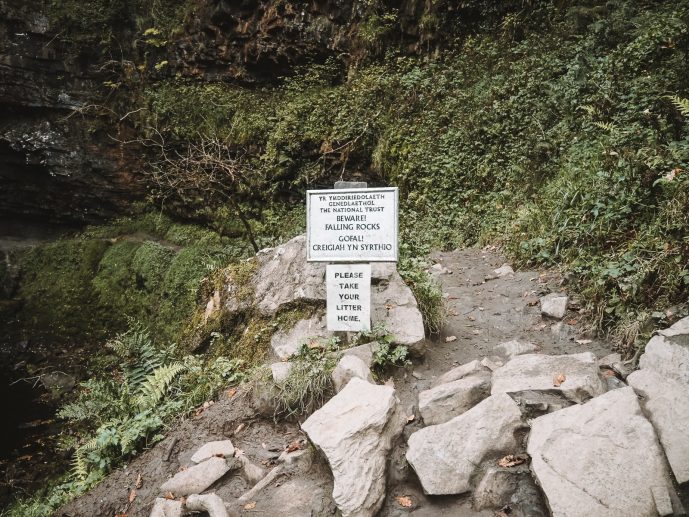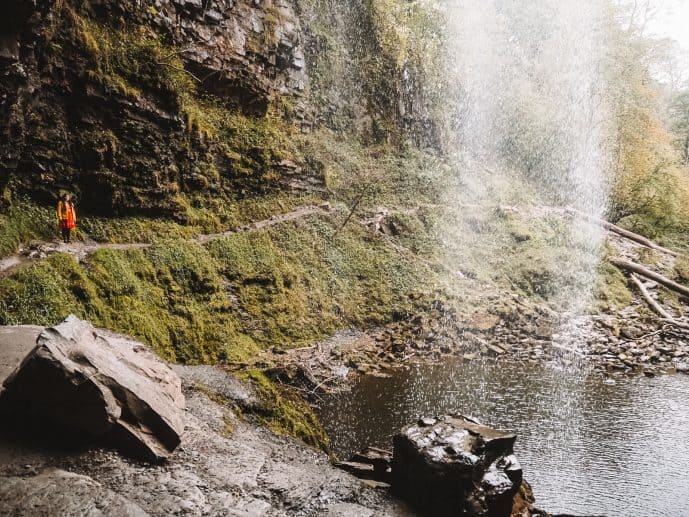 Can you swim in Henrhyd Falls?
Yep, you can do that too and it is one of the most magical experiences that you can have in the Brecon Beacons.
In the spring and summer, when the water levels are lower, the lagoon beneath the cascade creates the perfect place for wild swimming!
It will be cold but incredibly refreshing on a summers day, so make sure to bring a swimsuit.
On my visit, I couldn't see an easy pathway to access the water. There's a fair few rocks in the gorge. But, I guess, if there's a will there is a way!
Again, if the waterfall is in full force don't try to swim in there as it can be dangerous.
Continue onwards to Nant Llech waterfalls
Many people visit this waterfall as a highlight stop on the Henrhyd Falls to Nant Llech Walk.
Personally, my trip ended at the waterfall and it was getting dark so I headed straight back to my car (aside from the fall lol).
However, if I had more time, I would have definitely carried on. The hike does look really scenic and takes you further into Nant Llech valley.
You'll walk through the woodlands which is a haven for wildlife and pass an old watermill named Melin Llech!
Then, you'll find a series of cascades called Nant Llech Waterfalls on the circuit. These bubble and roar through the gorge.
The erosion from these falls actually produces fossils. This is where William Morgan found some of the earliest fossilised trees! It's now a Site of Special Scientific Interest (SSSI).
Henrhyd Falls ticket prices
Despite the area being protected by the National Trust, Henrhyd Falls are completely FREE to visit.
The large gravel car park provided is also free of charge but donations are kindly accepted.
Your contribution helps to preserve this waterfall for everyone to enjoy!
Top tips for your visit!
Make sure to wear a good pair of ankle-supporting shoes for the walk down. Although the hike is short, it can be boggy and the terrain is steep and uneven near the waterfall.
If the waterfall is in full force, don't attempt to walk behind it as it could be treacherous. Use your own judgement and approach with caution. In September, the cascade was a light trickle but it can be a really heavy flow if its been raining!
Although this walk is one of the easiest waterfalls to access in the Brecon Beacons, you will still need to watch your step as it can be slippy.
There are no facilities provided in the Henrhyd Falls car park. No toilets, picnic tables, water taps or cafés. So, make sure to use the loo before you arrive and bring a bottle of water and snacks with you.
Read more of my Brecon Beacons travel guides!
Visit the wonkiest church in Britain
The very best Hay-on-Wye Bookshops
Discover the Warren in Hay-on-Wye
Why is Hay-on-Wye the book capital of the world?
Visit the 24-hour Hay Castle Bookshop
A complete guide for Crickhowell Bridge
Save this Henrhyd Falls post for later!