One of the most spectacular waterfalls in England has to be High Force waterfall in the North Pennines AONB, County Durham.
Tucked away in the ancient Teesdale woodlands, you'll find a dramatic cascade in the River Tees that tumbles over a 21-metre cliff of Whin Sill and then makes a roar as it falls into a plunge pool below!
It's known as England's tallest and most powerful waterfall and so you must make a stop here if you find yourself in the area.
Here is a complete guide for the High Force Waterfall walk in the North Pennines AONB, County Durham.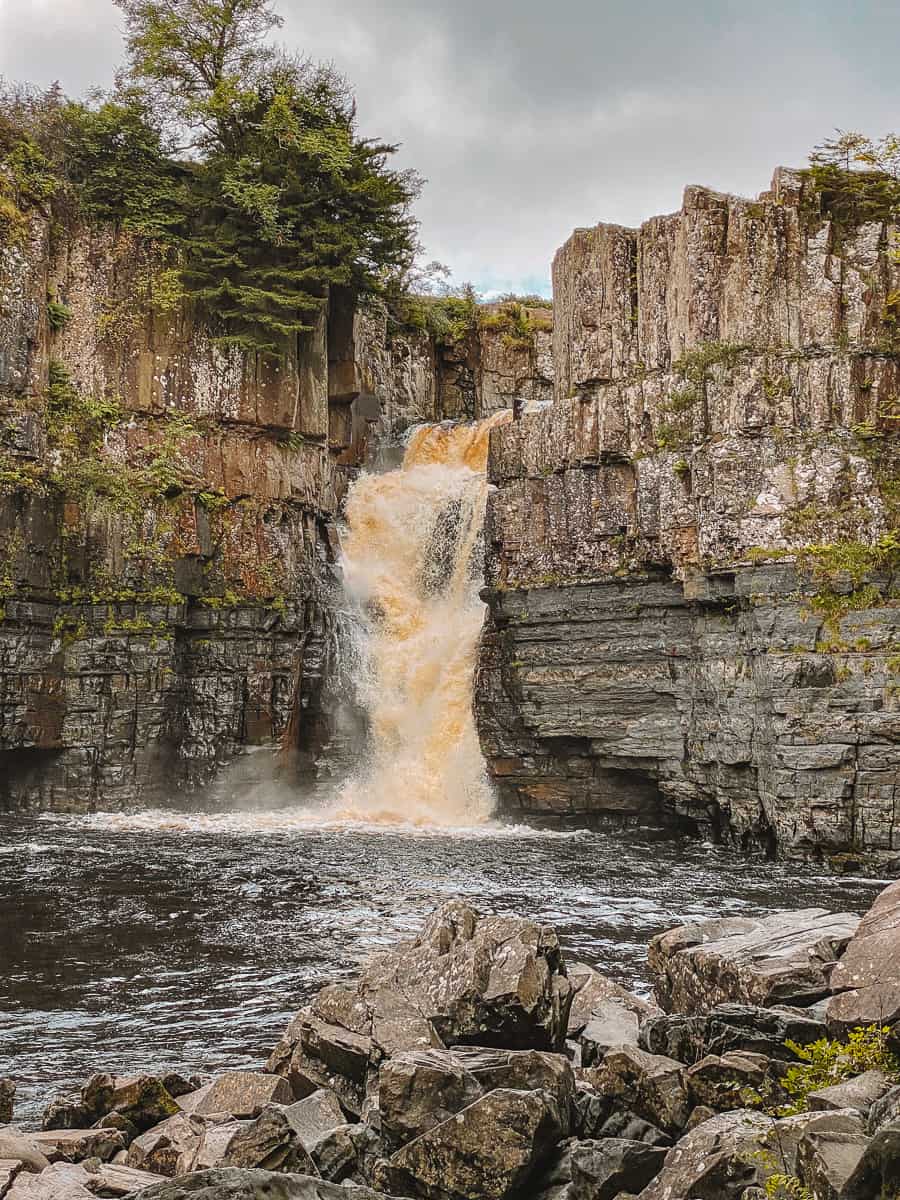 What is High Force waterfall?
High Force waterfall is a 70-foot tall cascade that lies on the River Tees in the North Pennines AONB.
The waterfall cascades in two stages over an ancient dolerite rock called Whin Sill that was formed over 300 million years ago!
It's often referred to as England's tallest waterfall but that title is often disputed due to the fact it's not a single drop.
It is, however, the most powerful waterfall in the country as it has the largest volume of water that plunges through it!
It is part of the wider Raby Estate in Upper Teesdale and the northern bank is now a ticketed tourist attraction. But, you can see this waterfall for free on the southern bank via the Pennine Way footpath.
High Force waterfall facts
High Force waterfall is 21-metres high or 70-feet
Its name comes from the Old Norse term "High Fosse". Fosse meaning waterfall and is short for Fossegrim which is a Norse water spirit or troll.
Although it's thought to be England's tallest waterfall, this is often disputed due to it not being a single drop. However, it is definitely the most powerful as it has the most amount of water plunging through it.
Although rarely seen, there are actually two waterfalls found here if there has been particularly heavy rains. A smaller cascade can be seen to its right.
The Whin Sill that the waterfall plunges down is thought to be over 330 million years old from the Carboniferous Period!
Whin Sill is a hard layer of dolerite rock and is locally known as whinstone. It was formed through molten rock that was heated to over 1000 degrees celsius and eventually cooled underground.
The waterfall we see today was formed through erosion and was shaped by the power of the water.
Many artists and painters have visited High Force over the years such as J. M. W. Turner
High Force was featured as a filming location in Netflix's The Witcher series 2 along with Low Force!
Where is High Force waterfall?
High Force Waterfall is located on the wider Raby Estate in Upper Teesdale. It lies within the woodlands of the North Pennines AONB in County Durham.
You can access High Force Waterfall in around 20 minutes from Barnard Castle, 30 minutes from Raby Castle, and one hour from County Durham.
You will need to make your way to the B6277 road and, from there, you will find brown tourist signs guiding you to the waterfall. The ticket entrance is by the High Force Hotel.
High Force postcode is Alston Road, Barnard Castle, DL12 0XH. Click here for a Google Pin!
How to visit High Force Waterfall
The easiest way to access this waterfall is to drive there as there is limited public transport in this area.
To visit High Force waterfall, you need to first make your way over to the High Force Hotel and pay for parking.
You'll then need to buy waterfall tickets at the booth and then it's a gentle, 20-minute walk through the Teesdale woodland to see the waterfall.
This is if you wanted to visit the 'official' visitor attraction on the northern bank with panoramic views of the falls.
Alternatively, you can walk on the Pennine Way footpath from Low Force via Bowlees Visitor Centre.
That way you'll walk over the top of the High Force waterfall on the southern bank and you can see the water plunge into the pool below. This is completely free but the walk takes an hour or so one way.
High Force parking
Official High Force parking can be found at the High Force Hotel and it's £3 per car to park up for your visit.
The parking machines only accept cash and, although there is a phone app, the signal here is so terrible that you won't be able to access it.
I ended up paying for my parking along with my visitor ticket at the ticket booth. But, make sure that they take your licence plate number down so that you won't get a parking fine.
There have been many visitors who have paid for parking this way and ended up getting a hefty £60 fine!
High Force waterfall admission price & opening times
As well as paying for parking, you do need to purchase tickets to enter High Force waterfall.
Tickets prices are £2.50 for an adult to visit and £1 for a child. Under 5's go free! Opening times are 10 am – 4 pm Monday to Sunday.
I'd allow at least an hour in order to see High Force Waterfall. There is plenty to see and do here including some short walking trails.
How long is the High Force waterfall walk?
From the High Force Hotel car park, the walk is around 20 minutes to reach the waterfall from there.
It's a gradual walk down through the scenic Teesdale woodlands and it's a relatively flat pathway all the way down to the falls.
Once you get down to the falls, there are many viewing platforms along the River Tees that you can sit and admire the waterfall from. You then can loop back through the woodland to your car!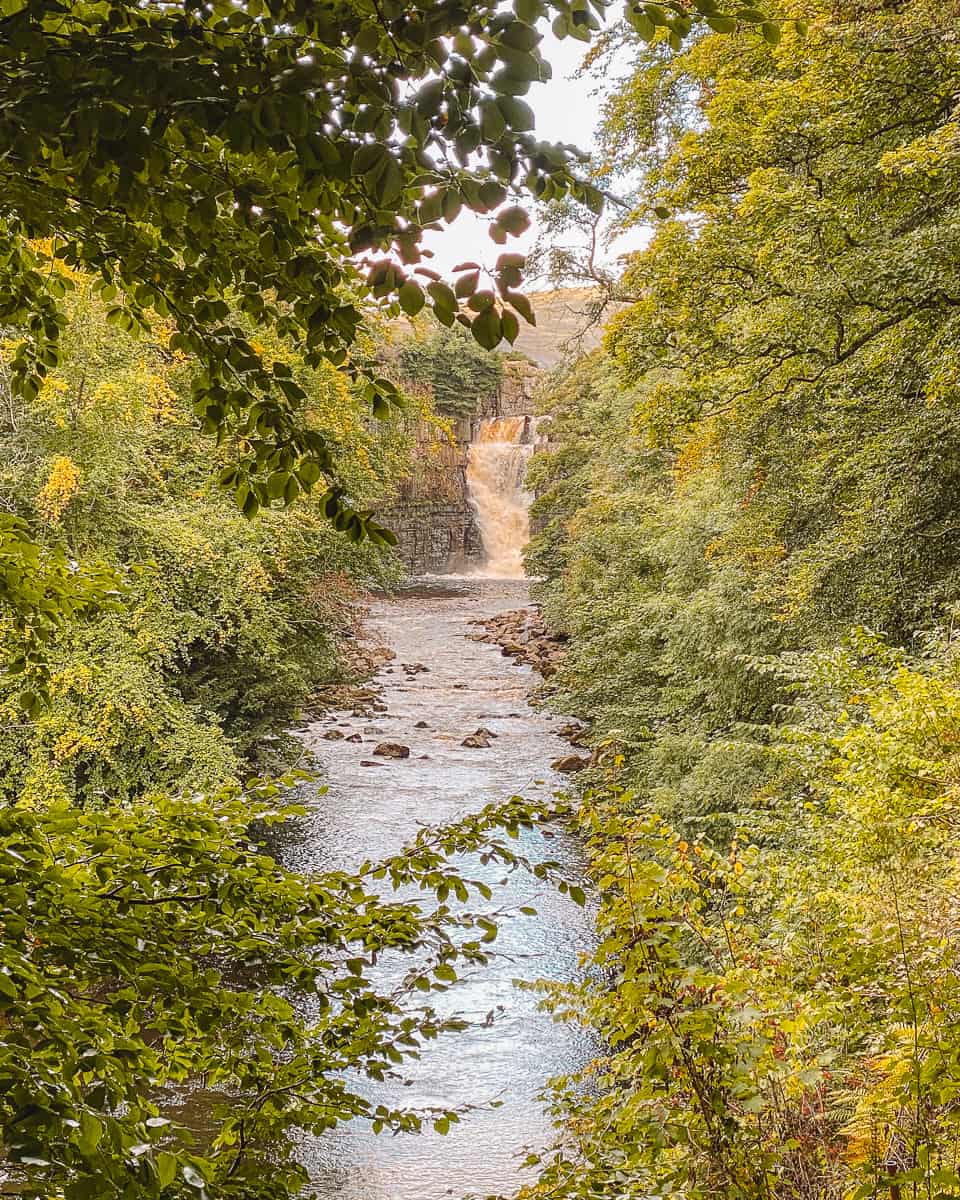 High Force Waterfall walk directions
Although it's relatively easy to access High Force from the car park. These directions will help you to know what to expect during your visit.
Once you've parked up in the High Force Hotel car park. You'll need to pay for tickets at the small booth outside of the hotel.
After you have bought tickets, you'll need to make your way across the road to the falls. There is no crossing here, so look both ways for oncoming vehicles!
Once you're through, walk past the old ticket booth and slowly start making your way down through the woodlands.
There is no way you can get lost here as the pathway leads you straight there. You'll pass many scenic viewpoints of High Force on your way.
What to expect at the falls
Once you reach the bottom of the hill, there will be some wooden steps leading you down to the viewing platform of High Force.
This is where you can really feel the waterfall's power as the water roars and plunges down into the pool below!
Once you reach the cement viewing platform, you can then climb through the woodlands and onto the rocks beside the River Tees to get a better view of the waterfall down the river.
You can take a seat here and just watch the water for a while. The strength of this waterfall is so dramatic and breathtaking!
Heading back to the car park
Once you're ready, you can head back the way you came to your car. But, on my visit, they had a one-way system in place.
So, that meant that I had to climb the steep steps upwards into the woodlands and loop back the long way.
If you are unable to walk up steep steps or walk for long distances, I would personally just head back the way you came to avoid them. It's pretty hard going.
I'm not going to lie, although the walk was scenic, I was pretty knackered when I got back to my car at the High Force Hotel.
I decided then to buy a drink and snacks at the café and have a bit of a rest! It was well worth the effort though as the waterfall was incredible to behold.
Where to eat at High Force?
If you were after a bite to eat after your visit there is a takeaway café inside the ticket booth at High Force Hotel.
They serve a variety of hot drinks, cold drinks, snacks, cakes, and ice cream and there is a small outdoor seating area.
If you fancy more of a pub lunch, the High Force Hotel does have a restaurant that serves up hot food all day. You can treat yourself to breakfast, lunch, or dinner!
The hotel works with many farmers and producers in the Upper Teesdale area and their menus are inspired by local flavours!
Click here to book a table and see a menu for High Force Hotel!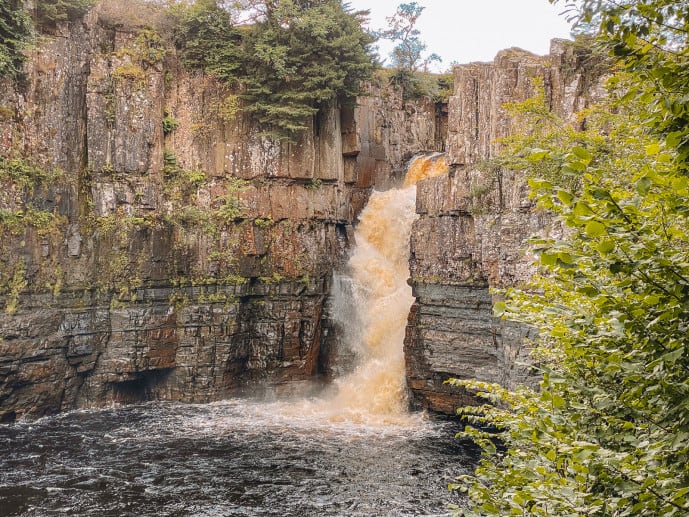 High Force FAQs
How high is High Force waterfall? High Force plunges over the River Tees at 70 feet high or 21 metres! The water falls over a two-tier cascade and plunges into a pool below!
Is it safe to swim in High Force waterfall? No, it is considered very dangerous to swim anywhere near High Force and there have been a few deaths over the years. It is advised not to go in the water at all.
Is High Force dog friendly? Yes, I saw many dogs here on this walk! But, they must be kept on a lead at all times due to the steep drops. There are quite large and steep steps leading up through the woodlands on the way back, so smaller dogs may struggle with these. I saw many people carry their wee dogs to the top!
Why not visit Low Force next?
After your visit to High Force waterfall, I would highly recommend that you visit Low Force that is further down on the River Tees.
You can either drive there, or you can walk down there via Pennine Way footpath next to the river. The Low Force to High Force walk will take you around 40 minutes.
The drive to Low Force will be around 5 minutes. You can park nearby on one of the free lay-bys or Bowlees Visitor Centre has a free car park. It's then just a short walk to the waterfall.
Low Force is completely FREE to visit and is open 24 hours a day. In my opinion, it's equally as breathtaking as High Force and the views are far more romantic!
Witcher fans will also love visiting here as this is a Witcher series 2 filming location. It features when Yennefer is teaching Ciri to control her chaos in the show.
Click here to read my complete guide for Low Force waterfall!
Looking for more things to do in the North Pennines or County Durham?
After your visit to Low Force and High Force waterfalls. What now? Well, luckily there are plenty more things to do in this area of the North Pennines AONB.
You can head to the Bowlees Visitor Centre and find more trails to explore the Pennine Way. Or, you can head over to Summerhill Force and Gibson's Cave.
A little further along the way, you could visit Cow Green Reservoir with Cauldron Snout waterfall.
There are plenty of castles to visit including Barnard Castle and Raby Castle if you fancy stepping back in time.
You could head to the Durham Heritage Coast to the likes of Seaham and Blast Beach, the notorious 'Alien Beach' and a Last Kingdom filming location.
Or, why not head to the city of Durham to visit their fabulous Durham Cathedral? This has over 1000 years of history and was a Harry Potter filming location!
Click here to read my complete Harry Potter guide for Durham Cathedral!
Save the High Force waterfall walk for later!