Highgate Cemetery is one of the most famous cemeteries in London and is the final resting place of famous authors, musicians, poets, and philosophers.
This may sound strange but I have a list of favourite cemeteries around the globe. My top three are;
1. Greyfriars Kirkyard in Edinburgh, Scotland
2. Père Lachaise Cemetery in Paris, France
3. South Park Street Cemetery in Kolkata, India
But, the overgrown and atmospheric Victorian Highgate Cemetery garden has firmly jumped in third place now!
I don't know what it is about historic cemeteries and their elaborate tombs and gravestones but I have a fascination with them. So, I really couldn't resist a tour of Highgate Cemetery on my recent visit to London.
There are many famous people buried at Highgate like Karl Marx, Christina Rossetti, Elizabeth Siddal, George Eliot, and Douglas Adams.
Potterheads may also recognise this cemetery from Fantastic Beasts and the Crimes of Grindelwald where it is featured as Père Lachaise Cemetery in the movie.
Here is a complete guide on how to visit Highgate Cemetery London with ticket prices, opening times and the top things to do!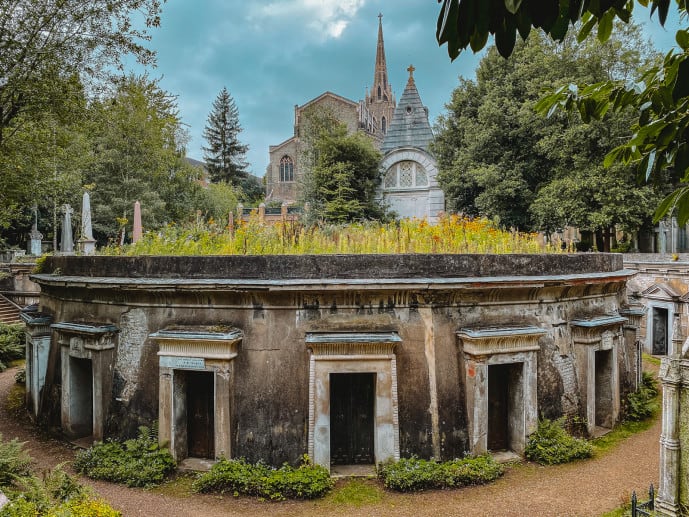 Why is Highgate Cemetery so famous?
Highgate is mostly famous because of those buried here. You'll find big names through history like Karl Marx and George Eliot.
The graveyard was modelled on Père Lachaise Cemetery in Paris and the spectacular architecture of Egyptian Avenue and the Circle of Lebanon are breathtaking to behold.
In complete contrast, these burial tombs of the dead are brimming with life. You'll find tranquility as you explore the graveyard amongst the overhanging trees, creeping vines, and flowers.
All of these things mixed together make Highgate Cemetery the most famous of the Magnificent Seven cemeteries in London!
Highgate Cemetery history
Highgate is part of the "Magnificent Seven" group of cemeteries in London and most were created as a reaction to the city's overcrowded graveyards in the 19th century.
The growing population of London, high mortality rates, and low space for burials created a crisis! People were being buried in-between shops and taverns and even illegal burials took place.
Parliament allowed seven private graveyards to be created in London's countryside to try to counter this. These were Kensal Green, West Norwood, Highgate, Abney Park, Brompton, Nunhead, and Tower Hamlets.
A company called The London Cemetery Company was created and £3,500 was paid to buy 17 acres of land in Highgate.
The cemetery was finished in 1839 and dedicated to St James by the Lord Bishop of London. The first burial was Elizabeth Jackson in 1839 who lived in Little Windmill Street Soho and she died at just 36 years old.
Highgate had an ideal location with fabulous views of London and many wealthy people wanted to invest. Julius Beer spent an enormous sum of £5,800 for a tomb for his daughter Ada.
Later, Highgate had two chapels, the Egyptian Avenue containing sixteen vaults and the Circle of Lebanon containing a further sixteen tombs.
By 1854, Highgate Cemetery was almost reaching capacity. So, in 1856, a 'New Ground' was created which is known as East Highgate today. Karl Marx was buried here in 1883.
During World War I and II, many of the people who worked in the cemetery were called to fight and people no longer wanted elaborate burials and expensive tombs.
It was eventually abandoned and declared bankrupt in the 1960s. In 1975, the Friends of Highgate Cemetery was formed and started to restore the graveyard.
Today, it's Grade I listed by English Heritage and is open to the public to explore. Guided tours are run by volunteers.
The Highgate Cemetery Vampire
One of the most interesting stories associated with this cemetery is about the Highgate Vampire hysteria.
It caused a media sensation and is still talked about today. It's even been mentioned in TV shows like Buffy the Vampire Slayer.
In the late 1960s, when Highgate was abandoned, there were reports of an apparition stalking the site.
Locals reported seeing a tall grey figure like a spirit with glaring red eyes. Then foxes started dying with their throats cut which further added to the fact that this could be the result of a vampire attack.
These rumours were partly caused by the horror movie company Hammer filming at Highgate which resulted in grave robberies and the desecration of tombs. There were even bodies stolen or found with stakes in their hearts!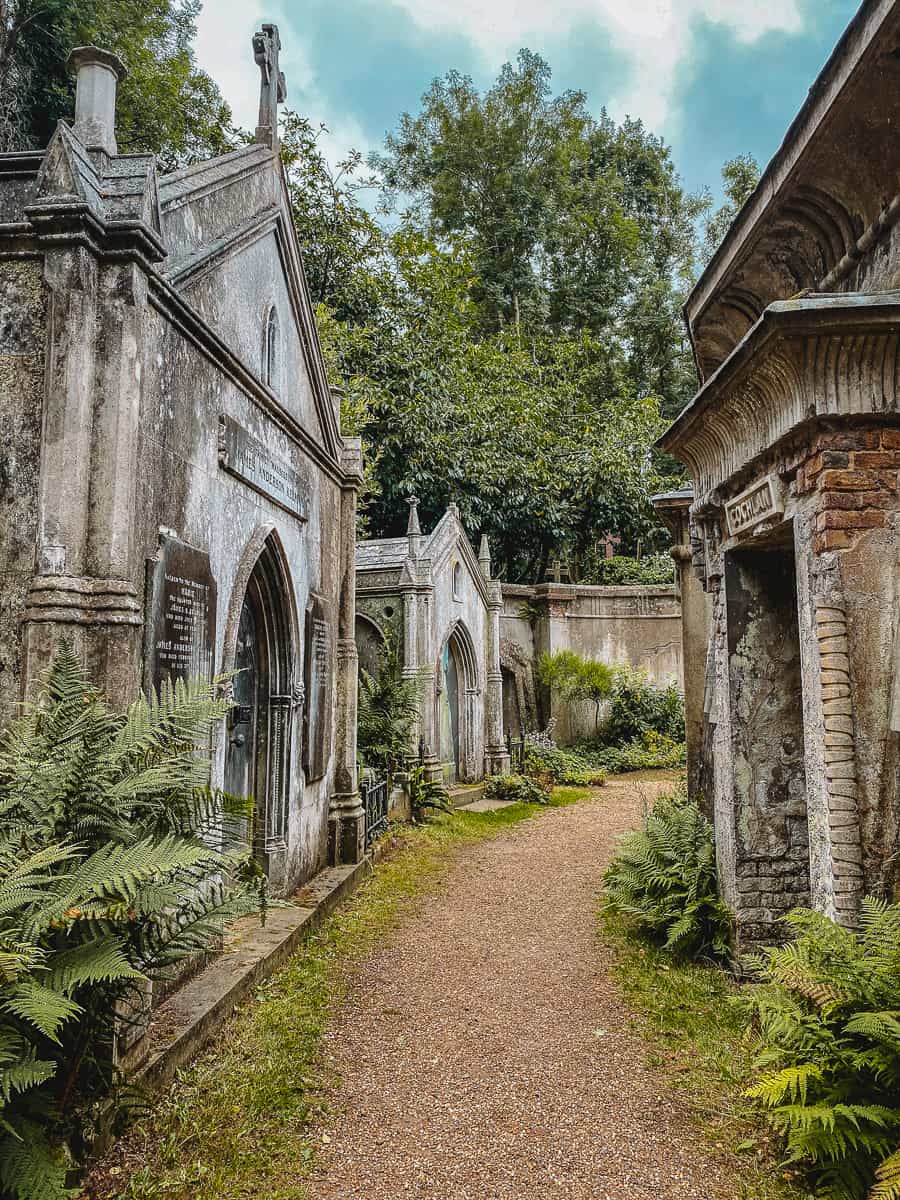 The Highgate Vampire sensation escalated and British Occultist David Farrant and priest Sean Manchester both claimed to have eyewitness accounts of the vampire at Highgate.
Friday 13th March 1970, Manchester wanted to perform an exorcism and Farrant wanted to hunt it down. These events were filmed on live television and a few hours later a mob descended on the gravesite overwhelming police security.
The two Vampire hunters became rivals, writing separate accounts about their experience with the Highgate Vampire. They threatened to fight each other in "magician duels".
Farrant was eventually arrested and tried at the Old Bailey for damaging graves and interference with a corpse at Highgate. He was sentenced to five years but only served three.
The rivalry between Farrant and Manchester continued for decades and each was trying to outdo the other with the Highgate Vampire story. This was still the case until Farrant's death at 73 in 2019.
Who is buried at Highgate Cemetery?
There are over 170,000 people buried at Highgate in 53,000 graves. This Victorian cemetery has some big names buried here which is why it is such a famous graveyard in London.
There are too many to list. But, here are some of the most famous people buried at Highgate Cemetery;
George Eliot (1819-1880) – also known as Mary Ann Evans. Novelist, poet, and journalist.
Christina Rossetti (1830-94) – poet and sister of Dante Gabriel Rossetti founder of the Pre-Raphaelite Brotherhood.
Elizabeth Siddal (1829 – 1862)- a model for Sir John Everett Millais' 'Ophelia', poet, artist, and wife of Dante Gabriel Rossetti.
Karl Marx (1818 – 1883) – philosopher, socialist, and author of the Communist Manifesto.
Bruce Richard Reynolds (1931-2013) – the mastermind of the 1963 Great Train Robbery.
Douglas Adams (1952 – 2001) – Sci-Fi author of The Hitchhiker's Guide to the Galaxy
Malcolm McLaren (1946 – 2010) – artist, singer, and punk icon. Manager of the Sex Pistols.
Highgate Cemetery Fantastic Beasts film location
Fans of Harry Potter and the Wizarding World may recognise Highgate Cemetery in Fantastic Beasts and the Crimes of Grindelwald.
Grindelwald summons his followers to the Lestrange Mausoleum in Cimetière du Père-Lachaise in Paris. But, this is actually Highgate Cemetery London.
The exterior of the Lestrange Mausoleum with the Wands into the Earth scenes were filmed around the Circle of Lebanon in West Highgate.
As well as Fantastic Beasts and the Crimes of Grindelwald, you may recognise this famous graveyard from Dorian Gray.
It's a dark retelling of the Oscar Wilde classic novel about a man who appears eternally youthful but is afflicted by a dark curse. It stars Ben Barnes as Dorian and Colin Firth as Lord Henry Wotton.
How to visit Highgate Cemetery in London
Highgate Cemetery is located in Highgate, an affluent suburban area of North London on top of Highgate Hill.
This is at least a 30 – 45 minute journey on the tube from Central London so remember to factor that journey time into your visit when booking tickets.
The closest tube station to Highgate Cemetery is Archway on the Northern Line.
Then, you either need to get the bus or walk up Highgate Hill and through Waterlow Park to reach Swain's Lane and the entrance of Highgate Cemetery.
There is no parking for cars and it is always encouraged to take public transport, cycle or walk to visit.
Highgate Cemetery address is Swain's Lane, London, N6 6PJ. Click here for a Google Pin!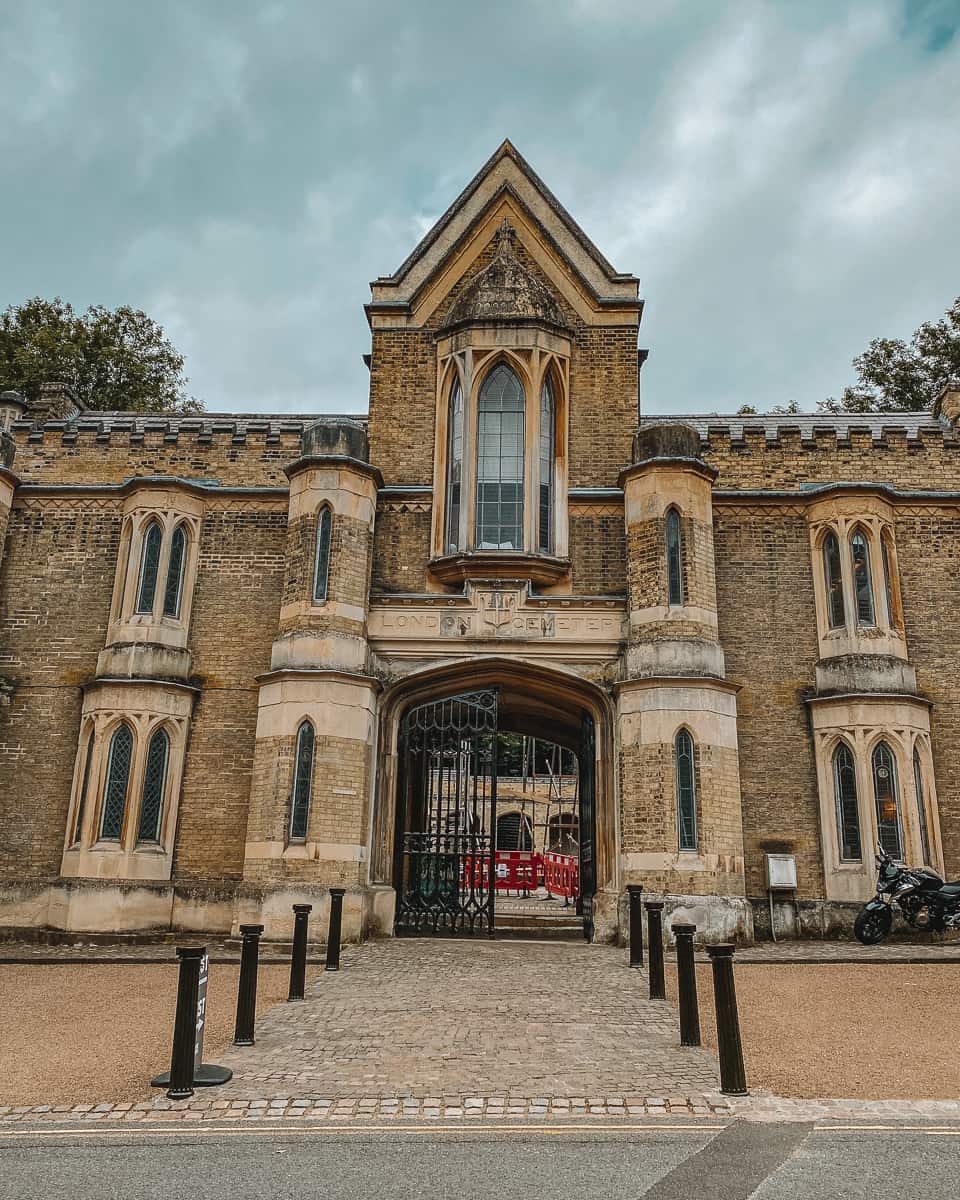 Do you have to pay to get into Highgate Cemetery?
Yes, entry to Highgate Cemetery is chargeable and all proceeds go to the Friends of Highgate Cemetery to help keep it open to the public.
Many people don't realise but there are actually two sides to Highgate Cemetery;
West Highgate – this is the oldest and more elaborate graveyard with Egyptian Avenue, Circle of Lebanon (Fantastic Beasts film location), and Catacombs. Entry is by timed ticket and you can take a guided tour or visit self-guided.
East Highgate – this is where you'll find Karl Marx and modern gravestones like the death mask of Malcolm McLaren. You can visit any time. You can explore self-guided or take a guided tour but there is still an entrance fee.
If you plan to visit both West Highgate and East Highgate, I would purchase a West Highgate ticket as East Highgate is included in the price;
West Highgate ticket prices are £10 per adult and £6 per child for a self-guided tour. Guided tours are £15 for an adult and £8 per child. You must book a guided tour to see the catacombs.
East Highgate ticket prices are £4.50 per adult and 50p per child for a self-guided tour. Guided tours are £9.50 for an adult and £2.50 for a child.
Click here to book your ticket to Highgate Cemetery!
Which is better east or west Highgate Cemetery?
Personally, I found West Highgate far more impressive than East Highgate. But, then I have more interest in Victorian history so I may be a little biased.
West Highgate is the place with the elaborate overgrown tombs, catacombs, and Julius Beer mausoleum. It's a lot more atmospheric and had a lot more stories to tell.
Eastgate Cemetery was interesting with the huge Karl Marx memorial and there are some modern and eccentric gravestones. However, I'll always be a history girl.
I have wanted to see the Circle of Lebanon for years and the fact that they filmed Fantastic Beasts and Dorian Gray here was a bonus. It felt surreal to visit these locations in 'real life'.
Highgate Cemetery tours
Both Westgate and Eastgate cemetery are available to book for a self-guided visit and this is what I did. I found it very peaceful and a relaxing stroll.
But, there is the option to book a guided tour of either west or east Highgate Cemetery. It's important to note that there is not a tour that covers both graveyards in one sitting.
The tours last for around 70 – 75 minutes and are run by volunteers. These are a great option if you'd prefer to hear the fascinating stories of the people buried here.
Note: If you wanted to see the Highgate Cemetery catacombs, you must book a guided tour of Westgate. You cannot visit self-guided.
Highgate Ceremony opening times
Highgate Cemetery is open every day and all year apart from Christmas Day and Boxing Day.
It's open from 10 am – 5 pm with the last entry being at 4 pm. But, from November – February gates close at 4 pm with the last entry at 3 pm.
You must book a timed entry ticket to West Highgate or East Highgate for a self-guided visit. You can do this online via their website.
Remember, you only need to purchase one West Highgate ticket to see both graveyards as Eastgate is included.
You can arrive 15 minutes before or 30 minutes after your entry time. This was a lifesaver as I totally underestimated the long walk from Archway tube station up Highgate Hill!
Things to do in Highgate Cemetery
So, what is there to see and do at Highgate Cemetery to make it worth visiting? Well, you'd be surprised how much there is to see.
It's a huge site with many tombs and graves on both the east and west sides. You could spend hours here wandering around and admiring the architecture.
Here are all the amazing things to do in Highgate Cemetery.
1. Explore the overgrown gravestones & tombs
You could get lost for hours in Highgate admiring all the tombs, angels, animals, statues, and memorials here.
A notable tomb to look out for has to be the Sleeping Angel of Mary Nichols which is very beautiful with all the overgrown vines.
Also, look out for a sleeping lion called Nero. It totally reminded me of Aslan from The Lion, The Witch, and the Wardrobe.
It's a memorial to George Wombwell who was the owner of Wombwell's Travelling Menagerie of exotic animals in Victorian Britain.
There's also a piano for the classical pianist Harry Thornton and the painter Patrick Caulfield's gravestone has the words 'D-E-A-D' cut out in it. Not something you see very often!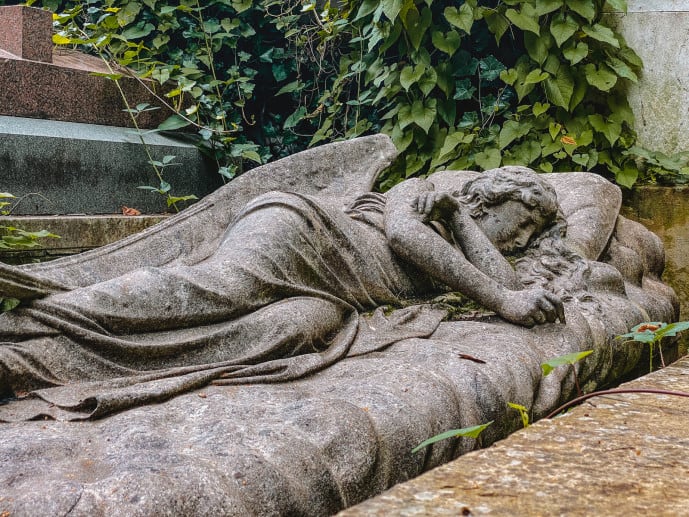 2. Visit Egyptian Avenue
When you first enter Highgate Cemetery you'll eventually find a huge Egyptian gateway that is flanked by what remains of two tall obelisks.
This is the beginning of Egyptian Avenue which was inspired by the interest in ancient Egypt at the time with the discoveries of Napoleon.
You can walk through the gateway, and up a path lined with tombs on either side to the Circle of Lebanon. The top of the avenue is covered in tree vines and foliage making it very atmospheric.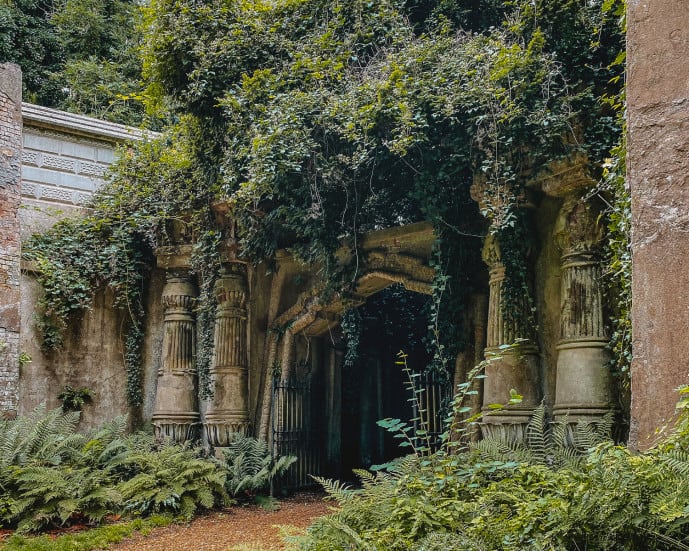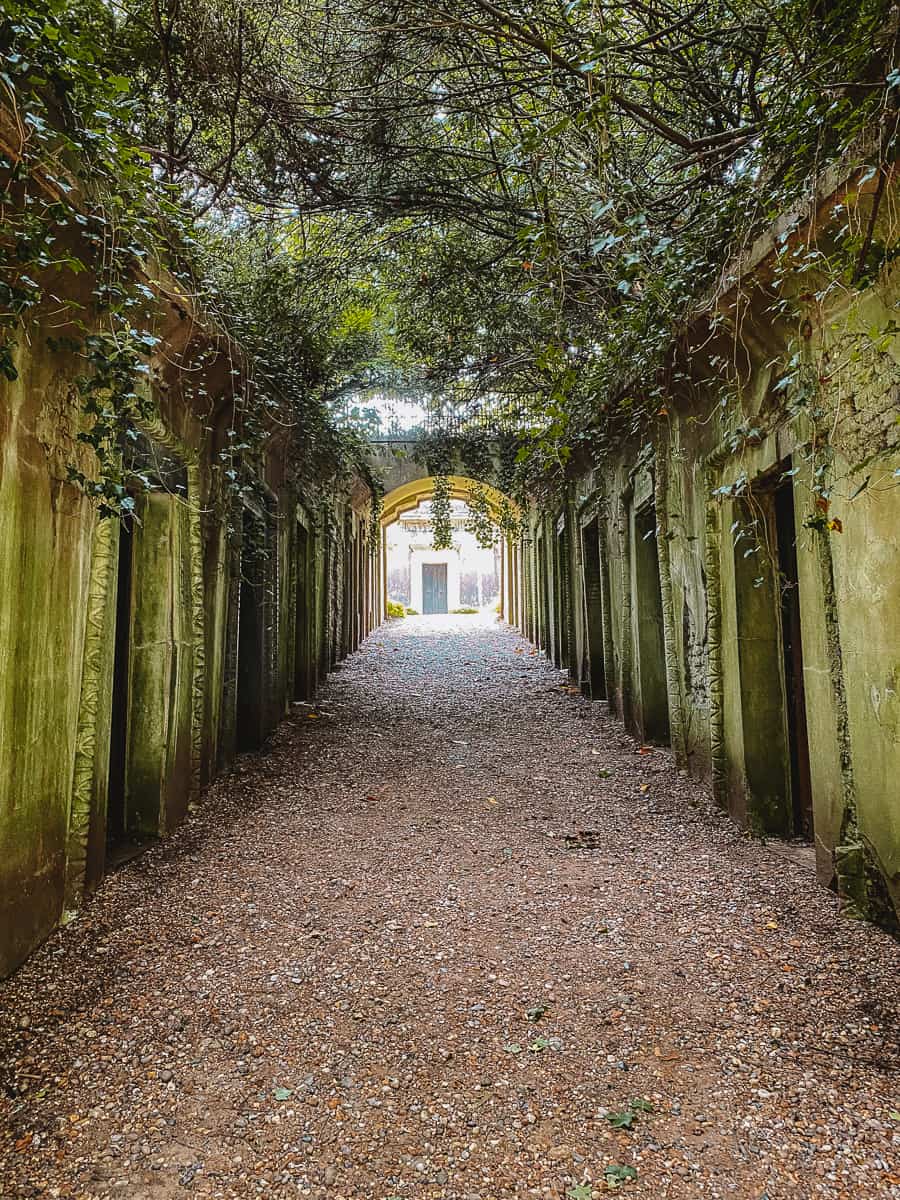 3. Walk around the Circle of Lebanon
The Circle of Lebanon is located at the very centre of West Highgate and is by far the most impressive sunken structure of the graveyard.
It is named after an ancient cedar tree from Lebanon which grew in the middle. It was part of the grounds of Ashurst House and was already 100 years old when the graveyard opened.
Unfortunately, this had to be removed due to decay in 2019. But, a new one has now replaced it.
In the Circle of Lebanon, you'll find the entrances to many tombs and family vaults in Egyptian and classical design.
You can walk around below or get a great view of the circle from above near the Julius Beer tomb.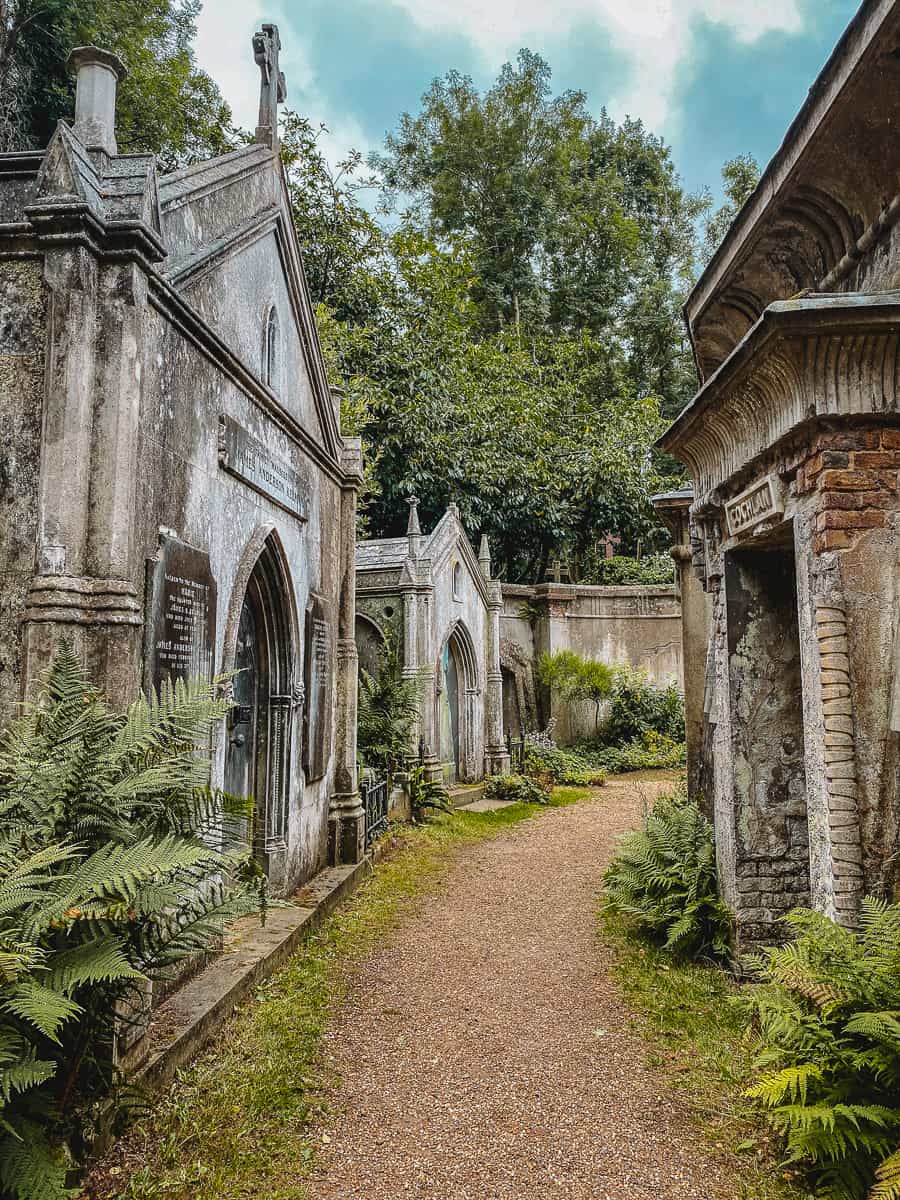 4. The Julius Beer Mausoleum
Julius Beer was a Victorian version of a millionaire. A rich businessman who was born in Germany but made his fortune in England with the London Stock Exchange. He also owned The Observer newspaper.
The Julius Beer Mausoleum is located in West Highgate above the Circle of Lebanon and it is the most expensive tomb in the whole graveyard costing £5,800 at the time.
It was a tribute made for his daughter Ada Beer who died in 1875 at the age of eight. It's a huge tomb made of Portland Stone and has a bronze doorway.
A famous marble statue called 'An Angel Raising up a Young Girl' can be seen inside the tomb by Henry Hugh Armstead.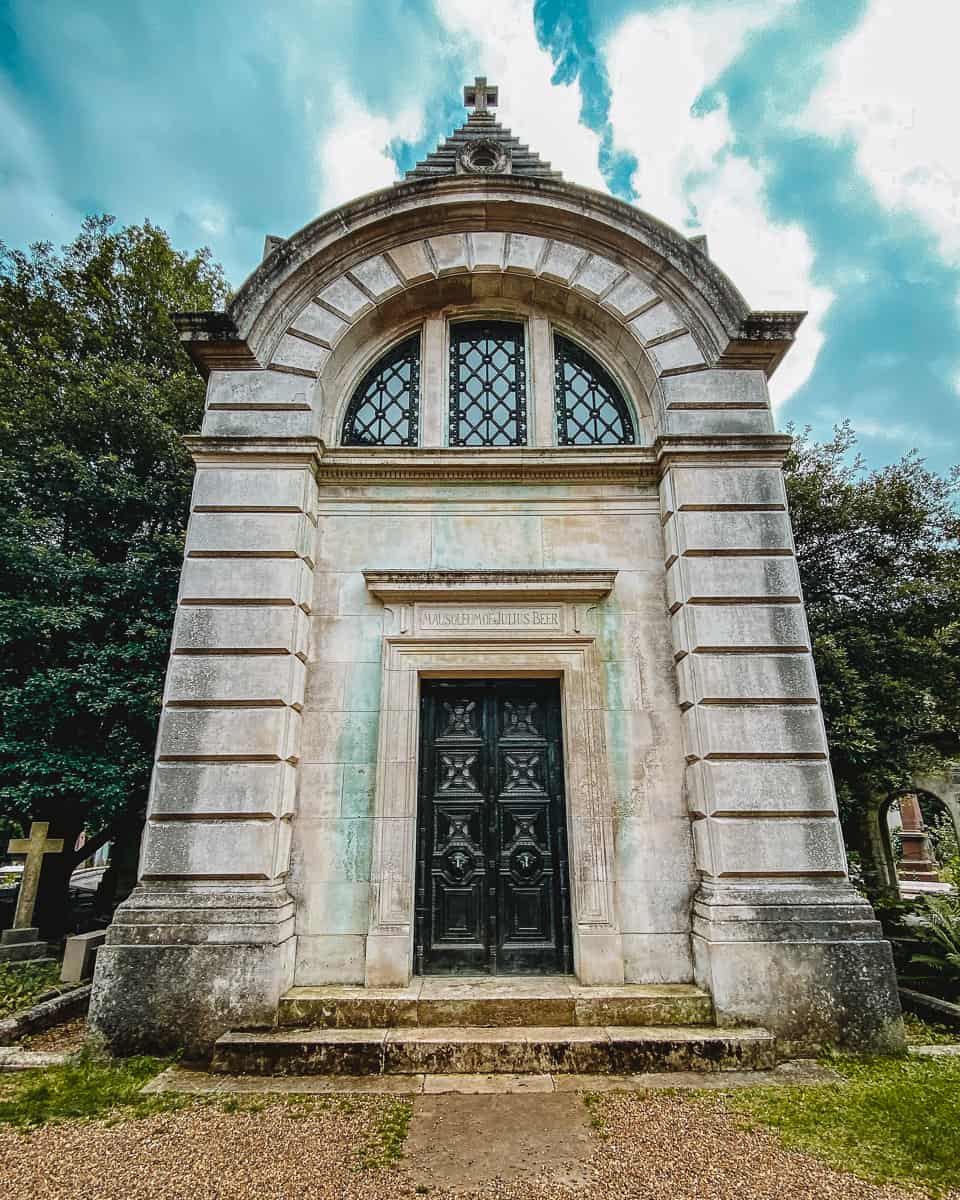 5. Find Fantastic Beast filming locations
You'll find all of the Highgate Cemetery Fantastic Beasts filming locations in the Circle of Lebanon.
In the second movie, the Crimes of Grindelwald, Highgate Cemetery doubled up as Cimetière du Père-Lachaise in Paris with the Lestrange Mausoleum.
Of course, the interiors of the Lestrange Mausoleum where Gellert Grindelwald summons his followers were all filmed in a studio.
But, you can visit the entrance to the Lestrange tomb in the Circle of Lebanon which is where they filmed the Wands Into The Earth Scenes as well with Nicolas Flamel.
Click here to watch the Wands into the Earth scenes of Fantastic Beasts!
6. Highgate Cemetery catacombs
If you are taking a West Highgate guided tour, you'll be lucky enough to visit the Highgate Catacombs or the terrace catacombs.
They were part of the original design in the 1830s and are one of the few catacombs in the UK that the public is allowed to visit.
You enter through a gateway and you'll find plenty of graves interred in the walls here. Very eerie but worth seeing if you get the chance.
7. Visit the Highgate Rossetti graves
I'm a huge fan of the Pre-Raphaelite Brotherhood. I'm always seeking out their artwork and loved seeing Sir John Everett Millais' 'Ophelia' in Tate Britain.
I was also a huge fan of the BBC period drama 'Desperate Romantics' starring Aidan Turner so I knew that I had to visit the Rossetti plot whilst I was here.
In the Highgate Rossetti plot, you will find the graves of Dante Gabriel Rossetti's family including his sister Christina Rossetti who was a poet and author.
Also, his wife Elizabeth Siddal is buried here who was the model for Ophelia and muse for the Pre-Raphaelites. Beyond that, Lizzie was an incredibly talented artist and poet in her own right.
Elizabeth Siddal overdosed with laudanum and was buried with a notebook filled with Dante's poems. It was a last act of love by Dante and he buried it in her red hair.
Seven years later her grave was secretly exhumed for this notebook in order to publish the poems and it appeared she hadn't decomposed at all. It haunted Dante for the rest of his life.
Dante is not buried here, he's buried in Birchington Grave near Margate under a huge Celtic cross made by his friend and contemporary Ford Madox Brown.
How to find the Highgate Rossetti graves: It is in West Highgate near the front of the cemetery. It's not on the main footpath so you do have to veer off to find it. As soon as you walk up Colonnade Path make a sharp left at the first turning and continue down until you find a fence blocking off the path. Follow the small path to the left and the Rossetti plot is there.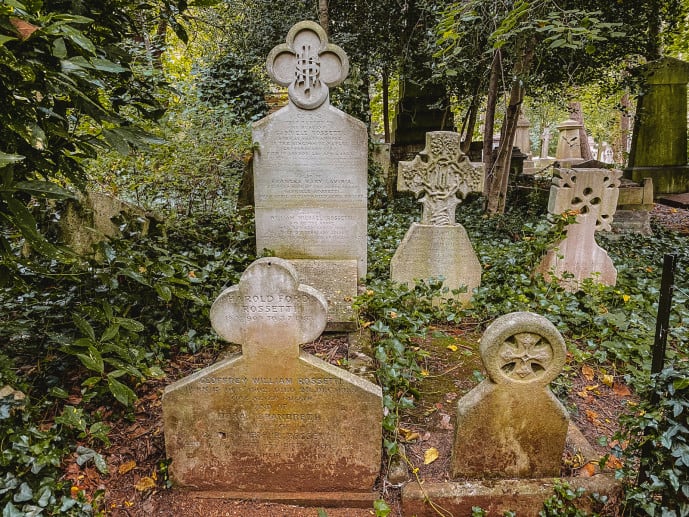 8. Find a dog called Lion with Tom Sayers
Similar to the famous tale of Greyfriars Bobby, you'll find a loyal companion to Tom Sayers at Highgate who is a dog called Lion.
Thomas Sayers was a Victorian bare-knuckle boxer. It was a completely illegal practice in underground London but Sayers was a popular fighter as he could take down men much larger than he was.
He made so much money he was able to retire at 34 and Sayers could often be seen with a black mastiff called Lion.
Unfortunately, Sayers' early retirement was short-lived and he died just 5 years later. When he died, over 10,000 people showed up at his burial to mourn him.
Lion was the "chief mourner' at his funeral and later he was adopted by Sayers' close friend who owned the Welsh Harp pub.
After Lion died, there was a public subscription and a statue of him was made by his master's grave. Aww.
9. Visit the TWO Karl Marx graves
Karl Marx is known as the father of modern socialism and a humanist. He was a German-born philosopher and had many ideas on political philosophy.
He was the author of the Communist Manifesto and is buried at East Highgate. Today, his grave is the most visited of them all.
But, did you know that the huge memorial Tomb of Karl Marx isn't actually where he was originally buried?
After his death, he was buried with his wife Jenny von Westphalen. It was in a cheap grave in a little unassuming corner plot as was his style when he was alive.
There's a tiny flat gravestone about the size of a shoebox that you could easily miss if you aren't looking. You can ask a staff member to help you locate it or use 'Find a Grave'.
Their bodies were disinterred and reburied in the Tomb of Karl Marx in 1954. It causes a lot of controversies and the memorial has been subjected to vandalism. Now, there is 24-hour CCTV on the tomb.
10. Malcolm McLaren's death mask
Malcolm McLaren is mostly known as the manager of the New York Dolls and the Sex Pistols with the controversial record "God Save the Queen".
As an artist and singer himself, he is associated with the punk movement. He owned a boutique called SEX run by his former partner Vivienne Westwood in the 1970s.
He died of cancer in 2010 in a Swiss hospital and his grave can be found in East Highgate.
It says "Better a spectacular failure, than a benign success" and has a death mask of him set in bronze on the front.
Is a visit to Highgate Cemetery worth it?
100% YES! I think of all the "Magnificent Seven" cemeteries Highgate is the most impressive.
Now that they are offering self-guided tours of the graveyard, it makes it much easier to visit and there is so much to see and do here.
I couldn't get over how tranquil and peaceful it was to wander about and it's a great place to spend a relaxing afternoon in London. I'm already plotting how I can return this Halloween!
My top tips for visiting Highgate Cemetery
Plan enough time – there is no direct tube to Highgate so it will be a long walk from Archway station or a bus. You'll also need at least 1-2 hours for your tour.
Bring water – there is no tearoom at Highgate Cemetery. There are some cafés and coffee vans nearby though.
Wear sensible shoes – the ground at Highgate can get muddy and it's often uneven due to the overgrowth.
It's very steep – the walk up to the Circle of Lebanon is very steep and there are stairs.
Respect where you are – As much as it's fun to explore, it's still a graveyard so be mindful and respectful on your visit. Don't run or touch/damage the gravestones.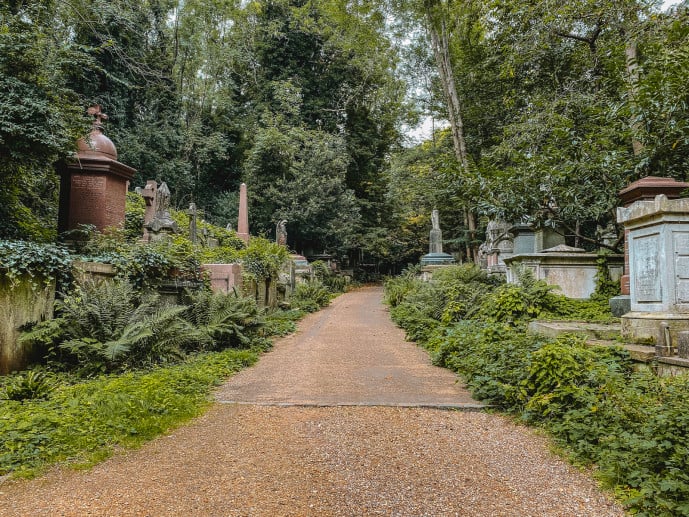 Highgate Cemetery FAQs
How long do you need at Highgate Cemetery? I would plan at least 2 hours for your visit at Highgate Cemetery west and east. It's a large site and you'll need plenty of time to explore.
How many people are buried at Highgate Cemetery? There are 170,000 people buried in 53,000 graves.
What's the oldest grave in Highgate Cemetery? The first burial was Elizabeth Jackson in 1839!
Are there toilets at Highgate Cemetery? Yes, there are free toilets onsite near the entrance.
Is Highgate dog friendly? No. Only assistance dogs are allowed inside.
Save time and book a tour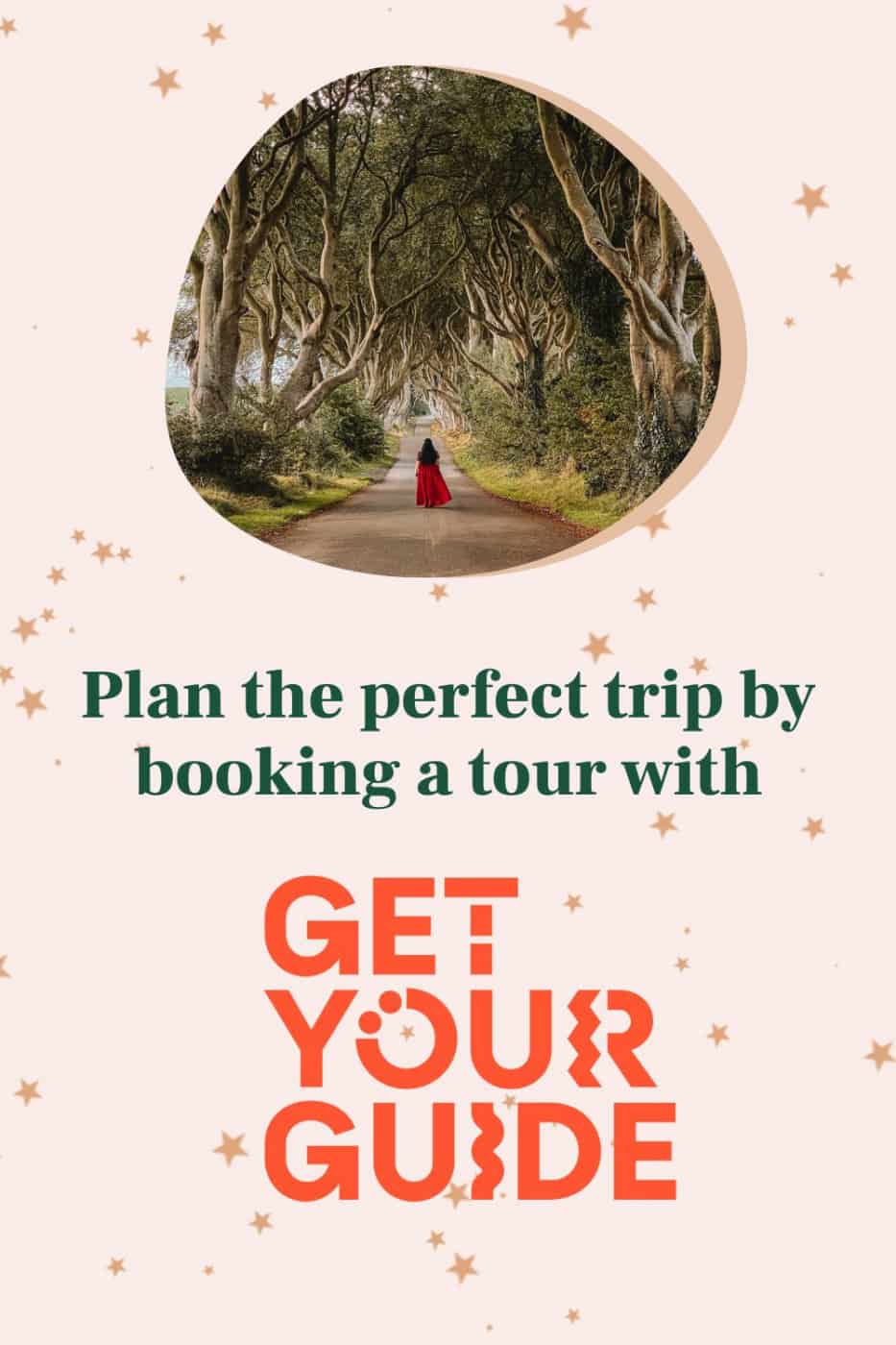 Book tours & tickets for London!
Read more of my London articles
How to visit 221b Baker Street
How to visit Word on the Water – London's Bookbarge
Why you must visit God's Own Junkyard
The hidden gem of St Dunstan in the East Church Garden
FREE things to do in the London Bridge District
How to find Diagon Alley at Cecil Court
A Harry Potter guide for Leadenhall Market
Magical cocktails at The Cauldron
Why you must visit the Harry Potter Photographic Exhibition
St Pancras Renaissance Hotel Staircase
How to visit Harry Potter's 12 Grimmauld Place
Why you must visit the House of MinaLima
Dark Arts at Harry Potter Studios London
The secret Anne Boleyn symbols at Hampton Court Palace
Visiting Hogwarts in the Snow at Harry Potter Studios
How to visit the Hogwarts Divination Stairwell at St Paul's Cathedral
Why you must visit Daunt Books Marylebone
A complete Mr. Fogg's Tavern review
Celebrating Back to Hogwarts Day at King's Cross Station
Magical London Harry Potter locations & experiences
Save How to visit Highgate Cemetery London from Fantastic Beasts for later!