Hodge Close Quarry is a large and deep green slate quarry which is located in the Tilberthwaite Valley near Little Langdale and Coniston.
This is known as Britain's scariest cave as the reflection in the quarry lagoon and the inside of the cave looks like a giant skull!
Witcher fans will recognise this spectacular location in The Witcher series 2 as part of Kaer Morhen featuring Geralt and Vesemir.
As it's in very a remote location, it can be hard to locate. I've got some detailed instructions below on how to find Lake District's Skull Cave.
Here is a detailed guide on how to visit Hodge Close Quarry, The Witcher series 2 filming location.
Witcher fans: there are major spoilers for Netflix's The Witcher series 2 below. Make sure you've watched the series before you continue Back on The Path!
Hodge Close Quarry history – Lake District's Skull Cave!
Hodge Close Quarry came about in the 19th-century. This was largely created to extract slate and this continued to happen up until the 1960s.
Back then, it was a huge pit where the workers would work in the many chambers leading off of it. You can still see the remains of one of the cranes.
Today, it is no longer used and is flooded with water. It appears turquoise blue due to the high mineral content of the crumbling rocks that fall into the quarry.
It's protected by the National Trust and is a famous tourist attraction in the Lake District. It is known as Britain's scariest cave due to it looking like a skull.
Fans of the Witcher may also recognise this location as it is featured in The Witcher series 2!
Hodge Close Quarry Witcher Filming Location
Witcher fans will love to visit Hodge Close Quarry as this was a major filming location in series 2 of the Netflix show.
Hodge Close Quarry and the Skull Cave featured in episode 3 'What is Lost' and this was where Geralt and Vesemir laid Eskel's body to rest.
If you remember in the show, a Leshy monster is found in Kaer Morhen keep. Geralt fights it but then discovers that it is actually Eskel!
Both Geralt and Vesemir fight him to stop him from hurting anyone else. They try to save him but he's too far gone and so Geralt has to kill him as the lesser evil.
After his death, they lay his body to rest in a cave on the outskirts of Kaer Morhen and this is Hodge Close Quarry Cave!
Witcher fans can visit this filming location for themselves when visiting the Lake District in Cumbria.
How to visit Hodge Close Quarry
Hodge Close Quarry can be found just a few miles drive from Coniston and Little Langdale.
It's easiest if you have a car to visit Hodge Close Quarry as the area is quite remote. You'll make a turning off the A593 road to Hodge Close.
The road up to Hodge Close Quarry is extremely narrow and winding with limited passing places. So, remember to drive slowly as you make your way up.
If you don't have a car there is a bus stop at Coniston village. You can then make your way over on foot from there if driving is not an option. It's around an hour's walk from the centre of Coniston village.
Alternatively, you could pair this location up with a walk from Blea Tarn and/or Little Langdale from the Cathedral Cave and Slater's Bridge.
Hodge Close Quarry postcode is LA21 8DJ which will lead you straight to the Hodge Close car park. Click here for a Google Pin!
Hodge Close Quarry parking
There is a dedicated car park for Hodge Close Quarry right beside the viewpoint although the spaces are limited.
So, I'd try to visit early in the morning or later in the afternoon to guarantee a space. Although this is a remote place, it is quite popular with walkers, climbers, and now The Witcher fans!
Follow the postcode LA21 8DJ to Hodge Close Cottage. But, make sure to turn left when you see the cars parked up. The road from there is very narrow.
Hodge Close parking is completely FREE and is open 24 hours a day!
Walk to the Hodge Close Quarry viewpoint
From the car park, take a left and keep heading down on the roadside until you reach the entrance to the Hodge Close Quarry viewpoint on your right.
This provides an incredible look down into the lagoon and you can see the cave entrances down below. You may even see some mountain climbers here!
On a clear day with no wind, the lake creates a perfect mirror reflection and this is where you can see the famous Hodge Close skull!
As this viewpoint has no barriers and is very steep, make sure to keep away from the very edge as the ledge is known to crumble. It's around 100 ft down to the water.
Hodge Close Quarry Skull reflection
The reason why Hodge Close is known as Britain's scariest cave is that there is a reflection of a skull face in the lagoon below.
The establishing scenes before we see the inside of Hodge Close Quarry cave in the Witcher series 2 captured this nicely. So, remember to watch this back in episode 3.
If you wanted to take a photo of it, you can do so with the right weather conditions from the top of the viewpoint. There has to be no breeze or rain to get a perfect mirror image.
Personally, I felt like the Hodge Close Quarry cave looked like a giant skull from the inside. So, if you're struggling to see/capture it. Head down to the cave next!
How to visit Hodge Close Quarry Cave
So, if you wanted to visit Hodge Close Quarry cave, you can do so on a short walk from the car park and viewpoint.
DO NOT attempt to climb down to the cave directly from the viewpoint. It's far too steep and even if you did manage to get down to the water from there – the cave is accessed over the other side of the quarry.
Please follow these instructions below for the safest and easiest way to visit Hodge Close Quarry Cave!
1. Head towards Hodge Close Cottages
From the viewpoint, turn back on yourself and head right, you'll walk down the main road until you see the Hodge Close cottages.
There are around 3 or 4 buildings that are holiday accommodations. Keep walking through the houses and turn the corner on the path that leads around to the left.
2. Turn right at the High Oxen Fell sign
Once you've turned around the bend, walk straight and you'll eventually see an incline on your right with a sign for 'High Oxen Fell 1/2 m'.
Walk up this path and keep going until you see a little hut on your left.
3. Find the entrance opposite the little house
When you see the hut on your left, you'll see a fence directly opposite. There is a 'Danger – Keep Out' sign but this is for the steep drops directly behind that sign.
Walk through the open gap in this fence and you'll find the entrance to the scrabble path directly below you.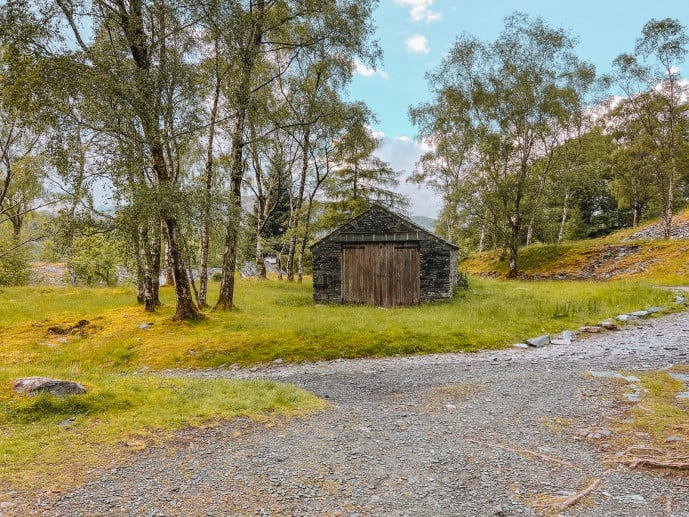 4. Clamber down the steep pathway
The hardest part of this walk is the scramble down from the top to the bottom. It's a little slippy especially if it's been raining, and there are lots of rocks and debris.
But, take your time and you'll manage this pretty easily. Make sure to have a good pair of shoes on.
Once you reach the bottom, you'll see a tree log that marks the path forward. By now, you'll probably see one of the entrances of the cave.
So, climb up the path and over the rocks to enter Hodge Close Quarry Cave or Lake District's Skull Cave!
5. You've made it to Hodge Close Quarry cave!
So, once you've climbed over the small incline – you've made it to the main entrance of Hodge Close Quarry cave!
Here, it looks like you've just walked into the inside of a huge skull as the two openings give the illusion of giant eyes.
There are many places you can explore from the main entrance by climbing over the rocks and onto the old mining crane.
But, I just stuck to the main cave as I wasn't sure what I'd find or how easy it was to get to the other caves.
Witcher fans will be interested in the main cavern as this was the filming location for series 2, episode 3 'What is Lost'!
Exploring the Hodge Close Quarry Witcher filming location
You'll find the area where Geralt and Vesemir laid Eskel's body to rest in the very centre of the cave between the two 'eyes'.
There is a small rock circle here where they sat down together. They both discuss what happened to Eskel and how he became a Leshy. Geralt obviously feels awful as he didn't see it coming and had to end his life.
They didn't alter this location much at all for filming. But, I'm pretty sure they placed a bigger slab in the middle of these rocks for Eskel's body as these are quite small.
It's such a shame really as Eskel is quite a large part of the game and book series and I felt like we only really got to know him for 1 or 2 episodes and then he was gone!
But, it's crazy to think that both Henry Cavill and Kim Bodnia were both sat here for filming in the Witcher series.
It's not the easiest location to access in the Lake District but I would highly recommend the adventure for The Witcher fans!
I've played the Witcher 3: Wild Hunt PC game and this totally looks like the cave near Kaer Morhen keep. You can play a quest with Eskel called 'To Bait a Forktail…' where you visit the cave with him!
Hodge Close Quarry opening times and prices
Hodge Close Quarry car park, quarry, and cave are open 24 hours a day so you can visit any time. But, I would always recommend visiting with enough daylight to spare.
There is no artificial lighting around this area at all and there are plenty of steep drops. You won't have access to a special Witcher Cat potion either.
I visited in the spring around 7 pm and it was nice and quiet at this time in the evening as most people were heading home or out for dinner. I had it to myself the whole time!
Hodge Close Quarry car park and caves are also completely FREE to visit in the Lake District.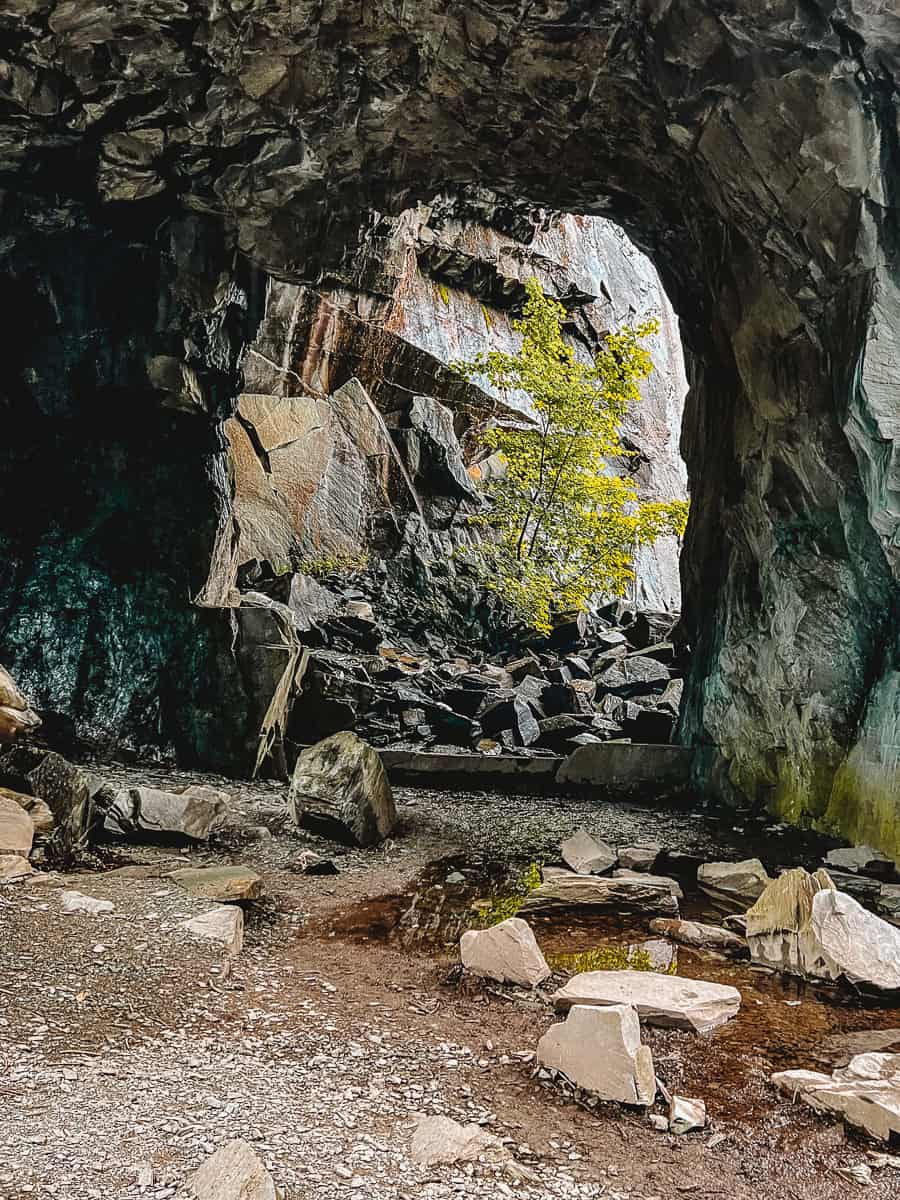 My top tips for visiting Hodge Close Quarry
Be careful on the drive here – The road up to Hodge Close Quarry is extremely narrow and winding with limited passing places. So, go slow driving up to the car park!
Time your visit right – There is a car park at Hodge Close Quarry but spaces are limited. Try to visit early or later in the evening for a quieter visit. There is no lighting and it does get dark.
Wear good pair of shoes – You'll need a sturdy pair of shoes to scramble down to the cave. Also, the inside of the cave can get wet.
Take your time – The scramble down to the cave is very steep and has lots of debris. But, if you take your time and go slowly, it's very easy.
Follow signs and don't stand too close to the edge – there are many steep drops at the viewpoint and on the path down to the cave. Always stay away from the edges to avoid hurting yourself.
Hodge Close Quarry FAQs
Is Hodge Close Quarry safe? There are a few warning signs so you do walk down and go inside at your own risk. But, I found the walk to the cave very safe if you follow the designated pathways.
Can you go Hodge Close Quarry climbing? Yes, I saw some climbers here abseiling down the quarry. It looked terrifying but I'm sure they knew what they were doing! You can find some info from UKC here.
How deep is Hodge Close Quarry? The maximum depth of Hodge Close Quarry Is 32 metres. So, very deep and suitable for licensed and experienced scuba divers.
Can you go Hodge Close Quarry swimming? No. It is not recommended to swim here without diving equipment and even then it can be a risk. It's very deep water and there have been a few accidents in the past. Best to choose a different wild swimming spot like Blea Tarn nearby that has much shallower edges.
Where to next?
After your exploration of Hodge Close Quarry, there are many walks you can take in this area to places like Little Langdale.
Little Langdale is a quaint hamlet just a few miles from here, where you can visit the Three Shires Inn.
Just nearby, you can walk to Little Langdale Quarries or the Cathedral Cave which is another impressive cavern. It's even bigger than this one and has connecting tunnels.
Click here to read my complete guide for finding the Cathedral Cave
The walk will also take you by the historic Slater's Bridge. You can then make your way up to Blea Tarn which is a fabulous lake and another Witcher filming location!
As these hiking routes aren't clearly signposted, it's best to take an OS map and a compass or download maps.me before you go.
You can also head further on to places like Tarn Hows, Hawkshead Village, Hill Top Beatrix Potter Cottage, Wray Castle, and Coniston Water!
Looking for more Witcher filming locations in the Lake District?
After your visit to Hodge Close Quarry, I would recommend either walking or driving over to the majestic Blea Tarn. A gorgeous body of water surrounded by mountains!
This is a Witcher filming location that featured as Kaer Morhen valley where Ciri is training. She can be seen running around the lakeside.
It's another winding road with passing places but there is a dedicated National Trust car park. It's a lovely and flat circular walk.
Click here to read my complete guide for visiting Blea Tarn
Or, why not head over towards Rydal Cave from White Moss car parks? It can be found on a short walk in between Grasmere and Rydal.
This cave is featured in The Witcher when Jaskier takes a bath after escaping jail in 'Voleth Meir'. Geralt and Jaskier discuss Yenefer's plans for Ciri and taking her powers back.
The cave requires you to hop over stepping stones to go inside but if you look back you'll find a giant set of teeth with the reflections in the water!
Click here to read my complete guide of all The Witcher filming locations in The Lake District!
Extra Witcher filming locations in Yorkshire & County Durham
If you're in Yorkshire, you can easily head to another Witcher filming location which is Gordale Scar in the Yorkshire Dales.
This is near the spectacular Malham Cove and the location where Geralt and Ciri fight off the Myriapod. Plumpton Rocks also featured in the Chernobog fight scene.
Fountains Abbey is the location where Yennefer saves Cahir from his execution. Also, the Studley Water Gardens is where Fringilla Vigo and Francesca Findabair discuss plans for Cahir. Also, Cahir discusses plans for Cintra and Ciri.
Finally, in County Durham, you can head over to Low Force Waterfall. This spectacular location is where Yennefer teaches Ciri to use her powers to allow a crossing over the river!
Read more of my Lake District guides
The best things to do in Rydal
How to visit Rydal Hall Waterfall
A complete Cathedral Cave walking guide
Stock Ghyll Force walking guide
Why you must visit Grasmere Gingerbread
Things to see on a Windermere Lake Cruise
How to visit Claife Viewing Station
Save this Hodge Close Quarry Witcher filming location for later!