Okay, Potterheads! If you want to know how to see the Hogwarts Express at the Glenfinnan Viaduct Viewpoint, then keep reading.
Although usually muggles would never be allowed to see this magical steam train on its way to Hogwarts, the Ministry of Magic has made an exception this year.
Just kidding, of course.
But, it is totally possible to visit the Harry Potter train bridge from the movies and see it ride along. Did you also know you can even ride the steam train itself! It's the perfect Potter experience for any fan.
Although I didn't ride the train, I was able to find out the best place to see it from the Glenfinnan Viaduct Viewpoint and discover some secret insider tips too.
So, keep reading about how you can see the Harry Potter train in Scotland from Glenfinnan.
Where is the Harry Potter train bridge location in Scotland?
The Harry Potter train bridge filming location can be found at Glenfinnan Viaduct. This is tucked away in the adorable Glenfinnan hamlet near Fort William.
More specifically, the Lochaber area of the Highlands. It is hidden away from the main road in the rolling hills of the countryside.
So, if you are planning on getting up close to the bridge and the Glenfinnan Viaduct viewpoint, it will be around a 20-minute hike from the car parks nearby.
The nearest place to Glenfinnan with infrastructure is Fort William. This will have the most choice of hotels, restaurants, and attractions nearby like Ben Nevis etc.
So, if you want to plan a visit to the Harry Potter train bridge into your Scottish Itinerary, I would plan to base yourself here for a day or two.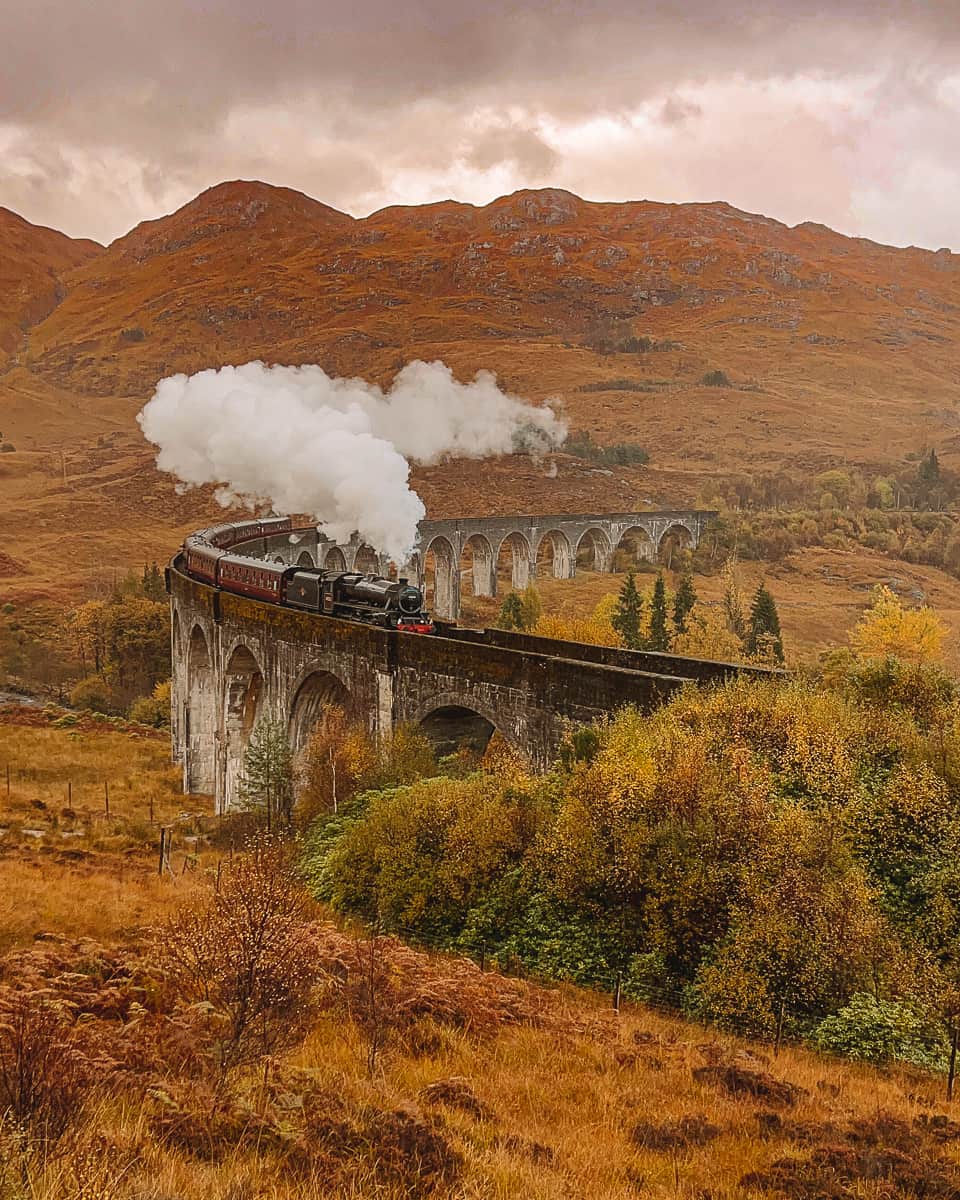 A bit of background on Glenfinnan Viaduct
Before the likes of Harry Potter came along, I imagine that the Glenfinnan Viaduct viewpoint didn't see many visitors! Apart from maybe some avid steam train fanatics, photographers, and trainspotters.
But now, since it came to the big screen, it's one of the most photographed bridges in Scotland!
This bridge was constructed by Sir Robert McAlpine all the way back in 1897. He was a businessman who founded a British construction firm and was a bit of a pioneer in his time.
He decided to build this viaduct completely out of concrete, something that hadn't been done before. The bridge has remained completely unchanged since its construction.
However, it has far more visitors every year nowadays and has a magical meaning for some!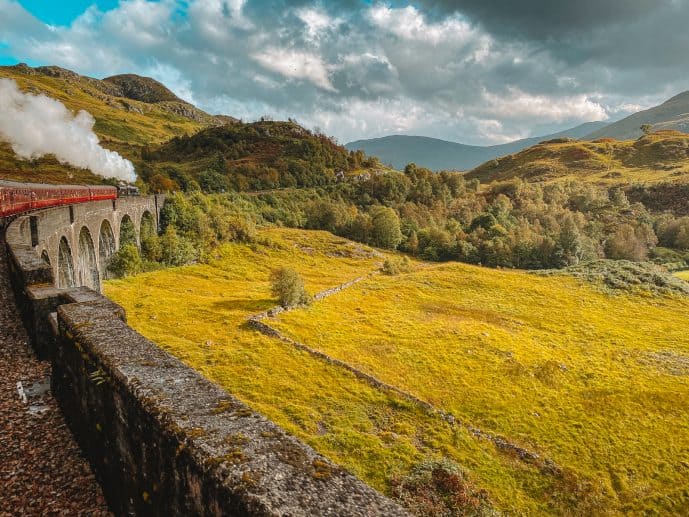 Quick FAQs about Glenfinnan Viaduct
When was Glenfinnan Viaduct built? July, 1897
Who built Glenfinnan Viaduct? Sir Robert McAlpine, a pioneer in using concrete for the bridge
How tall is Glenfinnan Viaduct? It has 21 arches and reaches a height of 30 m above the valley
What time does the Harry Potter train cross the Glenfinnan Viaduct?
Firstly, before anything else, you'll need to plan your visit to coincide with when the Harry Potter train crosses over the Glenfinnan Viaduct to see it from the Glenfinnan Viaduct viewpoint.
The Harry Potter Express train in real life is the Jacobite Steam train run by West Coast Railways.
Unfortunately, this only runs seasonally from early April to the end of October each year. So, if you're visiting in winter you won't be able to see it. Although disappointing, the views are still worth seeing.
To find out when The Jacobite crosses the Glenfinnan Viaduct, you'll need to check out the timetable on their website.
There is a morning service and an afternoon service that runs from Fort William to Mallaig.
The Morning service is running from Monday 3rd April to Friday 27th October 2023 (seven days per week).
The afternoon service is running from Monday 1st May to Friday 29th September 2023 (seven days per week).
The Harry Potter train crosses over Glenfinnan Viaduct 30-40 minutes after the train departs from Fort William Station.
So, as per the current timetable, the morning service departs Fort William at 10.15 am and so the train should cross over the bridge at 10.45 am / 11 am.
The afternoon service is now at 12.50 pm and so the train should cross over the viaduct around 1.20 pm / 1.40 pm.
To be safe, I would arrive at Glenfinnan around the time that the train leaves Fort William. Make your way up to the viewpoint to secure your place to wait it out.
So, aim to arrive in Glefinnan around 10.15 am and 12.50 pm to make your way over to Glenfinnan Viaduct.
How to get to Glenfinnan Viaduct viewpoint
So, now we know what time we're going to aim to arrive, you'll now need to plan how you're going to make your way over to Glenfinnan to find the Glenfinnan Viaduct Viewpoint.
Most tourists choose to stay in Fort William as it has the most infrastructure. From there a drive over to Glenfinnan is only 30 minutes depending on traffic.
Note that around the time of the train crossing, lots of people choose to visit and parking is limited. I visited on a hot afternoon in summer and struggled to find a spot to park an hour before the train even departed Fort William!
So, in summer and on weekends, I would aim to arrive a lot earlier to ensure you leave enough time to park up. Then you have to pay for parking, grab a drink/snack, hike up to the viewpoint etc.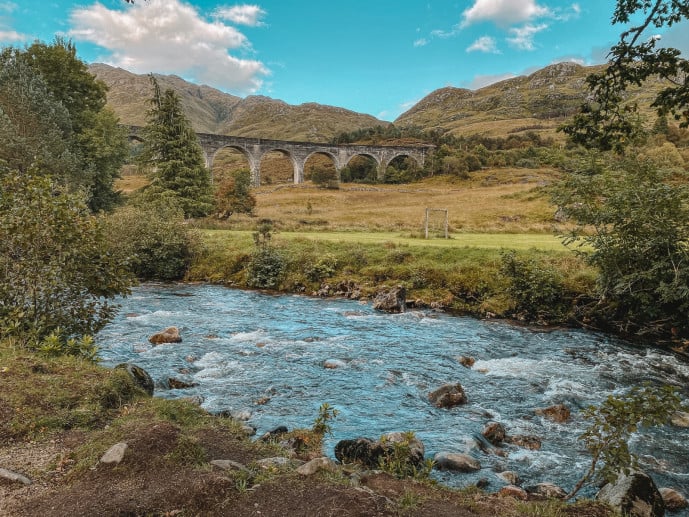 Can you get to Glenfinnan by Public Transport?
YES! The good news is, you can get a direct train and bus from Fort William over to Glenfinnan if you don't have a car.
By Rail: There is a direct Scotrail service from Crianlarich to Mallaig that stops off at Glenfinnan railway station.
The journey takes around 33 minutes and costs roughly £7 one way. This would be my recommended route as it's fastest and drops you off closer.
By Bus: There are also direct bus services by Shiel Buses (500) from Fort William Bus station to Glenfinnan. The journey will take around 45 minutes to an hour.
Then you may need to walk a while to reach the Glenfinnan Monument where the trail begins to the Viaduct.
I always use Travel Line Scotland to plan my journeys via public transport in Scotland.
If you are heading out on public transport from Fort William, leave plenty of time to reach the train! The latest I'd leave it is 90 minutes before the train is due.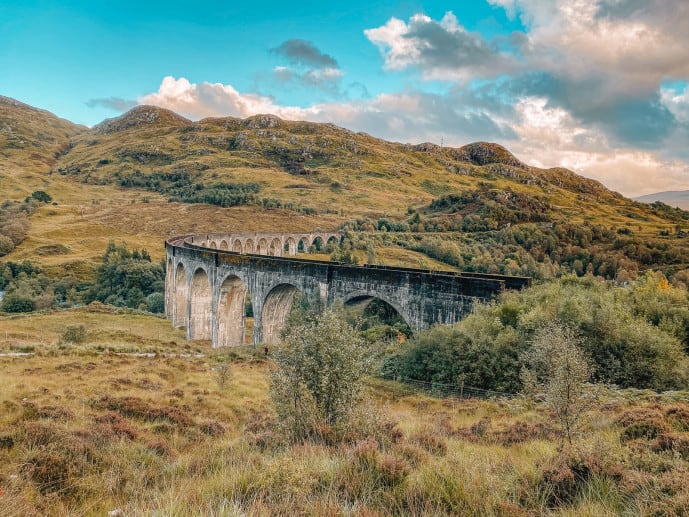 How to see the Hogwarts Express at the Glenfinnan Viaduct viewpoint
There are a couple of ways that you are able to see the Harry Potter train cross over Glenfinnan Viaduct when you arrive;
From the National Trust Glenfinnan Monument visitor centre: The visitor centre has an accessible viewpoint. This is perfect for those that cannot make the hike. But, this would be from a distance. There is also a 'Viaduct View Café' that has opened up this year in the car park!
The Glenfinnan Viaduct Viewpoint Trail: You can take a hike up to the Glenfinnan Viaduct viewpoint from the carpark to get up close to the bridge and get those iconic Hogwarts Express Shots!
Can you see Glenfinnan Viaduct from the road? Not really, unfortunately, you do have to park up and go to a viewpoint in order to see it! It's tucked away in the hills making a roadside view pretty much impossible.
Where is the best view of Glenfinnan Viaduct?
The best view of the Glenfinnan Viaduct is from the Glenfinnan Viaduct viewpoint on a short walking trail.
This is located around a 20-30 minute walk (depending on your speed) from the Glenfinnan Monument on the main road. This is by far the best way to see the Hogwarts Express make its way over the bridge!
Plus you get some fantastic photo opportunities from this location too.
At the viewpoint, there are some makeshift benches on the hillside, but most people stand or sit on the grass if it's dry.
How to find Glenfinnan Viaduct viewpoint, step by step instructions
A walk over to the Glenfinnan Viaduct viewpoint is quite simple, but it is really easy to get lost on the way to the viewpoint and take the wrong path.
So, I'm going to give easy, step-by-step instructions on how to find it!
1. Where to park for the Glenfinnan Viaduct viewpoint?
Due to the sheer number of visitors and Potterheads that visit Glenfinnan these days, there are now two options of parking when you arrive at Glenfinnan. These are;
The National Trust Glenfinnan Visitor Centre – This car park is free for National Trust members. But, if you're not a member it's £3.50 to park for the day. This has around 30-50 spaces and tends to fill up very quickly in peak season.
The Glenfinnan Community Project Car Park – This is a new community car park that has been opened for visitors and is chargeable at £3.50 for the day from April – October. This car park. takes over 100 cars and there is spaces for Coach parking too. All proceeds get fed back to the local community to make Glenfinnan a great place to visit for all!
2. Walk along the main road towards the Glenfinnan Viaduct trail
After you have parked up in either car park, there is now a well-marked trail you can follow over to the Glenfinnan Viaduct viewpoint that avoids the main road route which used to be quite scary.
Simply walk under the archway that reads 'Footpath to Viaduct' and you'll follow this path around to the viaduct via the river.
You'll cross a wooden bridge and you'll note the cute Harry Potter social distancing sign before you cross! So cool!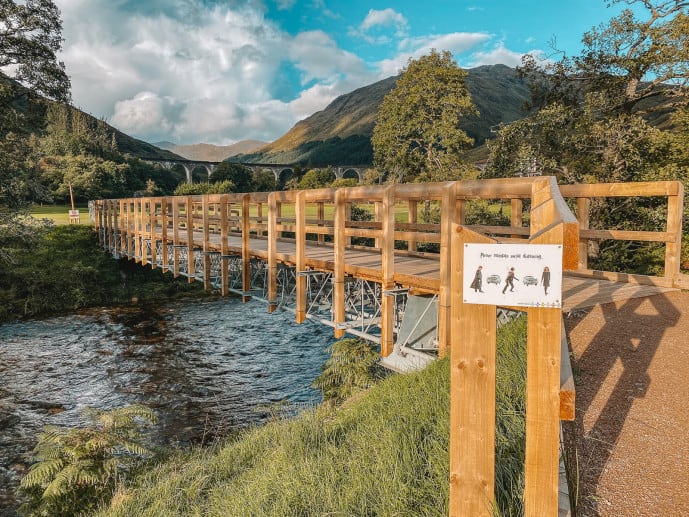 3. Follow the trail (along with everyone else) until you reach the bottom of the bridge
Once you cross the footbridge, simply follow the trail by the river towards the Glenfinnan Viaduct. It should be easy to view in the distance.
You'll eventually meet a cross-section and you'll need to head directly towards the viaduct and walk under the bridge to access the viewpoint.
There is a gateway that is kept shut by a small pulley and weight to protect wildlife. This gate appears closed or locked but it does open. Many people didn't try to open the gate and ended up walking a longer route through the mud!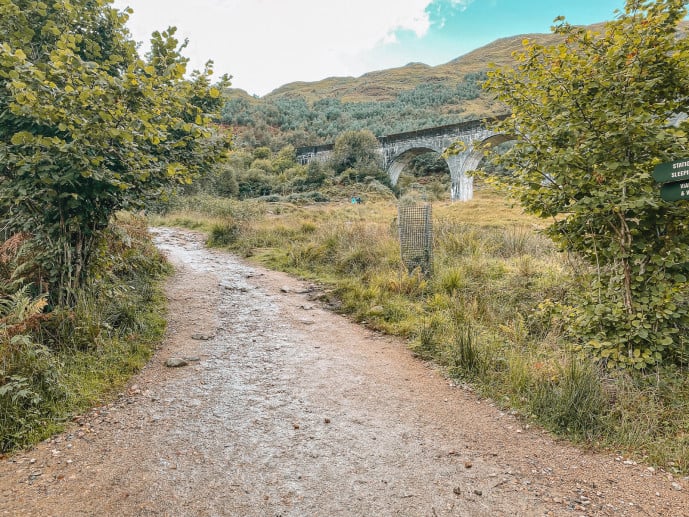 4. Walk under the arches of the Harry Potter train bridge and head up to the Glenfinnan Viaduct viewpoint
Once you find the bottom of the bridge, you'll need to continue under the archways up a small path to the viewpoint area.
This part of the path gets quite steep and you'll need to hike up a small incline to get to the top of the hill. But, there is a well-laid gravel path to the Glenfinnan Viaduct viewpoint.
Once you reach the top you'll probably see some people already sitting around the viewpoint on makeshift seats that have been carved into the hillside.
I was here on a busy day in summer so there were tourists ALL over the view. On the hillsides, sat on the path, lower down the hill. I'm telling you everywhere.
So, it was difficult to find a place where I could get a clear shot as I kept setting up my tripod only for someone to sit in front of it.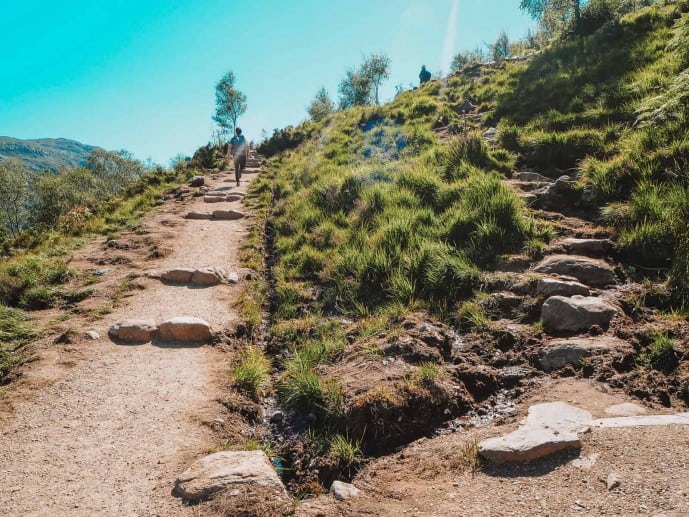 5. Wait for the magical Hogwart's Express to cross!
So, that's it! You've made it to the Glenfinnan Viaduct viewpoint. All that is left is to wait out the Harry Potter train!
There are plenty of places to watch from up here, so most people just spread out and find a spot to plant themselves.
The train going by takes less than a minute and once the show is over, it's over! So, you'll need to be prepared for your shots.
I had a little bit of a nightmare on my visit trying to photograph the train from the viewpoint which I'll go through below.
Expectations vs. reality of the Harry Potter Bridge
So, every time I have seen this train view on Instagram, it looks like no one else is around when the steam train goes by.
The person or persons who are in the photos are alone. So, I thought this viewpoint would be pretty quiet…. Oh, how WRONG I was!!
I was here on a hot afternoon, at the end of June, which was one of the hottest days on record for the Highlands. So, everyone and their wand decided to come out and see the Harry Potter train.
That meant a lot of backlog traffic from Fort William, angry drivers who couldn't find spaces in the car park and people pretty frustrated at the viewpoint as it was boiling in direct sunlight.
I kept setting up my tripod in one position, then I had people follow me and sit in front of my shot.
There were people all over the pathways and it was an endless stream of people.
To top it off, due to the hot weather, there was hardly any smoke coming from the train! So, it just looked like a normal train LOL.
Maybe I set expectations too high. But, if Instagram vs. Reality had a textbook definition, this would be it!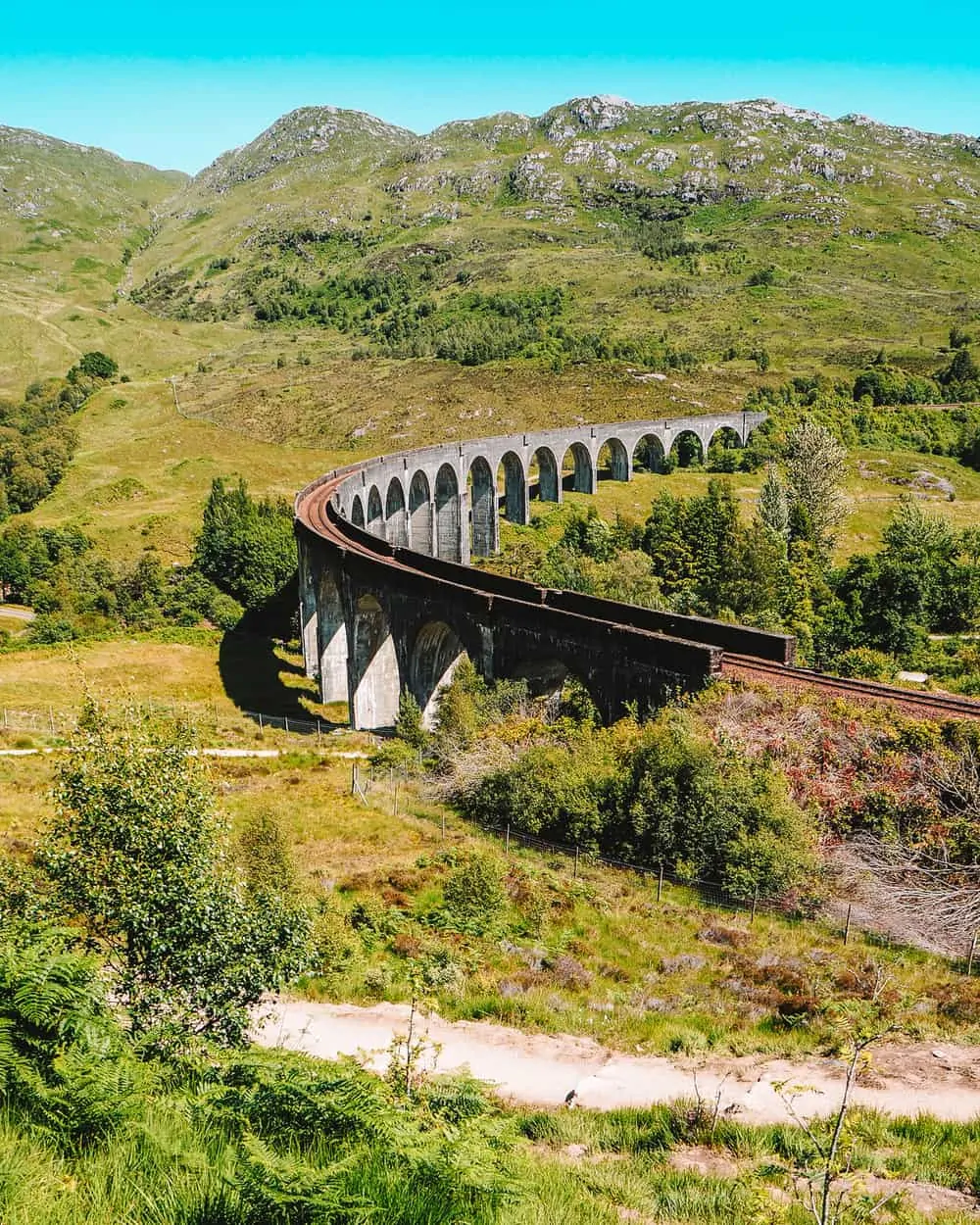 How to photograph Glenfinnan Viaduct
viewpoint

So, knowing all of this, I would highly recommend getting here early and reserving your spot to watch the Hogwarts Express train if you want good photos.

Of course, you could zoom in and get a photo of the train itself no problem from anywhere. But, if you want photos of you AND the train. You'll need to find a quiet spot away from people.

Most people choose to sit around the main viewpoint area, but if you carry on to the left and walk along the hillside, you can sit on one of the many ridges and wait the train out. These are much quieter but people will follow you if it's busy.

On a sunny day, these were dry but provided zero shade. If you're visiting when it's raining these could be slippy.

Also, prepare for the fact that when the train actually comes, people do move and start waving their huge iPads, selfie sticks, and cameras everywhere.

Safe to say, for me at least, it was a little stressful for photos! Especially as the train passing takes less than 30 seconds so you only have one shot at it.
Top tips for visiting Glenfinnan Viaduct viewpoint or the Harry Potter train bridge in Scotland
Leave plenty of time before the train is due to allow for traffic, parking etc.
I would definitely opt for the morning service if you want to beat some of the crowds. The afternoons do tend to pack out.
Bring some snacks and refreshments with you to the viewpoint! There won't be anything up the top. Or, you can grab some from the visitor centre before you go.
Same goes for using the toilet, make sure you go before you hike up here. There are no facilities up at the Viaduct viewpoint.
Although the paths are fairly well-paved, in the winter it may be a little soggy! So wear appropriate footwear.
It is rare, but the day I visited it was super HOT. There is zero shade and my scalp was on fire. So, bring a hat and sun protection. Usually, you'll get rain, so bring appropriate clothes for the random weather.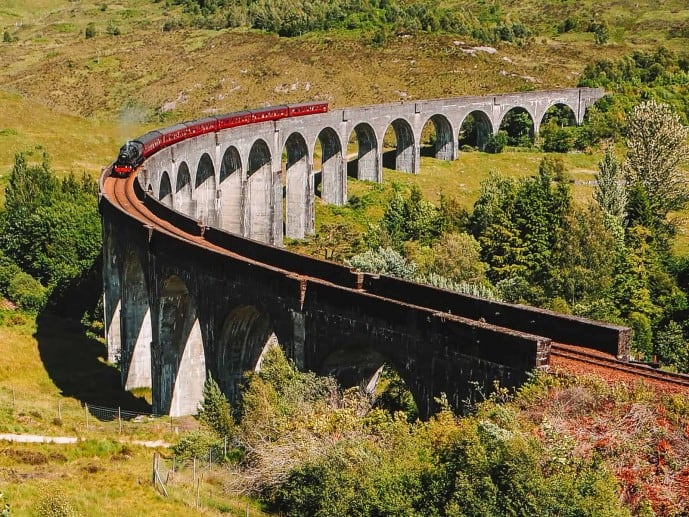 How to ride the Hogwarts Express in Scotland
Now if you'd rather be the one on the train, waving at the onlookers at the viewpoint from your carriage, it is totally possible to ride the Hogwarts Express on your visit!
The Jacobite Steam Train has services that run from April – October on select days which you can check here.
The whole experience will take you 84 miles from Fort William to Mallaig and will take approximately 2 hours and 11 minutes.
Click here to read my guide on how to ride the real life Hogwarts Express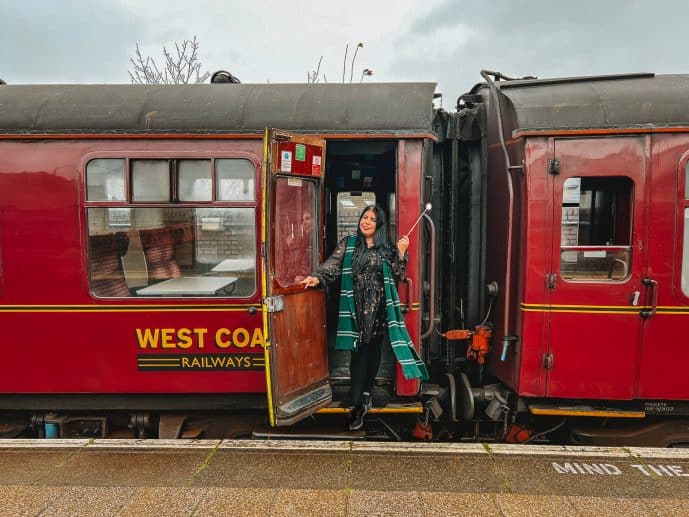 You can even book a HP First Class Compartment carriage like Harry, Ron, and Hermione rode in (only available on the morning service).
Although there won't be the Honeydukes Express food trolley or friendly old witches to offer you refreshments on your journey.
You will find Chocolate Frogs, Jelly Slugs, and Bertie Botts Beans in the gift shop in the Harry Potter carriage D. Plus, some amazing Harry Potter-themed souvenirs to take home.
If you'd rather, you can also add on a traditional cream tea! It is pricey but, if you're a die-hard Potter fan, I'd say the experience was priceless.
Reservations in advance are highly recommended, click here for more details on booking.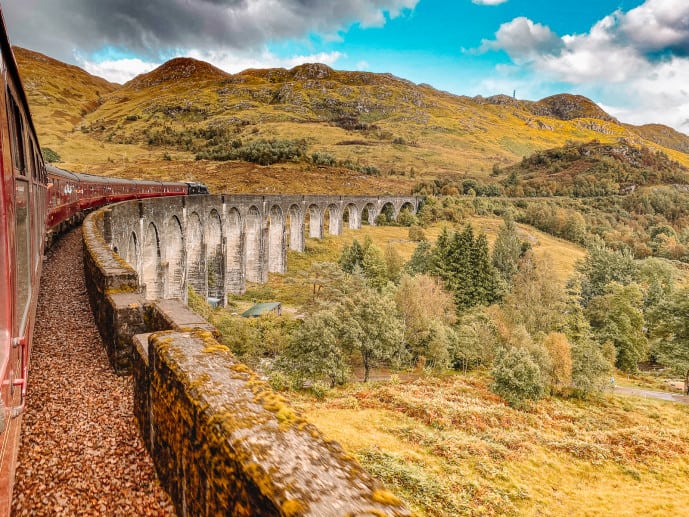 Things to do after the Glenfinnan Viaduct viewpoint
So, once you've seen the Harry Potter train and had your fix. What now?
Well, if you've made your way over here, you'll be happy there are a few things to do around the area.
Carry on the Glenfinnan Trail for more viewpoints – Did you know that this viewpoint is just part of a walking trail? You can carry on from here along the walking trail to get views of Loch Shiel and then loop round back to Glenfinnan Monument. It will be even better than the view that Harry gets riding Buckbeak!
Have a drink or buy Harry Potter-themed souvenirs in the visitor centre – The visitor centre has a fantastic exhibition where you learn about Bonnie Prince Charlie and the Jacobite rising as part of your ticket to the monument. Plus it has a gift shop selling Potter-themed souvenirs and two cafés. The Visitor Centre and the Viaduct View Café for some lunch or a drink.
The Glenfinnan monument – Built as a memorial in 1815 to those soldiers who died in the Jacobite Rising in 1745, A lone Highlander sits on top of the column by Loch Shiel. The Jacobite Rising with Bonnie Prince Charlie taking the lead started in Glenfinnan. But, no more than a year later, ended in catastrophe. You can climb to the top of the 18 metre high tower for £4 and see majestic views of the Loch. Buy your tickets in the Visitor Centre, free for National Trust for Scotland members. Se

e here for opening times.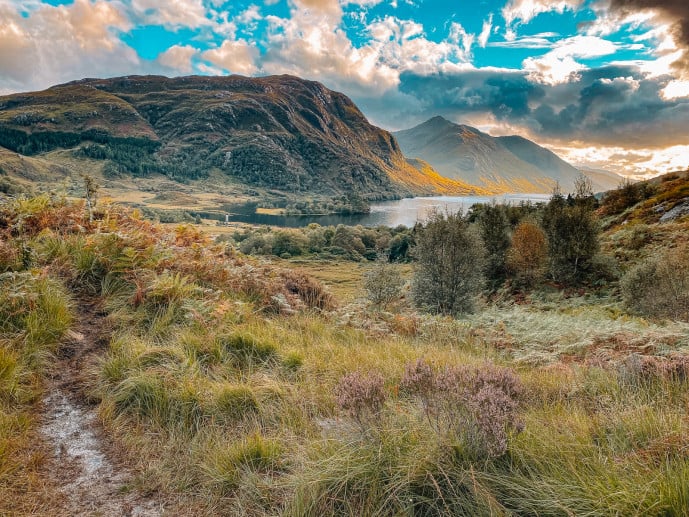 Looking for more Harry Potter locations in Scotland?
Did you know that there are plenty of other Harry Potter filming locations in Scotland that you can visit after Glenfinnan Viaduct? Most are located around Fort William, so you're in the perfect place.
After you've visited the viewpoint, I would recommend heading down to see the Glenfinnan Monument which is by Loch Sheil. This lake and the mountains provided a backdrop for Hogwarts!
Then you can visit the little island of Eilean Na Moine featured as Dumbledore's Grave in the movies. It's only a 20-minute drive away from Glenfinnan.
Click here to read my complete guide on how to visit Dumbledore's Grave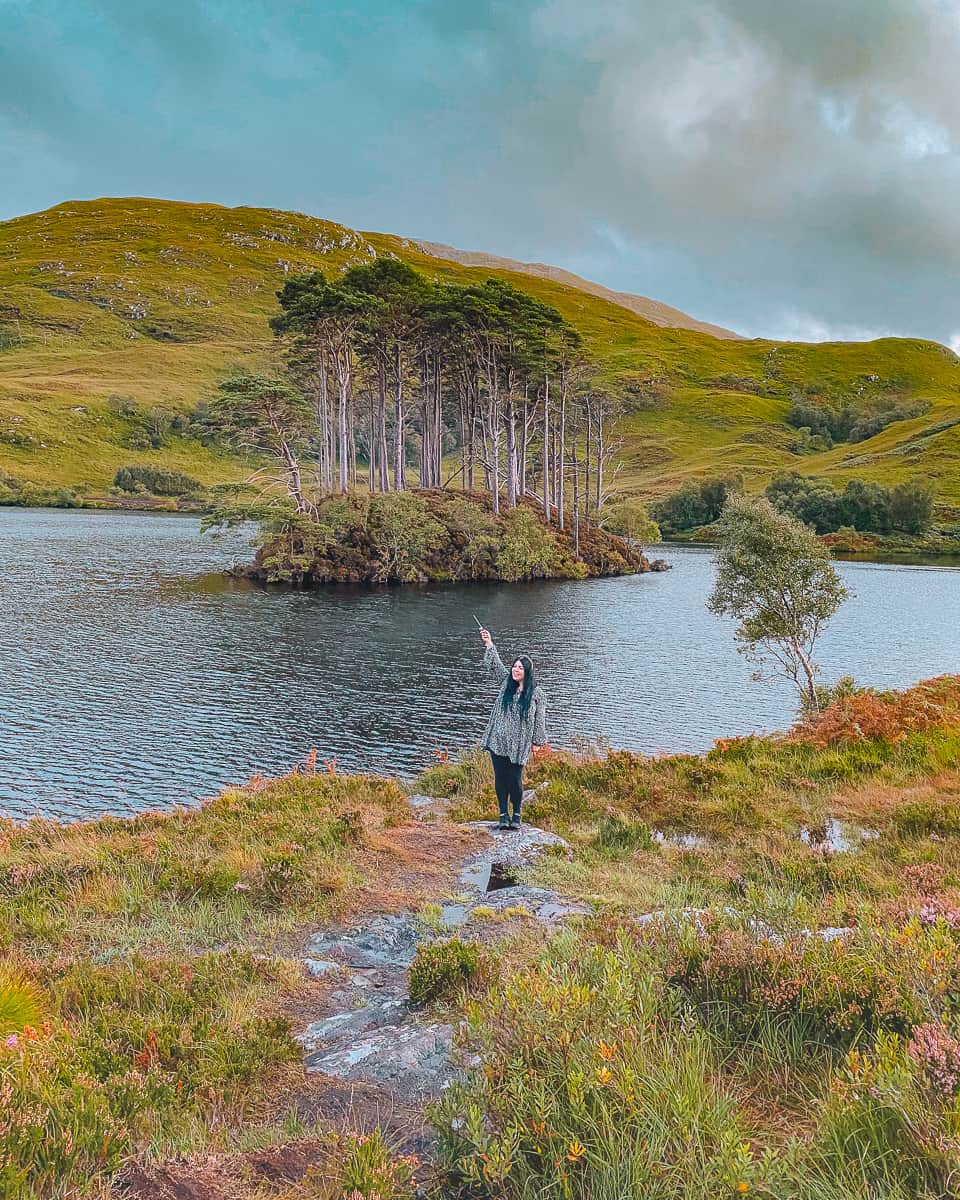 After that, you can carry on up the road to visit Loch Morar. This is one of the locations for Hogwarts Lake. You could also stop at the award-winning Silver Sands beach that was featured in Highlander.
If you're up for a hike you can head on up to Steall Waterfall near Glen Nevis which features in the Goblet of Fire. Or, you can head to the remote Loch Arkaig to see where they digitally imposed this island (this one is only for dedicated fans as the drive is a challenge).
If you're planning an NC500 trip, then you could stop by Black Rock Gorge near Inverness which also featured in the Triwizard Tournament.
Near Fort William, you can visit Glencoe which is the 'Outdoor Capital of the UK'. It's also home to three Harry Potter filming locations.
These are Rannoch Moor viewpoint, Loch Etive, and Clachaig Gully which featured as the filming location of Hagrid's Hut!
Who could forget Edinburgh? It's the birthplace of Harry Potter! Click here to read my complete list of Harry Potter locations in Edinburgh.
Click here for my complete list of Harry Potter filming locations in Scotland
More of my magical Harry Potter inspired articles!
How to find Tom Riddle's Tomb in Edinburgh
A complete guide for Harry Potter in York
How to spend the night in Hagrid's Hut
The Shop That Must Not Be Named review
Harry Potter filming locations in Oxford
How to visit Dobby's Grave in Wales
How to visit Malfoy Manor in real life!
Harry Potter filming locations in Virginia Water
How to have broomstick lessons at Alnwick Castle UK
A complete Forbidden Forest Experience review
Harry Potter locations in Exeter
How to visit the real Godric's Hollow in Lavenham
Harry Potter filming locations in Lacock
How to visit the real Knockturn Alley in London
How to find the Harry Potter Tree at Blenheim Palace
Harry Potter filming locations at Gloucester Cathedral
Visiting the Quidditch Town of Tutshill Tornados
Is this Bristol's answer to Diagon Alley?
Is Cecil Court a real Diagon Alley in London?
How to visit Dumbledore's Grave in Scotland
The best photo spots at the Wizarding World of Harry Potter!
Harry Potter filming locations at Durham Cathedral
Read more of my posts on Scotland
Where is the pink castle in Scotland?
Why you must visit the Kelpies
My ULTIMATE Edinburgh bucket list
A complete list of Outlander filming locations in Scotland
Cove Beach on the Scottish Borders
How to find the Devil's Pulpit
Save how to find the Glenfinnan Viaduct Viewpoint for later!