If you're a fan of the HBO House of the Dragon series, you will be happy to know that you can visit some of the filming locations for yourself in Cornwall.
One of them is Holywell Bay which is meant to be the beach underneath High Tide castle in Driftmark.
This beach was featured in a few episodes throughout the show, including the dreaded 'dark episode' where we couldn't see much on the screen!
So, if you wanted to visit a piece of Westeros in real life, here is how to visit the Holywell Bay House of the Dragon filming location in Cornwall.
What is Holywell Bay?
Holywell is a village in Cornwall that is around 3 miles from Newquay in the South West of England.
It's home to Holywell bay and the name derives from 'holy well' as this area is meant to be home to a cave of St Cuthbert's holy well.
This beach has miles of golden sand, sea stacks, sand dunes, caves, and rock formations that make it a beautiful & interesting beach to visit.
Holywell Bay is also a surfing beach and there is even a surf school here where you can learn.
The entire area is owned and protected by the National Trust which protects and conserves it.
Holywell Bay history
The rock formations and sea stacks in this area formed millions of years ago and the sand dune system in this area is meant to be over 5,000 years old.
There is evidence of human settlement from the Iron Age and Bronze Age on the coastline cliffs as well.
The name of the beach comes from St Cuthbert's Holy Well, an 8th-century Welsh monk who established the holy well in a cave that can only be accessed at low tide.
Nowadays, Holywell Bay is a popular beach destination near Newquay that is owned by the National Trust.
Many films and TV shows have been filmed here including James Bond's Die Another Day, BBC's Poldark, and Agatha Christie's And Then There Were None.
But, most recently the popular Game of Thrones prequel House of the Dragon was filmed here!
Holywell Bay House of the Dragon filming location
Holywell Bay was used for the House of the Dragon series, a prequel that takes place 172 before the Battle of King's Landing.
The story concentrates on the rise of the Targaryen family in Westeros and the events leading up to their inevitable downfall.
Holywell Bay was featured in episode 5 'We Light the Way' and episode 7 'Driftmark' as the beach was meant to be located underneath High Tide Castle in Driftmark.
We see scenes filmed here of Laenor Velaryon and his lover Joffrey Lonmouth in the dunes and later princess Rhaenyra Targaryen and Laenor discussing their marriage.
A few years later, we see princess Rhaenyra Targaryen and her uncle Prince Daemon Targaryen on this beach discussing joining forces against the Greens.
This was in episode 7 'Driftmark' aka the 'dreaded dark episode' where many of the scenes filmed here were too dark to see. Many fans were disappointed and complained.
This is because HBO filmed these night scenes during the day but then edited them to make it look like nighttime in post-production! The result was too visually dark to see on the screens.
How to visit Holywell Bay in Cornwall
So, if you wanted to visit the Holywell Bay House of the Dragon filming location for yourself it's very easy to do in Cornwall.
It's easiest to drive to Holywell as buses are limited. From the A30, you can take the direction of Newquay/Indian Queens. Then you'll take the A39 road, the A392, and then finally the A3075.
Holywell is a village not far from Newquay that has many transport networks. From the train station, you can switch to a Go Cornwall 85/85A bus service from Newquay to Truro via Crantock.
Or, if you were up for an adventure you could hike to Holywell following the South West Coast Path.
Holywell Bay car park address is Holywell Road, Newquay, TR8 5DD. Click here for a Google Pin!
Holywell Bay parking
There is a large car park that can be found opposite Holywell Bay around 500 metres walk from the beach.
This is the closest parking area and it is owned by the National Trust. Although it's a huge car park this is known to get full in the summer months.
Parking charges are £2 for 1 hour, £4 for 4 hours, and £8 all day from March to October. In winter, the prices are reduced by 50%.
If you're a National Trust member you can park for free. Just remember to scan your membership card.
Things to do in Holywell Bay Beach
1. Walk over the sand dunes to the beach
It's good to note that from the car park, the walk over to Holywell Bay beach is around 500 metres.
You'll be walking over sand and there are some bridges and planks to cross over the 'stream' that runs through here.
Once you've crossed the bridges, you'll then descend up steep sand dunes to access the beach! So prepare for a leg workout and for your shoes to fill up with sand.
There is a way to avoid the dunes by walking to the left on the flat sand towards the bay instead.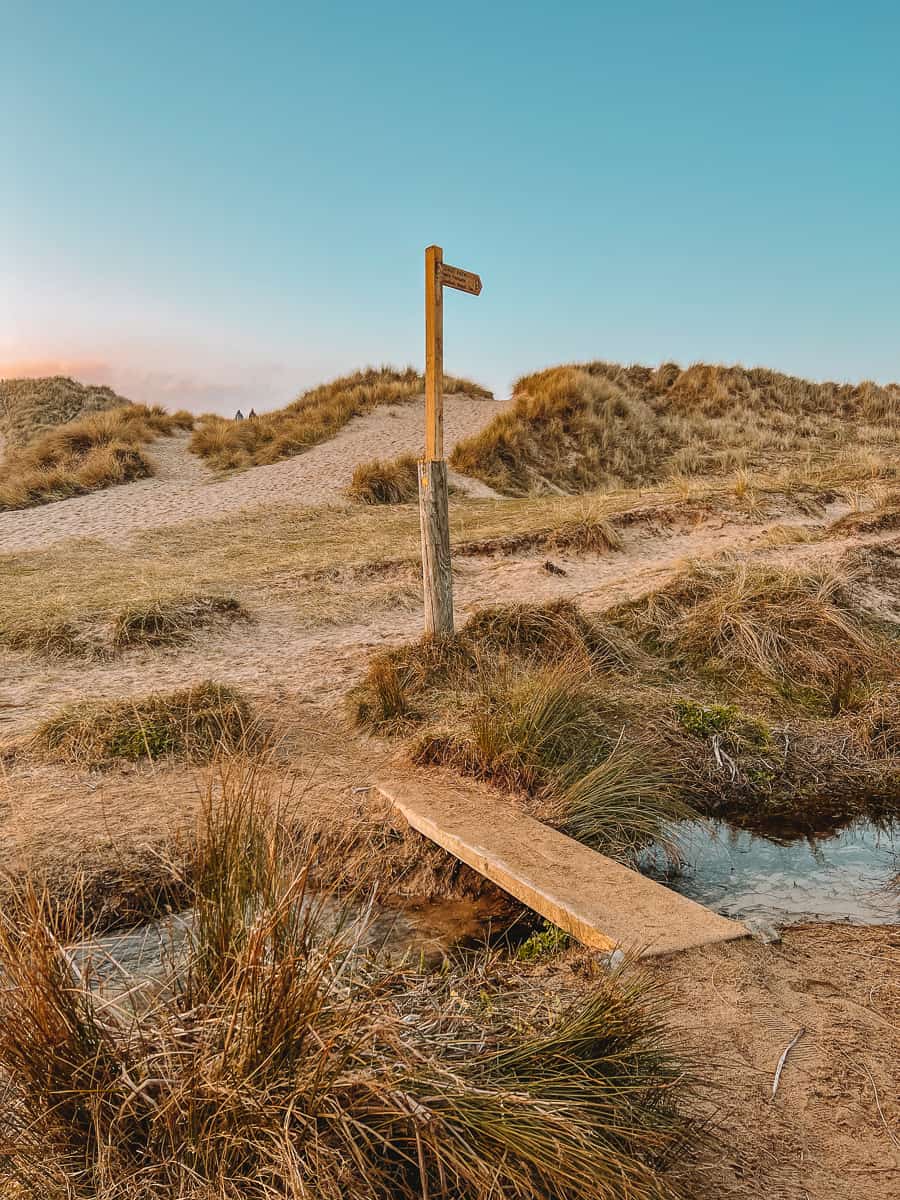 2. Chase House of the Dragon filming locations
So, you will recognise many Holywell Bay House of the Dragon filming locations on your visit.
Here are some to look out for;
Holywell Beach & Cave – This is where princess Rhaenyra Targaryen and Laenor Velaryon discuss their marriage and their 'different tastes'. You can see High Tide castle in the backdrop but this was put in with CGI.
Sand dunes – this is where Laenor Velaryon and Sir Lonmouth kiss after his discussion with princess Rhaenyra.
Sand dunes again – this is where Rhaenyra Targaryen and her uncle Prince Daemon walk on the beach to discuss joining forces. It gets pretty heated from there…
Again, sand dunes – we see a young prince Aemond Targaryen running along the beach to claim Lady Laena's dragon Vhagar. He then flies Vhagar around Driftmark.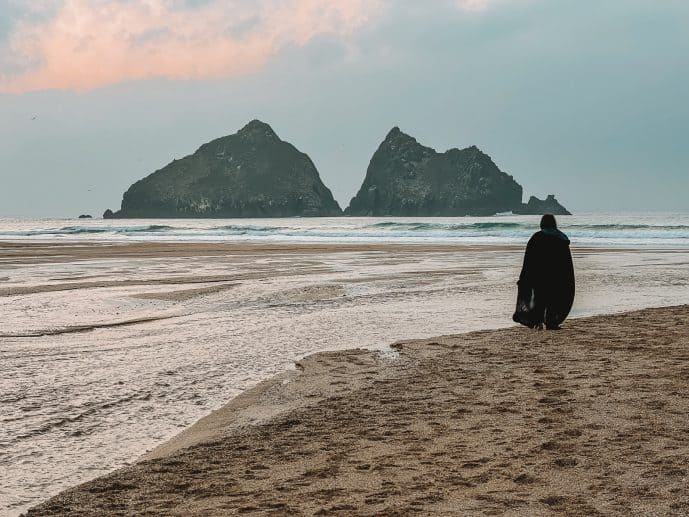 3. Admire Gull Rocks & cliff formations
Holywell Bay can be identified easily by the twin stacks that can be seen over the dunes out into the ocean.
These are known as Gull Rocks or Carter's Rocks and are twin islets made of slate.
The name Carter's Rocks came from the famous smuggling brothers Harry, Charles, and John Carter.
The 'Carters of Prussia Cove' operated out of Cornwall in the 18th century. Harry Carter wrote a memoir called 'The Autobiography of a Cornish Smuggler'. John Carter was famously known in this area as 'The King of Prussia'.
4. Visit St Cuthbert's Cave
The name for this beach stems from 'Holy Well'. This is because of St Cuthbert, an 8th-century Welsh holy man, who is thought to have established a cave nearby as a holy site.
You can still visit this cave and holy well on the beach! It is a huge cavern and has a series of tunnels, colourful cascades, and amazing rock formations inside.
The walls are sediments formed in all different colours and, according to legend, the holy water here is meant to heal you!
You will have to climb through tunnels to see the calcium 'steps' that make up the holy well. So, be careful when exploring.
If you were interested, it is important to know that you can only visit this cave at low tide. So, plan your visit at the right time.
Unfortunately, on my visit, it was high tide and getting dark so I couldn't make my way over to the caves. But, I'm determined to go next time.
5. Spot James Bond & Poldark locations
As well as House of the Dragon filming locations, many producers love to visit Holywell Bay for films & TV shows.
James Bond fans will recognise this beach from 'Die Another Day' (2002) starring Pierce Brosnan. Holywell Bay is featured in the opening sequence when Bond arrives in North Korea.
Also, fans of BBC's Poldark will recognise Holywell Bay from series 4. This was the Warleggans beach and you can clearly see the twin stacks in the backdrop!
Love Poldark? You can visit more filming locations in Cornwall including Botallack, Porthgwarra cove, and Charlestown.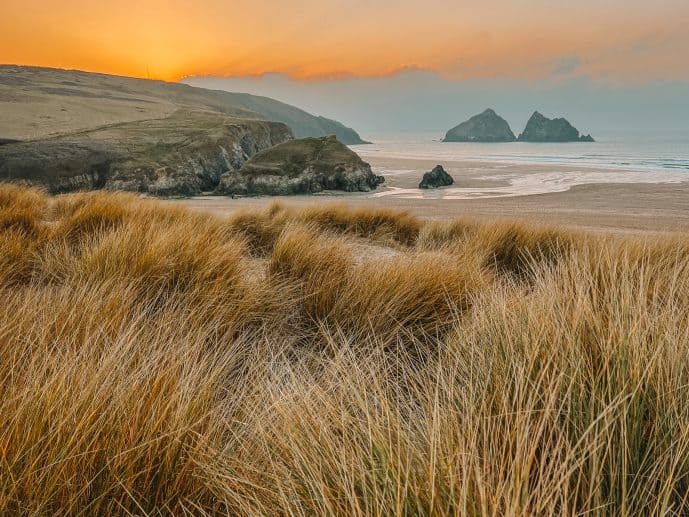 6. Holywell Bay shipwreck
Did you know that you can visit an old shipwreck at low tide on Holywell Bay? It is believed to be the SS Francia, an Argentinean cargo ship that set sail from Newquay.
The ship was carrying coal that was transported from Port Talbot in South Wales and was to be delivered to France in 1917. It was a 700-ton coaster steamer.
Unfortunately, it ran aground and wrecked on these shores. Some parts of the ship were salvaged but the rest can be spotted from the beach!
Not much remains these days and it's mainly a large piece of rust that is covered in seaweed.
7. Go surfing or learn at the Surf School
Holywell Bay is a popular surfers' beach and you'll often find surfers and bodyboarders around here.
If you have ever wanted to learn to surf, you can visit the Holywell Bay School of Surf which can be found in the middle of the bay.
They cater classes for complete novices up to advanced surfers and you can book via their website or by giving them a phone call. Bodysuits, beginner boards, and expert tuition are included.
8. Sunbathing & sandcastles
As Holywell Bay is the biggest bay on this stretch of coastline, it has miles of golden sand to explore.
It doesn't get as busy as Newquay beach and so there will be plenty of room to set up your towels and sunbathe if it's a sunny day.
This beach is also perfect for digging up sandcastles. So, make sure to bring your spade and bucket!
9. Visit Holywell Bay café
In peak season, a food van does sometimes drive onto the beach to provide refreshments like drinks, ice creams and snacks.
But, there are a few cafés you can visit in Holywell village if you fancy grabbing some lunch or dinner.
You can find Gull Rocks Bar & Coffee House, Woody's Bar, and the Treguth Inn. Or, why not visit St Piran's Inn which is meant to have been established in the 13th century?!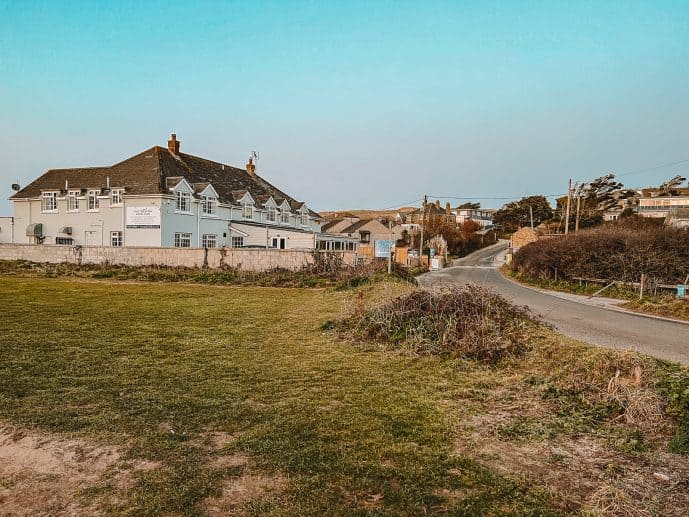 10. The Kelseys & Cuthbert Common
The Kelseys are a series of three cliff enclosures called the Inner, Middle, and Outer Kelseys and are separated by ancient walls. It was previously home to an Iron Age Hill Fort.
You can take a short circular walk to see them from Holywell Bay car park by heading to Kelsey Head.
Another walk is St Cuthbert's Common. It's a rare enclosed common in England that has been blown over by sand dunes.
It used to be the site of a Bronze Age burial mound that you can still see evidence of today!
Holywell Bay facilities
Holywell Bay has many facilities like a car park, toilets, and a lifeguard on duty.
But, on the other hand, it is inaccessible for many due to the uneven terrain and there is poor phone signal in this area.
Some of the facilities may close in the winter months. So, it's best to check the National Trust website to see what will be open on your visit.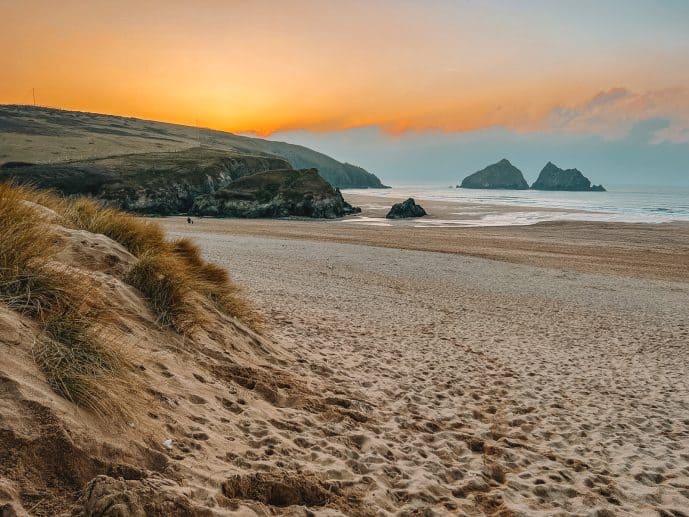 Looking for more House of the Dragon filming locations in Cornwall?
If you were looking to visit more UK House of the Dragon filming locations you'll find some close by in Cornwall.
Kynance Cove was the beach they used for The Stepstones. This is where Daemon Targaryen, Corlis Velaryon, and the Triarchy battle it out in the War of the Stepstones.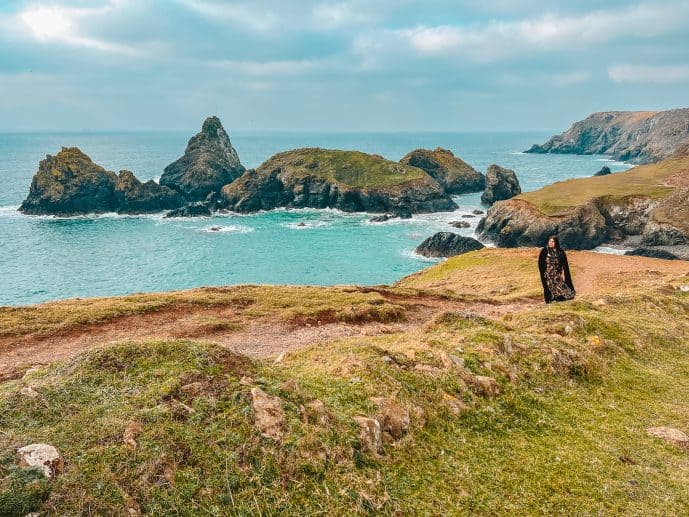 St Michael's Mount was chosen to play High Tide Castle in Driftmark! You'll spot scenes over the causeway, castle, gardens, and around the island as well.
They used this in the same two episodes as Holywell Bay including Rhaenyra Targaryen's engagement to Laenor Velaryon and the scenes around Lady Laena Velaryon's funeral.
Also, there are many more filming locations across England including Hampshire, Surrey, and the Peak District. Dramatic locations were used including Cave Dale and Eldon Hill Quarry.
Things to do near Holywell Bay
Once you have finished exploring Holywell Bay there are some great things to do nearby.
Newquay is filled with amazing beaches like Crantock Beach, Tolcarne Beach, and Fistral Beach. But, the most spectacular has to be Perranporth Beach.
It has a Rockpool filled with turquoise waters and cliff formations. It also has miles of golden sand. It's perfect for surfing!
If you're in this area of Cornwall, I would make the drive over to the village of Tintagel which is home to the spectacular Tintagel Castle.
This is supposedly the legendary location of King Arthur's Camelot and you can even visit Merlin's Cave for free beneath on Tintagel Beach.
Just nearby, you can visit the magical waterfall of St Nectan's Glen. It's over 60 metres and crashes through a hole in the cliff.
This woodland was founded over 1500 years ago and is a sacred and spiritual site in the UK.
You can also visit the gorgeous village of Boscastle to see the Museum of Witchcraft and Magic and the Devil's Bellows.
Holywell Bay FAQs
How far is Holywell Bay from the beach? It's around 500 metres from the beach from the car park. You will also be walking over large sand dunes but there is a way to avoid them by walking around them to the left of the dunes.
Does Holywell Bay get busy? In summer, or in warm weather this beach can get very busy! I'd arrive early to guarantee a parking space.
Is Holywell Bay good for swimming? Yes, you can swim just be careful.
Is Holywell Bay dog friendly? Holywell Bay is dog friendly all year around! It's a huge beach so lots of room for them to run around and chase the waves.
Read more of my Cornwall guides
Things to do in Mousehole Cornwall
How to visit St Michael's Mount in Cornwall
Things to do in Charlestown Cornwall
How to visit the Lost Gardens of Heligan
Things to do at the Jamaica Inn
How to visit Golitha Falls in Cornwall
A complete guide for the Cheesewring Hike
How to visit Tregothnan Estate in Cornwall
A complete guide to Porthgwarra
Magical Things to do in Lands End
Why you must visit the Minack Theatre
Visit the secret Nanjizal Beach
Save the Holywell Bay House of the Dragon filming location for later!