Honington village is a hidden gem that lies on the fringes of The Cotswolds in Warwickshire near the River Stour.
Most people make a beeline here to check out the quaint Rose Cottage after spotting it on social media. But, there is plenty more to see and do in Honington village while you're here.
You can explore the gorgeous thatched and timber-framed cottages as well as pay a visit to the Baroque All Saints Church.
Here is a complete Honington Warwickshire guide with the history and the best things to do!
Why visit Honington Cotswolds?
Honington is a quintessential English village that is tucked away in the countryside. It's on the gateway to The Cotswolds in Warwickshire.
Unlike other Cotswolds villages, Honington is a bit of a hidden gem where you can escape the crowds. It's very quiet and peaceful so it's perfect for a leisurely stroll.
There are many gorgeous thatched cottages and historic buildings to admire plus an ancient medieval church. It lies right on the picturesque River Stour so it's perfect to plan some country walks.
There aren't any facilities in Honington like hotels, cafés or shops but the scenery more than makes up for it! It's the perfect place to spend an hour or two.
Honington history
All Saints Church in Honington dates back to the 13th century and you can still see the remains of the medieval tower today.
The oldest building in the village is thought to be The Magpies on the village green which dates back to the 1500s.
Honington estate was sold in the 17th century to Sir Henry Parker who built Honington Hall, the Honington Bridge over the River Stour and rebuilt Honington Church in the 1680s.
Today, it's a sleepy village in the Cotswolds that many people visit to see the spectacular Rose Cottage after spotting it on social media.
Things to do in Honington Cotswolds
1. Admire Rose Cottage Honington
Most people make a stop at Honington in the Cotswolds to see the glorious Rose Cottage Honington from seeing it on social media apps like TikTok and Instagram.
This is a lemon, picture-perfect thatched cottage that has a lush colourful garden in the spring and summer months.
This quintessentially English cottage is worthy of a postcard so make sure to have your camera ready!
Note: remember to be respectful of the owners when taking photos of this cottage. Stay behind the gate and don't pry.
2. Take a stroll in Honington village & green
There are plenty more beautiful buildings to be found in Honington while you're here so don't forget to take a stroll through the hamlet.
You can walk from Rose Cottage to the village green where you can see Magpie Cottage, Shoemaker's Cottage, and the gates to the privately-owned Honington Hall.
There are plenty of pretty thatched cottages to admire. We spotted some friendly local cows while we were here too!
3. Visit Honington Church of All Saints
You really cannot leave Honington without making a stop at Honington Church or the All Saints Church.
It's tucked away in a far corner of the village and so it's not obvious to find. But, you'll see a sign pointing towards the church from the village green. It's a five-minute walk from Rose Cottage.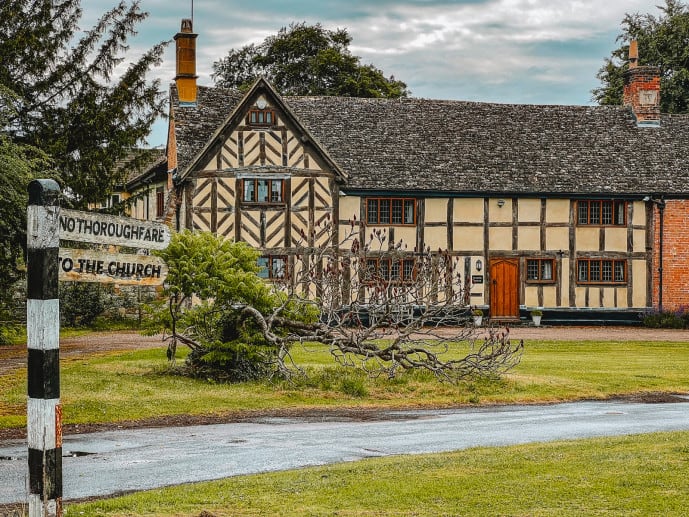 You'll walk through the lychgate and graveyard to the church and it's open daily in the summer months. I would highly recommend popping in!
Honington Church is made of limestone ashlar and dates back to the 13th century. The medieval tower still remains but the lower building was rebuilt in the 1680s.
It's decorated in the Baroque style and has large archways accommodating the pews and an organ.
It's all painted in a beautiful shade of duck-egg blue and has many interesting statues like the tomb of Sir Henry Parker and his son Hugh Parker.
Entrance is free but donations are always welcome to help support the running of the church.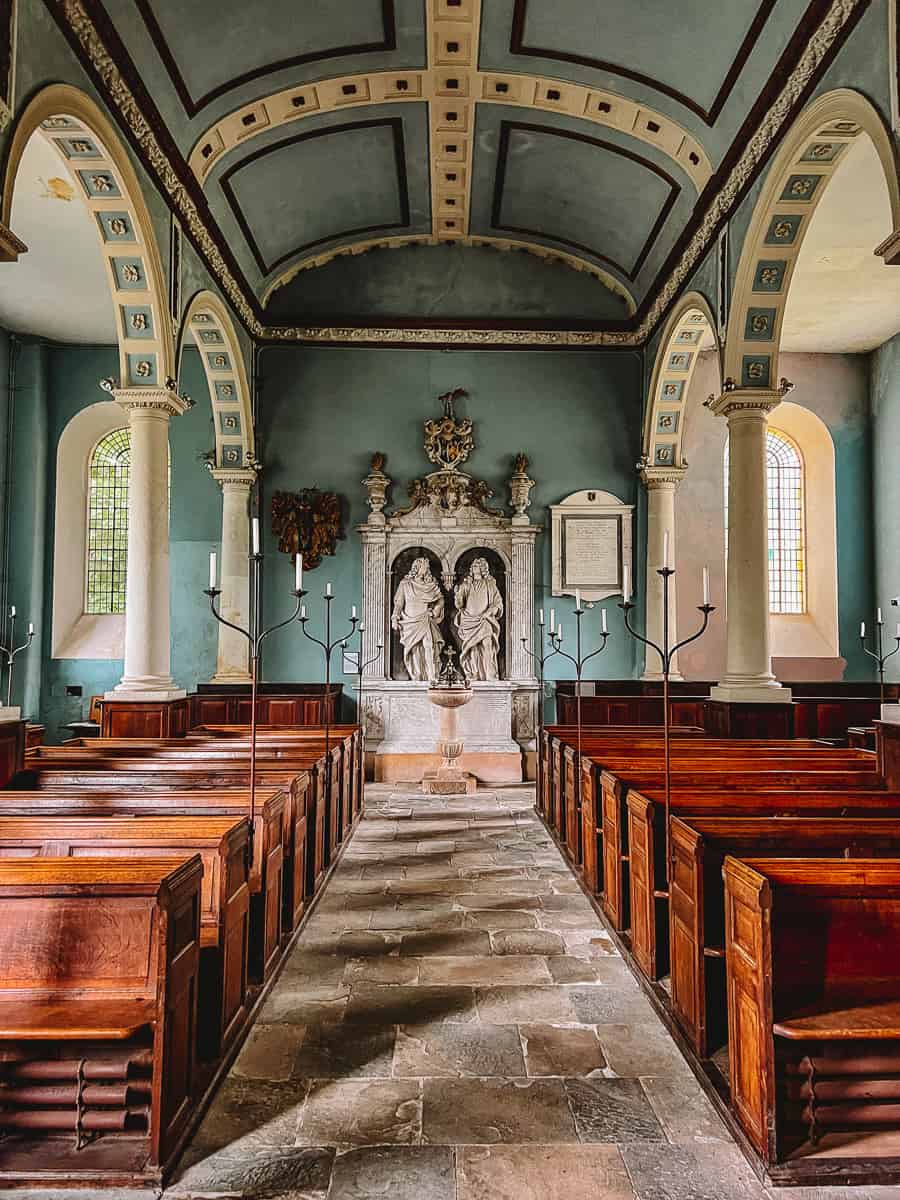 4. Cross Honington Bridge
One of the most interesting features of the village can be found while driving in. You'll cross over the River Stour via the picturesque Honington Bridge.
Honington Bridge was built in 1685 and is completely made of Limestone ashlar like Honington Church. It is believed that it used to be part of the Honington Hall estate.
Today, the five-arch bridge is protected as a grade II listed monument and is well worth crossing for the panorama alone.
You can cross over it on Idlicote Road and see gorgeous views of the banks of the River Stour!
5. Walks along the River Stour
There are plenty of Honington walks that you can take around Honington and Shipston-on-Stour.
A popular walk is the Honington & Idlicote Circular which includes the Centenary Way and Shakespeare's Way.
You'll get to walk over Honington Bridge and see Idlicote Folly whilst enjoying the countryside and river views.
There are also routes towards Willington, Tredington, Ilmington, Hidcote, and Chipping Campden!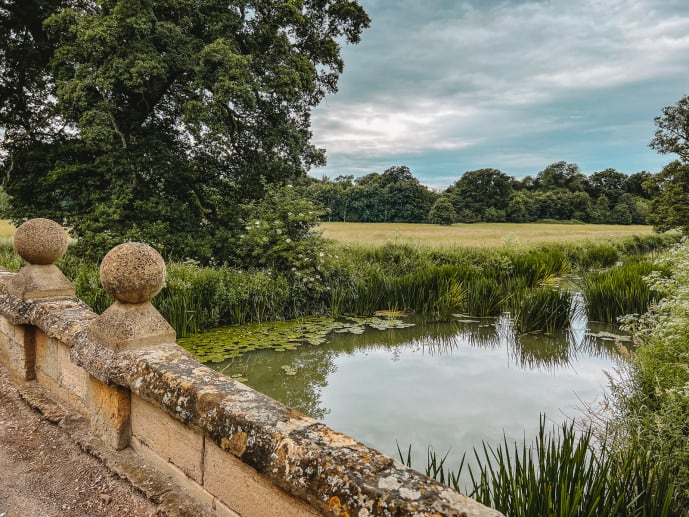 Where to eat in Honington
Unfortunately, there are no cafés or shops in Honington village for refreshments as it's a very small place.
The nearest places to eat would be in Shipston-on-Stour which is just under two-miles drive away.
In the town, you'll find popular restaurants like The George Townhouse, The Black Horse Inn, and the Blue Blean Coffee Shop!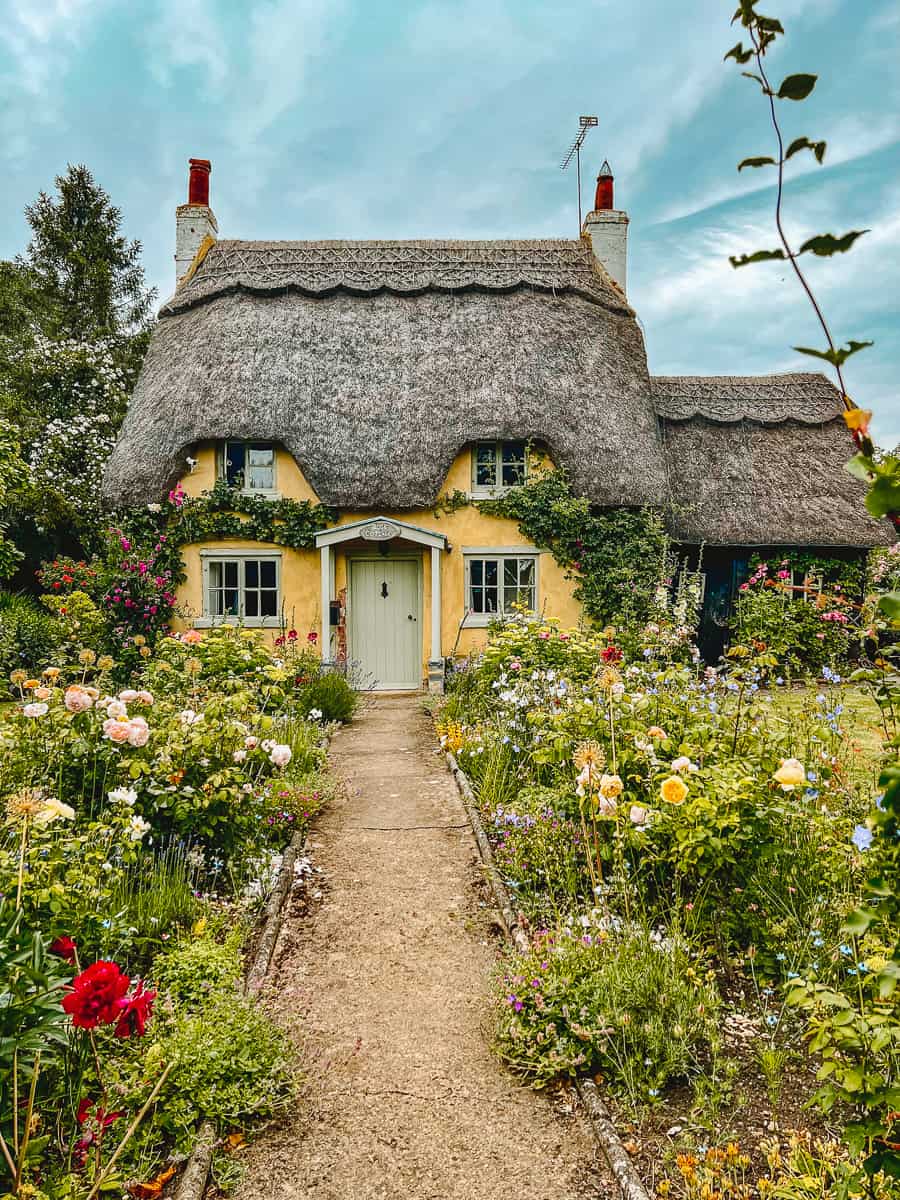 How to visit Honington in the Cotswolds
It's best to drive to Honington in the Cotswolds as it's very remote and there is no train station. It's just a mile from Shipston-on-Stour.
Honington village is also a 20-minute drive from Chipping Campden, a 30-minute drive from Broadway, and a 30-minute drive from Warwick.
The nearest train station is Moreton-in-Marsh and from here you can take a bus to Shipston on Stour then head onto Honington.
There is a regular bus service from Shipston-on-Stour (Perripher's Garage) to the Honington Lodge bus stop.
Honington postcode is CV36 5AB. Click here for a Google Pin!
Honington parking
There is plenty of off-road parking in Honington Village. Make sure to park with consideration and be mindful of residents.
You can also park just outside Honington Church Lychgate if you're planning to visit.
Where to stay in Honington
As Honington is a tiny village, there isn't anywhere to stay here, the closest place to spend the night would be Shipston on Stour.
This is only a 10-minute drive away from Honington and it has plenty more choices of accommodation.
Here are some of my top picks of Shipston on Stour hotels;
The George Townhouse – A beautifully furnished hotel set in a Georgian building above one of the top-rated restaurants in the town. Check here for dates and rates.
The Lazy Pug – a modern hotel with quirky furnishings above one of the top-rated restaurants in Shipston on Stour! Click here to rates.
Where to next?
After Honington Cotswolds, you can head over to another gorgeous village called Tredington or the historic market town of Shipston on Stour. Home to the annual Shipston Proms.
Warwick is only a 30-minute drive away which is home to the famous Warwick Castle! In the town, you can explore the Old Town, St Mary's Church, Lord Leycester Hospital, and Thomas Oaken Tearooms.
Read more – Epic things to do at Warwick Castle!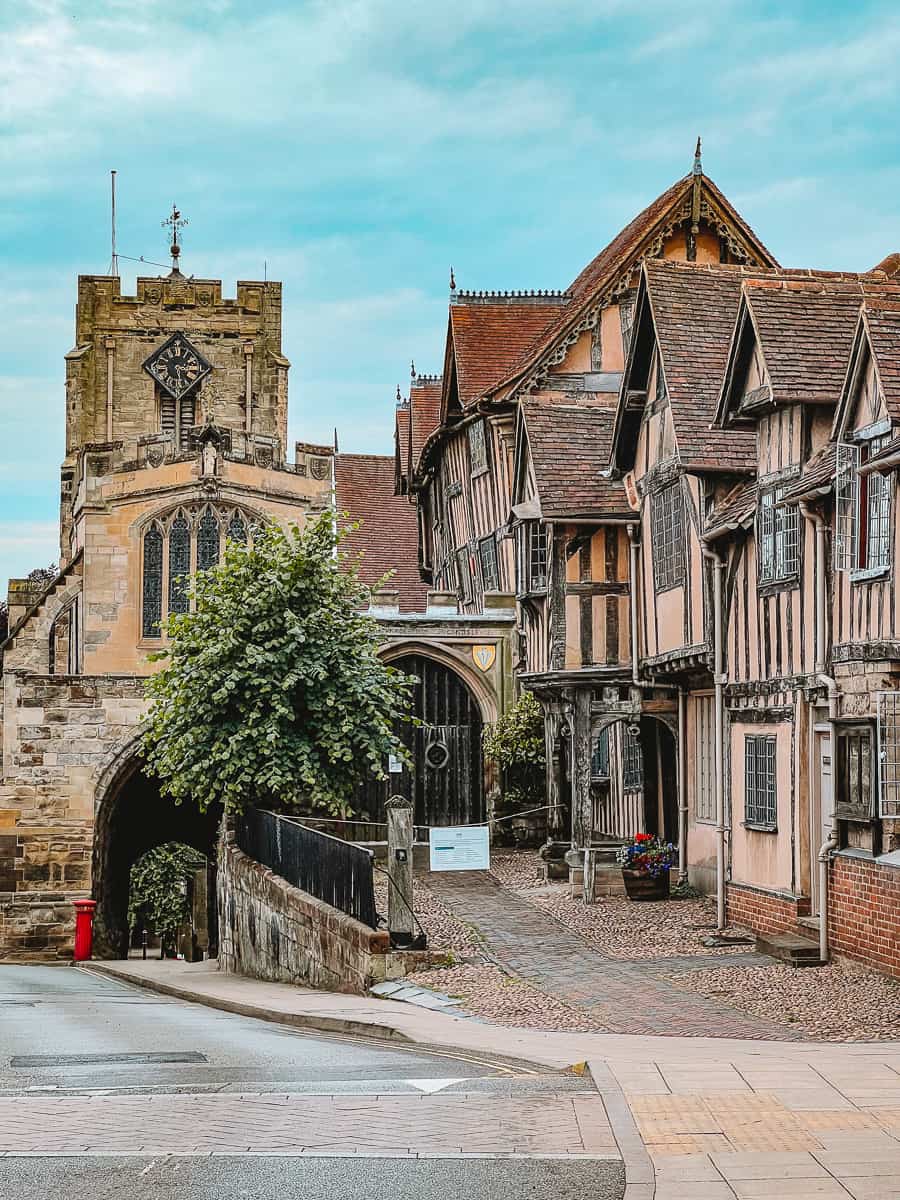 Stratford upon Avon is also close by which is the home of William Shakespeare. You can visit Shakespeare's birthplace, New Place, and Anne Hathaway's Cottage.
There are lots of attractions to explore here like the Tudor schoolrooms, Holy Trinity Church and endless timber framed houses. You can even watch a show or take a tour at the Royal Shakespeare Company.
Honington is also on the gateway to the North Cotswolds. You can easily drive to gorgeous places like Snowshill, Cotswold Lavender Fields, Chipping Campden, and Broadway home to the Broadway Tower.
Further afield, you have Moreton-in-Marsh, Stow-on-the-Wold, Lower Slaughter, Upper Slaughter, and Bourton-on-the-Water!
Read more of my Cotswolds guides
Best things to do in Stow-on-the-Wold
The Tolkien Door in the Cotswolds
Lord of the Rings in the Cotswolds
A complete guide for Broadway Tower
How to visit Cotswolds Lavender Fields
How to visit the Cotswolds Confetti Fields
Best things to do in Lower Slaughter
Places to visit in Upper Slaughter
Best things to do in Bibury including Arlington Row
Save Honington Cotswolds for later!