There are so many Hopetoun House Outlander film locations, that it's important to leave lots of time to visit them all while you're here.
Hopetoun House and the wider estate featured in all four seasons of Outlander. You'll travel to the Scottish Highlands, Paris, Boston and you'll find yourself transported through time to various scenes from the series.
As a location that's easy to visit from the main cities of Edinburgh and Glasgow, it's highly accessible and well worth the journey.
Here is a complete guide to all the amazing Hopetoun House Outlander locations you can visit!
What is Hopetoun House?
Hopetoun House is a country home that lies on the wider Hopetoun Estate. It was originally constructed under Charles Hope, the 1st Earl of Hopetoun. He was only 16 when he moved in at the time!
It is still, to this very day, the ancestral home of the Hope family. It lies on the Southern coast of the Firth of Forth in West Lothian.
The Hopetoun Estate which encompasses the house covers an area of over 6,500 acres and most of it is open to the public.
Hopetoun House history Q&A
When was Hopetoun House Built?
Hopetoun House was built from 1699-1701 by architect William Bruce for the Hope family. The first Earl of Hopetoun, Charles Hope, was the first person to live here.
A few decades later, William Adam added extensions, colonnades, and staterooms to Hopetoun as was the fashion of the time.
Who owns Hopetoun House?
Today, The 4th Marquess of Linlithgow and previous Earl of Hopetoun owns Hopetoun House and lives on the wider estate.
He was responsible for the creation of the Hopetoun House Preservation Trust (HHPT) which is an independent charity.
The proceeds all go towards the upkeep of the house you're visiting today!
Does anyone live in Hopetoun House?
The current Earl of Hopetoun, The 4th Marquess of Linlithgow's son, currently lives in Hopetoun House.
Though, I'm sure he scarpers in visitor season with all us tourists having a nose around haha!
Where is Hopetoun House & how to get to Hopetoun House from Edinburgh
Hopetoun House is located near South Queensferry, on the Firth of Forth south coast. The easiest way to access the Hopetoun Estate is to drive from Edinburgh or Glasgow.
If you're driving, make sure to plug in EH30 9RW into your Satnav. There are lots of pin code controlled entrance gates and you don't want to be caught in the wrong one. Or, it's a long drive round!
When I was driving here, I made the mistake and got the wrong entrance gate. But, luckily, someone took pity on me and let me through with their access card. Thanks to whoever that was!
You can also walk to Hopetoun House via the Sea Walk Trail from South Queensferry, see more information here. From here, there are lots of walk around the estate too, if you fancy it.
If you'd rather go on an organised Outlander tour and hit up a few locations in one day. Then I'd recommend this Outlander tour that covers Hopetoun House & Midhope Castle (Lallybroch).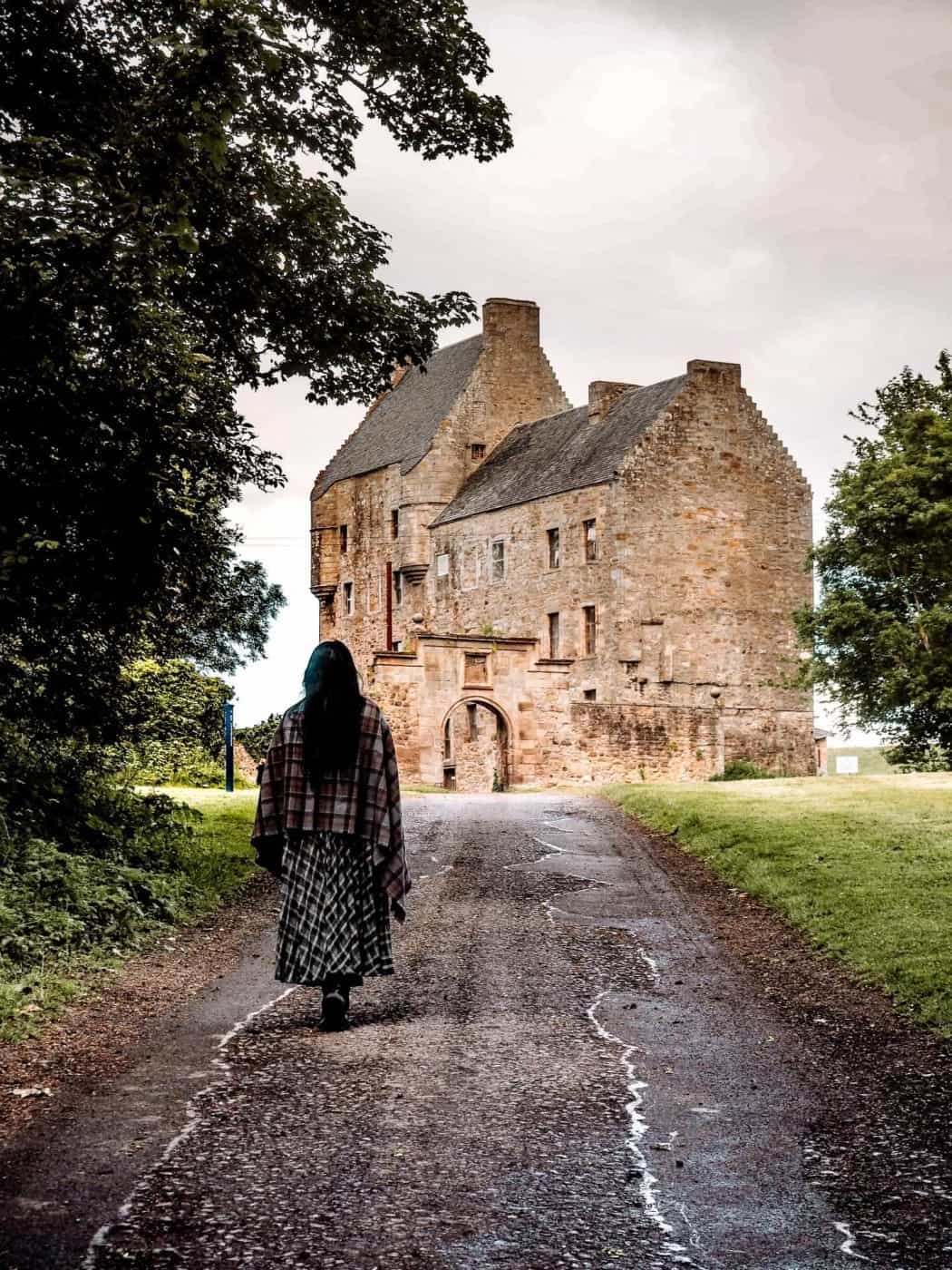 Hopetoun House opening times and prices
Hopetoun House is open seasonally from April to September every day for visitors. Outside of these months groups can visit by appointment.
The first entry to the house is 10.30am, but you can access the grounds a little earlier which is perfect for those clear shots.
The last entry to the house is 4pm, but as there is SO much to do, I would aim to be here latest 3pm so you can see all the Outlander locations and the house itself.
The wider estate and grounds are always open for visitors throughout the year.
Ticket prices
Adults: £10.50 for House & Grounds and £4.75 for just grounds
Children: £5.50 for House & Grounds and £2.95 for the grounds
Groups (15+): £9.00 for House & Grounds and £4.25 for grounds
For more Hopetoun House ticket options see here
Outlander locations in Hopetoun House
Now we've got the nitty-gritty over with, we can now proceed with what we've all been waiting for; the incredible Hopetoun House Outlander locations that are here!
When you enter the house, don't forget to pick up a Hopetoun House Outlander map from one of the kind employees who work there.
The staff are lovely and are at hand to answer any Outlander Q&A you might have, with some behind the scenes gossip too!
This list has been put in the best order to see each location.
1. The Duke of Sandringham Red Drawing Room
Season 1 location
If you're anything like me, you'll be itching to visit the famous Red Drawing room from season 1. After watching the first series countless times, to see it in the flesh was surreal!
The staff told me people have cried when they enter this room, touched the floor, that's how important this location is!
Although I didn't go that far, I was certainly dumbfounded when entering. The room was exactly like the series with very little change. Red satin wallpaper, gold gilt frames, even the furniture was the same and used by the actors!
If you're not sure what I'm talking about, this red drawing-room was used in
season one, episode 10 'By the pricking of my thumbs'. Claire visits and blackmails the Duke of Sandringham at his home to secure a pardon for Jamie and later Jamie and Murtagh visit him as well.
For more information, you can see my whole post on that Outlander Red Room here!
2. Where Jamie and Lord Dunsany discuss employment terms
Season 3 location
Most of the Helwater Estate scenes in series 3 were shot in Gosford House in East Lothian, but there were a few exceptions.
If you think back to season 3, Jamie is employed by the Dunsany family as a groomsman. When Lord Dunsany returns from Italy, he asks Jamie to come to the house to talk.
They talk about the fact he's a Jacobite rebel and the fact that Mrs Dunsany wouldn't be best pleased as he lost a son in Culloden. So, they agree to keep his alias, 'Alexander Mackenzie'.
In this scene, you can also see part of the red drawing-room that formed part of the Duke of Sandringham's estate. The power of a good angle eh?
3. Guest room where Mary recovers from the attack
Season 2 location
If you continue your tour upstairs in Hopetoun House, there will be two rooms that are of interest to Outlander fans. Both of them are in the Bruce House, named after William Bruce who designed it.
One of the rooms is where Mary Hawkins is recovering from her rape in Paris. If you remember in season 1, episode 4 'La Dame Blanche', Mary is raped on the way to their dinner party in Paris.
Jamie carries Mary into one of their guest rooms to recover under the care of Alex Randall.
You'll recognise many of the gorgeous tapestries in this room, but the bed may look a little different than in the series to make it more of Parisian in design.
4. Mary Hawkins room at her uncles house
Season 2 location
In series 2, episode 5 'Untimely Resurrection', Mary is staying with her Uncle in his Parisian home. But, in reality, it's actually only a few steps away from Jamie and Claire's residence in Paris at Hopetoun House. This room can also be found in the Bruce home.
In the series, Claire pays Mary a visit at her Uncles home to ensure she is okay after the ordeal and to give her some medicines. That all happens in this room!
You'll recognise the four-poster bed and some of the furniture in the room. But, again, the bed covers were changed to 18th-century Parisian fashion.
5. The entrance to the Earl of Ellesmere's House
Season 3 location
In season 3, episode 4 'Of Lost Things', the Dunsany family arrive in their carriage with Jamie at the Earl of Ellesmere's home to visit Lady Geneva. She is having trouble giving birth and the family are visiting to comfort her.
The exterior of the Earl of Ellesmere's home is actually the front of Hopetoun House and can be seen from the driveway. The perfect symmetry and colonnades are beautiful and well worth capturing!
If you were wondering where the interior scenes of the Earl of Ellesmere's home were shot, it's in Gosford House in East Lothian. Read more about that here.
6. The entrance to Maison Elise
Season 2 location
A place Outlander fans will know all too well in the series is the outside of Maison de Madame Elise. A brothel in Paris where Jamie meets with Bonnie Prince Charlie many times to try and stop the rebellion in season 2.
Mark me, you won't want to miss this location!
It's easy to find if you head around to the back of the Stables Café. You'll instantly recognise the clock tower with two folly stairways on either side.
I'm not sure if once upon a time these lead anywhere but, one thing is for sure, it certainly wasn't a Parisian brothel!
Disclaimer: They're chained off to the public, but I asked permission to remove it for this photo.
7. Paris Market Street
Season 2 location
You may be surprised to know that none of the Paris scenes were actually shot in Paris for Outlander! They were all shot in Scotland, Prague and England and some clever CGI for the Palais de Versailles.
So, you don't need to travel miles to find the streets of Paris; they've been brought to you at Hopetoun House. An alleyway behind Hopetoun House was transformed into a Paris Market Street for series 2.
But, this is also the same location as a more harrowing scene.
8. The street where Mary Hawkins was attacked in Paris
Season 2 location
In Season 2 Episode 4 'La Dame Blanche', Claire, Mary Hawkins, Murtagh and Fergus have to walk back from L'Hôpital des Anges after their carriage is broken.
They are late for the dinner party with Bonnie Prince Charlie and the Duke of Sandringham. But, on the way, they are set upon by bandits and one rapes Mary in the street.
This scene happens in the same alleyway as the French market scene above.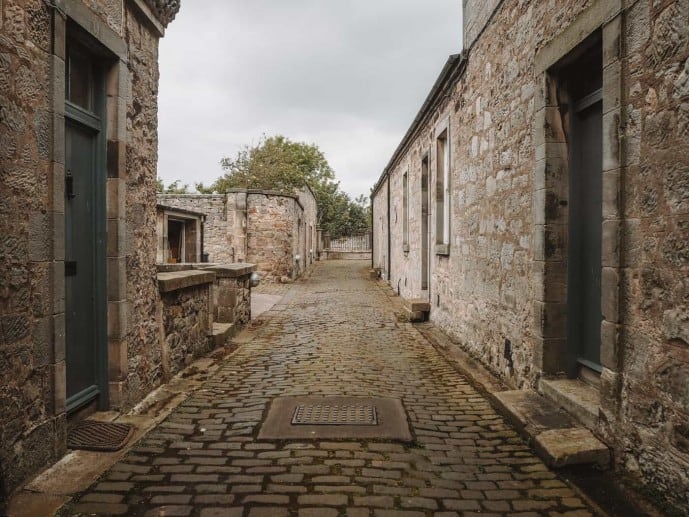 9. The Helwater Estate Stables
Season 3 location
In the episode 'Of Lost Things', Jamie worked as a groomsman at Helwater estate in the stables where he was often seen 'shovelling sh*t m'lady' amongst other things.
The groomsmen would draw straws to take Lady Geneva riding. Later in the episode, Geneva blackmails Jamie to sleep with her here and also their illegitimate son William Ranson talks to Jamie at the stables too.
This location is in the same place as the Paris market scene and Mary's attack scenes. Although you won't find a working stables here, you can see the doors which look very much the same.
10. The street where Fergus is chased by Jamie in Paris
Season 2 location
If you head around further to the very back of Hopetoun House, you will find the location where Jamie chases Fergus through the Parisian streets.
In series 2, episode 3 'Useful Occupations and Deceptions' Fergus works for Madame Elise at the brothel in series 2 and, when Jamie catches him stealing from patron there, he chases him to offer him a job.
If you look along the walls at the back of Hopetoun House, you will find the walls that featured in this scene. Although it was transformed into a busy street in Paris.
11. The doorway to the Duke of Sandringham's home
Season 1 location
At the centre of the back of Hopetoun House, you'll find the steps leading up to the Duke of Sandringham's home.
In season one, episode 10 'By the pricking of my thumbs', Jamie and Murtagh arrive at the Duke's house and watch the MacDonald clan leaving.
You can walk up these very steps and knock on the door. But, unfortunately, the Duke will not be able to receive you!
12. The duel location of the Duke of Sandringham
Season 1 location
If you face the steps leading up to the back of Hopetoun House, turn left and then take another left when you reach the sign pointing to the Sea Trail.
Walk towards the trees to the right and you will find the spot where the Duke of Sandringham had his dual with the Macdonald clan. Also, where Jamie has a sword fight with them too! This all happened in Outlander season 3, episode 10 'by the pricking of my thumbs'.
This location gives a great view of the house from here underneath the trees too. But, there's an even better view to be found at the next location.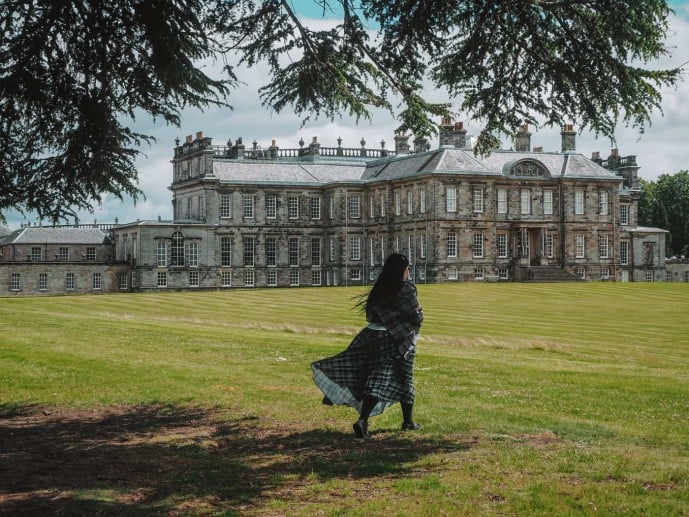 13. The Duke of Sandringham's estate view
Season 1 location
If you head around the grounds to the water feature at the back, you'll get that gorgeous shot of the Hopetoun House. If you're lucky and the wind is still (not likely but hey), there should be a reflection too!
As soon as I saw this house in the series, I fell head over heels in love with it! I knew I wanted to visit and I'm so happy I got to see this view for myself.
This is by far the best shot you can capture of Hopetoun House and I'm sure the Outlander team thought so too.
Just be careful of the hidden burrow holes as you walk around, I think I fell around 8 times! Haha!
14. Where Jamie meets baby Willie in his pram
Season 3 location
Once you've lifted your jaw off the floor from taking in the Hopetoun vantage point, face the house and turn directly right and into gaps through the trees. You should then be standing on a pathway with trees either side of you.
In the episode 'Of Lost Things', Geneva has Jamie's son, William Ranson, although she was married to the Earl of Ellesmere. The Earl is outraged as he knows it's not his child and almost kills baby Willie. But, thankfully Jamie saves his life.
In the same episode, Lady Isobel is walking Willie in a pram along this path and this is where Jamie sees his child for the first time.
15. Where Jamie teaches William how to ride a horse
Season 3 location
We see Jamie's son Willie grow up in the episode 'Of Lost Things' and Jamie stays on as a groomsman to watch over his son from afar. Obviously, Jamie can't be with him often as the Dunsany family are his guardians but Jamie teaches Willie how to ride a horse.
If you head down the path towards Hopetoun House from where Jamie saw Willie in the pram, you'll come across a wide area with some Georgian statues on the grounds.
This is where Jamie teaches Willie how to ride a horse and Lady Dunsany remarks that Willie and Jamie look quite similar as they spend so much time together (awks lol, if only she knew the full story).
16. The road where Jamie and Geneva ride their horses
Season 3 location
If you walk upwards over this area and then turn right, you'll come across a pathway with trees either side. If you carry on walking down this path, you will find the spot where Jamie and Geneva ride their horses on the Helwater Estate.
When I visited in June it was overgrown and was beautifully green, so it was different than in the series which was filmed in the winter/spring time. But, it was definitely the spot.
17. The place where Jamie drops Geneva in a puddle
Season 3 location
In the following scenes, Geneva rides ahead and pretends to fall off her horse. Jamie, like the gentleman he is, tries to help her as he is worried she has hurt herself. But, Geneva stops pretending and laughs at him, knowing he'd do as she told him. Naturally, Jamie gets annoyed and drops her in a really muddy puddle!
This location is easy to find from the path where Jamie and Geneva are riding their horses. Turn right when you see an opening in the path and follow it down until you find the spot.
If you head on from here, this path will lead you straight back to Hopetoun House.
Where to eat at Hopetoun House
After all that Outlander film location hunting, it's probably time for a coffee or a bit of food and a well deserved rest.
The Stable Kitchen at Hopetoun House is a lovely cosy place to grab a spot of afternoon tea, coffee or lunch if you're feeling peckish.
Not only do they have some delicious healthy dishes on offer but they also have some naughty homemade treats you can indulge in too. I would highly recommend their white chocolate and raspberry bake, it was utterly divine!
Bonus Hopetoun Estate Outlander Locations
So, now we've covered the Hopetoun House Outlander locations, we can now move onto the wider Hopetoun Estate. Oh yes, there are plenty more locations you can add to your list there.
I would make sure you leave time to visit them all! If you're keen, this could take up to half a day or even the whole day.
Midhope Castle or Lallybroch
Season 1, 2, 3, 4 location
If I had to choose, I think Lallybroch would be my number 1 Outlander location in Scotland. Yes, it's derelict and you have to pay. Blah, blah. But, that doesn't mean it isn't epic. It's Lallybroch, Broch Tuarach, the ancestral home of Jamie Fraser! It just has to be done.
To find Lallybroch you only need to head to Midhope Castle on the estate which is nearby.
This location isn't on the official Outlander Locations Map of Scotland as it's not technically an attraction, it's a residential farm estate. But, don't worry, you can visit every day in the visitor season from 9am-5pm. Tickets are £3.50 for adults.
If you want to read more on how to visit and full details, you can read my full guide for Lallybroch here.
The Dun Bonnet Cave
Season 3 location
Around Midhope Castle, you can also find the entrance to the Dun Bonnet Cave that was featured in Season 3. After Culloden, Jamie hides from the English and retreats into a cave. He's nickname the Dun Bonnet and is wanted for a ransom.
The interiors of this cave were shot in a studio, but you can visit the entrance to the cave nearby. I didn't have time to visit but it must be pretty cool to see.
Abercorn Church
Season 4 location
In season 3, we learn of Frank's fatal car crash in Boston. Then, in season 4, episode 7 'Down the Rabbit Hole', we see various flashbacks of scenes with Frank and Brianna before he died. At the end of the episode, Brianna is seen paying her respects to Frank's grave.
The graveyard that was used for this scene can be found in the quaint village of Abercorn on the Hopetoun Estate.
Abercorn Church and graveyard were used to shoot this heartfelt scene. Although it was only for a few moments, the scene is certainly recognisable.
Beyond an Outlander location, this area dates back to the 7th century and the church was built in the 12th century. It's well worth a visit while you're here!
You can read more about it in my guide for Abercorn Church here.
Where to stay on the Hopetoun Estate
Unfortunately, you cannot stay in Hopetoun House itself but there are some great options around the estate.
Parkhead House used to be the residence of the groundskeeper of Hopetoun House. But now has been converted into a cosy quiet retreat.
It's a great place for Outlander fans as they fully embrace the theme here. I stopped by and noticed this really cute sign!
Click here to check availability.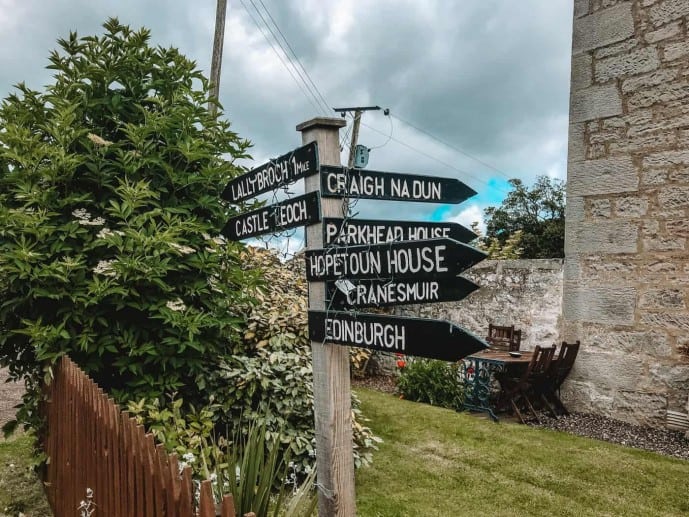 Outlander locations around Edinburgh
You can take a look at my complete list of filming sites in Edinburgh here, plus there is one for Glasgow too. If you're really keen, have a look at my ULTIMATE list of locations that have over 90 sites to experience Outlander.
From here, you can drive to Blackness Castle to see Fort William where Jamie was flogged, or the rooms at Linlithgow Palace acted as Wentworth Prison.
Bo'ness is the vintage railway station where Claire and Frank said their goodbyes in the 40s and Falkland plays the iconic scenes of 1945 Inverness in season 1. You can even stay where they spent the night too.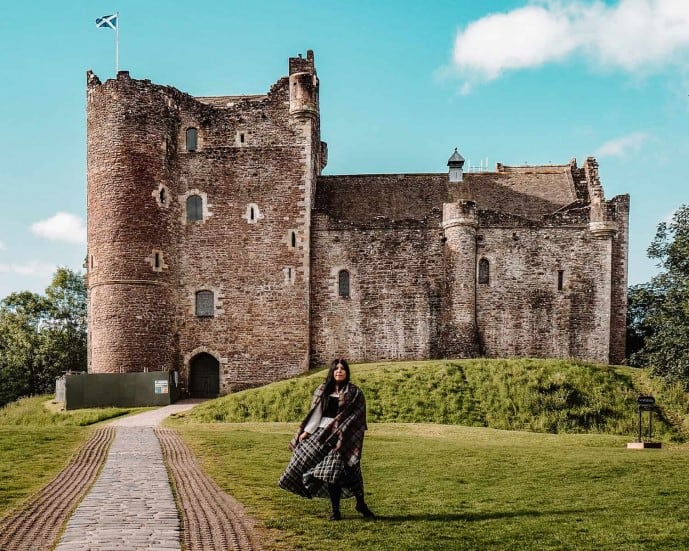 Culross played the village of Cranesmuir with their West Kirk playing the Black Kirk and Doune Castle featured as the seat of Clan Mackenzie, Castle Leoch. Drummond Castle Gardens was the Versailles grounds and Deanston Distillery played Jamie's cousin Jared's wine store in La Havre.
In the city centre, you can visit Bakehouse Close which is where Alexander Malcolm set up his print shop or visit Tweeddale court to see where Claire and Fergus were reunited.
Follow in their footsteps to save Mr Willoughby at the World's End Tavern or treat yourself to afternoon tea the Colonnades to find the Governor's Mansion in Jamaica.
Read more: Outlander walking tour of Edinburgh.
Summerhall has an anatomy lecture room where Claire meets Joe Abernathy at medical school and Craigmillar Castle featured as Ardsmuir Prison where Jamie was incarcerated.
Glencorse Old Kirk is the place where Jamie and Claire tied the knot and the nearby Roslin Glen Country Park and their Gunpowder mills featured in a heartfelt argument between Jamie and Claire in Season 1.
In East Lothian you can visit Gosford House that featured as the Helwater Estate and Preston Mill played the part of Lallybroch Mill.
Or, click here to learn How to find the Outlander Witness Trees from Fraser's Ridge!
With thanks to the Hopetoun Estate for sponsoring my visit. Although I was a guest, all photos and opinions are my own.
Like it? Pin it!