Hopetoun House is the famous Outlander location that featured as the Duke of Sandringham's home. But, if there was one location of them all I was dying to visit, it was that Outlander Hopetoun House Red Room.
I have a weakness for beautiful houses and their staterooms and this one is a stunner. Head to toe in scarlet red, as soon as you walk through you'll instantly feel like you've travelled back in time to the 18th Century.
Unfortunately, the Duke of Sandringham won't be entertaining guests but you can wander about here at your leisure to take it all in.
Here's everything you need to know about the Hopetoun House red room from Outlander!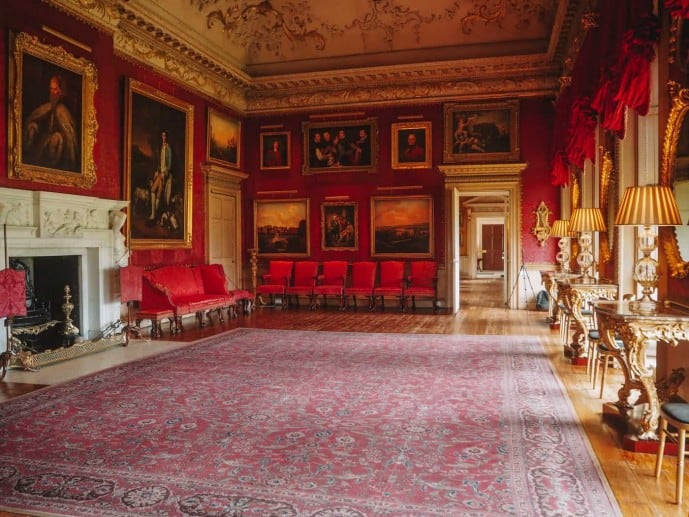 How to reach Hopetoun House
Hopetoun House can be found on the wider Hopetoun Estate in South Queensferry near Edinburgh. Make sure to use EH30 9RW which will take you into the Farquhar Terrace. There are quite a few locked gates on the estate and it's easy to get lost.
The easiest way to reach Hopetoun House is by car, as there aren't really any buses that run here and it's a hell of a walk from the nearest stop!
It should only take around 30 minutes to reach from Edinburgh city centre. But, I'd leave extra time as the traffic, especially at rush hour (before 9 am), can cause huge delays.
If you're not driving in Edinburgh, I would recommend booking a taxi to drive you to and around Hopetoun Estate. There are many Outlander locations on the estate, so try to organise a taxi that will take you to a few of the locations.
If you'd prefer to visit on an organised tour, here are a few Outlander tours that run from Edinburgh.
Hopetoun House opening times
The Hopetoun House Grounds open slightly earlier than the house itself. You can visit Hopetoun House from 9 am, which is a great time to get some clear shots without any people in them!
The house itself opens from 10.30 am until 5 pm with the last entry being at 4 pm. I would highly recommend getting here at 3 pm as there is so much to do on the estate.
It's also good to note that Hopetoun House is seasonal for self-guided tours and only open from April – September each year. But, if you're in a group you can book an appointment all year round.
Email dayvisits@hopetoun.co.uk for more details.
Hopetoun House ticket prices
The prices for visiting Hopetoun estate vary depending on what you want to see;
Adults: will pay £10.50 for both the house and grounds & £4.75 for a grounds only visit
Children: pay £5.50 for house and grounds and £2.95 for a grounds ticket
Groups: over 15 people are charged at £9 each for house and grounds and £4.25 for only grounds
See the official website for more Hopetoun House ticket price options
Outlander and the Hopetoun House Red Room
The first thing I did as soon as I walked inside, I asked the kind hosts where that Red Room was from Outlander!
Having watched Outlander season one an embarrassing amount of times, actually being here in the flesh was surreal. I was itching to find it!
If you have no clue what I'm talking about, the Duke of Sandringham's red room is featured in season one, episode 10 'By the pricking of my thumbs'.
We first see the room when Claire visits the Duke of Sandringham at his residence to force his hand in securing a pardon for Jamie. Later on, we see Jamie and Murtagh visit to do the same.
It's a gorgeous room with red satin wallpaper, gold gilt frames, sumptuous furniture, and is all-around stunning. It's a must-visit for any Outlander fan.
Outlander fans will be happy to know a lot of the furniture in here is very much the same as in the series and was used by the actors themselves!
Where is the Hopetoun House Red Room?
If you're the same as me and want to get straight in there, then luckily the Hopetoun House red drawing room is only a hop, skip, and a jump away from the entrance of the house.
As soon as you walk up the grand stairway and through the doors of Hopetoun House, make a right. You'll see a smidgen of the red wallpaper straight away, so keep heading on in that direction until you find it!
Hopetoun House Red Room history
Like with all the grand houses in Scotland, they have a fascinating history and character, filled with gorgeous historical artifacts, lot's of nooks and crannies, hidden passages and doors that don't lead anywhere!
Hopetoun House was originally built for Charles Hope, the 1st Earl of Hopetoun in 1699-1701.
Hopetoun House was designed by Sir William Bruce and William Adam. William Bruce was responsible for a lot of the carving work and ceilings.
Adams, a few decades later, was responsible for the magnificent facades, colonnades, and staterooms which were fashionable in the 18th century. This included the red drawing-room so that the Lord could show off his wealth to his guests!
If you look around the room, you'll see lots of doors that have beautiful symmetry. But, you may be surprised to know that not all of them lead anywhere! If you open one of the doors, you'll be met only by a window.
Outlander locations in Hopetoun House & the Estate
As well as the Hopetoun House Red Drawing room, there are many Outlander locations on the grounds of Hopetoun House and in the wider Hopetoun Estate.
If you continue your tour of the house, you'll find a corridor where Jamie follows Lord Dunsany in Helwater House directly towards the entrance. If you go upstairs you'll see rooms like the one where Mary Hawkins is recovering in Paris.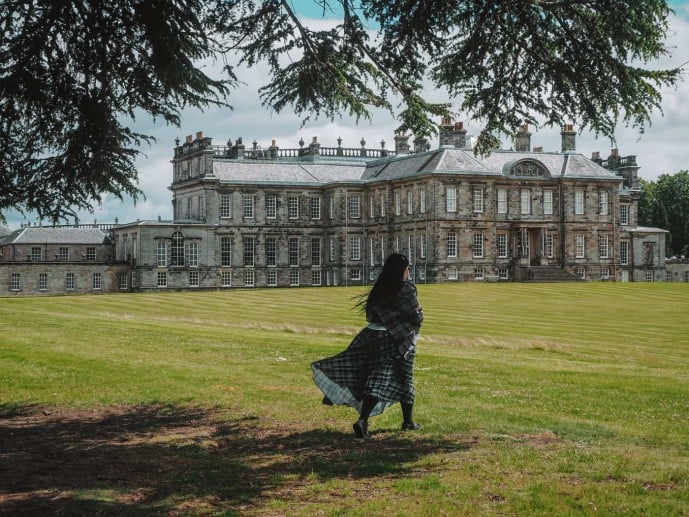 Outside you can find the entrance to Maison Elise, the stables at Helwater Estate, the duel location of the Duke of Sandringham, and many more.
Further afield is the ancestral home of Laird Broch Tuarach, Lallybroch, at Midhope Castle and Abercorn Church where Brianna said her goodbyes to Frank.
Ask Hopetoun House for one of their Outlander maps so you can locate all of them!
Read more: An Outlander tour of Hopetoun Estate & House
Looking for more Outlander locations in Edinburgh?
If you're planning an Outlander trip to Scotland, there are many Outlander locations you can visit around Edinburgh. Also, there are plenty of Outlander locations in Glasgow!
After Hopetoun House, why not visit Fort William where Jamie was flogged at Blackness Castle, or visit the prison cells of Wentworth Prison at Linlithgow Palace.
Bo'ness is where Claire and Frank said their goodbyes or pay a visit to Doune Castle and find the seat of the Mackenzie Clan at Castle Leoch. Nearby is Deanston Distillery that featured at the wine store in La Havre and Drummond Castle gardens that played the Versailles gardens in Outlander.
Culross played Cranesmuir village with the Black Kirk nearby and the gorgeous village of Falkland played 1945 Inverness. You can stay at Mrs. Baird's B&B for the night here too.
Read more – a list of over 90+ Outlander filming locations that you can visit in Scotland!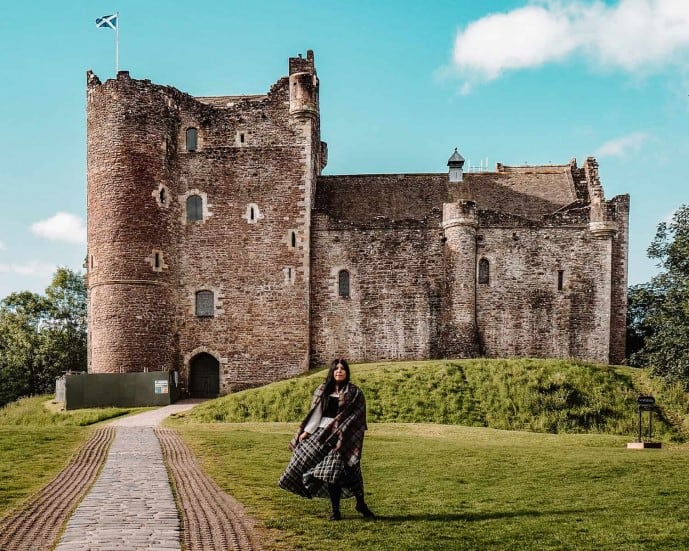 In the city centre, you can visit Bakehouse Close which acted as Jamie's print shop in Edinburgh. Or, Tweeddale Court where Claire and Fergus are reunited. Have dinner in The World's End tavern where they save Mr Willoughby or treat yourself to an afternoon tea at the Colonnades to find yourself in the Governor's mansion in Jamaica.
Summerhall was a lecture room at Claire's medical school in Boston, or travel out of the city to Craigmillar Castle that played Ardsmuir Prison. Roslin Glen Country Park also featured with its gunpowder mills in season one.
In East Lothian, you can visit Gosford House for Helwater Estate and Preston Mill played Lallybroch Mill with its historical water wheel.
Read more: Outlander walking tour of the Royal Mile.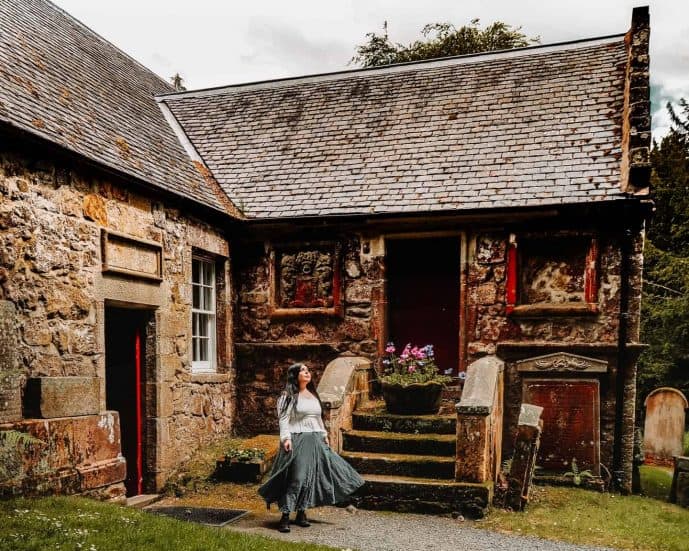 Like it? Pin it!