This is your ultimate Hornbill festival guide! Hornbill festival is an annual event held in Kisama Heritage Village in Nagaland, a tribal state in India.
It usually runs from the 1st – 10th December of every year and celebrates the culture and heritage of Naga tribes.
It's predominantly a festival to promote tourism to Nagaland and has done an amazing job.
Hornbill is now a major event that should be on any traveller's calendar when they find themselves in North East India.
During the festival, you can get up close and personal with 17 major tribes of Nagaland. These are;
Angami – Ao – Chakhesang – Chang – Dimasa Kachari – Garo – Khiamniungan – Konyak – Kuki – Lotha – Phom – Pochury – Rengma – Sangtam – Sumi – Yimchungru – Zeliang
Watch their showcases of singing, dancing, sport and even tug of war!
Sample local Naga cuisine, drink rice beer, play with traditional instruments, get cosy by the campfire of the Morungs and rock out with the locals once the sun goes down.
Hornbill tells a story of culture with a cocktail of colours, sounds, people, textures and vibrancy. Visit Hornbill Festival to discover the breathtaking tribes of Nagaland!
How to reach Hornbill Festival in Kisama Heritage Village, Kohima in Nagaland
The festival is held in Kisama Heritage Village which is around 18 kilometres from the main capital of Nagaland, Kohima.
The nearest airport to Kohima is Dimapur. So, you could easily fly into Guwahati, the gateway to North East India and then grab a connecting flight to Dimapur.
But, know from here it will still be a four-hour drive to Kohima, so choose your transport wisely.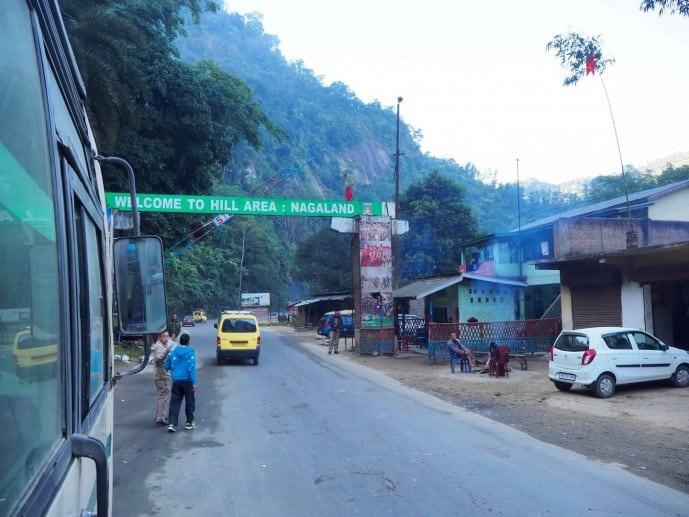 Nagaland had some of the worst roads I've ever experienced in India.
Be prepared for dirt tracks, potholes for days and winding bends and turns over the Naga hills. So grab an Innova or four-wheel drive.
Alternatively, you can grab a bus from Guwahati to Dimapur, then catch a connecting bus to Kohima.
Buses here are an interesting experience. They're totally safe but all sorts of wildlife will hop on, chickens, pigs etc.
From Kohima, you can grab a private or shared taxi to Kisama village.
For more public travel tips for North East India see here
Note that during festival times the prices are four times higher, so haggle!
Personally, I had a nightmare journey getting here. I travelled from Bomdilla in Arunachal Pradesh to Tezpur via sumo jeep, hopped on a night bus to Dimapur.
Then caught another bus to Kohima and then a taxi to Kisama village. It was 26 hours straight travelling, by then, I was ready to sleep for days!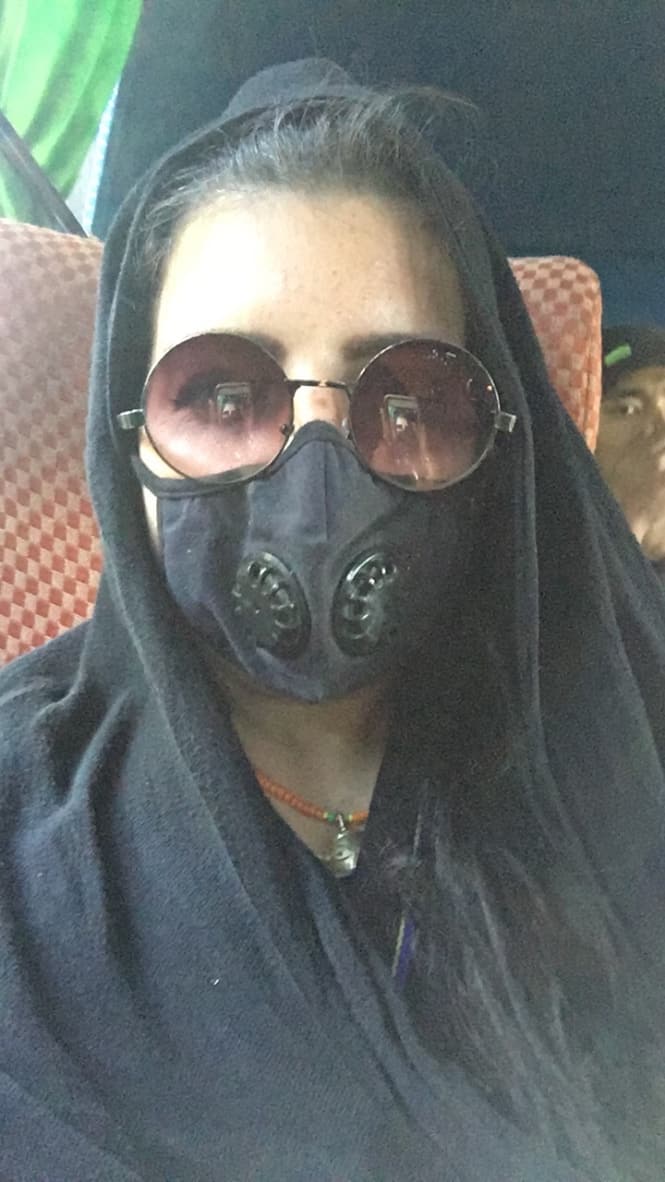 Hornbill Festival dates and Hornbill Festival tickets
The dates for the Hornbill festival will be Saturday 1st December to Monday 10th of December.
If you're staying near the grounds then the price is FREE! I didn't actually pay for the festival as I was camping on the grounds.
If you're visiting from outside, say if you're hotel is actually in Kohima itself, then you pay 20 rupees per day at the gate.
DLSR charge is 30 rupees and Video charges will be 50 rupees. Incredibly cheap for such an awesome event.
It doesn't really matter when you arrive as the programmes are almost the same each day. But, I did hear from fellow travellers that the first few days with the opening ceremony are the best.
As this is the biggest festival in North East India, crowds are to be expected and tourists in their droves every day of the festival!
I'll highlight a few tips for photographers below if you were after some portrait shots without a million people in them!
Where to stay during Hornbill Festival
Be warned that when the festival is in town, hotels in Kohima and the ones in Kisama village fill FAST.
But, not to worry, I didn't have a place until a few days before the festival itself and found a place to crash.
Most of the places that will have a room available last minute during the festival will be camping sites.
By camping, I don't mean the luxury camps of Rajasthan (although these are here too!) I mean the good old fashioned outdoor tents.
These are adequate for a couple of days if you come prepared with the right equipment!
From around 2 pm, the sun hides behind the hills and the festival ground is in shadow making it totally FREEZING.
So, make sure you bring or rent a decent sleeping bag, roll mat, put on warm layers and even, like me, a hot water bottle! (I know I'm a granny haha) but it was a lifesaver!
I stayed at Camp David Kigwema for the duration of my stay. The campsite was so welcoming and pretty and the staff were really lovely.
The guys were kind enough to loan me a roll mat and sleeping bag as I wasn't prepared for camping.
I had to use clothes as a pillow however and due to the circulation of my feet had to borrow two thick blankets from them. I cannot handle sleeping in the cold.
The campsite was pretty reasonable at 1200 a night which is a steal compared to guesthouses.
They also had a hostel-type tent deal which would cost you even less. But, you will be sharing a 4 man tent.
The facilities were a squeaky clean outdoor toilet and shower room with running hot water, kitchen/restaurant that provided daily meals and a campfire area at night to get cosy.
I have to admit that I'm more of a glamper, I do love camping but usually, I go in the English summer when it's a bit warmer.
The first night I couldn't stop shaking. But, when I had all the blankets and my hot water bottle I couldn't tell the difference!
For dates and rates and bookings, see their Facebook page.
If you did fancy a super luxurious experience you can stay in the amazing Ultimate Travelling Camp. This camp is around £1000 a night but is a total paradise. Every tent has its own outdoor sitting area.
Not only do you get a hot water bottle included (dream) and a huge spacious tent, queen-sized bed and marble bathroom, you also get all your meals included, a personal guide of the festival and guest speakers come in daily to meet you. Very sophisticated.
Things to do at Hornbill Festival
You'll need at least a few days here to enjoy all this festival has to offer you!
Although the running order of events each day is the same; the shows, music and tribes will change daily.
My usually daily programme would go like this;
7.30am- I'd get up, get ready in the campsite then head into Naga coffee for my morning caffiene fix.
8.30am- Visit the Morungs to take pictures of the tribes before the crowds.
9am- Then, I'd head into the arena and watch the wonderful showcases.
12pm- For lunch, I'd head into the festival grounds or back to my campsite to rest and grab a jacket (by 2pm it's freezing).
2pm- I'd come back for more shows in the afternoon
5pm- drink rice beer, have dinner, then rock out in the evening!
Despite the fact I was a solo female traveller here, I had such an awesome time! Here's all the cool stuff you can get up to.
Meet the tribes in the thatched Morung's of the heritage village
The best thing to do in my opinion is to have a wander around the traditional village and visit the tribes in their Morungs (meeting houses). Each tribe has its own area which represents their 'village'.
The best time to visit these huts is in the morning before the crowds arrive, especially if you want to take good portrait photos.
Ask the tribes if you can take photos while they're getting ready and practising, it puts it in a whole different perspective.
But, throughout the day this is where the action happens in my opinion.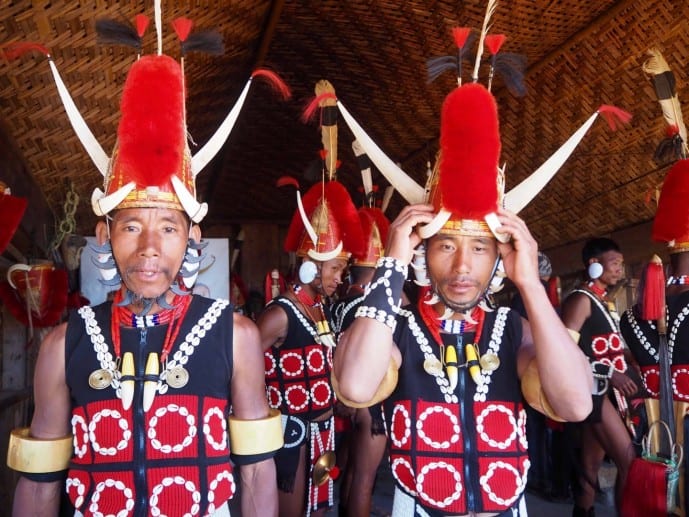 People drink rice beer in droves, eat from the kitchens, the tribes will be showcasing songs, dancing and instruments for you to get involved with during the day.
You can also buy some of their local handicrafts if you fancy.
Did I mention that it is totally picturesque too!
It was so interesting to learn about Naga tribes and culture, speak to some of the locals and get to know them better. I could spend hours in each 'village' finding out all I could!
Watch a spectacular showcase of culture at the showground
By far the showstopper of Hornbill festival is the daily showcase at the showground.
Each day, the 17 tribes take it in turns to present parts of their culture to the crowds. Before the show begins make sure you capture the tribes that are sitting in the ring circle! And, get a picture or two…
Then, make your way to the main gate and take some snaps of the tribes all in line and await the special VIP guest…
Then follow the tribes into the ring and watch the showground come alive with the performances for that day!
The state of Nagaland is predominantly agricultural and so you will find a lot of dances, performances and traditions are all centred around this.
You can watch women singing and dancing, men going into battle, tug of war, contact sports and all sorts of amazing happenings!
Always check your programme as it will give you the tribe name and the show coming up.
As I wanted to take photos, I sat in the inner ring. But, you'll get a good view from anywhere in the stadium if you just wanted to observe.
Shop for tribal souvenirs
I loved shopping here. One of my favourite things about North East India was the different tribal textiles.
All the crafts and handiwork is brought here from the villages and all the proceeds go towards the families in villages – so splash out!
The first thing that caught my eye in the Longwa village was the beautiful necklaces for sale.
Longwa is home to the notorious headhunters and traditionally they used to wear a skull for every head they took.
Nowadays they are more for decoration and so they wear heads of brass. I had to buy one! So, that was the first souvenir that I got.
To enter into a cave of treasures make sure you pop into the main market area.
Here, you'll find traditional bags, scarves, earrings, hornbill keyring's, cooking items – the lot!
I bought myself a beautiful bag and a traditional wooden hornbill keyring. Tacky, but it's was a cute little reminder of the awesome time I had there!
Visit the galleries of Naga art, film and literature
Beyond the shows and shopping, there are numerous galleries set up to showcase Nagaland culture from a different perspective.
They have photography and art galleries set up, information centres that talk you through history and even public services like the Nagaland Army.
Make sure you take some time to explore.
When I was at the festival my camera fell in the sand and I had an emergency as the sand was caught in my lens!
I panicked and the art guys offered me a thin paintbrush to brush out the sand. Thankfully it worked.
They didn't ask for anything in return (so kind) so I offered to get my face painted by one of the talented girls there. I got a hornbill on my face! As they say, when in Hornbill….
Drink rice beer with the locals
Although Nagaland has imposed a (rather lax) alcohol ban it doesn't mean that there isn't liquor to be had at the festival!
Rice beer is a popular drink to guzzle throughout the day and is relatively cheap. My beer in a bamboo mug cost me around 50 rupees! Cheap as chips.
Rice beer is a little bit of a potluck in terms of whether you'll get a tasty one or one with any strength!
But, if in doubt, always look where's the busiest Morung or stall and grab a few beers there.
Rock out with the evening music concert
Once the sun goes down at Hornbill and the place is in darkness, you have a couple of things you can do.
You can get warm and meet people around the many campfires that are set up at night, drink a rice beer from the stalls and rock out at the battle of the band's concert that takes place each evening!
You can watch from the sidelines but I would get in the crowd and dance just to keep yourself warm!
Depending on the band, you'll be crying out lyrics with the local youths that belt out famous tunes. It was so fun being part of the crowd.
Always check your programme for bands and timings each day.
Where to eat and drink in Hornbill Festival
I was on a pretty tight budget and was dreading festival food prices. In the UK, it can be anything up to £5-15 a meal.
Also, as you don't pay to go in, I was worried they'd make up for it in food sales.
So, I was pleasantly relieved when the food and rice beer was so cheap here!
Sure, some meals are around 350 rupees for the steamed meat and rice but others, like vegetable Thali, were only 150!
It was really good food too. Just watch out for the dog meat! Yep, you read that right. They sell it everywhere here.
Morung tribe kitchens (Arju's) and food stalls
The best place to try traditional Naga food is in the traditional village. What's better is you can try each tribes speciality as they're all different styles of cooking!
I tried the traditional smoked pork with sticky rice at the hut and sipped it down with a rice beer. Yummy!
The whole meal was 400 rupees and it was so filling!
What I loved is it got served on a banana leaf, it's the little things.
There are so many food stalls to choose from selling a variety of Western and traditional dishes.
I had a really yummy egg curry from one of the stalls here. It was also cheap for 250 rupees and came with so many extras I could hardly fit it all in.
For Western food, you will pay considerably more so if you're on a budget it's not ideal. But, I don't blame you for craving home comforts.
Nagaland Coffee
I had to mention this little paradise during my stay as it was the only place that sold a decent coffee at Hornbill festival.
Naga Coffee was a hive for tourists and photographers and a dose of espresso assisted with all the madness.
As I struggled to sleep well at the camp, caffeine was desperately needed and Naga Coffee turned out to be a lifesaver.
It's not the cheapest place, but for a decent coffee, I would pay a lot in India. I also used to indulge in the banana muffins that they sold for an extra 30 rupees too. Breakfast is served!
Some helpful travel tips to prepare you for Hornbill Festival
Hornbill Festival is such an awesome event, but I feel there are quite a few travel tips to prepare you for what you're getting into! Here are my top tips, I'm going to cover these tips in more detail in a dedicated post coming up;
Be respectful – Although this festival is geared up for tourists and the locals are extra friendly here, it's important to remember to respect the tribes and what this festival represents.
Religion – The majority of Nagaland is now devout Christian. This was an attempt since the 1980's to improve tribal relations and stop them fighting each other (and headhunting)! Although it's healthy to have debates on religion, don't expect any smiles if you start insulting or questioning the Bible.
Wifi and phone signal is intermittent – although the main sponsor 'Jiochat'does provide a free wifi service that's meant to last you a full day, there are so many people trying to use it that you can never seem to get on! I actually bought a cheap local phone in India to make calls as wifi was non-existent. So, prepare to go M.I.A for a few days.
Be prepared for freezing temperatures – As before, it gets cold for a good part of 15 hours in a typical day. Once the sun goes behind the hills, the arena and campsites are in shadow. You'll notice the temperatures drop considerably. Add in the strong breeze as Kisama village is on a hilltop and you're in a tundra. To prepare; bring lots of warm layers or buy some, bring proper camping equipment, or head back to your guest house when you get too cold! Alternatively, get a rice beer jacket and power through!
Bring your own Booze – Nagaland enforced a ban on alcohol in 1989 but today it's pretty lax. You will want to bring your own alcohol if you don't want to drink rice beer the whole time. You won't be able to buy anything else in the shops.
VIP Guests – Each day VIP guests will arrive. The morning show will not start without them and they're notoriously late. Also, as this is a government-funded event be prepared for some to spend an hour talking.
Toilet charge – The festival is free but toilets here charge. It's only 10-20 rupees though.
If you're a photographer..
Hornbill Festival is like crack for a photographer, you will be obsessed with capturing every moment.
There's so many portraits, colours and compositions you'll have a full memory card in no time.
But, you'll be battling with crowds and, surprisingly, other photographers. It was like a weird paparazzi clique.
I'd have photographers scold me for moving an inch, others that would help me get the perfect shot and give me tips and others that would literally push me out the way or stand in my shot on purpose.
It was a love-hate relationship.
On the one side, I learned a lot, on the other, it was a really bad vibe. According to one photographer I met, it's pretty tame here.
But, it made me hate the thought of doing it again. Who knew some amazingly creative people could be so lame?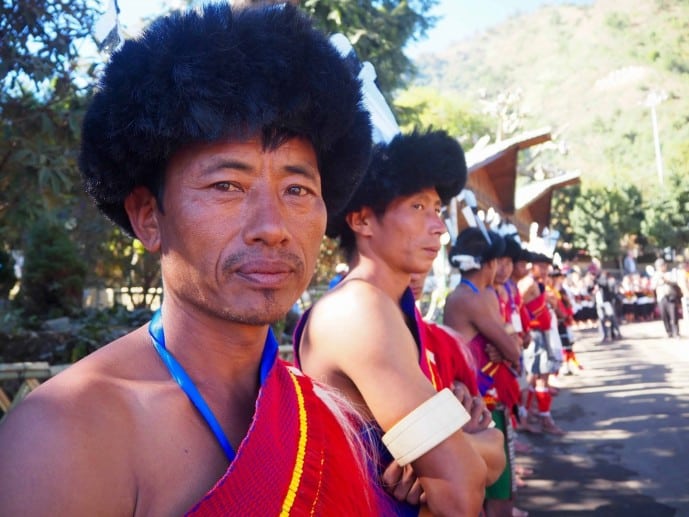 The tribes here won't charge you money for pictures and they're also super friendly.
My biggest tips for getting your shots would be to visit the tribe huts early in the morning (around 8.30 am) without crowds, take them when the sun is shining (8 am-2 pm) for good natural lighting.
Sit in the inner ring of the showground with the others and, essentially, give no f**ks. You gotta hustle for those pictures!
For more photography tips on how to make the most of your time and get the best shots, see my Hornbill Festival photography guide here.
So, that's the ULTIMATE Hornbill Festival Guide
I LOVED Hornbill Festival. It definitely opened up my mind, eyes and heart to a culture so unfamiliar to my own.
Make sure you book your ticket to Nagaland in December and enjoy this incredible showcase of culture!
For more information and to keep your eyes peeled for next year's programme, see the official webpage here.
Read more of my Nagaland articles
If you liked this Hornbill Festival guide, make sure to read more of my articles on Nagaland!
My complete Longwa travel guide
Top tips for meeting the Headhunters of Nagaland
Top tips for Hornbill Festival
How to get the best photos at Hornbill festival
Read more of my North East India articles!
Top things to do in North East India
Best places to visit in Arunachal Pradesh
My ultimate Tawang travel guide
How to find the double-decker root bridges in Meghalaya
A complete travel guide for Guwahati
A complete Kaziranga Safari guide
My top North East India travel tips
Like it? Pin it!
With thanks to Camp David Kigwema and Holiday Scout for hosting my stay. All reviews, thoughts, opinions and pictures are my own.