Did you know that Mary Shelley lived in Bath and she wrote the first draft of Frankenstein there in 1816?
She was just 18 when she started writing the world's first piece of science fiction! Her classic novel now has a legacy that spans the ages and is in the horror halls of fame.
Mary Shelley is quite a controversial and misunderstood character who had a tragic life with some chapters as dark as the stories she told.
She's now known as the gothic queen of horror through her works. But, how much do you really know about this novelist behind the inkwell and pages?
The House of Frankenstein is the world's first museum dedicated to Mary Shelley and a fantastic immersive experience that allows you to step into the world of Frankenstein through phantasmagoria.
Inside you'll learn about Shelley's tragic past, confront a monster, see Frankenstein through time and even have a good scare in their basement!
Here is a complete House of Frankenstein Bath review about the experience with what to expect, what's inside, and ticket prices.
What is the Mary Shelley Bath connection?
Mary Godwin was born in 1797 in London. She never knew her real mother as she died postpartum.
When she had a clash with her stepmother she was sent to a boarding school in Scotland where she met the poet Percy Shelley.
Percy was already married with one son and another baby on the way but the two fell in love and started meeting in secret at her mother's grave in St Pancras Old Church.
Later, Percy Shelley's pregnant wife mysteriously died and the two eloped in secret less than a month later.
Although the death was officially ruled a suicide Mary, Percy, and her stepsister Claire ran away to Paris to escape the accusations of murder. Mary later fell pregnant with her first daughter but she didn't survive.
The trio spent a wet summer in Switzerland with Lord Byron who had an affair with Claire and got her pregnant.
It was this rainy summer that Mary had a terrible nightmare in a thunderstorm which is what first inspired her to write Frankenstein.
Later, the trio came back to England and went into hiding in Bath to keep Claire's pregnancy with Lord Byron a secret. At this point, Mary had a second son called William who was 6 months old.
She took a small apartment with Percy and Claire in Abbey Church Yard near the Pump Rooms.
As she was connected with many poets, politicians, and scientists, she met Sir Humphrey Davy. He was a chemist and inventor who had theories on electricity for galvanism thought to bring a dead body back to life.
Mary would attend lectures in the Kingston Lecture Room and one by Professor Wilkinson also took her interest. He spoke of how electricity could be used to give life to inanimate objects.
All of these events together inspired Mary to write the first draft of her novel Frankenstein here in Bath.
Although she wrote it over 200 years ago, it's only recently that Bath has started to recognise its gothic past.
Mary Shelley now has a plaque and a museum dedicated to her in this UNESCO World Heritage city!
What is the House of Frankenstein in Bath?
The House of Frankenstein is the world's first museum that is dedicated to Mary Shelley.
It's an immersive museum and escape room in Bath that gives an informative insight into the world of the author of Frankenstein!
As you wind your way up the Grade II listed Georgian townhouse, you'll learn about Mary Shelley's past, confront an 8-foot monster, watch silent cinema and see Frankenstein in pop culture.
You'll end your visit through their phantasmagoria basement where screaming is guaranteed. It's an exhibition that blurs the lines between a museum and an immersive spooky experience.
Each floor has been designed with vintage objects, display boards, portraits, scents, sounds, and music to allow you to step into their world.
If you wanted to enhance your visit, you can also play one of their escape room games to solve a case!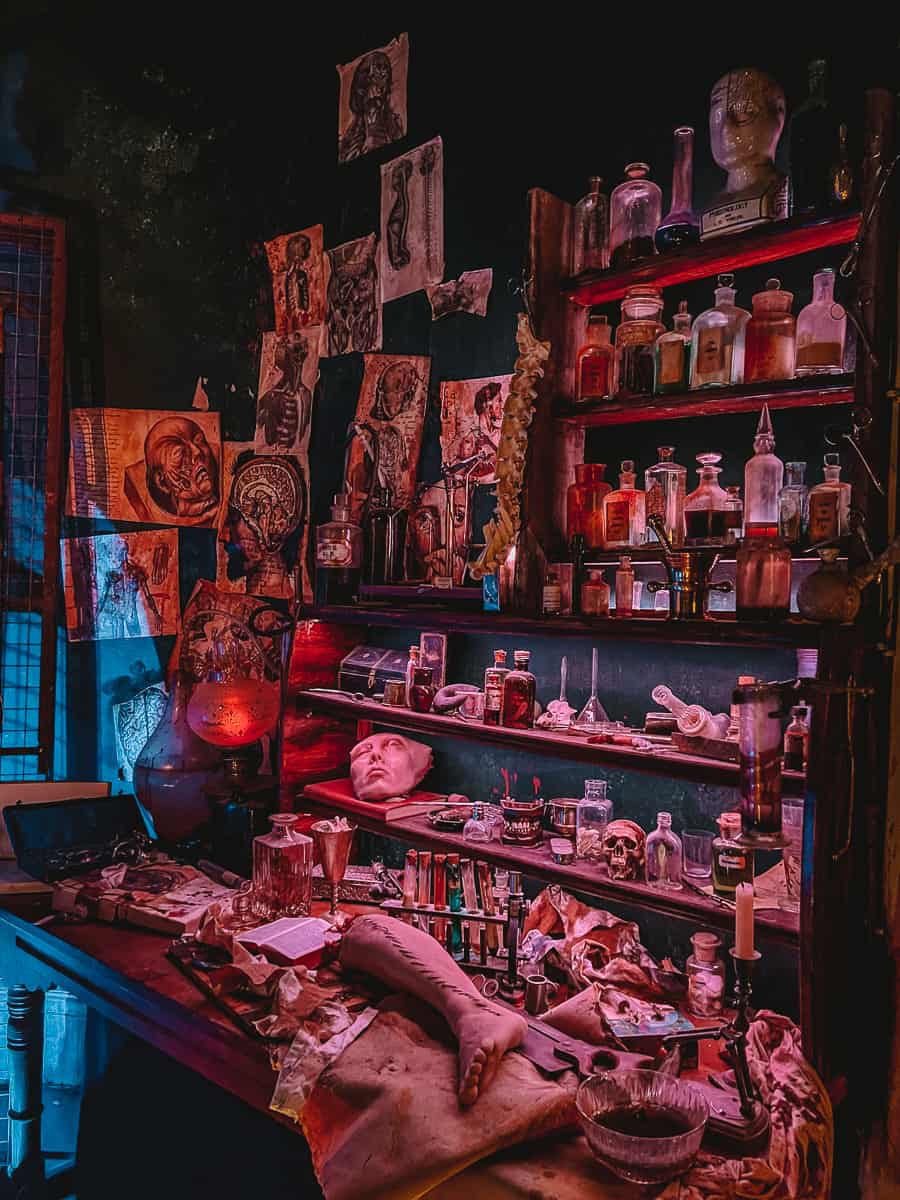 Things to do at the House of Frankenstein Bath
1. Learn about Mary Shelley's life
Although Mary Shelley is a much debated and misunderstood character, this immersive museum aims to shed a light on Mary's life and achievements.
You'll find lots of vintage items, artifacts, soundscapes, multi-sensory rooms, and curated smells to make it completely immersive.
Mary Shelley is a controversial and misunderstood character. Her life was filled with tragic events that formed the basis of her works.
Her mother was Mary Wollstonecraft, a feminist writer. Although Mary never got to meet her as she died postpartum, she was greatly influenced by her work.
Mary Godwin met the already married poet Percy Bysshe Shelley when she was just 16. He was 21 and they instantly fell in love.
Harriet Shelley had one child by Percy already and was pregnant with another. She was distressed by her husband's affair and her body was later found in Hyde Park's Serpentine lake. Her death was ruled a suicide and Mary and Percy were married in secret only a month later.
They travelled to France and then Switzerland with Mary's stepsister Claire Clairmont. Mary fell pregnant with her first child but she only survived a few weeks.
She wrote Frankenstein after she spent "a wet, ungenial summer" in Switzerland with Percy Shelley and Claire Clairmont who had an affair with Lord Byron and fell pregnant with his child.
Mary had a nightmare in a thunderstorm and used that experience with several lectures she had attended to form her work. At first, Frankenstein was published in London anonymously.
Mary fell pregnant four times with Percy Shelley but she only had one child that survived her. Her husband also drowned whilst sailing in 1822.
His remains were cremated but his heart remained whole and didn't succumb to the flames. It is thought that Mary kept it!
She then devoted her life to bringing up her son Percy Florence and publishing several gothic novels.
She died in 1851 at age 53 and she was very ill in her last years. The doctor who examined her suspected it was a brain tumour.
It was a really informative museum that provided lots of learning through their rooms filled with phantasmagoria!
2. Meet the laboratory monster in the attic
As you make your way up to the attic quarters, you'll uncover the laboratory where you'll meet an 8-foot-tall animatronic monster just like Mary Shelley imagined it!
Although Hollywood painted a different picture, the House of Frankenstein wanted the electronic creation to be a more accurate depiction of her brainchild.
You'll find the monster amongst limbs, jars, sketches, paintings, skulls, and taxidermy. Honestly, save for the body parts, I wanted some of this bric-a-brac in my room.
The whole place was filled with antiques, portraits, and vintage items that helped create 'the monster'.
3. See Frankenstein in popular culture
Although Mary Shelley's classic novel paints a different picture of Frankenstein, the one we most likely think of in popular culture is the green man with a big head and bolts in his neck!
This is thanks to the golden era of Hollywood. So, the museum has a whole floor dedicated to the legacy of Frankenstein through the ages.
You can watch one of the first silent movies of Frankenstein in their cinema and some behind the scenes of actors getting ready to play Frankenstein for the screen.
There are also comic book posters, movie posters, scenes from Scooby Doo, a pinball machine, and some great photo opportunities as well!
4. Visit the underbelly basement
After your tour of the house museum, make sure to make your way down the stairs to their basement experience.
The best way I can describe this is a haunted house at the funfair! It's really dark, with confined spaces and lots of creepy noises to keep you on edge.
I'm not going to lie, I jump really easily and I swear my soul left my body when I bumped into another visitor in there.
You'll make your way through their maze filled with dark cages, limbs, and body bags through to their electricity vault.
It was very disorientating and some parts were terrifying! You can even crawl through a morgue body locker for a deadly surprise! Screaming is guaranteed.
Check the safety sign before you go in though as it may not be suitable for those with claustrophobia as there are tight dark spaces (saying that I am claustrophobic and I was fine) or epilepsy due to flash and strobe lighting.
5. Try a House of Frankenstein escape room
If you want to enhance your visit, you may want to book in for one of the House of Frankenstein escape room games. It's called Body in a Suitcase which is an ominous mystery!
A suitcase full of body parts and personal effects has been found at the house. You and your friends will have 45 minutes to solve the mystery of whose body lies within.
You can play as an individual up to a group of 6 people and you will solve puzzles together to solve the case.
Tickets start from just £15.75 per person excluding house entry or £25.50 with a house ticket included.
6. House of Frankenstein After Dark
Dare you visit Mary Shelley's museum after dark? It's the perfect place to visit in the build-up to Halloween.
On select nights in October, the House of Frankenstein stays open until 10 pm for more extreme psychological horrors.
Everything in this immersive, multi-sensory museum will be super-charged in the After Darks event including their underbelly basement.
Once you've had a few screams, make sure to calm your nerves in their Bloody Mary's Bar serving up some chilling cocktails.
7. Visit Bloody Mary's Bar
Bath's House of Frankenstein also has its very own bar on the premises called Bloody Mary's Bar.
It's not open all day as a standard but if you're planning a hen or stag do, or a special event like a birthday party, you can hire the bar for your celebrations.
You will get a house museum entry, escape room games plus exclusive access to Bloody Mary's Bar to have some drinks.
They serve up special Frankenstein-inspired cocktails like a 'Pink Percy', 'The Ultimate Bloody Mary', and 'Mad-Bad-Byron'.
The bar also sometimes opens for special occasions like their After Dark events so make sure to keep your eyes peeled!
8. Exit through the Frankenstein gift shop
After you have escaped the House of Frankenstein, don't forget to visit their Frankenstein-themed shop at the end.
They have copies of Mary Shelley's gothic novel for sale as well as postcards, mugs, keyrings, and Frankenstein toys.
I particularly liked their Mary Shelley t-shirts and clothing so definitely leave some time to browse. I'm sure you'll find something spooktacular to buy!
Is House of Frankenstein Bath worth visiting?
100% Yes! Although you've most likely heard of Jane Austen in Bath and her Northanger Abbey it's about time that Mary Shelley was celebrated for her novel that was written here too.
What I loved was the fact that the museum wasn't just displaying cabinets and text, each room was entirely immersive to set the scene of Frankenstein.
You had great music, vintage objects, soundscapes, smells, and horror to make the whole thing worth the money.
Meeting the 8-foot monster in the attic was definitely a highlight and the basement was such a scare! I would go back in a heartbeat.
It's such a different experience for Bath and I would run not walk to visit when you're next in the UNESCO world heritage city.
How to visit the House of Frankenstein Bath
The House of Frankenstein is located on Gay Street in Bath which is a few doors down from the Jane Austen Centre.
It's only a five-minute walk to the Assembly Rooms which have some great costumes from the era of Mary Shelley.
Bath is a UNESCO World Heritage city and you can drive here on the M4 from London. There are also direct trains from London Paddington to Bath Spa station.
It's easiest to access the House of Frankenstein on foot in Bath. But, the closest parking is either Broad Street Car Park or Charlotte Street Car Park.
House of Frankenstein's address is 38 Gay St, Bath BA1 2NT. Click here for a Google Pin.
House of Frankenstein Bath ticket prices
There are different types of tickets available for the House of Frankenstein in Bath. You can choose to enter the house museum only or the house and escape rooms.
Tickets for the museum cost £15.50 per adult and £12.50 for a child (although it is recommended for over 12s).
There are group tickets and senior and student discounts available. Also, you can check out their Monster ticket combos which include a Hop-on-Hop-off tour of Bath.
The escape room games with house entry prices start from £25 per person. Or, if you wanted to play the game excluding the house prices start from £15.75 per person.
Click here to book your tickets online!
House of Frankenstein opening times
The House of Frankenstein Bath is open every day from 11 am until 6 pm. The last entry to the house is at 5 pm. On Saturdays, the house opens at 10 am.
Make sure to check the website before you visit as they do sometimes open later for the After Dark events.
Also, times may be subject to change on public holidays like Christmas Day and Boxing Day.
I would recommend spending at least 1 hour in the House of Frankenstein as there is so much to see and do!
Looking for more Mary Shelley in Bath?
There aren't that many Mary Shelley sites in Bath but you can visit where she would have lived and some of the old buildings associated with her.
If you head to the Pump Rooms, you'll find a Mary Shelley plaque located just outside to mark the place she would have lived nearby here.
She lived at 5 Abbey Church Yard from 1816 -1817 and she would attend lectures by Professor Wilkinson in the Kingston Lecture Room. He spoke of the newly discovered 'electricity' and how it could give life to inanimate objects.
By sheer coincidence, the bronze plaque is located above a vault of electricity that powers the city today!
Where to stay in Bath
If you're looking for somewhere central to stay in Bath, I would recommend The Roseate Villa on Henrietta Road near the Paragon.
It's a French Chateau-style building that is two Victorian houses merged into one! They have an incredible bookish staircase that joins them together.
The luxurious rooms are spacious and, although central in the city, it's tucked away in a quiet corner to provide a relaxing place to stay.
You can enjoy a sumptuous breakfast (hot tip – get the pancakes!) in their Henrietta Bar or splurge on a champagne afternoon tea with all the trimmings. I had such a lovely time there, I didn't want to leave.
Read my complete Roseate Villa Bath review!
Save time and book a tour!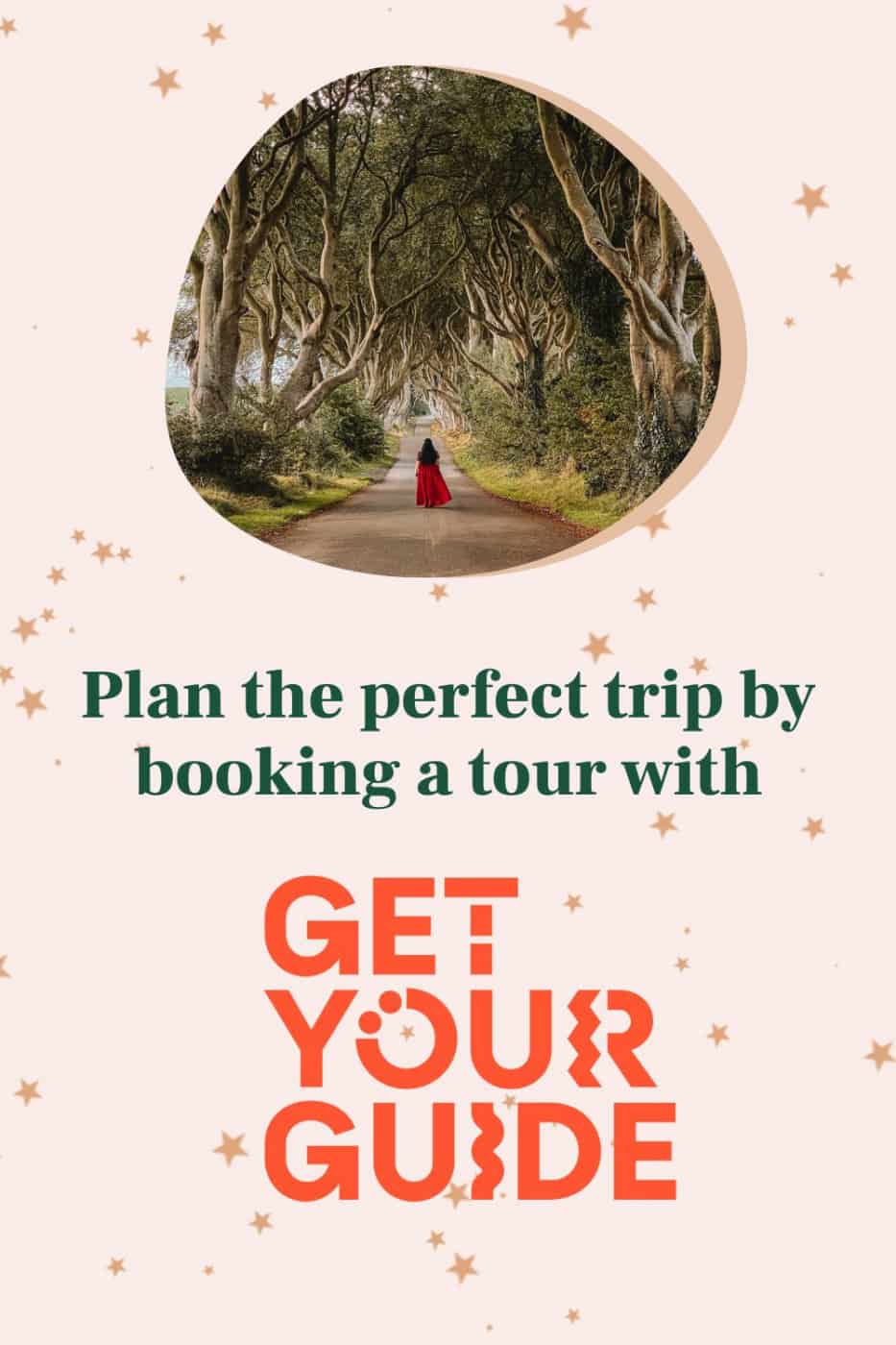 Book tours & tickets for Bath!
Read more of my Bath articles
Why you must visit the Roman Baths at night
Why you should stay at The Bird in Bath
Save this Mary Shelley's House of Frankenstein Bath review for later!
Third Eye Traveller visited the House of Frankenstein Bath on a press trip with Visit Bath. Although sponsored all opinions are my own.