Having been a Wiltshire local for years, I've visited the World Heritage Site of Avebury many times. But, somewhere that I had never heard of or visited before was the Devil's Den in Fyfield.
This Dolmen Chamber dates back thousands of years to the Neolithic period and is part of a wider grave passage in Fyfield Down.
Although it's on the fringes of Avebury, this ancient tomb is actually hidden away in the countryside.
It's fenced off on private farmland with a small pathway for public access and so finding it can be a bit of a challenge.
Here's a complete guide on how to find the Devil's Den in Fyfield with detailed walking directions.
The history of the Devil's Den
The Devil's Den is a neolithic tomb that was put together some 3,000 years ago. This dolmen chamber stands alone now but it's thought to have formed part of a larger passage grave on Fyfield Down back then.
It was named after the Devil following the introduction of Christianity to the area. The name was a way to put fear into locals and remind Pagans to convert to the 'true faith'.
Local folklore suggests that a tradition is to pour water inside the holes of the capstone. If you do this a demon will appear at night and take a drink!
In the 1920s, a large burial chamber was recorded on this site and it was measured at 230 feet long.
It would have been similar to West Kennet Longbarrow where early humans buried their ancestors and you could walk inside it.
It remains a mystery what really happened to that grand burial chamber. Today, only two standing stones and one capstone remain which are estimated to weigh over 17 tons!
It would be nice to say that this dolmen chamber has remained untouched and has stood on its own all these years. But, it was found dismantled when it was recorded in the 1920s.
In 1921, the dolmen chamber was reconstructed to preserve it. You can still see some cement holding these hefty pieces together!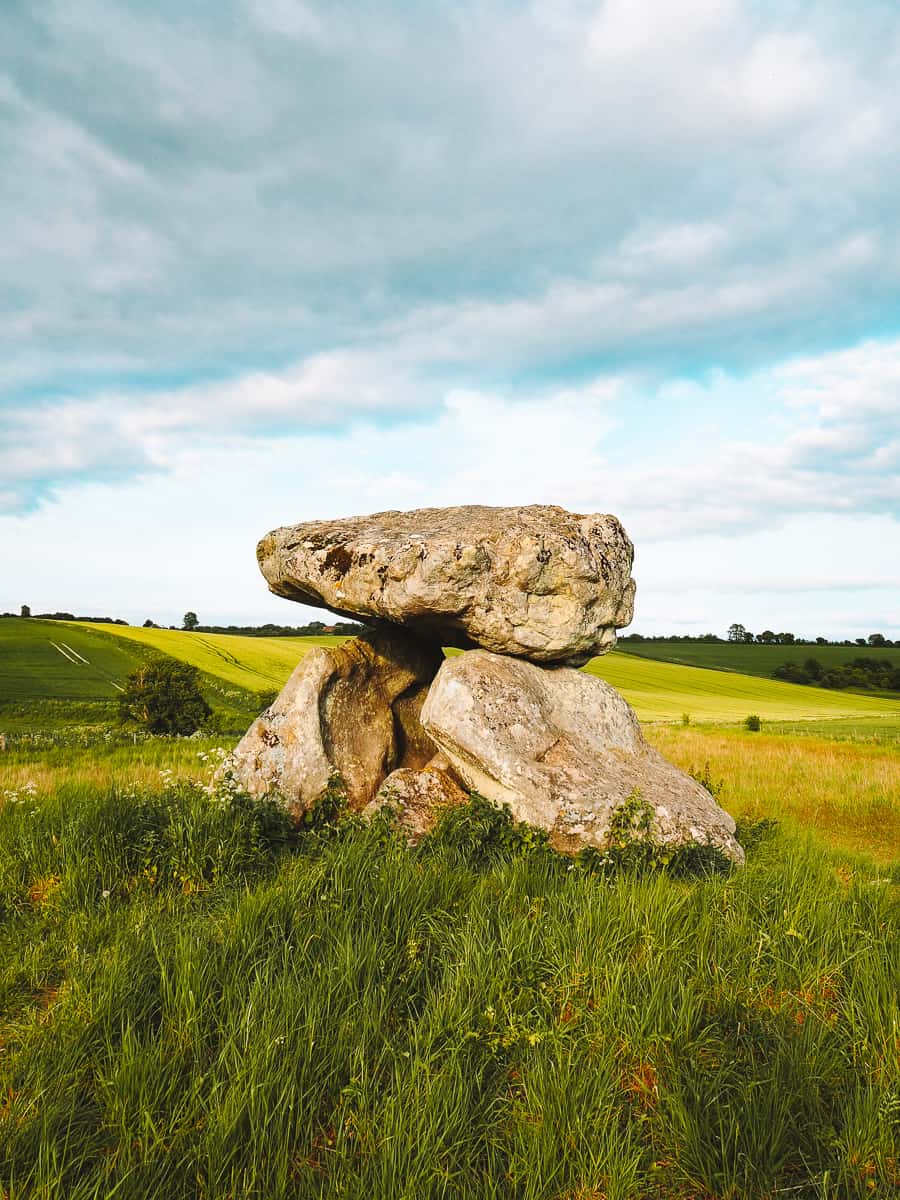 Where is the Devil's Den in Avebury?
The Devil's Den is officially counted as one of the neolithic attractions within the Avebury World Heritage Site.
But, you won't find any signs pointing you there in Avebury. It's actually on the fringes of this area and a mile from Avebury stone circle.
It's nearest to Marlborough in a hamlet called Fyfield. This is just a short drive from the neolithic attractions of West Kennet Longbarrow and Wiltshire's Pyramid of Silbury Hill.
It's accessible on the east side of Fyfield Down which is home to the Grey Wethers. This is the best-known assemblage of Sarsen stones in England.
Did you know? Fyfield Down and the Grey Wethers is thought to be an area where pre-historic humans sourced Sarsen stones needed to build the Avebury stone circle!
How to find the Devil's Den from Lower Fyfield
The only way that you can reach the Devil's Den is by walking there as it's hidden away on private farmland within Fyfield Down.
There are no roads within a mile of the site and so you'll need to walk there from Lower Fyfield hamlet.
From Lower Fyfield, there is a steep bridleway that you can climb up which is pedestrian-friendly. This bridleway will then lead you to a public pathway, where you can walk over farmland to access the field with the dolmen chamber in.
You may benefit from an ordnance survey map but I managed just fine without. I'll provide detailed walking directions below.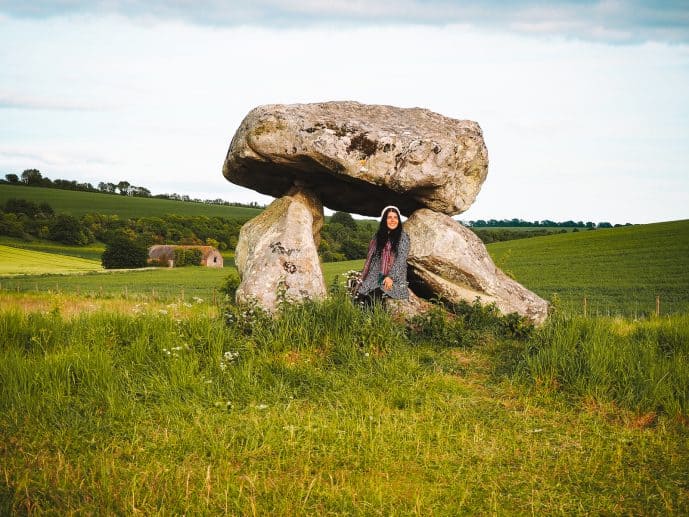 Devil's Den Parking
There is no dedicated car park for the Devil's Den. So, you will need to find some parking around the Fyfield area to start your walk.
I found some limited off-road parking by the Lower Fyfield Church but you will need to park with consideration so you don't block the road.
As there is limited parking available in Lower Fyfield and no off-road parking to be found on the A4 Bath Road, it may be easier to park up in the public Gravel Hill Car Park.
This can be accessed in Marlborough by following the postcode SN8 1PL. From here, I've heard there is a byway to access the Devil's Den.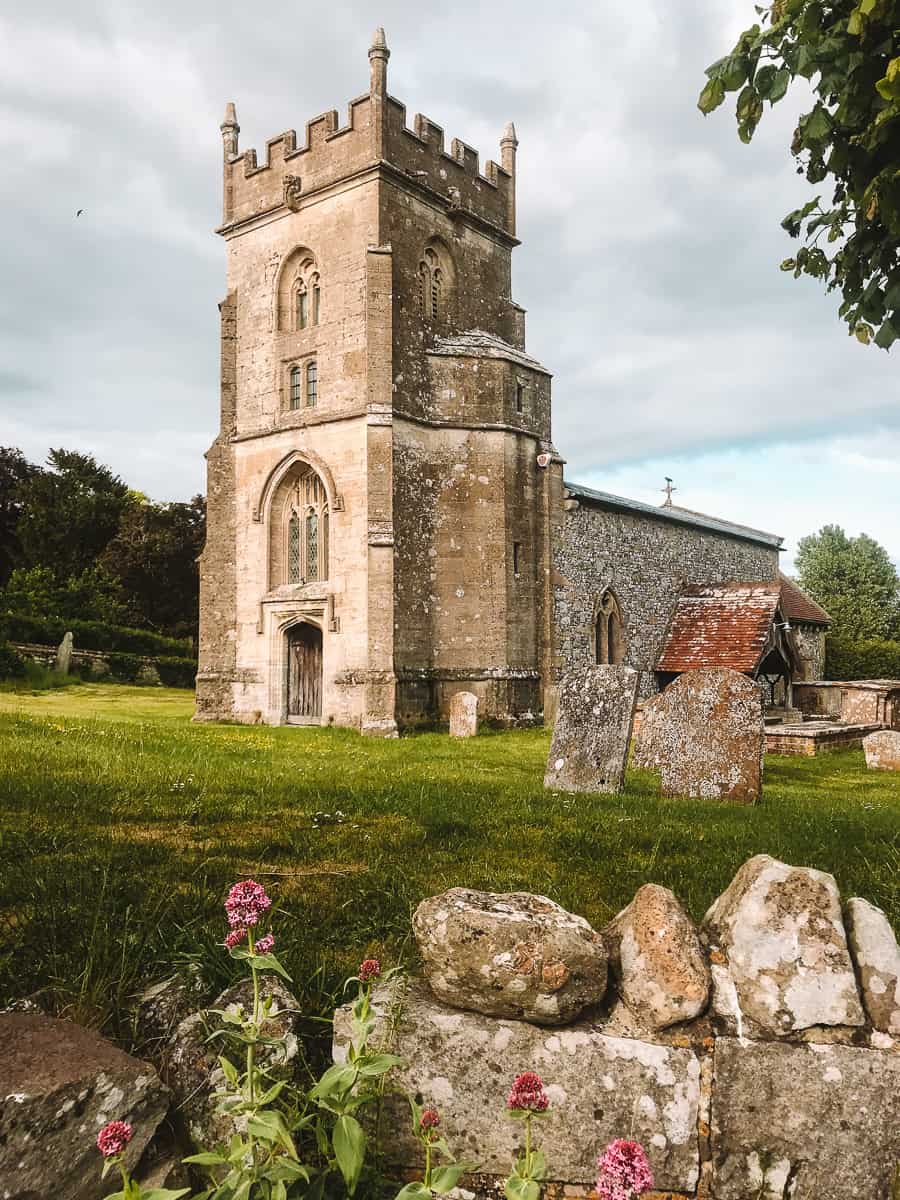 How long is the walk to Devil's Den?
Although Google Maps estimates this walk at around 10 minutes from Lower Fyfield church, that's not correct.
I must admit, I am a slow walker. But, I'd say 10 minutes is almost impossible even if you ran there.
Google Maps only take into consideration the time it takes to climb up the bridleway road. It doesn't count the walk on the beaten farm path and through a field to the Devil's Den.
The walk to this chamber will take you a minimum of twenty minutes from Lower Fyfield church. I'd allow at least one hour to complete the walk fully.
This is enough time to walk there and back and some time to investigate the chamber when you arrive!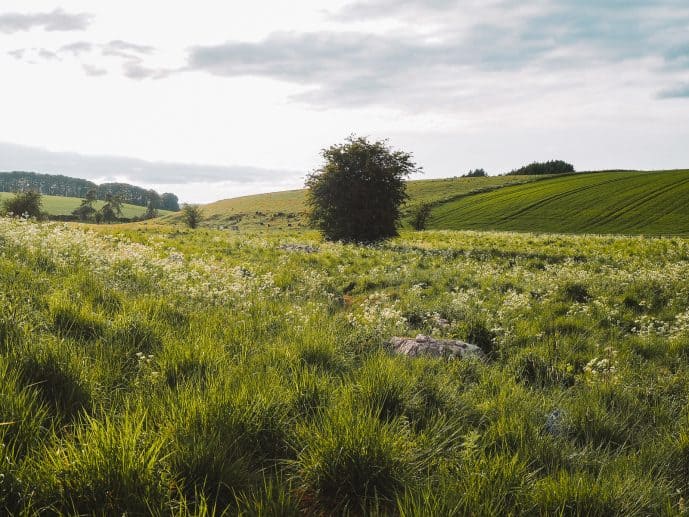 A few warnings for the Devil's Den walk
The pathway to access the Dolmen chamber is a bridleway for horses with no public vehicular right of way. I.e. you cannot drive down there or anywhere near the field!
If you're following Google Maps to drive here, it will direct you down this Bridleway from the A4 road. Don't follow this as it's private. There is also nowhere to turn around and it's a steep single track road. Turn into the Lower Fyfield hamlet which is opposite instead.
There are no tourist signs to direct you to this chamber at all.
The pathways to access the Devil's Den are heavily overgrown in spring and summer with cow parsley and stinging nettles. I got stung a few times and the overgrow made my hay fever wild! Also, the paths get really boggy in winter.
I did this in basic trainers but I wasn't expecting the pathways to be so steep and rugged. I'd recommend a good pair of ankle supporting shoes and waterproof ones if it's been raining.
You will be walking through a bull field to access the chamber! Thankfully, I didn't see any sign of the bull on my visit but there was a warning sign. Make sure dogs are kept on leads.
A lot of photographers come here for night photography as the stargazing is incredible but it will be completely dark with no artificial lighting whatsoever. So, bring a good torch with you!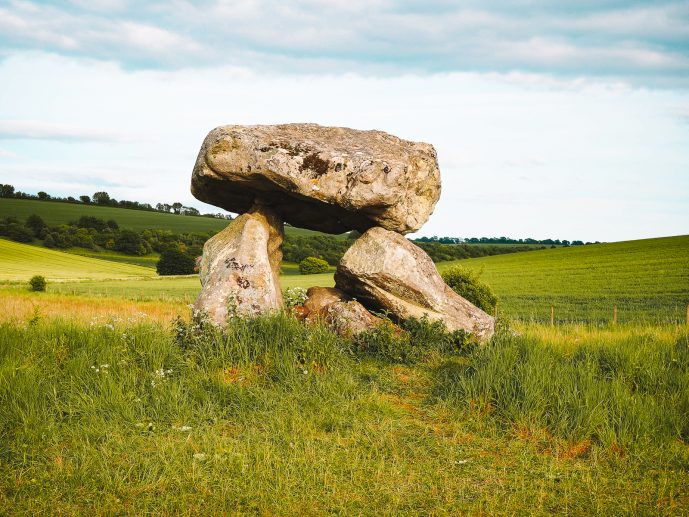 Devil's Den walking directions from Fyfield
I'll be giving these directions from Lower Fyfield as this is where I started off. I'm not familiar with the route from the Gravel Hill Car Park.
I parked up by the Lower Fyfield Church and then walked up through the hamlet to the A4 Bath Road.
You'll notice the bridleway directly opposite the turning for Lower Fyfield. So, cross over the A4 road and walk straight onto it.
Just be mindful that the A4 Bath Road is national speed limit (60 mph) and there is no pedestrian crossing.
Here's a quick map below of the walking route that I took to find the Devil's Den.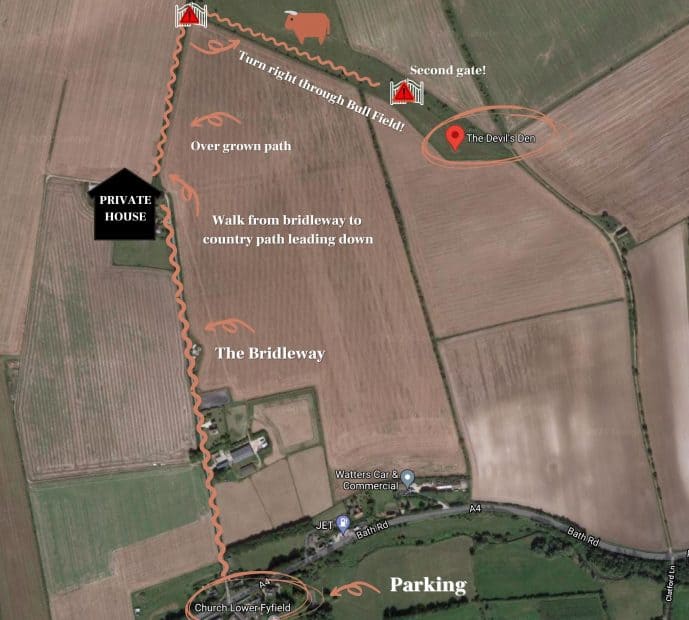 Head up the steep bridleway to Upper Fyfield
Once you're on the bridleway up toward Upper Fyfield, you'll be walking on a single-track lane.
Although it doesn't look very steep, you'll definitely feel the incline on your legs as you head up.
The only cars permitted on this road are for property owners in this area. So, although the lane is narrow, you shouldn't have much difficulty here with moving over for vehicles.
At the top of the bridleway, you'll pass by a private house and you may see some of their horses grazing in the garden.
Carry on around this house until you find a beaten path leading off the bridleway.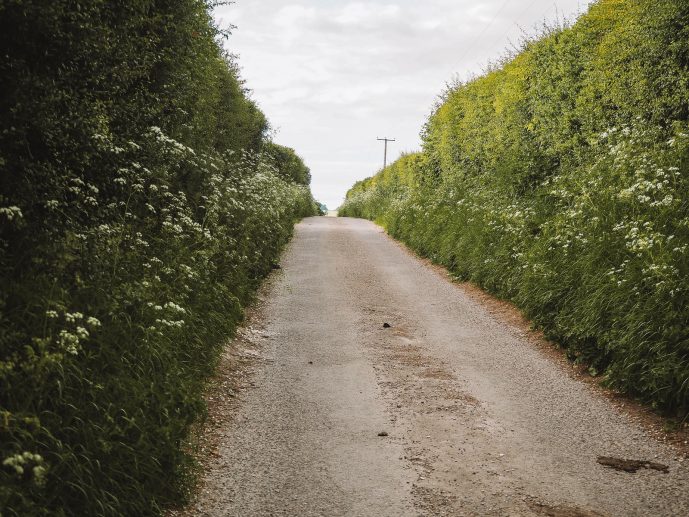 Walk down the overgrown path until you reach the Bull field
The pathway is very overgrown, but you can still just make out the public access pathway.
You will need to follow this overgrown trail all the way down to a fence at the bottom.
It does seem a little ominous as it's so covered up and it gets a lot steeper as you reach the end.
Cross over the bull field to a kissing gate on the other side
Once you reach the kissing gate at the end, you'll notice a sign that warns you that a bull is in the field. Always have a look around before you enter, just in case it's in there.
Thankfully, I didn't see one anywhere on my visit. But, I was still quite scared so rushed through. I was wearing a bright pink pashmina and so was worried about it catching sight of me.
But, I did read online that bulls getting angry at the colour red is just a myth. They are supposedly partly colour blind…who knew!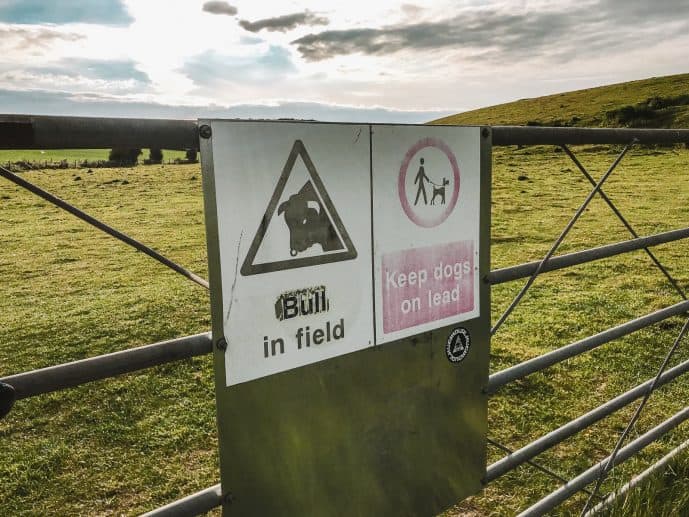 Walk through this field until you reach The Devil's Den
Once you've checked for the all-clear, head through the kissing gate. Make a right and follow the field around the mound.
You'll see some Sarsen Stones and the path through the bull field that will eventually lead you to another kissing gate.
Walk through this gate and you're free of the bull for now. Then, you can relax on your walk to the Devil's Den!
Once you're through that gate, you can really appreciate where you are; walking in a remote valley with the Wiltshire countryside all around you. It's really wonderful.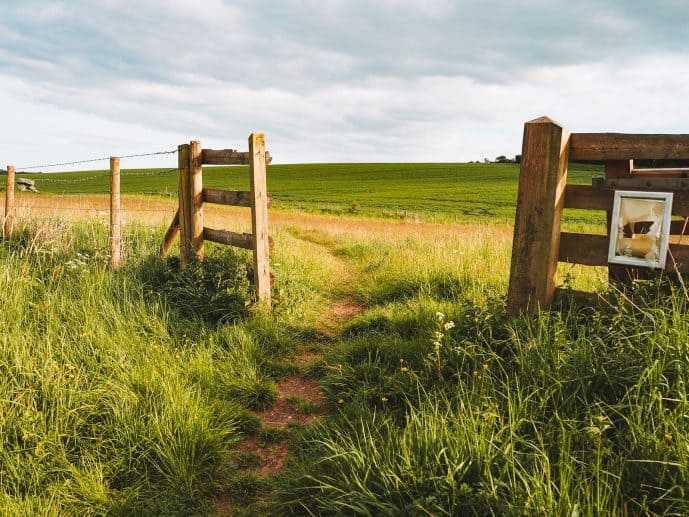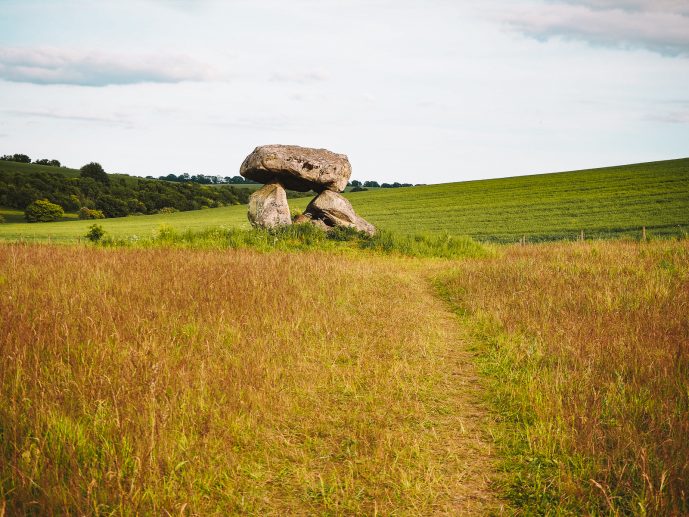 Exploring the Devil's Den Dolmen Chamber
Once you arrive, you'll get to see just how big this dolmen chamber really is! The photos I saw online didn't do the size of this thing justice.
It's massive and there is just enough room to climb in and investigate. It isn't enclosed and the balanced stones almost make a small window allowing you to look out at the countryside.
If you look closely at the joints, you can see cement of where it was reconstructed in the 1920s.
A lot of people climb on top of the Devil's Den as it's secure. But, I didn't want to as I'm not very tall and I didn't want to damage anything.
It does seem a bit strange visiting this place as it's fenced off around all this farmland and fields! It would have been amazing to see what this site would have looked like a century ago when the long enclosed chamber was here.
Although this place is really difficult to find, all in all, the Devil's Den was incredible and worth the walk to visit. To think that these stones date back thousands of years is mind-blowing.
Visit the Grey Wethers of Fyfield Down Nature Reserve next
After your visit, there isn't much to see around the chamber. It's pretty isolated. To return, you'll have to head back the way you came through the bull field.
But, if you were up for more exploring, you could see more of Fyfield Down and the Grey Wethers.
Fyfield Down is one of the countries oldest National Nature Reserves established in the 1950s and the Sarsen Stones here are some of the best examples in England.
Many of these stones were used in the Neolithic era as whetstones to sharpen tools. Also, the stones were used to build some of the ancient monuments we can find around Avebury today. How they manage to move them from here we'll never know!
The reason why they are called the Grey Wethers is that they look like sheep from afar! The famous antiquarian Richard Symonds paid a visit here in 1644 and recorded;
"They call that place the Grey-wethers, because a far off they looke like a flock of sheepe".
Maybe you'll notice it on your visit?
You'll also find similar stones in Lockeridge Dene and Piggledene owned by the National Trust close by.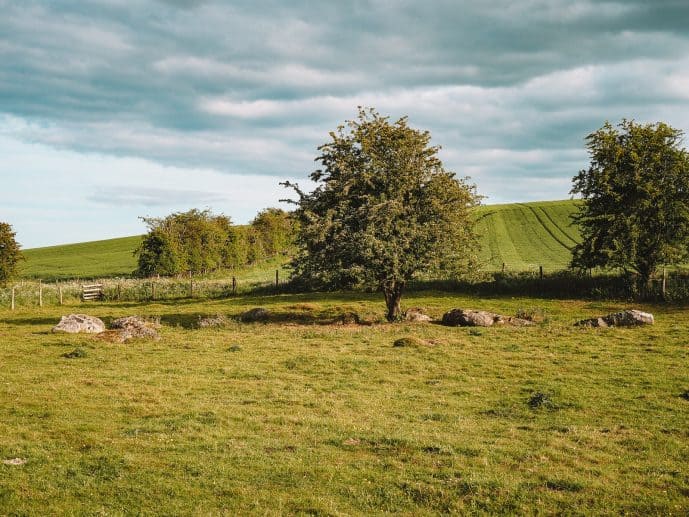 Are you heading to Avebury?
Although most people know Wiltshire for Stonehenge, Avebury really is the jewel in its Neolithic crown.
This World Heritage Site is filled to the brim with ancient tombs, stone circles and we even have our very own pyramid!
It's always best to start out at the visitor centre and walk around the spectacular Avebury stone circle. It's actually a set of two and has the title of Europe's largest neolithic stone circle!
Around this area, you can visit the Alexander Keiller Museum to get an introduction to the area and excavations that took place.
Or, you could visit the amazing Avebury Manor and Dovecote owned by the National Trust.
Avebury a popular stop for the Summer Solstice festival and you'll see druids and partygoers celebrating the longest day each year in June.
After you've left the main area, you can walk through the stone corridor of Kennet Avenue to West Kennet Longbarrow. This is a 5,000-year-old chamber of the dead that you can walk inside.
Almost opposite is Silbury Hill which is the largest artificial prehistoric mound in all of Europe.
There is also The Sanctuary, Overton Hill, The Ridgeway Trail, Windmill Hill, Swallow Head Spring, and even more ancient sites to discover dating back thousands of years!
It's a melting pot of culture and heritage just waiting for you to explore.
Read more of my Wiltshire travel guides
How to visit Stonehenge for FREE
How to see the wild Snakes-head Fritillary in Cricklade
How to visit Imber, the abandoned ghost village in Wiltshire
All the Harry Potter locations in Lacock
Why you must visit King Alfred's Tower in Stourhead
Discover this secret bluebell forest in Swindon!
How to visit the Hackpen White Horse
Mind-blowing places in Wiltshire
A guide to Castle Combe – the prettiest village in England
The best afternoon tea in Bradford-on-Avon
Save how to visit the Devil's Den Fyfield Down for later!