Warning: If you're looking for the Devil's Pulpit or the Liar's spring from Outlander then I strongly recommend that you read this guide first!
Although it's an emerald cavern with a blood-red river and waterfalls that looks like something out of a magical fairytale, the hike to get to it is anything BUT.
A lot of tourists have come into accidents trying to find it and even died in the process. However, lots of people do visit every single day.
I'm not trying to scare you off, but I ask you to heed caution and make sure you're prepared for this hike before you even consider it.
Then, If you're prepared for the arduous task, the payoff will be out of the world! Here's the scary truth on the journey to finding the Devil's Pulpit or the Liar's Spring from Outlander.
The meaning of the Devil's Pulpit / Finnich Glen
Why is it called the Devils Pulpit? The 'pulpit' part refers to a mushroom-shaped rock that is located within the gorge.
There are lots of legends surrounding this rock including the fact that the Devil would address his followers here, all the while the blood-red waters would splash around his feet.
Others say Witches cast spells inside the gorge away from prying eyes and Druids' held meetings and rituals here.
There's also reason to suggest that the rock looks like a church steeple but I can't see it myself. I'm much more of a dreamer so I'd like to think there was some magic in these parts once upon a time.
Why is the river red in the Devil's Pulpit?
Although it would be cool to think that the Devil's Pulpit has a blood-red river from the Devil's presence giving it a mystical aura. It's actually more down to science than a fairytale.
I know, yawn, but hear me out.
The redness of the water comes from the red sandstone underneath. So, it's not actually the water that's red but what lies beneath it that gives it a blood-red colour.
I felt that kinda spoiled the mystery a little for me when I found out, so I decided to live in ignorance and pretend it's magic. Sue me.
The Liar's Spring in Outlander
I'm not going to lie to you, it was Outlander that first made me want to visit this spring. Way before I saw it blow up on the likes of Instagram and social media.
In series one, episode 6 'The Garrison Commander', Dougall MacKenzie drags Claire to the Liar's spring. He makes her drink from the spring to make sure she is telling the truth about not being an English spy in the Highlands.
As she drank from the spring and didn't die, Dougall is satisfied that Claire is honest and decides to let her live!
The Liar's spring from Outlander was filmed at the Devil's Pulpit gorge. I had heard from a fellow fan that the actors actually got helicoptered into the gorge but, now I've been, I can't see how that's possible. But, it could be true.
As a huge fan of Outlander, for me, this whole experience was surreal even if it was an absolute nightmare to walk down.
Is it illegal to walk down to the Devil's Pulpit?
No. But, it is good to know this is private land. In Scotland, it is the law that you can walk on private land throughout the country.
However, although this is the case, don't make the assumption you can damage or disrespect it. Many people litter here, damage property, bring and leave BBQs, start fires.
It sounds cliche but when visiting somewhere in nature it's always best to only leave one thing behind; footprints!
Is the Devil's Pulpit dangerous?
Again, no, if you use caution. The Devil's Pulpit is a 60 feet deep gorge in the middle of a forest.
In summer, when everything is in full bloom, it's easy to lose sight of the cavern that's buried within trees and bushes growing nearby.
When trying to approach the Finnich Glen, always keep an eye out and stand way clear of the gorge.
It's a massive drop and, in the past, many tourists have fallen by not paying attention. Which results in expensive and risky rescue missions.
It's also good to note that this trek is not the easiest one. To access the gorge you have to climb down a wet, stony staircase that starts off as a staircase and ends up halfway being a rock slide.
I was told (and saw on vlogs made years ago) that there would be some handy ropes to hold onto to access the gorge but this wasn't the case.
A guy (shining knight called Peter) behind me helped me get down and I actually ended up sliding down the muddy rocks in my dress. I would rather have a muddy bum than a broken neck.
If it's heavily raining when you visit, please consider that this staircase will be slippy and freak floods are no joke.
Again, I don't want to scare you off too much but also I want you to know what you're getting into. Don't make the mistakes I did by wearing inappropriate footwear and clothes.
What's the best time to visit the Devil's Pulpit?
I hate to break it to you but the Finnich Glen is no secret. In peak seasons and on weekends it's actually really busy!
So, if you would like to visit with fewer people for photography or just for some peace, I would recommend visiting early morning or late afternoon.
In the summers in Scotland, the day can last until 10 pm at night. It's also sunnier, drier, and therefore safer to walk down.
I would advise not visiting too late though as it's not the sort of place you want to be stuck or climbing down in the dark!
Also, I would advise against visiting in the rain or adverse weather. Safety first, you never know when it will take a turn. Plus, the woodland gets incredibly muddy!
What to pack for the Devil's Pulpit hike
Before you even start off for your hike to the Devil's Pulpit, I'll go through all the things you need to go on the hike.
If there was a competition for the most inappropriately dressed hiker to the Devil's Pulpit, I'd probably be in the top 3, if not win the contest.
So learning from my mistakes here are some packing suggestions to make sure you have all you need;
Appropriate footwear: I wore sketchers, but I'd say that you need decent hiking boots or waterproofs. Also, if you plan on gorge walking I'd bring waterproof shoes or sandals once you've reached the bottom.
Appropriate clothing: I wore a dress. I know some of you will facepalm, but I wasn't prepared at all for the hike. I tied the dress around my waist but it's not safe. Next time I'd bring hiking clothes for the journey.
A torch/headlamp: parts of the hike are pretty dark on Jacob's ladder and if you're stuck in the gorge when the sun goes down it's best to be prepared.
A bottle of water: although I would say that the Devil's pulpit would provide that, many people go inside the gorge. Do you want foot water? Yuk!
A towel /costume: Lot's of people go swimming here in the waterfalls and also you will need to walk into the water to get over to the pulpit and falls too. So, bring a towel to dry your feet.
A camera/phone: Duh, pics or it didn't happen haha! Preferably I'd take a waterproof one.
Where is the Devil's Pulpit in Scotland
The nearest city to access the Devil's Pulpit would be Glasgow. But, from here the drive is around an hour into the countryside on the A809 road.
This isn't a tourist attraction so don't expect to see a 'Devil's Pulpit, next right' sign or anything lol. It's hidden and on private land.
Where to park for the Devil's Pulpit
There are a few lay-bys that are near the main 'entrance' to the Devil's Pulpit and by entrance, I mean a wall with a big hole in it.
Also, you'll be driving on a national speed limit single-track country road, so make sure you don't have anyone speeding up behind you.
As I visited in the evening, I managed to get a space fine in the one directly opposite the entrance.
If you can't find a parking space in the lay-by, I did see a big car park up the road where lot's of people parked up. This is on the crossroads between the A809 and the B834 road.
How to find the Devil's Pulpit (step by step instructions)
From whatever parking spot you choose, it gets a little harder to navigate and actually find it.
The good news is for my readers, I've got detailed instructions below.
The great thing is that many people visit, so there are people that can help you out and point you in the right direction.
1. Park up on the A809 road
As above, you will need to park in either the lay-by outside of the wall gated or the dirt car park a little further up on the crossroads of the A809 and the B834.
Once parked, either cross the road to the wall entrance or head down the road to the wall. Be careful along here as there isn't much of a path for pedestrians and cars drive very fast over blind summits.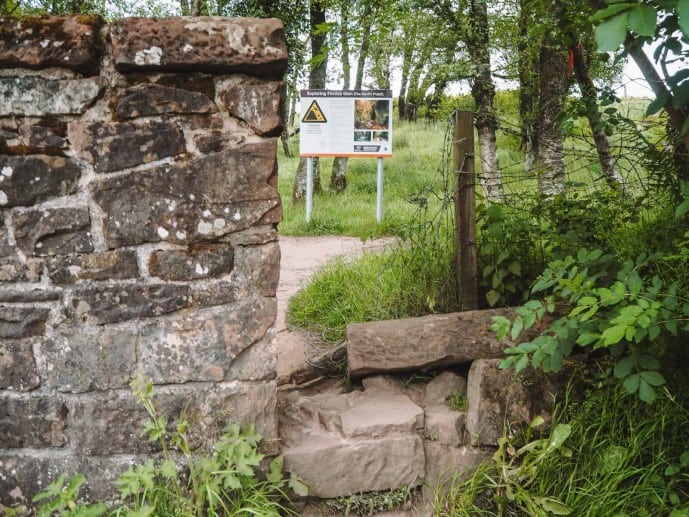 2. Walk through the wall over to the forest walk
Next, you will see a wall that you have to climb over or a proper door to walk through. When I arrived, the 'door' was closed so I climbed over the hole in the wall.
I'm 5 foot, so if I can climb this so can you!
Once you're over the wall, you'll see a warning sign about entering the gorge. Turn left or walk behind the sign and carry on through the forest.
You'll start to hear voices and eventually the beginning of a cavern.
3. Locate Jacob's Ladder or the Devil's steps (DON'T walk too close to the gorge edge)
Don't walk too close to the cavern, but follow the route beside the cavern until you eventually find Jacob's ladder.
The walk down to the gorge is 60 feet so you'll be walking down quite a distance into the gorge.
It's quite safe if you use caution and take your time.
4. Climb down Jacob's ladder or the Devil's staircase VERY carefully
I'm not gonna lie, this is when I started to freak out. I'm not afraid of heights or anything but staring down the ladder into the abyss was pretty daunting.
The start of the walk was easy, it was just rocky steps down and they were tiered so really easy to walk down.
Then, it changed. The steps then turned into a sort of rockslide where one a few of the rocks turned vertical. It was also muddy and slippy and I had a heavy backpack on and a stupid dress.
Luckily, a knight in shining armour, Peter, asked if I was okay and if I needed any help. So, I gladly accepted and he helped me down a little past the rock slide.
After that, it was pretty easy. But, there are NO safety ropes like others show you a few years ago. They've disappeared. So, be careful as you go!
5. You've made it to the Devil's Pulpit!
At one point, I was honestly going to turn back so I'm glad Peter showed up and helped me down.
It was exactly like I had imagined an emerald green cavern, with a blood-red river, light shining through the trees and waterfalls! It was like a dream!
Devil's Pulpit gorge walking
Now, you have a choice. You can either stay where you are and get a few pictures from the entrance point. It is really pretty and the view doesn't change all that much.
But, you will need to venture a little further to see the actual pulpit rock and the waterfalls I'm afraid. Many people were taking their shoes off, swimming, and walking either in the river or over the rocks to access the waterfalls.
As I don't have skills in parkour and the balance and grace of a rhinoceros. I decided, that instead of hopping over the rocks with my big backpack full of expensive camera equipment, I would just hop in the river with my tights and shoes on. Again, I would rather have a wet dress than hurt myself or my camera equipment!
I wouldn't advise walking barefoot in winter, it will be FREEZING. But, in summer almost everyone was doing it.
Photography down at the Devils Pulpit
Photos can be a bit of a challenge down here. The lighting is low, so you will need a tripod for your camera if you want to take professional photos.
Personally, I take all photos of myself with my tripod and decided to set mine up a little further back to capture the whole place.
It was a little bit risky as I set up my tripod in the water, but I planted it well enough.
If you're worried about damaging your equipment I would recommend a waterproof camera or just your iPhone. Failing that don't let it out of your sight and have a firm grasp of it.
Other things to know before you visit the Devil's Pulpit
Watch out for thing falling into the cavern, I saw a massive rockfall down into the river and it made a huge splash. So, just be wary of debris and keep a lookout.
Lot's of young kids visit here and set up fires and BBQs. So, if you want peace, I'd come early morning.
I would keep dogs on a lead until you reach the river below. It's a long way down and you don't want your dog running astray and falling down the gorge.
Littering at the Devil's Pulpit
The thing I was most disgusted by was how many people brought their litter to the Devil's Pulpit and left it there.
There were clothes, swimmers, used nappies, beer cans, condoms, needles, rubbish and all sorts of junk people didn't take responsibility for.
There is no one coming to clear up your rubbish for you and it's no one else's responsibility but your own!
So, anything you bring here, make sure you take it home. It's as simple as that.
Things to do near the Devil's Pulpit
After your visit to the Devil's Pulpit, there isn't much to do after that here. So, you could plan your visit around some extra sightseeing.
The Finnich Glen is on the gateway to Loch Lomond and the Trossachs National Park. So, you can plan some hikes, boat rides, or just simply take in the beautiful views in the area!
I actually attempted to visit an Outlander location at Loch Katrine in the Trossachs but arrived too late for the boat rides. I guess next time.
Where to stay near the Devil's Pulpit
If you're looking for a modern and affordable hotel in Glasgow, then Motel One is your ticket.
Located next to Glasgow Central Station I was worried I wouldn't have a good night's sleep. But, I had nothing to worry about. The hotel has amazing soundproofing and I slept like a baby!
The design was flawless, modern and it had a European flair to it. It's also in the heart of Glasgow and just minutes away from some of the cities top attractions.
Here's my full review for Motel One Glasgow and how you can book your stay
Looking for more Outlander locations in Scotland?
If you're on an Outlander location pilgrimage in Scotland and you're looking for more locations, there are plenty to choose from in Glasgow, Edinburgh, and beyond.
I actually visited almost all of the locations that are accessible (and some private) and have written detailed travel guides for each one.
You can read my ULTIMATE list of Outlander locations in Scotland here, or read my Outlander in Edinburgh & Outlander in Glasgow guides
Outlander locations in Glasgow
Glasgow has plenty of Outlander locations and you'll need at least a day to explore them all!
Start off at the University of Glasgow to find Havard University where Frank was a professor in Boston. Or, make your way over to Kelvingrove Park to see where Claire walks to study.
George Square was the spot where Claire and Frank were married in London. You can visit L'Hopitale De'sange at the Glasgow Cathedral and take a walk up Dowanhill street to find Claire and Frank's house in Boston.
Pollok Country Park has scenes from the grounds of Castle Leoch and the duel between Jamie and Black Jack Randall in Paris and Dean Castle Country Park featured in Fox's Lair.
Click here to read my complete list of Glasgow Outlander locations in the city
Outlander locations in and around Edinburgh
Roslin Glen has some gunpowder mills where he says 'you're ripping my guts out Claire' and Glencorse Old Kirk is the church where Jamie and Claire were married.
Craigmillar Castle as you head into the city centre of Edinburgh featured as Ardsmuir Prison in series 3. As well as an Outlander location it's a great castle to visit which is a lot quieter than Edinburgh Castle.
Also in the city is Summerhall which is featured as the lecture hall that Claire studies in Boston with Joe Abernathy.
On the Royal Mile, you can have an afternoon tea at the Colonnades which also featured as the Governor's Mansion in Jamaica.
Relive the scene where Jamie and Claire reunite at the print shop on Bakehouse Close or close by is Tweeddale court where Claire and Fergus meet once more. Or follow their footsteps to The World's End where they save Mr. Willoughby.
Read more: Outlander walking tour of the Royal Mile (with Map locations!)
You can visit Lallybroch, home of Laird Broch Tuarach, for yourself at Midhope Castle, Abercorn Church that featured in season 4.
Hopetoun Estate has over 17 Outlander locations onsite including the Duke of Sandringham's home.
Culross featured as Cranesmuir with the West Kirk as the Black Kirk. Blackness Castle was where Jamie was flogged at Fort William and Wentworth Prison features scenes from Linlithgow Palace.
Doune Castle was Castle Leoch, Drummond Castle Gardens featured as Versailles and the village of Falkland featured as 1945 Inverness.
Read more in my complete list of Outlander filming locations around Edinburgh or my ultimate list of Outlander filming locations around Scotland!
Read more of my posts on Scotland
Where is the pink castle in Scotland?
Why you must visit the Kelpies
My ULTIMATE Edinburgh bucket list
Cove Beach on the Scottish Borders
How to find the Devil's Pulpit
Save how to find the Devil's Pulpit for later!