If you're looking for all the options of how to visit the Hill of Crosses from Vilnius, then this is the guide for you!
I visited the Hill of Crosses on a day trip from the capital, but I did do some extensive research before I booked it.
There are multiple ways to reach the Hill of Crosses from Vilnius but it's not the easiest to travel to. So, what you choose will entirely depend on your preferences, time and budget.
Personally, I thought a day trip here was totally worth it! The Hill of Crosses is something I have been dying to see for an age and I knew if I ever made it to Lithuania, it would be a priority for me.
But, if you're on the fence, I'll also go through all the reasons why you should visit this spectacular attraction too.
What is the Hill of Crosses in Lithuania?
This site is the location of over 250,000 crucifixes that have been placed on a hill near the city of Šiauliai.
Although many see this as a memorial, an eerie attraction, dangerous and spooky even. It's actually meant to be a symbol of love, light and hope for Lithuania.
It was knocked down three times during the Lithuanian occupation eras of the Nazis and the Soviet Union (KGB).
So, the fact that it still stands today stronger than ever, is a testament to the Lithuanian people and their strength through the darkest of times.
The History of the Hill of Crosses
The tradition of placing crosses in the city of Šiauliai in peaceful resistance to the occupation of foreign invaders is nothing new. In fact, some say it started with the Teutonic Knights who took over the city in the 14th century.
But, the Hill of Crosses we see today started after the Lithuanian Revolt against the Russian occupation in 1831. By 1895, there were 150 crucifixes that had been mounted at the site and by 1940 over 400!
By 1940, Nazi Germany took over Lithuania and, at the end of World War II, the Russian Soviet Union (KGB). People continued to place crosses here as resistance to occupation and not being able to practice their Christian beliefs.
Also, as so many Lithuanians were being deported into hard labour camps, family members left crosses here for loved ones they could not bury.
The Hill of Crosses was destroyed three times before the Lithuanian independence by the KGB.
The wooden crosses were burned to the ground and the metal ones smelted for scrap metal. It was also used as a waste disposal site and it was dangerous to visit there.
But, each time it was destroyed the Lithuanian people rebuilt it as a sign of resistance. Finally, in 1985, the Hill of Crosses was left alone. By 1990 Lithuania was granted its independence.
Today, the site is visited by pilgrims all over the world and is seen as a symbol of faith. Even Pope John Paul II visited the site to bless it in 2003.
Is the Hill of Crosses dangerous or haunted?
Once upon a time, the Hill of Crosses was a dangerous destination during the Soviet Era. Placing crosses here was forbidden. So, you quite literally risked your life to do so.
But, today, it's a religious symbol of love and peace.
I haven't been here at night, so I can't attest to the fact that it isn't dangerous at that time. But, the Hill of Crosses is far from dangerous during the day.
Yes, it's in the middle of nowhere in the Lithuanian countryside. But, there are constant streams of tour groups and visitors.
There is also a visitor centre and security cameras that have been placed all over the site to check that no one vandalises it.
So, I don't think you're in any danger of visiting. Most of the locals were bringing new crucifixes to place at the site or they came to pray.
It's not a scary place. But, if you are worried, make sure you visit in daylight during the working hours of the visitor centre.
As for whether it is haunted, I guess no one can tell. But, I've always said I wouldn't mind seeing a ghost so I guess I wasn't fussed!
How far is the Hill of Crosses from Vilnius?
The Hill of Crosses is located around 220 kilometres away from the Vilnius city centre. So, if you're planning to drive it will take you around 2 hours and 30 minutes along main roads without any traffic.
By public transport, this will take a lot longer, so I would definitely plan a whole day out of your itinerary to visit.
Hill of Crosses opening times and ticket prices
The Hill of Crosses is open 24 hours a day, 365 days a year and another bonus is that it's completely FREE to visit.
There is a visitor centre, some shops and a small street food stand that is open on restricted opening times.
The visitor car park also has a barrier and you need to pay to park. But, there is also another car park near the site which is not restricted at all.
So, you can visit anytime you want. But, I'd say it's better to visit during the daytime when there are facilities open.
How to get to the Hill of Crosses from Vilnius
There are many ways in which you can get from Vilnius to the Hill of Crosses. It all depends on your time, budget and preferences.
Travelling by public transport may take longer, but a group trip may be more expensive and it also depends on whether you want to rent a car.
Here are all the options;
1. Travel to the Hill of Crosses from Vilnius by public transport (train & bus)
I'm personally more of a self-guided sort of person. If there is a way to travel or explore somewhere by myself; this is the option I will always go with. Hence, why I did a lot of research before my travels to Lithuania.
This way you're not restricted by timings or herded through the site, it's more of an adventure and more often than not you save a lot of cash too.
Here's the easiest way to get there by public transport.
Firstly, you need to take a train from Vilnius to Šiauliai
The Hill of Crosses is located around 11 kilometres outside of Šiauliai. So, you'll need to make your way there by train from Vilnius.
The trains in Lithuania are AMAZING. The booking website is easy to use, you download your tickets online and the conductor scans a QR code on your phone. Easy peasy.
The trains from Vilnius run from around 6 am – 10 am, so the earlier the better I'd say. On the return, the trains leave around 6 pm, so you have lots of time to explore and make your train. But, it is a long time to wait around too.
One-way tickets range from around 7 Euros – 11 Euros for second class and 19-21 Euros for first class. It all depends on the time you travel. The journey takes around 2 hours.
Click here to check the official Lithuanian railways website.
Buses do run from Vilnius to Šiauliai. The return tickets cost around 16-20 Euros depending on the company. The journey by bus takes around 3-4 hours. So, I would recommend the train.
Check the official Lithuanian buses website here.
Then, take a bus, taxi or bike to the Hill of Crosses
Once you reach Šiauliai you need to hop on a bus heading over to Joniškis. You'll be getting off at the Domantai stop.
It's not labelled so ask the bus driver to drop you off or show him a photo on your phone.
You'll then have to walk around 2 kilometres from the Domantai stop, look out for the brown "Kryziu kalnas 2" sign.
You can look up the Lithuanian buses website for prices and times here.
If you're an avid hiker you can walk there from Šiauliai, or hire a bike in the summer from the main city.
…Or, take a Hill of Crosses tour from Šiauliai
Another option which would make it a lot easier is to do a guided tour of the Hill of Crosses from Šiauliai itself.
This private two-hour tour gives you a return pick-up from your hotel, the train or bus station and guides you around the site too. It's really reasonable at around 20 Euros per person.
Click here to book a guided tour of the Hill of Crosses from Šiauliai.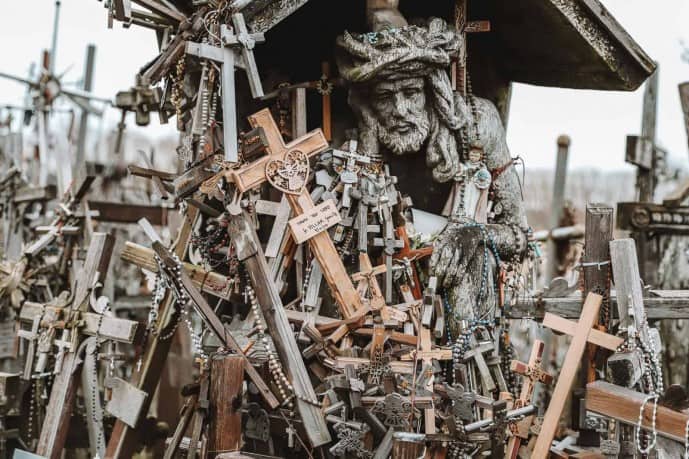 Returning back to Šiauliai by bus
This will be the tricky part. Buses are not frequent from Domantai back to the city of Šiauliai and you may be waiting around a while for a bus to take you back to the centre.
So, if you're worried about how to get back to the city, ask the visitor centre at the Hill of Crosses to help book you a taxi. This will cost you around 15-20 Euros.
If you are waiting around a while in Šiauliai, there are many restaurants, cafés and shops open there to pass the time!
2. Drive to the Hill of Crosses from Vilnius
If you have your own transport or are deciding to rent a car while you're in Lithuania. The drive will take around 3 hours each way from Vilnius.
You'll firstly need to navigate onto the A2 road from the city, then take the A17. Then take the A9/E272 to Šiauliai. From here, there are many signs pointing you to the Hill of Crosses.
There is chargeable visitor parking at the Visitor Centre controlled by a barrier.
If you're looking to rent a car, try Rental Cars to compare prices in Vilnius here.
3. Book a day tour from Vilnius
In the end, I decided to book a day tour from Vilnius to visit the Hill of Crosses. There were a couple of reasons for this;
Trains leave Vilnius to Šiauliai very early in the morning and come back very late at night. So, it was going to take double the time with a lot of waiting around for transport.
It was FREEZING in December and waiting for a bus that may/may not show up 2 kilometres away from the site didn't seem like fun in the middle of the countryside (and potentially in the dark).
As I was alone, If I did decide to get a return taxi to the Hill of Crosses from Šiauliai, it was going to end up costing me the same amount as this day tour.
With the tour, I got picked up from my hotel directly and dropped off there too. So, no travel costs to the station and back either.
I went with Vilnius City Tours and thankfully, there were a couple of other tourists who wanted to go to the Hill of Crosses that day too. Usually, if the group is too small, or you're on your own, they won't run the tour.
What is included in the Hill of Crosses tour
The price of the day tour was 54 Euros which included being picked up from outside my hotel, transfers there and back from the Hill of Crosses and an audio guide.
This was about the Hill of Crosses and the history of Lithuania on the minibus, which I guess passed the time.
We drove 6 hours there and back. During that time we had a coffee break at a petrol station, a lunch break in a country restaurant and an hour of free time to walk around the site.
We weren't guided around by a tour guide and lunch wasn't included either.
But, I still think that it was worth it to save money and not have the headache of travelling around in the winter and in darkness.
Click here to book your Hill of Crosses day tour from Vilnius
Check out these other group tours from Vilnius which include the Hill of Crosses
1-day pilgrim tour from Vilnius
Vilnius to Riga – Hill of Crosses and Rundale Palace
How to get to the Hill of Crosses from Kaunas
Kaunas is a little closer to Šiauliai than Vilnius. So, if you'd rather visit from there, this is easily doable as well;
By Car: the Hill of Crosses is approximately 153 kilometres from Kaunas. So, it will take you around 2 hours to reach there by car. You'll need to take the A1 road, then highway 114, then finally the A9 until you reach the site. There is visitor parking you will need to pay for at the centre.
By Public Transport: Unfortunately, only one train runs from Kaunas toŠiauliai and it's in the evening. So, from Kaunas you will have to get a bus which runs from the city centre to Šiauliai. This will take around 3 hours and costs around 18-20 Euros return. Then, follow the bus instructions to the Dolomantai bus stop from Šiauliai or hire a bike/taxi from the visitor centre. Check the Lithuanian Bus website here for prices and times.
Hill of Crosses tours from Kaunas
Tours from Kaunas are a little more expensive at around 75 Euros per person for a group. Check out some details and inclusions here.
Or, book a private tour once you reach Šiauliai here.
I visited Kaunas on a day trip from Vilnius and LOVED it! Here are some of my articles about Kaunas;
Street Art travel guide to Kaunas
How to get to the Hill of Crosses from Riga
By Car: The Hill of Crosses is only 1 hour and 50 minutes drive from the centre of Riga. So, it makes sense to travel from here to save time, or to plan a stop here if you're travelling from Lithuania to Riga in Latvia. From Riga take the E77 road, then the A8 and then the A12 when you enter Lithuania.
By Public Transport: You can catch a direct bus heading from Riga to Šiauliai with EuroLines and Lux Express. See here for details. Then follow the directions from Šiauliai to the Domantai stop and it's a 2 kilometres walk from there.
Hill of Crosses Tours from Riga:
Red Fox tours have a day trip that you can book for 45 Euros a person you can check out here.
Also, there is the option to travel from Riga to Vilnius with the Hill of Crosses as a stop. Or, book this private tour once you reach Šiauliai.
Things to do at the Hill of Crosses
Once you've finally made it here to the incredible Hill of Crosses, you're probably wondering what to do now.
I have to admit, there wasn't much information about it when I got there apart from one sign, but it kind of tells its own story.
Although it is a small site, there is plenty enough to keep you occupied;
Photography at the Hill of Crosses: is permitted, in fact, it's even written on the sign that you have every right to! So, take as many photos as you like of all the amazing crucifixes. There's even statues of Jesus and the Virgin Mary too. There are so many pathways and walkways through here so make sure you leave time to explore.
Place a crucifix at the site: The Hill of Crosses grows each year due to tourists and locals placing crucifixes here as a tribute. So, if you have something to leave you can do so or buy one to leave at the visitor centre.
Listen to the hymns: What I found lovely at this site was the fact they had live streams of services from the many churches in Lithuania. There were sermons and hymns which was really nice to hear.
Visit the Church nearby: If you have the time or fancy stretching your legs after a long drive there is a church in the area towards the back of the Hill of Crosses which makes a nice short walk. It will be open but I heard from the other people in my group there wasn't much inside.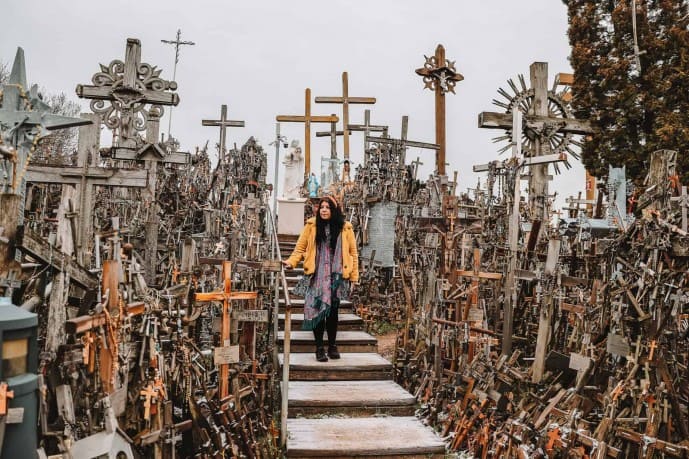 Facilities at the Hill of Crosses
Although the area is quite remote, you'll be happy to hear that there are some facilities at the site. So, here's what you can expect to find;
Hill of Crosses Visitor Centre – The Visitor Centre has a small exhibition with the history of the site, some information booklets and a small shop with souvenirs. It's small but also warm if you're feeling the cold in the dead of winter.
Toilets – There are some well-looked after public toilets at the Hill of Crosses. These do cost 50 cents to use and work on a coin drop with exact change. But after our 3-hour journey with a coffee break, I was really desperate. All toilets had loo paper, there was hot water (YAY), soap and were squeaky clean.
Shopping – There is a small stand that sells crucifixes and some souvenirs. You can buy your own cross to place at the site should you choose. As it was December, there was only one stall open. But, in the summer there may be more.
Food – There was a tiny outdoor street stall that served up hot drinks and some fast food like pastries, sandwiches, snacks etc. There were seats but they were outside. So, extremely cold in December!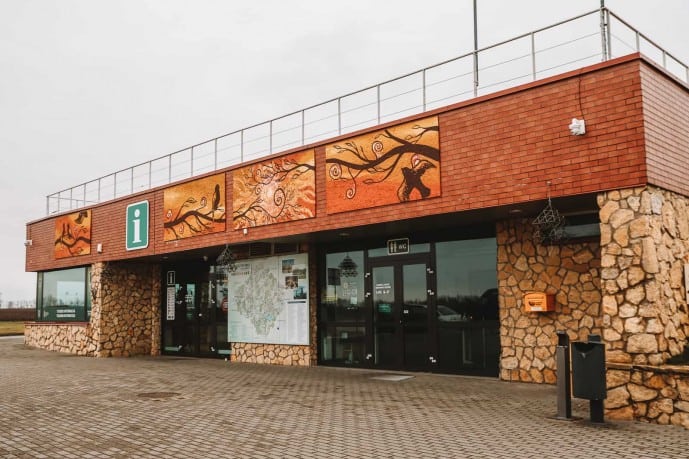 Where to eat near the Hill of Crosses
If you're looking for somewhere to eat on your day trip, then I would recommend trying to find a restaurant in Šiauliai itself or there are some pitstops on the side of the road heading back to Vilnius.
On our tour, we stopped at a restaurant called Smuklė Žarija. It was really cosy and warm inside with a roaring fire and the food was delicious. But, I have to admit the service from the waitresses there left much to be desired!
My food took way too long (over 40 minutes) and the waitress and I had a little disagreement over what counted as too long to wait for food. The best bet? Order the traditional dishes like the Cepelinai/potato dumplings or Beet soup – these came out A LOT quicker.
Where to stay near the Hill of Crosses
If you'd rather stay near the Hill of Crosses for the evening, the nearest hotel which you can book is highly recommended and is a good price too. You can book Hotel Girele here.
But, if you want to stay in a city with some infrastructure the nearest is Šiauliai.
There are a few hotels in the area, so have a look at the ones I've handpicked below;
Looking for more inspiration on your travels in Lithuania?
If you're planning your travels around Lithuania, I based myself in Vilnius for a week and travelled out to different cities and attractions from there.
I covered a lot of ground including Trakai Castle, Kaunas, the Hill of Crosses and many places in Vilnius too. So, make sure you read some of my detailed guides before you visit;
My ULTIMATE Vilnius Travel Guide
A photography guide to Vilnius
The Instagrammable Love Story Cafe of Vilnius
The best viewpoints in Vilnius
The ultimate guide for Three Crosses Hill
Traditional Lithuanian foods you must try!
Top attractions in the Republic of Užupis
Why you need to visit Vilnius in December
Like it? Pin it!