A burning question of travellers visiting Meghalaya in North East India is how to reach the Double Decker Root Bridge of Cherrapunjee.
Popular with tourists, it's one of the most sought-after attractions in North East India.
The Double Decker Root Bridge is one of a kind in the whole world, so why wouldn't you want to visit while you're here?
What's great about this living bridge is that the roots keep growing 'hence' living root bridge.
They get stronger as time goes on and now can hold the weight of nearly 40 people at a time!
So, to help you find your way there and give you an idea of what to expect I came up with this epic trekking guide on how to reach the Double Decker Root Bridge. Let's go!
So, where is the Double Decker Root Bridge in Meghalaya?
Although a lot of the advertisers make it look like these living bridges are in Shillong/Cherrapunjee to bring you to this side of Meghalaya.
The root bridges themselves are actually in a tiny little village of Nongriat in the East Khasi Hills.
You can't get a taxi straight to this village as it's deep down in the jungle of the hills.
So, you need to reach a place called Tyrna Village which is where the hike begins.
This is easily accessed from Cherrapunjee (Sohra) itself and is around a 20-30 minute drive away from there.
If you're staying in Cherrapunjee, you can easily book a taxi for around 400 rupees (£5) per private charter one way.
But, if you're not staying down in Nongriat, then have a taxi wait for you. When it gets dark (and this trek will take you all day) there are public NO taxis here to take you back to Cherrapunjee.
Public taxis do go near it from Cherrapunjee, but they're not frequent and won't drop you directly in Tyrna village.
You will be dropped a fair few kilometres away at a turning point.
Getting to the Double Decker Root Bridge is an epic hike that will lead you to 3000 steps… each way! It's no joke.
What time should I start my hike to the living bridge? How long does it take?
If you're not planning on staying down in Nongriat Village, this hike will take you pretty much the whole day. It's 3,000 steps each way to the Double Decker root bridge and then some more.
Plus, in the peak season of winter, it gets dark at around 4 pm. So, you definitely don't want to reach the root bridges in the dark as;
1) they will be closed
2) you won't get to see how awesome they are!
So, start off your trek as early as possible. I started out at 9 am (leaving Cherrapunjee at 8 am) and still only just made it back before dusk.
If you're also planning on visiting rainbow falls, I'd start at 7 am.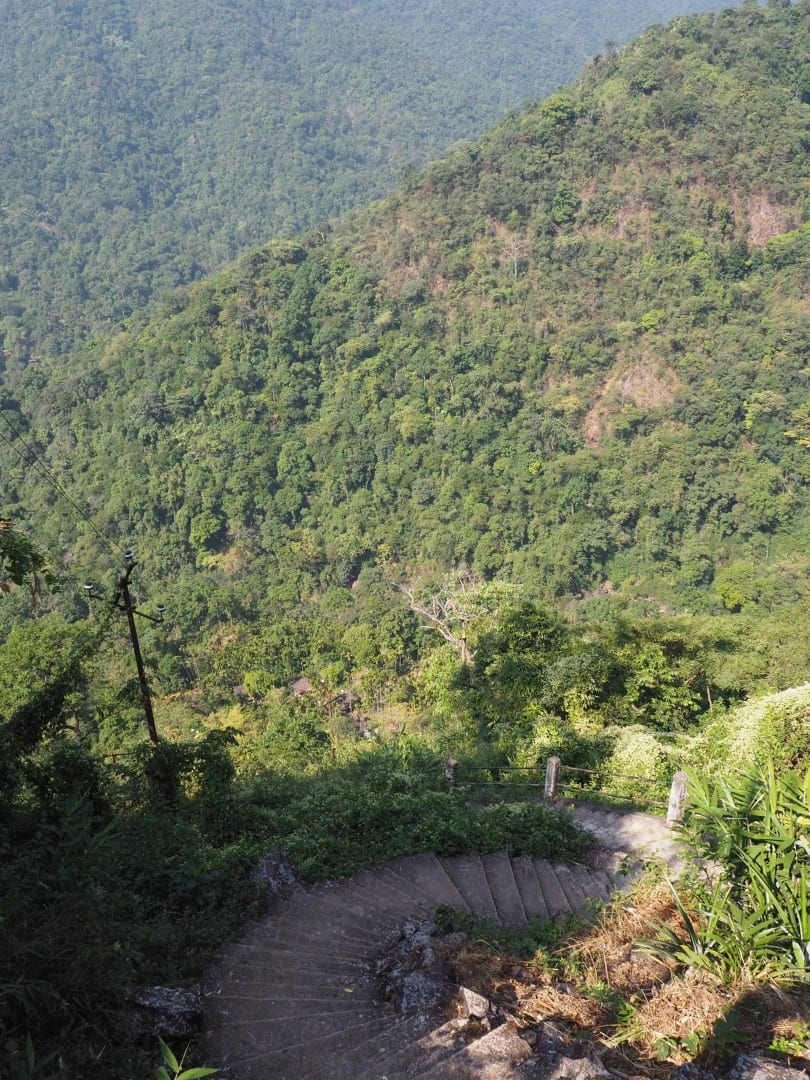 Where to stay near the Double Decker Root Bridge
So, you have a couple of options here. You can either stay in the main town of Cherrapunjee or down in Nongriat itself.
Some travellers said I was positively insane for not staying down in Nongriat. It was only afterward I realised what they meant.
It is an EPIC trek that is pretty hard to cover in one day. My legs took a long time to forgive me. But, I would hate the thought of carrying my big pack down there!
It was hard enough with nothing on my back lol. Here are some places to stay In Cherrapunjee;
Budget option: By The Way
I stayed in By The Way guesthouse which was perfect. It's one of the only budget accommodations in the area and is 500 rupees a night.
There's no online booking option and the owner doesn't even give a phone number!
So, you may just have to take a leap of faith to check-in by turning up at his door. Luckily, there was room for me.
The owner, Heprit, is super cool and gave me some great options not only for this place but for North East. Also, there's a great library of reading materials for onward adventures.
He also can put you in touch for a discounted taxi service for sightseeing.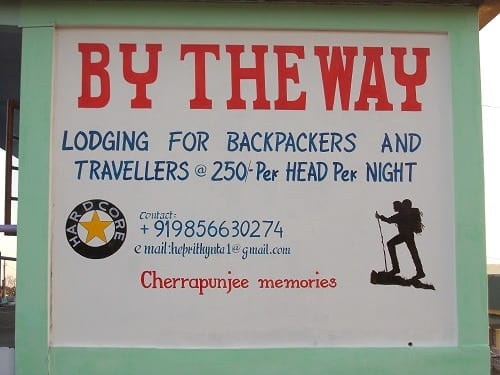 Luxury option
Polo Orchid is a luxury resort that is plastered around everywhere in this part of the world.
This looked incredible if you had the budget and comes with some highly rated restaurants on TripAdvisor. For dates and rates click here.
In/Near Nongriat:
Budget Option: The one place that so many travellers who had been here recommended was Santina's homestay. It's 250 rupees a night and I heard amazing reviews. Some travellers were only planning on spending 1 night here and ended up staying for a week!
Double Decker Root Bridge Trek checklist
Make sure you bring all these things with you before you start your Double Decker Root Bridge trek!
Water: Pretty obvious but bring loads with you. The trek takes all day and you'll need bucket loads of it. If you don't want to carry loads on your back, don't worry. There are many stalls set up by the locals selling packaged drinking water.
Spare clothes: You may get pretty sweaty, so bring spare clothes. As opposed to Cherrapunjee the temperature in Nongriat is warmer as you're heading down by a fair few hundred metres. So, it's pretty humid because of the dense jungle.
Decent shoes: I went in sandals and this was a big mistake. You need proper shoes to support your feet for the long walk ahead
An overnight bag: If you are planning on staying here, it may be worth leaving your big pack in Cherrapunjee and then taking an overnight bag down there. There's no porter service, you'll have to carry it all the way down.
Bug spray: It's the jungle and there will be little flies everywhere. Make sure you come prepared.
Your camera: to prove you did it! Pictures or it didn't happen ;)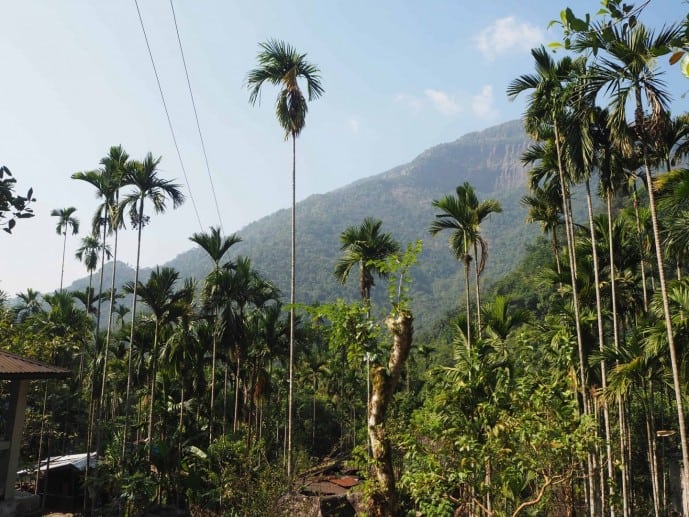 Starting out at Tyrna Village
Tynra village is the starting point of the trek and you won't be alone here. There were SO many people around this area for the trek down.
There are a few cafés at the top to enjoy a nice cup of tea or some breakfast before you start your trek. But, don't feel you have to.
There are many little stalls along this whole trek selling snacks and drinks so don't worry.
My favourite was the 4 brother's and 2 sister's café, they sold black and white tea, Maggi, omelettes and all sorts of cheap snacks. They also had this super cute cat to keep you company :)
This is where your taxi driver will wait for you if you've ordered one. You start out and end at the same place.
Commence the 3,000 steps down to Nongriat
Now is the start of a long road down and it begins with what seems like a never-ending series of steps down.
I'm not sure if this is the whole 3000 as there are many more steps to cover once you've got to the bottom of this set. But it sure feels like it.
You'll also see really deceiving chalk numbers on the stairs.
You think that's the number you've covered, but I'm pretty sure it wasn't accurate lol.
Although you are just walking down, take a few breaks as it can get tiring!
Cross the epic wire bridges and see the jade waters below
My favourite part about this trek, apart from finding the root bridges, was the wire bridges you cross along the way.
You cross two on this trek and both are beautiful and worth a stop. Each time the bridge stands over the river that runs through here.
Looking down, it was some of the most beautiful blue water I have EVER seen.
It's meant to be the colour of jade but looked more blue to me. It was so clear and unlike any water I had seen previously in India.
I saw some travellers sunbathing on the rocks and swimming in them. I was so jealous as I was sweating.
Make sure that you use caution when crossing the bridges. Only one group at a time each way (you can't cross each other on this bridge) and don't jump haha ;)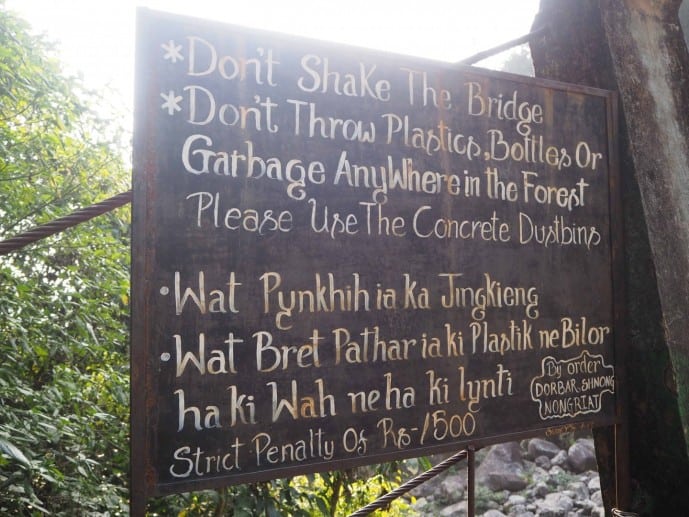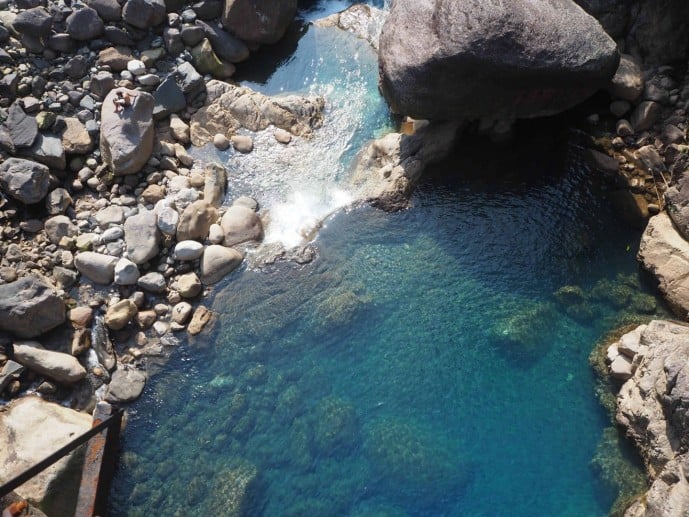 There's not just one living root bridge!
You may be surprised to know that there isn't just one living root bridge in Nongriat.
Aside from the Double Decker Root Bridge, there are a few of them and you even cross some on your way there!
Personally, I thought it looked like something out of a fairytale.
Take a break and leave some time to explore the area too while you're here.
Make it to Nongriat Village
Finally, after you've trekked for around 2 hours, you'll make it to the small village of Nongriat.
Here, you'll find huts with local Khasi tribes living here.
This is also where you will find some guest houses to stay in for the night if you plan on staying including Santina's Homestay (which came recommended).
The kids in this area were really sweet, so welcoming. They all said hello!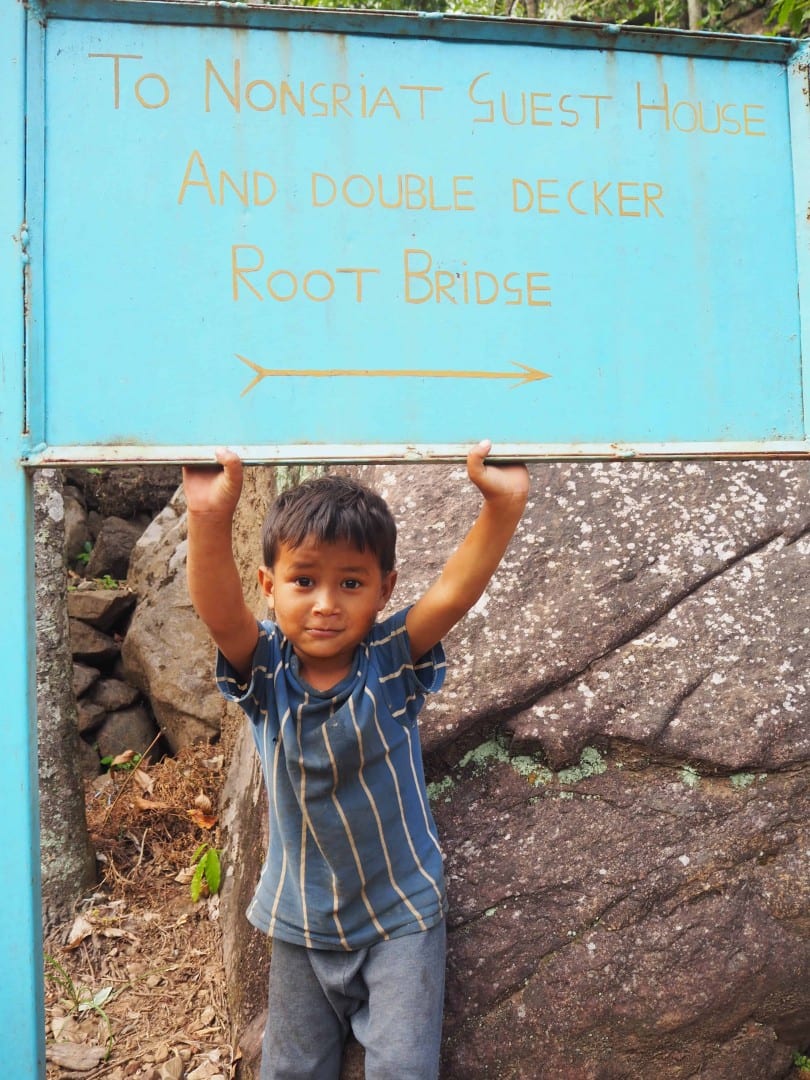 The Double Decker Root Bridge
Woohoo! If you've made it down and up the stairs, over the two-wire bridges, past the small village of Nongriat – you're finally where you wanted to be; the Double Decker Root Bridge.
You will pay a small fee to enter 30 rupees (10 for entry and 20 for a camera) and it feels so good to make it inside.
At first, I just sat and took it all in. Pinching myself that I was here and my jaw dropped to actually see them.
Then, I had a walk around over the bridges and saw the roots from the other side!
Locals were having picnics and cooling down by swimming in the water and you'll see so many hikers come and go.
Take a natural fish spa!
The perfect cure for swollen feet after the long trek; dipping your feet in the clear, cool water and having a natural fish spa!
The fish here as soon as you put them in will nip at your feet. It feels weirdly satisfying and it's just got to be done. Better yet, it's natural and FREE.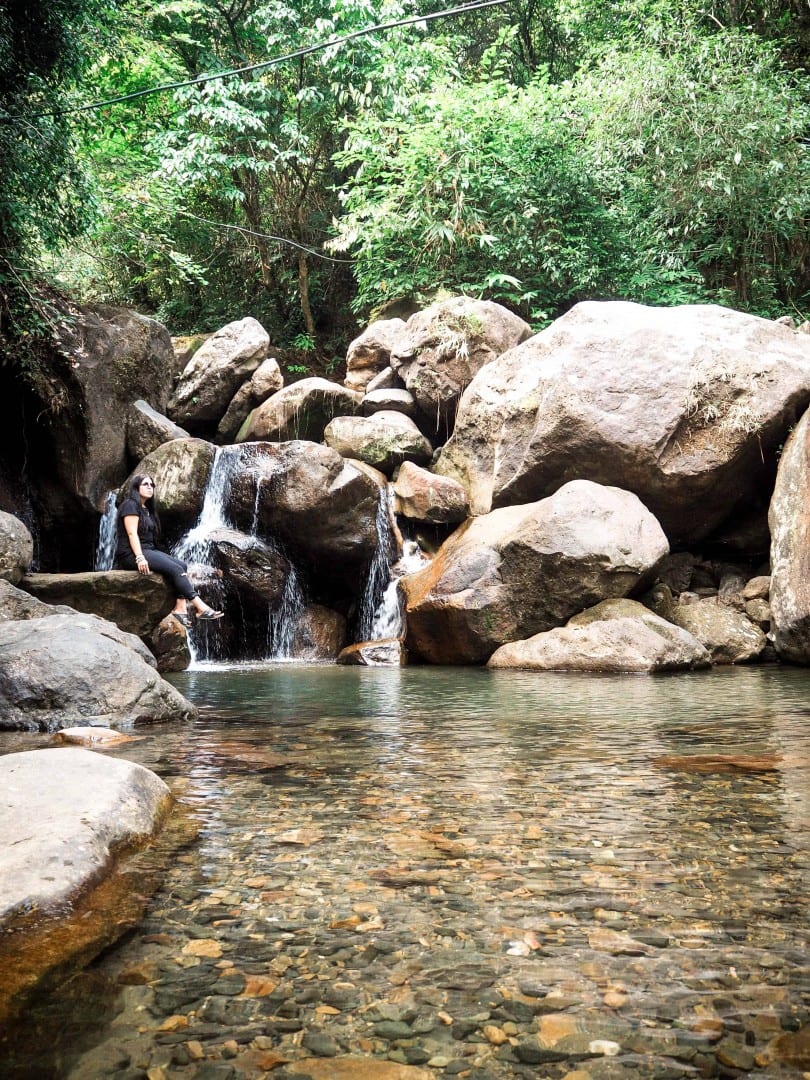 Start the long journey back
You can spend as much or as little time as you want by the Double Decker Root Bridge but be mindful if you need to make your way back!
You don't really want to be left trekking in the dark.
I left at 1.30 pm and only just made it back before 4 pm before dusk. It will take you on a longer walk up than heading down here, so plan accordingly.
If you were thinking about adding Rainbow falls to your trek, it's another hour added on there and back (2 hours total).
I took soooo many breaks on the way back and again, I wasn't alone. Everyone was taking breather breaks and giving each other looks of despair and encouragement.
As I was solo, I spoke to a lot of the local women but more in grunts and facial expressions haha!
Next time I would never attempt this feat in one day. Staying down in Nongriat is the better choice. I dare say my legs would have preferred it too.
I was also amazed at the local women who would do this journey almost daily. But, they would carry sticks and all sorts on their backs. Ladies, I salute you!
Don't miss the Double Decker Root Bridge trek in Meghalaya
So that's the step-by-step guide on how to reach the Double Decker Root Bridge in Cherrapunjee or more aptly Nongriat!
It's an epic journey and should not be taken lightly, make sure you leave a whole day so you can take your time and are relatively fit.
You'll definitely earn some bragging rights to say you made it here; if only to say you survived the 3,000 steps each way.
Long after your legs forgive you, the awesome memories won't leave you ;)
For more information on Meghalaya, make sure you read these posts…
The ultimate shopping guide to Shillong: top tips for the bustling bazaars
11 awesome reasons why you should visit Cherrapunjee: the Scotland of the East
Read more of my North East India articles!
Top things to do in North East India
A complete guide for Hornbill Festival
Best places to visit in Arunachal Pradesh
My ultimate Tawang travel guide
A complete travel guide for Guwahati
A complete Kaziranga Safari guide
My top North East India travel tips
Like it? Pin it!