One of the best places in the South West to see bluebells would be Badbury Clump bluebell wood.
This ancient, Iron Age hill fort in Oxfordshire comes alive each year with nine acres of vibrant bluebells to enjoy!
As soon as you step inside the woodland, you'll see a vibrant blanket of purple like something straight out of a fairytale.
Here's a guide on how to see the Badbury Clump bluebells and the best time to visit!
Note: Native Bluebells are protected flowers. So, please keep to the designated pathways in order to protect them!
The history of Badbury Hill
Badbury Hill dates back to the Iron Age and a Hill Fort, known as Badbury Camp, was established here in 600BC.
Back then, there would have been a large settlement with wooden huts built on the hillside. The location would have provided a huge vantage point for any encroaching enemies.
It's also thought that in the Dark Ages this hill was the location of the Battle of Mons Badonicus in the 6th century.
This is where the legendary King Arthur led his Celtic Britons into battle to defeat the Anglo-Saxons!
Much of the ringed area was levelled out in the 19th century and during World War II it was a training ground for resistance fighters.
In the 20th-century, the clump fell into the care of the National Trust. Today, it's a magical woodland that is covered in 9 acres of vibrant bluebells every year!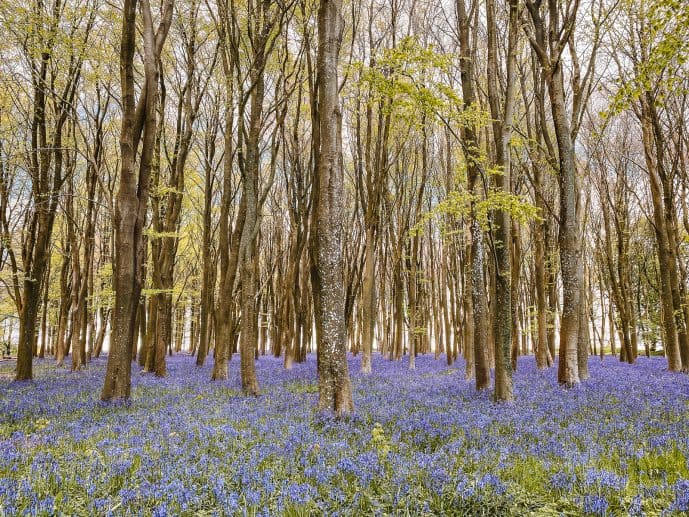 When can you see Badbury Clump Bluebells?
The best time to see Badbury Clump Bluebells would be around mid-April – May. This is when the blanket of purple appears and transforms the clump into a fairytale woodland!
Unfortunately, there is never a set time that bluebells appear each year and so there are no guarantees on the dates.
It all depends on how cold the winter has been and how much sunlight the bluebells are able to get!
As bluebells are perennials they only flower annually. They spend the spring soaking up the sun and then store it over winter to be able to bloom again the following year.
Bluebell season doesn't last very long, only a couple of weeks, so make sure to visit before they wilt!
The best way to keep up to date with bluebell season would be to look for announcements from the National Trust or follow local community forums.
What to expect when you get there
What I loved about Badbury Clump was how accessible it was. You only need to walk a minute from the carpark to access the bluebell wood which is perfect.
The first thing that will hit you as you walk in is the wonderful smell you get from these flowers and you'll be amazed by the vibrant colour all around you!
The clump of bluebells is a huge circle and there are four sections to it. The copse is divided with huge pathways in between that allow you to explore.
Each section has a fence of logs around it to protect the bluebells. You must stick to designated pathways.
There are some rustic benches that have been placed around the area to relax for a while. As you're on a hilltop, you can get some breathtaking views of the countryside from here!
I did find that, even in spring, it was fairly chilly as the tall beech trees cover the sunlight. Also, it can be windy as you're so high up on the hill. So, I would definitely bring a warm layer just in case.
The busiest time to visit would be on weekends and the May bank holidays. For a quieter time, it's recommended to visit during the day and in the week. We arrived just after lunchtime on a Thursday and it wasn't busy at all.
Badbury Clump bluebell photography
There are so many places where you can capture bluebells here, you'll find endless compositions as the copse is huge.
I particularly loved the contrast of the beech trees against the purple, along with a few glimpses of yellow from the rapeseed field in the distance.
The pathways for access are also massive, so there is enough room to set up a tripod without getting in anyone's way.
Of course, you cannot walk inside the bluebells which makes it hard to get a photo of you and the flowers.
But, the National Trust has kindly set up some decking platforms around the log protection rings which make a good location.
These are the perfect way to stand or sit close to the bluebells without damaging them and you get a nice picture of you rather than an awkward selfie.
I saw many people sit their dogs and children on these platforms for a cute photo. It was adorable.
Remember, bluebells don't grow where footsteps go…
Native bluebells in the UK are endangered and so are protected by the Wildlife and Countryside Act 1981. It's against the law to intentionally pick, dig up or destroy bluebell flowers.
It's important to protect them as you're walking around the woodland by sticking to the main pathways. As they are native and fragile they cannot survive being trampled on.
Furry paws are not immune from causing bluebell damage and they obviously can't survive being eaten either. The National Trust ask that dogs should be kept on leads while you're exploring this area.
We want to ensure that bluebells can be enjoyed by all for generations to come.
Did you know? Almost half the world's bluebells are found in the UK!
Head out on a Badbury Hill walk
Although this area is most popular in Bluebell season, there is plenty to see and do in Bradbury Hill all year.
As well as the famous bed of flowers, this area is an ancient Iron Age hill fort that was inhabited from 600BC – 43AD. So, it allows you to step back in time!
There is a short woodland walk that you can take which is labelled with pink markers.
On the trail, you'll follow a path around the woodland. Highlights include seeing saw pits from the Dark Ages and a World War II firing range.
It's only a short walk but is very pretty and has lots to offer. You'll get the chance to find many gorgeous trees, wild plants and wildlife!
Read more – How to visit this secret bluebell woods in Swindon!
Where is Badbury Clump & How to get there
Badbury Clump is in a remote location in the county of Oxfordshire. It falls in the parish of Great Coxwell and the nearest town is Faringdon in the Vale of the White Horse.
By far the easiest way to access Badbury Hill would be to drive. You'll find it on the B4019 Highworth Road between Coleshill and Faringdon.
Swindon is the nearest train station and you can cycle here on the Route 40 Oxfordshire Cycleway.
Badbury Clump postcode is Coleshill, near Swindon, Oxfordshire, SN7 7NL
Badbury Clump Parking
Conveniently, there is a large car park situated right outside of Badbury Clump. You only need to walk a short distance from the parking area to access the bluebells.
The car park is run by the National Trust and the charge is £2 for 2 hours or £4 all day. National Trust Members can park for free.
Opening times and prices
Badbury Clump Bluebell wood is open 24 hours a day for access, so you can visit any time.
It's also completely FREE to visit. You only need to pay for the parking charges if you have driven here.
Saying this, the National Trust do ask for voluntary donations to keep this bluebell copse protected for everyone to enjoy.
There is a donation box on the exit gate near to the car park.
Why not visit the Great Coxwell Barn or Faringdon next?
Less than a mile away from here is the Great Coxwell Barn. You can easily walk here from Badbury Clump or you can drive down the country roads to find it.
It's a 13th-century medieval tithe barn that is a sole survivor of the ancient Beaulieu Abbey. It was a favourite of the artist William Morris who lived up the road in Kelmscott Manor.
Today, it's also part of the National Trust and you can learn all about Medieval farming inside.
Or, you can head over to the ancient market town of Faringdon which is a melting pot of history.
A highlight is a walk up to its incredible Folly Tower that was built by the famous eccentric Lord Berners! You can actually see the folly in the distance while you're visiting Badbury Clump.
There is a small sculpture trail to follow there which is perfect for families and there are also spectacular views of the Vale of the White Horse.
You can read more about Faringdon Folly Tower here
Read more of my posts on Oxfordshire
What to do in Burford, gateway to the Cotswolds
Visiting the Downton Abbey Village of Bampton
Discover the hidden gem of Minster Lovell Hall ruins
Visit the ancient Uffington White Horse
Did this burial chamber inspire Tolkien?
How to visit the Blowing Stone of Kingston Lisle
Visit the Rollright Stones Circle near Long Compton
Save how to see Badbury Clump bluebells for later!