One of the most spectacular churches in the UK has to be Brentor Church or St Michael de Rupe in Dartmoor National Park.
It was established in the 12th century and has many legends surrounding it including an encounter with Archangel Michael.
It was also the setting for one of the first vampire stories ever published in the English language.
Today, it's one of the highest churches in England (and the most photographed) as it sits on an extinct volcano around 11,000 feet above sea level or 330 metres.
Despite the intimidating elevation, it's actually very easy to visit Brent Tor on a short and scenic walk from a free car park.
Here is how to visit Brentor Church in Dartmoor National Park with the legend, history, and directions.
Brentor Church legend
Like most of the tors in Dartmoor, Brent Tor has many legends and myths that surround it.
The most popular is that a medieval merchant built this church after an apparition of Archangel Michael appeared and saved him and his crew from a shipwreck.
The man decided to build a church in thanks in St Michael. But, the devil was so angry at losing his souls due for the underworld that he would sabotage their handiwork.
Each day, the men would build the church and each night the Devil would knock it down again.
Eventually, St Michael grew so tired of this that he threw rocks at the Devil and hurt him so badly it caused him to flee.
It's a very popular legend that is associated with many religious sites dedicated to St Michael around the world.
The most famous is St Michael's Mount in Cornwall and its French twin Mont Saint-Michel in Normandy.
St Micheal de Rupe also falls on the St Michael alignment Ley Lines. Ley Lines are vibrational fields and connect many religious sites around the world and it's fascinating to research.
Brentor Church history
Did you know that Brent Tor is actually not a tor at all but an extinct volcano?!
The rocky formations are solidified lava from millions of years ago. It later had a human settlement in the Iron Age as a hill fort.
Brentor Church was founded in 1130 by the local landowner Robert Giffard, the Lord of the Manor of Lamerton. It is thought to have started as a chantry chapel on Brent Tor.
It is called St Michael de Rupe (rupe meaning 'rock') and is located at 1100 feet above sea level making it one of the highest working churches in England.
It would not have been an easy feat to build this church back then due to its elevated location and the use of basic tools.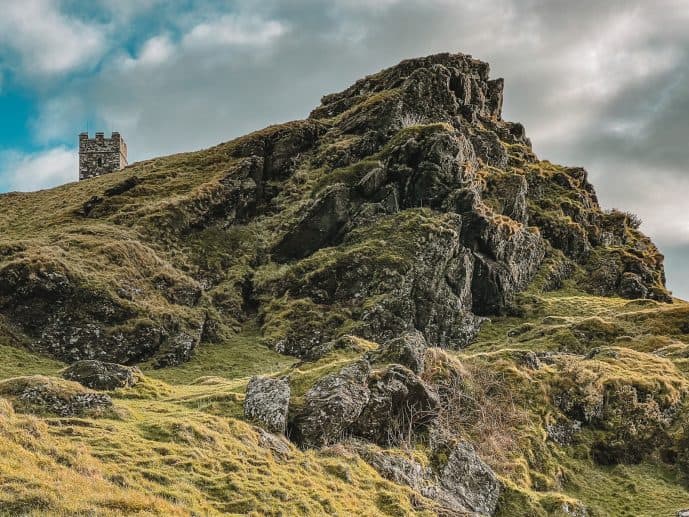 Although the foundations were established in the 12th century most of the building we can see today is from the 13th and 14th centuries when it was extended to become a parish church.
There have been many more renovations over time to adapt to the local community and it now only holds a few Sunday services.
Many weddings have been held here over the centuries but climbing up to the altar was not simple.
There are lots of local tales of brides that have slipped and fallen in their wedding gowns getting them muddy.
The ITV series Jamaica Inn was filmed in the churchyard here in 1983. The Jamaica Inn is a famous smuggler's inn on Bodmin Moor that was immortalised by Daphne du Maurier's classic novel.
Today, it's the fourth smallest parish church in England. It's also one of the most photographed churches in the UK due to its spectacular location in Dartmoor.
Brent Tor and Vampires
I'm obsessed with vampire stories (being a Twihard since my teens) and after my recent visit to Dracula's Castle in Romania which inspired Bram Stoker, I'm definitely in my vampire era again.
Did you know that Brent Tor was the location chosen for one of the earliest vampire stories ever told in the English language?!
It was written by Sabine Baring-Gould and was first published in Cornhill Magazine in 1884 and then officially published in 1891. So, it was written 13 years before Bram Stoker's Dracula set in Transylvania and Whitby.
Margery of Quether & Other Weird Tales novella follows George Rosedhu, a yeoman who climbs the volcanic Brentor alone to ring the bells for St Michael de Rupe at midnight.
He encounters a creature made of cobwebs called Margery of Quether. She tells him that she is a lonely old crone who cannot die.
George takes pity on her after he hears her plight and offers to carry her home. But, along the way, he gets bitten by her on the neck with her one remaining tooth.
She is then revitalised after drinking his blood and becomes beautiful once again as she's revealed to be a vampire!
But, George isn't bothered by any of this and becomes seemingly obsessed with her. I mean, who knew that a cobwebbed crone could mean a beautiful immortal wife?! Old Georgie porgie must have been over the moon.
The tale gets much weirder from there with lots of familial small-town drama but to continue the story you'll have to read it for yourself. You can download it on Kindle.
Be warned, it is said Margery of Quether still walks Dartmoor to this day. So, don't visit Brentor alone at night. Unless you want to be bitten, of course (you'll get no judgement from me).
How to visit Brentor Church in Dartmoor
Due to its dramatic location high up on Brent Tor, I was amazed to discover that it's actually a very easy and short walk to visit Brentor Church in Dartmoor National Park.
You'll be walking for just over half a kilometre to reach the top and it's a well-beaten path. It only took me around 15 minutes and I'm very slow and kept stopping to take photos.
It's easiest if you can drive to Brentor Church as the national park is quite remote with limited public transport links.
Brentor is near the market town of Tavistock and the popular attraction Lydford Gorge. You can drive to Brentor Church on the Drake road/Brentor Road turning off the A386.
If you're not driving, the number 118 bus will drop you at Brent Tor from Tavistock. You will be dropped off at the 'Hunters Ride for Brentor Church' stop and it's a 12-minute walk to the entrance gate from there (0.6 miles).
Brentor Church address is Brentor Rd, Brentor, Tavistock PL19 0NP. Click here for a Google Pin!
Brentor Church parking
There is a free car park that is located opposite the entrance gate to Brent Tor.
This is clearly marked with a brown tourist sign when approaching the site. Here is the Brentor Church car park Google pin.
It's a large gravel car park with space for around 20 cars and it doesn't usually get too full unless there are Sunday services at St Michael de Rupe.
There are some public toilets in the car park that are free to use but these are subject to opening times and can be closed in winter.
Bren Tor walk
Once you've parked your car, you will need to cross the road over to the entrance gate to Brent Tor and start your walk up to St Michael de Rupe.
The road is a national speed limit road with no official crossing so make sure to look both ways before you cross over.
Once you're through the gate, there is a sign that 'walkers must stick to the path' and it's easy to follow this well-beaten path up the hill to Brent Tor.
The walk up to Brentor Church only takes around 10-15 minutes, even quicker if you're a speedy hiker. It's just over half a kilometre in distance but it's going uphill which will slow you down.
You'll be ascending upwards over the moor towards the church. The pathway winds around the hill and at the very end there is a steep incline.
Eventually, you'll find some cobbled steps and an old entrance gate to enter the churchyard.
Things to do on Brent Tor
So, what is there to do on Brent Tor in Dartmoor?
Well, the 12th-century church is certainly the highlight but you'll be blown away by the jaw-dropping views you can get from up here too!
1. Step inside St Michael de Rupe
First of all, I would recommend stepping inside Brentor Church when you arrive. There will usually be a sign on the door letting you know if it is open or not.
If it is open, you will need to push on the door very hard in order for it to budge!
The church is small but quaint and is the 4th smallest parish church in the UK.
You'll see a Norman font, pews, bell-ringing ropes, and the most gorgeous stained glass windows of St Michael at the altar.
St Michael de Rupe does hold Sunday services throughout the year. So, it's worth checking out their website for upcoming events if you wanted to attend. Anyone is welcome.
Entrance to the church is free but donations are always appreciated. They had a small collection box and souvenirs that could be purchased. It runs on an honesty system.
2. Walk around the Brentor Church
Once you leave the church, it's well worth taking the small circular walk around St Michael de Rupe churchyard.
It has a well-beaten path and you can see a few historic gravestones and windswept trees.
There are also some benches to take a pew and relax in a moment of quiet. You can also spot some of the Jamaica Inn filming locations here.
3. Take in endless views of Dartmoor
As well as admiring the church on Brent Tor, the unobstructed views you can see of Dartmoor are spectacular over the Burn Valley.
On a clear and sunny day, you can see for miles and miles! It was the perfect place to relax for a while.
As well as a few benches that have been placed around the church to take a seat, there are also plenty of rock formations to explore.
Just remember to watch your step as you're so high up and there are some really steep drops.
Heading back to Brent Tor car park
I would recommend spending around 30 – 45 minutes at Brent Tor or even longer if you wanted to spend some time admiring the views in peace.
Once you've finished exploring Brentor Church you can easily head back the way you came to the car park.
Or, there are many walking routes you can take on the public byways over the moor to places like Mary Tavy and this will eventually lead you to Lydford Gorge. It's completely up to you.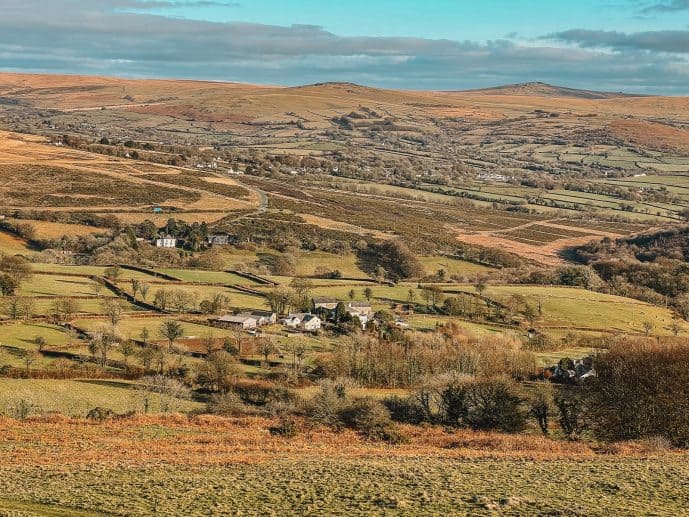 My top tips for visiting Brentor Church
Wear sensible shoes – The hike up to Brentor Church isn't extensive but you are trekking over a grassy moor with potential bog, mud, uneven surfaces, and animal droppings (yup). There is also a steep incline to reach the church. I would have a sensible pair of shoes on for the hike.
Interchangeable weather – Dartmoor can have four seasons in one day. So, try to pick a time when it's going to be clear for a while! You don't want to be traversing up here in the fog, although it would look very cool and mysterious. Perfect for fans of Sherlock Holmes or vampires.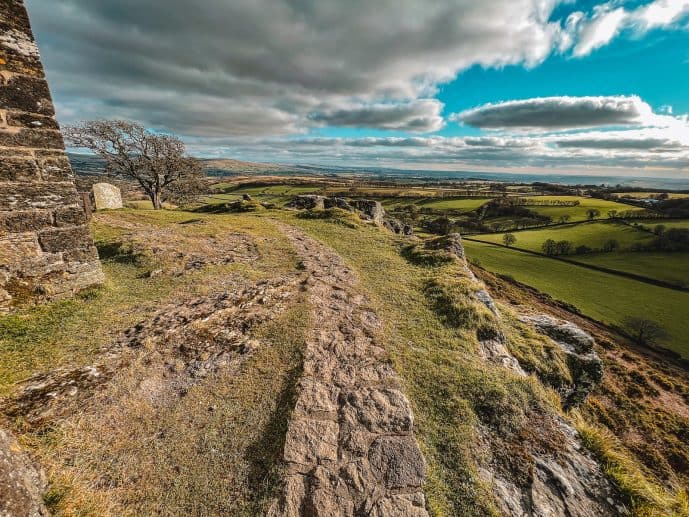 Toilets – There are some free public toilets in Brentor church car park you can use. But, fair warning, these were closed when I visited in winter. The towns of Tavistock and Okehampton are not far away by car. Also, Lydford Gorge has facilities.
Head here at sunrise/sunset – for the best photography, I would recommend visiting Brentor at sunrise or sunset. On a sunny day, the views and colours you can get here are so dramatic.
Wrap up warm – it was so windy up here! But, I found the bench at the back of the church was sheltered from the wind in the afternoon. It created a windbreak and was quite warm even in February.
Things to do near Brentor Church
So, once you have finished exploring Brentor Church there are plenty of places to visit nearby in Dartmoor National Park.
Here are some that I would highly recommend;
Lydford Gorge & White Lady Waterfall
Lydford Gorge is a magical place that looks like something from Middle Earth in Lord of the Rings.
The highlights of this attraction are the Devil's Cauldron, Pixie Glen, and the White Lady Waterfall.
The waterfall is a 30-metre-high cascade that crashes down a cliff into the River Lyd and it's incredible to see.
It is owned by the National Trust so there is a charge and it's a moderate walking trail. It's one of the most popular trails in Dartmoor.
Click here to read my complete guide on how to visit Lydford Gorge
Tavistock
Known to locals as 'Tavi', this pretty market town is a great place to go for a stroll.
It has connections to Sir Francis Drake, who was born in nearby Crowndale and has lots of historic attractions to discover.
Tavistock has had two influential benefactors over time which were originally the Benedictine monks and then later the Bedford family.
You can learn more about the historic abbey in Tavistock Parish Church on Abbey Square. There is an ancient ivy-clad cloister in the churchyard.
The main highlight is the Tavistock town hall and museum and I would highly recommend visiting the Tavistock Pannier Market nearby.
You could then take a scenic stroll along the River Tavy and see the beautiful cascades beneath the bridge and onto the canal.
There are also lots of restaurants, shops, and cafés to pop into if you were looking for something to eat.
Discover Dartmoor National Park
Lots of people visit Dartmoor for its connections to Sherlock Holmes and the Hounds of the Baskervilles by Sir Arthur Conan Doyle.
You can visit locations that inspired the book by visiting Princetown, Haytor, Hound Tor, the Holy Trinity Church at Buckfastleigh, Ashburton, and Fox Tor Mires.
Plus, there are magical woodland locations like the Wistman's Wood that look like something from a fantasy world.
It reminded me of the Forbidden Forest in Harry Potter. It has its fair share of legend and myth including stories of the Wild Hunt.
There's also Buckfast Abbey, Dartmoor Prison Museum, Meldon Viaduct, Okehampton, and Castle Drogo, the last castle to be built in England.
Read more of my Dartmoor & Devon guides
A Harry Potter guide to Exeter
Is Gandy Street a real life Diagon Alley?
Is Exeter Cathedral the inspiration for the Room of Requirement
Is Parliament Street the narrowest street in the world?
The shocking story of the House That Moved in Exeter
How to visit Burgh Island and things to do there
An afternoon tea at Burgh Island Hotel
Why you must visit Agatha Christie's Greenway House
Why you must visit the Babbacombe Cliff Railway
Wander the Agatha Christie Mile in Torquay
Top things to do in Cockington Village
Riding the Lynton and Lynmouth Cliff Railway in Exmoor
Woolacombe Bay Holiday Parks Review
Magical Valley of the Rocks Devon guide
Save how to visit Brentor Church for later!