One of the most romantic sights in Scotland has to be Castle Stalker, a medieval keep that sits on an islet near Appin guarding Loch Laich in the Highlands.
It was built in the 14th century and is mired in tales of clan feuds, murder, betrayal, drunken bets, and battle!
Many people see this castle on a road trip from Oban to Fort William but few stop to make a visit.
It's definitely a highlight attraction and, although privately owned by the Stewart Allward family, there are tours that run in summer.
Monty Python fans will also love visiting here and will recognise this as the 'Castle of Arrrgh!' from the Holy Grail movie.
Here is a complete guide on how to visit Castle Stalker Scotland in the Highlands!
How did Castle Stalker get its name?
Although the world stalker does bring about a horrible vision of a creepy lurker. You'll be happy to know that the name means something completely different!
The castle's name in Gaelic is 'Caisteal an Stalcaire', and 'Stalcaire' roughly translates as 'hunter' or 'falconer'.
In medieval times when Castle Stalker was built falconry was very popular, especially amongst Stuart monarchs.
It was an ancient practice known as the sport of kings and Mary Queen of Scots was a talented falconer, her favourite bird being a Merlin.
Using a falcon for hunting became a way to display your wealth, power, and social standing.
It is believed that the name Castle Stalker came about after King James IV of Scotland visited this castle to go hunting and 'stalking'.
Castle Stalker history
The MacDougalls started to build this small fort on an islet of Loch Laich when they were the Lords of Lorn in 1320.
In 1388, these lands and the Lordship of Lorn title passed to the Stewarts. It was Sir John Stewart who finished this castle in the 1440s. King James IV visited the castle for hunting (hence the name).
This is when the castle's history gets a little macabre as there was an ongoing war between two clans.
You see, John Stewart had an illegitimate son called Dougal by a woman called Isabelle who belonged to the MacLaren Clan. He wanted to legitimise his heir and planned to marry her.
On the morning of his wedding day, as his wife approached with a MacLaren escort, John Stewart was delivered a fatal blow by an assassin called Alan MacCoul outside the church at Dunstaffnage!
Amazingly, he survived long enough to complete the marriage. His son was legitimised and became the First Chief of Appin.
Dougal eventually had his revenge and killed MacCoul in the Battle of Stalc years later.
In 1620, the castle was lost in a drunken bet to the Campbells. But, the Stewarts of Appin managed to take it back after the Battle of Dunkeld in 1689 when the Campbells lost favour.
The Campbells lay siege to Castle Stalker and took ownership once again. During the Jacobite Rising, it became a military garrison in support of Bonnie Prince Charlie.
After Culloden in 1745, it would be a government centre for clansmen to surrender their arms to the English.
The Campbells continued to live in Castle Stalker until the 1800s when it was eventually abandoned and fell into ruin. In 1908, the Stewarts finally bought back their legacy.
It was eventually acquired by Lt. Col. Stewart Allward in 1965 and he took over 10 years to fully restore the castle.
It's featured in a number of movies over the years like Monty Python and the Holy Grail and Highlander: Endgame.
Today, many people drive by this romantic island castle on a road trip from Oban to Fort William. It's still privately owned by the Stewart Allward family who opens it up to the public in summer.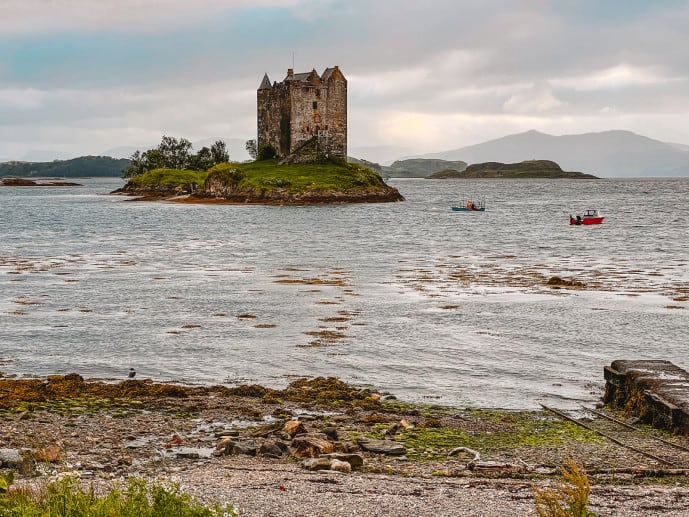 Castle Stalker in Monty Python and the Holy Grail
Sharp-eyed Monty Python fans will recognise this incredible medieval keep as the 'The Castle of Aaargh' from Monty Python and the Holy Grail (1975)!
In the movie, King Arthur (Graham Chapman) visits 'Castle Aaargh' by this really cool dragon boat.
But, when they go to enter the castle a snappy French guard (John Cleese) insults them and won't let them inside. He taunts them until they leave.
There are many other Monty Python filming locations in Scotland like Doune Castle near Stirling. This is also featured in Outlander as Castle Leoch and Winterfell in Game of Thrones!
Click here to watch the Monty Python 'Castle of Aaargh' scenes
Can you visit Castle Stalker in Appin?
YES, you can! Castle Stalker tours run every year from late April to August / September which you can book online. You can find this year's tour dates on their website.
There is usually only one tour per day and these start early around 9.30 am. Your visit includes a boat ride over Loch Laich to the castle island and you'll get a guided tour inside.
Your guide will be a member of the Stewart Allward family who are the present owners of Castle Stalker.
As the castle opens very rarely, these are popular tours with both tourists and locals alike! Tours often sell out way before the summer season so I would book early to avoid disappointment.
Click here to book your tour for Castle Stalker!
What is inside Castle Stalker?
If you are lucky enough to book a tour of Castle Stalker, you can step inside ancient history and explore the four-storey high keep.
It's mostly a 20th-century restoration by the Stewart Allward family and the materials were hauled on boats over Loch Laich.
The Great Hall is very impressive with a large fireplace and has lots of antiques like suits of armour, spears, swords, and Highland targes (shields).
There are also winding staircases that lead you to living rooms, bedrooms, and all sorts of hidden alcoves.
How to get to Castle Stalker Scotland
Castle Stalker is a must-see attraction and highlight of visiting the Scottish Highlands, even if you're not planning on going inside.
Appin's island castle is located on the A828 road between Ballachulish and Connel on the west coast in the Argyll region.
This is 25 miles from Oban (40 minutes drive) and 14 miles from Ballachulish on the gateway to Glen Coe (20 minutes drive).
On the A828 road from Ballachulish, you'll pass the Castle Stalker View café and then you need to turn off at The Old Inn Appin. Follow the road to the left, park here and then walk down to Loch Laich.
If you're heading in from Oban, drive through Appin Village and turn off at The Old Inn and park up.
The Old Inn address is A828, Appin, PA38 4BH. Click here for a Google Pin!
What's the best way to see Castle Stalker?
If you're visiting outside of tourist season, or you just fancy a good view, there are plenty of ways to see Appin's island castle.
The best view of Castle Stalker is, in my opinion, from the beach at Loch Laich by Castle Stalker jetty.
This is accessed via the A828 road from Oban. It's the same place that you would drive and park for guided tours.
The Loch Laich 'beach' is open 24 hours a day and is free to explore. From the edge of Loch Laich, you can get amazing photo opportunities of Castle Stalker and the island.
If you look closely, or if you visit at low tide, you'll see the remains of the old railway lines that used to pull boats up onto the shore!
If you're not on a Castle Stalker tour you can approach the island by private boat or kayak. The island is free to roam but the castle will be locked up.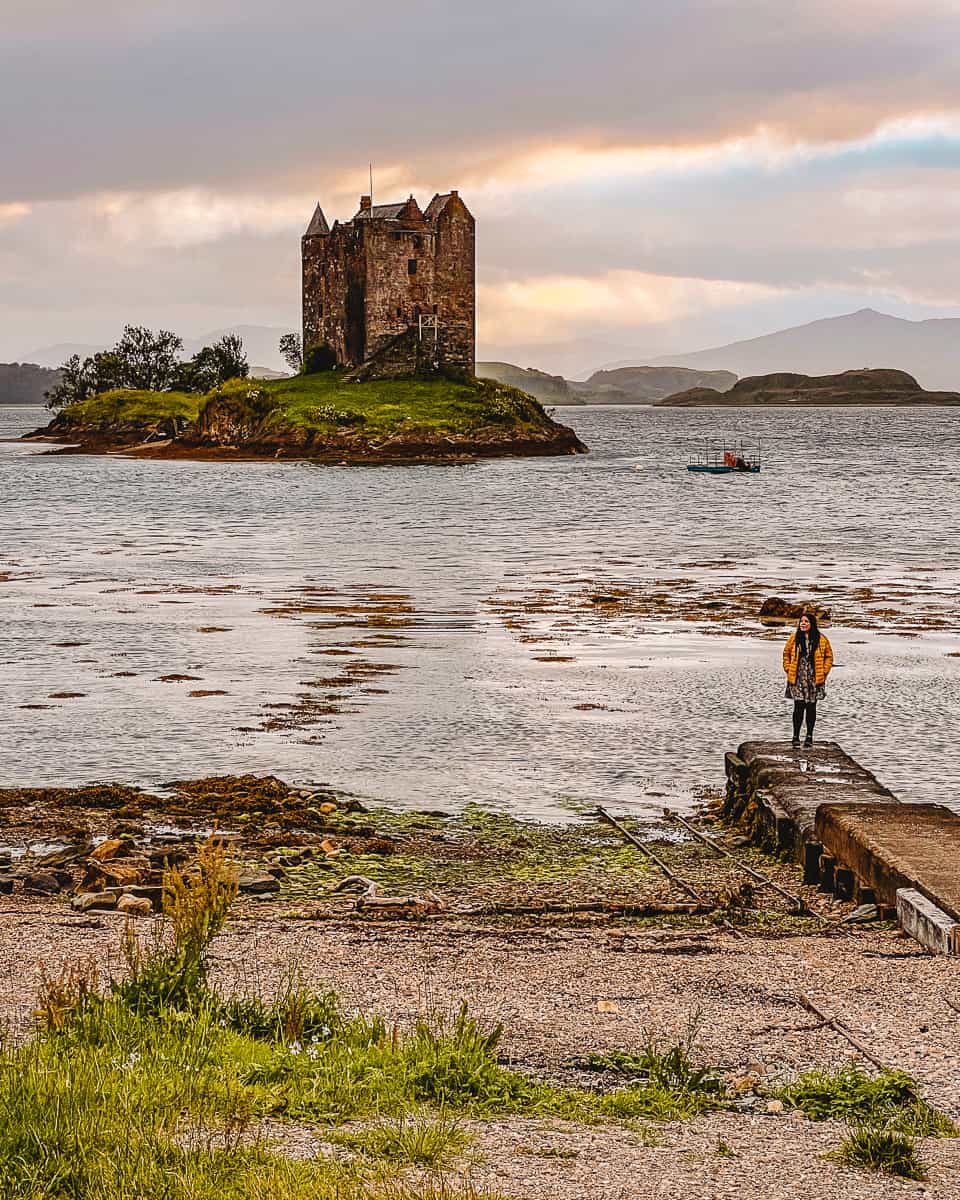 Stalker Castle View cafe
Another great view of Castle Stalker you can get would be from the Stalker Castle View café which is also located on the A828.
It has a fabulous position on the hillside looking down over Loch Laich, Appin Village, and Morvern Peninsula.
So, you can sip your coffee or have lunch whilst enjoying sweeping panoramic views of Castle Stalker! Win, win.
It's a perfect stopping point between Oban and Fort William on your road trip. It's open 7 days a week from 9.30 am – 4 pm.
Click here for more information and café updates!
Castle Stalker walk from Jubilee Bridge
Many people choose to take a longer Castle Stalker walk from Appin via the rickety Jubilee Bridge. This is also known as the Jubilee Walk.
The long wooden bridge was built in 1898 to celebrate Queen Victoria's Diamond Jubilee. It allows you to cross the tidal marshes of Loch Laich.
The walk then carries on through the cycle track by Appin Village and eventually to Castle Stalker.
It's a great way to incorporate a visit to the castle and see lots of wildlife and nature along the way.
It's a short and easy walk which is just over 2 miles or 3.5 kilometres and will take you around 90 minutes.
Eat or stay in The Old Inn Appin
If you were looking for a place to eat near Castle Stalker, I would recommend The Old Inn at Appin.
It's conveniently located on a corner of the A828 and is on the road leading to the Castle Stalker parking area.
It's a rustic pub that has a comfy open fireplace and a wholesome menu of traditional dishes for dinner.
It also has a hotel with boutique rooms to rent for the night if you wanted to extend your stay in Appin. Being in such a remote area, it's a peaceful retreat within touching distance of Loch Linnhe.
Click here to find out more and see a menu!
Castle Stalker FAQs
What is the Castle in Appin? Castle Stalker and it's a 14th-century keep started by the MacDougalls, the Lords of Lorn. It was finished by the Stewart family in 1446.
Why was Castle Stalker built? As a defense fortress to Loch Laich, a small inlet of Loch Linnhe!
Who lived in Castle Stalker? The MacDougalls, The Stewarts, and The Campbells.
Who owns Castle Stalker? The castle is privately owned by the Stewart Allward family who runs tours of the castle each year.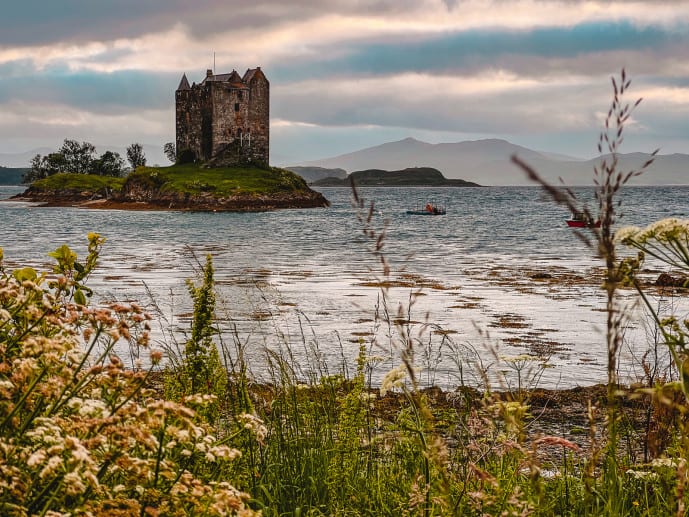 Looking for more things to do in or near Oban?
Castle Stalker is close to the port town of Oban which is a gateway to the Scottish Isles. From here, you can take a trip to Mull, Iona, or the Isle of Staffa on the CalMac Ferries.
Another romantic ruined castle near Oban is Kilchurn Castle. A romantic ruin set over Loch Awe. The best way to see this is via the Kilchurn Castle Panoramic Viewpoint.
From here, you're close to Inveraray which is home to the famous Inveraray Castle. The loch nearby is home to the San Juan de Sicilia, a Spanish galleon shipwreck, and is meant to have the famous "Argyll Treasure". It's never been found and they've been searching for years.
There are plenty of Harry Potter filming locations in the Highlands near Fort William like the Glenfinnan Viaduct Viewpoint, where Dumbledore was buried, and Steall Falls.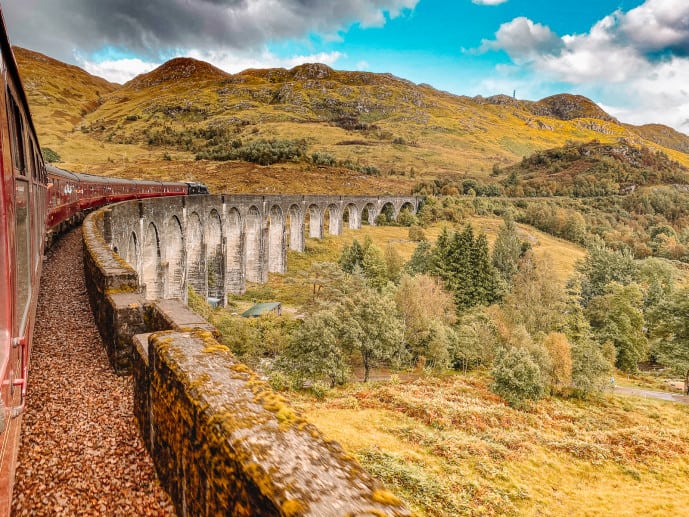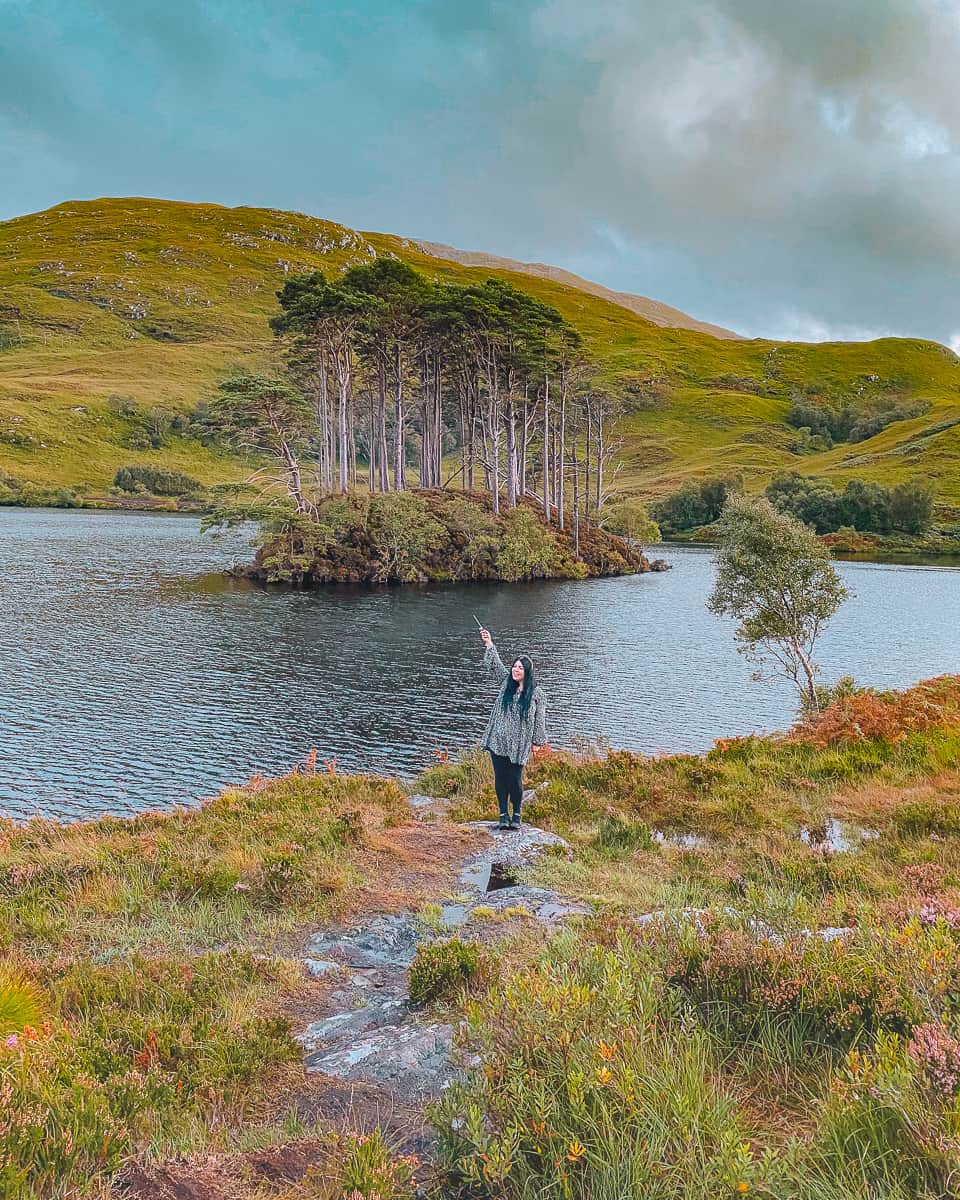 From Castle Stalker, you can begin one of the most scenic drives in Scotland via the Ballachulish to Glencoe.
You can stop by the visitor centre, visit the Wee White House, see the James Bond Skyfall Road at Loch Etive and where they filmed Hagrid's Hut in the Harry Potter movies.
Click here to read my complete guide on all the Harry Potter filming locations in Scotland!
Read more of my Scotland articles
Where is the pink castle in Scotland?
How to visit the Kelpies in Falkirk
Edinburgh Harry Potter locations
Outlander locations you can visit in Scotland
How to visit Lallybroch from Outlander
Visiting the Fairy Pools on the Isle of Sky
Smoo Cave & Waterfall walk in Durness
How to get to the Balmoral Pyramid
Visiting the Corpach Shipwreck near Fort William
Things to do in Gearrannan Blackhouse Village
How to visit Dunrobin Castle – Scotland's fairytale chateau
Why you must visit Leakey's Bookshop Inverness
How to visit the Callanish Stones on the Isle of Lewis
How to visit the Green Loch Aviemore
How to visit the Pink House on Loch Glass
Visiting the Puck's Glen Fairy trail
Isle of Mull Cheese Glass Barn Café review
Save Castle Stalker Scotland for later!