A spectacular and unique beach on the South Wales coastline has to be Dunraven Bay or Southerndown Beach in the Vale of Glamorgan.
A sandy beach that is popular with locals and surrounded by high cliffs with unique patterns in the layers of sedimentary rock!
As it's a tidal beach, you'll find that the waves make way for a sandy shore and rocky strata that are perfect for rock pooling and fossil hunting.
Fans of Doctor Who and Merlin will also love visiting Dunraven Bay as this gorgeous beach features in both TV productions.
Here is how to visit Dunraven Bay in Southerndown on the Glamorgan Heritage Coast with the best things to do here!
What is Dunraven Bay?
Dunraven Bay, also known as Southerndown Beach, is a gorgeous beach tucked away in the Vale of Glamorgan.
The beach can be found in between cliffs that have exposed sedimentary rock. This creates unique layers in its foundations which are mesmerising to look at.
Once the low ride comes in, the waves make way for a layered pavement of rock that is perfect for rock pooling.
It's very popular with locals and tourists alike due to its unique beauty and appearance on TV shows!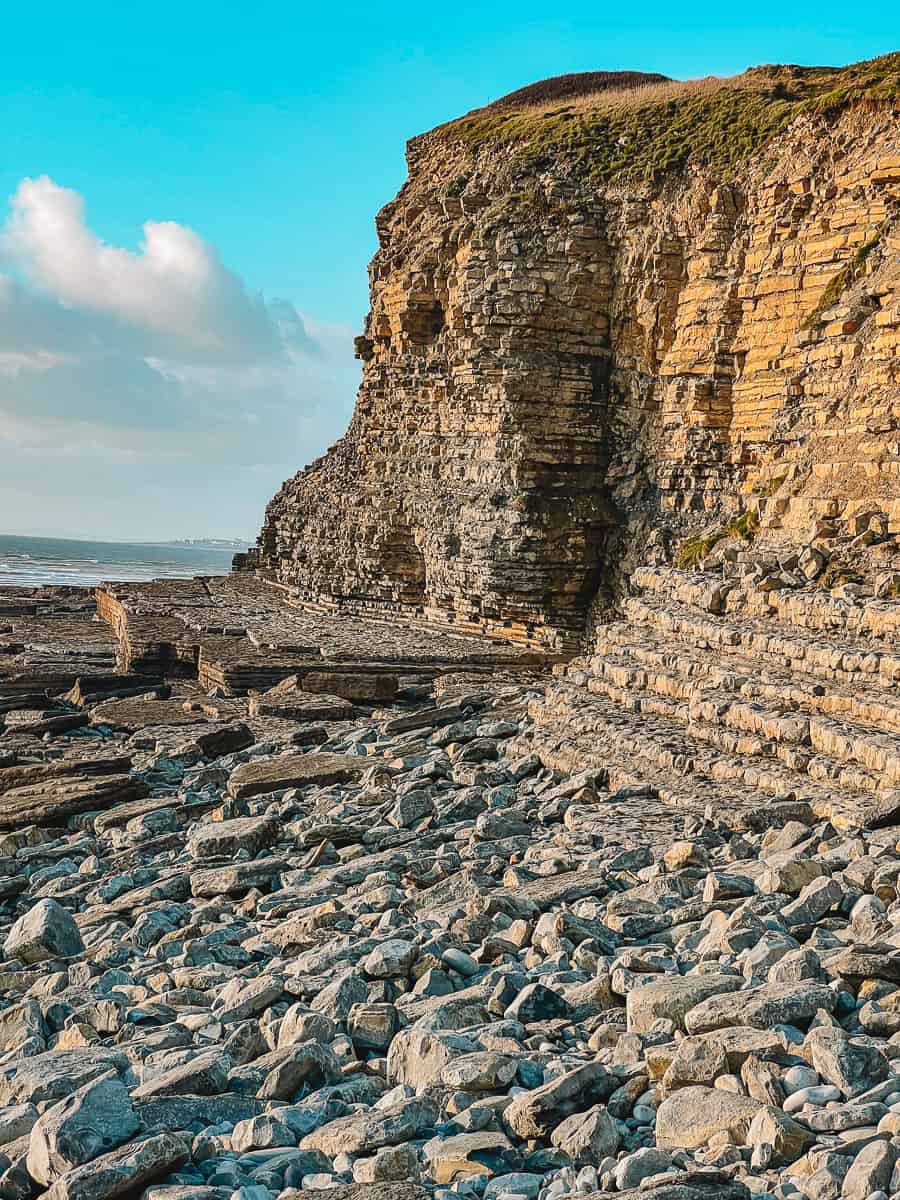 Dunraven Bay Doctor Who filming location
Doctor Who fans will love visiting Southerndown Beach as this featured as Bad Wolf Bay in Norway during the 'Doomsday' and 'Journey's End' episodes.
It also featured as the surface of an alien planet in 'The Times of the Angels' and 'Flesh and Stone'. It's easy to see why as the rocks here look rather otherworldly!
In 'Dinosaurs on a Spaceship' Dunraven Bay acted as the engine room of the Ark Ship.
Click here to watch the 'Journey's End' scenes at Dunraven Bay!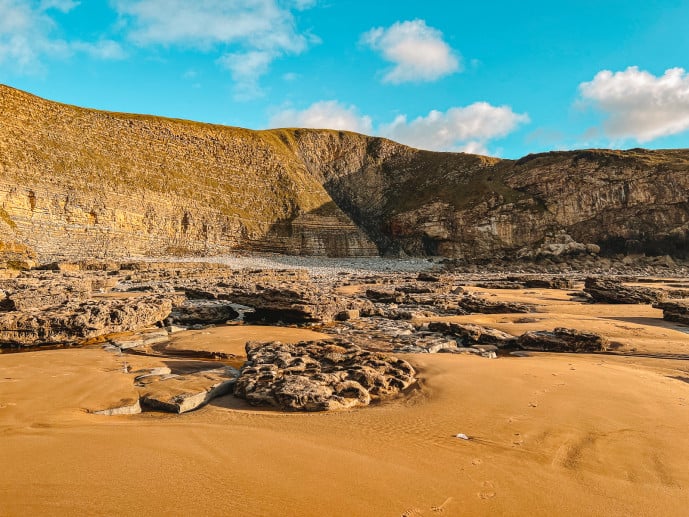 Dunraven Bay Merlin filming location
I'm a huge fan of BBC's Merlin and I instantly recognised this beach from the first series in 'The Labyrinth of Gedref'!
At the very end of the Labyrinth, Merlin and Arthur are transported to a beach on the coast. There is a table waiting for them both with two golden chalices.
One chalice is poisoned and so the two of them have to make a choice as to who drinks from their cup. In the end, Arthur drinks them both proving himself worthy to be a prince.
Click here to watch the scenes of Merlin at Dunraven Bay!
What else has been filmed at Dunraven Bay?
As well as Merlin and Doctor Who, you may recognise this beach from other TV productions and films.
During 'The Final Problem' episode of Sherlock this location is where the helicopter lands on the beach carrying Moriarty.
The scene starts off in Tenby, then Moriarty lands on Southerndown beach dancing to 'I want to break free'!
Bob Dylan fans will recognise Dunraven Bay from his Hearts of Fire movie (1987). A blonde Dylan looks out over the cliffs of Southerndown Beach over to Rupert Everett who is sporting a serious mullet.
Dylan may be a legend in music but some movies just should not exist. The whole thing is downright cringe-worthy so I would save yourself the time if you haven't seen it yet.
Where is Dunraven Bay in Wales?
Dunraven Bay is hidden away between the cliffs of the Glamorgan Heritage Coast in the Vale of Glamorgan, South Wales.
It can be found nearby the popular beaches of Porthcawl, Ogmore-by-Sea, and Llantwit Major.
It's only a short 40-minute drive from Cardiff so it makes the perfect day out if you were spending a few days in the capital.
How to visit Dunraven Bay in Southerndown
The easiest way to visit Dunraven Bay would be to drive here, from Cardiff so you can take the M4 motorway. You can also drive here easily from Swansea in around 40 minutes.
Alight at the Bridgend junction on the motorway and then follow signs for Southerndown. You'll then turn off at Beach Road.
Dunraven Bay postcode is CF32 0RH. Click here for a Google Pin!
Dunraven Bay bus: If you weren't driving, you can easily get a train from Cardiff to Bridgend. From Bridgend train station, the number 303 bus service stops at the Three Golden Cups in Southerndown. From here, you can walk to Dunraven Bay from Beach Road in around 10-15 minutes!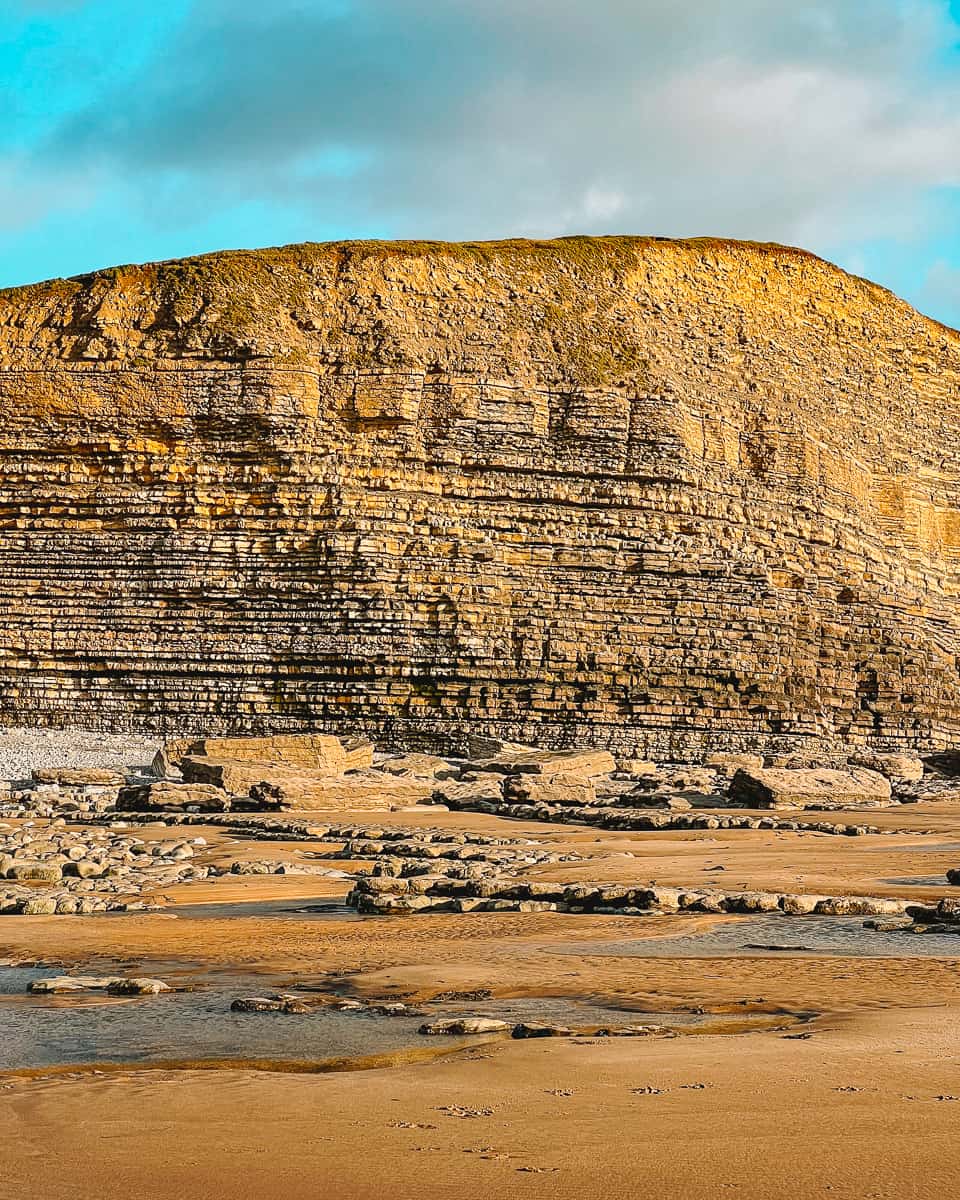 Dunraven Bay parking
There are two options for Dunraven Bay parking. One car park is at the top of the cliffs and the other down nearer the bay.
The upper Dunraven Bay car park is chargeable throughout the year at all times of the day. It's £1 for an hour and then £6 for over an hour which is quite steep.
In the winter season, it's definitely more cost-effective to park in the lower car park near to the bay. This car park is completely FREE up until April/May time.
In summer, the lower Dunraven Bay car park has a parking attendant that will charge you £5 for the day.
When is the best time to visit Dunraven Bay?
If you are planning to visit Dunraven Bay, I would definitely plan to visit at low tide.
The water comes right up to the edge of the car park at high tide and so you won't be able to walk onto the bay at all to see the beach or cliffs.
Low tide times change every single day. Click here to check tide times for Southerndown & Dunraven Bay!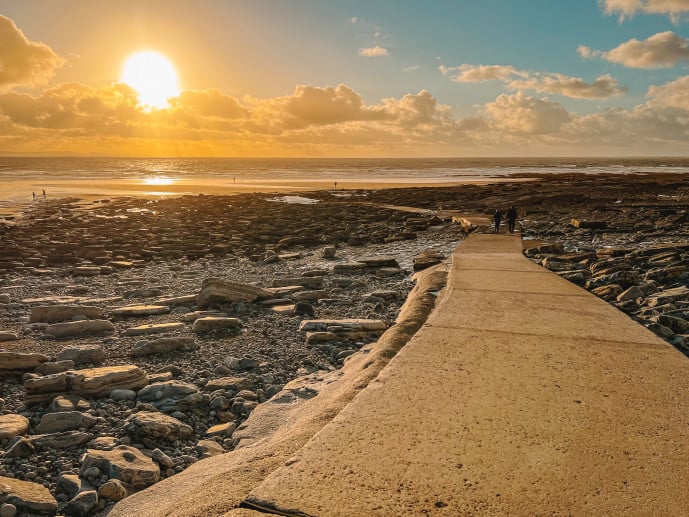 Things to do in Dunraven Bay
So, what is there to do at Southerndown beach when you get here? Well, I was completely blown away by how much there was to see.
Of course, you can wander up and down the beach but there is also lots to do in Dunraven park.
You'll find secret gardens, scenic cliff walks, castle ruins, and more. Here are all the best things to do in Dunraven Bay.
1. Explore the beach and see cliffs with sedimentary rock layers
Southerndown beach is just a short walk from the car park and you can access the sandy shore by heading down a large slipway.
You do have to scramble on the last bits over the rocks to get to the sand but it's worth it to explore the shore.
If you head up and down the beach, you'll notice the clifftops and the thin layers of sedimentary rock which creates all sorts of unique patterns. It's a popular photography spot for this reason!
My favourite part of exploring Dunraven Bay was walking on the rocky strata and looking at the rock pools filled with barnacles. This is also a popular place for fossil hunting.
As I visited in December, it was 40 mph winds and freezing. So, I did my best to explore as much as possible. But, I think it would be nicer in the summer with warmer weather.
2. See the Witch's Nose or Tweyn y Witch!
One of the prominent places you'll see on the cliffs here is a point called Tweyn y Witch or the Witch's Nose!
You'll notice it at the point where the cliffs jut out onto the beach and fall into the sea. It looks almost jagged with a crook in the rock. The easiest place to see this is on the beach.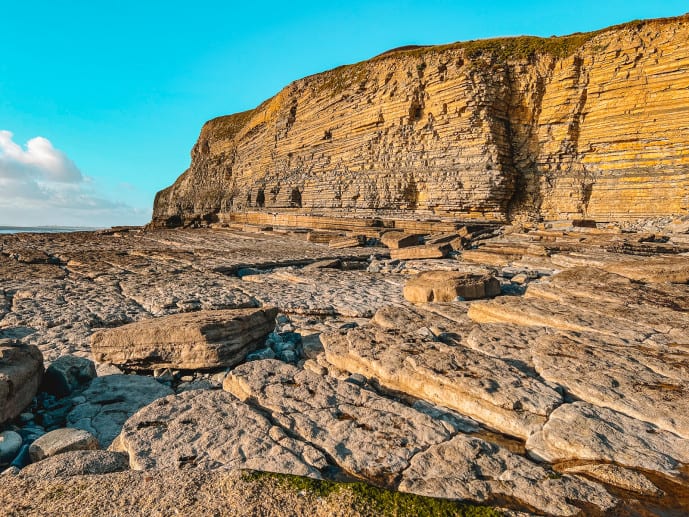 3. Take a walk in Dunraven park
After you have finished exploring the beach, there is plenty more to do just beyond the bay.
If you head to the Snack Bar, you'll probably notice the Glamorgan Heritage Coast Centre behind it. This isn't a visitor centre but is a base for the coastguards and is usually open for school groups throughout the year.
Just to the right of the snack bar, you'll find a small cottage. Head through the gate next to it and you'll enter Dunraven Park which is a Site of Special Scientific Interest (SSSI).
You can walk around the meadows here to see the wildlife and wildflowers that grow in spring.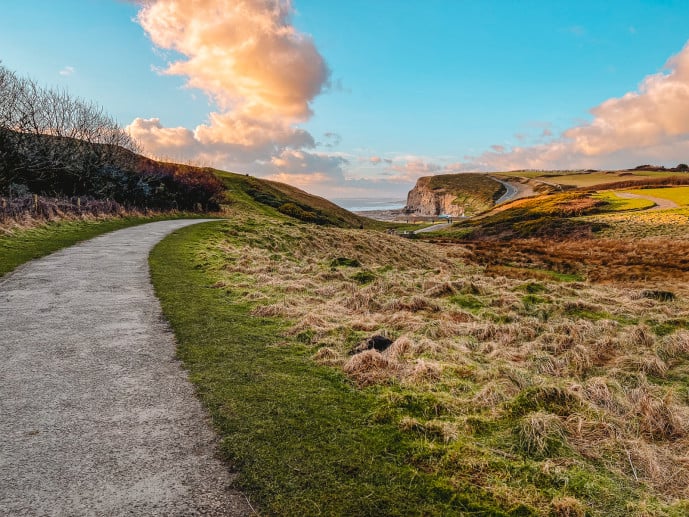 4. Find the secret Dunraven walled garden
If you head into Dunraven Park, eventually you'll see the path fork. Take the right path and you'll come across a door leading to the secret Dunraven Walled Gardens!
If it's a windy day on the coast or there is a high tide, these gardens are a bit of a sanctuary where you can relax.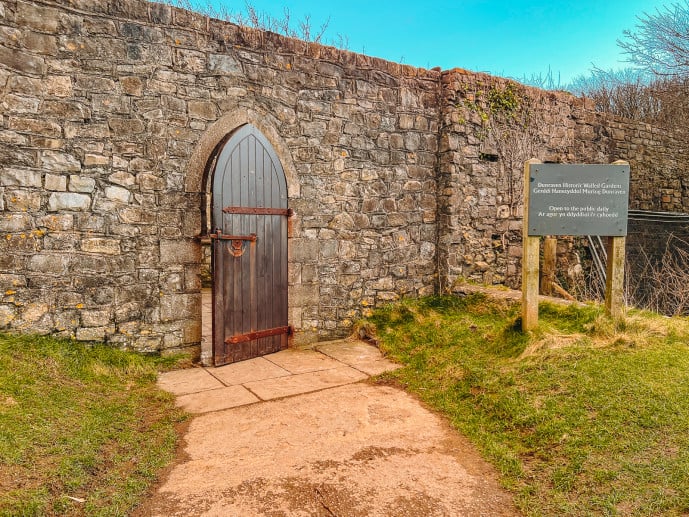 There are plenty of benches to sit and admire castle towers, fountain pools, and potted plants. There are usually lots of flowers that grow here in the spring season. You can spot the old Earls of Dunraven crest too.
The walled gardens lie on the old foundations of Dunraven Castle that was a mansion built in 1801. They were recently renovated so that the public can enjoy them all year round.
Dunraven Walled gardens are open every day of the year, 24 hours a day, and are completely FREE.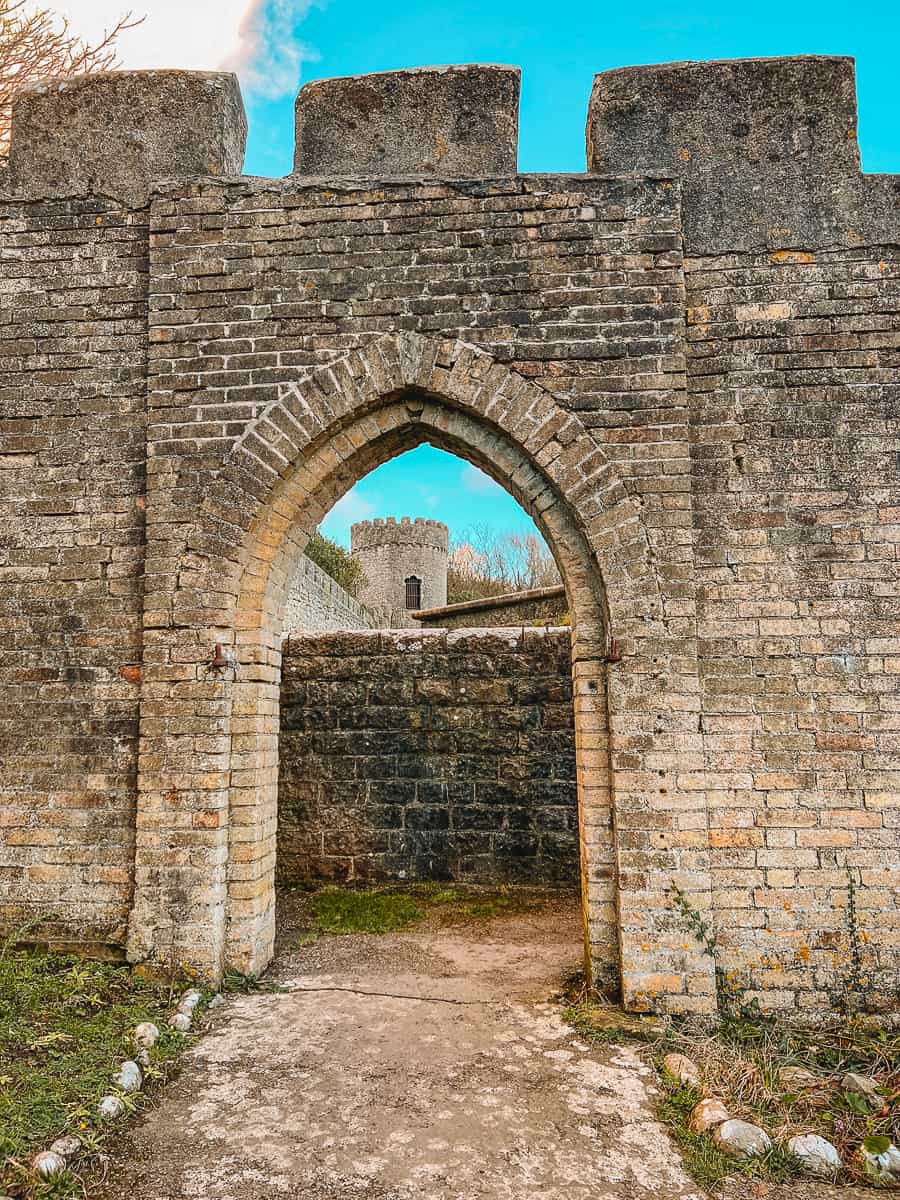 5. See the Dunraven castle ruins
You're probably wondering 'what happened to Dunraven Castle'? Well, very little remains of the stately home that used to be here.
There has been a castle at Dunraven since the 12th-century built on the remains of an Iron Age fort. But, a manor house replaced the existing structure in the 16th-century that was built by the Vaughan family.
In 1818, Caroline Wyndham inherited the estate and then remodelled the mansion home. She added many castellations including towers, turrets, and walls.
It was partly repurposed as a convalescent hospital during the First and Second World War. Unfortunately, the house was demolished in 1963. But, the walled gardens, gatehouse, and Ice tower still survive.
You can find the old castle structures dotted all over this area of Dunraven and on top of the cliffs. It is a shame such a beautiful country home fell into ruin but I think the walled gardens look more beautiful and romantic this way.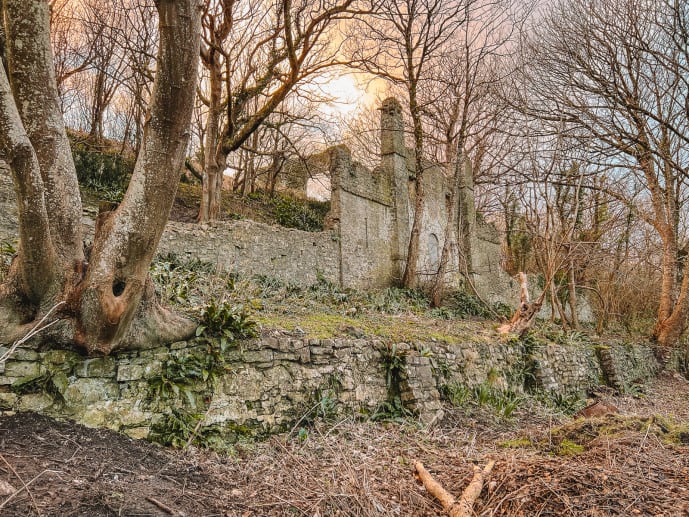 6. Stand under a blanket of stars!
Dunraven Bay is fabulous during the day as a beach spot, especially in summer. But, by night, it's one of the best places to go stargazing in the Vale of Glamorgan.
Dunraven Bay is a Dark Sky Reserve with limited light pollution. So, if the skies are clear you'll see a blanket of stars overhead!
The beach and car park are open 24 hours a day so you can pop over anytime in the evening. As the car park is so close to the bay, it's easy to jump out of your car at low tide and go for a starlit evening stroll.
I did go back on my visit at night but it was far too windy and cold to go for a walk. So, I just enjoyed watching them from my car instead.
7. Walk the Wales Coast Path
The Wales Coast Path is one of the only places in the entire world where you can follow a nation's coastline on a footpath completely.
In fact, it stretches for 870 miles (1,400 kilometres!) from Chepstow in the South to the border of Chester in the North.
It would take you 6-7 weeks to walk it fully at 20 miles a day. But, you can walk a small part of this spectacular walk here along the cliffs.
From Dunraven Bay, you can head out to Llantwit Major in two hours. Or, simply head along the coastline until you get bored and head back.
The views from the clifftops above Dunraven Bay are fabulous regardless so it's worth a hike up for the view.
Where to eat in Dunraven Bay
There aren't many choices at Dunraven Bay when it comes to eating or grabbing some drinks.
In the summer season, there is a small kiosk open that sells ice creams, coffee and, fizzy drinks. But, this kiosk is completely closed in the winter season as well as the toilets. So, I would recommend packing some water and snacks before you visit.
If you wanted to head to a pub, you could visit The Three Golden Cups which is just a short drive away from the beach in Southerndown on the junction of the B4525 and Beach Road.
Where to visit after Dunraven Bay
If you wanted to visit even more places on the Glamorgan Heritage Coast, you can drive back to the B4525 and head to more beaches like Ogmore-by-Sea, Newton Beach, or Porthcawl.
Nash Point is also a popular location on the coastline that has a huge white lighthouse on the cliffs.
Llantwit Major Beach and Cwm Col-huw are great places to go rock pooling and also spot some wildlife like the Small Blue Butterfly.
Llantwit Major is also a historic town with St Illtud's church and the Galilee Chapel. It also has many independent shops and cafés.
Heading over towards Cardiff Bay, you'll find the quaint seaside village of Penarth with its pretty promenade and pier. Or, visit Barry Island aka Barrybados, the game of Gavin & Stacey!
Are you looking for more Merlin & Doctor Who filming locations in Wales?
Although most of Merlin was filmed in Chateau de Pierrefonds in France, there are plenty more filming locations that you can visit near Cardiff.
After your visit to Dunraven Bay, I would recommend heading over to Castell Coch that featured in 'The Changeling' episode. In Doctor Who, Castell Coch was featured in 'Nightmare in Silver'.
Nearby, you'll find a Merlin filming location called Three Bears Cave that featured in 'Lancelot and Guinevere' when Arthur explains the 'giant baby rats' called the Wilddeoren. Doctor Who fans will remember these caves from the 'Robots of Sherwood' episode.
Caerphilly Castle is also featured in two seasons of Merlin as Hengist's Fortress and where Gwaine escapes the guards throwing Merlin and himself onto a barrel of hay! Caerphilly Castle was also featured in Doctor Who during 'Robots of Sherwood'.
Click here to read my complete guide for Caerphilly Castle!
Read more of my South Wales travel guides
The best bookshops in Hay-on-Wye
Why you must visit Llanthony Priory
The most crooked church in Britain
A complete guide for Barafundle Bay Beach
How to visit Dobby's Grave at Freshwater West
A complete guide for the Green Bridge of Wales
How to visit the Blue Lagoon in Wales
The best things to do in Monmouth
The Monnow Bridge & gate guide
Save how to visit Dunraven Bay for later!