Sitting high above Glasgow Cathedral is the imposing Glasgow Necropolis, a Victorian city of the dead with over 50,000 people buried there.
Almost all who rest here are notable Glaswegians and you'll find many elaborate tombs, mausoleums, and crypts as you take an atmospheric walk through the graveyard.
As you wander through this labyrinth of a burial ground, you'll also receive panoramic views of the city so it's a must-visit – even if the rain!
Although best visited in Autumn and the spooky season around Samhain (Halloween), this Glaswegian city of the dead will be waiting to welcome you all year.
Here is a complete guide on how to visit Glasgow Necropolis, including opening times, famous graves, and what to expect!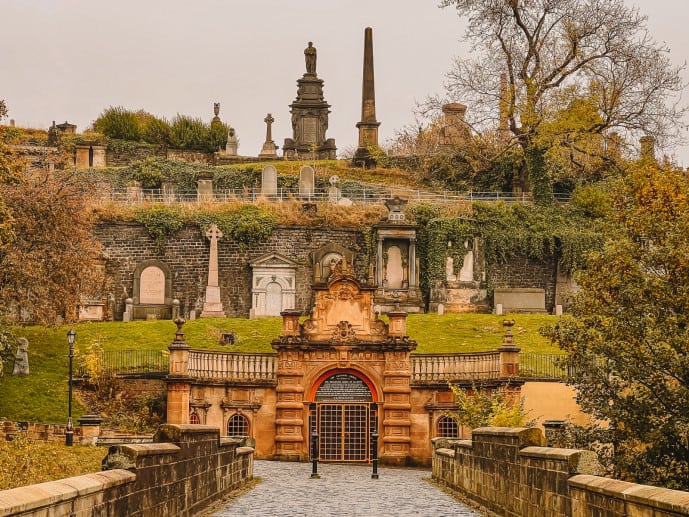 Glasgow Necropolis history
In 1832, the British Cemeteries Act was passed in parliament which allowed burials to be made for profit.
Before this act, the parish church in the local area held full responsibility for burying the dead and the funerals and graves were meagre.
This is why, around this time period, you found a surge of many elaborate tombs and graveyards being built in Britain for wealthy members of society.
The most famous Victorian Necropolis and graveyard in the UK is Highgate Cemetery in London which is part of the 'Magnificent Seven Cemeteries'.
Glasgow had a fast thriving population and equally growing mortality rates. There was also a declining congregation at church and so the city was one of the first to take full advantage of this development.
Although Jewish burials had started in 1832, the Glasgow Necropolis 'officially' opened in 1833 and had its first Christian burial of Elizabeth Miles, stepmother to Superintendent George Mylne.
The adjoining bridge that allowed access to the cemetery was developed a few years later and elaborate gates were placed at the entrance.
Later, there were memorials put in place for stillborn children, the Korean War, and those Glaswegians who received the Victorian Cross.
The Necropolis was extended in 1860, again in 1877, and finally in 1892. 50,000 burials have taken place at the Glasgow Necropolis and it was one of the first graveyards in the country to keep a record of their name, profession, age, sex, and cause of death.
Today, thousands of people visit the necropolis every year as it's close to the Glasgow Cathedral! It's a beautiful place with an atmosphere that you cannot find anywhere else in the city.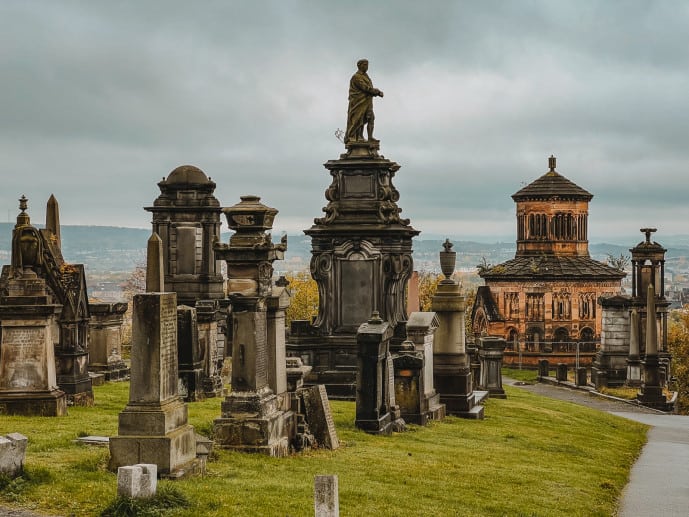 Glasgow Necropolis facts
The Glasgow Necropolis stretches over 37 acres of land (15 hectares) in the city centre overlooking the final resting place of St Mungo
Over 50,000 people are buried at Glasgow Necropolis and many graves are unmarked
The first burials took place in 1832 and the last tombs were built around 1900
The oldest grave in Glasgow Necropolis was for 'the Jew Joseph Levy' in 1832. He was a 62-year-old jeweller. The 'Jewish Quarter' is the oldest part of the graveyard.
There are 3,500 monuments in the Glaswegian city of the dead – the most expensive are gathered around Knox's monument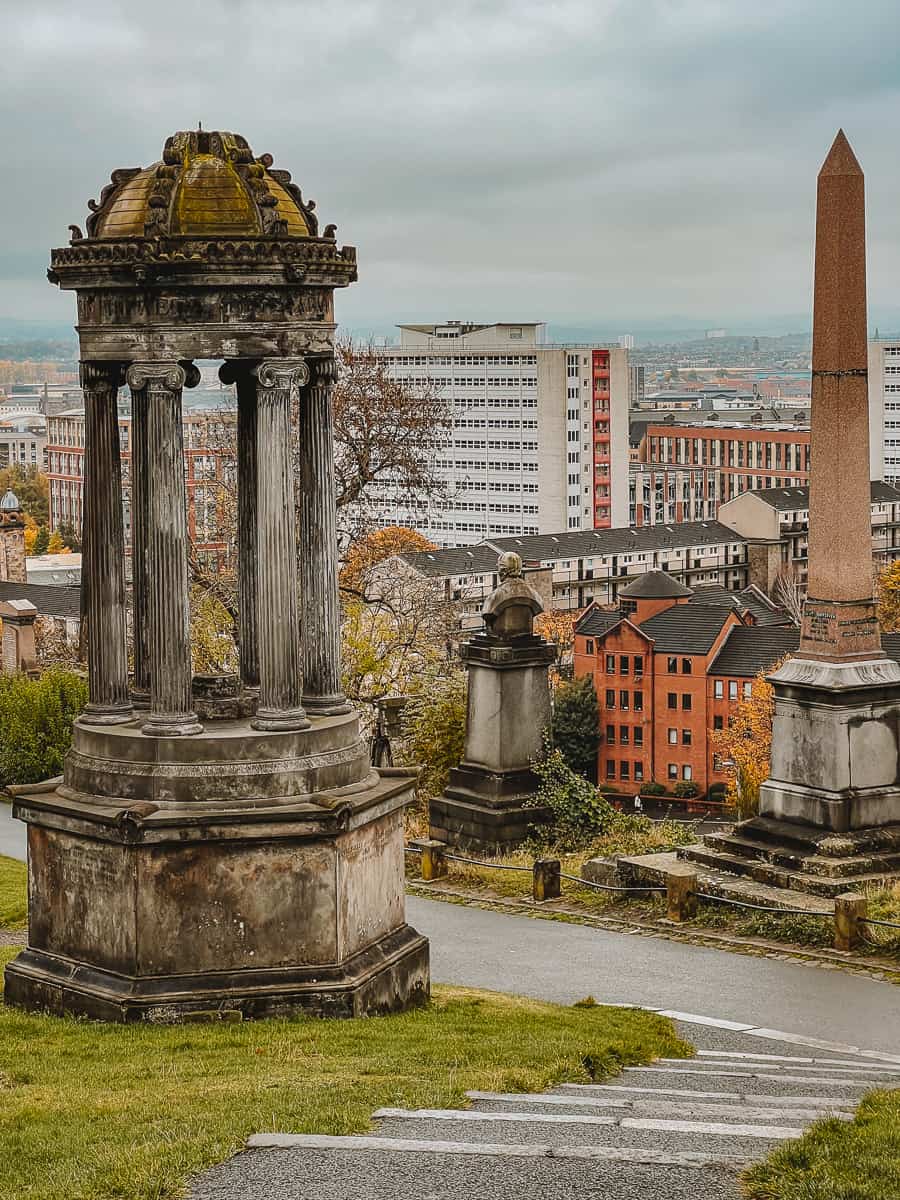 Where is Glasgow Necropolis?
The Glasgow Necropolis sits high on a plateau above the city right next to the famous Glasgow Cathedral or the High Kirk of Glasgow.
So, you'll need to make your way over to the Cathedral Precinct in the city, close to George Square.
You'll be crossing over the Glasgow Bridge of Sighs to access the necropolis site and then climbing up a gradual hill of tombs to reach the summit.
The good news is that you don't need a guided tour or pay a fee to visit Glasgow Necropolis. It's completely free and you can visit self-guided for a leisurely walk every day of the week!
How to get to Glasgow Necropolis
The main gate to Glasgow Necropolis can be found near the entrance to Glasgow Cathedral and the St Mungo Museum on the east side of the city on Castle Street.
It's close to popular city centre attractions like George Square and the City Chambers which is a 20-minute walk away.
The nearest train station stops are Glasgow High Street (10-minute walk) and Glasgow Queen Street (20-minute walk).
Or, you can take a bus from Glasgow Central Station. The number 38 heading to Eastbourne stops at St James Road (3 minute's walk).
If you're driving, you can take the M8 and alight at Junction 15 to visit Glasgow Cathedral. There is paid parking found nearby.
Glasgow Necropolis address is Castle Street, Glasgow G4 0UZ. Click here for a Google Pin!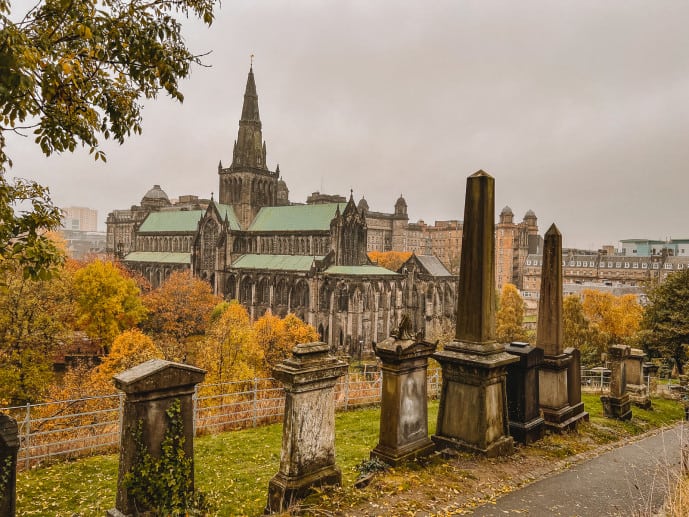 Glasgow Necropolis parking
You cannot drive through Glasgow Necropolis and there is no parking to be found at the site.
If you're driving, you will need to park in one of the Cathedral Precinct car parks found around Glasgow Cathedral.
There are four precinct car parks and the closest to Glasgow Necropolis would be Cathedral Precinct 2 car park and Cathedral Precinct 4 car park.
These aren't the cheapest places to park and you will find it's around £6 for 3 hours to explore the cathedral and necropolis.
You can use cash, a card, or the RingGo app which I prefer as you can extend your parking without having to return to your car in case you need more time.
Alternatively, there is off-road parking found on Castle Street but this again is paid by the hour during the day.
If you wanted to save some money, I would recommend taking public transport in the city like the buses, trains or SPT subway.
Alternatively, why not take a Glasgow Hop-on-Hop-Off bus through the city? It's a great way to see the main sights! Glasgow Cathedral is bus stop 2 on the map.
Glasgow Necropolis opening times
Although Google says that the Glasgow Necropolis is open 24 hours a day, you can actually only visit the graveyard from 7 am until around 4.30 pm each day.
The gates are closed off after this time and so you cannot access the necropolis in the evening which would be so cool and spooky.
Although the Glasgow Necropolis is closed at night time, if you're interested, special tours are often run after hours by the Friends of Glasgow Necropolis.
Things to see in Glasgow Necropolis
So, once you get to Glasgow Necropolis, what are the main things that you can see and do here?
Personally, I didn't take a route map or any sort of guide. I just enjoyed wandering around the labyrinth of paths and hills through the tombs to see where it would take me.
As it's an old graveyard, so there will be uneven ground, cracks in the pavement and no shelter to speak of. It can also get muddy on grassy areas if it's been raining. So, come prepared with a good pair of shoes and a coat if it's a rainy day.
Whatever the weather, it makes a great walk and you'll see incredible mausoleums, crypts, and city views along the way.
Here are some places to look out for on your visit;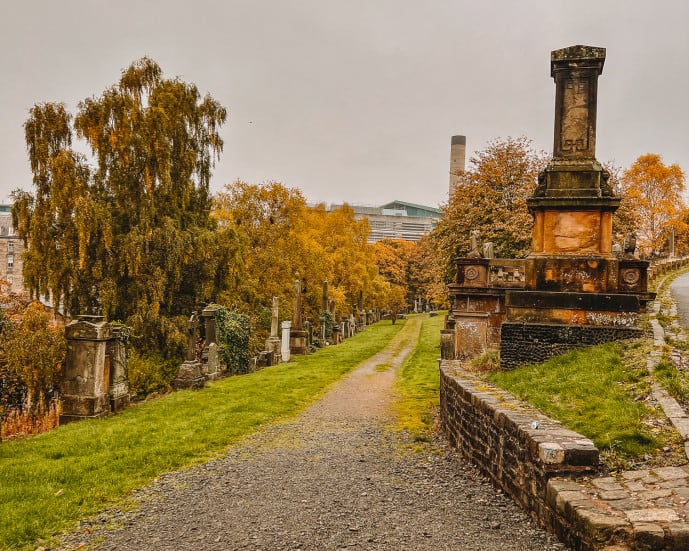 1. Cross the Glasgow Bridge of Sighs
To access the Glasgow Necropolis, you'll cross over what is known as the Glasgow Bridge of Sighs.
Originally it was built by David Hamilton in 1836 over the Molendinar Burn and it was nicknamed the Bridge of Sighs due to it being part of the funeral procession route.
This was inspired by the famous Bridge of Sighs in Venice which got its name from the sighs of prisoners on their way to their execution!
As you cross over the bridge, you'll see one of the best views of Glasgow Necropolis and how it's built on layers.
The large tan building in the centre tells the story of the 'Adjoining Bridge' and how it was erected by the Merchant's House of Glasgow.
There were 3 memorials built here later. There is a memorial to stillborn children, a memorial to the Korean War, and a memorial to Glaswegian recipients of the Victoria Cross.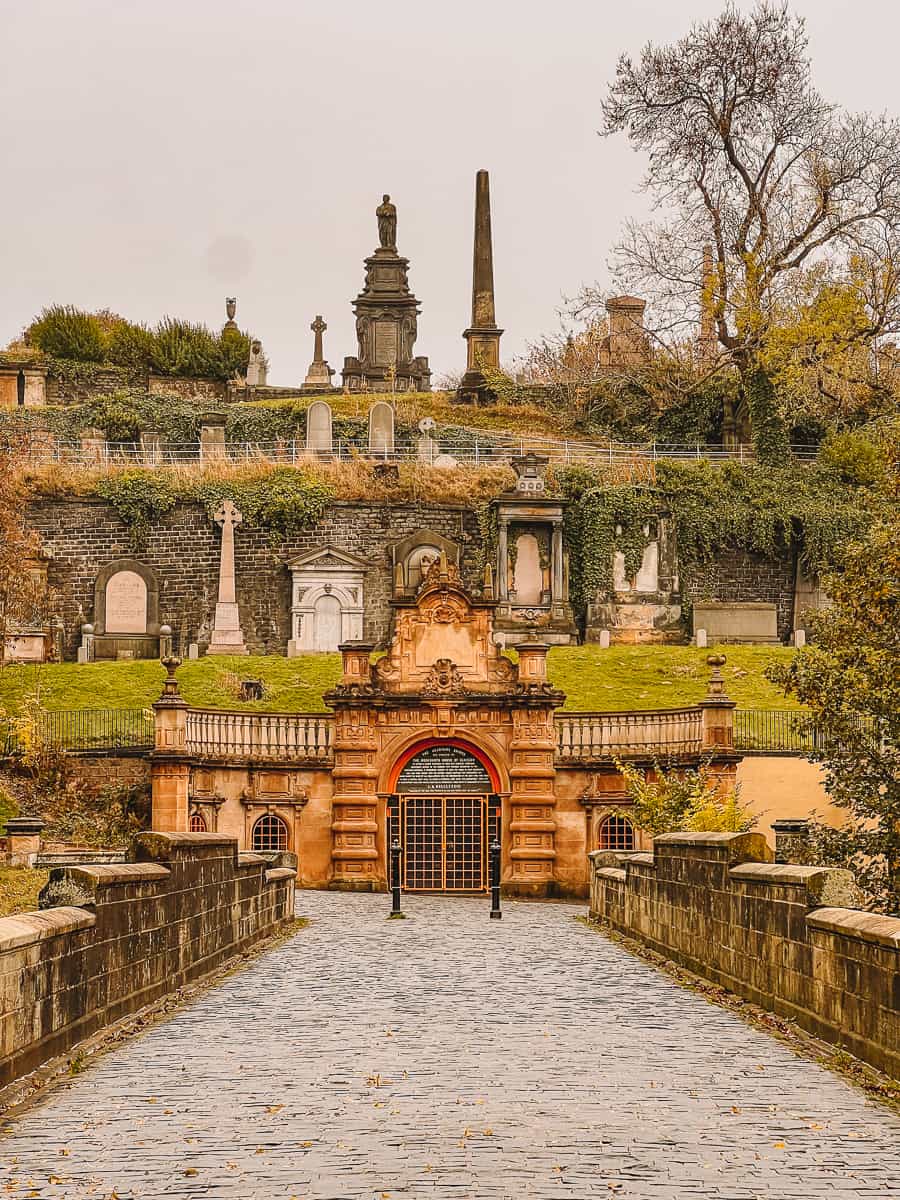 2. Views over Glasgow Cathedral
Beyond exploring this labyrinth of an atmospheric graveyard, a perk of climbing to the top of the necropolis is the fact that you get incredible views over the city.
As you start your ascent to the top of the hill, the views of the Glashow Cathedral area just keep getting better and better.
When you reach the top, follow the path up to John Knox's memorial for a plateau that provides an amazing photo spot. It's a huge, elaborate column and the biggest monument here so you can't miss it.
Beyond seeing the cathedral, the necropolis stands high on a hill so you'll get incredible 360-degree views of Glasgow between the graves.
3. Find famous graves at Glasgow Necropolis
Most of the dead buried here are prominent Glaswegians in the Victorian era and there are famous figures buried in the graveyard you may have heard of.
The most notable monument is the memorial to John Knox which is a huge column located at the summit of the hill. He was the leader of the Protestant Reformation in Scotland in 1500.
You'll most likely visit this one as it's the one with incredible views. It was built in 1825 so it predates the cemetery. He's actually buried in Edinburgh under a car park!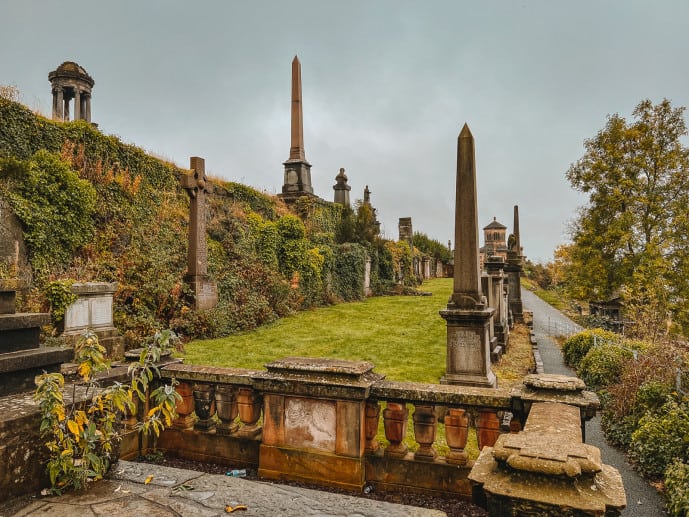 Charles Rennie Mackintosh and Alexander 'Greek' Thomson are also buried here and many of the beautiful buildings in this city were designed by these famous architects.
You'll also find graves dedicated to the 'Lord Provosts' of Glasgow which is similar to a Lord Mayor.
However, most of the thousands of bodies here were ordinary Glaswegians living ordinary lives in Victorian Britain.
There are graves of shipbuilders, historians, printers, quill makers, jewellers, campaigners, and surgeons. They're all laid to rest here.
It's very interesting to read what's on their tombs as many have their story (and how they passed) carved into the stone!
The graveyard is very male-dominated but there are notable Glaswegian women buried here too. You can check out this walk by the Glasgow Women's Library to discover the women of the necropolis.
4. Chase Batman filming locations
Beady-eyed Batman fans will recognise the Glasgow Necropolis featured in the new movie The Batman starring Robert Pattinson.
The crew filmed in Glasgow City centre and braved strong winds, rain, and sleet to bring these parts of the movie to the screens.
In the film, you can see Batman riding his Batcycle through the central part of the necropolis in the movie!
Although this was thought to be a stuntman, not Robert Pattinson, it is still cool to think that they filmed parts of Gotham city here.
You can find the Glasgow Necropolis Batman filming locations around The Bridge of Sighs, Glasgow Cathedral, and the central 'road' in the Necropolis.
5. Commonwealth War Graves
As well as elaborate Victorian tombs, crypts, and gravestones, there is a large section dedicated to Commonwealth War Graves too.
During both World Wars, the UK was an island fortress and was used as a training ground for troops as well as a base for land, sea, and air operations.
There are more than 170,000 Commonwealth War Graves found in the United Kingdom dedicated to those who lost their lives in Britain from Commonwealth countries.
These are dedicated to servicemen and women who lost their lives in training, accidents, sickness, or disease.
Glasgow was a port of embarkation for the British Expeditionary Force in 1914 and there were military hospitals opened in the city. Also, many regiment headquarters were based in Glasgow.
The city suffered greatly during The Blitz when the Clydesman Shipyards were a target killing many of those in service as well as civilians.
Glasgow Necropolis has 359 First World War burials and 124 Second World War burials in its Commonwealth Graveyard.
6. Glasgow Necropolis tours
You can explore the necropolis self-guided every day during the week but if you have the time I would highly recommend booking a guided Glasgow Necropolis tour.
The Friends of Glasgow Necropolis run guided tours throughout the year which are very informative.
They will discuss the history, and where to find notable graves. Some tours even run at night time which will make it extra spooky.
Tours are free but donations are very much appreciated and proceeds go towards the upkeep of this beautiful city of the dead.
Click here to check out the next guided tour dates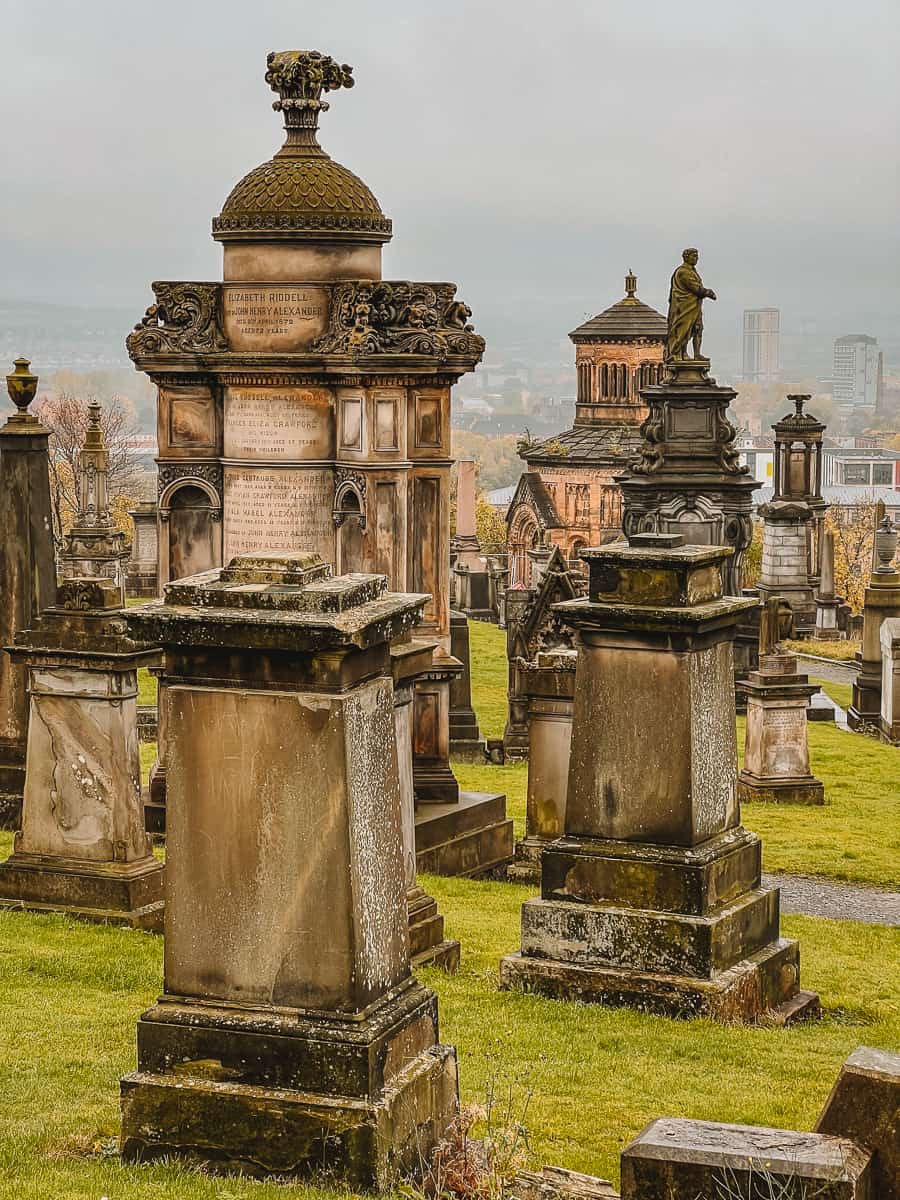 Glasgow Necropolis FAQs
What is the difference between a cemetery and a Necropolis? The word Necropolis means 'city of the dead' and usually has large tombs and mausoleums built far outside of the city. Whereas a cemetery is a smaller site with low graves and is built within a city. Famous examples of a Necropolis would be the Pyramids of Giza and the Valley of the Kings in Egypt.
Can you get into Glasgow Necropolis at night? No, it's closed in the evening. Sometimes guided tours take place at night.
Is Glasgow Necropolis free? Yes, it's completely free to visit!
Can you walk around Glasgow Necropolis? Yes, and it's a very atmospheric walk with amazing views over the city!
Why is Glasgow Necropolis famous? It's filled with very prominent Victorian figures who lived in Glasgow.
Looking for more things to do in Glasgow nearby?
As you're near Glasgow Cathedral, you're in the perfect place to explore more of the city's main attractions.
Here are some things to do near Glasgow Necropolis;
Visit Glasgow Cathedral & St Mungo's Crypt
Glasgow Cathedral, or the High Kirk of Glasgow, has been a dedicated church since the year 1136 AD.
This makes it the oldest cathedral on mainland Scotland and the oldest building in Glasgow! It is supposedly built on the same site as where St Mungo built his church.
He was an apostle of the Scottish Kingdom of Strathclyde in the 6th Century and his tomb can be found in the Lower Crypt.
He was the patron saint who brought the Christian faith to Scotland too. It was built before the reformation and is one of the finest examples of Gothic architecture in the country that survives today.
You'll find the entrance to the necropolis right beside the cathedral so you can't miss it. The entrance to Glasgow Cathedral is free but, again, donations are appreciated.
Click here to read my guide for visiting Glasgow Cathedral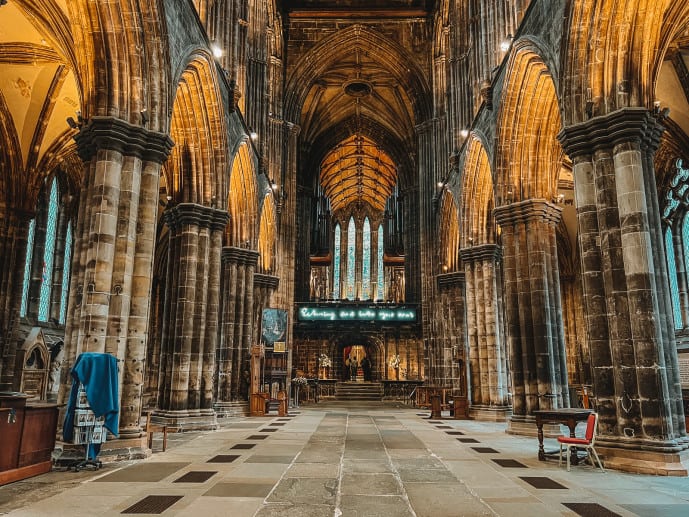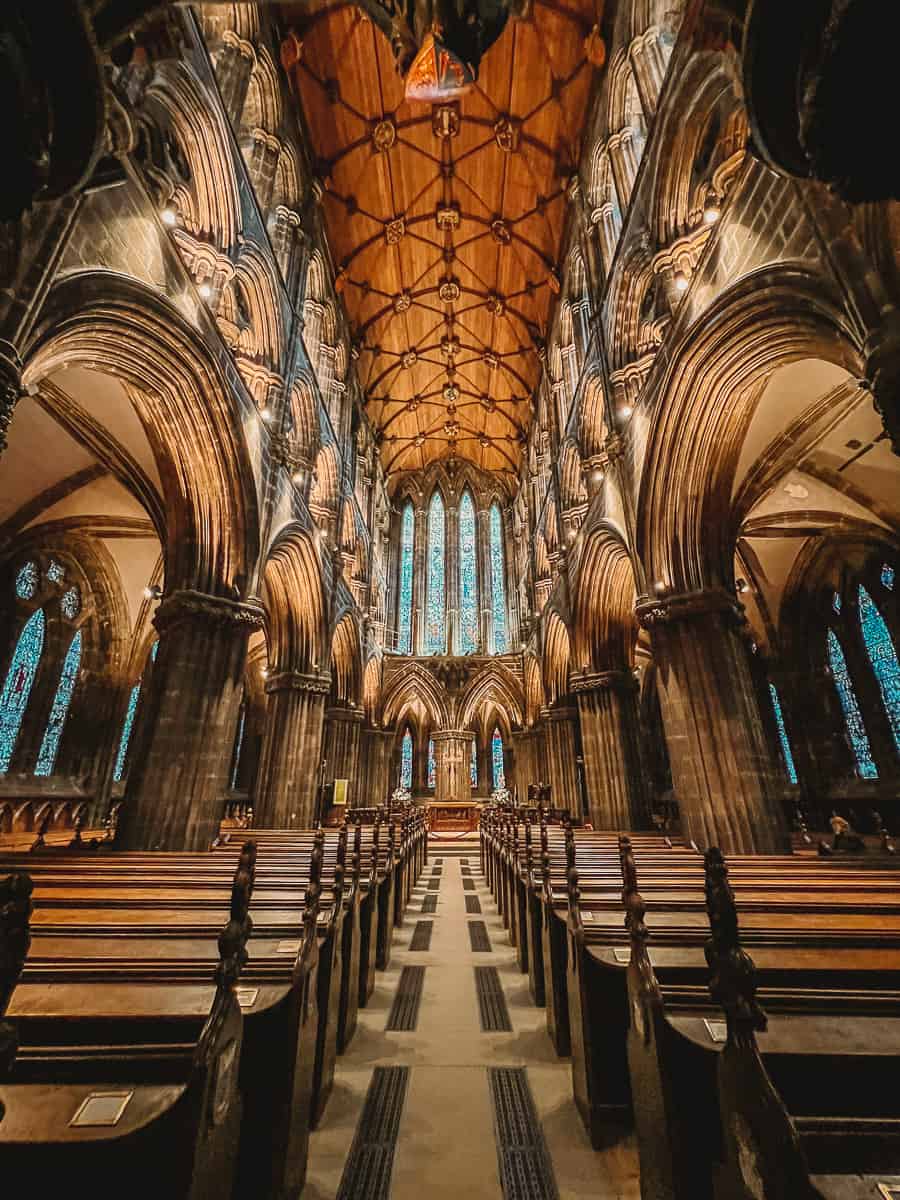 George Square
George Square in Glasgow was named after King George III and laid out in 1781. But, was not completely finished until 20 years later.
The square is surrounded by important buildings like the Glasgow City Chambers and the Merchant's House.
Also, George Square has many statues and monuments dedicated to famous figures such as Sir Robert Peel, Robert Burns, and Sir Walter Scott.
Although today George Square holds many concerts and cultural events for the city, in the past it has been the location of protests.
The most famous was the Battle of George Square in 1919. It is thought that over 20,000 engineers and workers gathered here and rallied for a fair workweek. It descended into violence and a riot act was read.
The foundations of the Glasgow City Chambers, which stands proudly in the square, were laid down in 1883 and designed by William Young.
It's well worth checking out as the views and buildings are absolutely stunning!
Click here to read my Outlander guide on George Square
City Chambers tour
If you're looking for something unique to do in Glasgow, then I would highly recommend taking a guided tour of the City Chambers.
It's a government building but public guided tours take place at 10.30 am and 2.30 pm from Monday – Friday.
You can't pre-book tours online and places are first come first served. So, I would recommend getting to the reception of the City Chambers around 30-45 minutes beforehand to register and wait it out!
It's one of the most beautiful buildings I've ever seen inside. You'll find marble staircases, domed ceilings, and amazing portraits of notable government officials. Well worth doing if you get the chance.
Chase Outlander filming locations
If you're a fan of Outlander, you may be surprised to know that there are plenty of filming locations to be found in and around the city.
You'll find that many of the Boston locations were filmed here including Dowanhill Street which was Claire, Frank, and Brianna's home.
Glasgow has plenty of Outlander locations and you'll need at least a day to explore them all!
Start off at the University of Glasgow to find Havard University where Frank was a professor in Boston. Or, make your way over to Kelvingrove Park to see where Claire walks to study.
George Square was the spot where Claire and Frank were married in London.
Pollock Country Park has scenes from the grounds of Castle Leoch and the duel between Jamie and Black Jack Randall in Paris and Dean Castle Country Park is featured in the Fox's Lair.
Click here to see my full guide of Outlander filming locations in Glasgow!
Save time and book a tour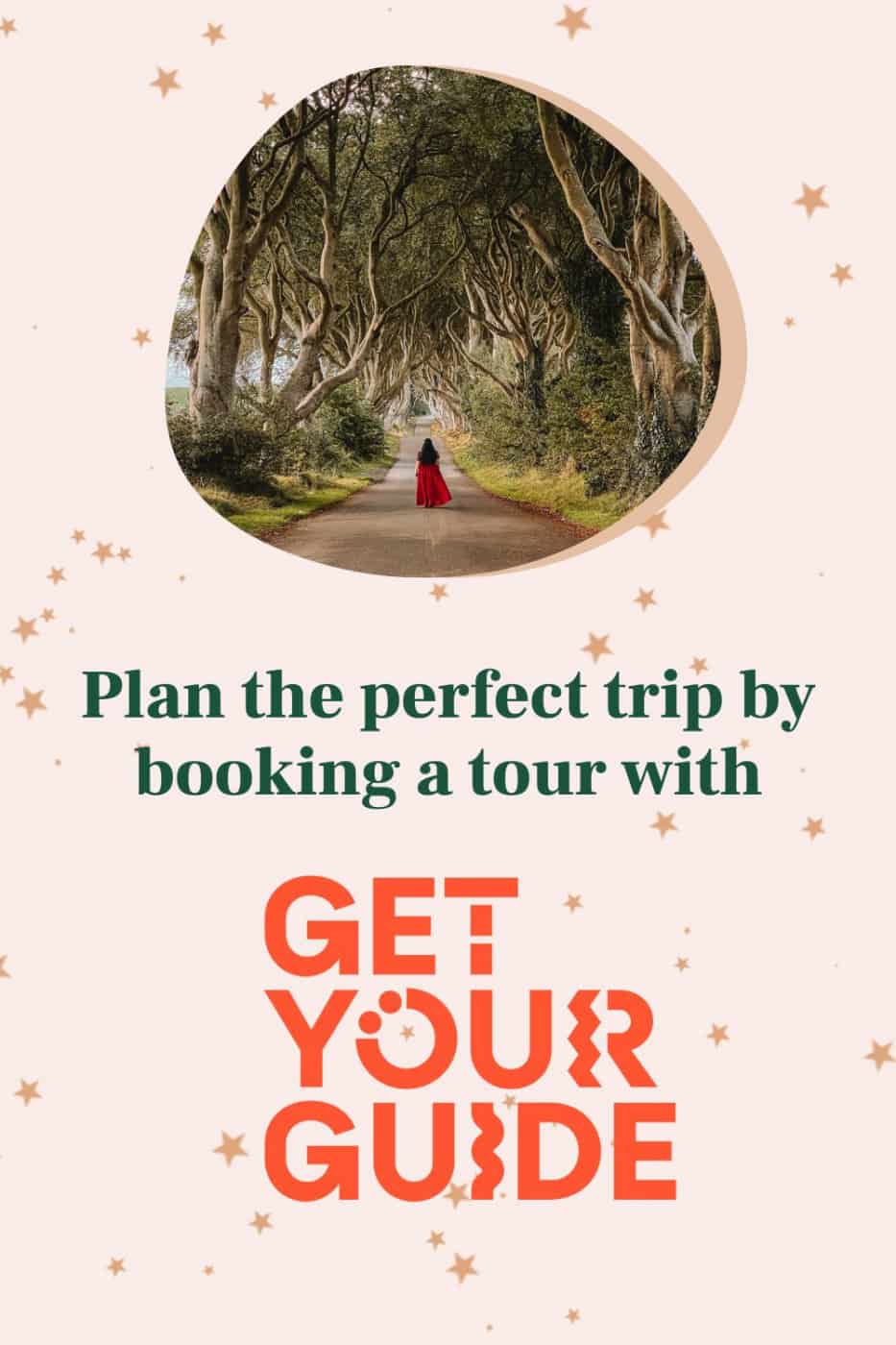 Book tours & tickets for Glasgow!
Where to stay near Glasgow Cathedral
Glasgow Cathedral quarter is a lovely part of the city to extend your stay. It's the oldest part of the city, so you're surrounded by beautiful historic buildings and are close to the vibrant George Square!
Here are my top recommendations for hotels near Glasgow Necropolis;
Moxy Glasgow (Merchant City) – Moxy is just 700 metres away from Glasgow Cathedral and has modern, chic rooms to spend the night. Click to book.
Cathedral House – You're in touching distance of Glasgow Cathedral in this cosy hotel. A Scottish Baronial residence from the 19th century but with modern rooms and amenities. Click here for dates and rates.
Read more of my Glasgow & Scotland articles
How to find the Devil's Pulpit
Why you must stay at Motel One in Glasgow
Magical Harry Potter locations in Scotland
Where is the Pink Castle in Scotland?
Why you must visit the Kelpies
A complete guide for the Pineapple House
Callendar House Outlander Guide
Outlander filming locations in Culross
Save how to visit Glasgow Necropolis for later!