One of the best hidden gems in Munich has to be Justizpalast, a preserved historic building in the centre of the city.
The Palace of Justice was constructed in the 19th century in a Neo-baroque style and is famously where the White Rose resistance group were tried during the Nazi regime.
Although many people like to admire the outside of the building for its architecture, not many know that you can actually visit the inside of Justizpalast and it's completely FREE.
Here is how to visit Justizpalast Munich a hidden gem and secret photography location in Bavaria, Germany!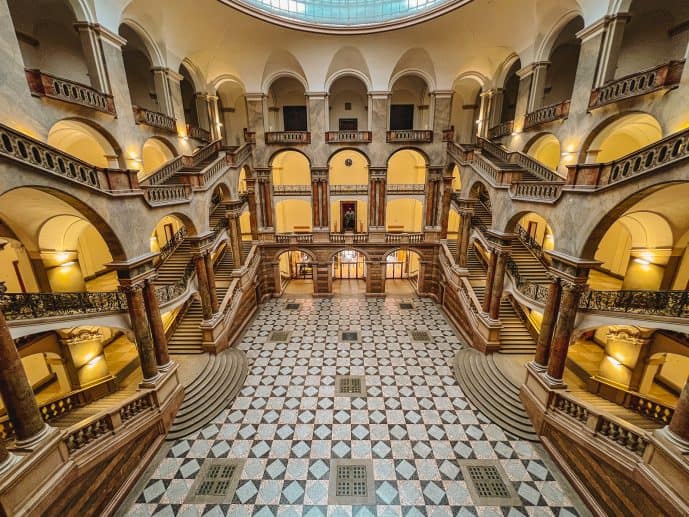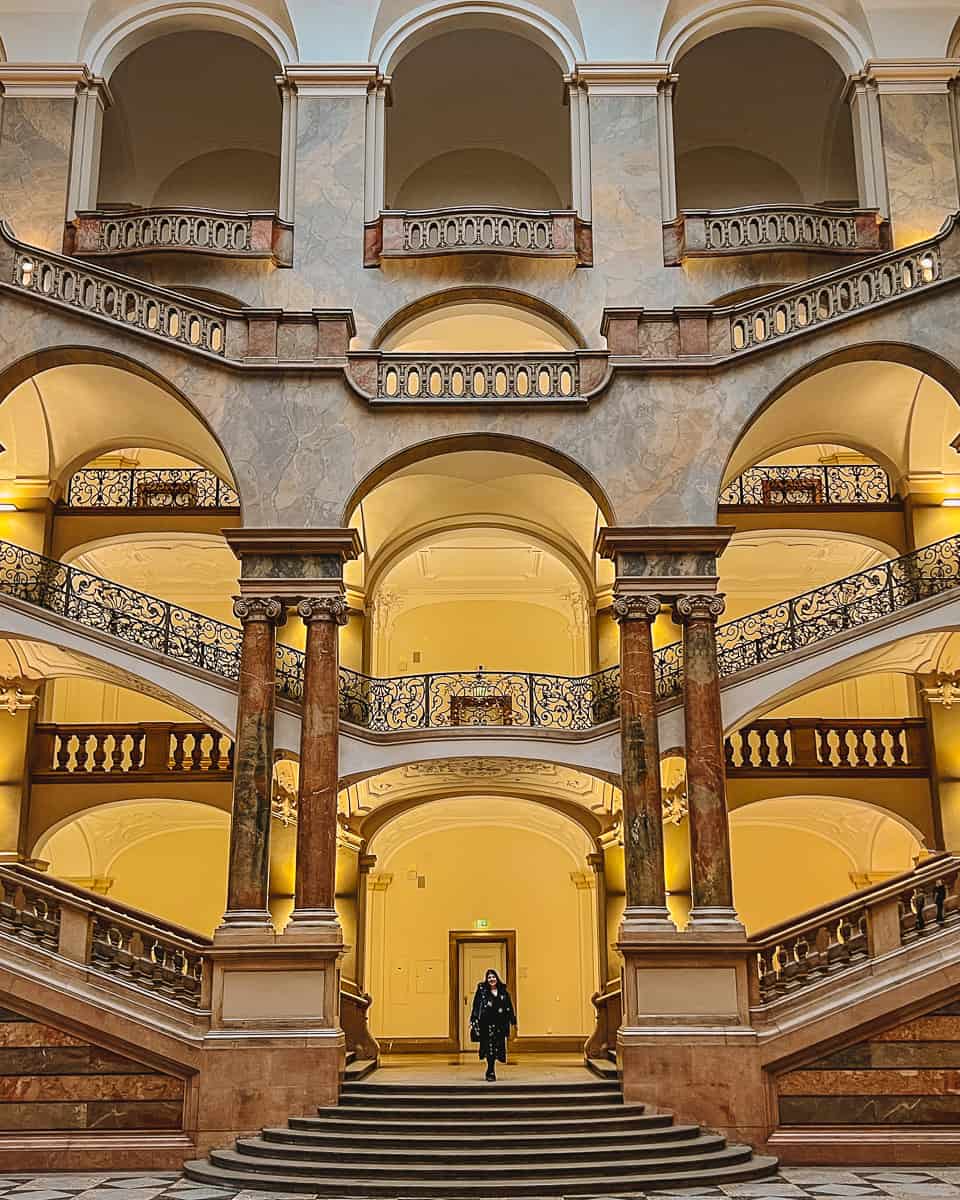 Justizpalast history
The Munich Palace of Justice is the seat of the Bavarian Ministry of Justice and it was built between 1890 and 1897 by the architect Friedrich von Thiersch.
It was designed and constructed in a Neo-baroque style with symmetrical staircases, statues and a huge glass dome on the ceiling. It's made up of two buildings with central courtyards.
Many famous court cases have taken place here over the years including the sentencing of the White Rose resistance group in 1943.
Members of this group were against the Nazi regime and handed out opposition leaflets. They were arrested by the Gestapo, interrogated and faced 'show trials' here by the People's Court.
All were found guilty and executed. Room 253 in Justizpalast is now a permanent memorial of these harrowing events.
There are two Justizpalast buildings in Munich. The New Palace of Justice was built in 1905 as the old one was considered too small.
It was also constructed by Friedrich von Thiersch in a red brick Gothic style. But, personally, I think the original justice building is far more impressive.
Today, court cases and legal proceedings happen here every day. It's an important government building in Munich but members of the public can visit!
How to visit the Justizpalast Munich
If you are a local resident or tourist and wanted to visit the Justizpalast then it's very easy to do so in Munich. You don't have to prebook a tour or anything like that, just turn up anytime that it's open.
Munich Justizpalast can be found in the city centre on Prielmayerstraße 7 which is near Karlspatz. It can be found in the northwest corner (Stachus). Click here for a Google Pin.
You can walk to the Palace of Justice from Marienplatz quite easily or make use of Munich's subway and tram transportation.
Take any of the subway trains heading to Karlsplatz and you'll find the entrance to Justizpalast near the station exit.
What's even better is that it's completely FREE to visit the Justizpalast Munich. You just need to go through some strict security checks to be allowed inside.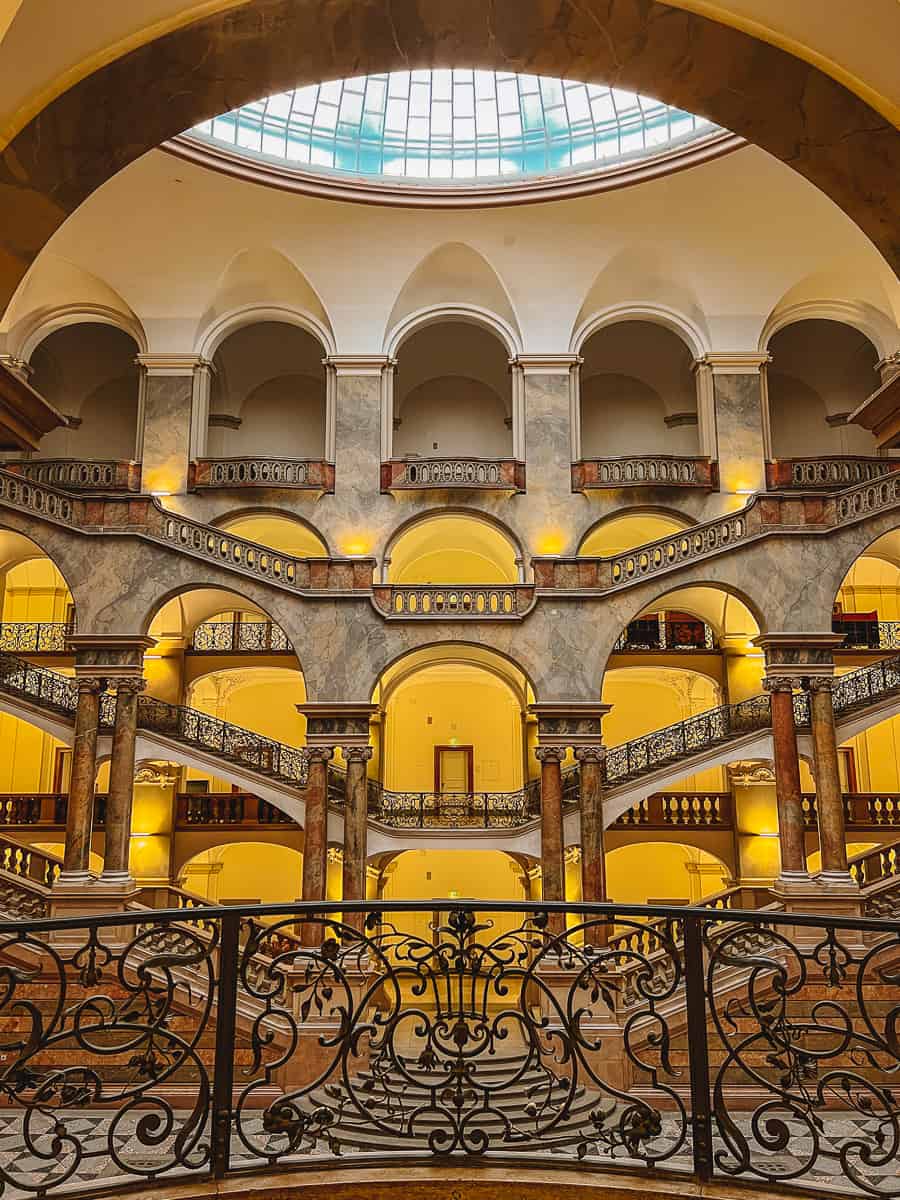 Justizpalast Munich opening times
Before you plan a visit to Justizpalast, you should definitely check their opening times as the building is only open during the week.
The Munich Palace of Justice is open from Monday to Thursday 8 am – 3 pm. On Fridays, it opens 8 am – 2 pm. It completely closes on the weekends.
There isn't really an ideal time to visit for photography. It will mostly be quiet throughout the day save for a few people walking between rooms.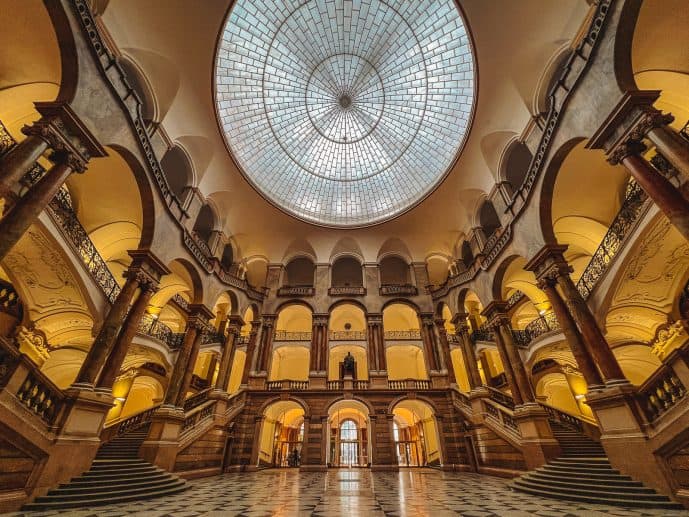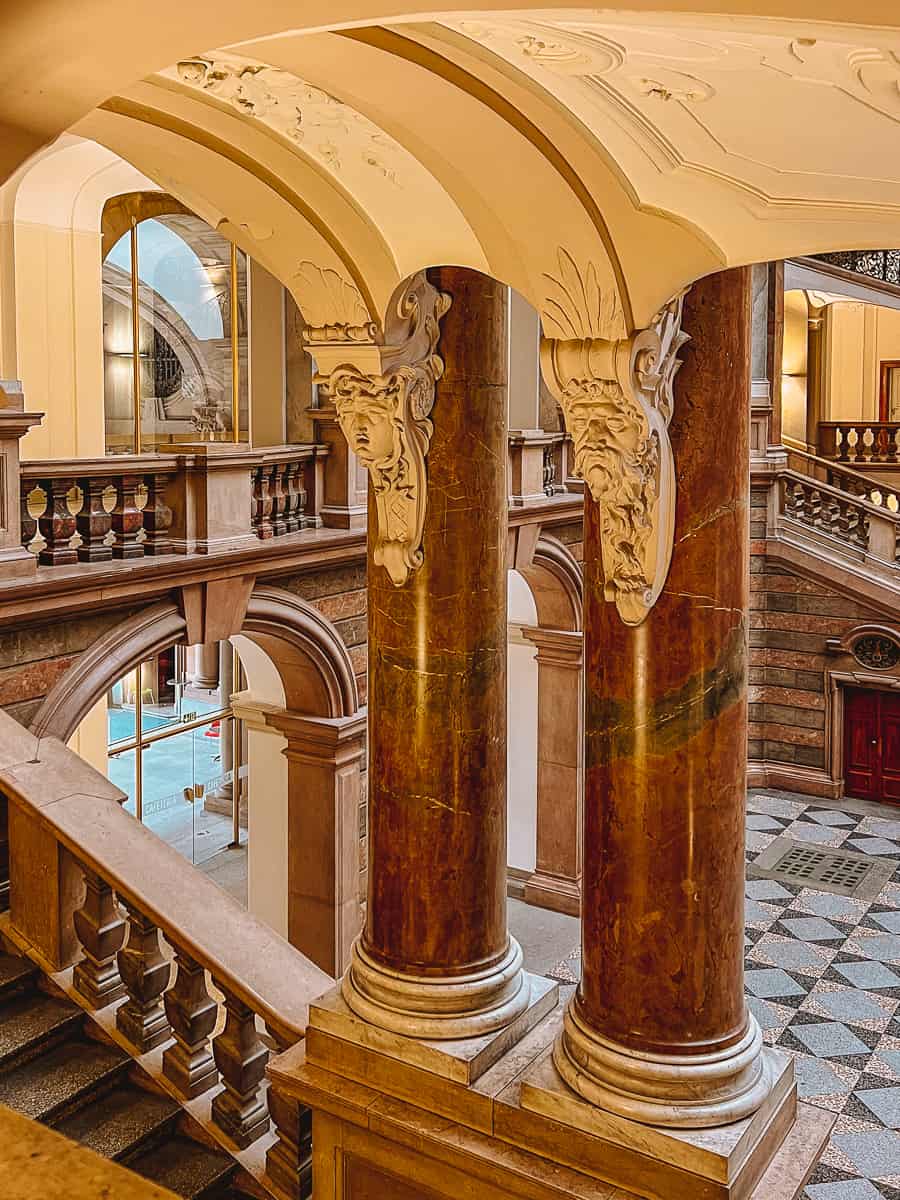 Justice Palace security checks
There are some tight security checks to enter the building, so don't bring large backpacks or suitcases with you.
As soon as you enter Justizpalast Munich, you will need to state the reason for your visit to the security guard at the desk.
The reason is that many people visit here for court cases or legal proceedings. But, if you're a tourist, just tell them that you would like to visit to have a look around and take some photos.
You'll then be directed to the security line. You will need to put your bag through a bag scanner. You'll need to remove your phone and any heavy coats/jackets too if you're wearing one.
After your bags have been scanned, walk through the metal detector and then you'll then be patted down by another security guard and body scanned.
Although it seems like a lot just to enter a building, it's over in a few moments and at least you know you'll be super safe inside!
Exploring the Justizpalast Munich
Once you've passed the security checks, you can then explore the building self-guided and at your leisure.
Although there are corridors that lead to other parts of the building the main interest would be the central hall with its symmetrical staircases, statue and glass dome.
The architecture inside here is breathtaking and at every level you ascend, the views just keep getting better! You can take as many photos and videos as you like.
You're free to wander to the very top floor and this is where the best photography spots are in my opinion.
But, I was a little afraid to set up a tripod here just in case it bothered anyone. I didn't want to get in trouble.
Just remember that this is still a courthouse and working office so you should act respectfully in the space.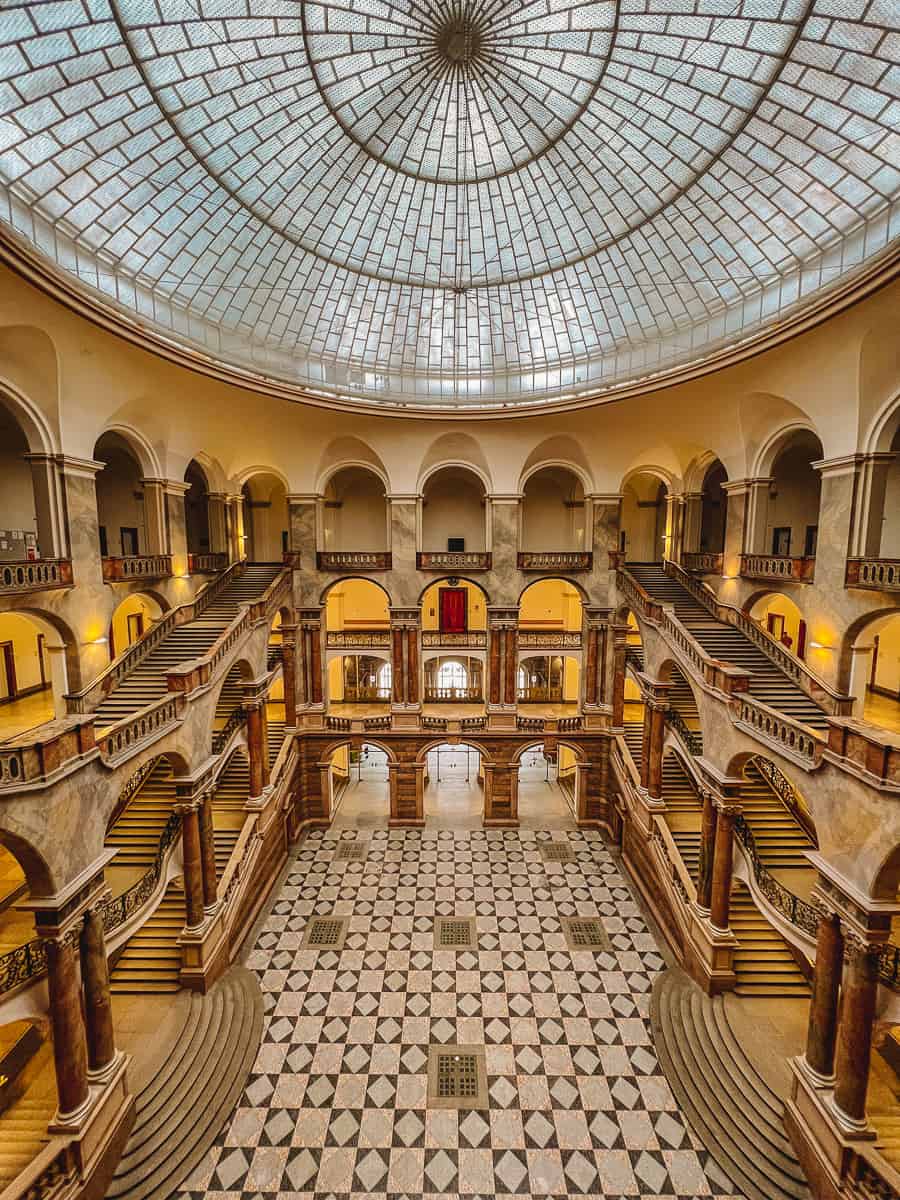 Room 253 White Rose Memorial
Although the building is a great photography location and historic building, it's worth visiting some of the exhibitions here including the Weisse Rose (White Rose) memorial in Room 253.
The Weisse Rose was a non-violent resistance group that created 6 opposition leaflets against the Nazis and distributed thousands of them.
The group was established by siblings Sophie and Hans Scholl who were students at the University of Munich.
They were caught, arrested by the Gestapo, interrogated and then the People's Court held their trials at Justizpalast.
These were essentially 'show trials' to send a strong message to anyone who would think to do the same.
The members were found guilty and beheaded by guillotine later that day at Stadelheim Prison.
You can visit room 253 to see the room where these events took place and it has been preserved as a memorial to them.
If you wanted to find out more, there is a German movie called Sophie Scholl – The Final Days. Parts of it were filmed in this very building.
Justizpalast Botanic Garden
If you were just wanting to admire the building from the outside, a great place to do this is from the botanic gardens adjacent to it.
From here, you can enjoy the gardens and see the amazing architecture that makes up this neo-baroque building.
The glass dome at the top of the building stretches to a height of 67 metres and you can see many statues on the rooftop as well.
It really is one of the most impressive historic buildings in Munich and well worth visiting if you have the time on your holiday.
Looking for more things to do in Munich?
Munich is the capital of Bavaria and is filled with incredible historic buildings, streets and palaces to explore!
After you're finished at Justizpalast, you can head over to the Altstadt (Old Town) to see more amazing sites.
Marienplatz is the main square and from here you can see the Old Town Hall (Altes Rathaus) and New Town Hall (Neues Rathaus).
The New Town Hall looks like it was built in the middle ages but it was actually only constructed in the 19th century.
It's home to the magical Munich Law Library that looks like something from Beauty and the Beast or Harry Potter!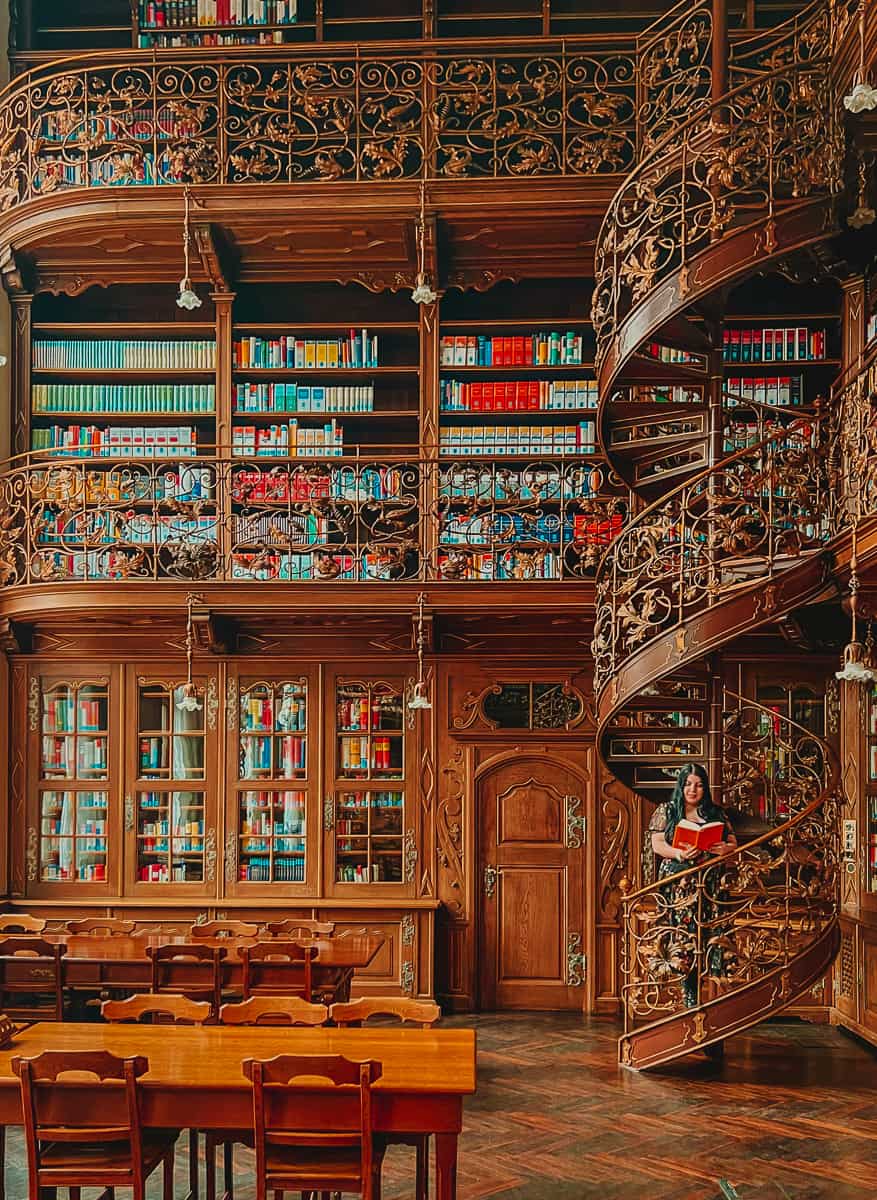 You can climb up to St Peter's Church tower to get incredible views over the main square or Marienplatz. But, be aware that there is no lift and you'll be climbing just over 300 steps.
I would also recommend heading into the beautiful Asamkirche on Sendlinger Strasse. Inside, you can find one of the most gorgeous church interiors I have ever seen.
Residenz is another museum that is a must-visit in the city. It was the former royal palace of the Wittelsbach monarchs of Bavaria.
It has hundreds of rooms but the most famous is the Antiquarium which was a former ballroom!
There is also the Nymphenburg Palace which was a summer residence for Bavarian Kings. The Grand Ballroom and the Hall of Beauties are a highlight.
Or, why not take a rest in one of the Munich beer halls? Hofbräuhaus München is the oldest and most popular and serves up beer by the litre, pork and potato dumplings to the sounds of traditional Bavarian music.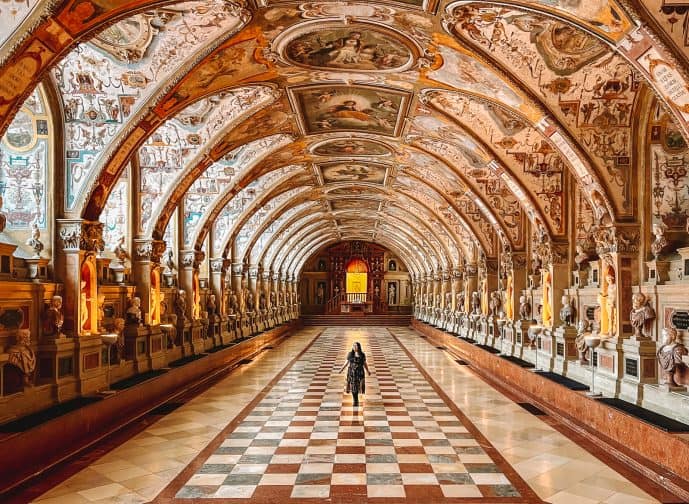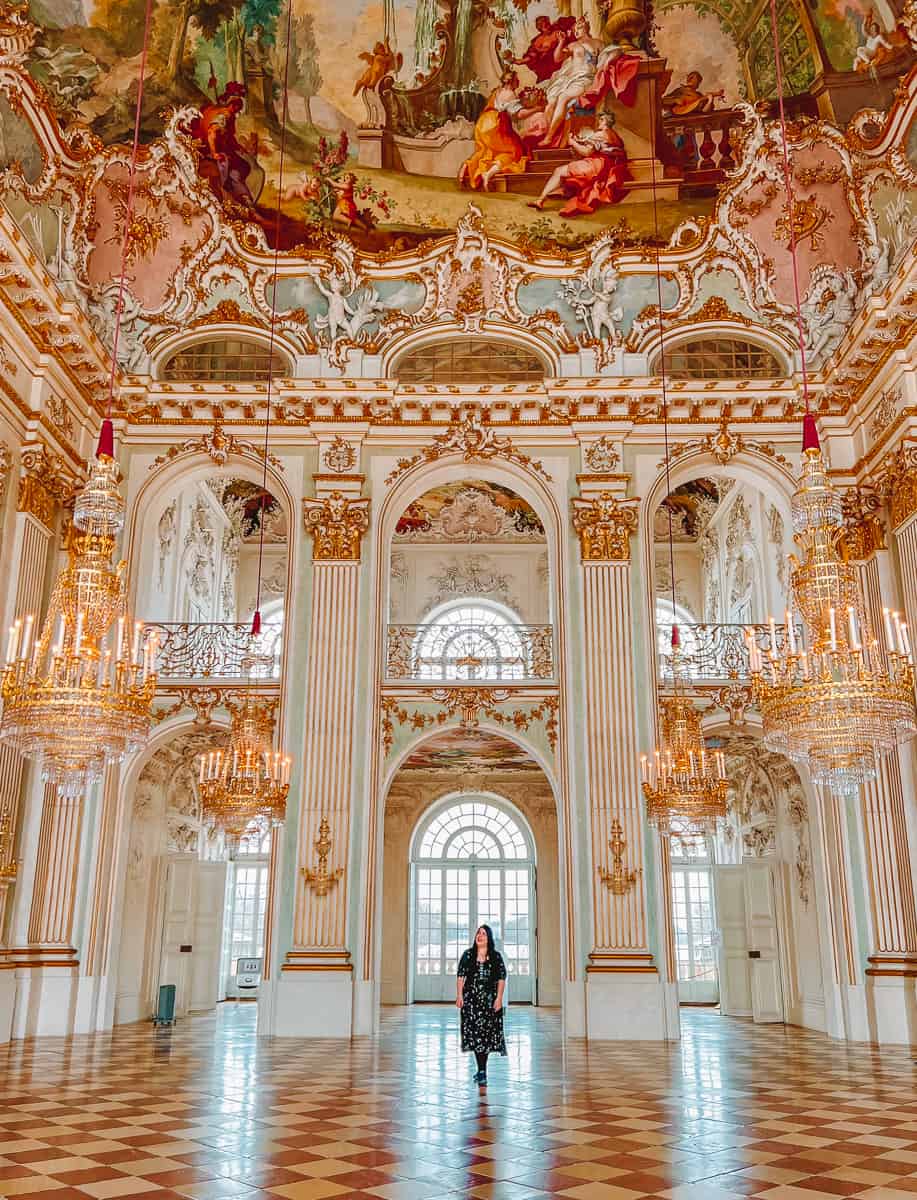 Read more of my Germany travel guides
A guide for the fairytale Wiblingen Abbey library
Magical Plönlein in Rothenburg ob der Tauber
Is Hohenschwangau Castle worth visiting?
is visiting Neuschwanstein Castle in winter worth it?
Is it worth going inside Neuschwanstein Castle?
Save how to visit the Justizpalast Munich for later!