Ever since I was a kid and I first watched Merlin starring Sam Neill, I have been obsessed with the legend of King Arthur.
So, when I heard that there was a King Arthur's Cave in Wales that was near Symonds Yat and Monmouth. I jumped at the chance as I was in the Wye Valley area!
It sounded so exciting as this historic cave has connections to the Arthurian Tales and also the legend of King Vortigern too.
Although many articles said that this cave was easy to find. I'd have to politely disagree. It's anything but.
I drove round and round in circles on these terrible single-track roads. Even when I arrived at the car park, locating the cave was no easy feat as there are no signs at all!
So, in this post, I'm going to provide some detailed directions on how to find King Arthur's Cave Wales.
If you're looking for King Arthur's Cave in Cornwall, this is called Merlin's Cave beneath Tintagel Castle. You can read about how to visit Merlin's Cave in my guide here!
What is King Arthur's Cave Wales?
King Arthur's Cave is a limestone cave that can be found beneath a cliff in Lord's Wood in The Doward, Wye Valley.
This is just a few miles from Symonds Yat and the historic town of Monmouth in Herefordshire.
It's located around 285 feet above the River Wye and it's a protected site within a Nature Reserve called the Doward Living Landscape.
The cave was formed organically by carboniferous limestone which is dated to be around 400 – 350 million years ago.
It's one of only five caves in the UK that were used as a dwelling for early man during the Upper Palaeolithic era. So, it's been providing shelter since 80,000 BC.
Recent archaeological digs have found evidence of flint tools, human bones, hyenas and even wooly mammoth remains here.
It has two large separated chambers to enter the cave and they are connected by a small tunnel that runs through the back.
The main reason why it piques the interest of so many visitors is because of its connections to King Arthur and Merlin.
King Arthur's Cave legend
The reason why King Arthur's Cave get's its fantastic mythological name is because of its association with the legendary ruler of Camelot.
If you're not in the know, King Arthur of house Pendragon was a British leader that is mostly remembered through folklore, poems and fairytales.
He had a castle at Tintagel, was taught by Merlin the wizard, wielded the magical sword of Excalibur and defeated Saxon invaders. He's also been associated with the Holy Grail and the Knights of the Round Table.
There are so many legends and places in the UK associated with King Arthur, it's hard to keep count. But, this historic cave in Wales is a popular one amongst them!
There is a local legend that says King Arthur hid out here from Saxon invaders in this very cave.
He decided to bury his treasure deep under the cave. Merlin cast a protection spell so that it could never be taken!
Others say that it got its name due to a curious looking rounded stone tablet that used to be inside the caves. It had a resemblance to the Round Table of Camelot!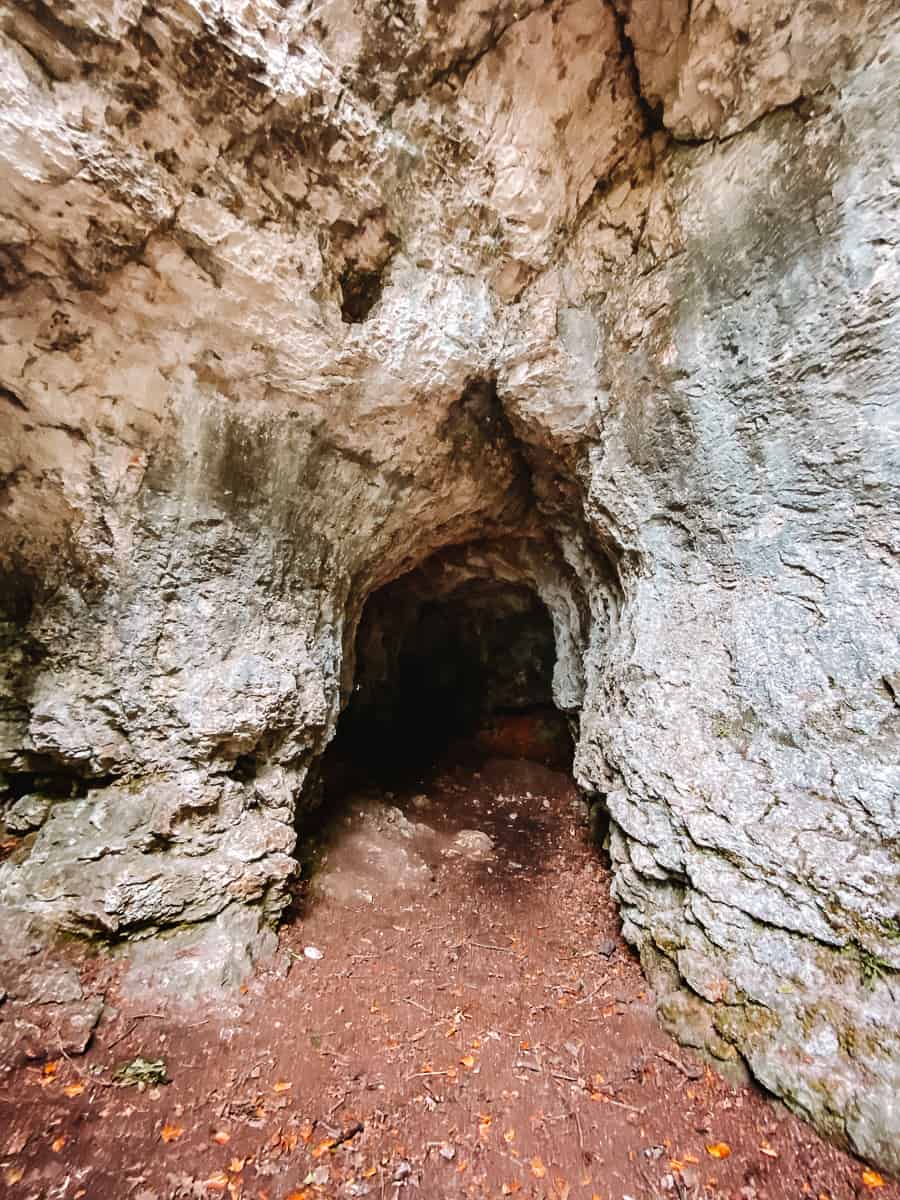 King Vortigern's death
There are other legends that say this cave has links to the legendary King Vortigern and his untimely end.
He was a 5th-century warlord and King of Britons. But, he also has connections to the Arthurian Tales and Merlin.
He is thought to be a brother to Uther Pendragon, King Arthur's father! This makes Vortigern Arthur's legendary uncle.
No, it's not because of Jude Law's performance as the tyrannical ruler of Camelot in the 2017 'King Arthur: Legend of the Sword' Movie.
It's actually from earlier writings like 'Bede' in the 8th-century and Geoffrey of Monmouth's 'History of the Kings of Britain' written in the 12th-century.
Even then, Vortigern had bad press for being a treacherous over king! He is thought to have arranged the murder of his little brother, Constans, in order to seize the crown.
Traditionally, its thought that Ambrosius Aurelianus takes over the crown from King Vortigern on his death.
According to the Welsh version of this story, Vortigern was stationed at the Iron Age Fort of Little Doward which is nearby this cave.
Ambrosius then lays siege to the fort, it catches on fire and Vortigern dies in the flames!
So, that's why many believe Vortigern's bones were buried here nearby at King Arthur's Cave.
King Arthur's Cave history & excavation findings
So, where did these legends come from and why do people believe this cave is associated with the Arthurian tales?
Well, apart from all the early local folktales and written stories. A woman herding goats found a set of bones located in this cave that were gigantic in 1695.
She instantly thought that the bones were that of King Arthur's and so hurried to gather them. She then sent off the skeletal remains to her friend Mr. Pye who was a surgeon from Bristol.
He set off on a voyage to Jamaica and, strangely, decided to take these bones with him on his journey.
Unfortunately, tragedy struck while they were sailing and the ship sunk in a violent storm. The bones were lost forever at sea!
So, I guess we will never know if they really did belong to Arthur or Vortigern.
However, further excavations were carried out in 1871 and again in 1925. It was here they found the evidence of early humans from the Upper Palaeolithic period. Even later Roman activity with some findings of pottery fragments.
In 1955, a further investigation was carried out but they didn't find anything new worth reporting!
Today, it's a protected monument but visitors are welcome to explore inside on their visit to the Wye Valley.
Note: Digging here is strictly forbidden as it's a protected monument – you need permission!
What was filmed at King Arthur's Cave in Wales?
So, before my visit, I had no idea that quite a lot has been filmed here for the big screen and small!
As a long time fan of the hit BBC series Merlin, I didn't realise that they used this legendary cave as a filming location.
In the episode Another's Sorrow in series 5, Princess Mithian travels to Camelot and asks for Arthur's help to rescue her father Rodor. She says that Rodor is trapped in a mausoleum over the border.
Of course, it's all a trap but the caves act as the entrance of that mausoleum!
Also, Guy Ritchie used this location to film King Arthur: Legends of the Sword in 2017 with Charlie Hunnam as Arthur.
Are you looking for more Merlin filming locations in the Forest of Dean? You can visit the magical Puzzlewood or you can head to Speech House Lake which was the Lake of Avalon! Or, why not take a trip to the Camelot Castle filming location in France?
Where is King Arthur's Cave Wales?
Unlike most caves relating to King Arthur that are extremely difficult to locate or are just myth.
This cave is real and one that you can access relatively easily on a short walk through The Doward Living Landscape reserve.
The reserve is located in the Wye Valley, which is on the English-Welsh border in the south west of the UK.
The place that is most convenient to access for the walk and is closest to the cave is called 'Biblins'. This is in the north-eastern area of the Lord's Wood.
You can access The Doward and Biblins around 2 miles from the popular riverside village of Symonds Yat. Or, it's 4 miles from Monmouth and 10 miles from Ross-on-Wye.
So, it's a great pitstop to make if you're on a Wye Valley road trip! Or, if you're looking for some walks near the Wye River.
There are NO tourist signs for King Arthur's Cave. Not even when you arrive at the reserve. So, I'll do my best to give you proper directions below!
The easiest way to get there
By far the easiest way to access The Doward reserve is to drive there. You will approach the entrance on the A40 dual carriageway between Monmouth and Ross-on-Wye.
You'll find a turning for the Stoney Hill Industrial Estate. Plus, underneath, there is a sign for 'Doward' and 'Crocker's Ash'.
From the junction turning, take a right and follow the signs for 'Doward' and 'The Biblins'. You'll eventually turn off left on a single-track country road.
I will warn you now that this drive along these country roads is not pretty.
It's steep and winding single-track roads with high hedges and little to no passing places. Drive with care and slow down at sharp turns.
Keep following the signs for 'Great Doward', 'Doward Campsite', 'Biblins' and 'Biblins Youth Campsite'.
Eventually, the signs for 'Doward' will just fall off into thin air. But, persevere with 'The Biblins' as this is where you'll need to be for King Arthur's Cave.
You'll eventually see a very inconspicuous dark green sign, close to the floor, that blends into the landscape. It reads 'Forestry Commission – Biblins' and 'Parking 50m ahead'.
Shortly after this sign, you'll need to take a sharp right turn into a public car park. This is near the Biblin's Youth Campsite and so I would put this address into your SatNav.
Biblins Youth Campsite, Ross-on-Wye, HR9 6DX
But note, there is no official sign pointing you into The Biblins car park when you reach the turning.
As I was concentrating on these tiny roads, this is how I got lost so many times! I understand it's very remote in the countryside but the forestry commission signage here is extremely poor for drivers.
King Arthur's Cave Parking
So, once you've turned in, you'll pass the entrance for the Biblins youth campsite on your left. Drive straight down and you'll come across a car park here.
It's a large gravel car park and, from my understanding, this is completely free to park in.
But, again, there were no signs on whether this was a private car park or owned by the Forestry Commission. So, I cannot be completely sure.
However, if you do find that this car park is not open or charges for any reason. There is a smaller car park you can pull into just further up from the Biblins Campsite entrance.
This is also free and has room for just a couple of cars to pull into.
I ended up just dumping my car in that little spot as I got so fed up with driving around in a loop on these single track roads!
I then proceeded to walk onto the main road, down towards the Biblin's Youth Campsite. From here, you can enter the Lord's Wood and find the cave.
How to find King Arthur's Cave in The Doward
In this gravel car park and entrance, there is a National Lottery sign. This welcomes you to The Doward and has some photos of the cave.
There was a little bit of information here with the history and excavations. Plus, what wildlife can be found here.
Finally, I thought, there is something about the cave. A good sign considering the awful drive!
But, although it had information about the cave. The sign had no directions at all on how to find King Arthur's Cave in the forest!
There was not even a basic area map with popular walking routes in the Doward etc.
You'd think, as the cave is so famous in Wales, there would be something?!
So, you're basically on your own to try and find the cave from here. There is a Google Map pin but I didn't have any phone signal as it's remote and in a dense forest.
Luckily, I managed to come across another family who were visiting the caves. They had the exact same issue in trying to find it as me!
They were kindly able to give me some directions. So, with a little faith, I carried on hoping to find it!
Some directions on locating the cave
So, once you head inside the Lord's Wood from the car park nearest to Biblins Youth Campsite. You'll need to head on straight through the forest and following the beaten path downwards.
Then, you need to make a gradual right turn that swoops downwards through the forest glade.
From the bottom, you head right and loop back on yourself towards the bottom of the limestone cliff to find the cave.
There are not many markers, signs or pointers really here to reference, unfortunately.
I honestly felt like I was walking on blind faith and was completely lost. I was on my own as well and a bit creeped out as it was so remote.
Of course, I know that is part of the fun and the adventure. Blah, blah. I guess, I just expected there to be a bit more to advertise it as it's so popular!
Avoid taking any shortcuts or veering off the beaten pathway here as the cave is located at the base of a limestone cliff. There are unexpected steep drops.
What to expect when you get to King Arthur's cave
So, as you can probably guess, I was more than a little ecstatic when I finally found King Arthur's Cave in the forest.
It felt like an absolute mission but I'm not a quitter and I was absolutely determined.
Fortunately, the hard work, trust and stubbornness paid off and I was rewarded with this magnificent fairytale location!
Although I know this is related to King Arthur, it honestly did look like something you'd find in Robin Hood Prince of Thieves.
The caves were much bigger than they looked on the photos I had saw online. As it was nearing sunset, they were also really dark inside. So, I'd definitely recommend a torch to explore.
As I was by myself, I was hesitant to go too far inside and walk through the tunnel at the back. But, it was super cool to investigate.
Sure enough, one of the caves had a space big enough for a round table!
Could this really be a resting place of legendary kings? I guess you'll have to see it for yourself to decide!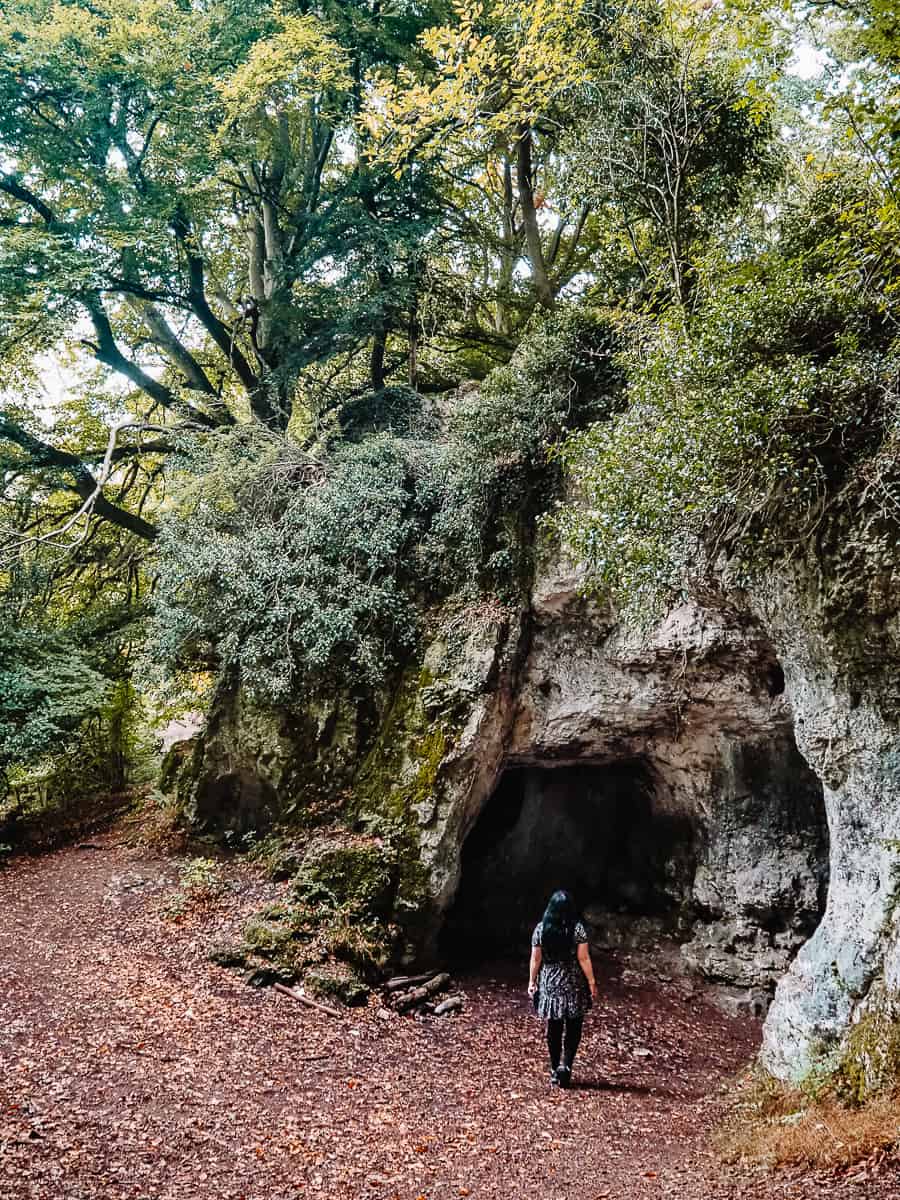 A mysterious labyrinth
On my visit, a passing traveller or artist had left a really awesome labyrinth maze near the cave.
It was made of limestone rocks and you could circle around it if you wanted too.
So, to whomever made this – thank you!
Labyrinths are often associated with Paganism, Queen Mab, King Arthur, and even the enchantress Morgan Le Fay.
It is said that Glastonbury Tor was itself a labyrinth and it's a maze that would eventually lead you to the Kingdom of Annwn, or the underworld!
This name eventually transformed into the Isle of Avalon and this is where King Arthur's sword Excalibur was forged. Also, many say the Holy Grail is buried under that labyrinth.
The Isle of Avalon is also the location where Arthur is brought to recover from his mortal wounds after the Battle of Camlann. Some say Morgan le Fay ruled over it!
Glastonbury Abbey nearby is also where King Arthur and Guinevere are supposedly buried in Avalon.
Click here to read more about the Glastonbury Tor labyrinth
How long is the King Arthur's Cave walk?
The King Arthur's Cave walk took me around 10-15 minutes one way from the car park entrance.
I would leave at least 45-60 minutes minimum for your round trip.
This will allow you enough time to arrive here on the country roads and find parking. You'll need to plan some time to find the caves in the forest and, due to no signage, it's easy to get a little lost.
Also, you will need to explore inside the cave as well. You may find you spend even longer here than you first anticipated!
Opening times and entry fees
Entry is completely FREE to see King Arthur's Cave.
There is limited parking which is also free in The Doward Reserve but there is no overnight or 'wild' camping option for camper vans. You can always enquire at Biblins campsite for information.
Opening times for King Arthur's Cave are 24 hours a day. But, it's recommended to visit dawn till dusk.
I wouldn't personally come here at night time. There are zero lights to speak of as it's in the remote countryside.
Things to prepare for your visit
Torch – The caves are really dark and pretty creepy to explore. So, you'll definitely need a light to see where you're going. You can easily use the one on your phone!
Access – the pathways are not well laid and unsurfaced. It's a rough, sometimes steep and uneven forest track. So, those will mobility issues may find this walk a challenge
Dogs are welcome to King Arthur's Cave Wales but must be kept on a lead at all times
A good pair of shoes – Although it's a relatively easy walk through the forest. There is little to no sunlight that reaches the floor through the dense trees. So, the ground remains quite wet and sodden all year. Wear a good pair of ankle supporting shoes!
Some suitable clothes – Wales is notorious for it's rainy days. So, come prepared with some clothing and a spare coat if it rains. Luckily, it is quite sheltered with the trees.
Water and snacks – As it's so remote there are no facilities for miles. The nearest places are Symonds Yat and the larger town of Monmouth. I'd bring a bottle of water and snacks with you!
Where to head next?
The Doward Living Landscape reserve consists of the Little Doward and Great Doward Hills. Plus, two hectares of woodlands to explore.
The routes around here will eventually lead you to the Seven Sisters Rocks and the Wye River. So, if you did want to do some serious hiking, it's a great place to go!
There are even more pre-historic caves to explore like the nearby Merlin's Cave near Old Forge.
You'll need to walk for a further 1.5 kilometres further along the Biblins side of the Wye River. The cave entrance can be found by taking a steep incline after that.
But, if you have had your fill of exploring The Doward, it's easy enough to return the way you came and back to the car park. Then, it's onto civilisation!
As you're right by the A40, you're on the access road to the Wye Valley. One of the most spectacular drives in UK on the English-Welsh border.
Looking for more things to do in Wye Valley?
The Wye Valley is, in my opinion, one of the most beautiful areas of the UK that is often overlooked.
You can visit historic sites like the magnificent Tintern Abbey or the Monnow Bridge in the quaint market town of Monmouth. Or, make a journey up to The Kymin with spectacular views.
Nearby the cave, you can head to the gorgeous riverside hamlet of Symonds Yat or hike up to Yat Rock for some views over the Wye.
Ross-on-Wye is also a lovely spot for a tour with their quaint historic market hall. Or, you can head to the famous Goodrich Castle. This is also where they filmed the hit BBC series of Merlin!
Puzzlewood is also not too far of a diversion from Wye Valley and this is also where they filmed scenes from Merlin and other fairytale movies as well as Speech House Lake.
There are so many walks, towns and places to explore. It's well worth planning a road trip for the day to tick them all off. Why not head out on the Forest of Dean Sculpture Trail?
Read more of my King Arthur inspired articles!
Hiking up Glastonbury Tor in the Isle of Avalon
Visiting Pendragon Castle in the Yorkshire Dales
How to visit the Lake of Avalon from Merlin
How to visit King Arthur's Castle in Tintagel
The magical Merlin's Cave in Cornwall
Visiting the Lost Lands of Lyonesse in Cornwall
Things to do at Uffington White Horse & Dragon Hill
Save this King Arthur's Cave Wales post for later!