One of the most magical beaches in Cornwall has to be Kynance Cove with its dramatic scenery, white sand, and crystal-clear turquoise waters.
It's located on the Lizard Peninsula which is the most southerly point of Britain and is surrounded by a series of jagged islands on the South West coastline.
Considered to be one the most beautiful beaches in the world, it's a place you cannot miss when visiting Cornwall.
Fans of Game of Thrones will also recognise this beach as it was used in the House of the Dragon series as a filming location.
Although this beach is beautiful, there are many things you need to consider before visiting like the tide times, the steep walk down, and how to avoid the crowds.
Here is how to visit this beautiful beach in Cornwall with top tips and all the magical things to do in Kynance Cove!
Kynance Cove history
It is thought that the cove was formed over 375 million years ago from molten rock.
The name Kynance comes from the Cornish word 'kewnans' meaning ravine as there is a stream that snakes through the valley and cuts across the beach.
It became very popular in the Victorian era after Queen Victoria and Prince Albert's visit. Also, poets like Alfred Tennyson and Algernon Swinburne mentioned it in their works.
The beach has appeared in many TV shows including Agatha Christie's 'And Then There Were None', Poldark, House of the Dragon, and Sherlock Holmes.
Today, the draw of dramatic views, white sand, and colorful water mean this is one of the most popular beaches in all of Cornwall. It sees thousands of visitors every year.
It's owned by the National Trust, a registered charity, which conserves and protects the landscape.
How to visit Kynance Cove in Cornwall
Kynance Cove is located on the Lizard Peninsula in Cornwall which is the most southerly part of Great Britain.
You can access the beach on the A30 road that runs from Devon to Cornwall and turn off at Helston towards the Lizard on the A3083 road.
The turning for the cove will be clearly marked by a brown tourist sign but you will be driving along a narrow lane with speed bumps and passing places. So, drive with caution.
Eventually, you'll see signs for the car park. Then, it's a 10-15 minute steep walk down to the beach from there.
If you're not driving, you can get a bus from Helston that runs to the Lizard. The number 37 service will drop you off at Lizard Village and you can walk a mile from there.
Or, you can hike here on the South West Coast Path from either Mullion Cove or Lizard Point for an extended adventure.
Kynance Cove adress is Helston TR12 7PJ. Click here for a Google Pin!
Kynance Cove parking
There is a large car park provided by the National Trust for parking at Kynance Cove and this has a charge of £7 all day.
If you're a National Trust member, you can park up for free. Just scan your membership card at the parking machines.
Although the car park is large, note that this is can get very busy and is known to be full by 11 am in the peak months of July and August.
So, I would visit earlier rather than later to guarantee a parking space and avoid disappointment.
Things to do in Kynance Cove
So, what is there to do at Kynance Cove when you get there?
Well, beyond the obvious draw of the beach, there is a café, wildlife spotting, caves, coves, and scenery all around you. Plus, walks that can take you to other parts of the coast.
Here are all the magical things to do in Kynance Cove.
1. Take in the epic views from the clifftops
Before you even get down to Kynance Cove, you'll be in for a real treat on the clifftops surrounding the area.
Before you descend down, the clifftops here proved some picture-perfect views of the beach and sea stack islands.
These are usually the images you can see in the guidebooks for Cornwall and postcards so make sure to have your camera ready for some pictures.
On a clear day, you can see for miles down the coastline and the water will be in gorgeous shades of blue.
Note: to protect the area, the National Trust often put ropes up to protect the cliff areas in peak season. But, there are dramatic views to be had all around the cove.
2. Spot Asparagus Island & Prince Albert's Rock
Did you know that many of the stacks and islands in this area have names?
The largest is called Asparagus Island due to the fact that wild asparagus grows around here.
There is another called Steeple Rock, Serpentine Rock, and Sugarloaf Rock under Tombolo beach.
You'll also find another called Prince Albert's Rock which got its name from when Prince Albert visited the cove with his children in 1846.
All of the stacks and coves are free to explore here. But, remember to take care as it's a wild and unforgiving landscape where the weather can change dramatically.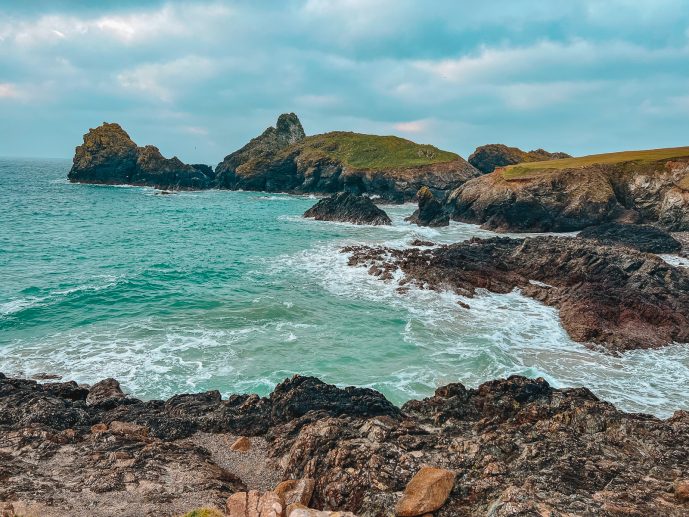 3. Walk down to Kynance Cove beach
It's good to note that the walk down to Kynance Cove beach is quite steep and has some steps.
The last part of the hike requires you to walk down a steep staircase and across some boulders to the beach and café area.
I would definitely have some sturdy footwear on, flip flops may be hard to walk down in.
If you would like to avoid steps, there is an alternative path you can take called the high tide route.
This is a lot longer and you'll be elevated a lot higher on the clifftops but it is far easier on your legs and knees.
4. Visit the Kynance Cove café
Although the walk down to the beach can be quite steep, there is a lovely café waiting for you on the other side!
The Kynance Cove café is open every day from March – November but has limited opening times on weekends and half terms in winter.
They serve up a great range of hot drinks, cold drinks, breakfasts, light lunches, and homemade treats throughout the day.
There is also some locally made Cornish ice cream on offer and a small shop with souvenirs to purchase.
There is no indoor seating but there is some covered seating outside on the terrace and some picnic benches above the beach.
5. Visit Kynance Cove House of the Dragon filming locations
Fans of the Game of Thrones series will recognise this dramatic location from the prequel House of the Dragon. A show set 172 years before the Battle of King's Landing.
In House of the Dragon, Kynance Cove was used for the Stepstones. In Westeros/Essos, the Stepstones are a chain of islands between the southern narrow sea and the northwestern Summer Sea.
It's easy to see why HBO chose this filming location due to the series of jagged islands that jut out of the sea surrounding Kynance Cove.
In episode 2 'The Rogue Prince', we see the Triarchy and the Steptones and it plays a huge part in Prince Daemon Targaryen's story.
The Stepstones have become overrun with pirate crews led by Craghas Drahar aka The Crabfeeder.
So, Prince Daemon and Lord Corlys invade the Stepstones to claim ownership of them for Westeros and end his tyranny.
The Battle of the Stepstones took place right here at Kynance Cove! So, look out for places in the episode. Thankfully, there will be no Crabfeeder in sight.
6. Visit Poldark's Nampara Cove
Fans of the BBC Poldark series will also recognise this cove as the filming location for Nampara Cove.
Most of the series was set and filmed in Cornwall and many of the dramatic beaches were chosen as filming locations.
Nampara Cove is the beach located near Ross Poldark's ancestral home of Nampara where he lives with Demelza.
Many of the scenes for Nampara Cove were filmed here as well as at Porthcurno Beach.
Love Poldark? I've visited many of the filming locations including Killewarren, Corsham, Botallack, Levant, Porthgwarra, and Charlestown!
7. Go swimming at Kynance Cove
A popular question is 'can I go swimming at Kynance Cove?' And the answer is yes but only if you go at low tide.
Kynance Cove has a very forceful current at high tide with stacks and islands and it would be too dangerous to swim at that time.
But, in the warmer months at low tide, this is one of the best beaches to swim in Cornwall. So, pack some swimmers to cool off in the crystal-clear water. Leave your Floatables at home.
If you do decide to go swimming, just be mindful of the tide coming in. It comes in quicker than you think. Don't get caught out by the incoming tide. There is no lifeguard on this beach.
8. Kynance Cove mermaids pool & caves
The low tide really is where the magic happens at Kynance Cove as the waves part to reveal a white sand beach and many caves and pools you can explore.
The interconnected caves here have Victorian names like Lady's Bathing Pool and the Drawing Room.
But, many people like to travel over to the Kynance Cove Mermaid's Pool. It's a rocky pool filled with crystal clear blue water to go swimming in.
It can be found hidden in the cliffs opposite Asparagus Island and is only accessed at low tide.
9. Go seal & wildlife spotting
What I loved about the Cornish coastline is that you can spot so much wildlife around here on a walk.
The Lizard Peninsula is a popular place for porpoises and seals that will swim around the shallow waters.
Also, you can usually hear or spot red-billed Chough's which are a rare species of crow found around these parts. You'll often find them hunting for grubs.
If you're green-fingered, you'll love the plant life here on the clifftops. You can find wild asparagus, Cornish heath, lichens, and ferns.
10. Take the high tide route back
If you would rather not take the beach and steep steps route back, or the tide is coming in, there is a high tide path you can take back to the car park.
But, be warned that this path is much steeper and takes a lot longer to get back to the car park.
I did this on the way back as the beach was full of wobbly boulders on my visit and I didn't want to traverse over them again.
I actually found this route had some incredible views as you were so high up! Also, it was a lot kinder for my legs.
11. Hike the South West Coast Path
Kynance Cove is a popular spot on the South West Coast Path, a national trail that spans the entire coast of Cornwall and other neighbouring counties for 630 miles.
But, you don't have to plan a really long hike to experience it. You could easily follow this path for just 20 minutes and still find something wonderful nearby.
A mile from here, you can find a place called Soapy Cove. Also, there is Pentreath Beach and a number of points you could explore for jaw-dropping views over the sea.
12. Walk to Lizard Point & Lizard Village
If you did want to make a hike of it, you could take the South West Coast Path to Lizard Point.
It's another place that is owned and protected by the National Trust and is officially the most southerly point of Great Britain.
The walk is around 2 miles from Kynance Cove and will take you around an hour give or take. It again has dramatic scenery with wildlife spotting opportunities.
Once you get here you'll find Lizard Point, as well as a walk down to Lizard Beach and Polpeor Cove.
If you wanted a break, I would recommend the Polpeor Café which serves up a great breakfast, lunch, and homemade treats throughout the day with a panoramic view.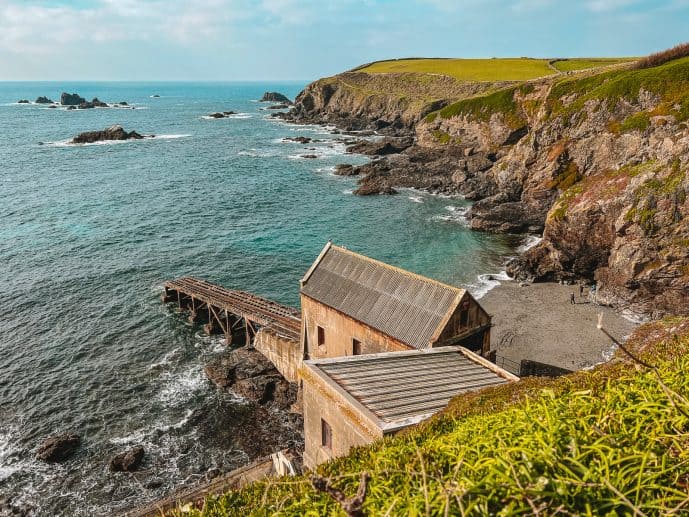 13. Walk to Mullion Cove
Heading the other way, you can walk on the South West Coast Path to the National Trust-protected Mullion Cove.
It's a gorgeous harbour called Porth Mellin on the eastern side of Mount's Bay and was built in the 1890s.
It was constructed to shelter a small fleet of fishing boats and is perfect for swimming in the cove! I used to stay here as a kid and I loved the peace and quiet there.
The Kynance Cove to Mullion Cove walk is around 4.4 miles or 7.1 km and will take you around 2 hours may be less if you are speedy.
Is Kynance Cove dangerous?
It can be if you're not careful and don't swim at low tide. It is not recommended to swim or explore the islands around Kynance Cove at high tide.
If you're visiting the beach at low tide, you will need to keep an eye out for the tide coming in as this does come in very quickly. You don't want to be caught out and there is no lifeguard on duty.
However, there is a High Tide route that you can take back to the car park if the beach route/steps are blocked by the sea.
It's also good to watch your step whilst visiting Kynance Cove. A lot of the landscape is uneven, there are steep steps and there are lots of slippery rocks.
Kynance Cove packing list
Sensible shoes – Although it is a white sand beach, the walk down to the cove is very steep and has lots of uneven ground and steps. I would have a good pair of walking shoes to head down here.
Swimming costume – Yes, you can swim at Kynance Cove at low tide. I'd have your swimmers prepared.
Protect yourself – The cove is completely exposed to the elements. if it is one of those rare sunny days in the UK, protect yourself from the sun with a hat and sun cream. If it's cold, bring a hat and coat.
Picnic & water – There is a café but there are places where you can eat a picnic too. Remember to take your rubbish home with you. Also, pack a water bottle to keep hydrated.
Wear layers – in winter, it can be freezing at Kynance Cove – especially on the clifftops. So, I would pack layers to keep warm.
When is the best time to visit Kynance Cove?
The best time to visit Kynance Cove would be on a sunny day in spring/summer when the weather is warm. This is when you'll get that white sand, turquoise water view!
But, even in winter, I found that this beach was utterly magical. The water was still so blue despite the grey skies.
It's also best to visit at low tide so you can step onto the beach and explore the islands. At high tide, it would be too dangerous to cross.
Kynance Cove is one of the busiest beaches in Cornwall and the car park can get full by lunchtime in peak season. So, I would also opt to visit early morning (tide permitting) for fewer crowds.
My top tips for visiting Kynance Cove
Check tide times before you go – for the best experience, visit at low tide so you can explore the beach and visit the café.
Mind your step – the walk down to Kynance Cove is very steep and can be uneven with lots of steps. The walk over the beach to the cafe is also filled with wobbly boulders.
Bring your camera – Kynance Cove has some of the most stunning scenery in Cornwall and the world. Bring your camera to capture the memory.
Visit early morning – the car park is known to get full by lunchtime in the summer and it's busy all year. I would visit earlier in the morning for fewer crowds.
Leave lots of time for your visit – I would recommend around 2-3 hours for visiting Kynance Cove. Even longer on a sunny day!
Can you stay in Kynance Cove?
YES, there is a Kynance Cottage that you can hire if you wanted to have Kynance Cove for yourself and sits behind the café. Prices start at £550 for the week.
It has one double bedroom with bunkbeds so it's perfect for families with young children. There is central heating, a living room, a fully equipped kitchen, and a bathroom.
The high tide route is actually a rough gravel road so you could drive down to the accommodation to park up at your cottage near the cove.
Imagine how magical it would be to stay down here and wake up to this fabulous view every day!
Click here to book your stay at Kynance cottage
Things to do near Kynance Cove
After you've finished exploring this magical beach, there are plenty of things to do in the Lizard Peninsula in Cornwall.
Just nearby you can visit Lizard Village which is the most southerly village in Britain. It's home to the Top House Inn which was supposedly a place Jack the Ripper visited.
Then, you can head onto Lizard Point to reach the most Southerly point of Britain. There is a seaside cafe called Polpeor that has a fabulous view of the coastline to spot seals and Lizard Beach.
One of the places I loved visiting was Cadgwith Cove which looks like you've stepped back in time! It's a historic village filled with thatched cottages and you can admire the views from the Todden.
You also have Mullion Cove, Coverack, Gunwalloe, and Church Cove as well which make great places to visit on a road trip.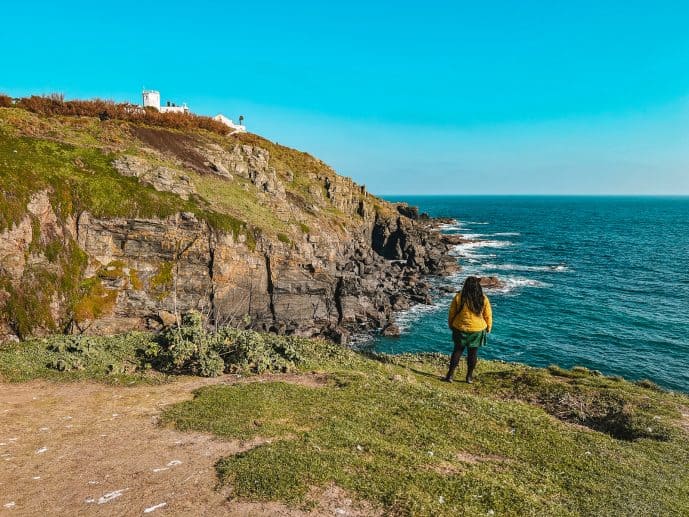 Kynance Cove FAQs
Do you have to pay for Kynance Cove? No, Kynance Cove is free to visit if you're hiking. But, cars do have to pay for parking. It's free parking for National Trust members.
Why is Kynance Cove famous? It's one of the prettiest white sand beaches in the entire world due to its white sand, turquoise waters, and dramatic scenery on the coastline.
Are there toilets at Kynance Cove? Yes, there are free public toilets located in the upper car park and behind the Kynance Cove café at the beach.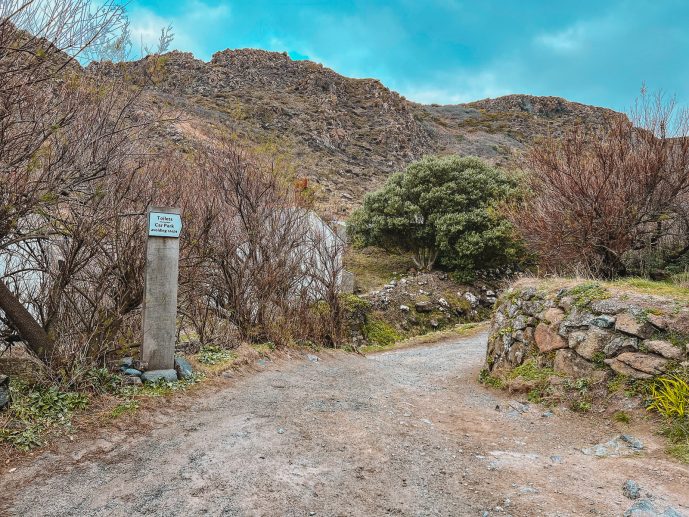 Is Kynance Cove dog friendly? Yes, dogs are welcome all year, but you must keep them on a lead.
Is Kynance Cove accessible? Not from the steps entrance in my opinion. But, there is a High Tide route you can take from the car park. This has no steps but can be VERY steep.
Is there a cafe at Kynance Cove? Yes, it's open every day from 10 am – 4 pm from March – November. In winter, there are also limited weekend and half-term opening times. Best to check before you arrive to avoid disappointment.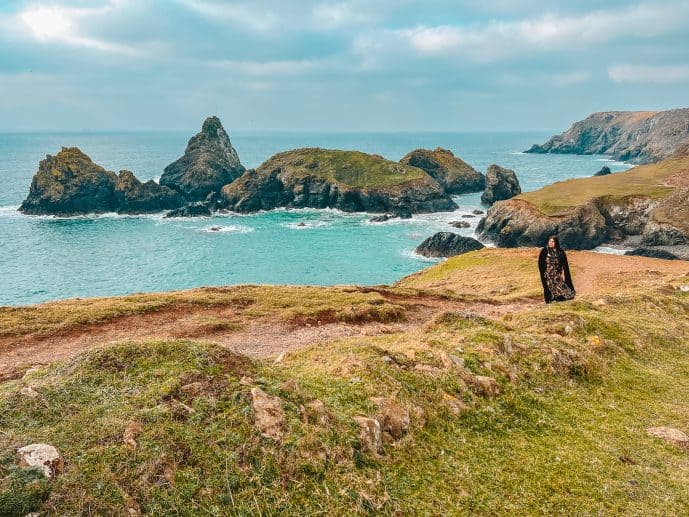 Read more of my Cornwall guides
How to visit Camelot Castle aka Tintagel Castle
Why you must visit St Nectans's Glen
Magical things to do in Boscastle
Things to do in Mousehole Cornwall
How to visit St Michael's Mount in Cornwall
Things to do in Charlestown Cornwall
The Museum of Witchcraft in Boscastle
How to visit the Lost Gardens of Heligan
Things to do at the Jamaica Inn
How to visit Golitha Falls in Cornwall
A complete guide for the Cheesewring Hike
How to visit Tregothnan Estate in Cornwall
A complete guide to Porthgwarra
Magical Things to do in Lands End
Why you must visit the Minack Theatre
Visit the secret Nanjizal Beach
Secrets of the Admiral Benbow Inn
Save these things to do in Kynance Cove for later!