A lot of travellers have heard of the iconic ruin of Tintern Abbey in Wales. But, not many have ventured out to see the equally as impressive Llanthony Priory.
With over 900 years of history, this gorgeous and atmospheric ruin really packs a punch with character. It's also a rarity in the UK being one of only a handful of homes belonging to the early Augustinian Canons!
It's tucked away in a remote and wild location within the glacial Vale of Ewyas and sits under the peaks of the brooding Black Mountains.
So, when you visit, you can't help but feel like you've stepped through a portal and have been transported through time.
If you're wanting to escape the crowds in the Brecon Beacons National Park then this beautiful solitary monument is just for you.
Here's how to visit Llanthony Priory in Wales with the history and highlights.
There is over 900 years of Llanthony Priory history!
Llanthony Priory is an ancient Augustinian abbey that was founded over 900 years ago around the time of the Norman Invasion in Britain. For those not from the UK, or if you need to brush up on your history, this happened in the year 1066!
The concept of this abbey was initiated after a rich Norman nobleman, William de Lacy, went on a hunting trip in 1100.
During his hunt, he wanted to find some shelter and ended up finding a ruined chapel dedicated to St David on this very spot in the Vale of Ewyas!
Upon finding the temple, he saw it as a sign from God and he decided to remove himself from warfare. Which was an extremely rare move for the era.
Instead, he made the decision to dedicate his life to religion, contemplation, and solitude. So, he established a church here dedicated to John the Baptist.
In 1118, it was reorganised into a priory. William's son, Hugh de Lacy, then endowed the chapel with more land and it quickly became one of the most famous religious sites in the country!
Visitors and pilgrims would make the journey from far and wide to worship in this holy place. By 1135, there were 40 Augustinians Canons from England in residence.
Giraldus Cambrensis, who was a famous 12th-century traveller and chronicler, stated that Llanthony Priory was 'truly suited to monastic life…in a wilderness far removed from the bustle of mankind!'
The 'barbarous' neighbours
Although this distant and isolated location was perfect for prayer, study, and solace. Unfortunately, It wasn't all a priestly paradise.
In fact, this wild area was also home to the local Welsh residents who were not impressed by the new foreign priory. Giraldus goes on in his chronicle to explain that the priory was 'fixed amongst a barbarous people'.
They revolted against Llanthony Priory and forced the Augustinians to flee to the likes of Hereford and Gloucester!
Unfortunately, it also saw the early priory destroyed and now nothing of that first building remains.
Not to be deterred, the de Lacy family decided to reassert their authority over the land and made peace with these 'barbarous' locals.
They then invited the priests back from Gloucester in 1186 and started to completely rebuild the priory.
We can still see much of these original foundations today. The Norman and Gothic-style building was then finally completed in 1217.
Although what is left of Llanthony Priory is mostly an evocative ruin, it's clear to see that this was truly one of the great medieval buildings in Wales.
The Llanthony priory church and surrounding structures would have taken great skill to build for the time period and a great deal of money!
Thankfully, after 1217, it seems that the Welsh locals were satisfied with the new arrangement and the priory went from strength to strength.
It even saw the deposed King Edward II stay here the night as he travelled from Kenilworth to Berkeley Castle in 1327. It was, however, to be his last visit as he was allegedly murdered at Berkeley soon after!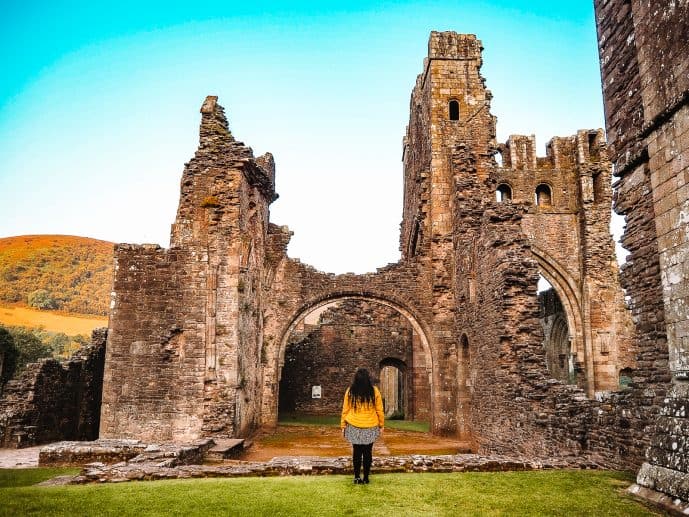 Llanthony Priory's final chapter
Usually when you visit any kind of medieval abbey or priory in England and Wales today, King Henry VIII is to blame for its untimely demise.
This is because he initiated the Dissolution of the Monasteries in 1536 – 1541 after becoming Supreme Head of the Church of England. It saw the king being officially separated from Papal Authority under the Catholic Holy Roman Empire.
The act saw all monasteries, priories, abbey's, and friaries being dissolved across the country.
Their properties were deprived of their assets and their income was redistributed for the crown. The land was then sold off or gifted to members of King Henry's court.
Although this is also true in Llanthony Priory's case, you may be surprised to know it actually started to fall into ruin a whole two centuries earlier than that!
During the 15th century, a rebellious War of Independence was initiated by the Welsh leader Owain Glyndŵr.
Owain, who was a descendant of the Princes of Powys, started a fierce and violent campaign to reclaim Wales from the English.
Although the campaign was ultimately unsuccessful, it did start the Welsh Revolt.
This had devastating consequences for the canon's who remained at the priory. It caused most of them to flee and once again run to Gloucester over the border!
By 1504, there were only 4 canons left to man the ship, and its walls were barely standing! So, once the Dissolution of Monasteries came around there wasn't much left to hold onto or bargain with.
This once great medieval building was sold for a mere £160 and left to fall naturally into decay!
Walter Savage Landor
After the Dissolution, the remote location of Llanthony Priory saw it almost retreat into its steep-glacial surroundings and eventually fell into ruin.
It saw a brief stint as an infirmary but then the estate was sold to a Colonel Sir Mark Wood who also owned Piercefield House near Chepstow.
Wood started to convert some old buildings into residential dwellings and even a box for hunting. That was until 1807, when he eventually sold the property to the famous poet Walter Savage Landor.
One of his most famous and controversial works was a poem for Rose Aylmer. Funnily enough, I've actually visited the grave of his sweetheart in Kolkata. Unfortunately, she sailed to India in 1798 and died two years later of Cholera. I remembered her tombstone as it's shaped like a pineapple!
Although Landor had a big vision of becoming a countryside gentleman and improving upon the buildings Wood created. Unfortunately, it resulted in another tragic chapter in his life.
From his journals, it seems that his 'idylls' of country living were one part solitude and one part arguing with his fellow neighbours.
He was constantly involved in petty squabbles and disagreements and many of his tenants refused to pay rent.
So, he fled from Llanthony Priory and left the properties woes at the mercy of his creditors. It then fell into the care of his mother and cousins!
A ruinous & Romantic rebirth
However ruinous Llanthony came to be, it certainly caught the attention of artists with its dramatic location in the Vale of Ewyas!
It saw a rebirth as a muse and was featured in many Romantic portraits. One such artist who revered its beauty was J. M. W. Turner who painted the ruin against the Black Mountains on the opposite hillside.
The abbey once again became a place of interest for passing tourists when the Llanthony Priory Hotel opened its doors in the late 20th century.
It's now a protected monument by Cadw that is completely free to visit!
Exploring the atmospheric ruins left behind today
When you approach Llanthony Priory, the first thing that hits you is just how impressive the size of the ruin is!
There is none of the rooftop left and most of the foundations have crumbled with time. But, what you can see and visit is an absolute delight to explore.
The huge archways which would have once been home to doorways and stained glass windows in the church are laid bare.
So, they allow you to see the emotive backdrop of the Black Mountains through the gaps and it really sets the mood. As you're in such a remote location, it adds a touch of mystery to it.
I decided to visit really early in the morning, around sunrise, and had it completely to myself!
It was a fresh, sunny, and crisp day in Autumn. The mix of mist rising over the fields, the Gothic ruins, and the mountainous backdrop was like something out of a painting.
As I was here so early, before most of the guests in the hotel were awake, I found it incredibly peaceful. It was wonderful just making my way around and exploring the ruin in peace.
There were a few signs dotted about the place to tell you more of the history and what this building would have looked like before it fell into decay.
Although it would have been nice to see it in all its glory. I really think that Llanthony Priory is beautiful as it stands today. You can't get a more remote location and its ruination gives it so much character!
Just be careful as you wander around. Although most of the ruin is accessible with pathways, it is still an ancient ruin. So, take care not to fall.
Why not visit the Cellar Bar at Llanthony Priory Hotel?
As the ruins are free to visit, there isn't much by way of facilities at the site. There is some free parking and some public loos but that's your lot!
However, there is the Abbey Hotel nearby that's attached to the ruins themselves.
This building is from the handiwork of Colonel Sir Mark Wood who made it into his home all those years ago. Also, added too by Walter Savage Landor!
Even if you're not planning to stay the night at Llanthony, they do have a Cellar Bar that you can visit for lunch or dinner.
I visited the priory way before their opening times but I have heard amazing things about their bar and restaurant.
This quirky place is, quite literally, in the hotel's cellar and you'll descend down to their cosy setting below.
If you wanted to book a stay for the night or take a look at what they serve on the menu, check out their website here.
Llanthony Priory walks around the area
Llanthony is in a remote area of the Brecon Beacons National Park but it's the perfect opportunity to discover more of the Vale of Ewyas and beyond!
Like most of the surrounding countryside, the steep and rugged landscape was formed at the end of the Ice Age over 10,000 years ago.
As the temperatures rose and the ice melted, a glacial valley formed and that's why you'll see so many jagged peaks around here!
You can include Llanthony Priory as a stop on one of your hikes through the Brecon Beacons or you could head out from the priory to the neighbouring valley of Cwmyoy.
Llanthony is also just in arms reach of the ancient England and Wales borderline of Offa's Dyke! This was created when King Offa wanted to separate his Kingdom of Mercia with Wales in the 8th century.
Although not much of this dyke remains today, you can still visit the borderline just a few miles from Llanthony Priory.
Where is Llanthony Priory in Wales & How to get there?
The only part I did not like about this ruin is getting here!
It's located in the countryside hamlet of Llanthony which is in the Brecon Beacons National Park in Wales.
It's very secluded and you can only get here by driving along single-track lanes;
Driving: The easiest way to get to Llanthony Priory is to drive. This area of the Brecon Beacons has little infrastructure. But, I'm not going to lie to you, the drive is pretty grim. It's all single track roads with twists, turns, high hedges and very little passing places. It's located around 6 miles from Abergavenny and 15 miles from Hay-on-Wye along the B4423. Use Abergavenny NP7 7NN for your SatNav. There is also a Google Pin but bery little phone signal is available.
Parking: There is limited public parking on a gravel site just beyond the hotel. It's completely free to park up and explore the ruins. Don't park up near the hotel as this is for customers only.
Where is the nearest bus or train station? Unfortunately, the nearest train station is Abergavenny! So, if you were set on visiting, you could get a taxi from there, but it will be a pretty penny. No buses pass through this area as it's so remote. The roads are barely big enough for cars let alone buses! Walking is also an option and Llanthony is a great addition to any hike.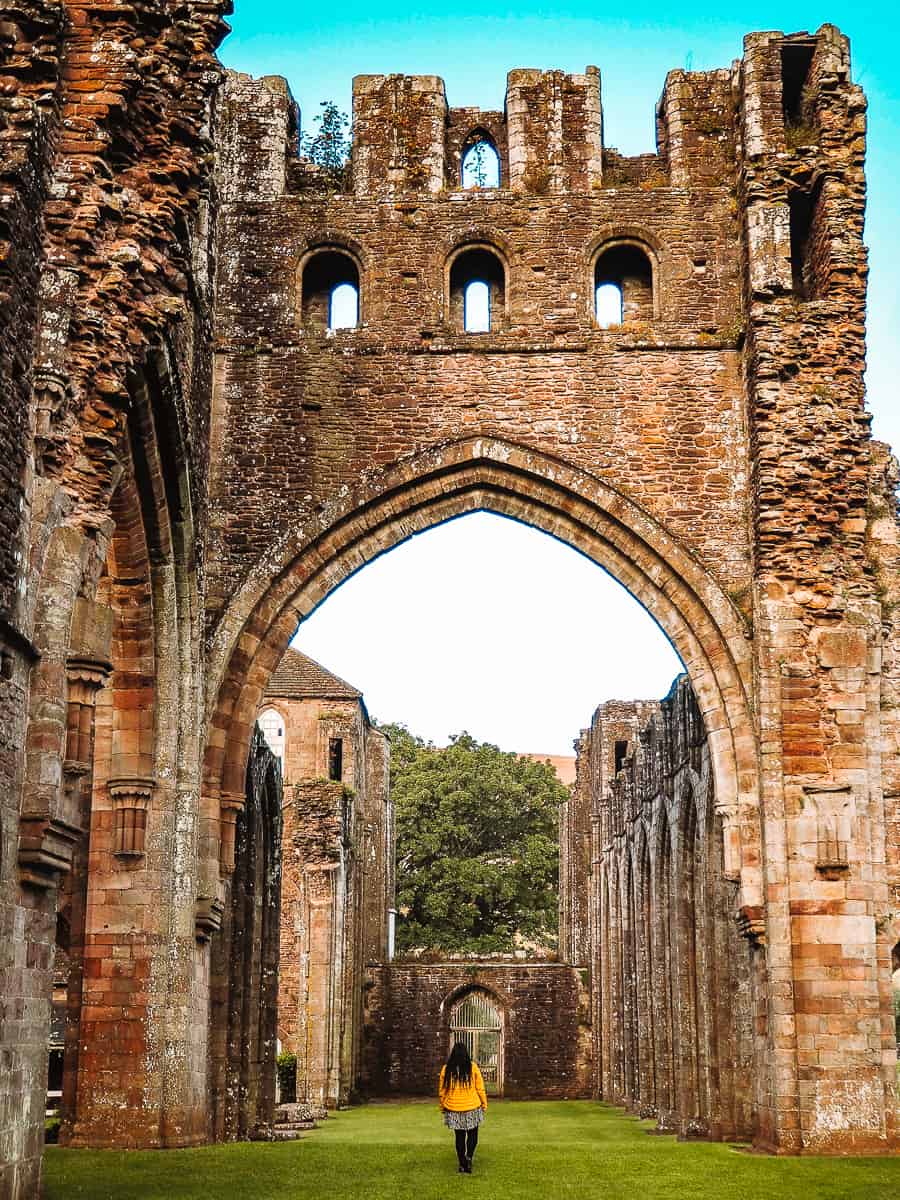 Llanthony Priory opening times & ticket prices
I was completely amazed to find out that these fantastic ruins run by Cadw were completely free to visit! Usually, most castles and monuments come with a fee. But, hey, I'm not complaining!
Although the official opening times on Google say it's open from 10am – 4pm. I found that the gates were left open so I could pop in nice and early at sunrise.
This was a great time to visit as it was so lovely and quiet! Just remember not to disturb any residents of the hotel if you visit early doors. They've paid a lot of money for solitude after all.
Also, they do not allow dogs to visit the ruin and you can't picnic while you're here either.
But, it will be easy to find another picnic spot around the National Park.
Why not head down the road to the Hay Bluff parking area? The views from there are stunning looking over into England!
Visit St Martin's Church & Cwmyoy next – The Crookedest Church in Britain!
If you're in the area and are looking for some quirky places to explore next. I would highly recommend making a pit stop at St Martin's Church in Cwmyoy.
It's been called the most Crooked Church in Britain as none of it seems to stand straight. Inside or out!
None of the corners match up, the walls are weeping and even its tower tilts further out than the Leaning Tower of Pisa (true fact)!
It's truly a wonky wonder and when you step inside it feels like you're onboard a galleon in a storm.
If you want to find out more and why this church is so crooked, see my post here!
Looking for more Brecon Beacons travel inspiration?
I absolutely loved touring the Brecon Beacons National Park. I can't believe it took me so long to discover it but, now I'm obsessed and would recommend it to anyone.
There are so many unique activities to get up to beyond just hiking. You could go star-gazing, horse riding, and even bog snorkelling! Ooh, err.
You can climb the highest peak of South Wales, Pen-y-Fan, or you can visit the World's First Book Town of Hay-on-Wye.
There are some incredible bookshops here like the Hay Castle honesty shop, Richard Booth's Books, and Murder and Mayhem to name a few.
Click here to read a list of the best bookshops in Hay-on-Wye!
You could visit The Warren by the River Wye from here. Or, if you wanted to see an amazing part of Offa's Dyke with some incredible views, I would recommend the view from Hay Bluff. From here, you can look over into England and explore the dyke.
The Brecon Beacons are known for their Waterfall Country where you can explore some of the prettiest cascades in the country. You could go on the Four Falls Trails, Dinas Rock, or visit the more accessible Henrhyd Falls which was featured in The Dark Knight as Batman's Cave!
The town of Brecon is also extremely lovely with its impressive Brecon Cathedral and Canal Basin.
If it's raining, you could seek shelter in the Showcaves or go ghost hunting in a haunted castle-like Craig-Y-Nos.
You could also have a more culinary experience if you're a foodie. Why not try some Welsh Whisky at the award-winning Penderyn Distillery? The National Park also has an annual food festival that takes place each year!
Read more of my travel guides for South Wales
The very places to visit in Monmouth
A complete guide to the Monnow Bridge in Wye Valley
How to find King Arthur's Cave in Wales
How to visit Yat Rock, the best views of Wye Valley!
A complete guide for Crickhowell Bridge
Save this Llanthony Priory Wales guide for later!