One of my favourite places in Dartmoor National Park is the magical Lydford Gorge. It looks like something from Lord of the Rings.
The gorge has a huge history with links to Alfred the Great, Vikings, and a bandit gang called the Gubbins. Plus, it's meant to be home to faeries, pixies, and haunted by a white lady.
It has 'shire-esque' landscapes that look like Middle Earth and you can visit some incredible cascades like the Devil's Cauldron, Pixie Glen, and White Lady Waterfall.
Although it's one of the most popular walks in Dartmoor, you'll find it a peaceful place all year round and it's a great opportunity to be immersed in nature.
Here is how to visit Lydford Gorge in Dartmoor National Park, Devon!
What is Lydford Gorge?
Lydford Gorge is the deepest river gorge in the South West and is home to a 'Tolkienesque' landscape.
In the gorge, you'll find highlights like the White Lady Waterfall, Devil's Cauldron, and Pixie Glen which can be accessed on a moderate walking trail.
It's owned and protected by the National Trust and is one of the most popular attractions in Dartmoor National Park.
It provides the perfect respite for a warm day in summer and is one of the most scenic walks in the area.
Lydford Gorge history
The earliest beginnings of the landscape in Lydford Gorge started some 300 million years ago.
The formation of the White Lady waterfall started some 450,000 years ago along with melting ice some 11,500 years ago.
But, Lydford Gorge is steeped in myth and legend in more recent recorded history. The Ango-Saxons most likely named this area after the Saxon word 'hlyda,' meaning 'loud'.
King Alfred the Great used the natural defenses of Lydford Gorge to help defend the area against Viking raids.
Lydford is where the royal mint was founded for The Kingdom of Wessex in 937 AD. The burgh was gifted a grant to press silver coins known as Lydford pennies.
Later, after the Norman Invasion, it became a fortification and you can find evidence of this at Lydford Castle. There is one remaining prison tower near the ringwork.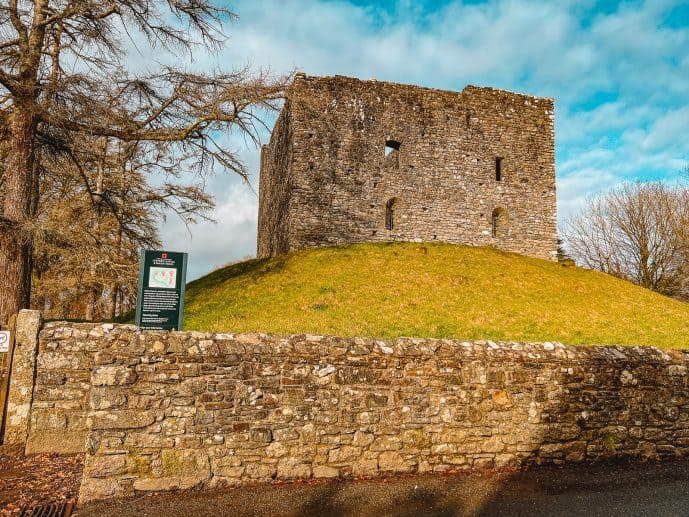 In the 16th century, this area was known as a bandit territory and was where a violent gang called The Gubbins band operated. They lived in the caves here!
They were a group of footpads, outlaws, and highwaymen that would terrorise the neighbourhood. Their leader was Roger Rowle who was known as the 'Robin Hood of Dartmoor'.
They would often steal sheep from fields and rob people blind. People avoided the gorge as they feared for their lives. Eventually, the law stepped in and the gang fled.
Thankfully, Lydford Gorge is a very peaceful area in Dartmoor National Park today and is owned and protected by the National Trust.
White Lady Waterfall – Who is the White Lady?
Lydford Gorge is famous for its dramatic White Lady Waterfall. It's a 30-metre-high cascade that crashes down a cliff into the River Lyd.
But, how did the waterfall get its curious moniker and who is this White Lady?
Well, according to local folklore, the White Lady is a spirit who haunts Lydford Gorge. She can be seen in a white gown that floats like the ripples in the river.
Some people say that anyone who sees her before falling into the River Lyd will not drown and their life will be saved!
Where is Lydford Gorge?
Lydford Gorge is located on the western fringes of Dartmoor National Park which is in the county of Devon in England.
This is around a 45-minute drive from the city of Exeter, a 15-minute drive out of the market town of Okehampton, and 15 minutes from Tavistock town.
It's easy to access on the A30 southbound that heads down to Cornwall and the A386 road that will take you to Plymouth.
Lydford Gorge address is Lydford, Tavistock, Okehampton EX20 4BH. Click here for a Google Pin!
How to visit Lydford Gorge in Dartmoor National Park
It's easiest to have your own car if you're exploring Dartmoor National Park. The area is quite remote and transport options are limited.
You can take the A30 road south and take the A386 junction towards Tavistock/Plymouth. Then, follow the A386 towards Lydford Gorge. The waterfall will be signposted with brown tourist signs.
If you're not driving, it is possible to take a bus to Lydford Gorge. It operates between Okehampton and Tavistock and drops you off at both entrances.
The closest train station is Okehampton which is 10 miles from the gorge. So, you can alight here and then take a bus to either of the gorge entrances.
There are also walking routes from Blackdown Moor or Mary Tavy and you could take the National Cycle Network Route 27 as well.
Lydford Gorge parking
There are two car parks at Lydford Gorge to make your visit easier depending on the hike that you would like to do;
Devil's Cauldron car park (March – October) – this is the best car park for the entire Lydford Gorge Trail including Devil's Cauldron.
Waterfall car park (open all year) – this is the best car park if you just wanted to visit the waterfall. The White Lady Waterfall is just a 20-minute walk down from here. It is possible to walk to the Devil's Cauldron from this car park in the opposite direction but it may be easier to follow the trail from the larger car park as intended.
Lydford Gorge parking is completely FREE but you will need to pay to visit any of the Lydford Gorge trails and the waterfall.
Things to do at Lydford Gorge
Once you reach Lydford Gorge in Dartmoor, what is there to do here?!
Well, there is quite a lot including a tearoom, epic hikes, waterfalls, and even a bookshop.
Here are all the magical things to do in Lydford Gorge!
Lydford Gorge walk
There are two choices for your walk in Lydford Gorge. One is the Lydford Gorge waterfall trail from the waterfall car park.
This is a very easy 20-minute trail that has a choice of steps and non-steps access (although the non-steps route is still very steep)! There are trampers you can hire in summer.
But, the most popular hike is the Lydford Gorge trail that takes you over to the Devil's Cauldron, Pixie Glen, Tunnel falls, and the White Lady Waterfall.
This hike from the Devil's Cauldron car park is around two miles and will take you around 2-3 hours. It's by far the prettiest walk and I would recommend doing it if you are able.
Cross the Lydford Gorge suspension bridge
If you're taking the entire Lydford Gorge trail, you'll reach this suspension bridge after the Pixie Glen.
It's such a cool feature and allows an easy crossing over the river to reach the White Lady Waterfall.
I must admit that these photos that I got of the suspension bridge are a bit of a 'cheat'.
The bridge was open on my visit but the gate was locked on the other end so I couldn't follow the trail. That's winter opening times for you!
It was still lovely to cross the suspension bridge over the river, even if it didn't lead anywhere (and made an epic photo opportunity, obviously).
Explore White Lady Waterfall
As it was winter on my visit, the highlight of the trail for me was the epic White Lady Waterfall that crashes down a cliff face into the River Lyd below.
It's a 30-metre-high cascade and it's very dramatic! Even though there hadn't been much rain the days before, I still found the waterfall force was strong.
This waterfall area is a great place to stop and relax for a while. There is a clearing surrounding the waterfall where you can get some great pictures.
The rocks at the bottom of the waterfall can be very slippery so make sure to watch your step if you wanted to approach.
In summer, this is the busiest part of the trail. So, if you wanted it to yourself for a few moments you'll need to arrive at opening time.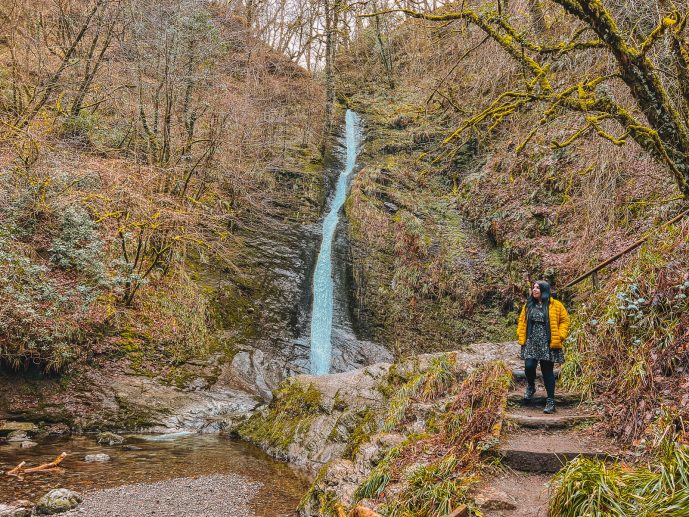 Visit the Devil's Cauldron & Pixie Glen
When the summer trails are open, you can park up in the Devil's Cauldron car park for the complete hike.
After the suspension bridge, you can head over to an arched bridge over the Pixie Glen. How cool does that sound?! You'll also see the Victorian tunnel falls.
A little further on, you'll reach the Devil's Cauldron. The access is through a narrow opening where you can walk down some steep steps and over a bridge to see another waterfall.
The name comes from the way that the water falls into a turbulent pothole making a noisy bubbling sound!
Lydford Gorge facilities
Lydford Gorge has many facilities you can find before you head out on the walking trail;
Toilets – There are toilets at both the Devil's Cauldron and Waterfall car parks and these have opening times. There are no toilets in the gorge so make sure to use the facilities before you head out.
Waterfall tearoom – There is a small waterfall tearoom in the car park close by the entrance to the White Lady Waterfall trail.
Devil's Cauldron tearoom – There is a larger tearoom found at the Devil's Cauldron car park.
Second-hand bookshop – Why not browse for some pre-loved books on your visit?!
Lydford Gorge opening times
Lydford Gorge is open all year but in the winter the gorge does see some conservation work take place and much of the trail and facilities are closed.
If you're visiting from October – March, you can expect to only find the waterfall car park open and the trail to the waterfall. It's open from 11 am – 3 pm.
The facilities at Lydford Gorge in winter are also limited. On my visit, the toilets, tearoom, and visitor centre were closed.
If you wanted to walk the entire trail and see the Devil's Cauldron it's best to visit in early March – late October.
In summer, Lydford Gorge will have all its trails and facilities open from 10 am – 4.30 pm.
Lydford Gorge ticket prices
Lydford Gorge is owned by the National Trust, a registered charity and so there is a charge to walk the trail.
If you're just hiking to the White Lady Waterfall in winter, the charge is £5 for adults and £2 for a child.
But, if you're visiting in the 'summer season' from March – October ticket prices go up to £11 for an adult and £5.50 for a child.
National Trust members get to enter for FREE. So, remember to bring your membership card with you.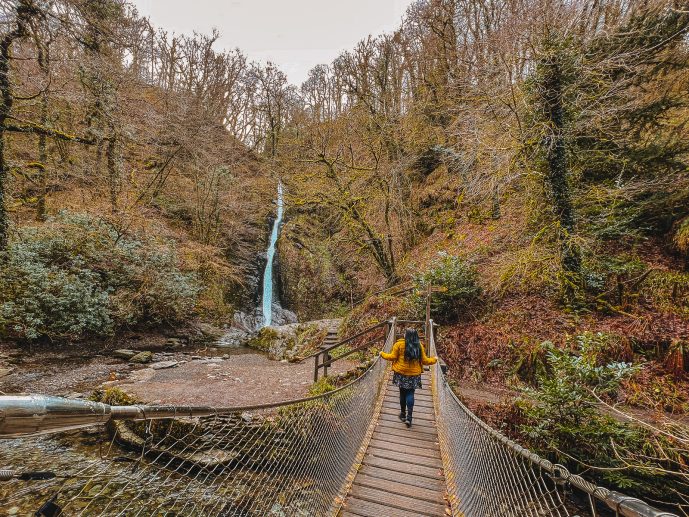 Things to do near Lydford Gorge
So, once you've finished exploring the trail and White Lady Waterfall where to next?
Well, there are plenty of amazing things to do near Lydford Gorge in Dartmoor National Park.
Here are some I would recommend;
Explore Lydford Village
You will most likely drive through Lydford Village to access Lydford Gorge and it's well worth exploring after your visit.
Over the years, it was both a Norman Fort and a Saxon town with links to King Alfred the Great.
The burgh had the grant to produce Lydford silver pennies for the Kingdom of Wessex and they were pressed in the royal mint until 1066.
You will find the 13th-century tower of what remains of Lydford Castle. This was originally built as a fortification and prison. It had a bad reputation for its cruel punishment and torture of inmates.
Opposite you can visit St Pectroc's church which was founded by a Welsh monk in the 6th century.
If you were look for food and drink, you can stop by the Castle Inn Lydford which is near these two historic attractions.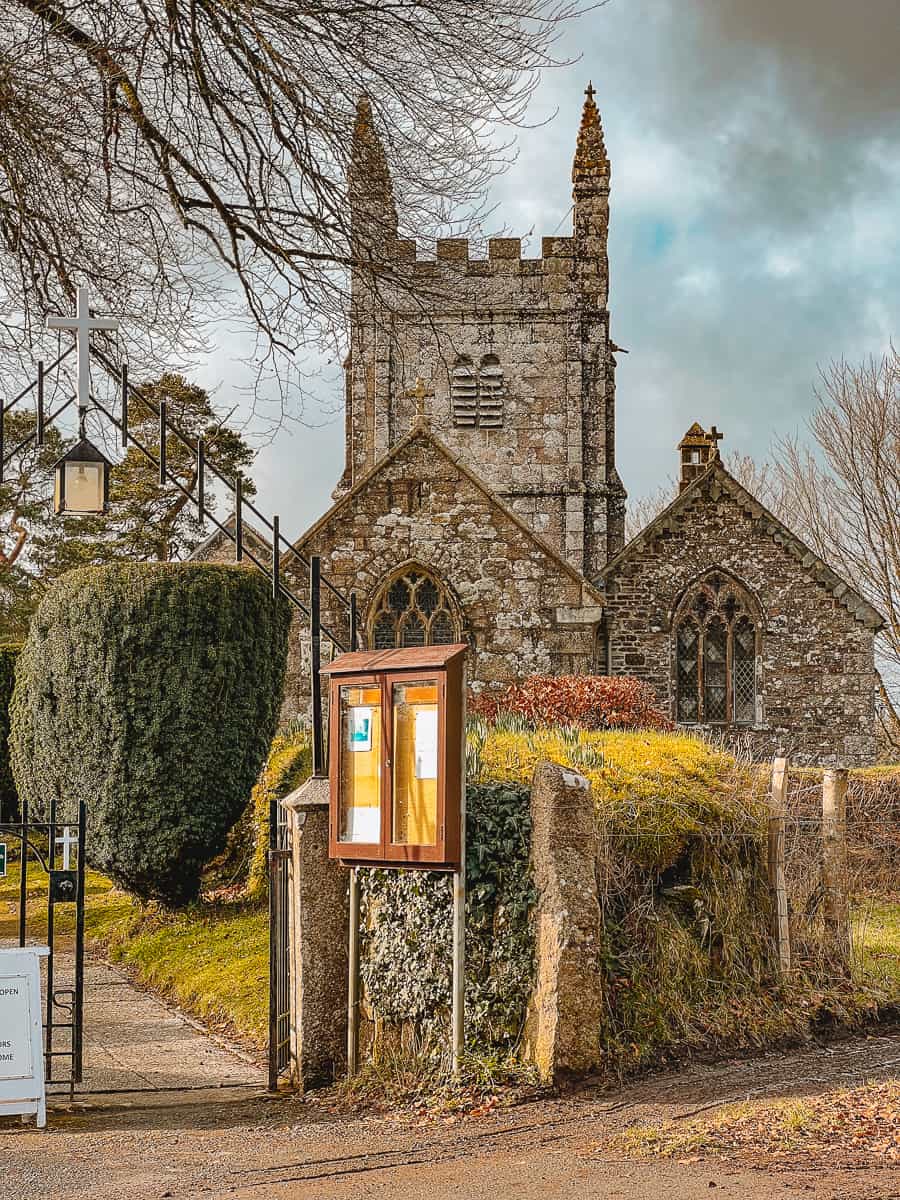 Eat at The Highwayman Inn
I've been visiting The Highway Man Inn on my visits to Dartmoor since I was a child and you must stop at this quirky pub nearby.
You can't miss it on your way to Lydford Gorge as it has a bright neon-pink carriage on the front of it and a sign of a highwayman aiming his pistol at you from the road.
Inside, it has an Aladdin's cave of historic items and cosy areas to relax in. There are nooks and crannies all around the pub with seats and tables so you can enjoy a pint or a meal in their pub.
You'll find a witch's corner and even a pirate galleon restaurant area. But, be warned, this place is meant to be haunted.
Don't forget to visit their witch's house around the back of the building. It's a miniature timber-framed residence and it brought me so much joy as a kid.
Visit St Michael's Church at Brentor
One of the more dramatic locations in Dartmoor National Park is St Michael's Church in Brentor also known as St Michael de Rupe.
It's a 12th-century chapel that sits on top of a hill called Brentor! It was founded in 1130 by Robert Giffard and is officially the fourth smallest parish church in the UK.
The church is still in use for services today and you can hike up the hill to visit. You get some jaw-dropping panoramic views over the moor and it's perfect at sunset.
There is free parking on the road opposite and a well-beaten path to follow to reach the church.
Read my complete guide on how to visit Brentor Church!
Explore Tavistock
Known to locals as 'Tavi', this pretty market town is a great place to go for a stroll.
It has connections to Sir Francis Drake, who was born in nearby Crowndale and has lots of historic attractions to discover.
Tavistock has had two influential benefactors over time which were originally the Benedictine monks and then later the powerful Bedford family.
You can learn more about the historic abbey in Tavistock Parish Church on Abbey Square. There is an ancient ivy-clad cloister in the churchyard.
The main highlight is the Tavistock town hall and museum and I would highly recommend visiting the Tavistock Pannier Market nearby.
You could then take a scenic stroll along the River Tavy and see the beautiful cascades beneath the bridge and onto the canal.
There are also lots of restaurants, shops, and cafés to pop into if you were looking for something to eat.
Discover Okehampton
Okehampton is a large, traditional market town in South Devon that has a historic castle and some museums.
Okehampton Castle was built after the Norman Conquest and has a motte and Bailey as well as a stone keep. It is mainly an impressive ruin but is protected by English Heritage.
If you were interested in what life was like in Dartmoor years ago you could pop into the Museum of Dartmoor Life.
Plus, there are plenty of shops, cafés, and the beautiful Okehampton arcade to explore.
My top tips for visiting Lydford Gorge
Check the weather before you arrive – the gorge can be dangerous in adverse weather and it can close. Check the National Trust website before you arrive to avoid disappointment.
Wear sensible shoes – Although there is a 'non-steps' route down to the White Lady Waterfall, I would have ankle-supporting shoes on. The terrain is very uneven and it can get muddy. The Devil's Cauldron area can get very slippery.
Bring lunch with you – There is a tearoom at the Devil's Cauldron car park but this can be closed in the winter. Bring water and snacks with you but remember to take rubbish home.
Arrive early – in the summer this walk can get very busy so I would arrive early to have a peaceful visit to the waterfall. In winter, I had it to myself for well over 30 minutes.
The phone signal is bad – pretty much non-existent down here. There are landline phones placed around the gorge if you have an accident/emergency.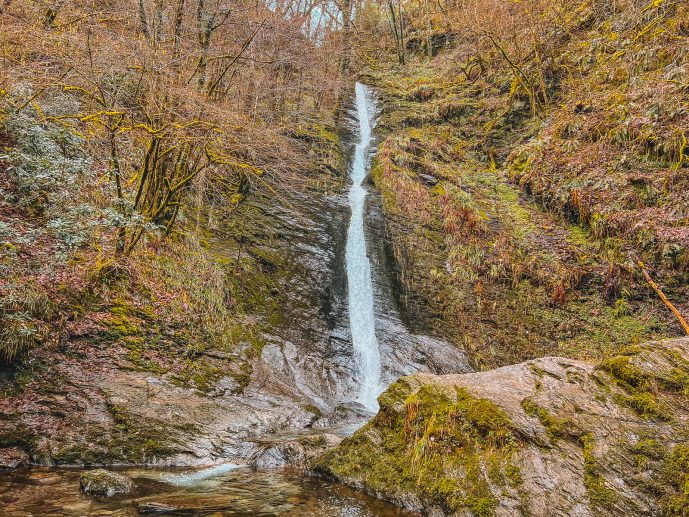 Lydford Gorge FAQs
How long is Lydford Gorge walk? This depends. If you're just hiking to the White Lady Waterfall, I'd allow around 20 minutes each way. If you're hiking Devil's Cauldron and the entire trail I'd leave around 2-3 hours.
Where is the White Lady waterfall? It's in Lydford Gorge in Dartmoor National Park!
Can you swim in Lydford Gorge? No, it's too dangerous to swim in Lydford Gorge due to the current of the water.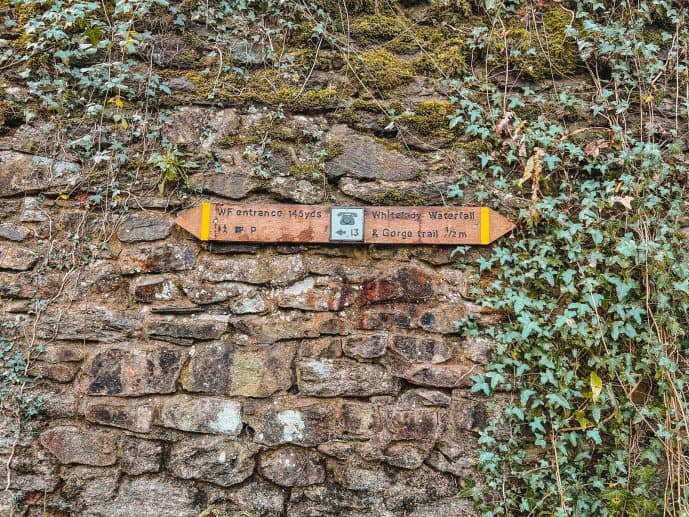 Is Lydford Gorge dog friendly? Yes, just remember to keep dogs on a lead at all times.
Are there toilets? Yes, but these can close in the winter months!
Can you get into Lydford Gorge without paying? You do have to pay to enter Lydford Gorge as it's a National Trust site. Members get to go in for free.
Is Lydford Gorge accessible? Not very I'm afraid. Although the walk down to the waterfall has no steps it is very steep down to the gorge. The trail also has steep steps and uneven surfaces. But, they do have trampers for hire in March – October.
Read more of my Dartmoor & Devon guides
How to visit Wistman's Wood on Dartmoor
A Harry Potter guide to Exeter
Is Gandy Street a real-life Diagon Alley?
Is Cathedral Close the inspiration for the Room of Requirement?
Is Parliament Street the narrowest street in the world?
The shocking story of the House That Moved in Exeter
How to visit Burgh Island and things to do there
An afternoon tea at Burgh Island Hotel
Why you must visit Agatha Christie's Greenway House
Why you must visit the Babbacombe Cliff Railway
Wander the Agatha Christie Mile in Torquay
Top things to do in Cockington Village
Riding the Lynton and Lynmouth Cliff Railway in Exmoor
Woolacombe Bay Holiday Parks Review
Magical Valley of the Rocks Devon guide
Save how to visit Lydford Gorge Dartmoor & White Lady Waterfall for later!