The prettiest castle in Romania has to be the Neo-Renaissance Peles Castle which is nestled away in the Carpathian Mountains.
It's a magical building surrounded by planned gardens and the architecture looks like something from Grimm's Fairy Tales!
Inside, there are over 160 opulent rooms inspired by different countries. There are Murano glass chandeliers, German stained glass windows, and priceless collectible art pieces.
Fans of the Netflix trilogy, A Christmas Prince, will also recognise this beautiful place as the real castle of Prince Richard of Aldovia.
Although most tourists only want to visit the imposing Bran Castle in Romania, I would highly recommend adding this sumptuous royal residence to your itinerary. It's easy enough to do self-guided or with a tour.
Here is how to visit Peles Castle Romania from either Sinaia, Brasov, or Bucharest on your trip!
An overview of Peles Castle Romania
When you think of a castle in Romania, most people will automatically think of the austere Bran Castle.
A medieval fortress in Transylvania famous for being the home of the 'real' Count Dracula and inspiration for Bram Stoker.
But, many people don't realise that there are far more ornate and sumptuous castles that are worth visiting too.
Peles Castle is the second-most visited castle in Romania and is arguably one of the prettiest castles in all of Europe.
Built on the orders of King Carol I, this royal residence was designed as a German Neo-Renaissance castle. It has beautiful woodwork and turrets that look like something from a storybook.
It has beautifully manicured gardens and 168 rooms filled with grand designs inspired by countries around the world.
It's a royal abode and summer family home that showcases paintings, sculptures, rare books, and an array of collectibles.
Peles Castle history
Peles Castle, or Castelul Peles, was commissioned by King Carol I who was Romania's first independent king.
It was constructed between 1873 and 1883 and was designed as a summer home for the Romanian royal family.
It was built in the Carpathian Mountains of Sinaia on an ancient medieval route that connected Transylvania and Wallachia. Carol chose this location as he loved the scenery and the sporting preserves.
Pelisor Castle was built nearby a little later for his heir and nephew, the future King Ferdinand I.
Peles Castle remained a residence of the Romanian royal family until King Michael I was forced to abdicate in 1946 by the Communist regime.
It then became a museum in 1953 but was shut down by Nicolae Ceausescu in 1975. It remained closed until the 1989 revolution. After that, it was re-opened to the public as a heritage site.
Today, it is one of the most popular tourist attractions in the country and welcomes over half a million visitors every year.
Peles Castle facts
Peles Castle has 168 rooms and 30 bathrooms and many of these were inspired by countries from around the world. You'll find Moorish, Florentine, Turkish, French, and Imperial styles.
The glass ceiling in the Grand Entrance Hall opens up so that visitors could have a perfect view of the stars without leaving the palace.
There is a secret doorway in the Royal Library so that the royal family could travel quickly and in secret through the castle.
There is a collection of over 4,000 pieces of armour and weapons from both Eastern and Western warfare and over 2,000 paintings.
During the Communist era, it was used as a retreat for Communist representatives around the world.
Peles Castle was the first European palace to be powered by electricity, created in its own power plant. It was also the first to have central heating.
Peles Castle in A Christmas Prince!
I don't know about you but I love a bit of cheese at Christmas. Hallmark movies with a sweater, fluffy socks and a cup of hot chocolate are a go-to tradition for me.
You may recognise this castle from Netflix's A Christmas Prince which is a cheesy Rom-Com set in the mountainous region of Aldovia.
Just before Christmas, a budding magazine journalist called Amber gets sent to Aldovia to get the latest scoop on Prince Richard who supposedly going to abdicate.
It's a predictable story but it's a nice movie to watch if you're looking for some Christmas cheer over the Holidays. There are three of them now and they were all filmed at Peles Castle Romania.
I actually visited on my birthday in early March. But, as it was snowing, it honestly felt very Christmassy and like I was really there in Aldovia!
How to visit Peles Castle in Romania
Peles Castle is located in Sinaia which is in Prahova County in Romania. This is around a 90-minute train journey out of Bucharest.
But, it's very easy to plan a trip to Peles Castle from either Bucharest or Brasov on your travels through Romania.
Here is a list of options to plan your visit;
Sinaia to Peles Castle
As Peles Castle is in Sinaia, it's easy enough to visit if you're staying here. There are buses that run from Halta Sinaia that take you close to the castle. Or it's a steep 35-40 minute walk from Sinaia train station.
Although most tourists make a beeline to Brasov in Transylvania to visit Bran Castle, I would recommend stopping in Sinaia for a longer visit if you have the time.
It's a mountain resort and is very popular for skiing in the winter and hiking in summer.
As well as Peles Castle, you can visit the 17th-century Sinaia Monastery. You can explore both the Old Church and the Great Church which are filled with incredible carvings and murals.
There is also a Sinaia Cable Car that takes you up into the Bucegi Mountains. It's the highest altitude of any cable car in Romania and takes you up to heights of over 2,000 metres!
Bucharest to Peles Castle
If you're based in Romania's bustling capital of Bucharest, you can easily visit Peles Castle on a self-guided day trip. It's only around 90 minutes by train.
You can take a train from Gara de Nord station that is heading to Brasov. You can stop off at Sinaia station and take a bus, taxi or walk 40 minutes to the castle.
The distance between Bucharest and Peles Castle is 112 kilometres. If you're driving, you can visit Peles Castle by taking the 1 Motorway or DN1 / E68 road.
Peles Castle from Brasov
It's easy to visit Peles Castle from Brasov. You can take a train from Brasov train station to Sinaia that is heading to Bucharest. The journey will take just over an hour.
You can stop off at Sinaia train station and then take a bus, taxi or walk 40 minutes to the castle.
If you're driving, you can take the 1 motorway (DN1) and the E60 road to Peles Castle.
Related – Incredible things to do in Brasov!
Why not book a Peles Castle tour?
If you were stuck on time and wanted to see a couple of Romanian castles and places in one day, there is the option to book a Romanian castle tour.
As it was snowing on my visit and my birthday, I personally took a castle tour from Bucharest and we visited Peles Castle, Bran Castle, and Brasov in one day!
It seemed safer and quicker to me as I didn't want to be exploring by myself in the heavy snow.
It was a long day trip and tiring but totally worth it in the end. It's more economically friendly to your wallet, the environment, and time on your holiday.
You can also take a guided tour from Brasov but this stops at Rasnov Fortress instead of Brasov. Each tour has 'skip the line' options to avoid some of the long queues.
Things to do at Peles Castle Romania
As the second most visited castle in all of Romania, there are lots of things to do at Peles Castle on your visit that make it worth visiting.
From exploring the manicured gardens to admiring the ornate decor of the staterooms, buying gifts, and having lunch.
Here are all the things to do in Peles Castle Romania on your visit.
1. Explore the spectacular Peles Castle grounds
Before we went inside the castle, we had a little bit of time to explore the fabulous grounds that surround Peles Castle.
You'll find planned gardens, gorgeous fountains, sweeping stairways, carved statues, and picture-perfect views of the royal residence.
This is when I started to feel like I was inside A Christmas Prince especially as it was snowing on my visit making it look like a winter wonderland.
As it was snowing quite heavily, I didn't get to explore much of the outer grounds. But, in summer these gardens look incredible. I would plan some time just to explore the gardens!
The best photography location of Peles Castle is also here. If you head away from the entrance and down the steps, you'll find some great spots away from the crowds.
2. Admire the Peles Castle Entrance Hall
The Peles Castle Entrance Hall was my favourite room on the entire tour as it was just so breathtaking.
As you enter the palace, you'll walk up red-carpeted steps to the grand main hall and you can't help but look up and be awe-inspired by the ornate architecture.
You'll see huge grand archways, beautiful wooden carvings, winding staircases, paintings, statues, and chandeliers.
King Carol I wanted to impress his guests who would visit the palace and this is where they would honour them too. Look out for a carving of him inside the hall.
If you look up to the very top, there is a glass ceiling. On summer evenings, this glass rooftop opens up to provide a perfect view of the moon and stars! How dreamy.
3. Wander the worldly staterooms
After you've finished gawping at the spectacular Entrance Hall, you'll move along into the staterooms of the palace.
All of the sumptuous rooms here were inspired by different countries from around the world.
Here are some of the highlight rooms that you can expect to explore at Peles Castle Romania;
Royal Library – A gorgeous collection of rare books tucked inside gold gilded bookcases with winding steps. This room has a secret doorway so the King could come and go in private!
Florentine Room – Inspired by the Italian renaissance this mustard room has ornate bronze doorways, crystal chandeliers, and a grand marble fireplace.
Music Room – the furniture in this room is beautifully carved out of teak wood and was a gift to King Carol I from the Maharaja of Kapurthala in India.
Moorish Salon – A room inspired by Moorish culture and it is filled with plush carpets, low seats, and a Carrara marble fountain.
4. Exit through the gift shop
Is it even a tourist attraction if there isn't a gift shop at the end? Peles Castle is no different and there is a cute little shop that you can visit to buy souvenirs.
They had some lovely snow globes, key rings, mugs, magnets, postcards, and jewellery to purchase.
There were also some traditional Romanian souvenirs, guidebooks, and some books on the history of the castle.
Strangely enough, the gift shop takes card payments!
5. Have lunch at the Peles Castle café
If you were looking for a pick me up before or after your visit, Peles Castle does have a small café on the grounds near the outer entrance.
This serves up hot and cold drinks, baguettes, hot food, and freshly made cakes throughout the day.
Seating is limited indoors and this place can get pretty packed. If you're visiting in the summer, there is lots of outdoor seating available.
Peles Castle opening times
Peles Castle is open all year to visitors but it is only open from Wednesday – Sunday in winter and from Tuesday – Sunday in summer.
You must join a guided tour to visit Peles Castle, it is not self-guided and this is why I think booking a Romania Castle Tour as a day trip is well worth the money and saves you some time.
Opening times vary per season and per day. The first tour is typically at 9.15 am from Tuesday – Sunday apart from Wednesdays when the first tour starts at 10 am.
The castle closes at 6 pm in summer and 4 / 5 pm in winter. The last entry is an hour before closing time.
On some days, like Tuesdays, you will only be able to visit the ground floor of the castle. So, it's important to plan your visit in advance.
Make sure to check the website for the latest opening times on your visit
Peles Castle ticket prices
There are different types of tours of Peles Castle and the ticket prices vary.
If you just wanted to book a standard ground floor tour of the palace (like we did) this is 50 RON (£8.50 / $10 USD) per adult. Students and children pay 12.5 RON (£2 / $2.50).
If you want to take photos inside you will need to pay a photography fee of 35 RON (£6 / $7.20).
I thought it was worth paying for as the rooms are so pretty but it is dark in there so you need some patience with low lighting and if you're on a group tour it can be a bit of a rush.
There is the option to book a first-floor or second-floor visit but these cost extra;
Adding the first floor will cost you 100 RON (£17 / $20) per adult and 25 RON (£4.20 / $5) for students and children
Adding the second floor will cost you 150 RON (£25 / $31) per adult and 37 RON (£6 / $7.20) for students and children
You cannot buy Peles Castle tickets in advance of your visit. According to the Peles Castle website, tickets must be purchased in cash only on the day.
As we were part of a guided tour, we needed to bring cash with us and our guide handled payments and collected all our skip-the-line tickets.
If you're stuck for cash, there is an ATM on the Peles Castle grounds on the walkway to the castle. But, this is EuroNet and their conversion rates are terrible. So, be warned and withdraw cash before your visit.
I would personally get cash from Raiffeisen Bank in Sinaia, Bucharest, or Brasov. There are more ATM options but I found them very easy to identify (bright yellow), centrally located, safe and reliable.
Visit Pelisor Castle next
There is a smaller castle called Pelisor Castle which you can visit next that is part of the Peles Castle complex. It's located just outside the gate entrance to Peles Castle.
It was built at the turning of the 20th century on the orders of King Carol I and was designed in the Art Nouveau style by Czech architect Karel Liman.
King Carol I built this small castle as a residence for his nephew and heir, the future King Ferdinand.
Today, it is legally owned by King Michael I of Romania and is a Royal Family household. But, it was opened up as a museum for tourists a few years ago.
Our tour didn't include this castle and I would have loved to explore it. I'll have to remember it for next time.
You can buy a ticket to explore Pelisor Castle as part of your Peles Castle visit. Tickets are 30 RON (£5 / $6.20) for adults and 7.5 RON for children.
Where to stay near Peles Castle Romania
You cannot stay in Peles Castle. But, there is a hotel very close by called Complex La Tunuri – Vila Economat. It's the former Royal Guard Office of Peles Castle and is 5* luxury.
Many people who are visiting from Bucharest or Brasov like to stay in Sinaia. Sinaia is a popular mountain and ski resort in winter and a hiking area in the summer months.
Personally, I would opt to stay in either Bucharest or Brasov and travel to Peles Castle from there.
Brasov is a popular tourist destination and has a lot more infrastructure like hotels, restaurants, attractions, and transport links.
Click here to look up and book accommodation in Brasov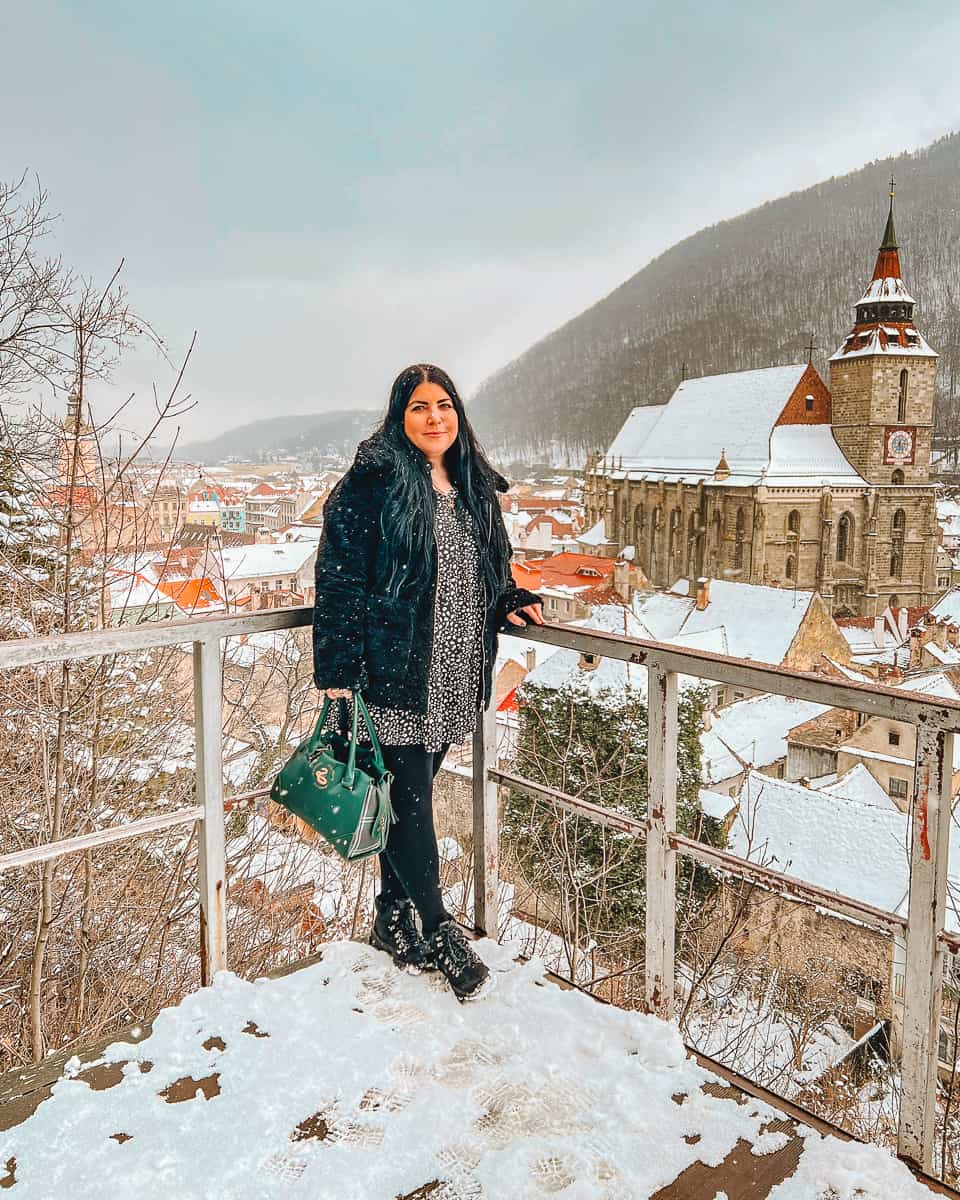 Read more of my Romania articles
How to visit Dracula's Bran Castle in Romania
The best things to do in Brasov
How to visit the Brasov Hollywood Sign
A complete guide for Rope Street
Is Caturesti Carusel the prettiest bookshop in Romania?
Save Peles Castle Romania for later!