One of the best places to visit in the Yorkshire Dales National Park is the Ribblehead Viaduct.
This Victorian train crossing was a spectacular triumph of engineering and has 24 large arches that span the countryside.
The great thing is that this viaduct is really easy to visit on a short walk from a free parking area nearby.
Many Potterheads believe that the Harry Potter movies were filmed here but how much of this is true? All will be revealed in this post.
Here is how to visit the Ribblehead Viaduct in the Yorkshire Dales with the history & my top tips.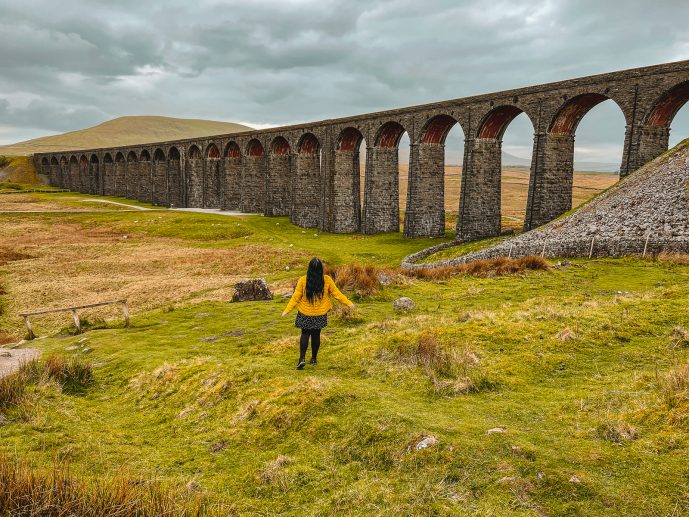 What is Ribblehead Viaduct?
Ribblehead Viaduct, or Batty Moss Viaduct, is a train crossing on the border of Cumbria and North Yorkshire.
It was built as part of the Settle – Carlisle railway line across Batty Moss in the 19th century.
It's 400 metres long and just over 100 feet tall with a set of 24 tall arches that span the viaduct.
Over 2,300 workers or "navvies" were involved in building this astonishing bridge in the Victorian era but there was also a tragic cost as well.
Ribblehead Viaduct history
The viaduct was designed for the Midland Railways in 1869 by John Crosby who was the chief engineer.
It was a huge project that started in 1870 and required an equally large workforce. Some 2,300 workmen were hired to build the bridge who were known as "navvies".
Many of the men and their families settled down for the project near the viaduct in a series of Shanty Towns that had a 'wild west' feel. These were Batty Wife Hole, Sebastopol, and Belgravia.
It was a very harsh area to live in and some 100 workmen lost their lives whilst building this bridge. The Midlands Railway had to pay to extend graveyards to cater for the dead.
This wasn't just from accidents but disease, exposure, and a sudden outbreak of smallpox.
200 men, women, and children in these shanty towns were buried in the churchyard at Chapel-le-Dale after the outbreak.
There are now memorials to those who lost their lives in St Mary's Church of Outhgill and St Leonard's Church in Chapel-le-Dale.
It was the last viaduct to be built by mainly manual labour and was finally finished in 1874. The first train crossed over the bridge in 1876 as part of the Settle – Carlisle railway line.
Over 1.5 million red bricks were used for its construction and it's considered one of the greatest triumphs of Victorian engineering. It still carries trains over the bridge to this very day.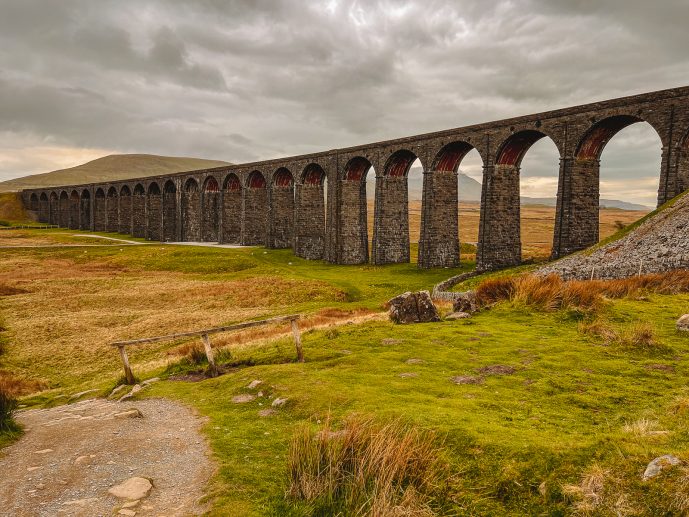 What is the Ribblehead Viaduct Harry Potter connection?
Sorry Potterheads, but they didn't film Harry Potter at Ribblehead Viaduct but it does look very similar.
That bridge is actually the Glenfinnan Viaduct in Scotland and it's so worth it to visit and watch the Hogwarts Express.
However, if you did want to experience a bit of Harry Potter magic in the Yorkshire Dales then you need to head down to Malhamdale.
Malham Cove was a Harry Potter filming location in the Deathly Hallows Part 1 where Harry, Ron, and Hermione camp out.
They are trying to open the Golden Snitch with the riddle 'I open at the close'. Click here to read my complete Malham Cove Harry Potter walk guide!
Love Harry Potter? See more of my Harry Potter filming location guides here!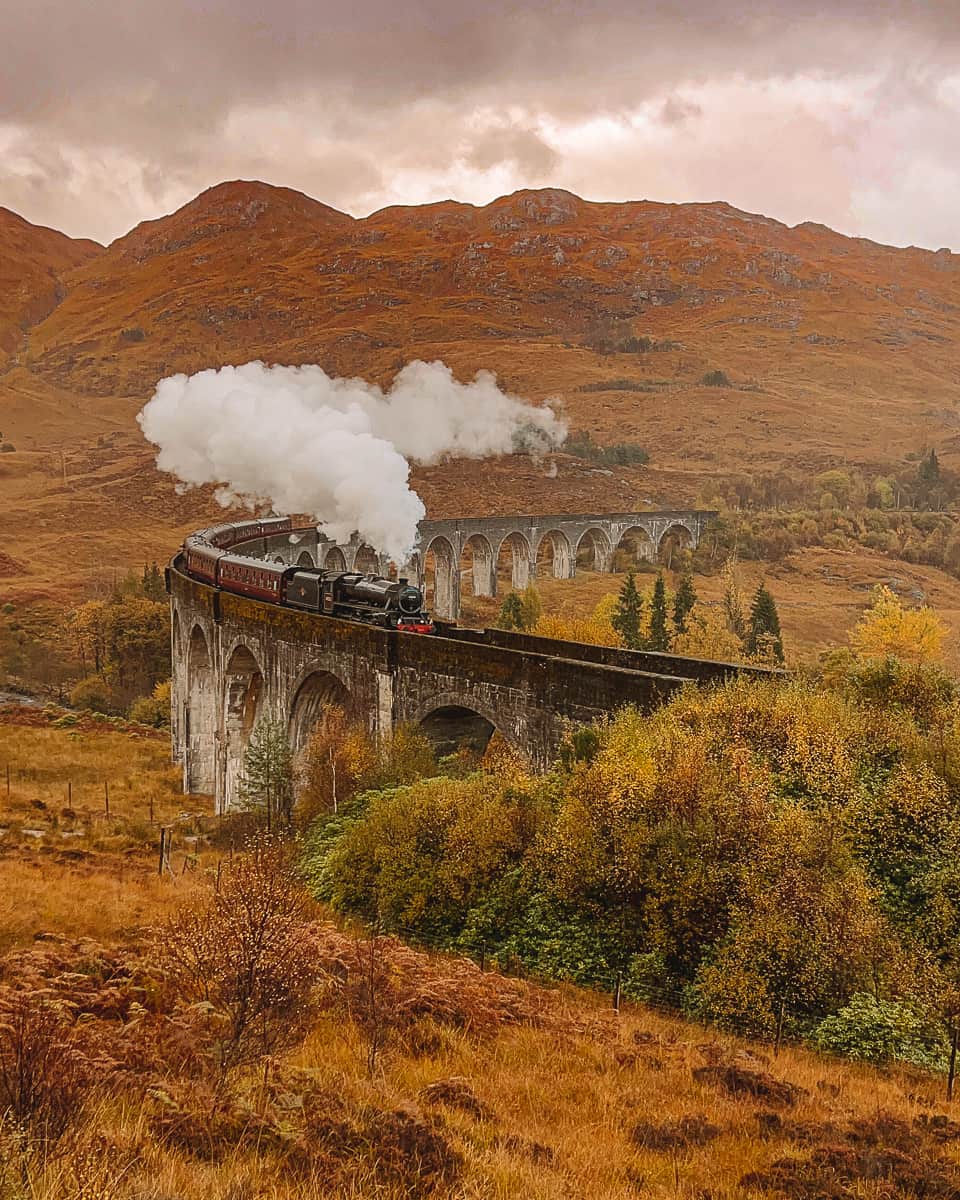 How to visit Ribblehead Viaduct
It's easiest and most convenient to drive to the Ribblehead Viaduct as it's in quite a remote location in the Yorkshire Dales.
You'll find it in between Gearstones and Chapel-le-Dale on the B6255 Low Sleights Road which is a turning off the A65.
This is close to the popular attractions of White Scar Cave and Ingleton Waterfalls Trail. It's also closest to Whernside Peak which is around a 4-mile walk away.
Ribblehead Viaduct's address is Low Sleights Road, Carnforth LA6 3AU. Click here for a Google Pin!
However, as it is a train viaduct, there is an active railway station at Ribblehead for Northern Railways.
So, you could take a train here for the day and explore the area car-free. From the station, the viaduct is a 15-minute walk away.
Fun fact: Ribblehead train station is the highest elevation of all the train stations in England!
Also, there is a Northern Dales bus that has a stop at Ribblehead Viaduct. The Dales Bus 832 service stops at the Ribblehead Station Inn and you can walk from there.
Ribblehead Viaduct parking
There is lots of FREE off-road parking near the Ribblehead Viaduct for you to visit which is open 24 hours a day.
The parking is around half a mile from the viaduct and there are lots of easy-to-follow, designated pathways to walk up to it from there.
Fair warning though, this parking area can get quite busy as many people park up at Ribblehead Viaduct to complete the Yorkshire Three Peaks Challenge.
This is a 24-mile continuous hike where you can climb up Ingleborough, Whernside, and Pen-y-Ghent.
Also lots of campervans park here overnight. So, you may have to park up a little far from the beginning of the viaduct trail depending on when you visit.
The upside though is that the parking area often has lots of food vans that sell drinks, ice-creams, and food throughout the day!
How long is the Ribblehead Viaduct walk?
From the parking area on the B6255 roadside, the walk to Ribblehead Viaduct is around 5-10 minutes.
You can see the viaduct quite easily from the parking area from afar but if you wanted to see it up close, you'll be walking for around half a mile.
The pathways are gravel tracks and they have been recently laid out so there's no risk of muddy boots! It means you can visit all year even when it's been raining.
The viaduct is well signposted but you can easily see where the trail leads down to the bridge.
This a very easy and scenic walk in the Yorkshire Dales and I would highly recommend visiting this achievement in engineering.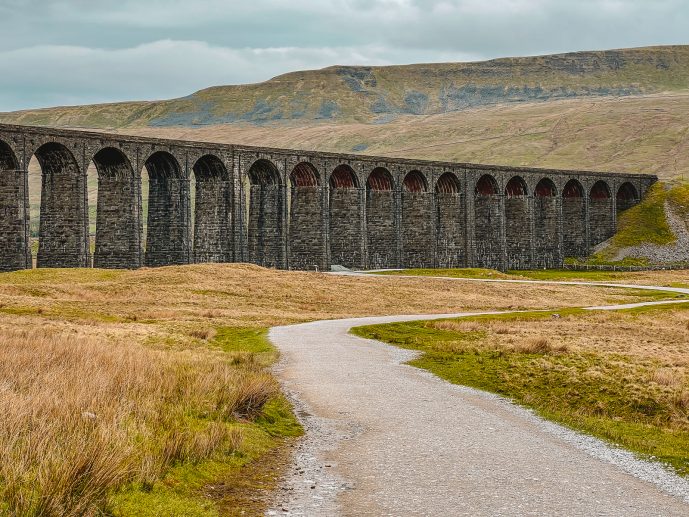 Exploring the viaduct
Once you reach the viaduct, you'll find a memorial plaque where you can learn more about the viaduct and how it was built.
You don't realise just how big this viaduct is until you reach the bottom. You'll have to crane your neck to see the huge archways.
There are fabulous views to be taken in all around when you're exploring the bridge and you can even watch trains go by!
You can walk right under the archways and follow a trail to the stone houses and then walk back.
Climb up the hillside for better views
The best viewpoint of the Ribblehead Viaduct (in my opinion) is the small hill that you can walk up beside it.
This hillside is at the start of Whernside Trail. You'll walk on another short pathway parallel to the viaduct and follow some flagstone steps up the hillside.
This elevated position means that you can get a great view of the bridge and the countryside beyond it.
It's a great place to watch trains passing by or to take some gorgeous landscape photos. The best time would be a sunrise/sunset for more dramatic lighting.
Do trains still go over Ribblehead Viaduct?
If you were a train spotter, you'll be happy to know that Ribblehead station is still active and there are multiple train crossings every day.
You can check the Northern Railways website for their train timetables of when trains will cross over the viaduct.
But, if you wanted to capture a bit of Harry Potter magic, the Settle – Carlisle Steam Train crosses over this bridge too.
You can visit the Ribblehead Visitor Centre to learn the history of this iconic line and its reconstruction.
Why not check out their Ribblehead Viaduct webcam? This is a great way to see what the viaduct looks like before you arrive.
While I was here, I heard a train go over the bridge as I was underneath it! The noise from the archways whilst it was going overhead was so ominous.
My top tips for visiting
Wear sensible shoes – although the paths are flat, it's always a good idea to wear ankle-supporting shoes. The walks around the viaduct are hilly with flagstones.
Layer up – the viaduct is on an open plain and it can get very chilly and windy. It's also completely exposed to the elements. So, wear layers or pack a raincoat in case of adverse weather.
Toilets – there are none here at the viaduct or the parking area. There are some at the Station Inn for patrons.
Leave no trace – make sure to bring all rubbish home with you and leave no trace. Respect and protect these beautiful places.
Is Ribblehead Viaduct worth visiting?
100% yes, even if you're not a Harry Potter fan this viaduct is well worth seeing. It's massive and you don't realise how big until you walk underneath it.
The views are spectacular in this area. It's surrounded by some of the highest peaks in Yorkshire and the rolling hills of the countryside.
Not only does it make an amazing photo opportunity but it's also a short and easy walk in the Yorkshire Dales for all the family.
You must put this on your Yorkshire bucket list if you're visiting the Yorkshire Dales National Park.
Ribblehead Viaduct FAQs
Was Ribblehead Viaduct used in Harry Potter? Not that was Glenfinnan Viaduct in Scotland!
Why is Ribblehead Viaduct so famous? It's an iconic feat of Victorian engineering with 24 archways. But, it also came at a tragic loss of 100 men's lives to build it.
Can you walk across Ribblehead Viaduct? No, it's too dangerous as trains still cross the bridge. But, you can take a train across it and walk underneath.
What is the nearest town to Ribblehead Viaduct? Hawes and Kirkby Lonsdale are the closest market towns. But, there are many villages near the viaduct like Ingleton that make great places to stay too.
Where is the best place to view the Ribblehead Viaduct? From the B6255 road or Low Sleights Road. There is free parking there. Also, on the Whernside trail just above the viaduct. You get great views of the train bridge and surrounding landscape.
Is the Ribblehead Viaduct dog friendly? Yes, but please keep them on a lead as there is wildlife that grazes around this area. This is especially important in the lambing season.
Read more of my Yorkshire guides
A complete guide for Janet's Foss Waterfall
How to visit The Druid's Temple in Masham
How to do the Malham Cove Harry Potter walk
A complete guide for the Gordale Scar walk
How to visit the Fountains Abbey Witcher filming location
Brontë things to do in Haworth
How to visit the Brontë waterfall
A complete guide for Pendragon Castle
Goathland Station Harry Potter guide
Dracula things to do in Whitby
Things to do in Robin Hood's Bay
Save how to visit Ribblehead Viaduct for later!