Although not the first thing you see on itineraries for the City of Love, the magical Saint-Chapelle in Paris should be on your bucket list.
It's a gothic medieval chapel with 1,113 colourful stained glass windows that represent scenes from the Old and New Testament.
I'm not someone who usually admires churches but Saint-Chapelle is no ordinary temple. It's hard to put into words just how breathtaking this place is and the photos really don't do it justice.
It feels almost otherworldly as the natural daylight shines through these painted windows and bathes the entire church in a pink and purple glow. You'll have to see it for yourself to believe it.
Here is how to visit Saint-Chapelle Paris, the 'jewel box church, with the highlights and my top tips!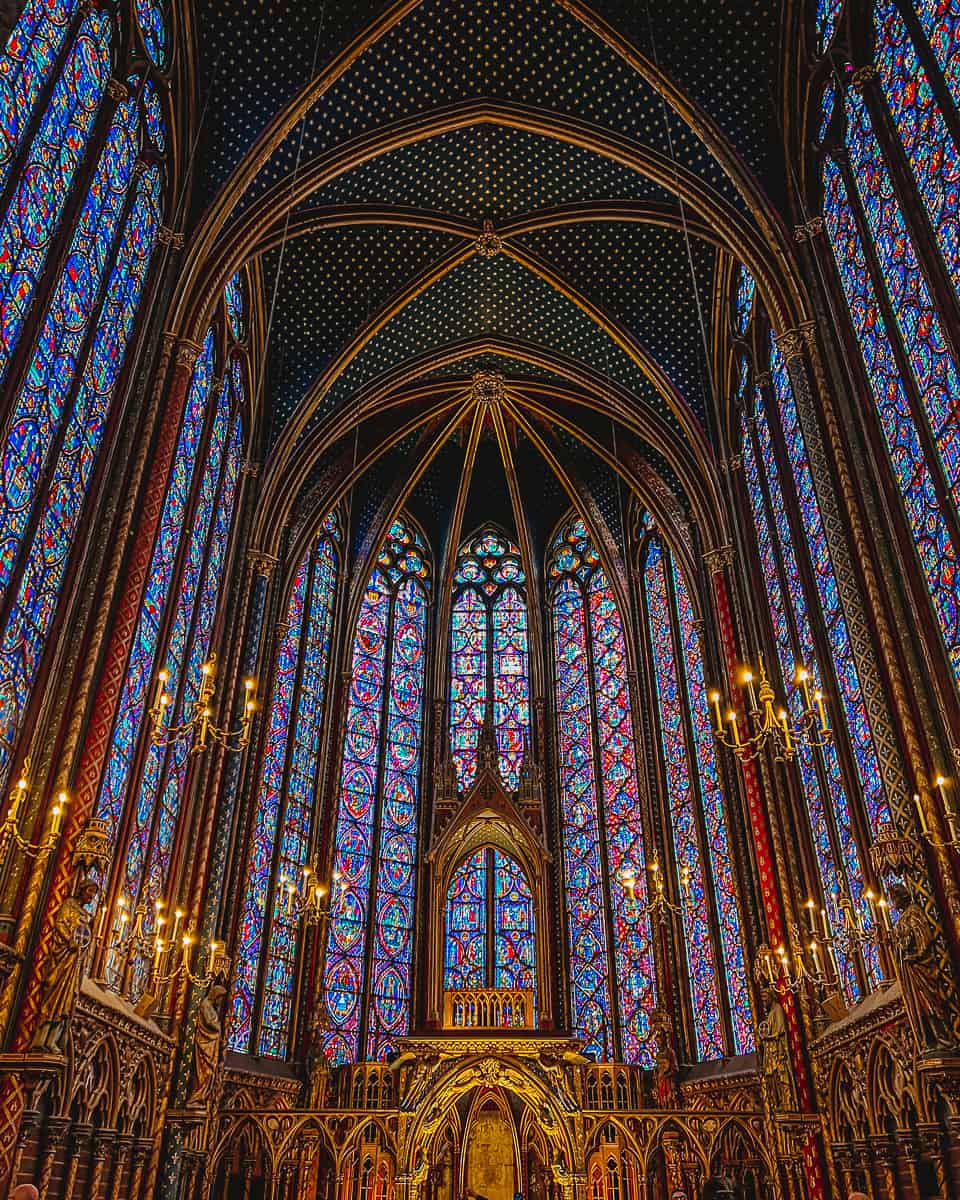 Saint-Chapelle history
Saint-Chapelle or 'Holy Chapel' is a royal chapel that was built in the former medieval Palais de la Cité that was home to French kings until the 14th century.
The date the construction began is unknown but is thought to be around 1238 and it took only seven years to build which was a miraculous feat for its time.
The building was commissioned by King Louis IX of France to house his collection of Christian relics including Christ's Crown of Thorns.
This precious artifact still survives today and used to be on display in Notre Dame Cathedral. Thankfully, it managed to survive the great fire in 2019!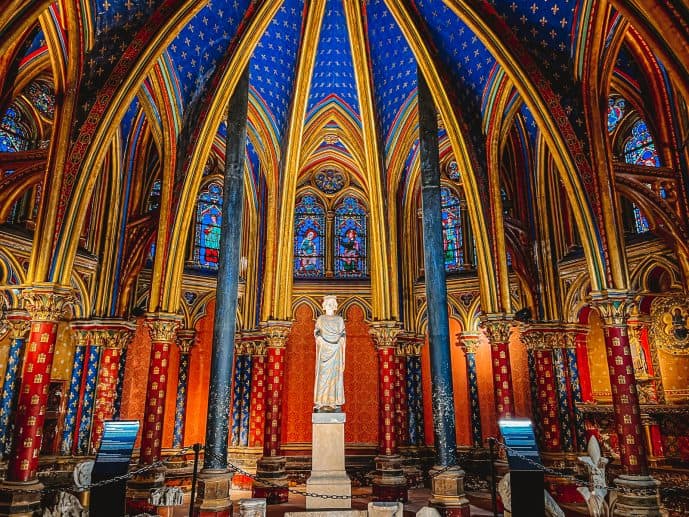 It's most famous for its 15 stained glass windows that are each 15 feet high which gains it the nickname of a 'jewel box' church.
There are around 1,113 stained glass windows and, although some were damaged during the French Revolution, two-thirds of these are 13th-century originals. The rest were 19th-century restorations.
This collection of stained glass is one of the oldest and most preserved in the entire world! It's now a museum and a must-visit tourist attraction in Paris.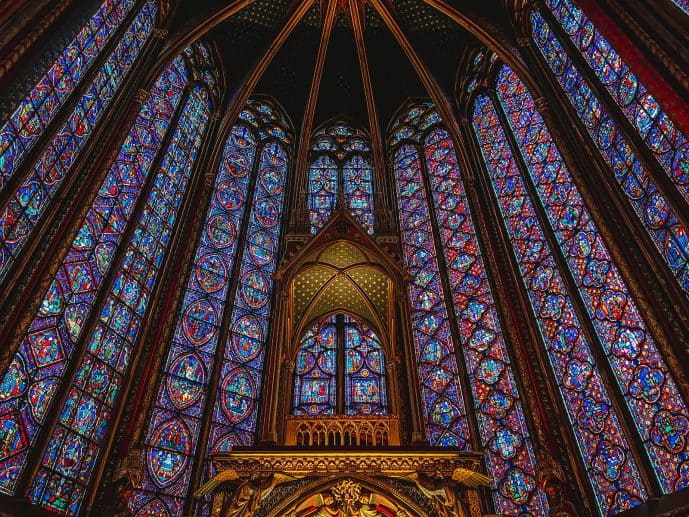 Highlights of Saint-Chapelle Paris
1. Lower Chapel
Although most of the pictures you see of Saint-Chapelle are of the upper chapel interior, you actually enter the attraction through the Lower Chapel.
It's much smaller than the upper floor but is still impressive with elaborate vaulted ceilings and flying buttresses.
It's painted in vibrant shades of red, blue, and gold and features the fleur-de-lys, a symbol of French royalty.
At the back of the lower chapel, you'll see a statue of Louis IX who commissioned the Holy Chapel to be built.
It was originally dedicated to the Virgin Mary and was used by non-royal residents of the Palais de la Cité.
You can purchase an audio guide on this level and there is also a small gift shop selling souvenirs such as postcards, books, and cute medieval-themed toys.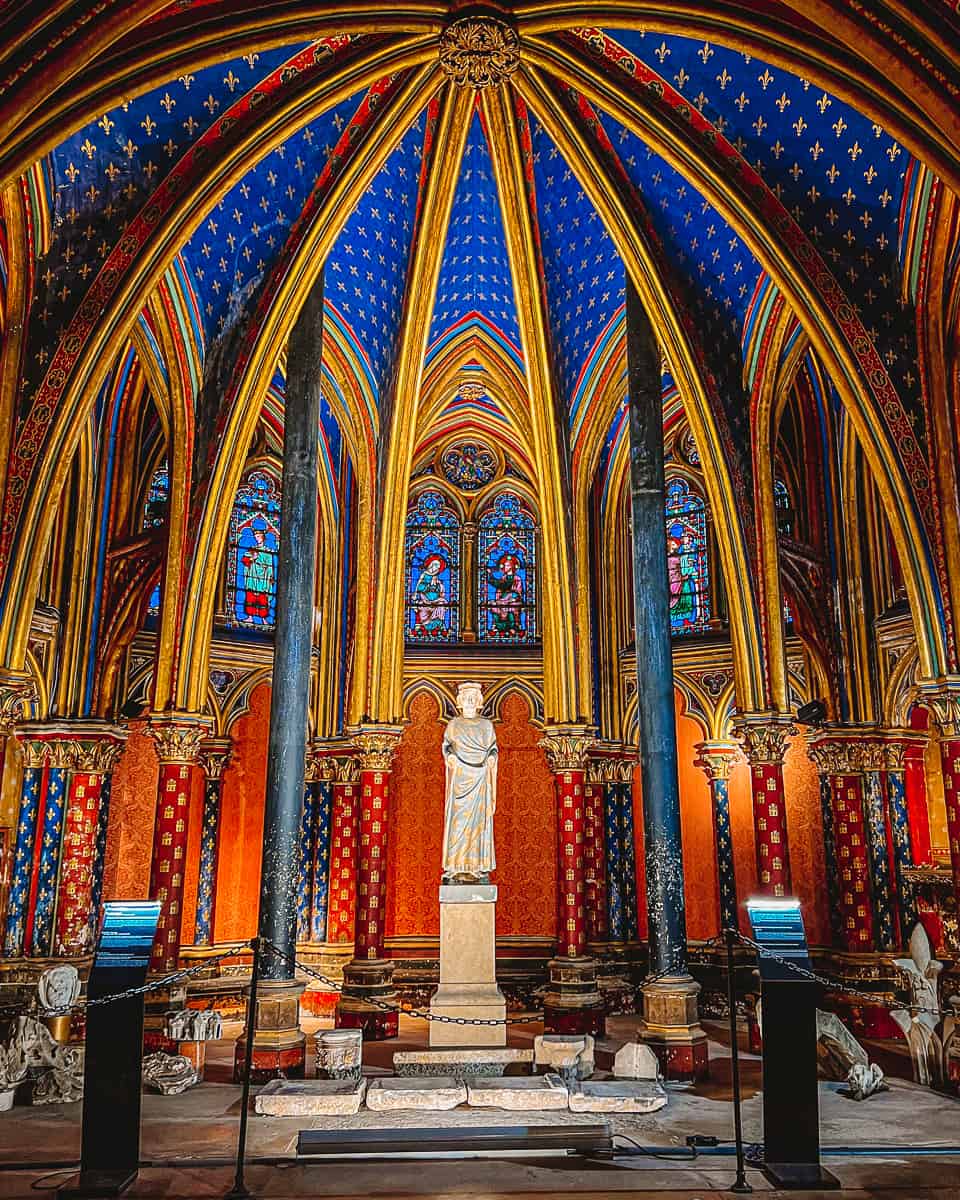 2. Upper Chapel
You will then make your way up the winding staircase to the Upper Chapel which is the highlight of the visit.
Although it's only one large room, you will be completely surrounded by 670 square metres of colourful stained glass and it will take your breath away.
Although there are candelabras, the chapel is almost completely lit by natural daylight and it's actually best if you visit on a bit of a duller non-sunny day to see the pictures clearly in the glass.
If you look up at the vaulted ceiling in the upper chapel it's been painted a deep shade of blue and decorated with gold stars like the night sky!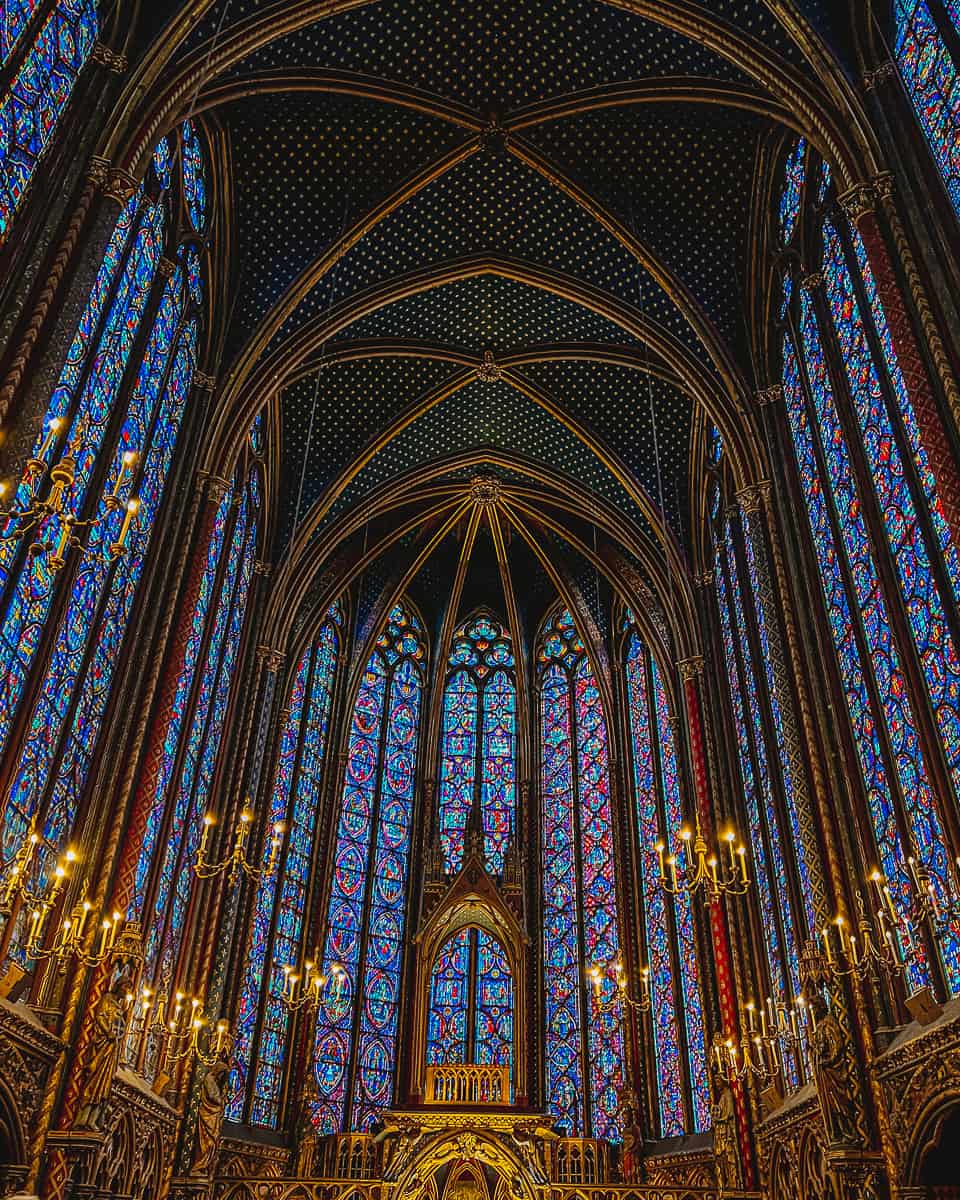 At the very end of the chapel in the apse, you'll find the Chasse, which used to hold the sacred relics and the Crown of Thorns.
You'll also notice several alcoves around the outside and this is where the King and Queen would worship.
3. Admire the breathtaking stained glass windows
Saint-Chapelle is famous for its spectacular collection of 13th-century stained glass windows that depict chapters from the Old and New Testaments.
At first, it just looks like colourful patterns in pink, purple, and blue. But, if you look closely each window has miniature paintings that tell a story.
There are 15 windows that tell stories from the Book of Daniel, Passion of Christ, Life of Ezekiel, John the Evangelist, Exodus, and Genesis.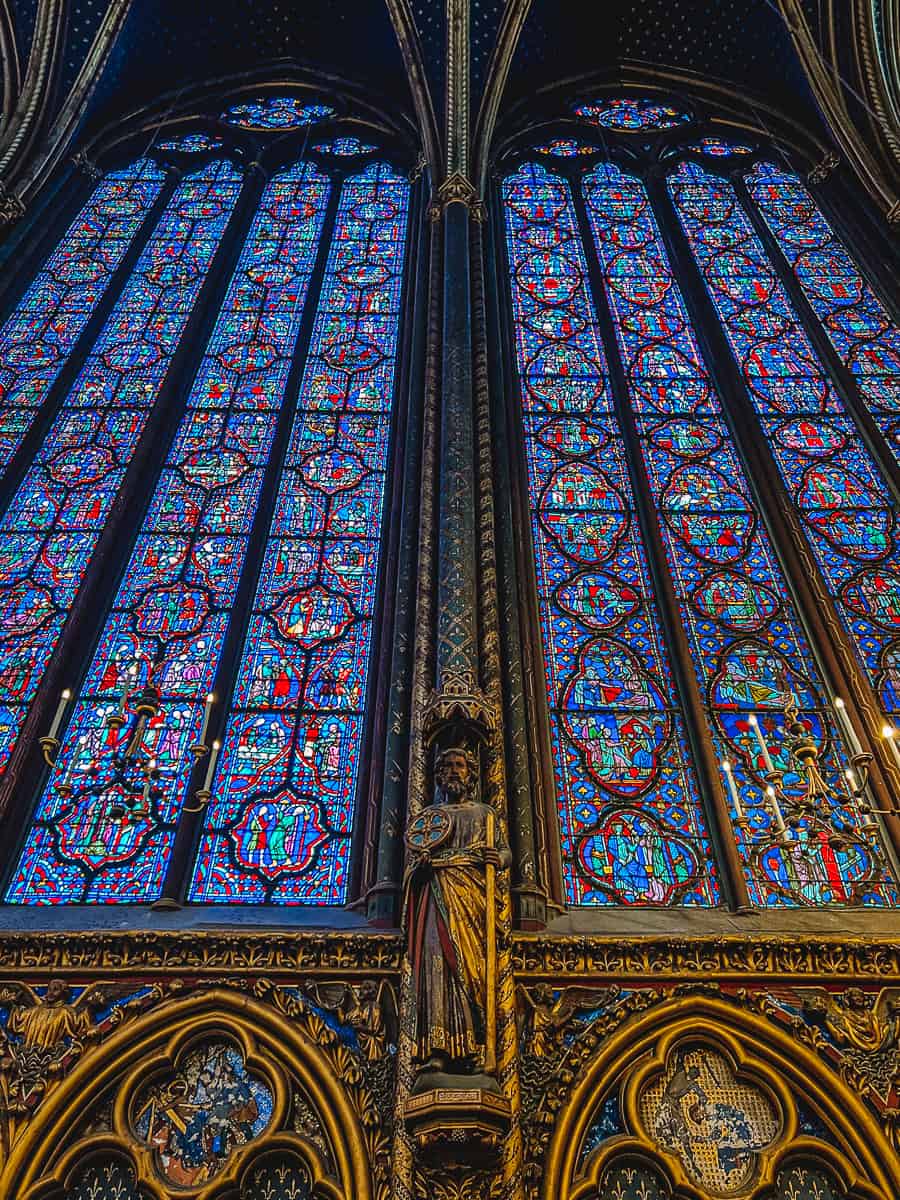 There is even a window that shows the relics being found, recovered, and brought to this temple by Louis IX.
The vibrant colours of this stained glass mean that the entire place shines in a violet glow. As the sun moves across the sky, the colours change with it depending on the hour.
The detail in these paintings is incredibly intricate for the era and it must have taken countless hours of work to put together.
4. West Rose Window
The rose window at the west front of the chapel was made after the other stained glass windows. It was created in the 15th century in the more flamboyant Gothic style.
If you look closely, each part of the rose has individual scenes illustrated on the glass and each tells a story of the Apocalypse.
These are Apocalyptic stories from the Bible. Although most see this as the 'end of the world' or destruction it actually means revelation.
On the glass, you'll see painted scenes from the Four Horseman of the Apocalypse, The Beast from the Book of Revelation, The Souls Under the Altar, and the Vision of the Seven Candlesticks to name a few.
How to visit Saint-Chapelle Paris
Saint-Chapelle is in the Île de la Cité district of Paris and lies within the Palace of Justice with The Conciergerie.
It is very close to the Notre Dame Cathedral. You can walk between the two sites in around 10 minutes.
If you're using the Paris Metro to get around then the closest station is Cité and you'll find the entrance gates to the Palace of Justice as soon as you exit on Boulevard du Palais.
It's a bit of a hot mess with crowds and it's important to get in the right queue when you arrive at the Palace of Justice as there are three queue 'sections'.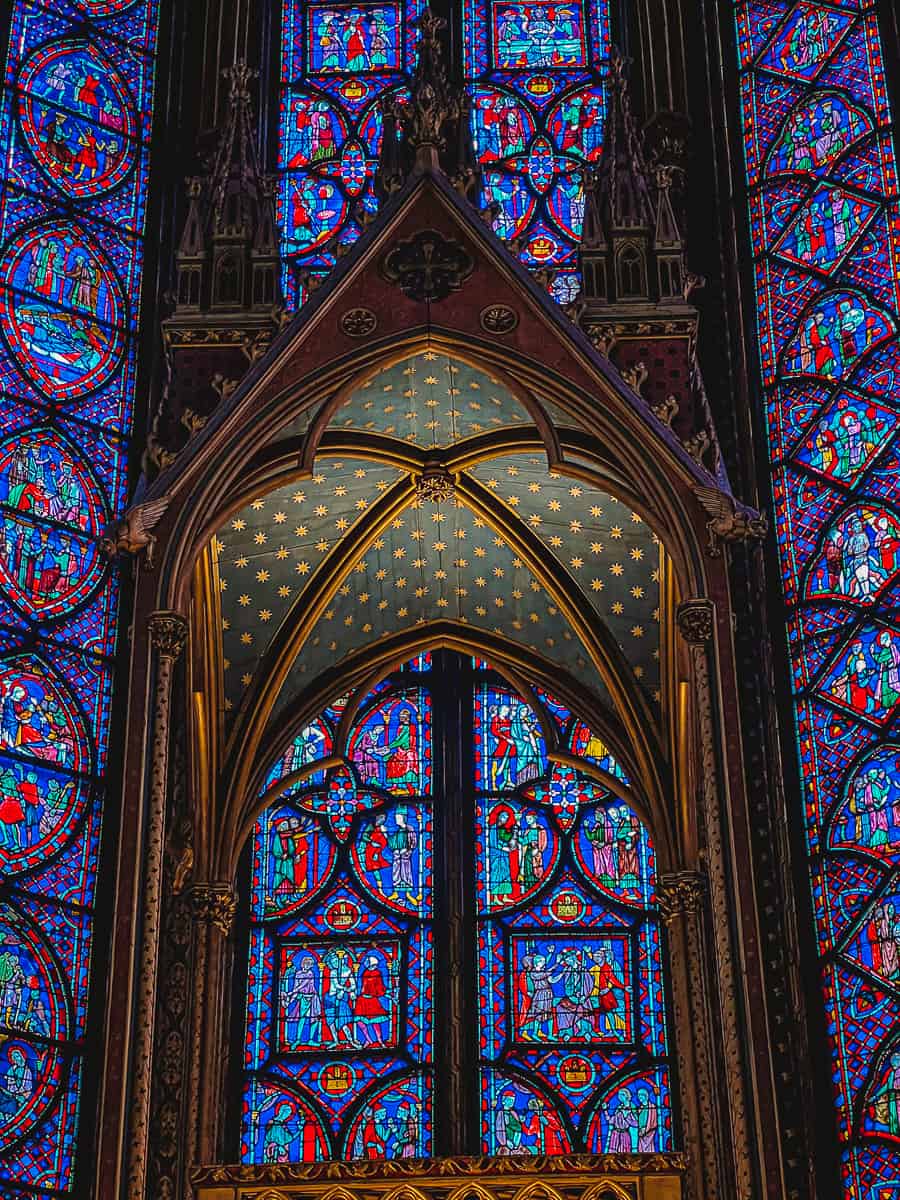 There will be a queuing area for those attending the law courts as high-profile cases run here on a daily basis. The complex contains the Court of Appeals and the Court of Cassation.
Then, there are two queue sections for those visiting the tourist attractions of The Conciergerie and Saint-Chapelle.
The Saint-Chapelle area will be signposted. Once you find it, there are different queues for different time slots. It's important you enter the right queue for your time slot or you'll miss your entry time.
It sounds complicated but it's easy to work out. If in doubt, show your tickets to security and they can guide you to the right place.
Saint-Chapelle address is 10 Boulevard du Palais, 75001 Paris, France. Click here for a Google Pin!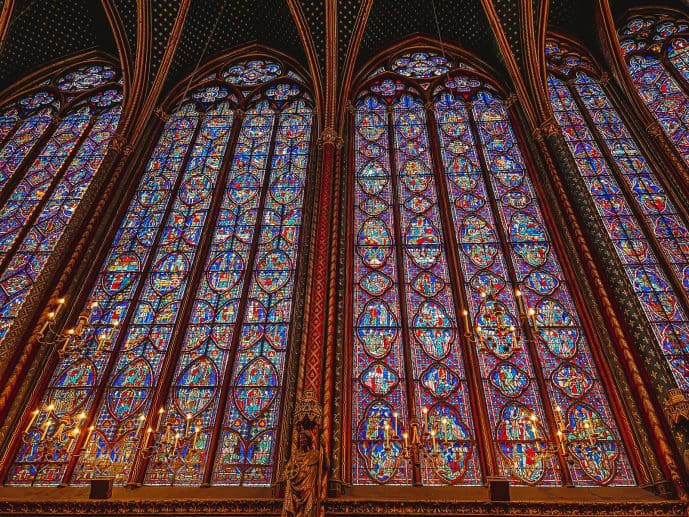 Saint-Chapelle ticket prices & opening times
You do have to purchase tickets for Saint-Chapelle and you can do so online via the official website.
Tickets are 11.50 euros for an adult and those under 18 go inside for free. You also get free entry with a Paris Museum Pass.
Tickets do tend to sell out a few days before, so I would recommend booking your ticket in advance!
You can choose a time slot and these are in 30-minute intervals. You will then have 30 minutes from the beginning of your time slot to enter the chapel.
So, if you've booked an 11 am slot, you have until 11.30 am to be inside the chapel at the latest. Once you're inside Saint-Chapelle, you can spend as much time there as you like!
As the chapel is within the Palace of Justice, there are strict security measures to get through like bag and body scans. So, I would be here a little before your time slot just in case there are delays.
Opening times are 9 am – 7 pm from April to October and from October to March it's open 9 am – 5 pm. The last admission is 40 minutes before closing.
It's open every day of the year apart from Christmas Day (25th Dec), New Year's Day (1st Jan), and Labour Day (1st May).
Personally, I bought a skip-the-line Saint-Chapelle ticket from GetYourGuide for my tour as I didn't want to wait in huge queues! I got straight in for my time slot and it was so worth it.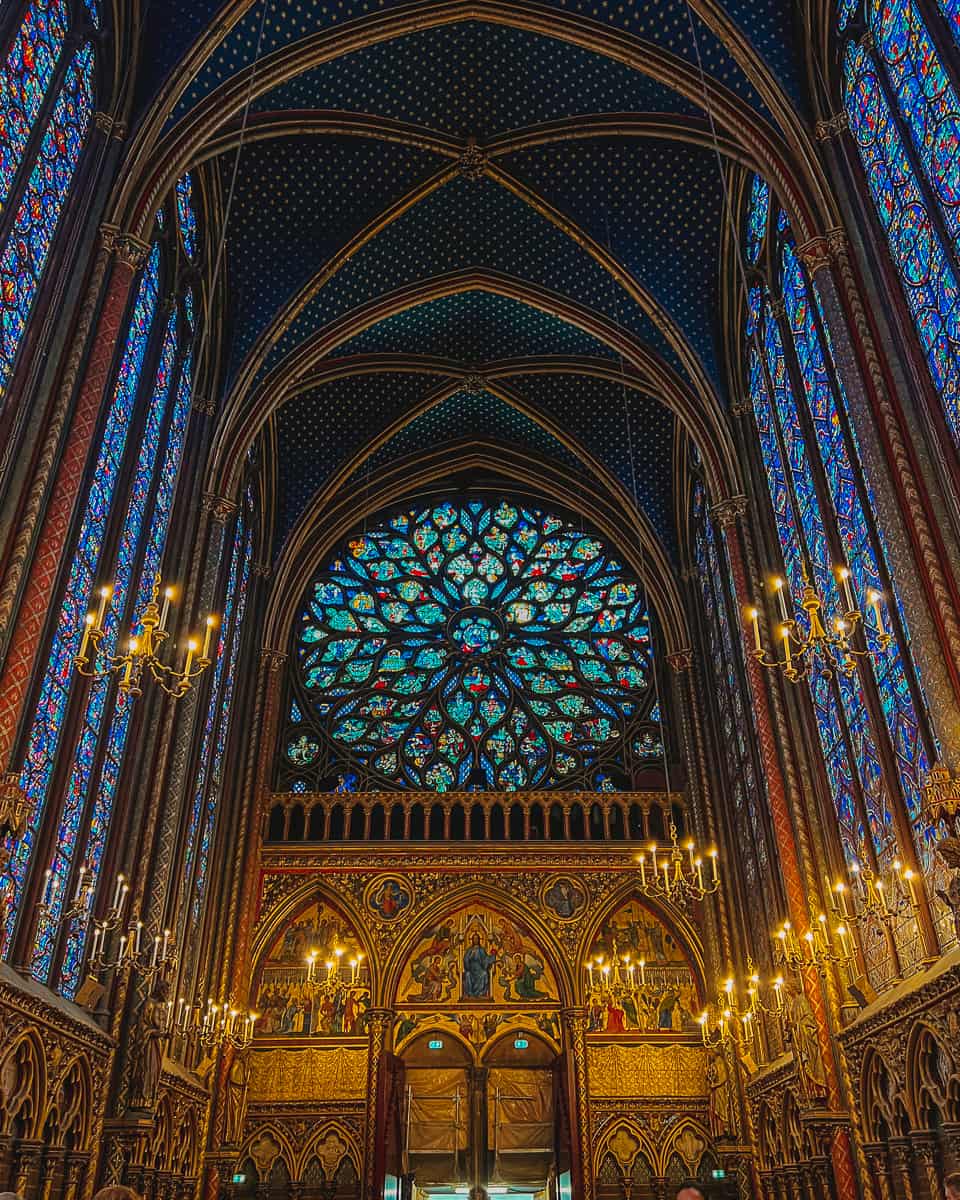 How much time do you need in Sainte-Chapelle?
The tour only includes the lower chapel and upper chapel. It's self-guided and so it can be as long or as short as you want it to be.
The main thing that takes up the time would be the queues and security checks. So, that's why I recommend booking a skip-the-line ticket.
You could visit Saint-Chapelle in around 30 minutes but I would leave around 1 hour for your visit to really admire the windows.
Stretch it to two if you're visiting in summer crowds as it can get very busy like most Paris attractions.
There is an audio guide where you can learn more about the history and if you choose this option this will also take time as its comprehensive.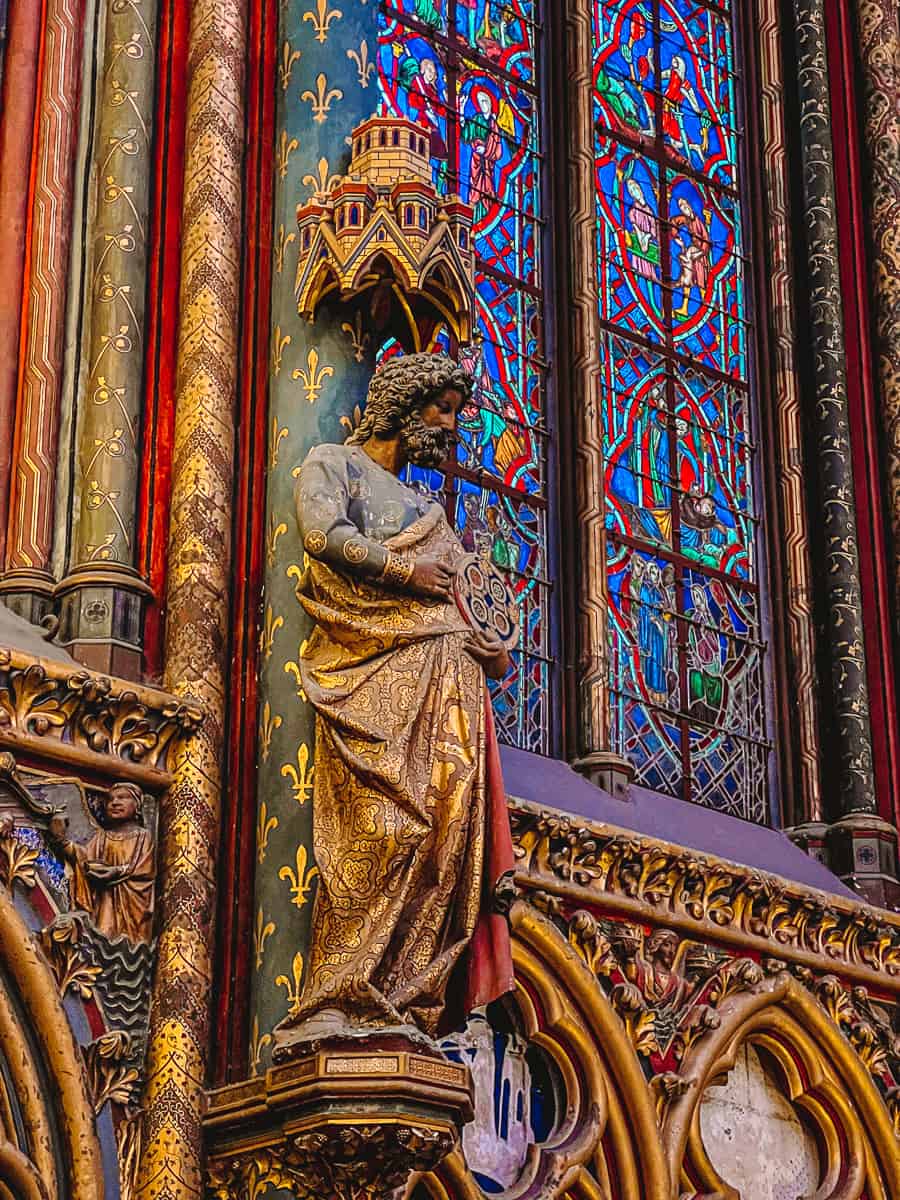 Palace of Justice, Conciergerie & Marie Antoinette
After you've explored Saint-Chapelle, you can explore another attraction in the Palace of Justice called The Conciergerie.
This was a medieval royal palace that became a prison during the French Revolution and where Marie-Antoinette was held awaiting trial.
There were multiple failed escape attempts but finally, she was tried by the Revolutionary Tribunal where she was given a death sentence. Later, she was guillotined at the Place de la Révolution.
Her cell at The Conciergerie was later transformed into a memorial created by Louis XVIII in 1816.
There is the option to buy combined tickets to Saint-Chapelle and The Conciergerie. You can only do this online via the official website and these cost 18.50 euros per person.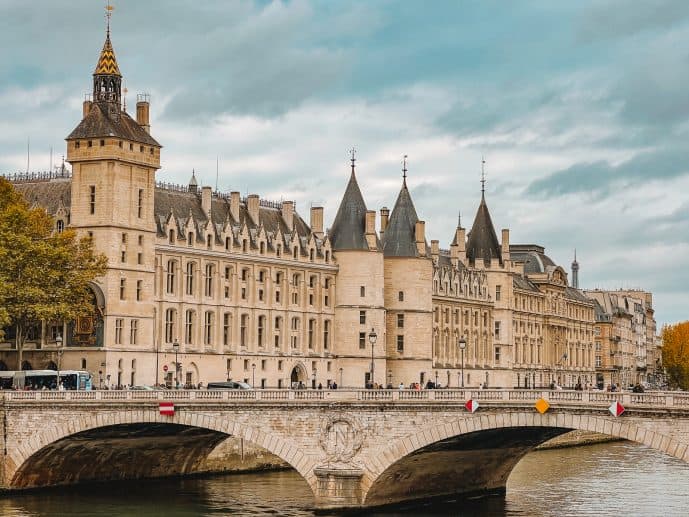 My top tips for visiting Saint-Chapelle
Respect the space – there are signs everywhere to keep silent in the chapel. A volunteer stands there with a microphone and will shush you if you're being too loud. I don't know how they don't lose their minds as he was constantly shushing everyone! They should pre-record it like the Sistine Chapel.
Book tickets in advance – to avoid a long queue book a skip-the-line ticket with a dedicated time slot.
Visit early morning – to see this place without too many crowds, try to book an early morning slot. It can get feral with crowds and reach an uncomfortable level later in the day.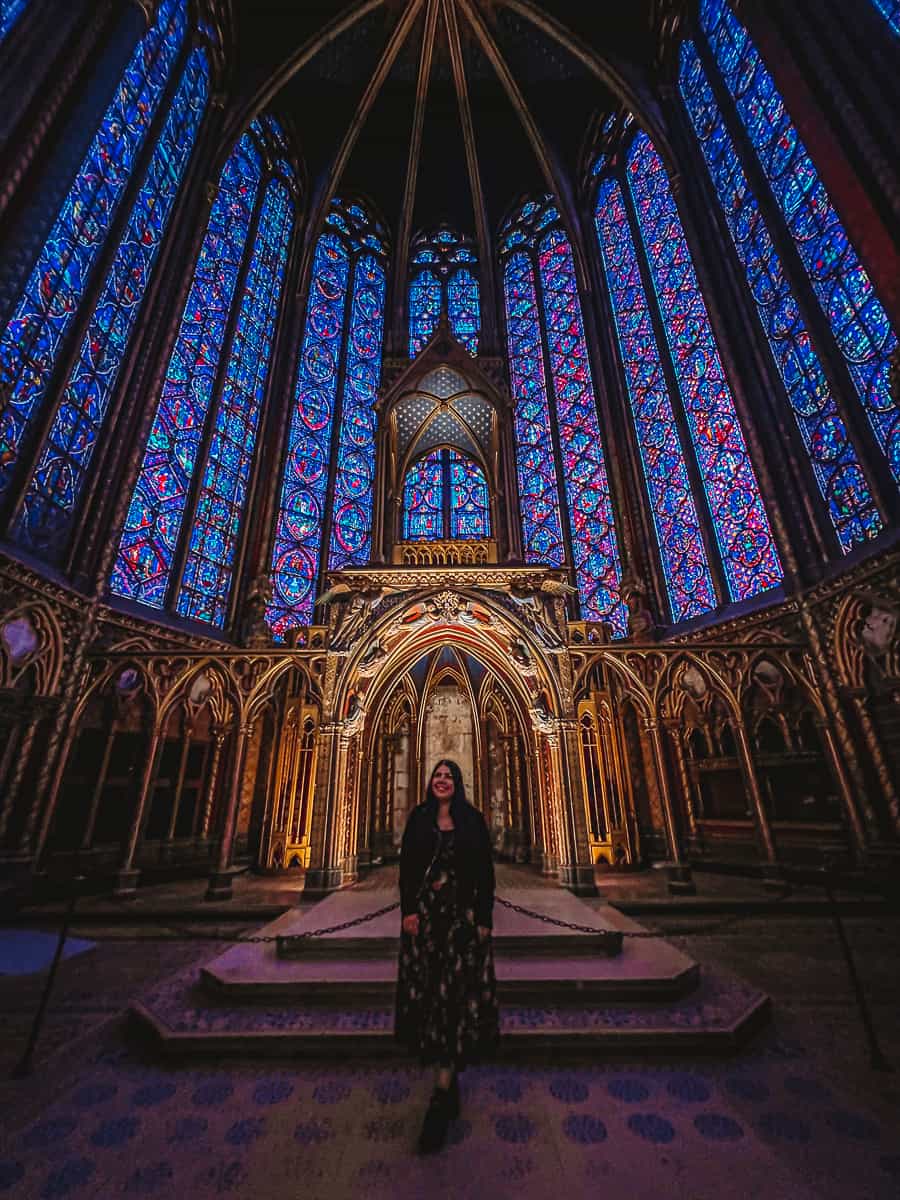 Is a visit to Saint-Chapelle worth it?
Personally, I would say so! I'm a huge fan of history and these stained glass windows are some of the most impressive works I've seen.
There are an endless number of churches in Europe and sometimes it can get repetitive and boring. But, I'd say Saint-Chapelle is more of a work of art or a masterpiece of stained glass.
I was blown away by the details and the photos and videos you'll see online simply don't do this place justice.
It's hard to put into words but you will be in awe when visiting this beautiful chapel. The entire temple is bathed in this beautiful purple glow and it's magical.
Saying that it's a very short tour and you only get to see one lower and one upper room. So, it completely depends on your budget, time in your itinerary, and interests.
Saint-Chapelle FAQs
What is Sainte-Chapelle famous for? It's 1,113 stained-glass windows! The chapel is more glass than stone and is often nicknamed a jewel box.
Is Saint Chapelle free? No, adults do have to pay. Under-18s go inside for free and they sometimes have free entry days. Entry is also included in a Paris Museum Pass.
Is there a dress code for Sainte-Chapelle? There is no strict dress code but as it's a religious place you should dress modestly to respect the space.
Can you take pictures inside Sainte-Chapelle? Yes, photos and videos are allowed but no flash, selfie sticks, or tripods.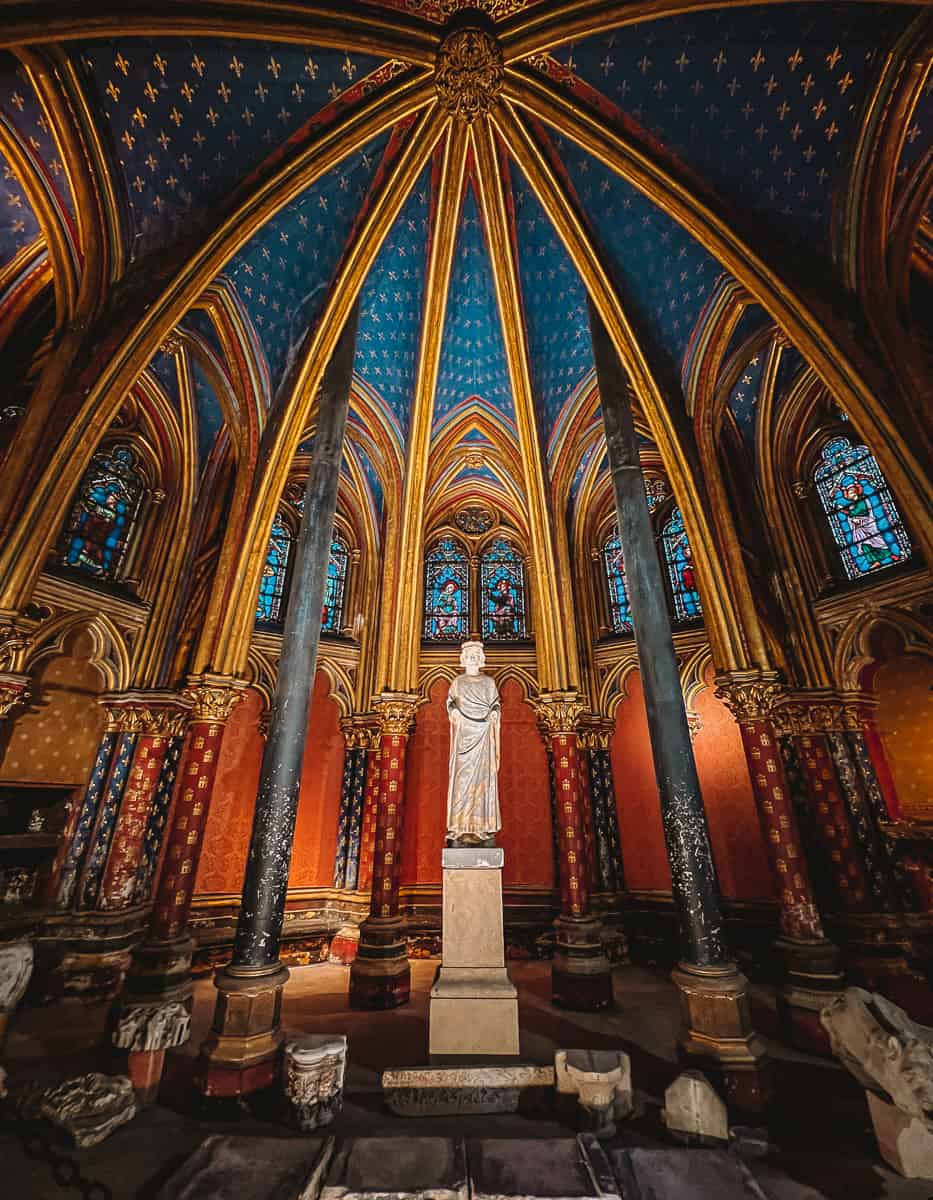 Looking for more things to do nearby?
Saint Chapelle is in Île de la Cité of Paris, the former medieval Palais de la Cité, and there are plenty of attractions to visit nearby.
The most famous is the Notre Dame Cathedral meaning "Our Lady of Paris". It was established as a religious temple in the 4th century but the building we see today was constructed in the 12th century.
It's dedicated to the Virgin Mary and is considered one of the finest examples of French Gothic Architecture.
Just near to there is Shakespeare and Company bookshop. It's the most famous English language bookshop in Paris and many famous authors have visited here including Ernest Hemingway, Jack Kerouac, and ­Allen Ginsberg.
You usually have to queue to go inside but it's well worth it and you can request any books you buy to be stamped. Don't forget to head into the coffee shop next door with the vegan-friendly Bob's Bake Shop.
Lastly, I would recommend a stroll around the Jardin de Luxembourg. It was constructed by Marie de Medici, the widow of King Henry IV after the Luxembourg Palace became her new residence.
A highlight would be the Medici Fountain built in 1630. It's exquisite and a bit of a hidden gem but was a marvel for its time as it provided free-flowing water to the district.
Read more of my Paris travel guides
How to get an empty Versailles Hall of Mirrors Photo
Starbucks Opera – Is this the prettiest Starbucks?
How to visit Marie Antoinette's Queen's Hamlet in Versailles
Pink Mamma Paris Review – is it worth it?
50+ Instagrammable places at Disneyland Paris
25+ Things to do in Disney Village Paris
Don't miss the Disneyland Paris Dragon
Captain Jack's Restaurant Review
How to eat at Bistrot Chez Remy Ratatouille Restaurant
How to find Jim Morrison's Grave at Pere Lachaise Cemetery
Save how to visit Saint Chapelle Paris for later!