If you're looking for how to visit Stonehenge for free, keep reading this post.
I've always been one to pay for attractions. In fact, I often will just pay the cost of the ticket when I travel as you only live once, right? But, Stonehenge, I have a little bit of a gripe about.
The price to enter Stonehenge in 2023 is £21.80 (£24 with Gift Aid) and you also have to pay to park up at the visitor centre in peak season. That's a maximum of £28 per ticket!
That's without the price of your travel. Last year, English Heritage made £73 million alone from Stonehenge. A historic site that was left here 5,000 years ago.
But, being a Wiltshire lass, I know a few secrets and one of them being how to see Stonehenge completely FREE!
Now, just before you panic, there is nothing illegal about this. In fact, you will be walking on a public footpath around a metre away from the general public who have paid to visit the stones. You essentially get the exact same view, without spending a single penny.
Sound good? Okay, let's do this!
Step by step instructions on how to visit Stonehenge for free
Step 1: Start out on Fargo Road, in Amesbury, Wiltshire
Stonehenge is based in Amesbury which is out in the middle of the Wiltshire countryside!
The site is a stand-alone monument and you can actually pass it along the A303 road. So, if you didn't want to get up close, you can catch a glimpse here. There's always traffic, so you'll be going slow enough to see.
If you did want to get up close to the stones, then plug Fargo Road (Lark hill) into your Satnav.
You can no longer park up on the A303 and the 'old' car park I read from older reviews is now the Visitor centre.
Fargo Road connects both the pathway to Stonehenge and Woodhenge if you wanted to check that out. You'll know you're in the right place when the road is blocked off and you see the sign.
Make sure you're parked up on the side nearest to Stonehenge. Once I got here, I just plugged in Stonehenge and followed the road until I could see the pathway;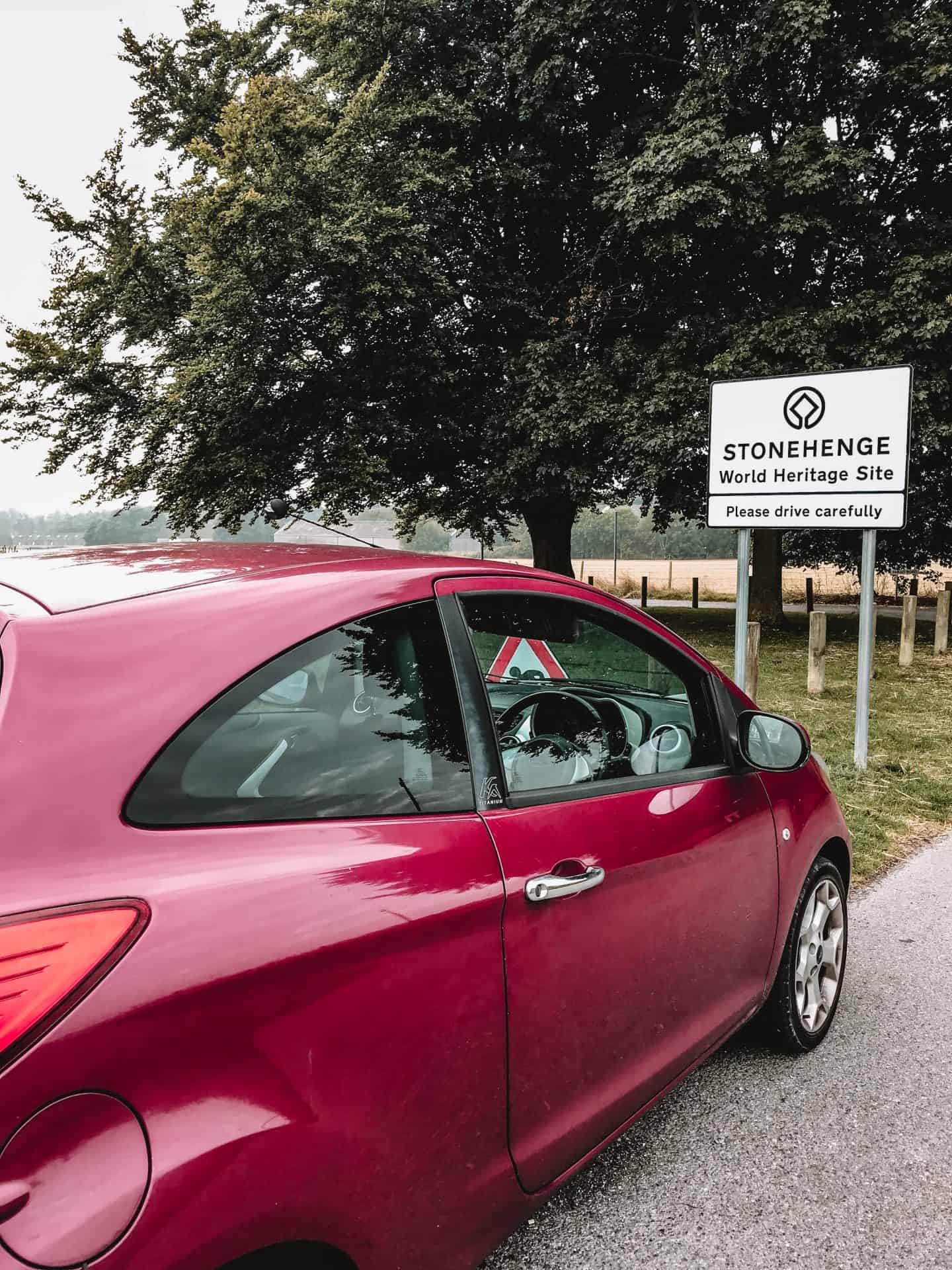 Step 2: head down the gravel path all the way to Stonehenge
Once you're parked up, head down the long gravel path towards Stonehenge.
If you're not sure where the path begins, just plug it into your Google Maps from Fargo Road and follow the route. It will take around 15 minutes to reach the site.
I got lost around 4/5 times, so you don't have to! Having not done this since I was a kid, I wasn't sure what fields were permissible in getting to Stonehenge.
Turns out, none of them were! Most of the meadows came to dead ends of electric fences. But, my detour led me to lots of cute sheep (and unfortunately their poop).
So lesson learned, don't veer off the gravel path or walk through any of the gates until the very end! You will see the buses dropping the visitors off, and that's your turn off point.
Step 3: Go through the public pathway gate
When you get to the bottom of the gravel path, you will come to the area where the tourists are dropped off by the shuttle buses to see Stonehenge.
You obviously can't walk through the normal entrance without a ticket, but you can walk along the public pathway for cyclists and pedestrians which is right next to it. Again, this is not illegal as it's public land and you can walk here free of charge.
Step 4: Meet the stones
You made it! You should now be face to face with the incredible neolithic site of Stonehenge.
One of the best-known pre-historic monuments in Europe. it's an epic site to behold that brings an air of mystery. How did they get here? Why was it built? Your mind will be racing.
And the best bit? It didn't cost a thing!
If you look at the picture below, you're actually only a couple of metres away from the 'observation path'.
It's good to note that you can't actually get in amongst the stones even with a paid ticket, so you're essentially seeing the same view!
Of course, you have a barbed wire fence in the way but it's still a beauty.
Go at your own time
What I loved about seeing Stonehenge this way was that I got to have it pretty much all to myself.
The first ticket entry is at 9.30 am and, from then on, it's packed with visitors all day until 8 pm!
I wanted to see it early morning and in peace and this way allowed me to do that. It was a magical feeling.
How to visit Stonehenge for free on the Summer Solstice
Every year for Summer Solstice, in eve of the longest day of the year, Stonehenge opens it's doors for the public.
On June 20th of each year, you can enter the site for free and climb amongst the stones in celebration! I've done it a couple of years in the past and I absolutely love it.
Everybody waits in amongst the stones for the sun to rise to mark the earliest sunrise and latest sunset.
You will hear drums going all night, dancing, partying and all sorts and everyone cheers when the sun goes up.
It's a tradition that has been running for more than 5,000 years, so I would definitely recommend it if you're in UK for the solstice.
In recent years, I've been celebrating a little closer to home at a lesser known, but equally as beautiful, stone circle called Avebury. Each year for solstice, visitors walk amongst the stones waiting for the sun to come up.
As a plus, Avebury is free to the public all year round. Not just for the summer solstice.
For more information on celebrating the Summer Solstice, you can see my post all about it here!
So, that's how to visit Stonehenge for FREE! Never pay again…
So, there you have it, an easy step by step (completely legal) guide of how to visit Stonehenge for free.
I think that the view you get from this platform is just as good as paying for a ticket and a visit really isn't worth it. Save your cash and do it this way instead. Plus, you can go for sunrise and have it all to yourself, bonus.
I hope you enjoy feeling the energies of Stonehenge, let it bedazzle you without hurting your wallet!
Read more articles about Wiltshire and the West Country
Discover this secret bluebell woods of Swindon!
How to visit Imber, the abandoned ghost village in Wiltshire
Why you must visit King Alfred's Tower in Stourhead
How to find the Devil's Den on Fyfield Down
Things to do in Uffington White Horse
Silbury Hill – Wiltshire's very own Pyramid!
Secrets of West Kennet Long Barrow
The best places to visit in Wiltshire
The ultimate Castle Combe guide
Like it? Pin it!