One of the most beautiful libraries in the world is the Strahov Library located in an ancient monastery in Prague.
It contains two breathtaking Baroque rooms which are the Theological Hall and Philosophical Hall built in the 17th and 18th centuries.
These magical book troves will take your breath away with their ancient tomes, ceiling frescoes, stucco artwork, and astronomical globes.
Both look like something from a fairytale and they are honestly a book lovers dream come true.
But, it's important to know a few things before you visit so you know what to expect and what you're paying for. Like the fact that you cannot enter the library rooms with a standard ticket.
Here is how to visit the magical Strahov Library in Prague and everything you need to know.
Strahov Monastery history
The foundations of Strahov Monastery date as far back as the 12th century.
After Bishop Olomouc Jindrich Zdik returned from a pilgrimage in the Holy Land he had a vision to build a monastery near Prague.
In 1143, Strahov Monastery started to be constructed to house the Premonstratensian monks. A monastic order founded by Saint Norbert.
At first, they built wooden structures whilst they constructed the Romanesque Basilica in 1149. The rest of the monastery buildings in the complex followed and it was finished in 1182.
Unfortunately, it faced many hardships like a fire in 1258 and it was plundered during the Hussite War in 1420.
Many of the buildings needed to be reconstructed in the 16th century and Abbot Jan Lohelius was in charge of rebuilding the monastery. He eventually became the archbishop of Prague.
Much of the monastery was rebuilt by his successors during the Thirty Years War. It was only after this period that the Strahov Library was started.
Baroque Strahov Library
Although it's called the Strahov Library, there are actually two rooms that form this magical book collection.
These are the Theological Hall built in the 17th century and the Philosophical Hall built in the 18th century.
Both of these rooms are stunning but are complete contrasts to each other!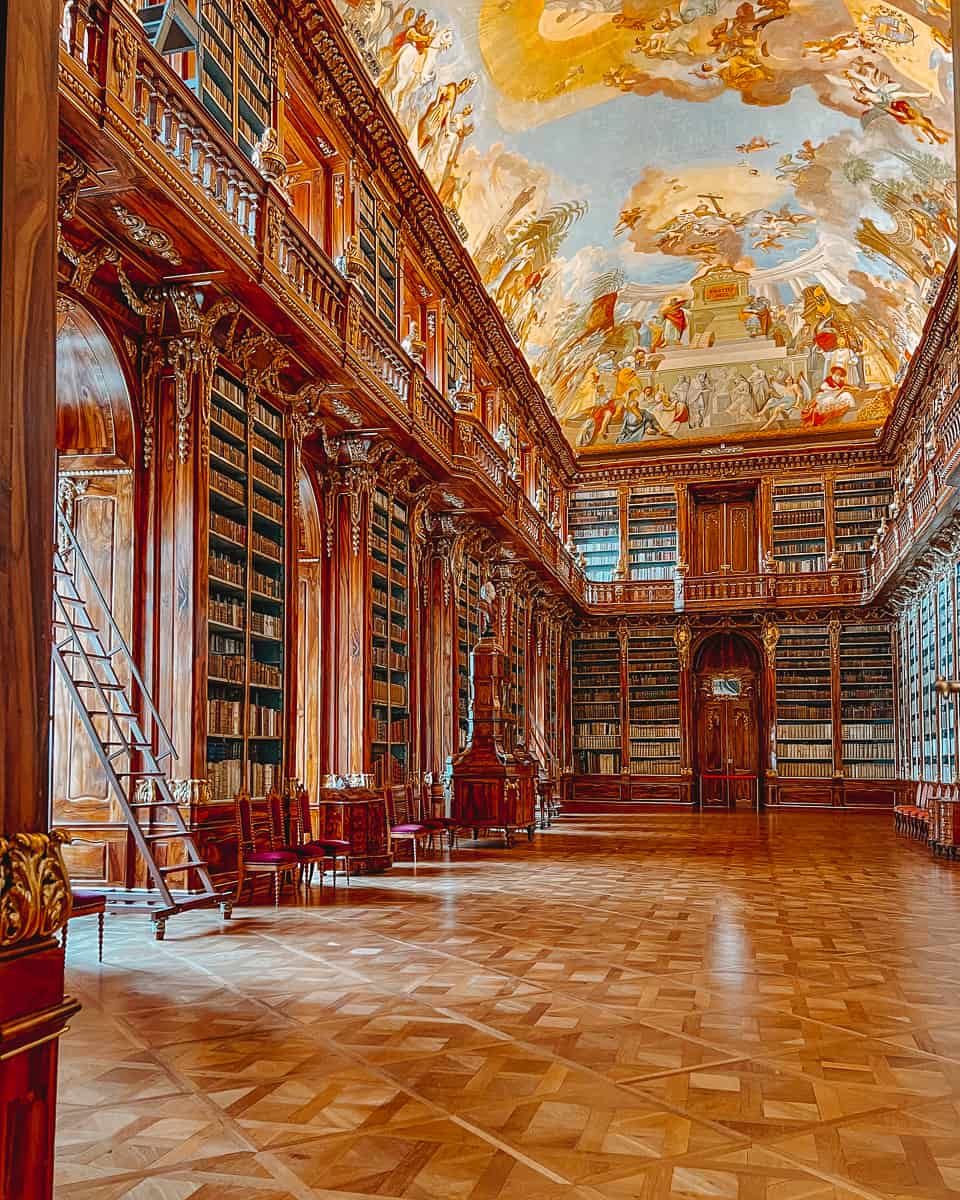 Theological Hall
The Theological Hall was built during the office of Abbot Jeronym Hirnhaim in the 17th century.
A Prague-based Italian architect, Giovanni Domenico Orsi, was hired to create the Baroque stucco cartouche work you can see on the ceiling.
All of the library shelves, statues, terrestrial and astronomical globes inside date back to the 17th century. You'll also see a Gothic wooden statue of St John the Evangelist.
In the 18th century, after the 100th anniversary of the remains of St Norbert, the library was extended and the artist Siard Nosecky painted the frescos on the walls.
There are over 20,000 volumes in the Theological Hall. Many of these are religious texts in different languages.
Although much of the library books and contents are originals, some of the shelves and wooden panelling are a reconstruction from the 20th century.
This room is honestly stunning, the stucco ceiling and cartouche paintings are absolutely breathtaking. I loved all the gold features and it would be such a dream to read a book in here.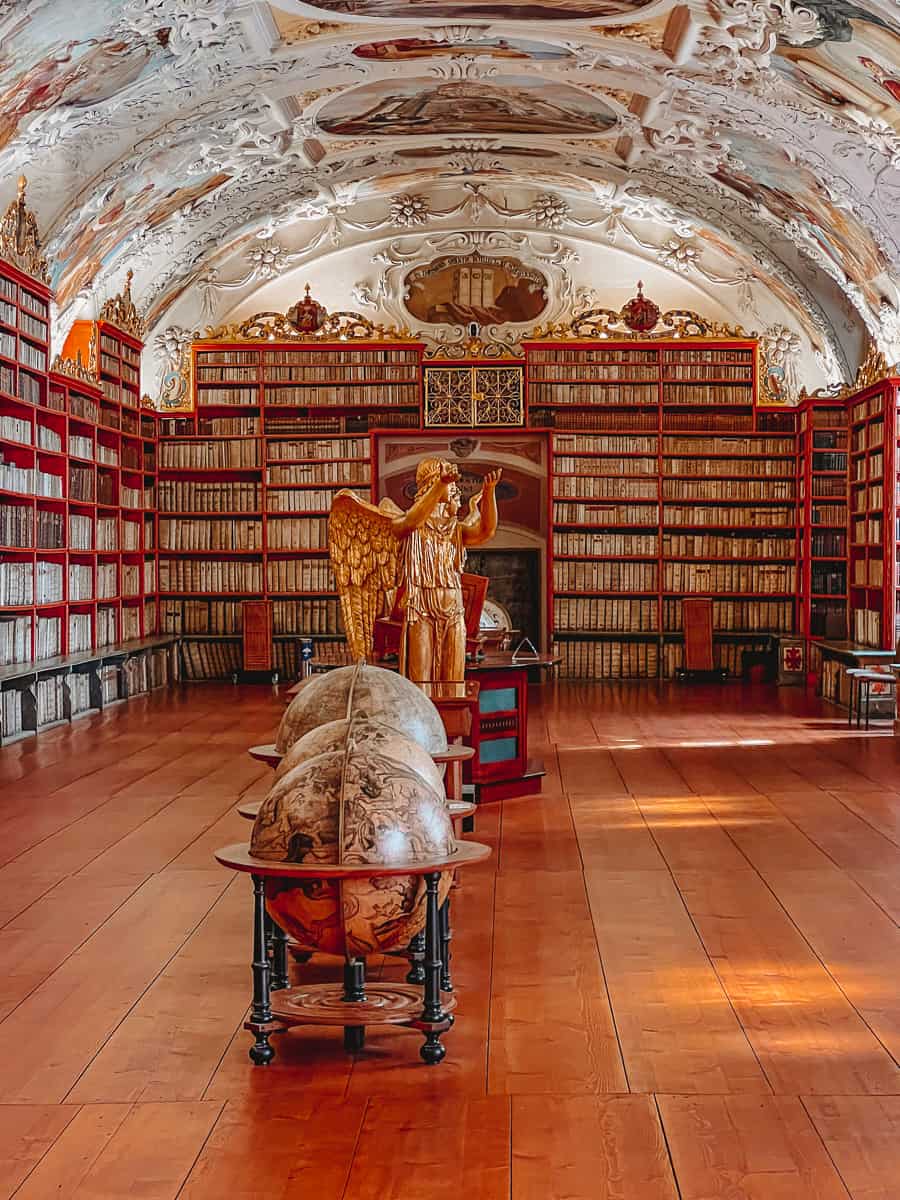 Philosophical Hall
The Philosophical Hall was built in the 18th century and was commissioned by Abbot Vaclav Mayer.
A Prauge-based Italian architect, Jan Ignac Palliardi, was hired to build the library on the site of the old monastery granary.
The facade was built in 1794-1797 and it was filled with books. Many of the higher tomes are only accessible via the gallery. There is a hidden spiral staircase masked with fake books spines.
On the ceiling, you'll see a fresco called 'Intellectual Progress of Mankind' and it tells the story of the developments of science and religion.
There are characters featured from the Old Testament such as Moses, Ada, Eve, Cain, Abel, Noah, and Solomon. Also, you'll see Wenceslas, the Patron Saint of Bohemia, in the right-hand corner.
Although it was located in the monastery, it was very popular with tourists in the 18th and 19th centuries. But, women were only permitted limited access due to it being a monastic complex.
There are over 42,000 books in the Philosophical Hall and you can find subjects in mathematics, history, astronomy, and philology.
This hall reminded me so much of the library in Beauty and the Beast. I would have given anything to climb one of the book ladders like Belle.
Or, maybe it could be part of the Hogwarts Library in Harry Potter? Either way, it blew my mind!
Fun fact: this library featured in series 2 of Outlander as the Palace of Versailles. This is where Jamie is playing chess with Joseph Duverney, and where the Comte St. Germain poisons Claire!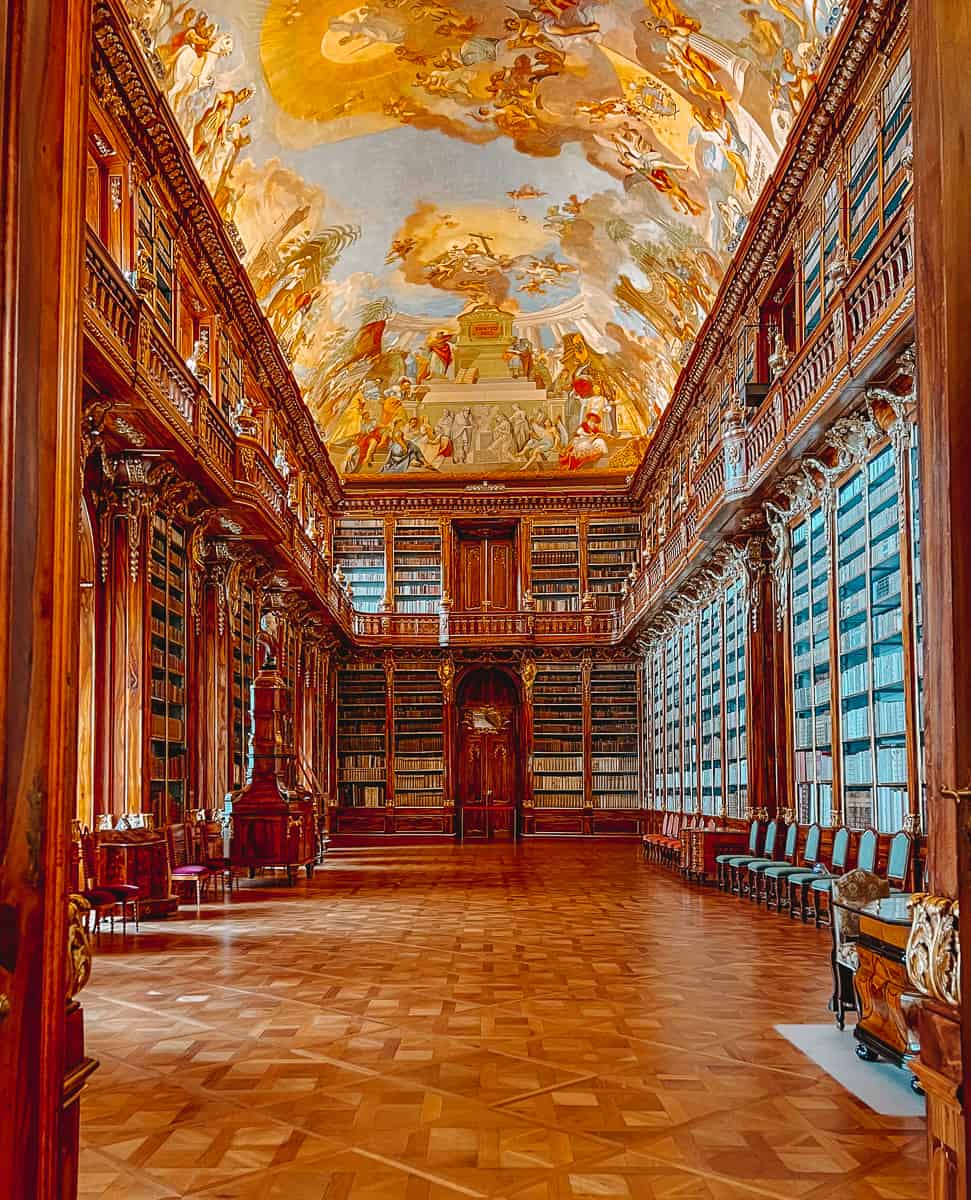 How to visit the Strahov Library in Prague
The Strahov Monastery is located on a high hillside in the Prague Castle District near Petrin Hill.
In fact, it's only a 10-minute walk away from Prague Castle, so it's a great activity to visit after your tour of the largest castle in the world.
There are signs for Strahov all over the Prague Castle District and so it's really easy to find if you're walking.
But, I will warn you, if you're visiting from the old town area, like Charles Bridge, be prepared for a long and steep walk to the top!
It may be easier to take public transport to reach the monastery, the nearest tram stop is Pohořelec which is a 5-minute walk away from the main entrance.
Alternatively, to save time and your feet, it is possible to take a taxi to the top of the hill. Taxi apps like Uber, Liftago, and Bolt all operate in the capital.
Strahov Monastery address is Strahovské nádvoří 1/132, 118 00 Praha 1-Strahov, Czechia. Click here for a Google Pin!
Strahov Library opening times and ticket prices
The Strahov Library is open to visitors daily throughout the year except for the 24th and 25th of December and Easter Sunday. But, it is subject to opening times.
It's open from 9 am – 5 pm but they take a lunch break from 12.00 p.m. – 12.30 p.m. So, you can only buy tickets from 9 am – 11.30 am and then from 12.30 pm until 4.30 pm.
The standard entry fee for Strahov Library is 150 CZK (£6 / $7 USD). There are family tickets available and reduced tickets for concessions too.
If you wanted to visit both the Strahov Library and Strahov Picture Gallery you can buy combo tickets.
You cannot pre-book or purchase tickets online for Strahov Monastery. All tickets must be purchased at the information desk on the day of your visit located near the main entry gate.
Although I read online that they only take cash, I'm pleased to say that contactless card payments are now available.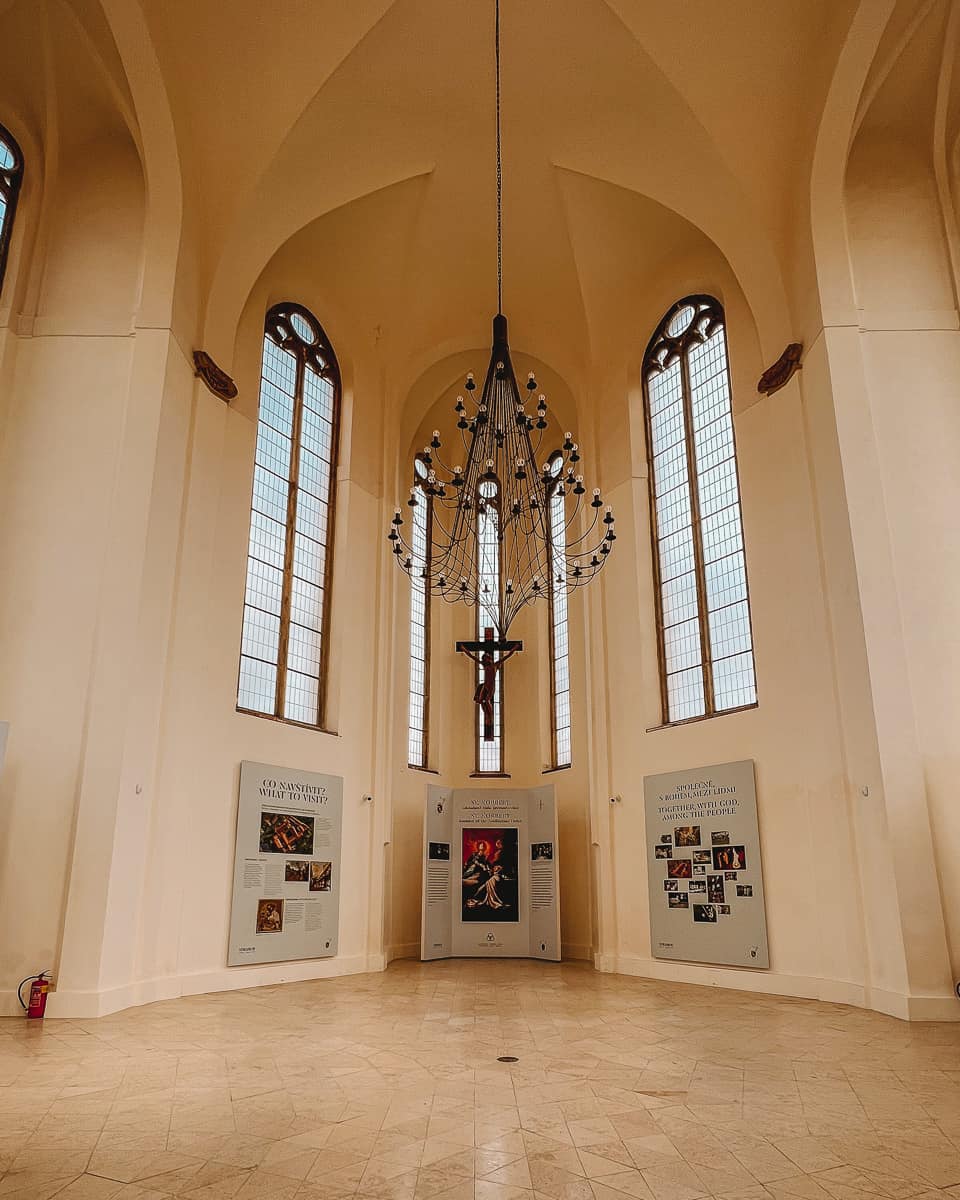 What to expect on a visit to the Strahov Library
When you first arrive at the Strahov Monastery, you can explore much of the complex for free. But, if you want to visit the libraries you'll need to buy tickets from the information desk.
The monastery complex isn't the best signposted but once you've got your tickets, head towards the large white building called the Church of the Assumption of the Virgin Mary on Strahov.
You'll find the library building entrance to your right if you're facing the church door. There is a Strahov Library sign outside the front.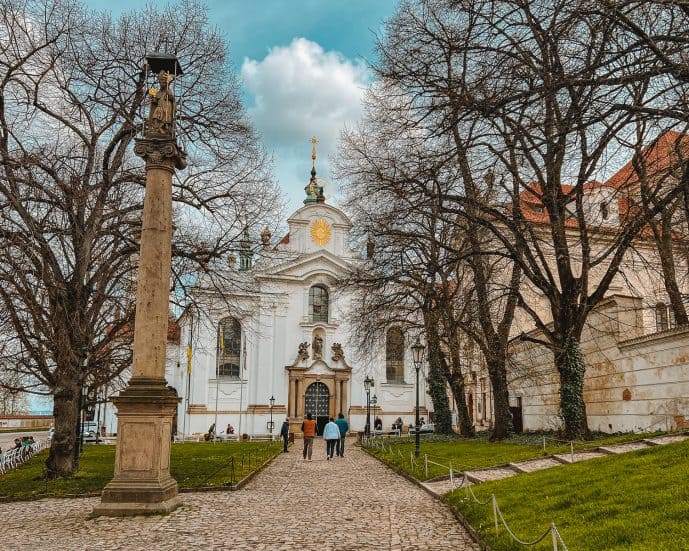 Then, you'll need to head up two flights of stairs until you reach the library floor. Once you reach the top, there will be a volunteer checking your ticket at the entrance to let you inside.
There are limited signs in the museum so make sure to borrow one of their guided text leaflets. These are provided in English, French, German, Italian, Spanish, Polish, Japanese, and Russian.
This sheet of paper will give you a history of the libraries and ancient artifacts that you're seeing inside.
Peeking through the library windows
Although it's not clear at the ticket desk, with a standard Strahov Library ticket you only get to look at the libraries through a small door at the end of the rooms.
You can't enter the libraries at all, although there is the option for a 'special tour' if you book over 2 months in advance (I've provided more details on this below).
As you don't get to enter the rooms, depending on what time you visit, there is sometimes a queue to reach the doorways of both the Theological Hall and Philosophical Hall.
To avoid this, I would visit early in the morning as afternoons seem to be a very busy time at Strahov Monastery!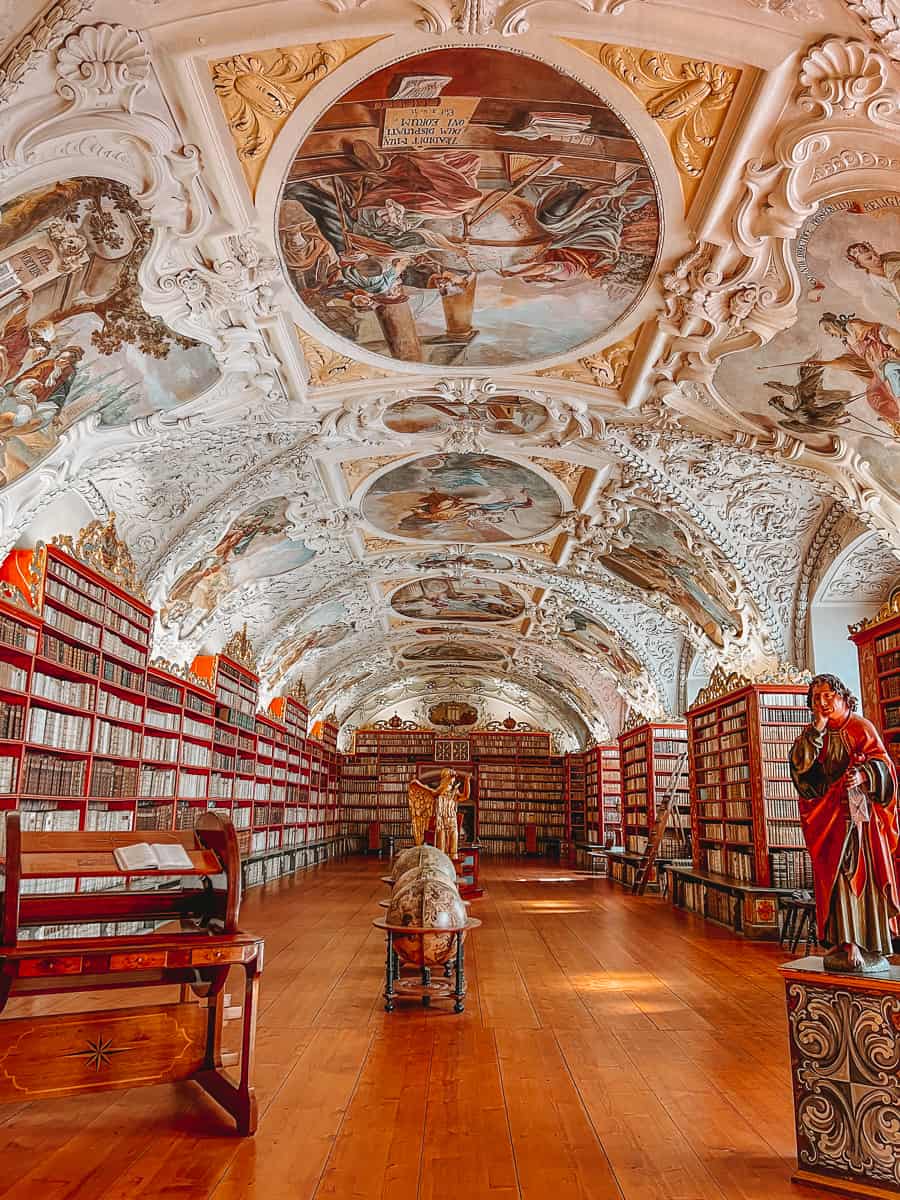 Honestly, although I only got to see the libraries from the doorway, it was still a magical experience.
I audibly gasped as these rooms honestly looked like libraries from a fairytale or Harry Potter. I was in love and wished I could have something like this in my house!
Although you can see photos of these rooms online, seeing them in person will honestly take your breath away.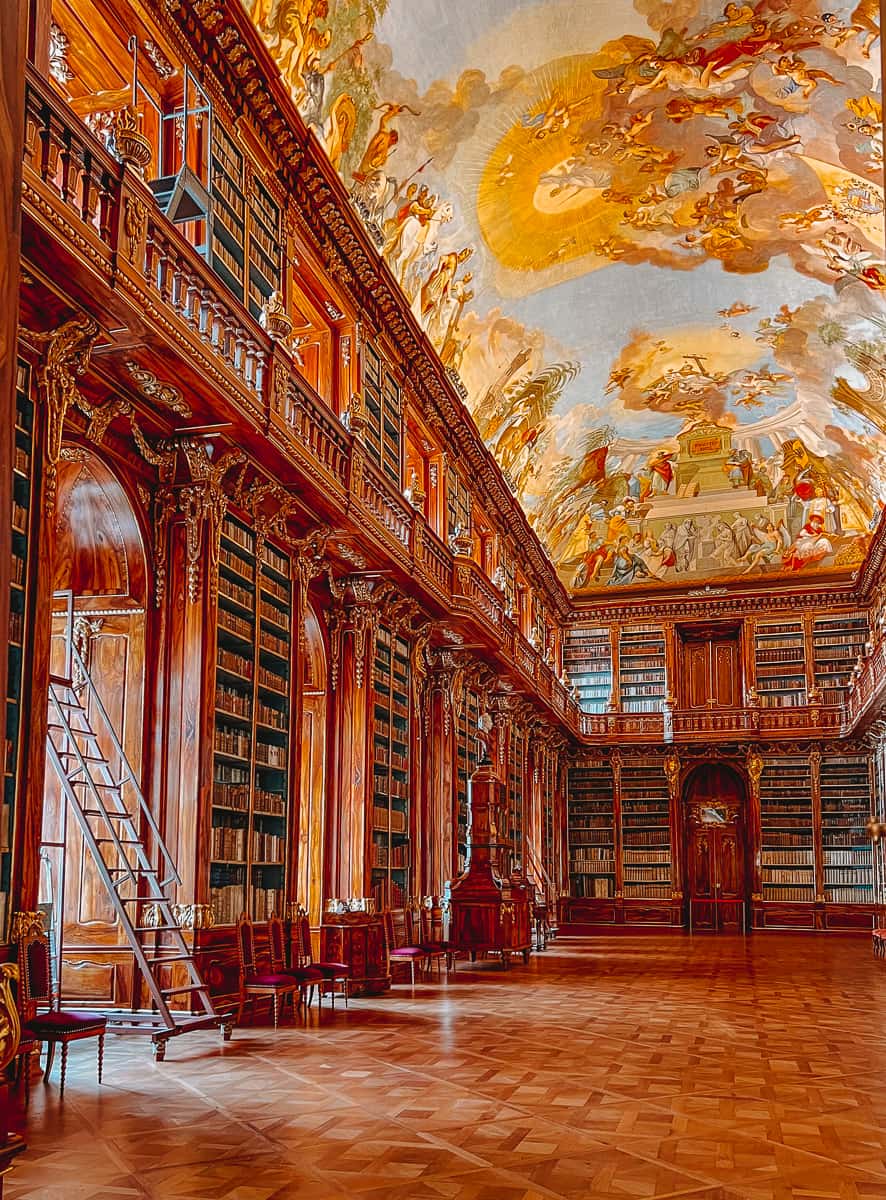 The Cabinet of Curiosities & Connecting Corridor
The Theological Hall and the Philosophical Hall are, without question, the highlight of a visit to the Strahov Library.
But, it is worth having a look at the 'Hallway of Curiosities' too that sits in between them. It's filled with all sorts of bric-a-brac and random artifacts.
The Strahov Cabinet of Curiosities was purchased from Karel Jan Eben in 1798 and many of the items within reflect the Rudolfine Renaissance.
There are lots of science collections with rare minerals, insects, and sea creatures. You'll find armour from the 12th century plus lots of Hussite weapons.
There are ceramics, ship models, wax fruit, cannon barrels and even hunting boots from the 17th century. There are some etchings, objects from ancient Egypt, and an 'oriental' collection.
There is even the tusk of a narwhal displayed although many people think it originated from a unicorn. Definitely fits in with the fairytale vibes.
Like I said, it's a weird corridor filled with random curios but I found it utterly fascinating. It's worth having a gander to see what you will find and if anything interests you.
A collection of ancient tomes
Many people make a beeline to the library rooms as soon as they step inside the Strahov Library.
But, before you leave, don't forget to visit the entry room full of ancient texts and books that date back almost 600 years!
Years ago, before printing presses, many books were hand painted by monks in a scriptorium.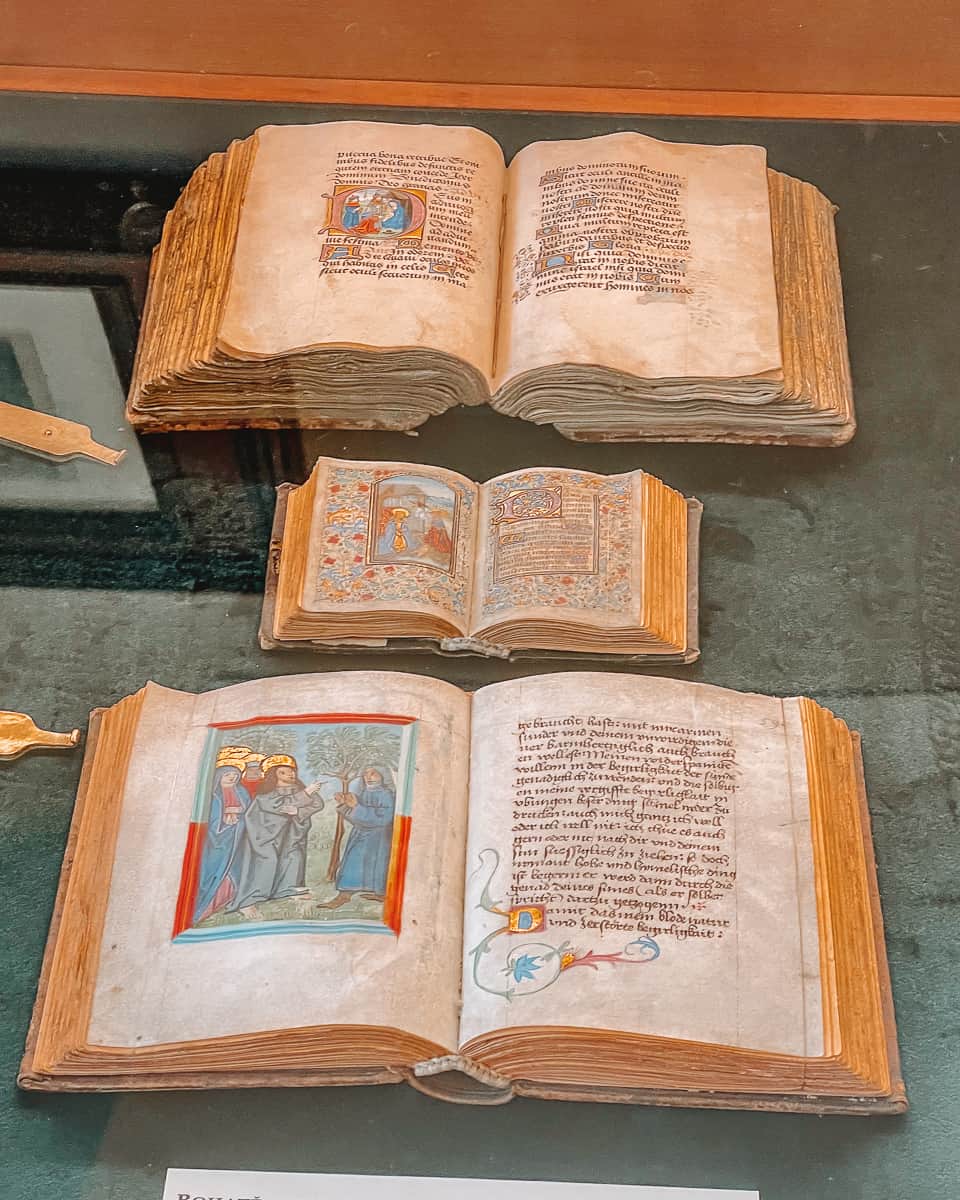 Monastic scribes would work for weeks, months and even years on these books and they are now precious artifacts.
Many of these ancient tomes were lucky to survive through the centuries due to religious conflicts and war. So, it's pretty amazing that you can see many of these works of art displayed here!
Can you go inside the Strahov library?
Not with a regular tour ticket, unfortunately! If you pay for a standard ticket, you only get to see the two libraries from the doorways at the end of the rooms.
This isn't clear when you buy tickets at the desk which is misleading. I only knew because I did my research beforehand.
If you plan a few months ahead, you can arrange for a 'special tour' of the libraries where you get to go inside. You cannot buy tickets for this on the day.
These tours are led by an expert who knows the library very well and you'll get an up-close look at all the books and items!
You must pre-arrange this tour at least 8 weeks in advance and you can find the email on the Strahov Monastery website.
I tried to do this two months before but it was already booked out. Frankly, the customer service via email was very slow and when you did get a reply it was shockingly curt and kind of rude!
I've heard these tours are expensive (around 600 CZK) but when I emailed to ask the price they wouldn't tell me. But, it's always worth trying to book the tour if you have your heart set on it.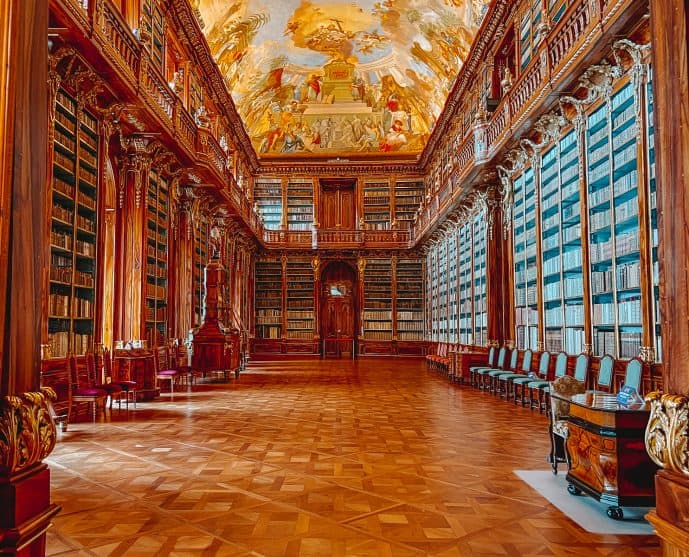 Strahov Library photography rules
You are allowed to take as many photos and videos as you like of the Strahov Monastery.
Although I've heard that many people got charged for photography, that didn't seem to happen on my visit.
I even saw lots of people with their DSLR cameras out and the staff didn't seem to question it at all.
There were lots of signs all over the rooms signalling that you needed a photo pass (these cost an extra 50 CZK at the desk) but I didn't see anyone enforcing it.
The best time to visit (in my opinion) would be as soon as they open. During the afternoons when I visited, there were 'special tours' going on with a large group in the rooms, a private music lesson and you had to queue a while to get to the doorways!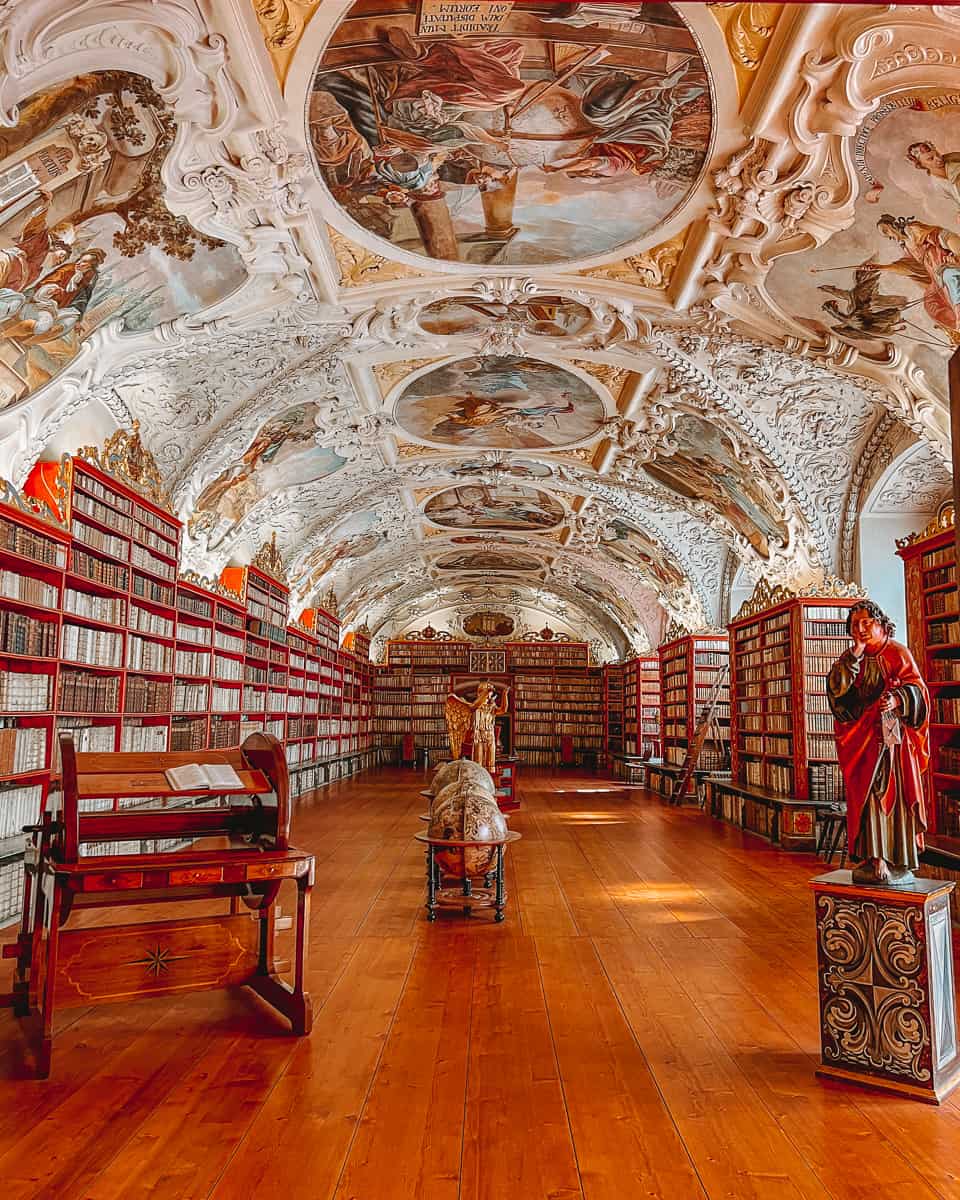 Is the Strahov Library worth visiting?
Many people feel like they get 'ripped off' or feel it's a 'tourist trap' when they visit the Strahov Library as they are not allowed inside any of the library rooms.
You basically get to peer into the two libraries through a small roped-off doorway at the end of the room and there is a corridor with some ancient artifacts and books in-between.
Personally, I found people not going inside a bit better as it meant that you could see the rooms empty and take photos/videos of the Baroque book troves at their best.
The only thing that annoyed me was the fact that there were private music lessons going on inside and a 'special tour' so I had to wait a while for the room to clear out for photos.
I don't think they should charge, or let in regular visitors if the rooms have been booked for private functions. They should hold these types of things after closing time.
I mean, you get to peep into two rooms for £6/$7 and if they already have people in them it completely spoils the experience (and photos) for standard ticket visitors in my opinion.
Also, I found some of the staff monitoring the corridor to be very rude. They don't speak English (I know I sound like a lazy tourist) but if you asked them a question they just replied 'no', shook their head, waved you off, and dismissed you. It happened to anyone that approached them with a query.
Although it does seem like a lot just to peer into two rooms like a creep, I did my research beforehand.
So, I was already aware that this is what I would be paying for and I still think it was worth the money.
These magical baroque libraries are some of the most beautiful in the entire world and visiting is a dream come true for book lovers!
The Philosophical Hall looked like something from a fairytale, it totally reminded me of the library out of Beauty and the Beast.
Also, I'm a huge Outlander fan and loved finally being able to see this filming location.
I would highly recommend visiting the Strahov Library whilst in Prague. Despite the minor issues, it was still one of the highlights of my visit.
Other things to do around Strahov Monastery
Once you've finished seeing the Strahov Library, it's worth exploring the rest of the monastery complex.
There are lots of things to do including a visit to the main church, gorgeous viewpoints, gardens, museums, galleries, and an incredible brewery too!
Here are all the things to do in Strahov Monastery in Prague;
Church of the Assumption of the Virgin Mary on Strahov
The heart of the monastery complex is the Basilica located in the huge white building in the centre of the courtyard.
It's called the Church of the Assumption of the Virgin Mary on Strahov and was built in a Romanesque style with Gothic and Renaissance towers.
Although the Premonstratensian monastery has a foundation since the 12th century, the church we see today was rebuilt in 1742 – 1758.
You'll find that the cartouches inside and on the ceiling tell the story of St Norbert the founder of the monastic order.
Again, many people are disappointed as you can't go inside and explore the church. It's closed off to visitors when not in service.
So, when you enter the building, you'll get to look at the interior through another doorway in the form of huge iron gates.
You can take photos of the beautiful decor through the gaps. You'll see the pews, altar and the portraits from the end of the room but your visit will be quite short as that's the only thing you can see!
Again, it's still worth a look in my opinion and this Baroque church is absolutely stunning and it will be delightfully empty for photographs.
Strahov Picture Gallery
Another attraction you can buy tickets for at Strahov Monastery is the Strahov Picture Gallery.
It was founded in 1835 and contains almost 1500 paintings inside! You'll find it on the first floor of the monastery building.
The portraits are displayed chronologically and begin from the 14th century to the 19th century.
As well as the pictures in the gallery, you'll find a huge fresco painting on the ceiling that is very impressive.
Our Lady of Exile & Viewpoint
As you're so high up on the hill in Strahov, you can get some incredible views over the city from this monastery.
If you head towards the Our Lady of Exile statue, you'll find a viewpoint nearby where you can look over the city of a hundred spies.
From the view, you can see Prague Castle, Charles Bridge, and many more landmarks like the Church of Our Lady of Tyn.
Strahov Monastery Brewery
After your walk around the complex, don't leave without visiting the Strahov Monastery Brewery.
It dates back to the 17th century and they brew their famous Saint Norbert Beer right here onsite. Saint Norbert was the founder of the Premonstratensian Order.
Their home brew is the Sv. Norbert Amber Lager but I tried one of their Japanese Sakura Amber ales on my visit and it was delicious! I would highly recommend it in the spring season.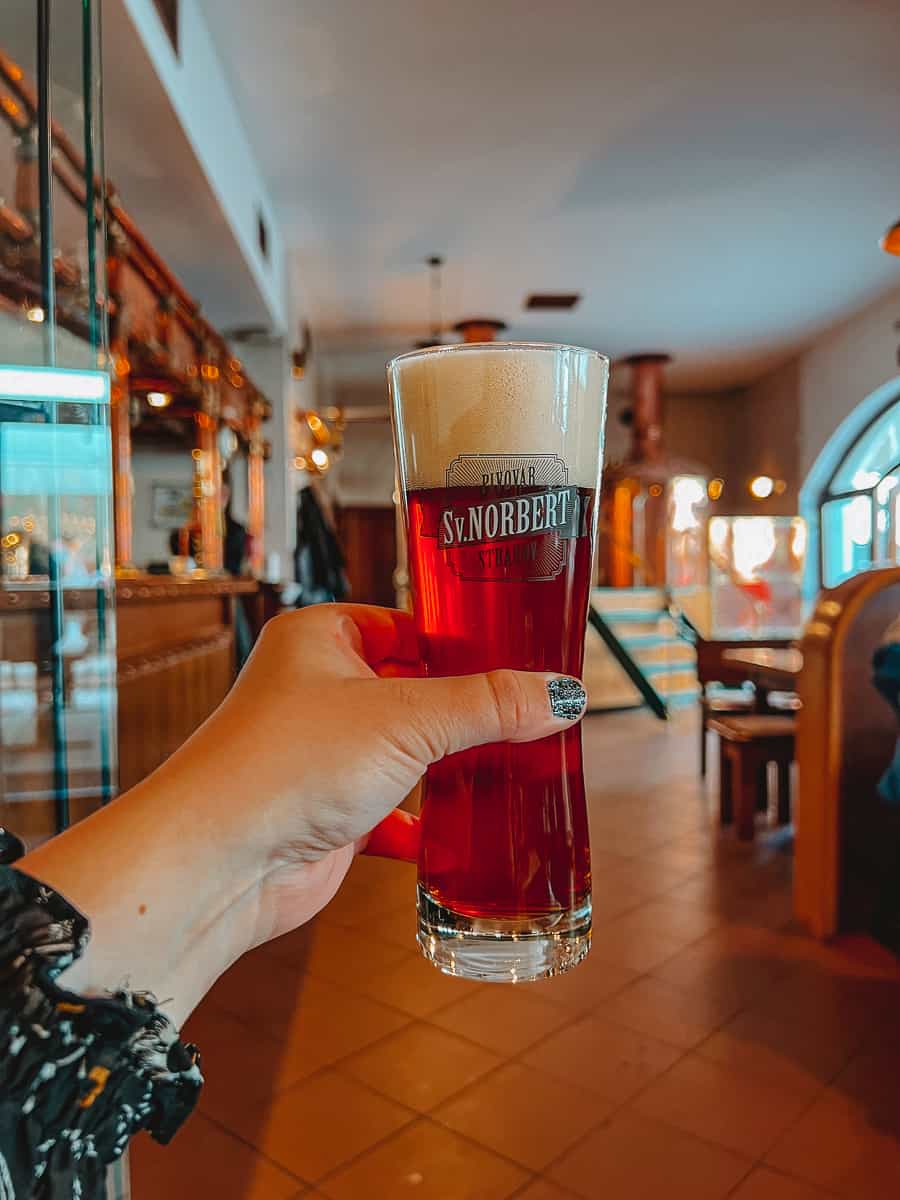 As well as serving a huge range of artisan beers, they also have a restaurant that serves up delicious food.
I had their pork tenderloin in a wine sauce with cherries and potatoes and it was incredible.
They had a range of outdoor and indoor seating and it would be the perfect pub to relax in on a warm sunny day.
Museum of Miniatures
Another place you can visit in Strahov Monastery is the Museum of Miniatures. It has the largest collection of micro-miniatures in Europe.
Many of these were created by the Siberian artist, Anatoly Konenko. You'll find copies of famous paintings, trains on a strand of hair, and a caravan of camels in the eye of a needle.
You'll also find a model of a 3.2 mm Eiffel Tower and the smallest book ever made according to the Guinness Book of World Records.
It's open all week from 10 am – 5 pm and entry is 130 CZK for adults.
Strahov Monastery Gift Shop
If you fancy picking up some souvenirs to remember your visit there is a monastery gift shop located near to the information centre.
They have lots of gifts inside like books, mugs, postcards, and pictures of the monastery and library.
It's a great choice to pick up some souvenirs for your loved ones and there's lots of choice.
Hotel Monastery
If you fancied staying in the Strahov Monastery, the complex has its very own hotel on site.
Hotel Monastery is a peaceful residence that has fabulous views of the city of Prague.
It's a romantic Baroque-style building but has modern rooms and amenities. It includes WiFi, a TV, a minibar, and a breakfast buffet.
This is definitely a unique place to stay if you wanted to visit the libraries and explore more of the Prague Castle District. It's only a five minute walk to the nearest tram stop.
Click here to book your stay at Hotel Monastery in Prague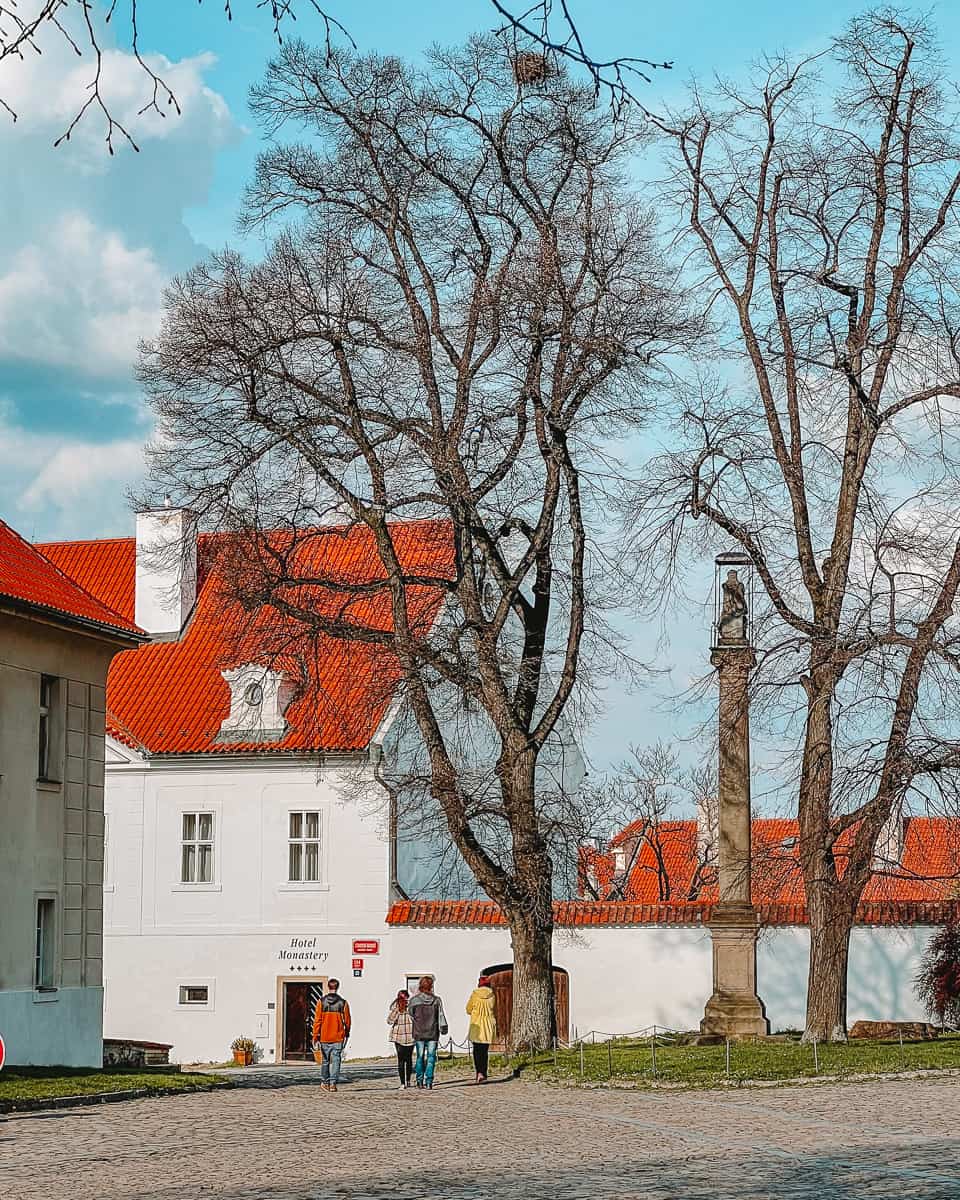 Looking for more bookish things to do in Prague?
Once you've visited the Prague Strahov Library, there are plenty of other bookish locations you can visit in this city.
Here are all the places I would recommend visiting if you're a bibliophile;
Klementinum Library
Located in a building just next door to the Municipal Library is one of the world's most beautiful libraries.
The Klementinum is a series of buildings that were originally part of a medieval monastery dedicated to St Clement.
It then became a Jesuit College and the Baroque Library was built around 1722 by Kilián Ignác Dienzenhofer.
It's filled with dark bookshelves, winding columns, astronomical globes, frescoes, and portraits. It looks like a library from a fairytale or Hogwarts Library in Harry Potter!
The only way you can visit is to book a guided tour and it's not free. You can book tickets at the information desk or book your tour in advance with Get Your Guide.
Click here to read my complete guide on visiting the Klementinum Library & Tour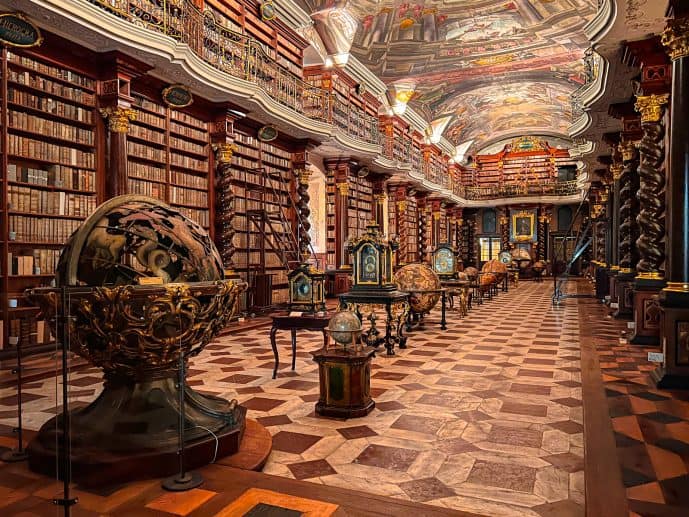 Prague Municipal Library & Infinity Book Tower
Just around the corner from the Klementinum complex, you can visit the Prague Municipal Library.
Unlike the Baroque Library, this is a public library and it's open to anyone who would like to visit. It's also completely FREE and you don't need to book a tour.
The most popular thing to do inside is to visit the Infinity Book Tower or Prague Book Tunnel called 'Idiom' at the entrance which is an optical illusion.
You will see a huge pillar of books that reaches the ceiling but if you pop your head inside it looks like you can see pages for days!
Despite it being a bit of a hidden gem, it's VERY popular so prepare to queue. I would personally try to visit early morning if you can to avoid a long wait time.
Click here to read how to visit the Infinity Book Tower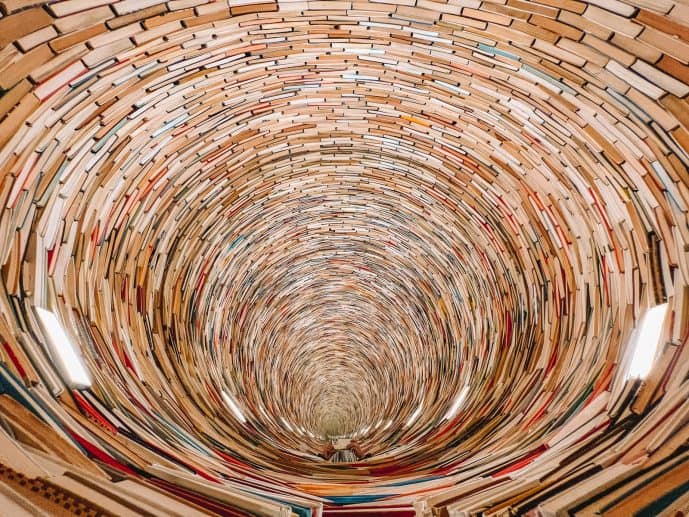 Kafka Tourism
You really can't escape references to Franz Kafka in Prague, a Modernist Bohemian author who was based in the city.
He wrote famous books like 'The Metamorphosis' and 'The Trial' and there are many sites where you can find out more about his life in the city.
The most famous attraction is the Kafka Museum and it's an existential exhibition that takes you on a journey into the world of Kafka – it is very trippy!
Don't forget to take a picture with the famous 'peeing statues' outside. Or, visit the Kafka rotating head on Nové Město.
As its name suggests, it's a modern artwork of Franz Kafka's head that rotates every 15 minutes. It's huge and weighs over 39 tons.
Personally, one of my favourite Kafka sites is his tiny blue house at Number 22, Golden Lane. It's now a bookshop and you can visit as part of a Prague Castle tour!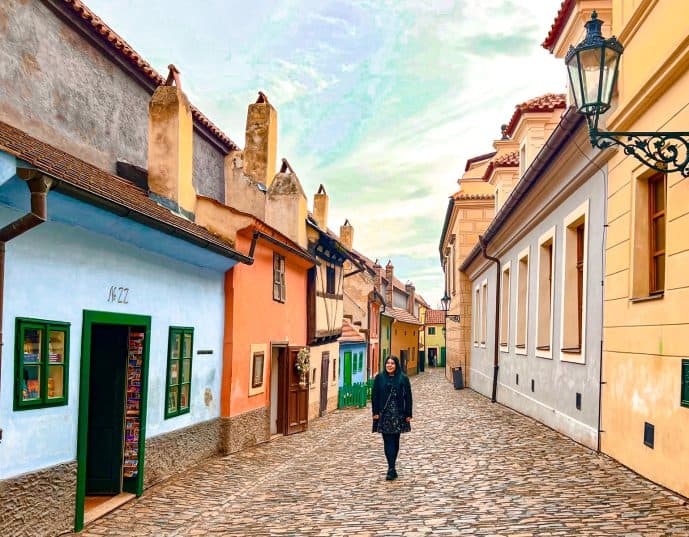 Read more of my Czechia guides
How to see the Prague Astronomical Clock & Walk of Apostles
A complete guide to the John Lennon Wall
How to visit the Bone Church of Kutna Hora
Magical Cloak Bridge in Česky Krumlov
Uncover the secrets of Prague's Golden Lane
Visit the mysterious Dripstone Wall Prague
Save how to visit the Strahov Library Prague for later!