As someone who has lived in India and travelled around 22 states there, you'd think I'd be used to the diversity of this amazing country by now.
But, every state never fails to introduce something new. Whether that be the cuisine, culture, or attractions.
However, if there is one state that truly stood out to me on my Indian travels, it would be Kerala. A place that is Human by Nature.
Also known as 'Gods Own Country', it's a magical place filled with a variety of breathtaking landscapes. From its peaceful backwaters, elevated tea plantations, pristine beaches, and vibrant cities!
It really has a bit of everything and every place you go will be even more enchanting than the last.
But, beyond all the pretty postcard scenery. There is something even more important and memorable that defines Kerala and goes deeper than the surface.
It's the welcoming hospitality and kindness of the people that live there.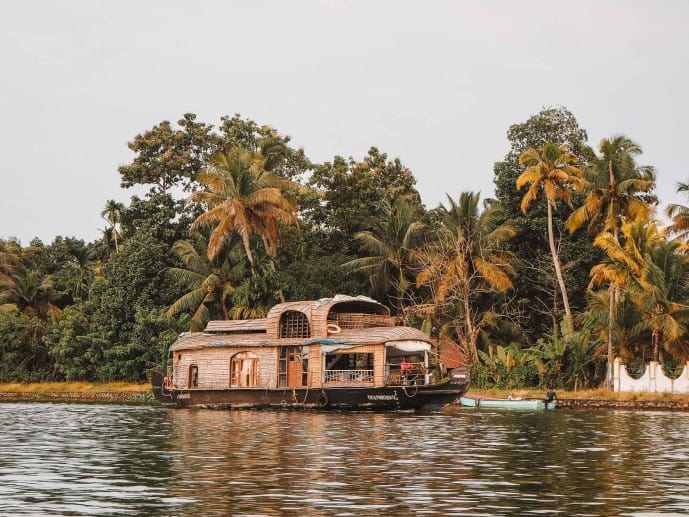 Why people make Kerala 'a way of life'
When we travel to new places, we're always snapping photos of new locations and the gorgeous scenery in front of us.
But, what I believe we remember most about travelling, are the interactions we have with the people we meet. Well, I know I do anyway.
I think that's why I have such fond memories of Kerala. The people were so welcoming, open, and genuinely kind.
They were curious, open minded and asked me lots of questions to get to know me better.
It can sometimes be quite alien as a person from the West for complete strangers to be so interested in you.
We're often taught to avoid talking to people we don't know and to be suspicious of their intentions.
However, in Kerala, selflessness, kindness, and being helpful to others seem to be a way of life.
To give back, to make people smile, make sure you have food in your belly, or even just to help you with directions.
The people of Kerala are truly what makes this state 'Gods Own Country'. It's easy for their way of life and thinking to rub off on you.
Human by Nature – 6 things the people of Kerala taught me
Travelling around India has always been a transformative experience for me. From day one, it made me think differently and see things in another light.
But, if I reflect back, the people of Kerala taught me about mindfulness which is so important.
Although I only spent a week in this magnificent state, the people here taught me lessons that will stick with me for a lifetime.
Here are 6 amazing things that the people of Kerala taught me about being Human by Nature.
1. To slow down a while
What I notice a lot about people in the West is we're always in a hurry. To get to work, on the school run, in the car. Everything feels like we're on some kind of a timer.
I'm no different, when I travel I'm always trying to get the most out of every day and have this urgency to fill my time with something. Whether meaningful or distraction.
But, what I loved about Kerala was how slow and relaxed everyone was. It was like everything was turned down a notch.
This was something I realised when I was floating down the backwaters in Alleppey.
When you're on the waters, you have nothing to do but sail. Watching the world go by and the palm trees swaying. Taking it all in.
You'll notice houseboats sail by with sunbathers. Families or salesmen in traditional wooden boats. Fishermen patiently waiting for a catch.
People will swim, wash clothes, pray and play right here on the backwaters. But, they're never too busy to say hello, smile to you, and wave.
It's like you're on Kerala time and you move to the hands of their clock. It forces you to relax, slow down and be present in nature.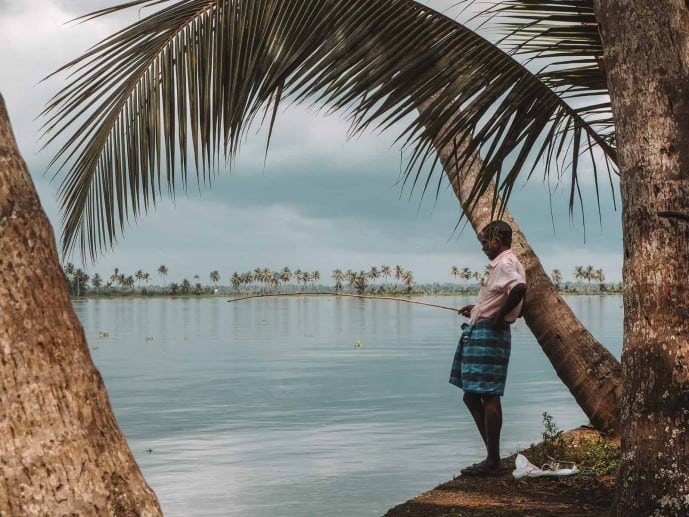 2. To always welcome diversity & stay open-minded
Kerala isn't just diverse in its incredible landscapes. It's also a melting pot of people, cultures, and religion.
As an important hub for the spice trade, Kerala has welcomed travellers and traders for hundreds of years.
From ancient kings to Portuguese sailors, Dutch settlers, and the British. The state of Kerala has had a wide range of colonial influence as well indigenous.
In turn, this has had a major effect on the diversity of religion here. You'll find Christian churches, Hindu and Buddhist temples, mosques, and synagogues – sometimes all on the same street!
But, beyond the colonial and religious heritage, the people of Kerala still keep their traditions alive today.
Cultural dances like Kathakali and the Kalaripayattu martial arts are still performed to visitors each year.
I found it amazing how all of these cultures and beliefs fuse together but there is still a sense of unity beyond their differences.
3. That women are empowered
Did you know that Kerala has the highest literacy rate in the country? It's at just over 96%!
This means that it's not only men who are favoured to get an education and employment here.
The majority of India suffers greatly from gender inequality, in many ways. So it was refreshing to see that Kerala is so forward-thinking for women.
Not only that, Kerala is the only state in India where women outnumber men. So, you'll find that this matriarchy can be found in jobs that are 'typically' male-dominated.
You'll find women who are driving Tuk-Tuks, bus drivers, and even licensed fisher-women.
It's also not uncommon to see women employed in managerial positions or being supported in running their own businesses. Something that is almost unheard of in other parts of India!
I absolutely loved to see this in action. In turn, I believe this makes a major difference in how female visitors are treated as tourists when they travel around Kerala.
As a solo female traveller in India, I'm often bombarded with men trying to talk to me or even follow me. When I'm outside, shopping, on transport etc. This can get overwhelming and even intimidating.
But on my travels through Kerala, I found that everyone was treated with respect regardless of their gender.
It made a huge difference in my confidence to travel around alone. Also, it changed the way I approached people.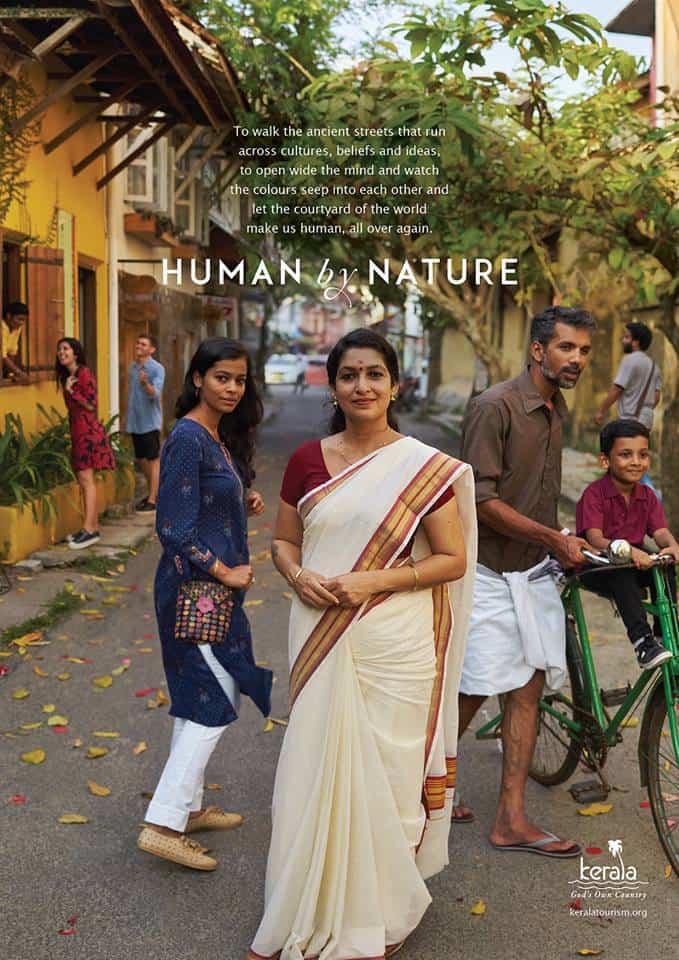 4. That kindness doesn't always need anything in return
Whether it was the kind man who gave me directions in Fort Kochi, the fisherman who was simply happy to chat to me or, the guy in the Toddy Shop who didn't charge me for my drink.
I was constantly surrounded by kindness and smiling seemed to be the language of choice here.
When I was on my tour of Munnar, my tour guide always said 'if you're happy, I'm happy' and he genuinely meant it.
He said that his job is not for money but in seeing customers happy while doing his work. It really was Human by Nature.
In Kerala, I had random people offer me chai, gifting me trinkets or asking for me join them for dinner.
It sounds awful, but I couldn't help but think, 'would I do the same for a complete stranger in my country'?
Maybe not. This would be due to living in the UK where we typically avoid talking to strangers.
But, the concept of being selfless to help others or make others happy is catching. I kept thinking that these little acts of kindness are something I should do more often. Wherever I am in the world.
5. To make wellness a priority
Many say that Kerala is the home of Ayurveda in India. If you're not familiar with it, it's a type of natural healing that was discovered over 3,000 years ago!
It's the concept of wellness. Not just in the body, but in the mind and soul as well.
Health and mindfulness are something that is ingrained in the culture here. It's something that is taught from a young age and it's a mainstream form of medicine.
Looking after your body and taking some time for self-care is something that is prioritised.
I will be the first to put my hands up to say I'm not the best at putting my health first.
As a travel blogger, I'm often hunched over my laptop, skipping meals, taking red-eye flights or travelling on overnight trains. My blood type is most likely caffeine. Is it any wonder I struggle to relax?
So, when I was offered to try an Ayurvedic massage during my visit. It couldn't have come at a better time. I had huge pains in my shoulders and the masseuse instantly knew it was due to stress.
Although one massage would never be a miracle cure, it certainly made me more relaxed and grounded. Even just for a little while.
Prioritising wellness is so important and something we should practice every day. Just like in God's Own Country.
6. Their incredible hospitality
No matter where I was in Kerala, I was always accepted with open arms. Whether that was at the airport, at my homestay and even in restaurants. The hospitality here is incredible.
I never felt like I was a tourist that they felt obligated to entertain. I was greeted with nothing but kindness and a curiosity to get to know myself better.
The people really go above and beyond to make you feel welcome. Whether that be the endless smiles, an introduction or a conversation.
Offering food plays a huge part in hospitality as well and you'll find the cuisine delectable. Prawn curries, Fish stew, Appam pancakes down to a wholesome Sadhya thali on a banana leaf.
When I stayed at my family homestays in Kerala, I was lucky enough to enjoy homemade food every night!
I was also taught about these dishes, the traditional way to eat them and it was a great way to be introduced to their foodie culture.
Every interaction I had with people in Kerala was all about teaching and connecting. It left me feeling inspired.
Kerala, Human By Nature
Of course, my personal lessons and experiences are just the tip of the iceberg when it comes to Keralites being 'Human by Nature'.
It's not something they have to force when tourists arrive. It's a way of life here and something that comes naturally wherever you go.
Whether it's to the miles of beaches, the hill stations, the wildlife sanctuaries or the backwaters. You will be always be welcomed by the people of God's Own Country.
So, what are you waiting for? Make sure to pop a journey through Kerala on your India bucket list!
This post has been kindly sponsored by the Kerala Tourism Board. All thoughts and opinions are my own.
Be inspired by Kerala with these articles!
The top places to visit in Fort Kochi
The best experiences in Munnar
A complete guide for the Tea Plantations of Kerala
What are the Chinese Fishing Nets of Kochi?
The top things to do in the Alleppey Backwaters
Why you must try Toddy in Kerala
A complete guide for watching a Kathakali dance
Like it? Pin it!