A common question that most tourists have when visiting Egypt is whether it is better to visit Hurghada or Sharm El Sheikh.
Both have a magnificent shoreline by the crystal clear Red Sea and a promise of fun in the sun while relaxing with a cocktail in hand.
After a long trip trawling through the ancient sites in Egypt, you really do need to treat yourself to some much-needed rest and recuperation. But, which is the best location?!
I spent around 5 weeks in Egypt and had the opportunity to travel to both while I was there. So, I feel like I can spread some light to help you choose your ideal spot to relax.
Here's a rundown of both Hurghada and Sharm El Sheikh, your options considered and my personal advice!
Flights from UK to Hurghada and Sharm El Sheikh
Direct flights to Hurghada from UK – There are plenty of direct flights which run to Hurghada from London, Manchester and Nottingham. These start from around the £2oo mark in off season. Airlines include Easyjet and Thomas Cook. I always use Skyscanner for the best deals.
Direct flights to Sharm El Sheikh from UK – There are currently no direct flights from the UK to Sharm El Sheikh and haven't been for a few years. Although it used to be a popular destination in the past, security has stopped regular flights and travel agents were forced to stop booking customers there. The best way to reach here would be to fly into Cairo and transfer. This is why Brit holiday makers are now more in Hurghada.
A quick overview of Hurghada
Hurghada is now the spot that Brits flock to now that many of the flights aren't running to Sharm El Sheikh. It's a beach resort town that has a whopping 40 kilometres of coastline running along the Red Sea.
It's famous for its scuba diving spots and there are numerous dive schools in the area to get PADI certified!
There are super trendy resorts, clubs and restaurants but it also boasts El Dahar, an old town that comes with good coffee and traditional souks.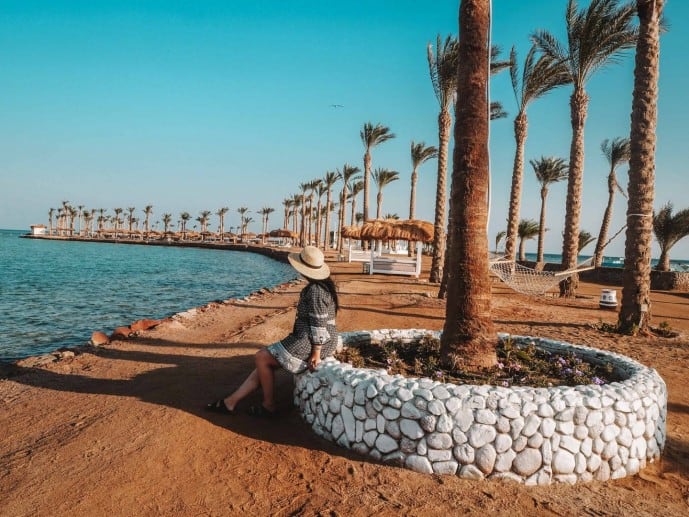 Do I need a visa to visit Hurghada?
Yes, you will need a tourist visa to visit Hurghada.
These are $25USD at the border or you can buy them beforehand. I have written a whole post about how to get a tourist visa for Egypt as a UK citizen here but it applies to most countries.
How to reach Hurghada from Cairo, Luxor and Aswan
After my Nile cruise in Egypt, I decided to get to Hurghada by Bus. Private cars are a convenient option but are expensive and sometimes not as safe. There are currently no trains that go from Luxor to Hurghada.
I used GoBus to travel from Hurghada to Luxor and it was around £100EGP (£4), it was a four-hour journey from Luxor but the roads were very well kept.
I also used GoBus to travel to Cairo from Hurghada, this was a seven-hour journey and costs £200EGP (£8).
Click here to read my complete GoBus review!
You can also fly from Cairo to Hurghada and fly from Aswan/Luxor to Hurghada. Egyptair provides good value flights with a generous 23KG luggage allowance.
Where to stay in Hurghada
I actually booked my resort on the day with Booking.com. Most of the time when I travel, I book last minute to get some good deals.
I booked an all-inclusive resort called Meraki Resort which was right on the coast with its own island peninsula.
At first, when I got here, I didn't want to stay as it was advertised as a 'relaxing' all-inclusive adult-only resort.
But, then when I arrived and asked for a quiet room the staff pretty much laughed in my face. "But this is a clubbing resort?" he chuckled. "ugh" I groaned. The reception area was almost as loud as a nightclub.
I personally am 29- going on sixty when it comes to my sleep requirements so I was a little taken aback. The manager then realised the error on the site and said he would make changes online and showed me to the quietest room they had!
By all accounts, it really was a relaxing resort in the end and the DJ decks and parties were far enough away so this granny could get her beauty sleep.
I loved waking up to views of the Red Sea, chilling in a Cabana and eating at their al la carte restaurants. Their burger bar was also a cool touch!
Most of the resort was all-inclusive but always check the 'rules' they give you which, for Meraki, was a lengthy two-sided A4 page in 10 point font!
This will tell you all about what is included, the rules, alcohol restrictions and what's not included in your rate.
Tips for choosing a resort in Egypt
Some resorts are more family focussed. Others are adults only. Some are couples only. Some prefer to have only Egyptian nationals stay with them. Always check the small print and description before you book in.
If the room rate says Egyptian nationals and residents only – that means that rate is only for people who have an Egyptian passport or can prove they live in Egypt. Foreign nationals will need to find the 'regular' rate.
I personally think it's good value to book the all-inclusive rates. But, check what's included as some exclude alcohol. The prices of buying food and drinks in these places are extortionate and you'll be constantly reminded you have to pay.
Check for common themes in reviews before you book. If you see food poisoning, hard selling, bad animations team or bland food more than twice, I would say avoid it like the plague.
Top things to do in Hurghada
Of course, you could just chill on the beach and relax the whole time you're here. I wouldn't blame you, it's definitely addictive! But if you get itchy feet to explore Hurghada further, there are actually some great activities to distract you.
Relax at the resort or the beach
Okay, Okay, I did warn you, it's addictive! I do love the beach, but I love it even more when there is a private beach within walking distance from my hotel room.
Even better, when there is a bar within 5 metres of my sunbed and a waiter refilling my Piña Colada!
The private peninsula at Meraki resort was the perfect place to take a dip in the Red Sea without going too far from the facilities.
Also, there were not just one, but four or five areas where you could chill on a sunbed, under the shade, in a cabana, an Instagrammable hammock! I could've wasted days cooking under that sun with a good book.
Go snorkelling / scuba diving in the Red Sea
I think it's almost criminal to visit Hurghada and not take a boat ride out to the Red Sea! A full day on a boat really isn't for me and my terrible sea legs.
So, I opted for a glass-bottom boat experience with Royal Seascope which came with the option to snorkel in the Red Sea.
The glass-bottom boat made me queasy but the views were so worth it! There were schools of fish, corals and we even saw an Octopus! I also loved the refreshing dip in the Red Sea too where you could see all the colourful corals.
My glass bottom boat trip was two hours and came with life jackets, free scuba masks to use and flippers. We had a guide with us in the water and some soft drinks included. My trip cost around £300EGP (£15). Tipping is expected at the end.
Visit El Dahar
El Dahar is a market area in Hurghada that is a traditional souk. It's the 'old' part of the city and has some amazing coffee shops paired with shisha pipes. You can pick up fruits, clothes, souvenirs, spices and all sorts of things here.
Just remember, Hurghada is a tourist town and they will see you coming! Always haggle and watch out for fakes in items of value.
Take a day trip to Luxor
The great thing about choosing Hurghada as a holiday location in Egypt is that it's in close proximity to the ancient city of Luxor. So, you can mix up your beach holiday by ticking off some ancient Egyptian temples too!
Hurghada run trips to Luxor and even Aswan and Abu Simbel if you can believe it! So, make sure you enquire about taking a tour while you're here.
Here are some posts you may love to look at about Luxor and Aswan;
Tips for your visit to Valley of the Kings
The best ways to get to Abu Simbel
Is Hurghada Safe?
Hurghada is extremely safe. I arrived late at night at the bus station and got a taxi straight to my resort. No one bothered me here and kept trying to hassle me.
Everyone was very respectful and tried to help when my taxi driver lost his way.
Most resorts have 24-hour security and they won't let you or your luggage in without screening them. Not to mention before any buses or cars enter Hurghada there are security checkpoints on the roads.
What should I wear in Hurghada?
Compared to the likes of Cairo, Luxor and Aswan, Hurghada is more relaxed in terms of dress code.
In your resort, feel free to wear what you like! Most of the staff members are very used to seeing guests in bikinis and swimmers and they want you to feel comfortable. There's no need to cover or wear any sort of Burqini inside the resorts.
Even outside the resorts and around Hurghada, I saw holidaymakers in t-shirts and shorts, short dresses, even bikini's as tops.
I personally covered up more as I was a woman travelling alone and felt safer that way but from what I saw, it seemed much more relaxed in this area.
A quick overview of Sharm El Sheikh
Sharm El Sheikh is located on the far east side of Egypt on the Sinai Peninsula. It's around an eight-hour drive from Cairo and you can actually get here from Hurghada by ferry (on select days).
It's a city which is between the Sinai desert and the blue Red Sea. It's a famous scuba diving spot and boasts Ras Muhammad National Park. It has fabulous marine life around the Shark and Yolanda reefs and you can pay a visit to the Thistlegorm wreck.
Aside from the resorts, you can visit Naama Bay which has plenty of bars and restaurants. Pay a visit to the market square with the fabulous El Sahaba Mosque and climb Mount Sinai.
Do I need a tourist Visa to enter Sharm El Sheikh?
For UK Nationals, those from the EU and USA, you do not need a Visa to enter Sharm El Sheikh for a maximum of 15 days.
This is if you fly into Sharm El Sheikh and head to the resorts.
If you're going to fly to Cairo, or plan on staying longer than 15 days, you will need a tourist visa.
How to reach Sharm El Sheikh from Cairo and Hurghada
I got the GoBus from Cairo to Sharm El Sheikh. I really loved their services and you couldn't ask for better when you had a big leather seat, touch screen TV to choose movies and were provided with snacks!
It was an eight-hour journey that quickly rose up to eleven due to the intense security checks. I think in total we stopped ten times for stops.
We had to take our luggage out of the bus, show our passports and wait while some of the passengers were quizzed by the army at some of the checkpoints. It was not an easy journey, but the security points gave me comfort.
You can make it easier on yourself and fly to Sharm El Sheikh easily from Cairo, Luxor, Aswan and Hurghada with Egyptair.
Getting the ferry from Hurghada to Sharm El Sheikh is possible but it only runs on select days and times. The journey should take around two hours.
I tried to attempt this myself but I just didn't have the luxury of time and couldn't find accurate information.
Where to stay in Sharm El Sheikh
As this was my last few days in Egypt, I decided to splurge on the luxurious 5* Steigenberger Alcazar.
It's a brand new resort on the Sharm El Sheikh strip. I didn't see one bad review about this place and everyone that stayed raved about it! So, I booked myself a little treat.
It was an all-inclusive adults-only resort, with all the trimmings.
It had five al la carte restaurants, which included a delicious Japanese Teppanyaki. Complimentary hot tubs, hundreds of sunbeds, six bars with entertainment, two heated pools, free cabanas, the works!
It even had a super pretty promenade to stroll along and chase the ocean waves.
Resort members could go swimming and snorkelling at the end of the pier for free! There are lifeguards on duty, so always follow their instructions.
Things to do in Sharm Ek Sheikh
If you can bear peeling yourself from your pew, there are some things worth leaving your resort for that don't include getting up at 6 am to reserve a sunbed (oh yes, it happens A LOT here).
Visit the El Sahaba mosque and the market square
Sounds pathetic, but this is actually what I traipsed all the way to Sharm El Sheikh for. The magnificent El Sahaba mosque!
The architecture looked fantastic and it seemed so mysterious and beautiful online.
I was impressed with the mosque, but not really where it was located! There were tacky shops, blaring music, tourists openly drinking beers outside, something about the place just felt wrong.
You will need to cover up, so donate some coins for a conservative robe to rent from the Information Centre. Make sure you cover your head and leave your shoes at the door before entering.
Many of the priests in here kept badgering me for money, offering prayers in exchange. I didn't go for it. As I said, the whole place had a very weird vibe.
The bazaar was actually really nice to wander around, even at night, and you can buy everything here; even cheap scuba masks! I bought a beautiful red maxi dress from here for £150EGP (£6) which was a bargain.
It's a tourist market so haggle hard for your souvenirs! Also, as most tourists here are now Eastern Europeans, the traders can speak Arabic, English, Spanish, French, German, Russian, Ukrainian and Serbian!
Visit Ras Muhammad National Park
As one of the most famous diving sites in the world, you can explore the colourful corals under the clear Red Sea. There are many sites to dive including the Old Quay, the Shark Observatory and the wreckage of SS Thistlegorm.
You can organise scuba diving tours through your resort or there are plenty of diving schools in the area to book a tour. Always make sure your trip has insurance included for safety.
Hike up to Mount Sinai
I was so gutted I missed out on this as the Sinai mountains were one of my favourite parts of Sharm El Sheikh.
This mountain is actually a famous religious landmark, mentioned in the Book of Exodus and considered a holy site by Abrahamic religions.
The elevation is 2,285 metres tall and is around a 3-hour drive from the main hub of Sharm El Sheikh.
Is Sharm El Sheikh safe?
Safety always means different things to different people but, I would say yes!
The security checks heading down here were pretty tight locked so there isn't going to be anyone there that doesn't belong.
Some passengers on my bus (locals) were screened and questioned for almost two hours before we could proceed!
Most of Sharm El Sheikh is full of beaches, resorts, tourist attractions and boat trips. I found it safer on the coast than I did in Cairo, that's for sure.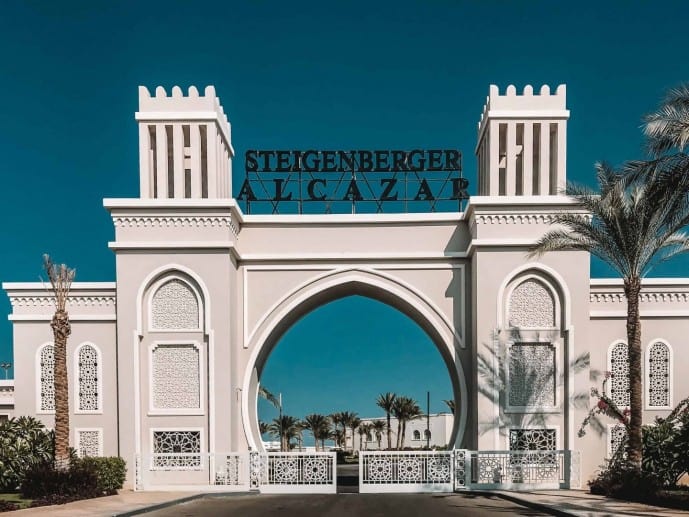 What should I wear to Sharm El Sheikh?
Like Hurghada, Sharm El Sheikh has a very relaxed dress code. With it mainly an Eastern European market now, most of the holidaymakers I saw were all donning their dresses and shorts.
If you're heading to any religious sites like El Sahaba Mosque, you will need to cover up.
But, there will be a robe rental at a small cost. Also for trips to Mount Sinai, it is important to cover yourself as it is an important religious site.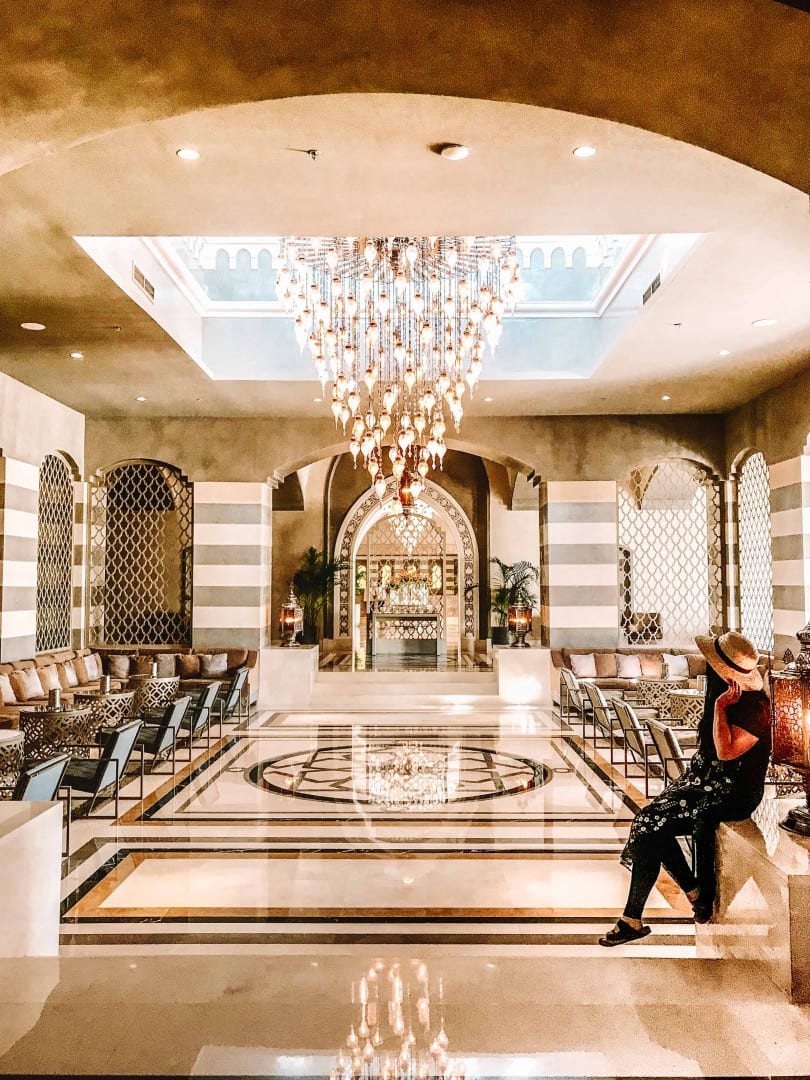 The Verdict: Hurghada or Sharm El Sheikh?
Okay, so now we've covered both Hurghada vs Sharm El Sheikh and explored all the nitty-gritty details of each. Now comes the verdict. Which one should you choose; Hurghada or Sharm El Sheikh?!
Well, I believe this completely depends on your preference of holiday and how much time you have;
Pick Hurghada if – You're heading on a classic Egyptian holiday route (Cairo > Aswan > Luxor) and taking in the historic sites. It's close to Luxor and the perfect place to end your journey. Also, if you're using Hurghada as a base, you can easily take a day trip to some temples when you're bored of the beach!
Pick Sharm El Sheikh if – You're only after a relaxing resort holiday or diving location.
Or, if you have the budget to fly there and back! Sharm El Sheikh is on the southern tip of the Sinai Peninsula and it's far away from any of the 'regular' tourist sites or cities.
Personally, I loved them both in their own ways.
Hurghada was a lovely place to unwind after all my site seeing and Sharm El Shiekh had some culture with the beautiful mosque!
Whichever you choose, I'm sure you will have a restful time with gorgeous views. The Red Sea from the Egypt side was stunning.
The water was crystal clear, the beaches sandy white, the palm trees swaying and the cocktails flowing. Egypt really does know how to do beaches well!
Read more of my Egypt articles
My perfect 2 week Egypt Itinerary
The perfect Egypt packing list
The most Instagrammable places in Egypt
Why you need to visit the West Desert in Egypt
My guide to the Valley of the Kings
The ultimate 4-day Nile Cruise
Top places to visit in Luxor at night
The perfect guide for Abu Simbel
My survival guide for the pyramids
Why you NEED to visit Alexandria
Top tips for riding a hot air balloon in Luxor
Save this Hurghada or Sharm el Sheikh post for later!