Although a public library is probably the last place you'd think to visit on your holiday, you shouldn't skip a visit to Prague's Municipal Library.
Hidden away inside, you'll find the secret Infinity Book Tower Prague. It's an optical illusion that makes you feel like you're surrounded by limitless tomes.
Also nicknamed the 'Column of Knowledge', this art installation has increased in popularity recently with the power of social media. So, don't expect to be the only one wanting to visit.
As a book lover, I was blown away by this book tunnel. It was such a cool find and personally, I found it was worth the wait.
Here is a complete guide for the Infinity Book Tower Prague and how to visit it!
What is the Infinity Book Tower Prague or the Tunnel of Infinite Books?
The Infinity Book Tower in Prague, the Column of Knowledge, or the Prague Book Tunnel seems to have a lot of nicknames but this incredible art installation is actually called 'Idiom'.
It's a huge book tower made up of 8,000 stacked books and was built in 1998 by a Slovak artist called Matej Kren who lives and works in Prague.
Every book that was used for the installation was either donated or saved from being thrown away.
There is a tear-shaped opening that allows you to look inside the tower and see an optical illusion of a seemingly infinite number of books!
It was originally showcased at the 1995 Sao Paulo Biennial Exhibition until it found a permanent home at the Prague Municipal Library.
It's been featured in Science Magazine and now is a social media sensation on platforms like TikTok.
Today, it sees thousands of visitors every year. There's always a queue of bibliophiles who want to enjoy this bookish illusion!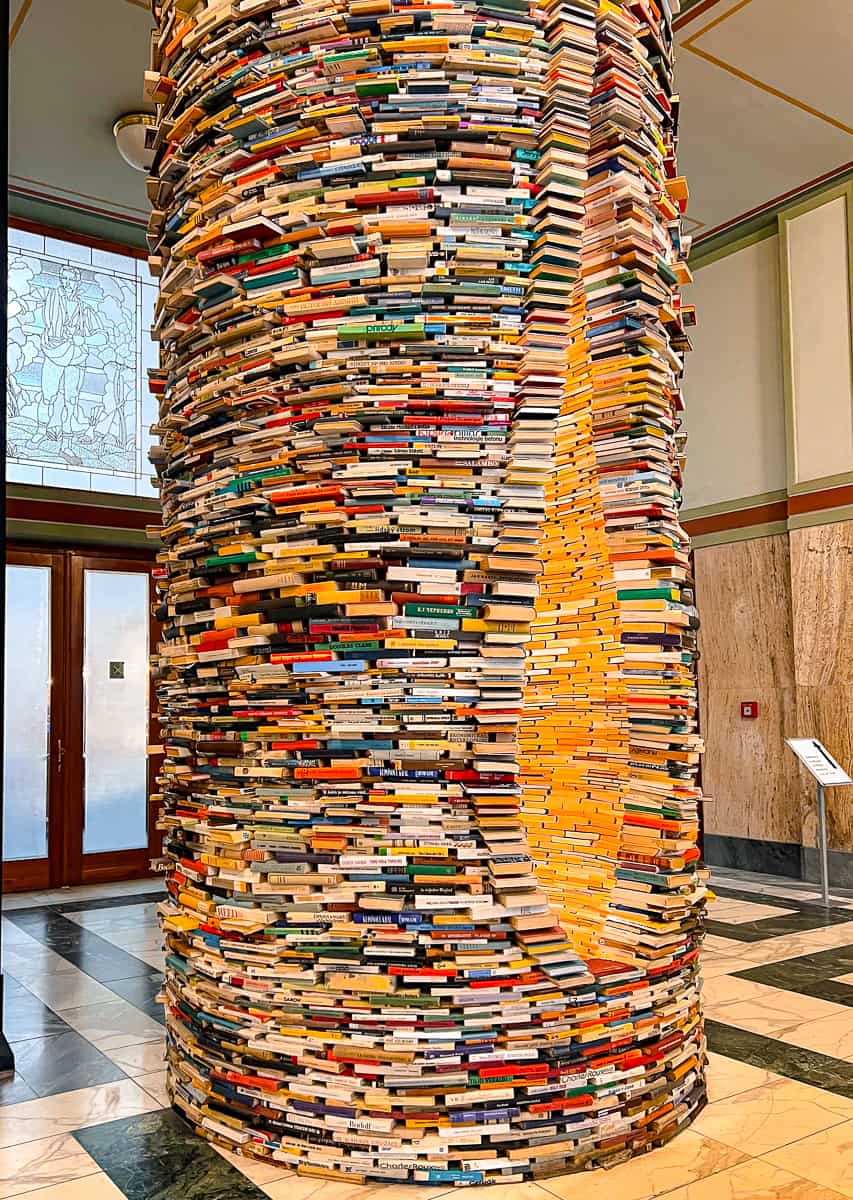 Where is the Infinity Book Tower in Prague?
The Infinity Book Tower Prague location is in Prague's Municipal Library in the heart of the city.
It's in between the Charles Bridge and Old Town Square, so it's really easy to plan a visit. Both locals and tourists are allowed inside the library.
You really can't miss the book tower as it's in the entrance foyer at the top of the stairs as soon as you step inside. People will be queuing in the central part of the stairwell.
The Municipal Library of Prague is not to be confused with the National Library which is part of the Klementinum complex and is in the building next door. Don't go in the wrong one.
Prague Municipal Library address is Mariánské nám. Click here for a Google Pin!
How much does it cost to go to the Book Tower in Prague?
The great thing about visiting the Infinity Book Tower in Prague is that it doesn't cost a single penny to visit.
That's right, the Prague Municipal Library is completely FREE to go inside and so it makes a great budget activity.
But, be aware that free entry means that it's very popular and you may have to queue to see the optical illusion.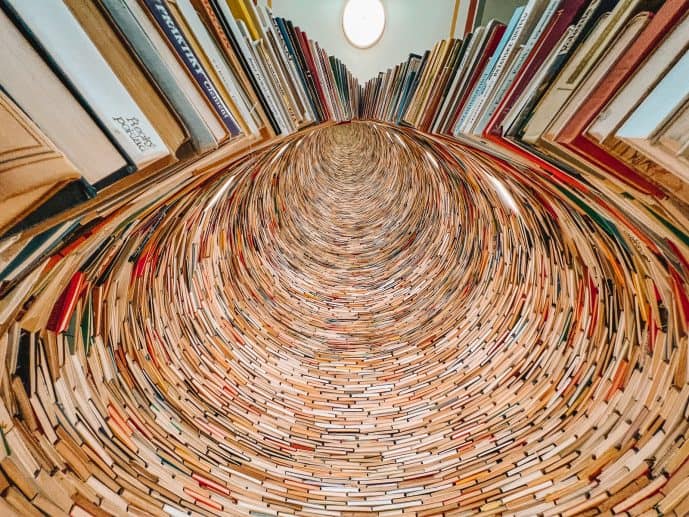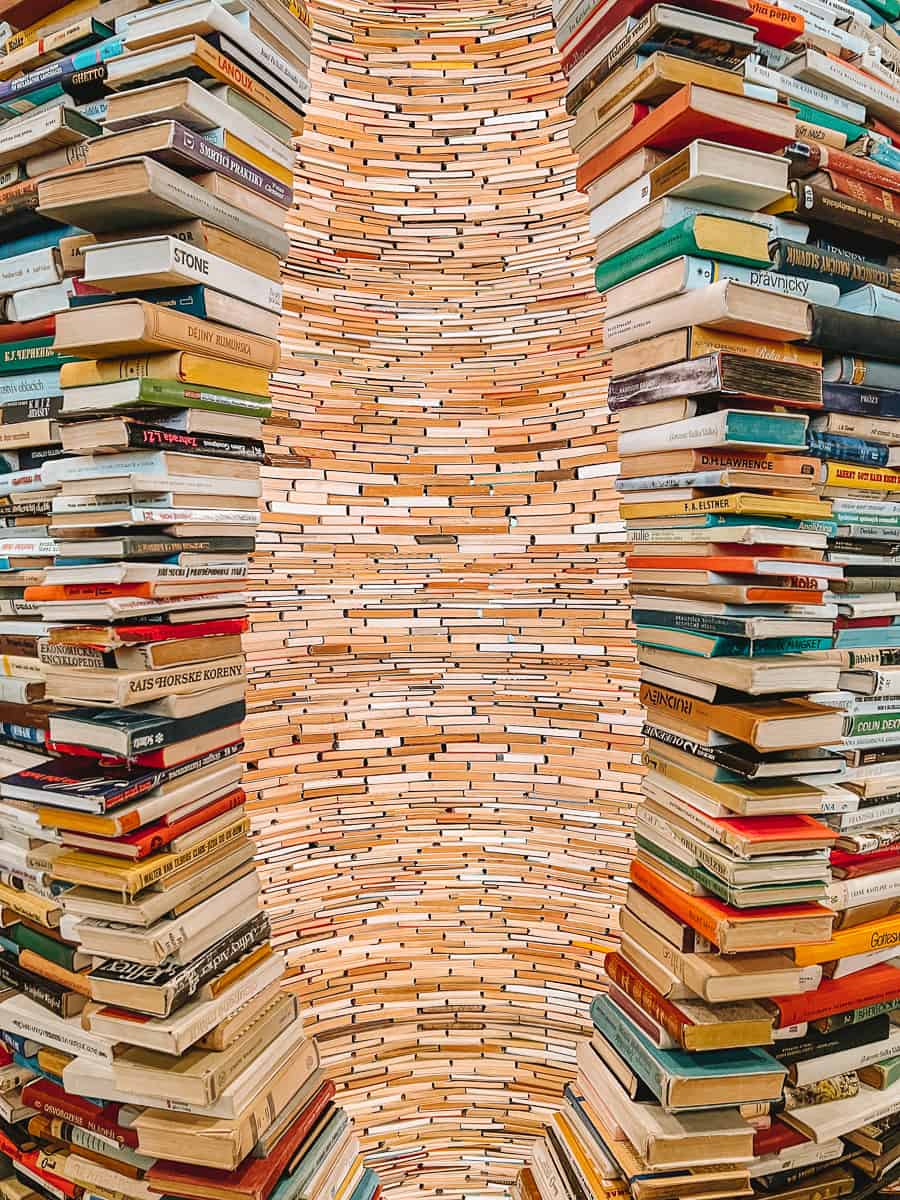 The best time to visit Prague's Book Tower
Due to the power of social media the Infinity Book Tower Prague has gained a lot of popularity recently.
In fact, it hasn't had this much attention since it was first installed over 20 years ago. So, don't expect to be the only one who wants to see this bookish optical illusion!
On my recent visit in April, there were already very long queues to look inside the tower and the line stretched outside the building. I'd hate to think how long the queues will be in summer.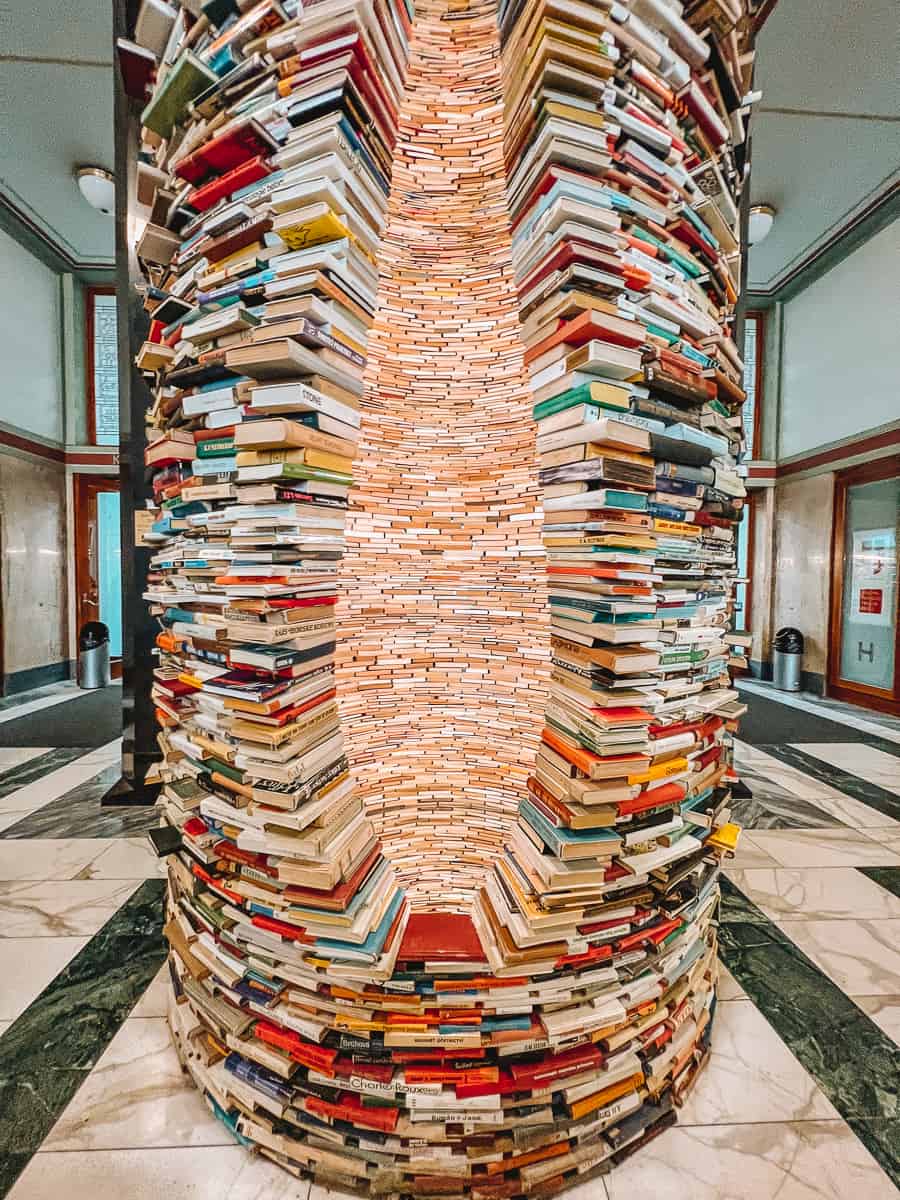 Personally, if you want to avoid a long wait time, I would arrive early or as soon as the building opens.
This is especially important if you wanted to capture photos/videos of this book tower without many people in them.
On that note, you're allowed to take as many photos/videos as you like but they ask that you don't use tripods.
Tip: the queue is only to look inside the book tower at the infinity illusion. If you just wanted to see the stacks of books on the outside you can look at the back without waiting.
Take a look inside the Infinity Book Tower Prague
So, once you've finally made it to the front of the queue, all that's left is to approach the tower and peer inside.
If you look both up and down inside the book tunnel, you'll be surrounded by what feels like millions of books and it seemingly goes on forever.
It's really impressive and super fun, I don't think I've ever seen anything like this before.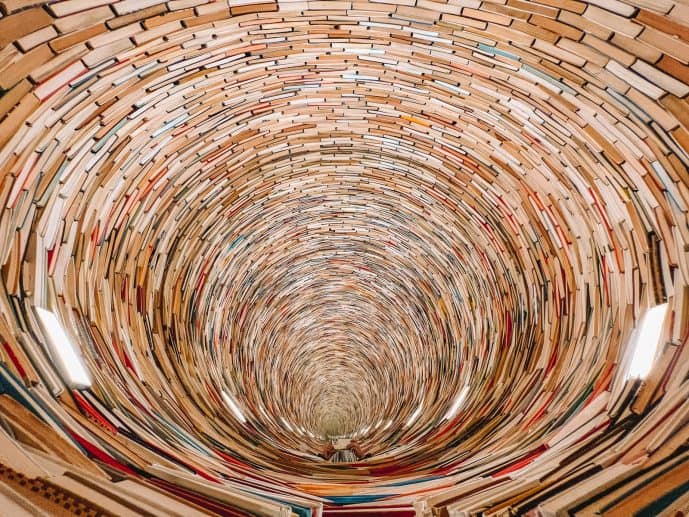 Although on the outside of the tunnel, the books look neatly stacked. On the inside, they all blend together to make a circle. It looks like you're inside a book tornado!
Make sure to have your phone ready to capture some fun photos and videos of the illusion. It's so trippy.
Remember not to touch the artwork on your visit and treat the Idiom installation with respect!
Is the Idiom Infinity Book Tower worth waiting for?
Personally, as a book lover, this seemingly infinite tower of books was so cool and it's honestly a reader's dream come true!
I thought it was worth waiting for but, then again, I didn't wait too long on a weekday afternoon in spring.
I think my wait in line was around 10 minutes but queues can be longer at weekends and in the summer season.
Again, if you wanted to reduce your wait time significantly I would recommend visiting as soon as it opens to avoid long queues.
What else can you find in the Prague Municipal Library?
Beyond the Infinity Book Tower, the Prague Municipal Library is a very pretty and peaceful space that's worth exploring.
Make sure to take a good look around at some of the facilities they have. It was built in 1928 and it feels like a step back in time with all the beautiful vintage clocks and decor.
You will find shelves of local books and the oldest in their collection is a print of the Prague Bible from 1488.
This library doesn't just contain books. They have a computer area, music rooms, lots of lounges and places to study too. They also regularly have exhibitions and events here so it's worth seeing what's going on.
There is also Library Café where you can enjoy some drinks or a quick snack whilst reading a book.
I sat down in one of their outside courtyards hidden away in the complex and it was such a sanctuary from the busy and noisy streets of Prague.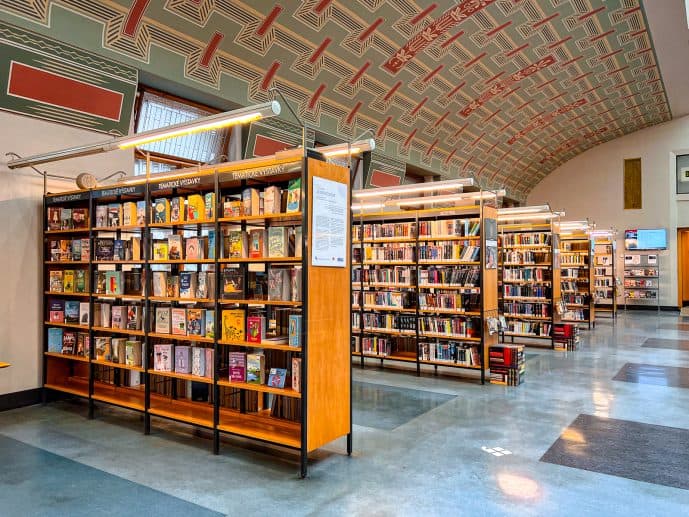 Prague Municipal Library opening times
If you wanted to see the Infinity Book Tower, it's good to note that the Municipal Library of Prague isn't open every day of the week.
The library is open from Monday – Saturday and it is completely closed on Sundays.
On Mondays, it's open from 1 pm – 8 pm. Tuesday – Friday from 9 am – 8 pm and then on Saturdays from 1 pm – 8 pm.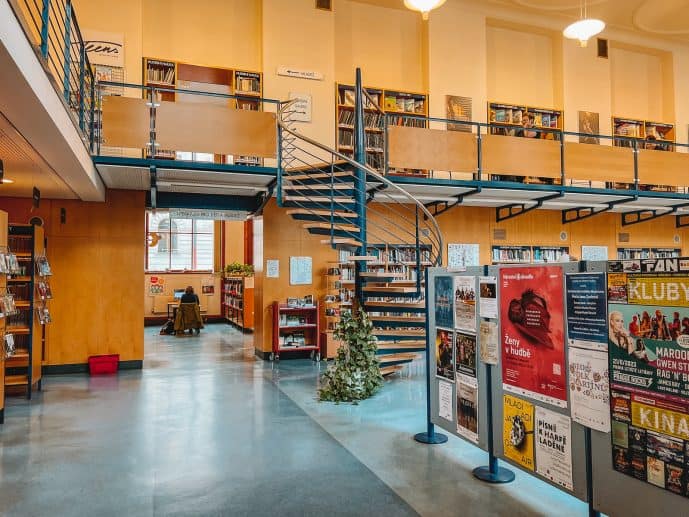 Looking for more bookish locations in Prague?
Once you've visited the Infinity Book Tower Prague, there are plenty of other bookish locations you can visit in this fairytale city.
Here are all the places I would recommend visiting if you're a bibliophile;
Klementinum Library
Located in a building just next door to the Municipal Library is one of the world's most beautiful libraries.
The Klementinum is a series of buildings that were originally part of a medieval monastery dedicated to St Clement.
It then became a Jesuit College and the Baroque Library was built around 1722 by Kilián Ignác Dienzenhofer.
It's filled with dark bookshelves, winding columns, astronomical globes, frescoes, and portraits. It looks like a library from a fairytale or Hogwarts Library in Harry Potter!
The only way you can visit is to book a guided tour and it's not free. You can book tickets at the information desk or book your tour in advance with Get Your Guide.
Click here to read my complete guide on visiting the Klementinum Library & Tour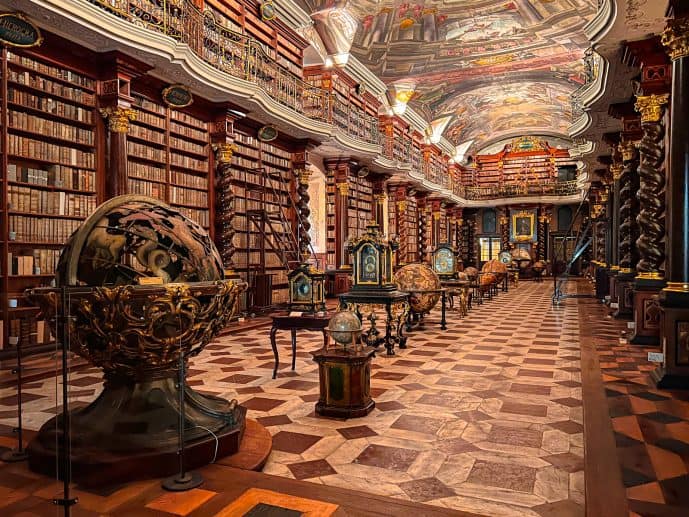 Strahov Libraries
If you're up for seeing more incredible historic libraries, there are two more I would recommend visiting in Prague.
The Strahov Libraries are a set of two famous rooms, the Philosophical Hall and Theological Hall. Both of these magical library rooms were built in the Baroque style and are breathtaking.
You can visit these libraries daily at Strahov Monastery throughout the year and they are open from 9 am – 5 pm. But, they do have a 'lunch break' in between.
The only way to buy tickets is at the ticket desk located in the information centre on the day of your visit. Although I read online they only take cash, they do take card payments as well.
Again, you will view these gorgeous library rooms from a roped-off doorway and there is a 'hallway of curiosities' in between them.
If you book a few months ahead, there is the option for a 'special tour' where you get to go inside the rooms. You can look up details on their website.
Click here for my complete guide on the Strahov Library Prague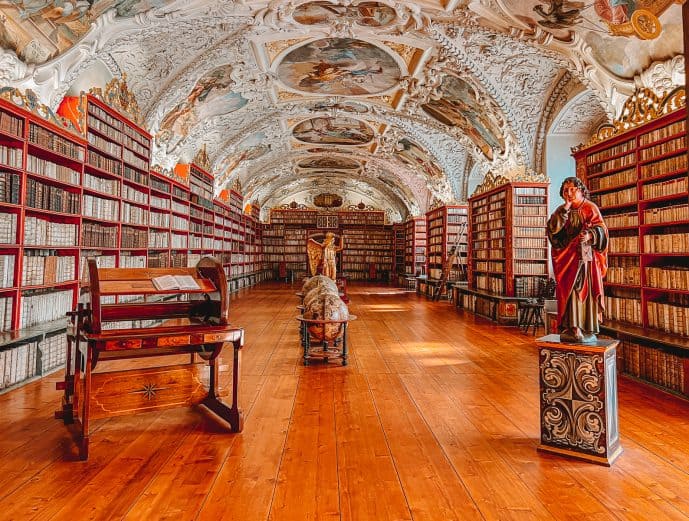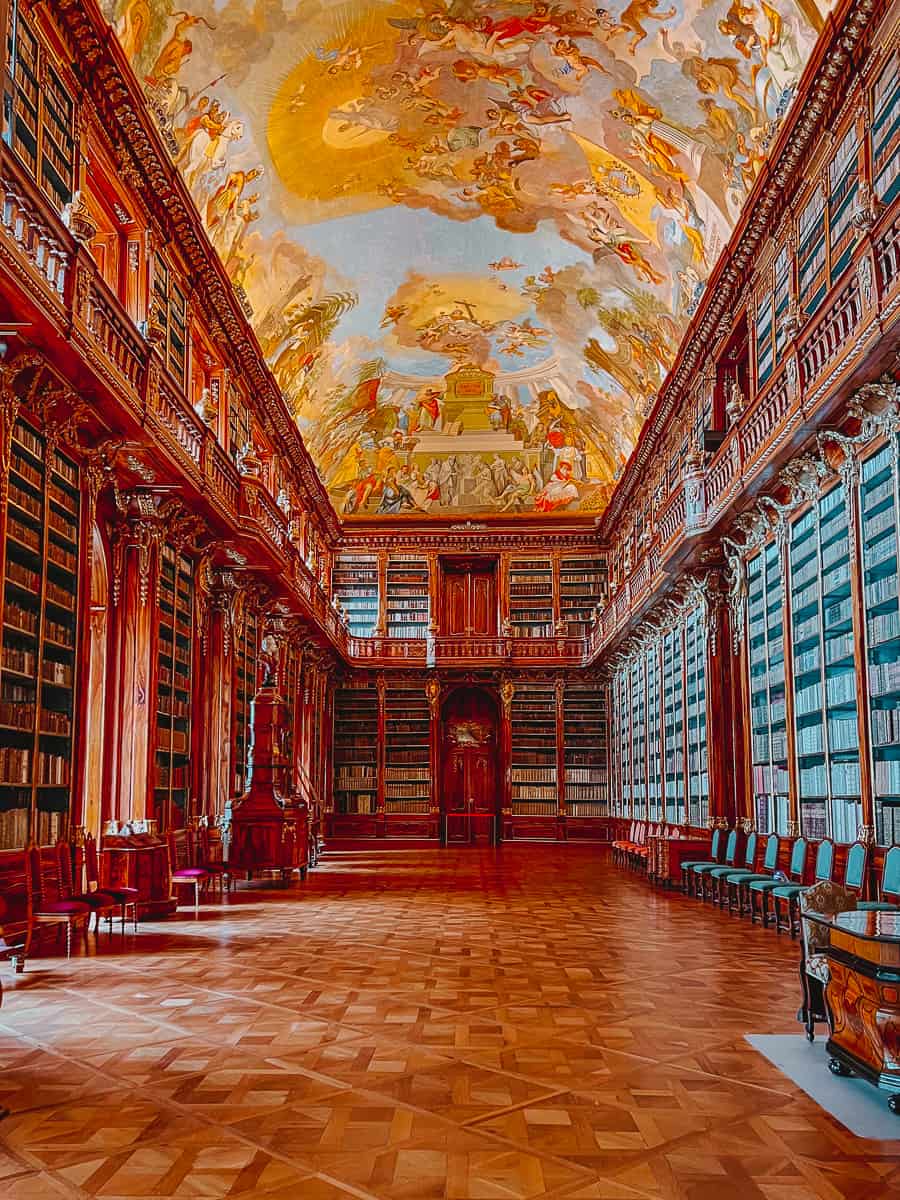 Franz Kafka attractions
You really can't escape references to Franz Kafka in Prague, a Modernist Bohemian author who was based in the city.
He wrote famous books like 'The Metamorphosis and 'The Trial' and there are many sites where you can find out more about his life in the city.
The most famous attraction is the Kafka Museum and it's an existential exhibition that takes you on a journey into the world of Kafka – it is very trippy!
Don't forget to take a picture with the famous 'peeing statues' outside. Or, visit the Kafka rotating head on Nové Město.
As its name suggests, it's a modern artwork of Franz Kafka's head that rotates every 15 minutes. It's huge and weighs over 39 tons.
Personally, one of my favourite Kafka sites is his tiny blue house at Number 22, Golden Lane. It's now a bookshop and you can visit as part of a Prague Castle tour!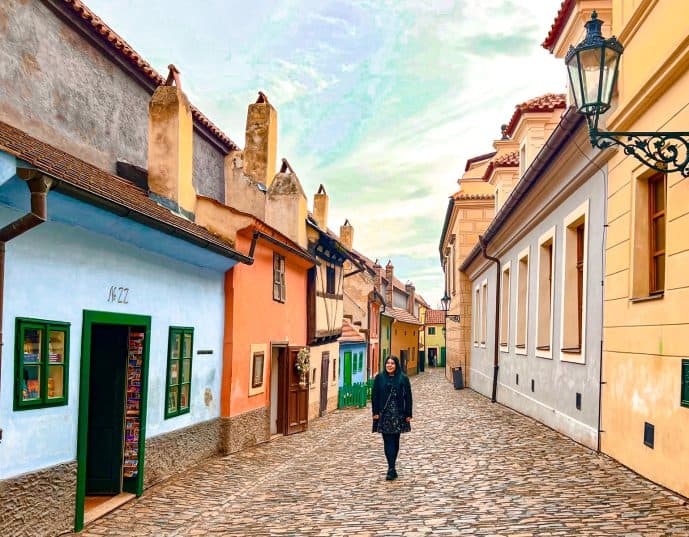 Read more of my Czechia guides
How to see the Prague Astronomical Clock & Walk of Apostles
A complete guide to the John Lennon Wall
How to visit the Bone Church of Kutna Hora
Magical Cloak Bridge in Česky Krumlov
Uncover the secrets of Prague's Golden Lane
Visit the mysterious Dripstone Wall Prague
Save the Infinity Book Tower Prague location for later!