Did you know that the Smallest House in Britain is located in Conwy, North Wales?!
It's a tiny abode of doll-size proportions that is now a tourist attraction visited by thousands each year. But, it didn't start out this way.
If you can believe it, this teeny residence was built in the 16th-century and had tenants living inside for hundreds of years!
At just 6 x 10 feet, it's minuscule but surprisingly practical. Here's a complete guide with the history, how to visit, and a peek inside Britain's smallest house!
Where is the Smallest House in Britain?
The Smallest House in Great Britain is located in Conwy, which is a historic town in North Wales on the fringes of Snowdonia National Park.
This tiny residence is perched on Lower Gate State which overlooks a stunning harbour called Conwy Quay.
Traditionally, the houses in the area were occupied by local fishermen who would live and work on the water.
You will find it nestled in amongst a pretty row of terraced cottages. You can't miss it as it's painted in a gorgeous shade of red!
How big is the Smallest House in Great Britain?
"The Smalls" is often described as having dollhouse proportions as it's just 72 inches wide (6 feet / 1.8 metres) and 122 inches tall (10 feet / 3 metres)!
Despite its size, it's actually split into two floors. It's barely big enough to fit one person in but apparently, the residence has had families living here.
Can you imagine trying to fit a whole family inside this teeny house barely big enough for a bed?!
When was the Smallest House in Britain built?
The tiny abode was built all the way back in the 16th-century. It was a tradition in medieval times to build houses on the city walls.
During the town's developments, two rows of terraced cottages were built alongside the fortification walls closest to the harbour.
There was a row built from the north end of the quay and a row from the south. Eventually, the two rows met and there was a small gap that needed filling.
So, a dwelling was made inside this tiny space at a relatively low cost. Since then, the property was rented out to residents of Conwy as budget accommodation!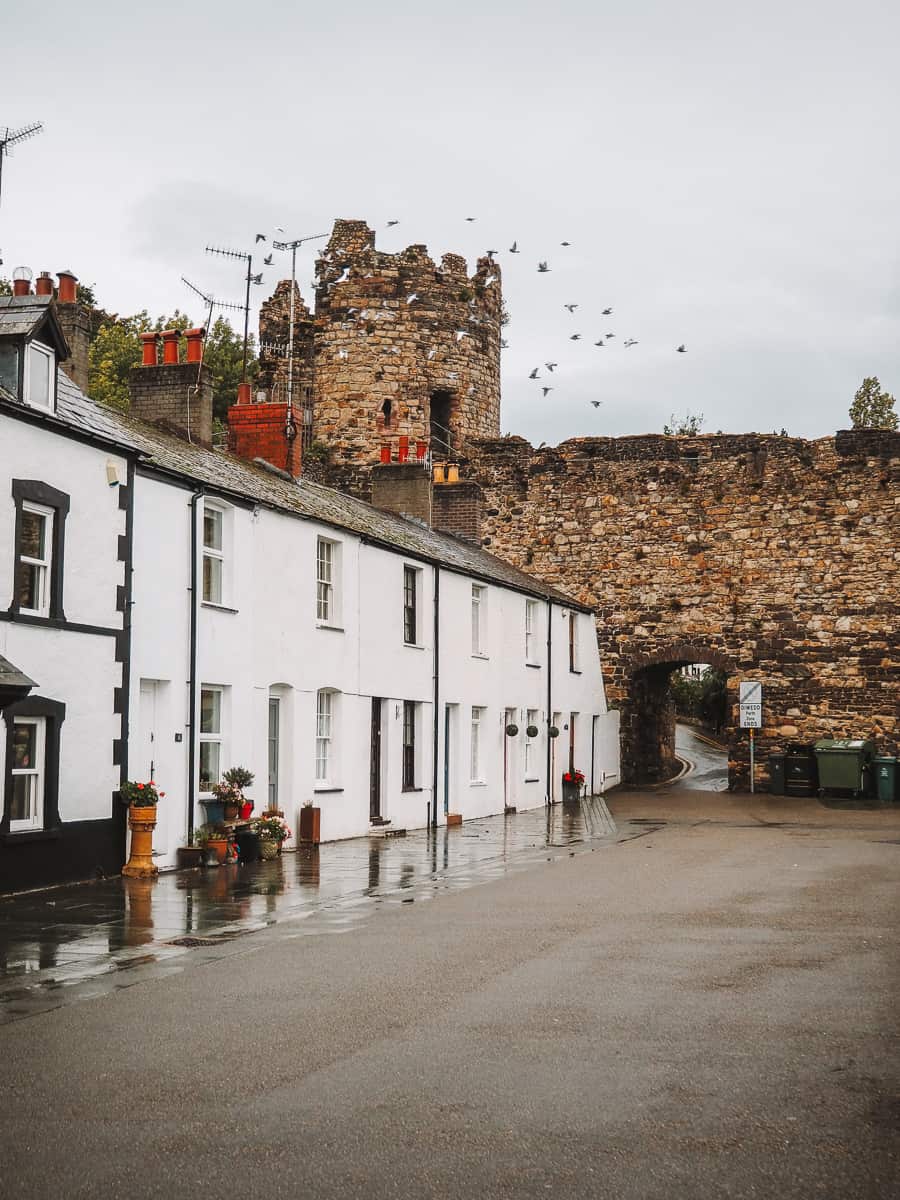 The history of this teeny dwelling
Since its construction, many people have owned and rented this compact house!
The owners included an elderly couple, the Edwards, who lived here during the 1800s. Eventually, they sold the property to a Robert Jones who bought it for just £20 in 1891.
By complete coincidence, he rented this property to a fisherman also called Robert Jones who worked on the harbour. He was a local man that stood a mighty 6 foot 3 inches tall.
Apparently, Mr. Jones' could barely move around the home and those who visited him would be forced to stand outside.
Eventually, the house became too cramped for him to live in and the council evicted him in the 1900s. They then deemed the property unsuitable for human habitation.
Many other small dwellings in the area were demolished but the town petitioned for this property to remain and funds were raised to protect it.
It was then transformed into a tourist attraction by Robert Jones' descendants. It has since been confirmed as the Smallest House in Britain by the Guinness World of Records.
Who owns the Smallest House in Britain?
Although no one lives in the property today, it's owned by Jan Tyley. She is a descendant of Robert Jones who was her great-great-grandfather!
The family has lovingly preserved the house and it's like it has been frozen in time. It looks just like it would have done all those years ago when the tenant Robert Jones was living here.
Today, thousands of people visit this little house in Conwy each year.
You'll often find one of the friendly staff outside wearing traditional Welsh costume like the Welsh Hat (Het Gymreig), bedgown dress, and red cape.
Apparently, the women run this business now after the sons in the bloodline lost interest!
How to visit Conwy's Smallest House
The house is open daily from Easter – October and you can pop inside and take a quick tour for just £1!
As only one small group can head inside at a time, you may have to queue a while to go in. So, if you really wanted to visit, I'd get here earlier rather than later.
Outside the house, they have a lovely little souvenir stall with all sorts of Welsh bric-a-brac! I bought a cute magnet of the house that I paid for with my entrance fee as I went in.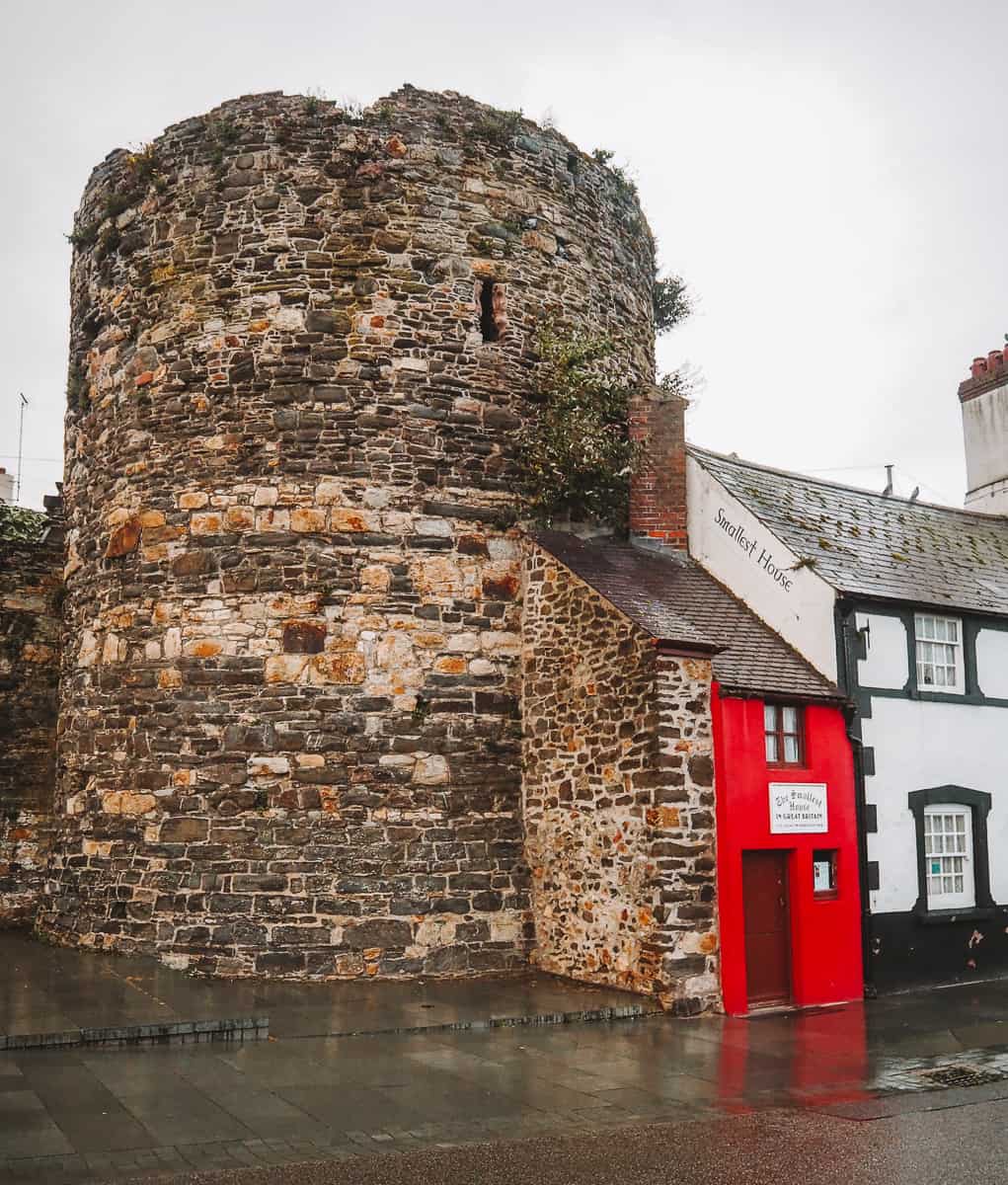 What's inside the Smallest House in Great Britain?
As soon as you step beyond the curtain, you'll get to see just how adorably this tiny residence really is!
Inside the Smallest House in Britain, is a small room on the bottom floor. It has just enough space for a seat which also used to act as a coal bunker for the fireplace.
You'll also see a teeny stove, with a table and some crockery placed on a shelf on the back wall. Back in those days, a tiny oil lantern used to light up the room which hangs over the fireplace.
To get upstairs, you'll have to climb up an extremely narrow staircase that doesn't have any railings. So, watch your step.
I wasn't quite tall enough to look over the plastic covering or the railings really but, from what I could see, the bedroom was adorable.
On the upper floor, there is just enough room for a single bed. Around the compact area, you'll find a table with a washbasin, a small storage space, and some hooks to hang clothes.
I couldn't believe that Robert Jones was 6 foot 3 and managed to live here. I'm only 5 foot and I felt that this house was claustrophobic!
They have done a really great job showing you what the cottage would have looked like when it was last lived in before the 1900s.
As you walk around, you'll hear a small commentary of the history and notable features. You'll also find some old photos of the house and a conveyance deed that is framed.
Your tour will only last around 5-10 minutes but it is SO worth paying for. I was so smitten with this wee house.
Incredible Smallest House in Britain facts
The smallest house in Britain is just 72 inches wide and 122 inches high!
The record for the smallest property has been verified by the Guinness World Book of Records. It happened after the owner of the North Wales Weekly News, Roger Dawson, toured the UK and examined all the self-proclaimed 'smallest' properties.
The property was bought in 1891 by Robert Jones from William Edwards for £20. He lived in the Custom House Terrace. By complete coincidence, the last tenant to live here had the same name Robert Jones and he was 6 foot 3!
The house used to be made of traditional stone but it has since had a makeover and stands out in a vibrant Welsh dragon red
The Welsh name for this house in Cymraeg is Y Tŷ Lleiaf ym Mhrydain Fawr
The tiny house was originally made as an infill property within the medieval row of cottages on the harbour. Since then, the cottages to the left of the house have been demolished
Conwy's Smallest House location
The Smallest House in Great Britain can be found along Conwy Quay in the town harbour.
If you're heading in from the main Berry Street, make a turn down High Street and you'll end up walking through one of the ancient gates to the town.
When you walk through you'll find yourself on Conwy Quay and you'll see the historic Liverpool Arms pub on your left.
Make a right and walk down alongside the harbour and you'll find the Smallest House on Lower Gate Street.
It's easy to spot as it's a bright red house sitting underneath a huge fortification tower with 'Smallest House' painted above it.
It's also joined by a fabulous row of white timber frame cottages. Although not as small, these are very tiny dwellings that have residents living in them today!
The address is The Smallest House, c/o 11 Lower Gate Street, Conwy, LL32 8BE
Opening times and prices
You can visit Britain's smallest house from Easter to October any time from 10 am to 4 pm each day. It's also open 10 am – 6 pm during the school summer holidays.
If the weather is particularly bad and raining, they may decide to close early as their staff has to stand outside!
Tickets cost £1 per adult and 50p per child. You can pay for this with a contactless card machine.
Looking for more things to do in Conwy?
The Smallest House is just one attraction in the incredible historic town of Conwy in North Wales.
After your visit, you can explore the rest of Conwy Quay with its ancient pubs and buildings surrounded by the old city walls. Take a stroll along the harbour and look out at all the fishing boats!
There's also a fabulous award-winning Welsh dairy stand Parisella's here serving up amazing ice cream!
I would highly recommend booking tickets to see the dramatic Conwy Castle that you can see towering over the town built by Edward I in 1283. It's massive and, from here, you get spectacular views of the town, Conwy Suspension Bridge, and beyond.
You could take a stroll along the Conwy town walls which used to be the ancient fortifications of the city.
There is also Plas Mawr, Aberconwy House, some sandy beaches and plenty of cafés to enjoy a coffee or bite to eat!
Conwy is just a few miles from the spectacular Snowdonia National Park which is full of natural beauty!
Read more of my North Wales travel guides
How to visit Dinorwic Quarry Wales
Visit Anglesey Barracks – Snowdonia's Forgotten Street
How to see the Bodnant Garden Laburnum Arch
A complete guide for Swallow Falls
Conwy Falls and Cafe Walking Guide
Discover the ancient Penmachno Bridge
How to find the Fairy Glen in Betws-y-Coed
When does Tu Hwnt I'r Bont turn red?
Why is the Ugly House called Ugly?
Find jumping salmon at Pont-y-Pair bridge
How to find Sappers Suspension Bridge
The tragic legend of Gelert the Dog
The top places to visit in Beddgelert
How to do the Llyn Idwal Circular Walk
A complete guide for the Dinas Emrys Walk & Dragon legend
How to visit Pistyll Rhaeadr Waterfall
Gladstone's Library – Stay in the UK's only residential library
Save the Smallest House in Britain for later!