What comes into your mind when you think of Finland.
Saunas in the snow? Islands out on the ocean? Scandi huts in the wilderness? All of the above?
Although you may be in the middle of the modern capital, Cafe Regatta aims to bring back some of that historic and quintessentially Finnish culture to Helsinki!
The smell of freshly brewed coffee and sweet cinnamon buns swirl in the air and you can cuddle up to the warmth of a roasting fire by the Baltic sea.
What could be more perfect?
It's by far one of the most Instagrammable cafés in Helsinki and it's incredibly cosy inside to boot.
So, you have to visit while you're here. Here's an essential guide for visiting Cafe Regatta Helsinki!
The history of Cafe Regatta Helsinki
If you're wondering how such a traditional hut made its way onto the banks of the ocean in the capital of Finland, it was built way before Helsinki became Helsinki!
If you weren't familiar with Finnish history, the country got its complete independence just over a hundred years ago in 1917.
The hut that Cafe Regatta now sits in was built in 1887 by the Paulig family. The Paulig's are a renowned name in Finland for dealing in coffee.
The founder was Gustav Paulig who worked together with his wife Bertha.
Together, they created a Finnish coffee empire that's still running today – a true power couple!
They used this hut as a storehouse for fishing nets, next to the family villa 'Pauligin huvila'.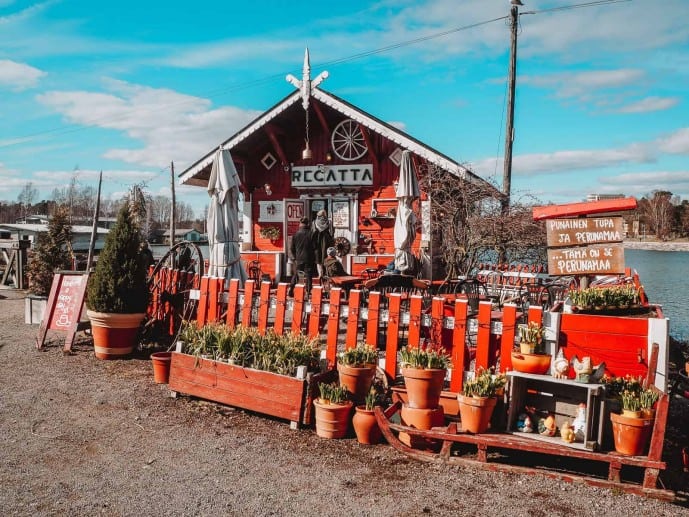 Once the Olympics took place here in 1952, it seems like the hut was transformed into a café and it was managed by many owners over time.
Cafe Regatta opened its doors in 2002 and is now owned by Raine Korpela and his two daughters, Krista and Marina. It makes a roaring trade today.
It's open every day of the year and you'll always find a queue of locals and tourists alike out the doors! All waiting to get their hands on a filter coffee or fresh cinnamon buns!
It's a great place to meet friends, take your family and I also hear it's a popular spot for first dates too.. hint hint ;)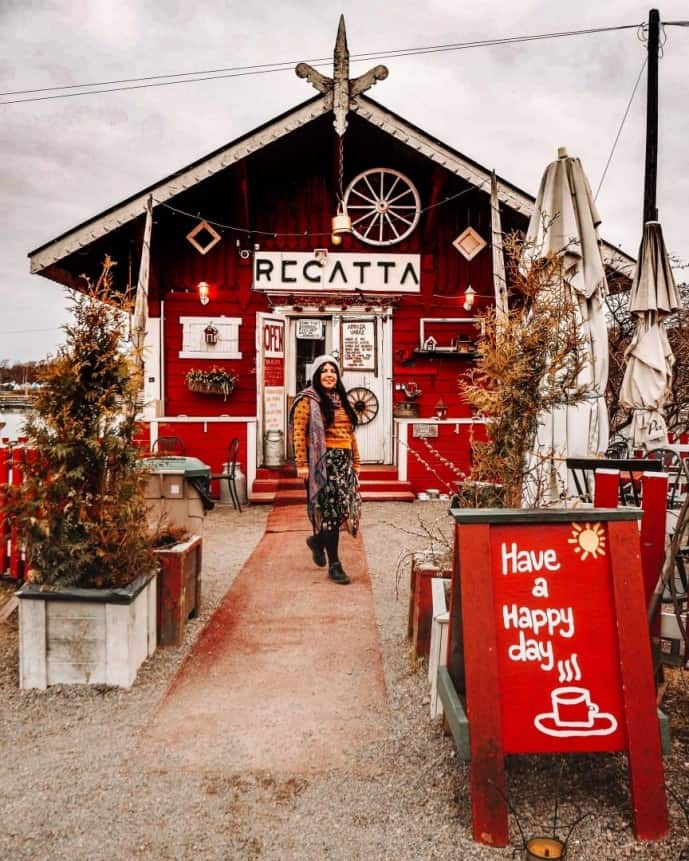 Where is Cafe Regatta in Helsinki?
Cafe Regatta is just a minute walk away from the Sibelius Monument in the district of Töölö in Helsinki.
It may surprise you to know that Töölö is actually a collective of two neighbourhoods, Etu-Töölö and Taka-Töölo! Cafe Regatta is more towards the Taka side.
You'll escape the urban sky-rise buildings and escape into Sibelius Park and the Töölönlahti bay nearby. It sits right by the ocean and it's incredibly scenic!
How to get to Café Regatta in Helsinki
Although Helsinki is an archipelago of 330 islands, the mainland part of the city is really quite compact.
You can easily walk from Helsinki Central Station to Cafe Regatta in around 30 minutes. It will be a scenic walk through the design districts of the city.
If you didn't fancy walking or were stuck for time, you can get the bus or tram towards Sibelius Park;
Bus to Cafe Regatta: I got the service 24 which will drop you off just outside Sibelius Park. From here it's around a 3 minute walk.
Tram to Cafe Regatta: The nearest tram stop to Cafe Regatta is Töölön Halli and Tölö Torg. Tram services 1, 2, 3, 4 and 10 stop outside here. It's a 10 minute walk from these stops.
If you haven't yet, I would seriously consider buying a Helsinki City Card for your visit.
This allows you free access to buses, trams, trains, and ferries for the duration of your card!
These can be 24, 48, or 72 hours. Something that is also popular with locals is the Journey Planner from the HSL. This will tell you the most convenient route from wherever you are in the city!
Café Regatta opening times & the best time to visit
Cafe Regatta is open every day of the year from 8am – 9pm. But, when you decide to visit it all depends on what you want out of it.
If you don't mind crowds, then I would say visit any time during opening hours.
But, if you hate waiting in queues or you really want to take empty shots for your Instagram feed, then you'll need to plan your visit around a quieter time.
In summer, this café does pack out a lot, especially during the week. It's a place where many meet up with friends or take their families. A lot of commuters come here for coffee on their way to work or after work.
The first time I visited was on a Friday afternoon and I had instantly found my mistake.
The café gets seriously packed, inside and out. You won't be able to get many shots as there will be people queuing out the door!
So, I returned early morning on a Saturday and it was a ghost town. If you visit just around opening time, you'll find far fewer crowds.
I know it's early, but it's so worth it for your shots. If you're not a morning person, they do have a caffeine boost and some breakfast waiting for you inside to perk you up!
So, what is visiting Cafe Regatta Helsinki really like?
I get it, you see photos of something so cute online but you're probably wondering; what is a visit really like behind the curated shots?!
Well, having been here, I can assure you that visiting is even better than the photos! They just don't do it justice.
Mainly because you can't smell the amazing scent of cinnamon, coffee, and blueberry pie through your screens! Or, appreciate the feeling of defrosting from the cold in their warm cosy hut.
Outside of Cafe Regatta, they have this adorable picket fence that encompasses some outdoor seating.
This is really popular in the summer months and you can sit by the ocean and watch the world go by.
Or, heading inside, you'll find their quaint hut to be a hotchpotch of art, historic photographs, and curious ornaments all over the place!
There is very limited seating and being by myself, I almost felt bad for taking up a spot. The staff is so friendly and it's really homely.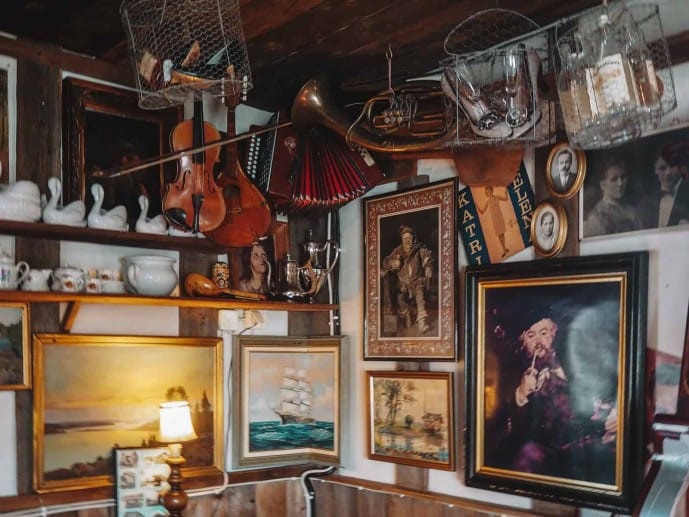 You must try their famous cinnamon buns!
Inside the café, their menu has lots of amazing things to offer. They have freshly brewed coffee, homemade cheesecakes, blueberry pie, and their famous cinnamon buns!
Cinnamon buns, known locally as Korvapuusti, are almost sacred to a Finn.
There is a strict code as to how one should be made. From the crispness of the pastry to the amount of cinnamon and that amazing crystallised sugar and goodness on top.
Café Regatta is known for their fabulous buns that they make fresh onsite every day, so you must try one while you're here. I had one and it was melt-in-the-mouth delicious
As well as cakes and sweet things, they also have a delightful range of savoury pastries, meat, and vegan dishes. Even Vegan ice cream!
What I loved about them is they have a no-plastic policy. They use paper plates and wooden cutlery.
Roasting sausages on an open fire
A popular thing to do here amongst locals is to roast sausages on the open fire pit outside.
You'll be given a rod with the sausage on the end and then you can sit around the fire and roast it until you're ready to chow down.
It's the perfect activity if you're with friends as you can all sit around and exchange stories while cooking them. Just like you would if you were camping!
Superegatta
In the summer season, from June to October, Cafe Regatta now has a new offering with their Superegatta.
As the café is next to the sea, they have a whole range of water sports activities you can get involved with.
You can go kayaking, paddle boarding (SUP), canoeing, and even rent rowboats to take around the marina.
Prices start from around 15 Euros for an hours of paddle boarding! Click here for more details.
Places to visit near Café Regatta Helsinki
So, once you've spent a good amount of time snapping photos and getting cosy in the hut. What next?
As it's located pretty central in Helsinki, you can easily walk to other famous attractions nearby here or venture on some of their islands off the coast!
Sibelius Monument
You'll probably see this landmark as you're walking towards the café and it's definitely worth a visit in Sibelius Park.
This monument was made to commemorate the world-famous Finnish composer of Jean Sibelius (1865-1957).
The statue, which has 600 steel organ pipes, was built in the surrealist style by Eila Hiltunen in 1967.
It's completely FREE to visit and here you can find a bust of Sibelius and the pipes. Make sure you lie down on the floor and look up to appreciate the beauty.
Photography tip: This is a super popular spot for tour buses and it is busy at all times of the day. Even at 7.30 am, there were people around. But, you can wait for a lull between crowds.
Seurassaari Island
Although most of Helsinki's islands require a ferry to travel to, Seurassari is one that you can walk to on foot.
It's like going back in time here as there are no TV wires or modern brick houses, all the buildings are traditionally Scandinavian and made of wood.
In the summer, this is a museum you pay for. But, in the wintertime, this island is FREE to visit and there are many walking routes.
You can see farmhouses, churches, windmills, and even pools and sauna.
At this time, you won't be able to enter any of the houses but it's still amazing to look around.
The only thing I would say if you're visiting out of season is there are NO facilities whatsoever. Not even loos open. So, make sure to go or it could become uncomfortable haha!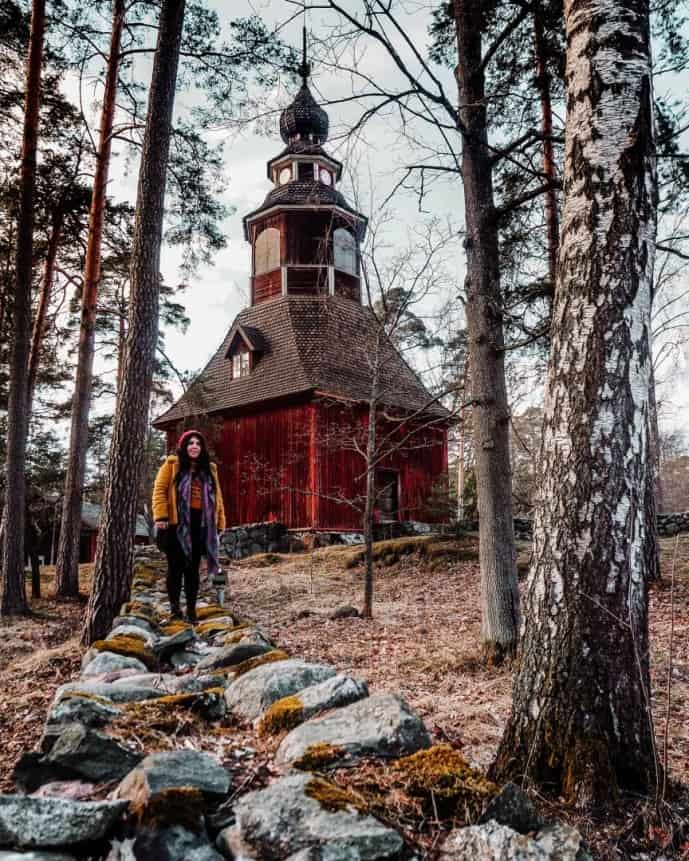 Read more of my Helsinki blog posts;
On my visit to Helsinki, I covered a lot of ground and I have plenty of blog posts you can read if you're looking for more inspiration;
All the amazing places to visit in Helsinki
A photography guide to Helsinki
Why you NEED to visit a Moomin Cafe
What are the best places to eat and drink in Helsinki
Make sure you check out this outdoor swimming pool
First time in a Finnish Sauna? Here are the ground rules!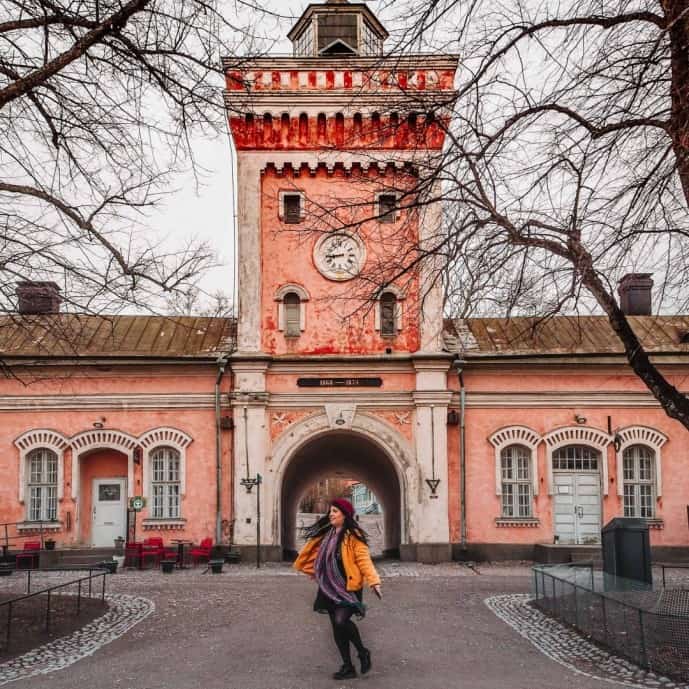 Like it? Pin it!