Are you looking for all the most photo-worthy Instagram spots in Helsinki? Well, look no further! This list will show you all the places that will get your Instagram feed looking good.
Helsinki really does have some of the most picture-perfect buildings, stunning architecture, unique foodie spots and even islands full of nature too!
There is no end of places to snap while you're in the capital of Finland, but this list of Instagram spots in Helsinki should help you to get started. So, what are you waiting for?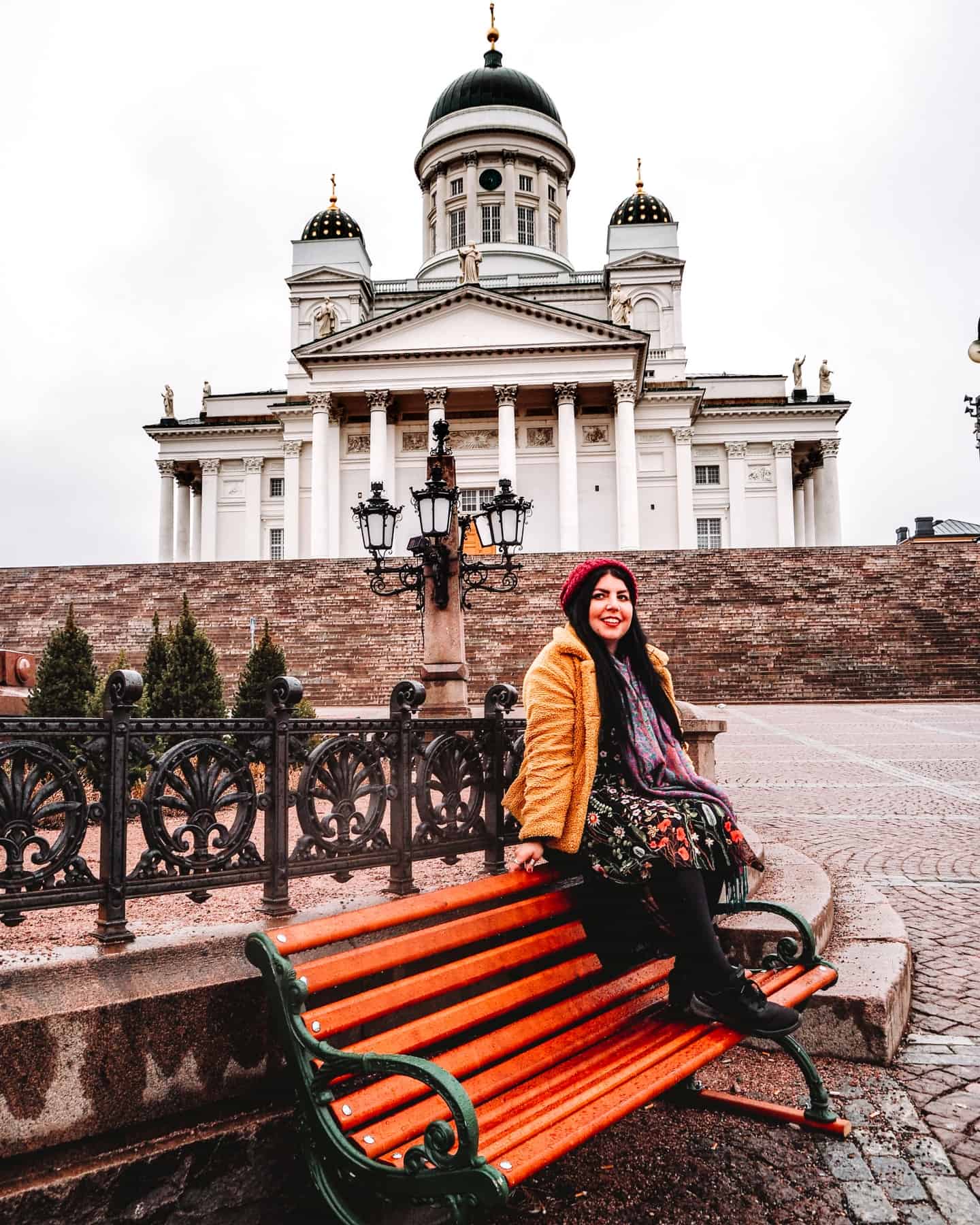 How to reach Helsinki
Finland is located in the North of Europe and sandwiched in between Sweden and Russia.
Helsinki is actually an archipelago of 330 islands and the main hub of the capital is the furthest south of the country.
So, you'll most likely be flying in or sailing into the harbour by ferry.
Flying into Helsinki
I flew into Helsinki with Finnair, Finland's national airline.
I loved their vast entertainment onboard and the fact that you got free coffee, water and bilberry juice for the journey. From London Heathrow airport the flight was around three hours.
Sailing into Helsinki
Helsinki is actually really well connected with Tallinn in Estonia and a ferry between them is only two hours away!
I went to Tallinn by ferry on a day trip and so experienced what the journey is like. The ferries are no ordinary boats, my friends, these are like cruise liner resorts over the seas.
Prices start from 30 Euro's a single journey and you can visit their many restaurants, duty-free shops, cafés, bars and even their own Starbucks and Burger King!
Click here to read all about the experience onboard the Helsinki to Tallinn Ferry!
Getting around Helsinki
Helsinki is easily accessible on foot but also has an incredibly efficient public transport system with buses, trams and a metro line.
You can have a look at the transport page here for routes and there is a journey planner too. It may be worth investing in a Helsinki transport card to get you unlimited use of public transport during your stay. This will also include the ferries to nearby islands such as Suomenlinna Island.
Also, you can buy a Helsinki Card which not only gets you unlimited public transport but FREE entry to the main attractions in the city too, saving you a packet!
In the summer months, Helsinki has city bikes and also electric scooters to rent from VOI. These can be ordered via an app! There are really great bike lanes connected around the city and the Finn's take these very seriously.
The 14 Instagram spots in Helsinki you can't miss
1. Helsinki Cathedral
You really cannot miss a stop at the city's landmark attraction.
This beautiful cathedral was built during the Russian Czarist Empire by Carl Ludvig Enge in 1852 and was based on the architecture of the St. Isaac Cathedral in St Petersburg in Russia.
A statue of the Tzar Nicholas I stands in the middle of the square in remembrance.
Finland has only had their independence for a little over 100 years and so, although this is a reminder of the Russian occupation, it's a Helsinki icon as a position of strength!
Isn't she a beauty? The green onion domes and apostle statues standing guard on the roof really make an impact.
This is a popular stop in Helsinki for many tourists and coach groups throughout the morning and afternoon, but when I arrived around 5 pm it was totally clear!
Maybe that was because it started snowing or because a rush hour in Helsinki isn't that busy. Who knows! But, I loved walking around and enjoying it in peace.
Make sure you climb the cathedral steps for an epic view of Senate Square and pop inside the Cathedral and look at the incredible architecture and organ inside.
Helsinki Cathedral is FREE to gaze upon and enter from 9 am-6 pm daily and you can get here by heading to Senate Square.
2. National Library of Finland
Another architectural masterpiece is the National Library of Finland which was first built in the Russian empire era at the same time as the Helsinki Cathedral.
It's actually the oldest library in Finland and right next door to Senate Square.
The newer annexes were added on at the turn of the 20th century and the whole building is a stunner head to toe!
I think my draw dropped when I first walked through the doors and I couldn't believe that it was a library, it looked more like something that belonged to a palace.
The architecture and the design were breathtaking and I couldn't stop admiring the murals and spiralling staircases.
You don't have to come in to study, you can just enter to marvel at it. However, be mindful that this is a working library and to respect other people reading and studying by remaining quiet!
You will need to store your coats, bags and umbrellas in a locker that is provided free of charge. For photos, I would get here early or around opening time at 9 am to avoid it being crowded.
The National Library of Finland is located in Senate Square and is FREE to enter. It's open from 9 am – 6 pm Monday to Friday.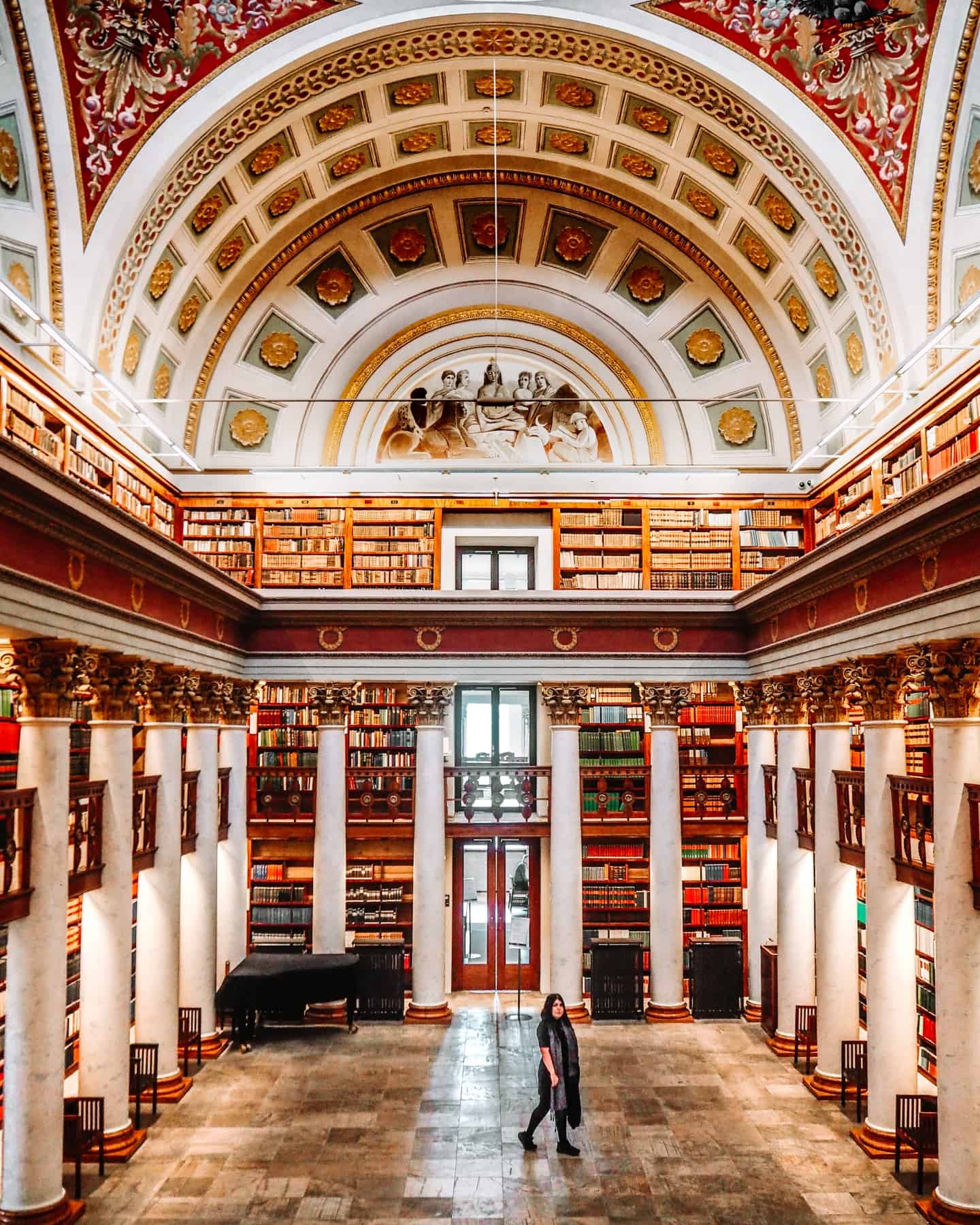 3. Sibelius monument
A little out of the way of the main hub of the city is the Sibelius Monument which was built to commemorate the world-famous composer Jean Sibelius who died in 1957.
The statue was built ten years after his death by Eila Hiltunen in his honour as a surrealist monument. It was unveiled to the public in 1967 and now stands proud in Sibelius Park.
It's made out of 600 steel organ pipes and a surrealist bust of Sibelius is nearby. So, make sure you go inside and lookup for a different perspective!
Despite it being so far out of the city, tour groups come here in their busloads. But, between the crowds, you can find a quiet moment to strike a pose in front of it.
Sibelius Monument is Sibelius Park and is FREE to enter. The park is open 24 hours a day.
4. Cafe Regatta
You'd have a hard time finding a coffee place in Helsinki cuter than Café Regatta. Built in 1887 and standing by a lakeside, it's a Scandinavian hut that's as pretty as a postcard!
It's also only a five-minute walk from the Sibelius monument.
It's proudly been serving filter coffee to the public for decades along with its fresh from the oven cinnamon buns which they are famous for.
Here you can get cosy inside their hut with coffee, or if it's warm sit in the sun by the lakeside. As well as coffee and cakes, they sell sausages to roast on the open fire with friends.
It is a pretty photo location, but always remember to support local businesses and buy something from their stall!
I would come for opening time on weekends or during the week to avoid the crowds, Café Regatta's amazing coffee is no secret in this city.
Read more about Café Regatta in my post here. It's open 7 days a week from 8 am – 10 pm.
5. Suomenlinna Island
Helsinki is made up of 330 islands and so you have to visit one while you're here. If you are stuck on time and can only visit one, I would make sure that Suomenlinna Island is it!
Suomenlinna Island is also known as Sveaborg as when Finland was under Swedish rule, they decided to build Suomenlinna sea fortress.
This was to protect the country from Russian invasions. Eventually, the Swedes lost to the Russians and so the Russians took over the Suomenlinna as part of the Grand Duchy of Finland to protect St Petersburg in Russia.
Eventually, Finland gained its independence in 1917 and a year later Suomenlinna was released from Russian occupation and became Finnish artillery. It gained the nickname the 'Castle of Finland'.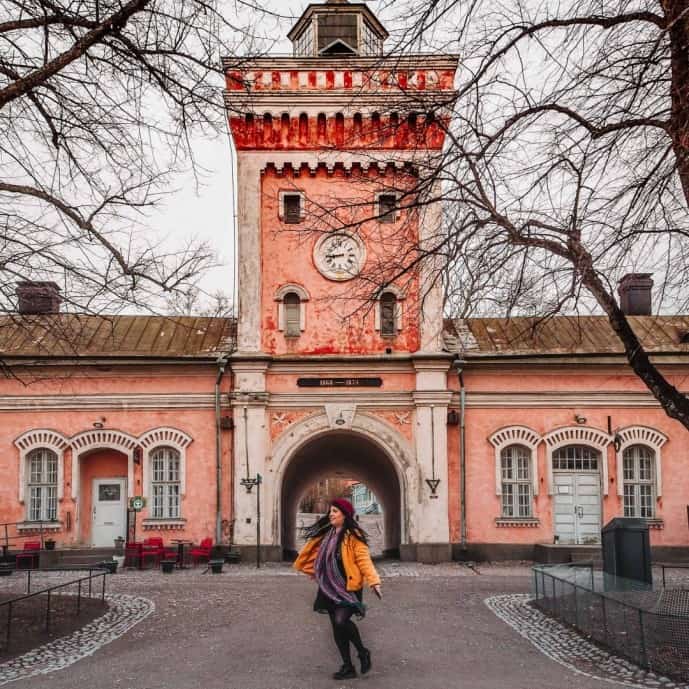 It remained an army base for years until 1990 when it became a UNESCO World Heritage Site. It's now one of Finland's most popular attractions, so expect it to be busy!
800 lucky residents still live on this island but it's almost like a living museum where you go back in time.
You can get to Suomenlinna Island by catching the public ferry from the main ferry dock in Helsinki. The journey takes around ten minutes and costs 5 Euro. It's free if you have a Helsinki Transport Card. You can see the ferry timetable here to plan your journey.
I would leave at least half a day to explore Suomenlinna Island as there is so much to do!
You can easily follow the blue route around the island and visit the main highlights of the King's Gate, The Great Courtyard, Suomenlinna Church, The Dry Dock, Artillery Banks or Piper's Park.
There are also lots of restaurants and a visitor centre to learn all about the island too. Read my full guide for Suomenlinna Fort here.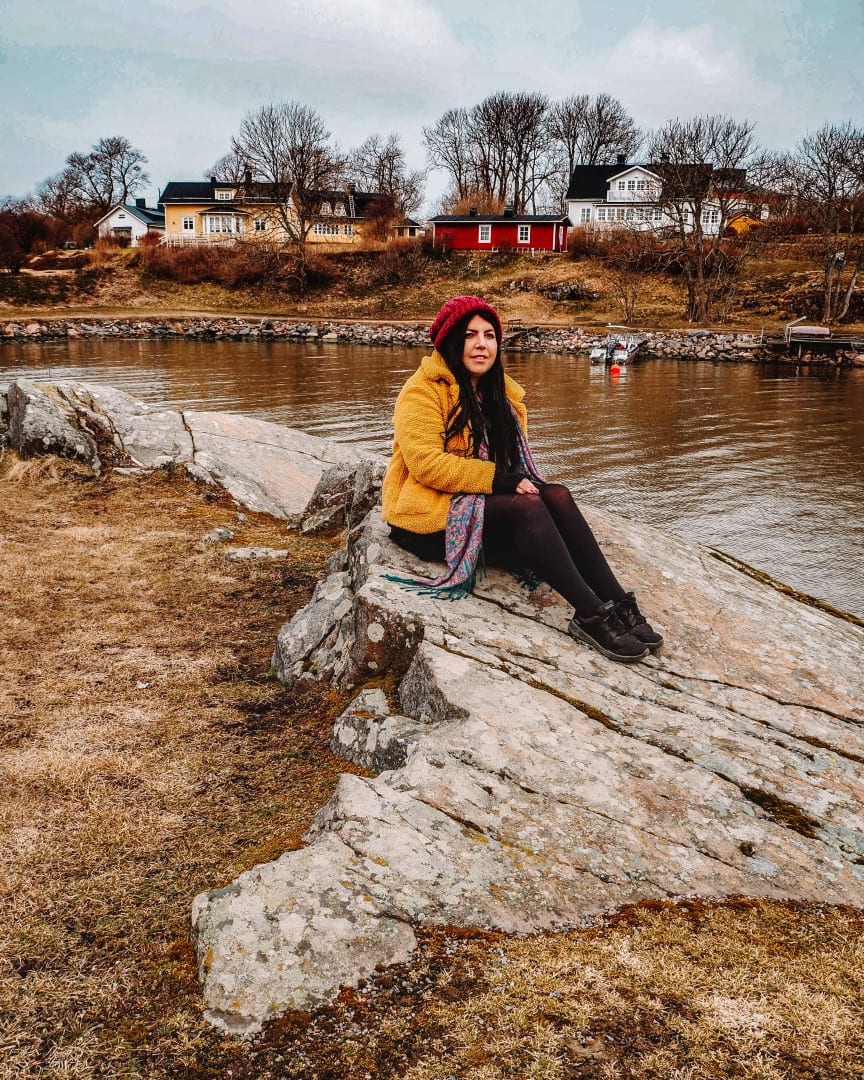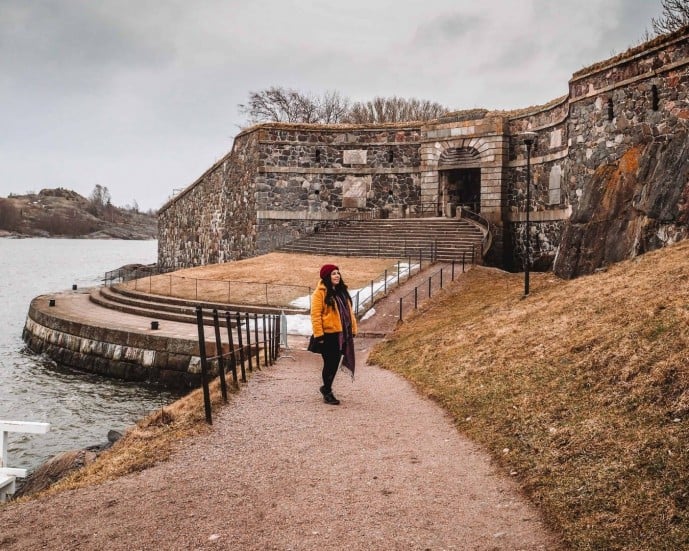 6. Huvilakatu Street
Helsinki's most Instagrammable street is Hivalakatu.
It's a road filled with quirky Art Nouveau buildings in the most vibrant colours of the rainbow!
Living down this street will cost you a small fortune but you can call one home for the night with a host on Air BnB.
Also, you can learn all about the architecture and the Art Nouveau movement at the design museum nearby if you choose.
There are cars parked all along the street, but it's a relatively quiet road to take photos. It will be pot luck whether there are cars parked in front of your favourite colour house – so get creative when taking photos here!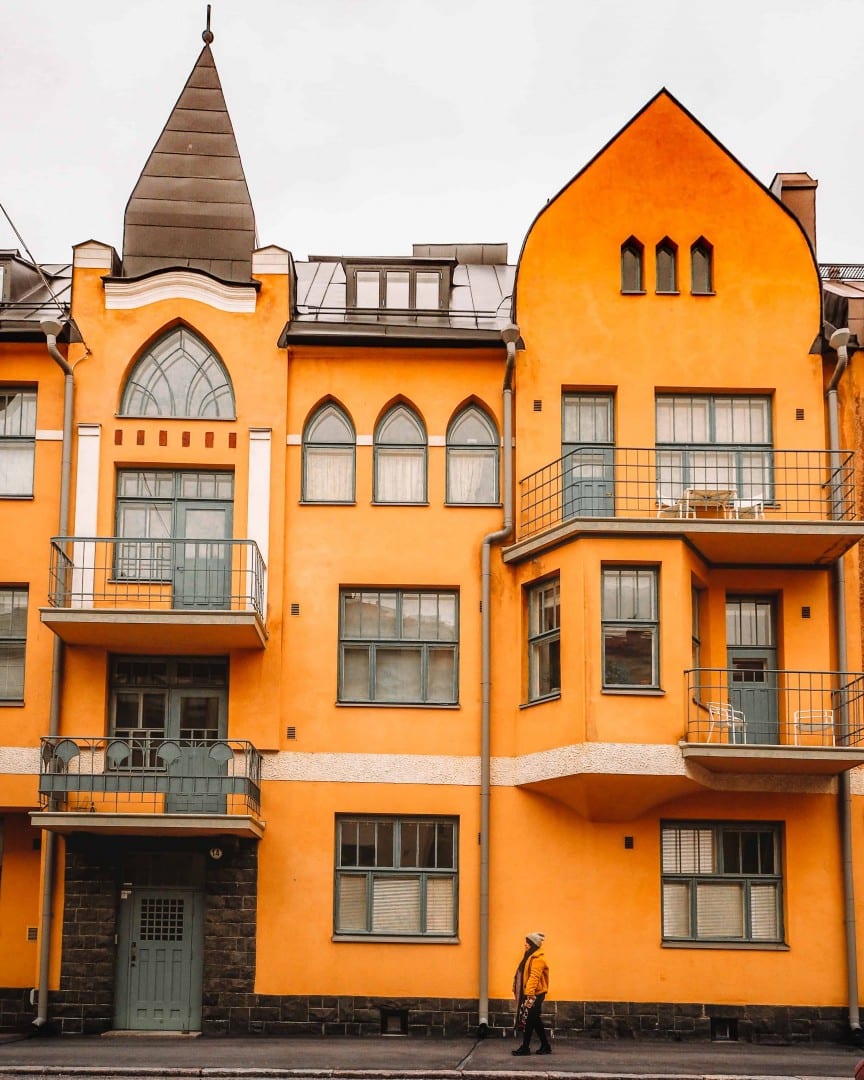 7. Uspenski Cathedral
My favourite cathedral in Helsinki! This was a Russian Orthodox Cathedral built in 1868 during the Russian era.
I loved the redbrick facade and gold onion domes!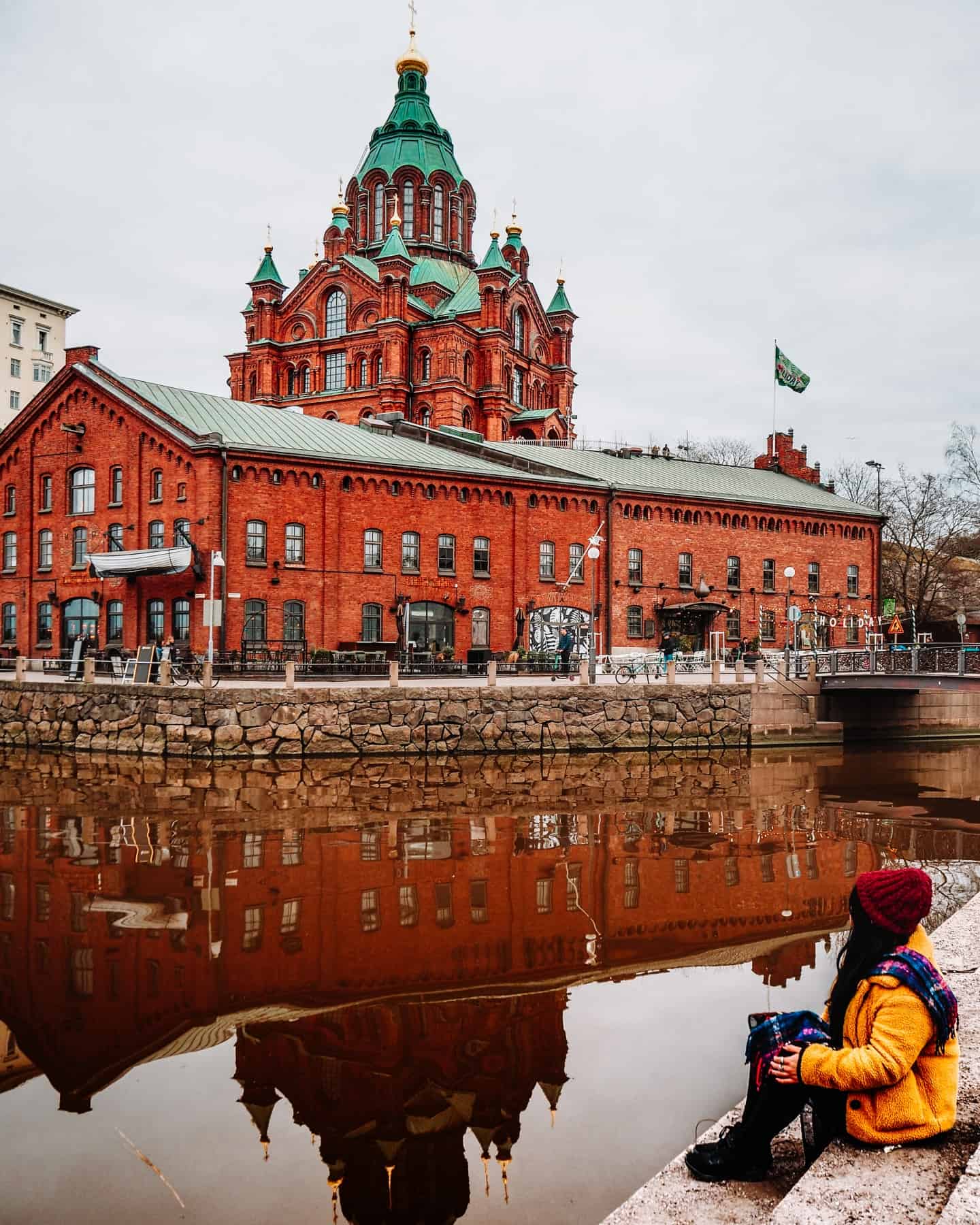 It really makes a statement in the city and you can see it from all around and from the Baltic Sea when you pull into port. It's the most prominent example of Russian architecture in the city and the largest Orthodox Cathedral in Western Europe.
The best place to capture this cathedral is actually from down the hill by the harbour. Here, there's a cute love lock bridge that adds to the frame and a beautiful reflection in the sea if you're lucky too!
If you'd rather get a closer inspection, you can climb up the hill to see the high ceiling and nave inside. It's free but you can donate some pennies to light a candle should you choose.
The Uspenski Cathedral is open Tuesday to Sunday and is FREE to enter. Closed Monday's.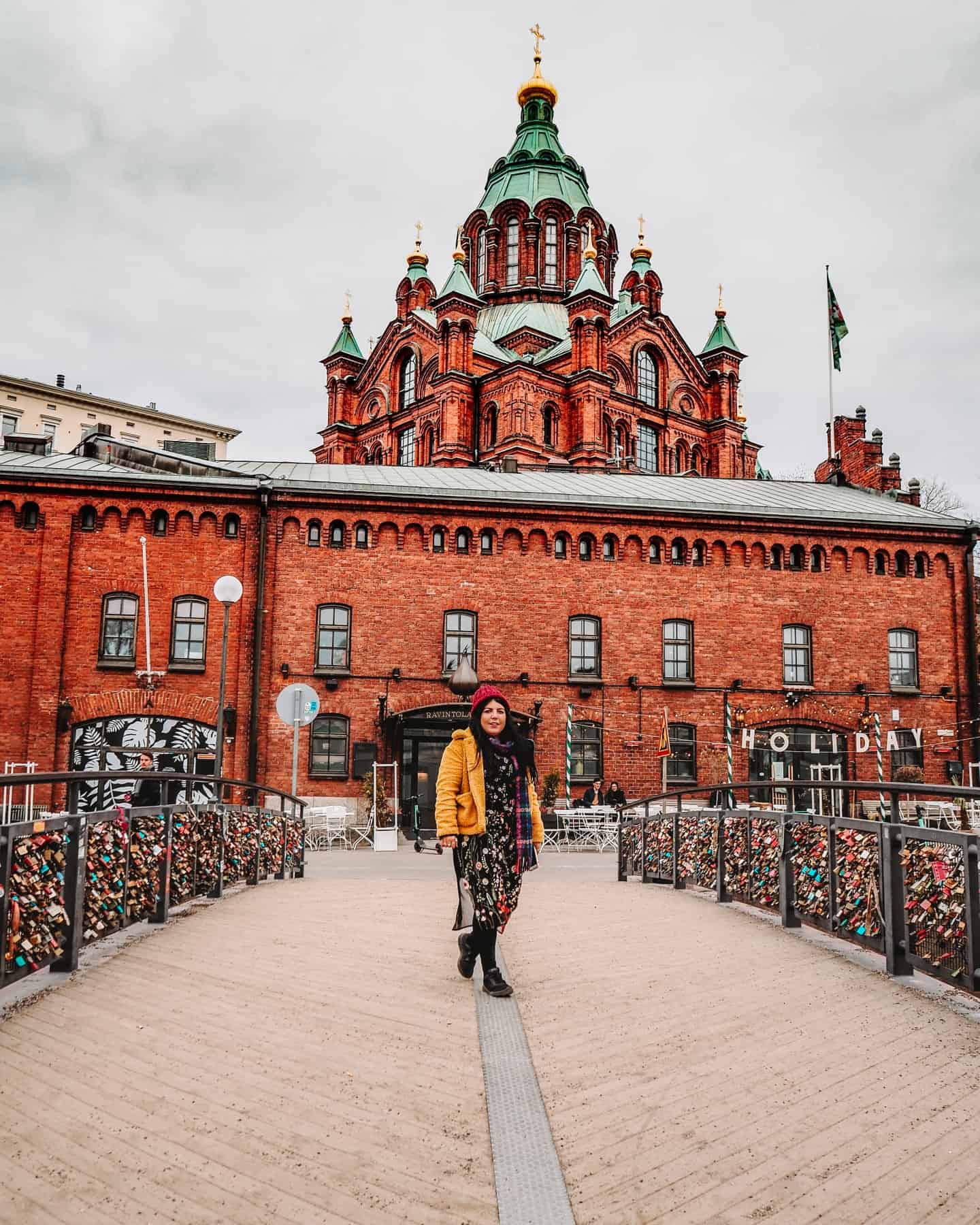 8. Seurasaari Island
If you have time you can head over to another island called Seurasaari.
During the summer you have to pay but this is transformed into a living museum and it comes alive with the staff dressed up in a traditional dress.
You can enter the houses and learn what life would have been like on the island a few centuries back. They also open a public sauna and swimming pool.
It was pretty much empty when I visited in winter, but in summer it can get quite crowded when the museum opens.
To reach Seurasaari you can catch the number 24 bus from outside the Central Railway Station and it will take roughly 30 minutes.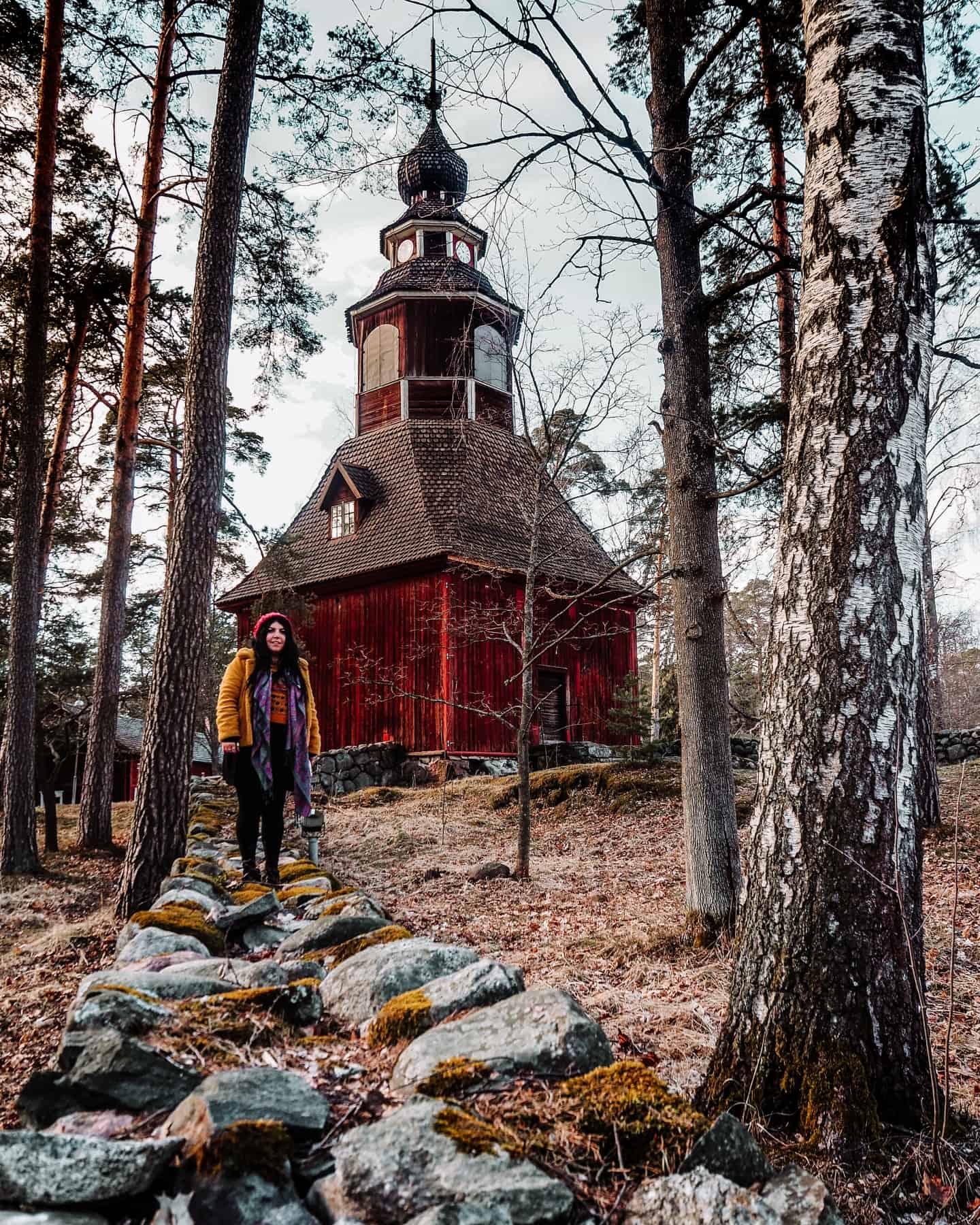 9. Allas Sea Pool
The best swimming pool in Helsinki in a photo-worthy location is Allas Sea Pool. What could be more picture-perfect than a heated swimming pool on a deck overlooking the Baltic Sea?
Along with a heated pool at 27 degrees, there's also a sauna and a sea pool that (you guessed it) is filled in from the sea!
The Finnish sauna cycle usually consists of sitting in the sauna for a while which is 80 degrees celsius.
Then, to cool off they bathe in the sea or snow, which in winter can reach minus temperatures! Then repeat over again.
Don't be surprised if you see people naked in the sauna, it's traditional. Usually, saunas are for men or women only.
When I visited, the sea was 3 degrees! But, I knew I had to do it so I just went for it. It's meant to be really good for your health and you can warm up after in the cosy sauna or thermal pool.
You can take photos in the Allas Sea Pool as long as no one else is in the frame. So, I would suggest getting here early or sticking around until closing.
Here are some top tips for visiting the Allas Sea Pool, see here, or if you're curious to know more about sauna etiquette in Finland read my tourist tips here.
10. Kiasma Art Museum
I loved this contemporary art museum! It really pushes the boundaries and tries to make art accessible and interactive. Making the experience more of a feeling than admiring it on a wall.
Kiasma has a slogan this year of 'Here you are. Let the art do good' and they have some exciting exhibitions in store.
One of my favourites and the most Instagrammable was the colourful 'shoplifter' exhibit by Icelandic artist Hrafnhildur Arnardóttir.
Her full name translates in English to the war of the raven's daughter of the eagles (how cool?!), but lots of people mispronounce the Icelandic as a shoplifter. The aim of the exhibit is to make people happy through bright colours as they release serotonin.
So you can admire it from afar, stroke the furry wall, or lie down on their pillows to admire the exhibit from below.
For photos, this is a really busy place so you'll be waiting a while for a quiet moment without the crowds and school groups – but it's worth the wait!
Kiasma Art Exhibition is open from 10 am Tuesday through Sunday and closed on Mondays. It has different closing times throughout the week
11. Moomin Café
What could be more Finnish or more adorable than the Moomins for your Instagram feed? This loveable bunch of characters were created by Tove Jansson an artist from Helsinki.
If you don't know who the Moomins are and you're heading to Finland, let's change that right now! You'll see them everywhere here.
The Moomins are a round, white Finnish troll family made up of Moominmama, Moominpapa and Moomintroll. They live with their friends in Moominvalley in their Moominhouse.
Jansson wrote eight novels about the Moomins with lots of picture books and short tales too. It first became famous when the London Evening News published them as a comic strip and today are famous worldwide. They even have Moominland theme parks and a 3D Moominvalley TV series.
They have been inspiring Finns for generations and they're part of the Finnish culture. So, you have to meet them in a Moomin Café.
There are four Moomin Cafés dotted around the city and here you can treat yourself to a coffee with cake and bring some of your favourite characters over to your table to join you!
To read about my full experience in a Moomin Café and why you have to visit one in Helsinki, see here.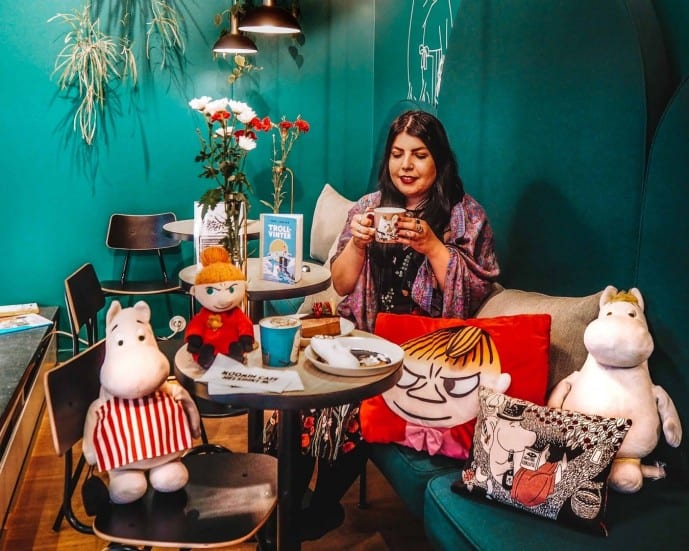 12. Finnish Museum of Natural History
The Finnish Museum of Natural History is such a cool and interactive museum. Here you can learn all about the history of Finnish nature and wildlife native to its shores. Each room is really colourful and you can even download their free audio tours to your phone.
The Instagram location inside this museum is its gorgeous staircase! The architecture here is so beautiful and makes a cracking photo.
It's not a cheap museum though by any means at 15 Euro's a ticket so it really depends how much you would like this photo.
The Finnish Natural History Museum is open from 9 am on Mondays to Fridays and 10 am on Saturdays.
13. Ateljee Bar
There's nothing more photo-worthy than a sky bar and Ateljee Bar provides stunning panoramic views from their 60 metres high tower!
It's located at the top of Hotel Torni and you can sip a (rather pricey) cocktail enjoying epic views of the city. From here I could see the Helsinki Cathedral, Uspenski Cathedral, Amos Rex, the Baltic Sea, Skywheel and more.
I would personally get here around sunset to enjoy the sky changing colour as the sun goes down. It's a popular stop so if you want a seat inside I'd grab one quick. If not, there is a heated terrace outside with blankets for warmth if you're cold.
Cocktails aren't cheap at 15 Euros each but you're paying for the views. They also serve drinks from a wine list and cheaper draft beers too.
Ateljee Bar is open from Monday through Thursday's 2 pm – 1 am. Friday's 2 pm – 2 am. Saturday's 12 pm – 2 am and Sunday's 2 pm – 12 am.
14. Amos Rex
Last, but definitely not least, is Amos Rex!
More specifically, their amazing quirky domes, submarine windows and banks above ground.
These banks are FREE to visit at any time of the day and so you can shoot until your heart's content here.
They can be quite busy with adults and children playing on them but wait a while and you'll have a clear photo.
But, I would also highly recommend heading underground into this incredible art museum too if you have the budget and time.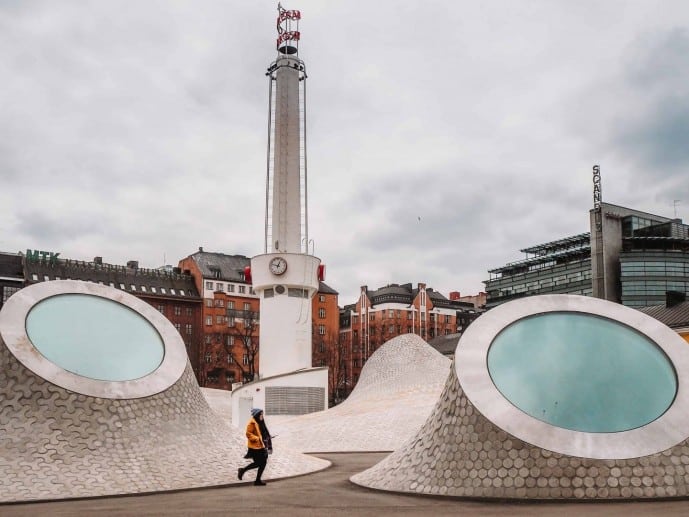 It's funny to watch everyone standing underneath it or running under it with fear it will fall on them. It's such a unique idea, that I had never seen before.
Exhibits change regularly to keep the museum fresh so always check the website before you visit to see what's on.
Amos Rex is open from 11 am daily and closed on Tuesdays. Closing times differ so check before you visit!
Where to stay in Helsinki
There are lots of hotels and hostels to base yourself for a few days of sightseeing in Helsinki. There are also self-catering apartments so you have the option to cook if you didn't fancy eating out which can be pricey.
I stayed at Aallankoti Hotel Apartments while I was here. It was a beautiful studio apartment with traditional Finnish design and textiles everywhere including the nation's favourite Marimekko!
All the ladies love Marimekko in Finland, a design house that produces colourful bold patterns to wear and decorate homes including the iconic poppy print.
Luxury: Hotel Kämp and the Hotel St George
Mid-range: Omena City Centre
Hostels: Myö Hostel and Cheapsleep Hostel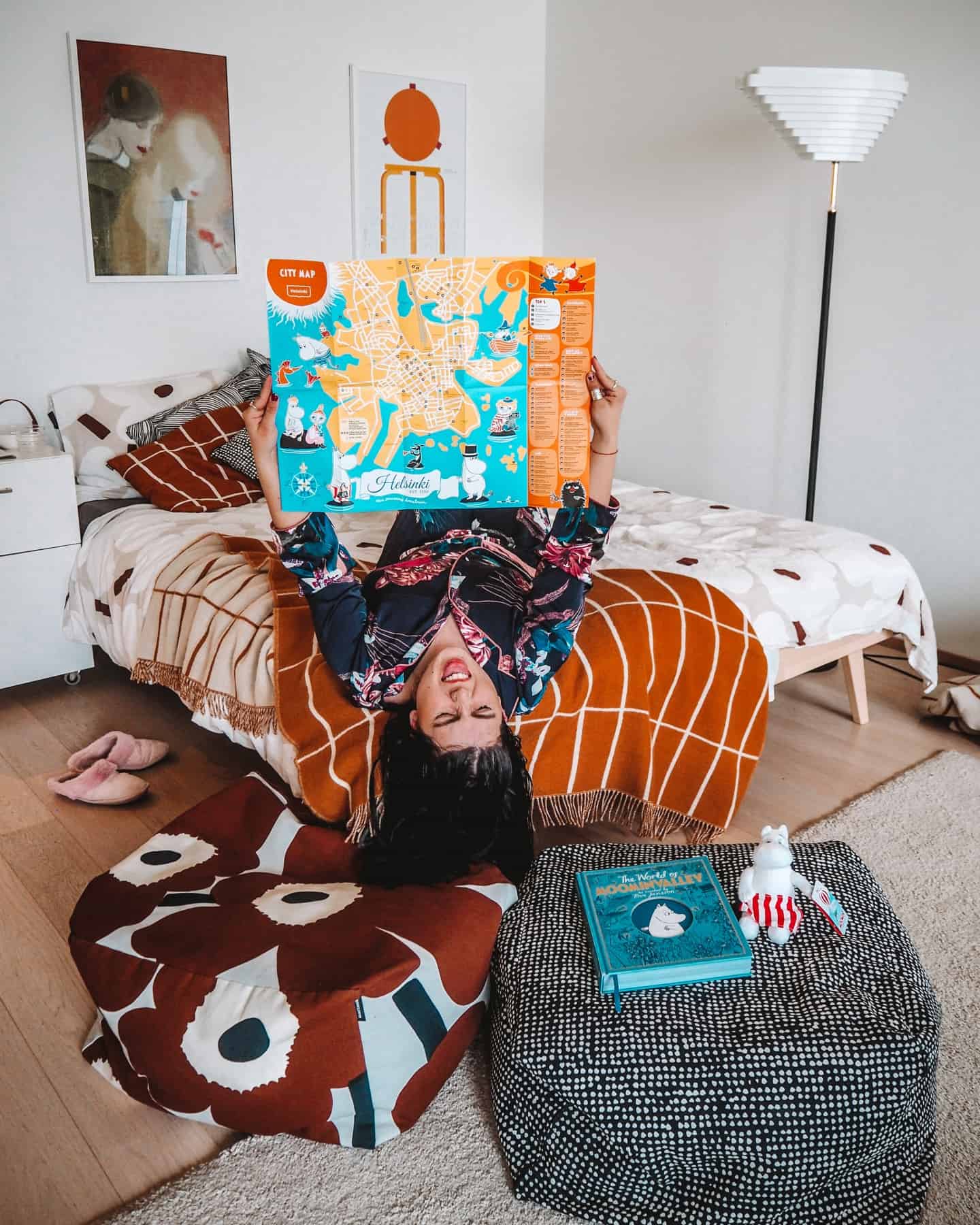 Want to read more about Helsinki?
If you're curious to find out more about the city beyond the Instagram spots in Helsinki, then I have lot's of guides to help you out;
The Ultimate Guide to Helsinki
Things to know before you visit Allas Sea Pool
Why you need to visit a Moomin Café
The best food and drink spots in Helsinki
With thanks to My Helsinki for sponsoring my trip to Finland. Although I was a guest all thoughts and photos are my own.
Like it? Pin it!