If you're looking for the best Instagram spots in Alexandria Egypt then this is the post for you!
Alexandria is an incredibly picturesque city on the Mediterranean coast. Once a powerful stronghold on the forefront of many battles, it is steeped in rich and colourful history.
This is something that may surprise you if you look at the city today. It's not the powerful gateway it once was founded by Alexander the Great. Or, the ancient powerhouse of education that you read about in textbooks.
It's the second-largest city in Egypt which is full of sea trade and industry with heaps of its legacy left behind.
Now you may be chasing ghosts in tombs and admiring ancient sites more often than not, but there are also a lot of modern sites which will take your interest too. Colourful street art, beautiful mosques and an incredible café culture await you in Alex.
Whatever century you're travelling in here, all of them make some incredible Instagram spots in Alexandria. Here's a full list of the best spots to make your gram feed on point!
I'll be going through their locations, what time is best to visit and some top tips while travelling!
How to reach Alexandria from Cairo
There are many ways to reach Alexandria throughout Egypt by plane, but most travellers usually head here from Cairo. Here are the best ways to reach Alexandria from the capital;
Alexandria to Cairo by Plane – Plane is the fastest and easiest way to travel if you have the budget. But, as it's only a three hour drive there, it may prove a longer journey. Egyptair fly here regularly and have good value internal flights with 23kg luggage allowance. I always use Skyscanner for the best deals.
Alexandria to Cairo by Bus – This is the option I took. I read that the mini buses were extremely dangerous so I decided to go with GoBus which is more of a plush coach situation. You can book online or on your phone through their app and some options have leather seats and touch screen TV. Perfect for long journeys to keep you entertained. Read my full review here.
Alexandria to Cairo by Taxi – private taxi is also an option but may be expensive. The Alexandria to Cairo road is also notoriously dangerous. Book in with a reputable cab/tour company and make sure the driver isn't too crazy on the roads.
How to get around Alexandria
If you're based centrally in the city, by the Alexandria Corniche, a lot of places are within walking distance. Bibliotheca and the Fort of Qaitbay are easily accessible and walking around Alexandria is really safe.
But, Alexandria has 32 kilometres of coastline, so if you want to travel further afield to the likes of Montazah or to save time, try to use the local taxis. Most here will put the meter on for short journeys or you can share with locals.
You can also hire a private cab for the day so you don't have to keep negotiating. This way will also save you heaps of time. I paid around £550EGP (£22GBP approx) for a full day of cab driving excluding attraction prices.
Where to stay in Alexandria
It wouldn't be Alexandria if you didn't stay in a heritage hotel while you're here.
The Steigenberger Cecil Hotel is the perfect choice for history lovers! Winston Churchill stayed here while on his visit and Omar Sharif a famous Egyptian movie star.
It's a historic landmark in its own right. I kindly got upgraded to a suite when I checked in and it had the most incredible views of the Corniche, Alexandria Harbour, the Fort of Qaitbay and beyond.
Make sure you book in on a high floor here. Although the windows are soundproofed, it's next to one of the busiest roads in Alexandria and cars honk all night.
Click here to book the Cecil Hotel in Alexandria!
These are the best Instagram spots in Alexandria Egypt
1. The Citadel at Qaitbay
This is an icon of Alexandria which is built on Pharos Island on the coast.
It was a medieval fortress built in the 15th century as a stronghold against the Ottoman empire for Sultan Al-Ashraf Sayf al-Din Qa'it Bay.
Its location is also the exact spot where the Lighthouse of Alexandria, an ancient wonder of the world, used to stand.
Today, you can wander around the remains of the fort and barracks. It's empty but the citadel is a great place to find spectacular views of the city and the harbour.
Price: £80EGP, photography free, tripods £20EGP
Where to find it and how to get there? The Citadel is located on Pharos Island which is at the tip of the Corniche in Alexandria. It's easily accessible on foot and the 'island' is bridged by the main road nowadays for cars and pedestrians to cross over easily. You can walk or take a taxi here.
What time to visit? Google says that it's open at 8 am. But, when I was visiting in Winter Season it actually opened at 9 am. it was also incredibly busy, full of schools on educational trips. So, I would say go for opening time or later in the afternoon to avoid crowds. It was a struggle to take photos but I managed by being extremely patient. It closes at 5 pm.
2. Montaza Royal Palace and Gardens
The royal palace and gardens of Montazah in Alexandria are definitely worth the drive to visit.
It's around 15 kilometres out of the city, so you will need to hail a taxi if your hotel is central.
The entrance to the gardens costs £40EGP but if you have a taxi, you can pay for a permit to allow them to drive you about.
These gardens are spread across 360 acres so, unless you're up for a mad hike, the sites are easier to access by car.
Here you can wander around the palm tree groves, walk over to Tea Palace Island and see two royal palaces that were once residences of kings.
In the complex there are multiple restaurants and even a Mcdonald's!
Price: £40EGP for entry and a car permit, Photography and Tripods free
Where to find it and how to get there? The Montaza gardens are in Qism El-Montaza, 15 kilometres from the Bibliotheca and are accessible by taxi. Taxis are allowed to go in with you to drop you off or show you around but will need to buy a permit.
What time to visit? Any time of day is a good as it's not overly busy, but sunset would be best to capture the soft lighting around the area. Coach loads of cruise ship buses show people around. So, be prepared! Opening times are 8am – 12am.
3. The sea shell mural at Qaitbay
As you're walking through to the Citadel of Qaitbay there is an extremely beautiful mosaic mural on one of the walls by the car park.
It's so colourful and pretty and represents the city through the artwork. Definitely worth a gram photo stop.
Price: FREE
Where to find it and how to get there? It's in the car park located at the car entrance to Pharos Island. Where the citadel of Qaitbay is located. When you're visiting the Citadel you can add it to your stop off.
What time to visit? Unfortunately, it's in a car park. So, I would visit early in the day before cars arrive! Or, wait for a car to pull out of the spot.
4. Alexandria Corniche
A place where the main action of the city happens and snakes around the beautiful Alexandria harbour.
Here you can play chicken with the traffic and see the waves crash against the shore. It's best paired with sunset and you can join the locals by sitting on the wall and watching the show.
Couples will canoodle, you'll see families enjoying roasted corn and a coffee, fishermen waiting for their catch of the day, boats pulling in.
It's really a magical place. It's also extremely safe and no one will bother you.
Price: FREE
Where to find it and how to get there? Alexandria's Corniche is access to all the main action of the city and you can't miss it. Follow your eyes, nose and ears to the ocean and you'll find it just fine.
What time to visit? The best time is at sunrise (for no people) or sunset when the sky will turn all sorts of pinks and oranges!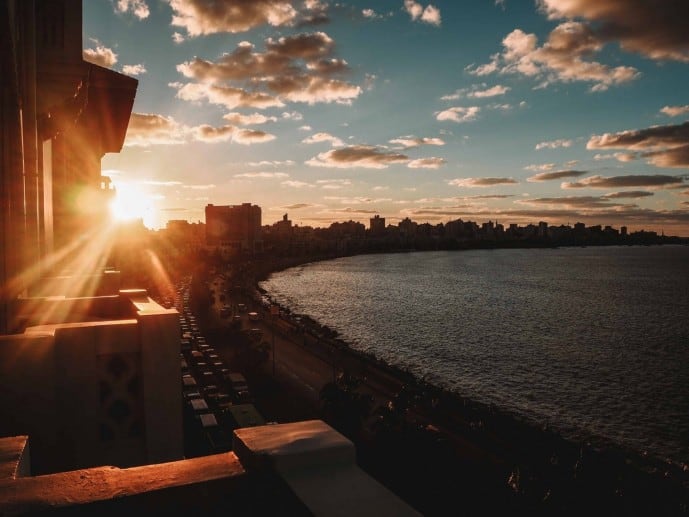 5. Bibliotheca
Alexandria used to be home to the ancient world's largest library and learning centres. At its peak, it held over 400,000 scriptures of the world's knowledge at that point in time in 288BC.
It paved the way forward for philosophies, art and understanding of worldly culture. Unfortunately, it was destroyed by battles, sieges and fires so it's no longer around.
In 2002, Alexandria decided to honour its namesake by building a new library. One of the largest in the Middle East, Bibliotheca. Like the Old Library, this is not just a library. It's a home for digital knowledge, literature and openness in learning about different cultures.
Visitors can pay for a ticket to visit and observe the library but there are many art and museum exhibitions too.
Price: £100EGP per adult. Students get a discount. Photography is free, tripods permitted.
Where to find it and how to get there? Bibliotheca is located on the far eastern side of the Corniche, right on the shore. It's a huge building so leave lots of time to look around. I almost missed closing time, so I got a taxi. But it's easily manageable if you want to walk.
What time to visit? Any time of day is good to visit the Bibliotheca. But be warned there are lots of students studying so be respectful. Opening times are;
Sundays – Thursdays: from 10 am to 7 pm
Fridays: from 2 pm to 7 pm
Saturdays: from 12 pm to 4 pm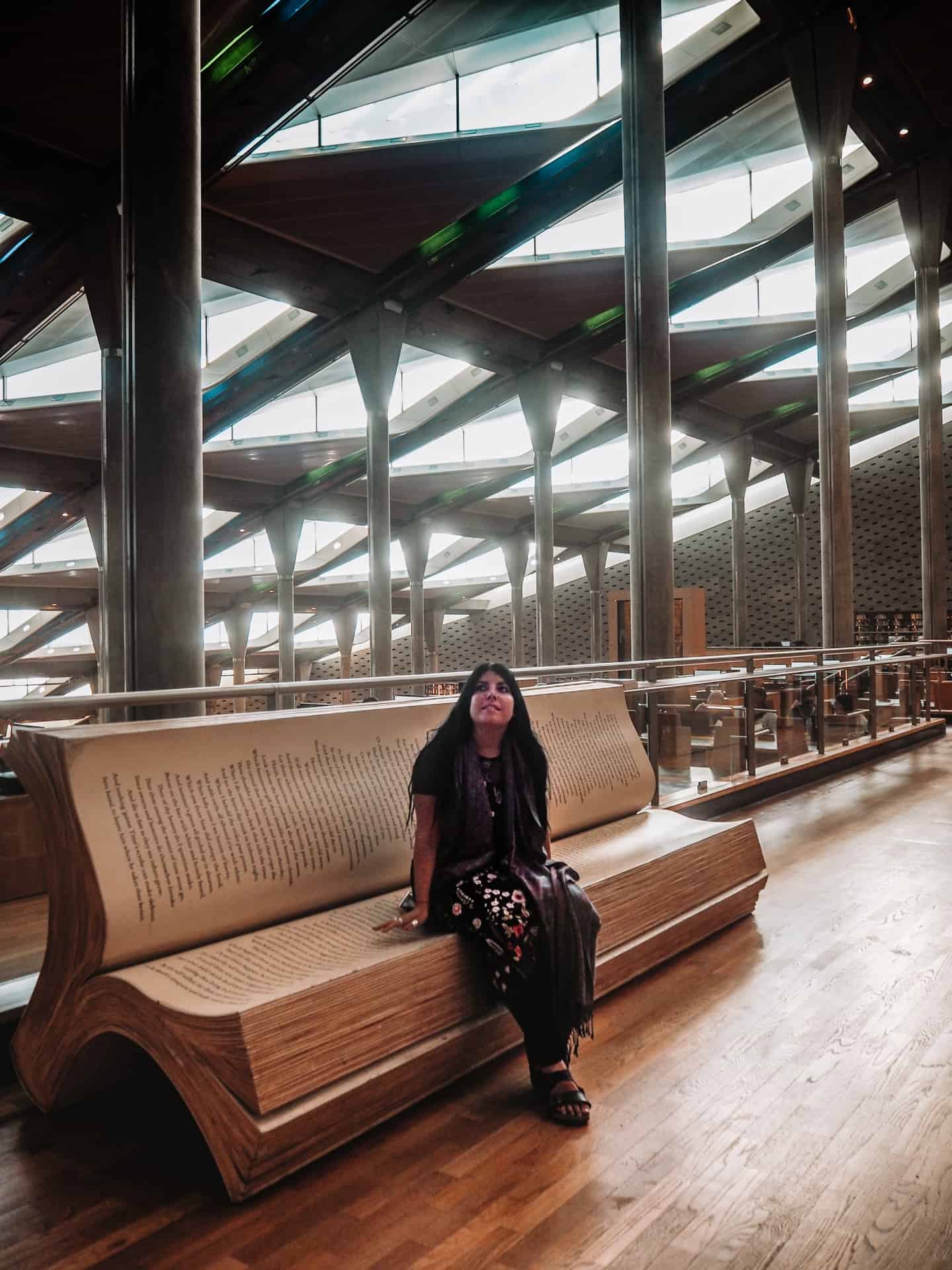 6. Trianon Café
An Art Deco style café based just off the Corniche, Trianon is very popular with locals and is Instagram gold.
The wooden fixtures and paintings transport you back to the turn of the century. Greek Poet Cavafy used to haunt this place as he rented a room above.
Be warned, if you're buying food inside there are no rules on smoking. Every table will have people smoking cigarettes and shisha. But, there is some relief on their al fresco tables outside.
Price: Bakery and restaurant menu, but it was good value!
Where to find it and how to get there? It's just off the Corniche on Saad Zagloul Square. 5 minutes from the Cecil Hotel. You can walk here easily.
What time to visit? The afternoon or evening for lunch, a bakery treat or dinner! Opening hours are 8am – 12am.
7. Abu al-Abbas al-Mursi Mosque
I met two Turkish guys when I was biding my time waiting for the Citadel to open and they showed me an incredible picture of this mosque and reflection at sunrise. I instantly fell in the love with the snap and had to find it.
This part of the mosque is not active anymore, it looked pretty much abandoned. But, I had to capture the beauty of it! I loved Islamic architecture.
The reflection looks like a picturesque pool/river but it's actually a puddle… coming from a leak in the toilets here. So, it's pretty but it smells pretty bad! Also, I wasn't happy with the amount of rubbish lying about.
It's a 13th-century mosque that was built for Murcian Andalusi Sufi saint called Abul Abbas al-Mursi!
Price: FREE
Where to find it and how to get there? When I was leaving the Citadel of Qaitbay I started walking back towards the Cecil Hotel and found it on the way. It's hidden in a side street in El-Sayed Mohammed Karim.
What time to visit? I visited during the day and the lighting was quite harsh. I would say that visiting at sunrise or sunset would be better for soft lighting.
8. Catacombs of Kom El Shoqafa
A medieval wonder of the world, the Catacombs of Kom El Shoqafa are definitely worth your time. They're special as there is a fusion of ancient Egyptian, Roman and Greek carvings here.
You can walk down the spiralling staircase underground to see the tombs and paintings left long ago. The name Kom El Shoqafa translates to 'Mound of Shards' referencing all the broken pottery found inside.
Supposedly, a donkey fell down a hole in 1900 to discover new parts of the tombs. It's still an active dig site so some places may be closed off.
Price: £80EGP.You're technically not allowed to take photos inside. Cameras must be left at the kiosk. But I'd say hide it in your bag. I didn't take mine in, all my photos were on my phone.
Where to find it and how to get there? The Catacombs are quite hard to find without a car or driver to take you there. They are hidden in the streets of Alexandria in Qesm Karmouz.
What time to visit? It's not that busy and it's underground so any time of day. Opening times are 9 am – 7 pm.
9. Pompey's pillar
Based at the Serapeum ruins of Alexandria, this pillar was built as a victory against a revolt in the city by Emperor.
Here you can see two Roman sphinx, one of the largest ancient monoliths ever built and lots of artefacts that have been discovered in this area.
Don't miss out on a visit to the storeroom tombs beneath which are the only lasting remains of the Great Library of Alexandria. These caves would have held a lot of the ancient scriptures.
Price: £80EGP, Photography is free.
Where to find it and how to get there? The Sarapeum can be found at the Qesm Karmouz. It's surrounded by houses and cafés so I'm not sure how easy it would be to find it on foot. Ask a taxi or rickshaw to take you here.
What time to visit? I went here in the afternoon and it was a ghost town. Nobody came in so the tombs were extra creepy solo! Opening times are 9 am – 3 pm.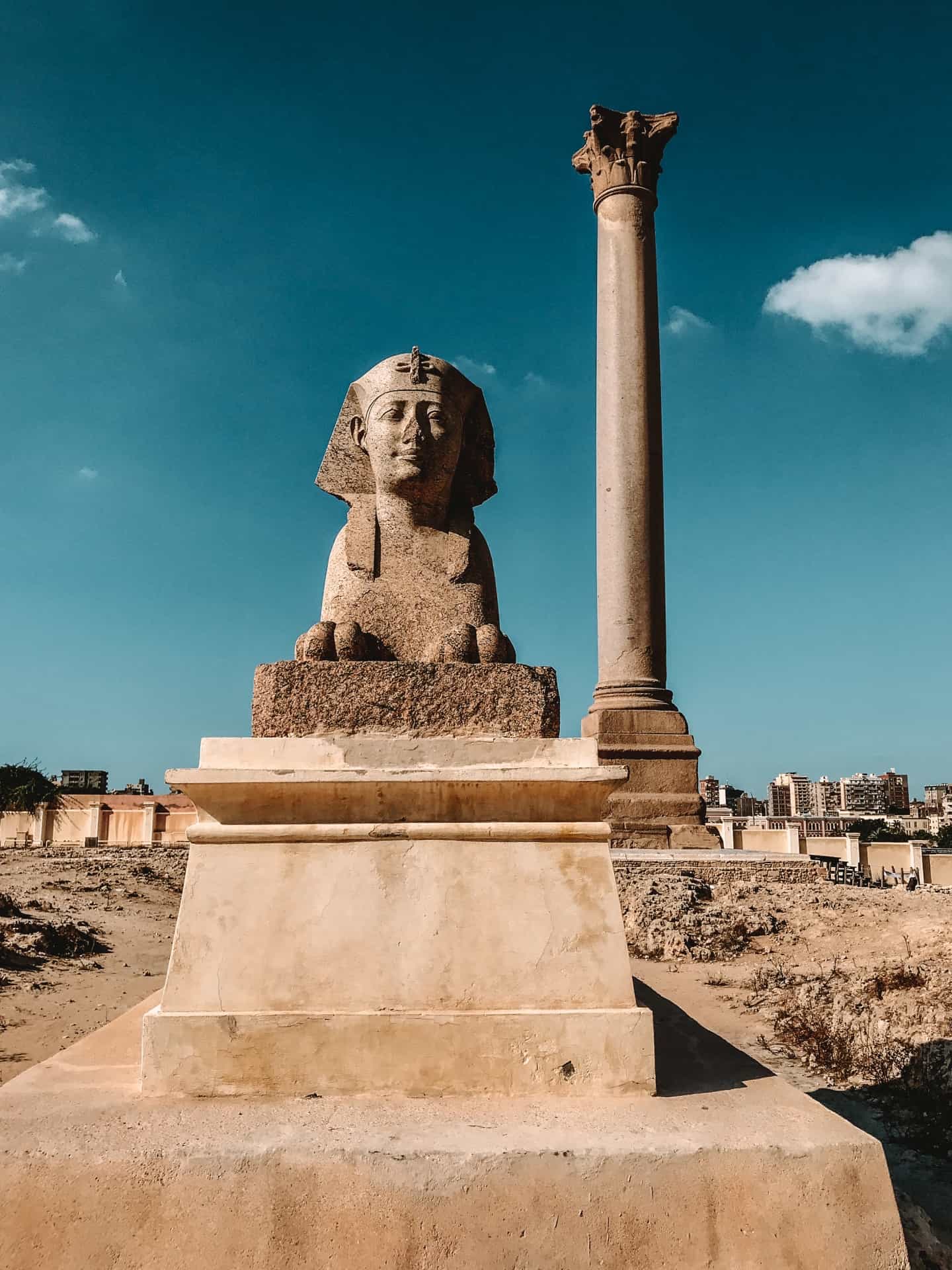 10. A boat ride in Alexandria harbour
The best view of the city skyline can be found on a boat around the Alexandria harbour.
You can get a really unique perspective of the city and some great shots of the buildings and Bibliotheca from the sea.
Price: I paid £300EGP for a one hour ride
Where to find it and how to get there? It isn't a standard tourist attraction, so there won't be any group boat trips or signs to book. But, you can go down to the Citadel of Qaitbay and find the harbour there to negotiate for a ride.
What time to visit? You can organise a trip anytime. At sunset is best for the soft lighting!
11. Steigenberger Cecil hotel
I couldn't have an Instagram list without this iconic landmark!
The Cecil Hotel has been in Alexandria since 1929 so was once the only high-end hotel on the strip. The likes of Winston Churchill stayed here and you can stay in his suite.
As well as having one of the best views of the harbour from their boutique rooms, they also have a Monty bar where Field Marshall Montgomery drank once upon a time. The terrace café for breakfast and Caesar's Palace rooftop bar.
When I was here, the rooftop restaurant was closed for renovation, but the Windsor palace hotel and their blue rooftop café bar is an amazing alternative!
Price: It's not a cheap place to eat, drink or stay but the experience is worth splurging on.
Where to find it and how to get there? The Cecil Hotel is bang slap in the middle of the Corniche strip. The entrance is on Saad Zaghloul Square. From the bus station, I got a taxi, but you can easily walk here if you're based centrally.
What time to visit? At sunset or in the evening time for drinks and an amazing view of the city when the sun goes down and the city lights up.
Don't miss a visit to Alexandria in Egypt!
Beyond the Instagram spots, it would be a shame to not experience all the culture and history that Alexandria has to offer you. Not to mention the amazing restaurants, bars and café culture.
There's so much more to this magnificent city than just photo spots. But, if you need more convincing, I have written a whole post about why you should visit Alexandria here and why it's worth it!
It was one of my favourite cities in Egypt and I'd go back in an instant, if only for the peace and quiet!
Read more of my Egypt articles
My perfect 2 weeks Egypt Itinerary
The perfect Egypt packing list
Why you need to visit the West Desert in Egypt
The most Instagrammable places in Egypt
My guide to the Valley of the Kings
The ultimate 4-day Nile Cruise
Top places to visit in Luxor at night
The perfect guide for Abu Simbel
My survival guide for the pyramids
Why you NEED to visit Alexandria
Top tips for riding a hot air balloon in Luxor
Save these Instagram spots in Alexandria Egypt for later!