Edinburgh is one of my favourite cities in the UK and, in my humble opinion, one of the most photogenic in the world too.
So, over the years, I've visited a lot of these Instagram Spots in Edinburgh way before there even was such a thing as an Instagram app.
The capital of Scotland is steeped in history and so is full of stunning architecture, spectacular viewpoints, fairytale castles, magical film locations (I'm looking at you Outlander and Potter heads) and even an extinct volcano you can climb!
So, I would make sure you spend at least a few days exploring to ensure you can fit in this list of stunning photo spots.
Here are the most Instagrammable places in Edinburgh!
How to get around Edinburgh
Every time I have visited Edinburgh, I have made my way around on foot. But, I will warn you now, it will be 'leg day' whether you choose it or not.
The Castle in Edinburgh Old Town is built on a cliff. So, whether you're hiking up the Royal Mile slowly, or having a workout up Granny's Green Steps, you'll need a good pair of walking shoes.
I had my own car in Scotland so was able to drive. I love the fact that parking is free before 8 am and after 6 pm pretty much anywhere in the city. So, it was perfect for sunrise/sunset!
But, if you're not driving and your feet are tired, there is Uber that works here or supports local and go with Edinburgh City Cabs.
If you'd rather go a bit greener, you can take the buses and trams that head around the city. Why not look into an Edinburgh City Pass that gets you a FREE airport transfer, Hop-on Hop-off bus transport, and entrance to the cities main attractions?!
There are also a wealth of amazing tours of Edinburgh including walking tours, ghost hunting, or going under the city streets in the old cave systems too! Click here to see all tours of Edinburgh.
Top tips for Photography in Edinburgh
Unfortunately, Scotland does see a lot of rain! But, I think the Edinburgh stone glistens during this time and transforms the city to look even more moody, mysterious and amazing. However, just in case, make sure to protect your camera equipment.
On that note, make sure you get travel insurance to protect your gear. I always use World Nomad's for their reliable policies.
Edinburgh is one of the busiest cities in the UK, especially in the summer during the Fringe Festival. So, if you want to beat the crowds, getting up early is key to getting clean photos. Places are packed at sunset. I know getting up for a 5 am sunrise isn't fun, but it's worth it and you can always take a nap later!
Most of these spots are in the Old Town, so plan your route and be strategic if you want to get around a few places with good lighting. Maybe concentrate on the Royal Mile and Castle one morning, then the new city like Stockbridge and Dean Village another.
If you're thinking of being in your photos, Edinburgh has a lot of dark, greyish stone and green landscapes. So, wear bright colours like yellow, red, or white to stand out and contrast with the buildings.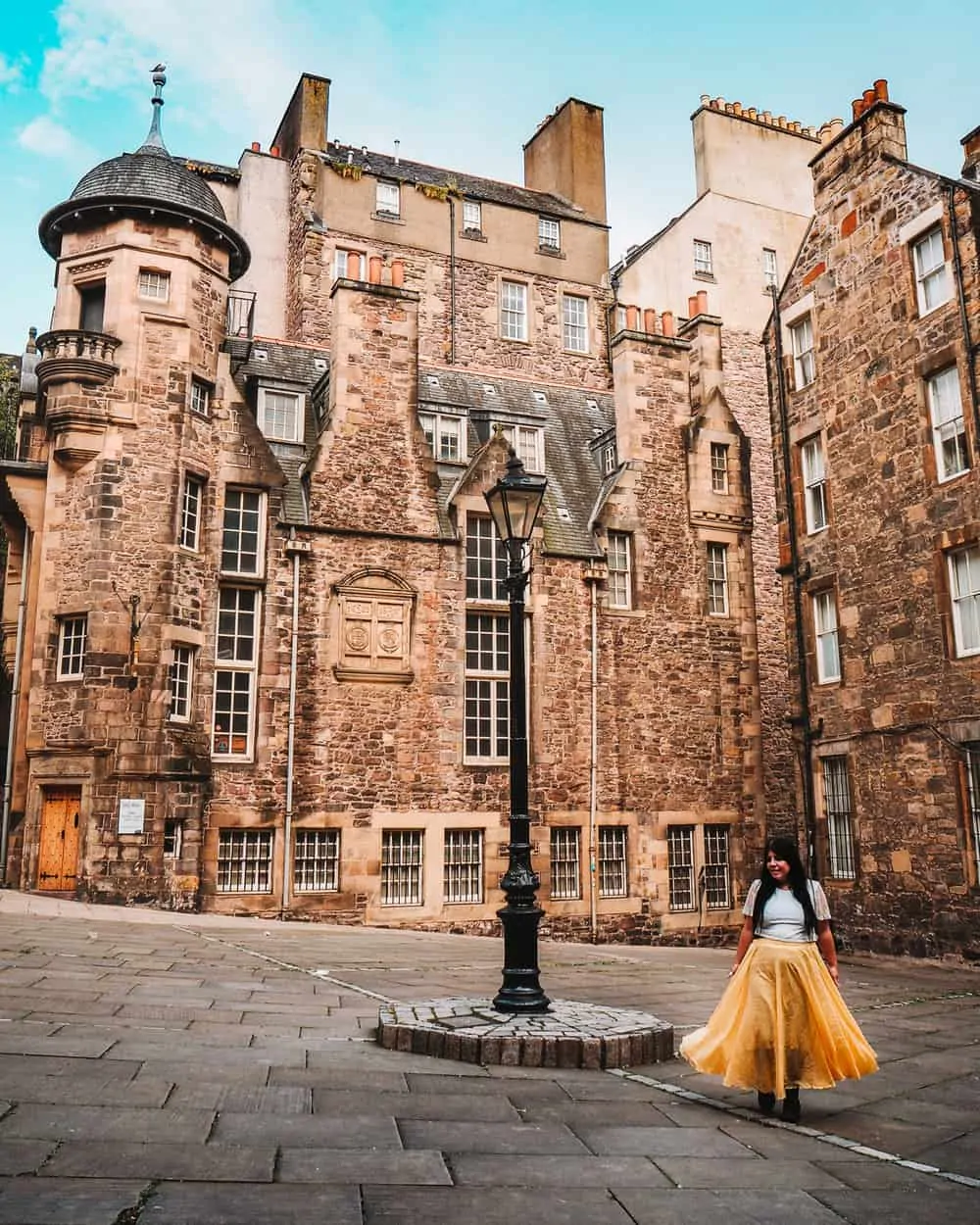 18+ Instagram Spots in Edinburgh
1. Calton Hill Viewpoint
This is without a doubt one of the best photo spots in the whole of Edinburgh. From here, you can get a birds-eye view of the city and see some of the main sites!
This hill point started with the Athenian acropolis initiated in 1816, after Napoleon's defeat at Waterloo.
Ever since, there have been multiple monuments built on the hill including Nelson's Monument, The Collective Gallery, The Old Observatory House, and the City Observatory.
As you make your way around the hill you can see well beyond over to Edinburgh Castle, Prince's Street, Holyrood Palace, Salisbury Crag's, and Arthurs' Seat.
The best time to visit here is at sunset, but it will be crammed by this point! So, I would go early to beat the crowds if you're after empty photos. Or, just find your place and get creative with angles, or a good zoom lens.
Most people bring some tinnies or a few bottles up here. So, ditch the thought of sky bars and save your cash, this is the best bar view you'll get in the whole of Edinburgh ;)
Read more about things to see & do on Calton Hill here!
2. The Vennel Steps
If you want an epic view of the castle the Vennel Steps is the Instagram location in Edinburgh for you!
A cute tidbit is that 'Vennel' is an Old Scottish word which means 'little secret', if you were interested where the name comes from.
The Vennel Steps, nicknamed Miss Jean Brodie Steps, is a hidden alleyway that is tucked away between two buildings. There are also the remains of the Flodden Wall here set up in 1513 to protect the city.
But, the spot you will want to see is at the top of the stairs. This provides one of the best viewpoints of the castle and makes a fab Instagram spot!
It does get busy during the day, so if you want the best lighting and do not have to wait for people to wheeze up the steps. I'd go earlier rather than later.
At the bottom of the alley, you can explore Grassmarket which has its own set of amazing buildings and boutique shops.
Read my full guide on how to find the Vennel here!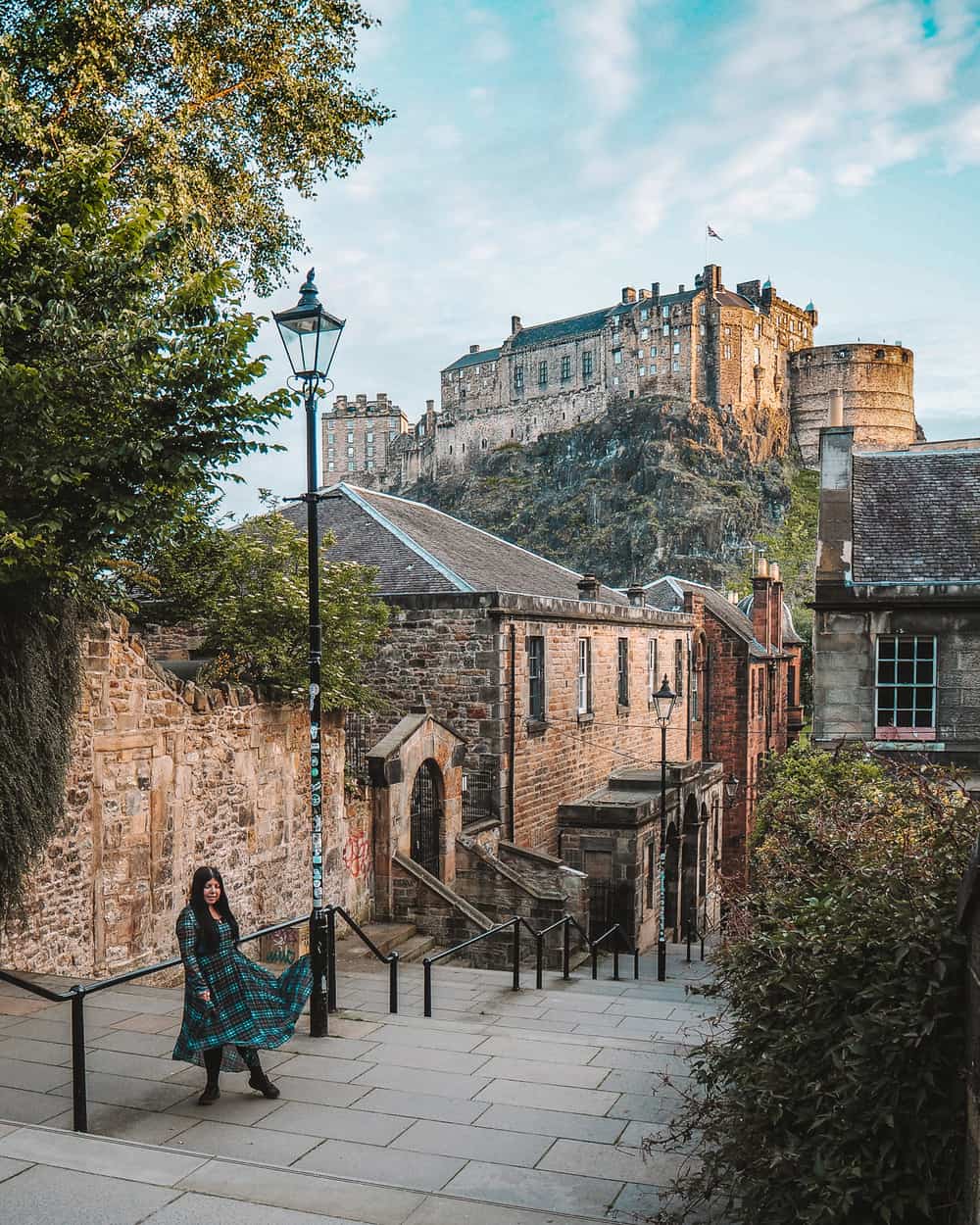 3. Circus Lane
By far one of the prettiest streets in Edinburgh is Circus Lane that is tucked away near Stockbridge and behind St. Stephen's Street. You can see the clock tower from St Stephen's Church just above it!
Originally, this street used to be a service street for coaches and horses for the wealthy. If you wander around you can definitely see the evidence of stables!
You'll only need around 15-20 minutes to walk through and capture a few snaps. But, if you're a photographer, you could spend an hour taking all the unique angles!
It's one of the most famous streets for photography here in Edinburgh and it's no secret. So, you will find a lot of tourists and photographers here.
Early morning is the best to get this place empty. However, I visited just before sunset in May (around 9/10 pm) and it was empty too.
Read my guide on how to find Circus lane here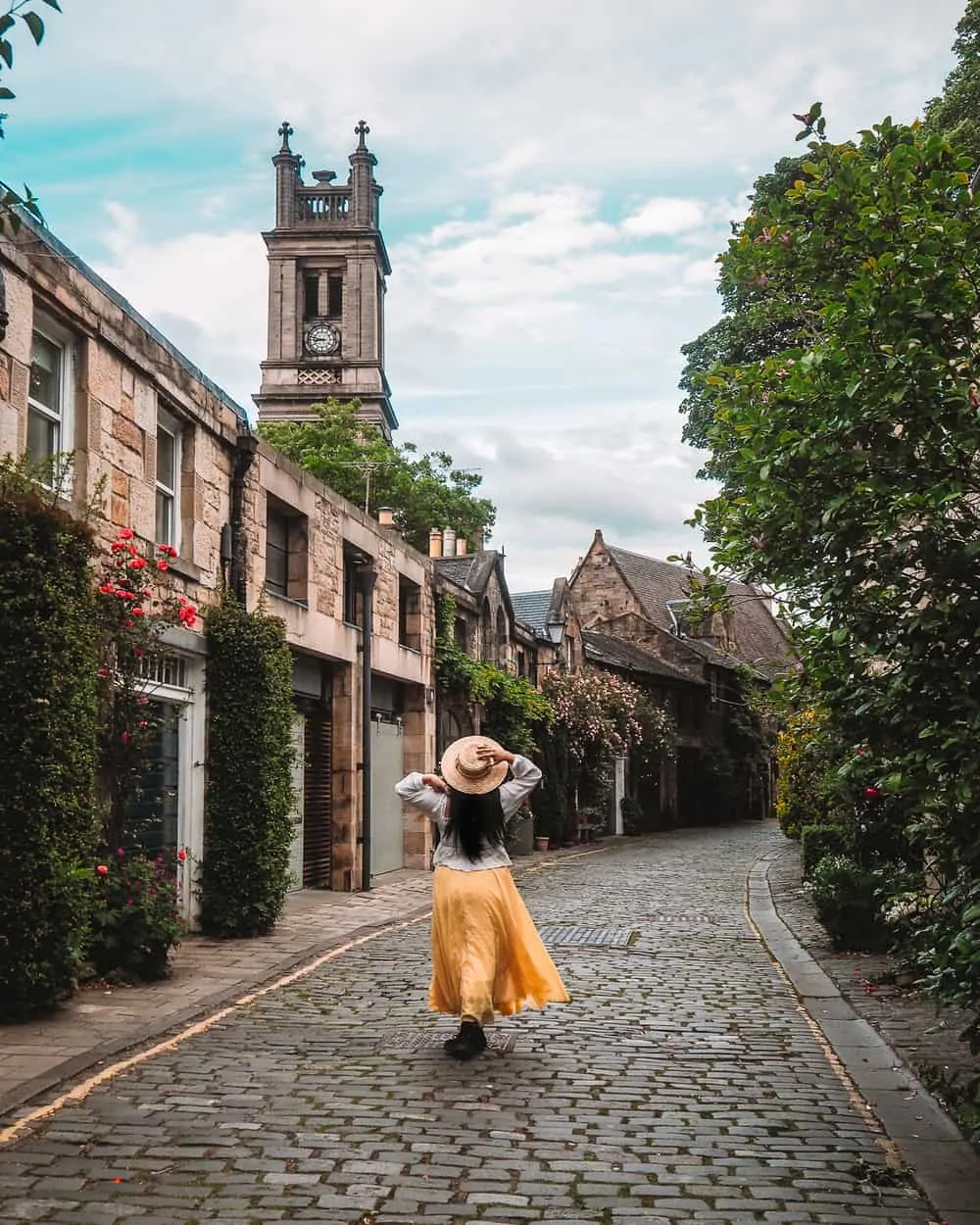 4. Dean Village
If you're looking to score a few photo spots in one sitting, Dean Village is easily accessible from Circus Lane.
This is one of my favourite photo spots in Edinburgh and it looks like you've been transported away from the Gothic Old Town and entered into something from a fairytale!
Dean Village used to be a former village and a milling area over 800 years ago. It actually used to be called the "Water of Leith Village" before taking on the new name.
The Dean Bridge was built by Thomas Telford in the 1880s and this is a great view from above. It gradually fell into decline until the 1970s when they started to rebuild.
Read my complete guide for Dean village here
Now, it's part of the main city but hasn't lost its quaint charm. As you descend down to the river, it's hard to believe that you're still in the capital.
One of the best photo spots can be accessed from the Water of Leith over the river on the metal bridge. I set up my tripod here or you can head down onto the river banks to take your photo.
If you're here for some time, it's well worth exploring the area to see the old Mews houses and quaint streets. Or, start your Water of Leith hike!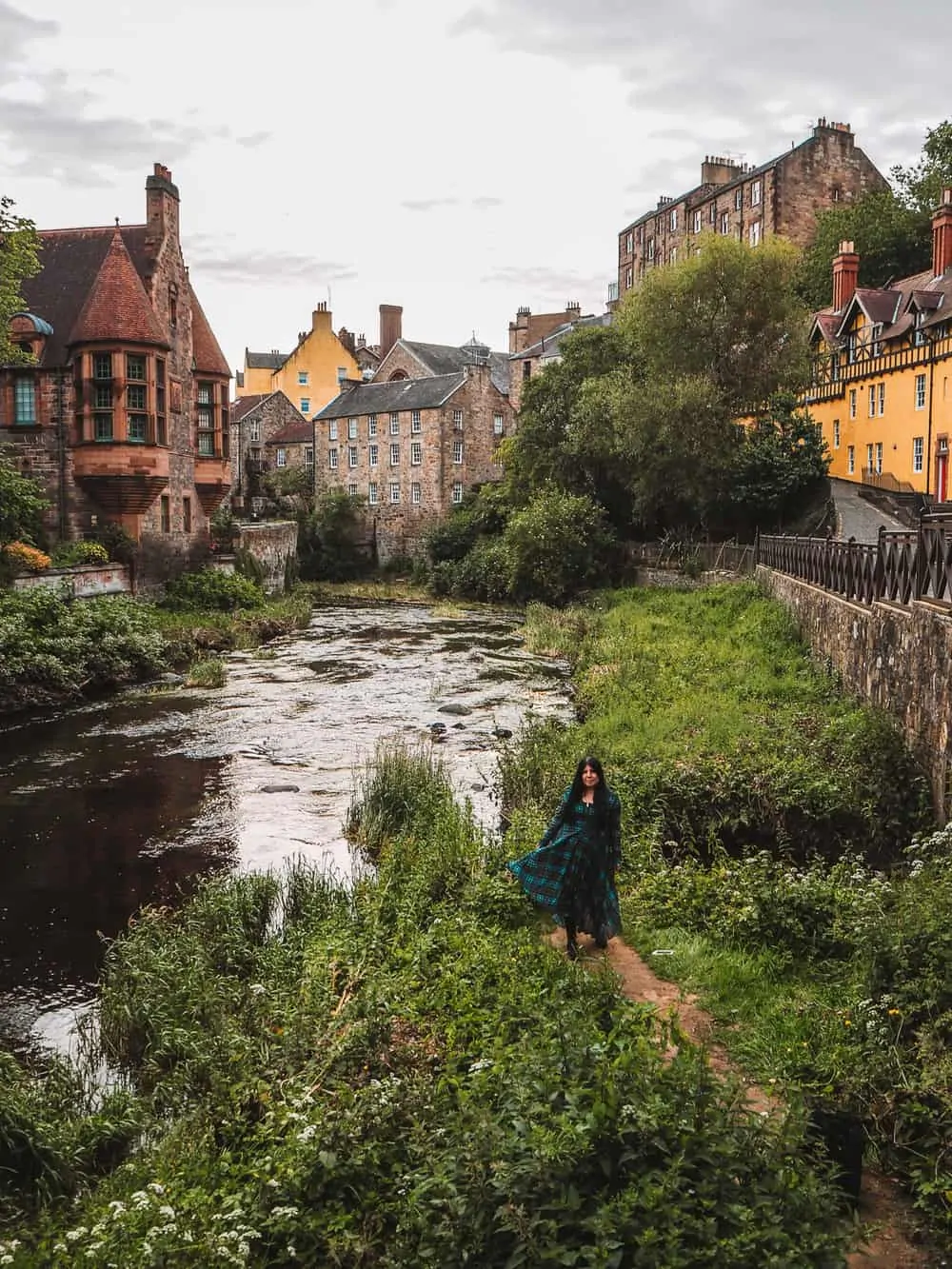 5. The School of Divinity
The School of Divinity is located at New College and forms part of the University of Edinburgh.
The New College was established in 1843 and opened a few years later as part of the Free Church of Scotland.
Today, If you were interested, this school is one of the top 20 universities where you can study theology, divinity, and religion.
The building is in a neo-gothic style and has such a dramatic presence! It looks like you've been transported to Hogwarts. Perfect for your Instagram feed.
You may not be allowed to enter the courtyard during school time, so I would visit either before or after lessons.
You'll need a wide-angle lens to capture all of the background, or set up your tripod as far back as you can!
6. Bakehouse Close / The Outlander Print Shop film location
If you have some time spare, you must check out the hidden courtyards, alleys, wynds and steps that fall off the Royal Mile. Some of these secrets are epic photos!
Bakehouse Close is one of the finest examples of a historic courtyard on the Royal Mile and is a popular spot with photographers.
But, in the last few years, it has had a significant meaning to those who love the TV show Outlander! This is the very spot where Claire reunites with Jamie in his print shop.
Although the shop will not be there, the alleyway and the steps will be. So, you can recreate all the scenes in this episode until the cows come home.
I found that at all times of the day, there were tour groups or Outlander fans capturing the moment. So, to avoid crowds come early, or patiently wait your turn.
Despite it being an Outlander location, it is still a very photo-worthy spot and one worth capturing.
Make sure you read my Bakehouse Close guide & how to find the Outlander Print Shop here
7. The Writers Museum / Makar's Court
At the top of the Royal Mile is another hidden courtyard through Lady Stairs Close called Makar's Court. Which is almost a temple to some of the great Scottish writers and poets through time.
It's an evolving national literary monument and in fact, the world Makar means ''one who fashions, constructs, produces, prepares, etc.'
Inside Makar's court, you'll find the Writers Museum which is FREE entry and celebrates the lives of the famous writers Robert Burns, Sir Walter Scott, and Robert Louis Stevenson.
But, as well as it is a museum its is drop-dead gorgeous and worth stopping by for a few snaps.
Many locals use this close to avoid the crowds of tourists, so it can get busy during the rush hour or school run. Best to go early to avoid crowds!
Click here to read my complete guide for Lady Stairs Close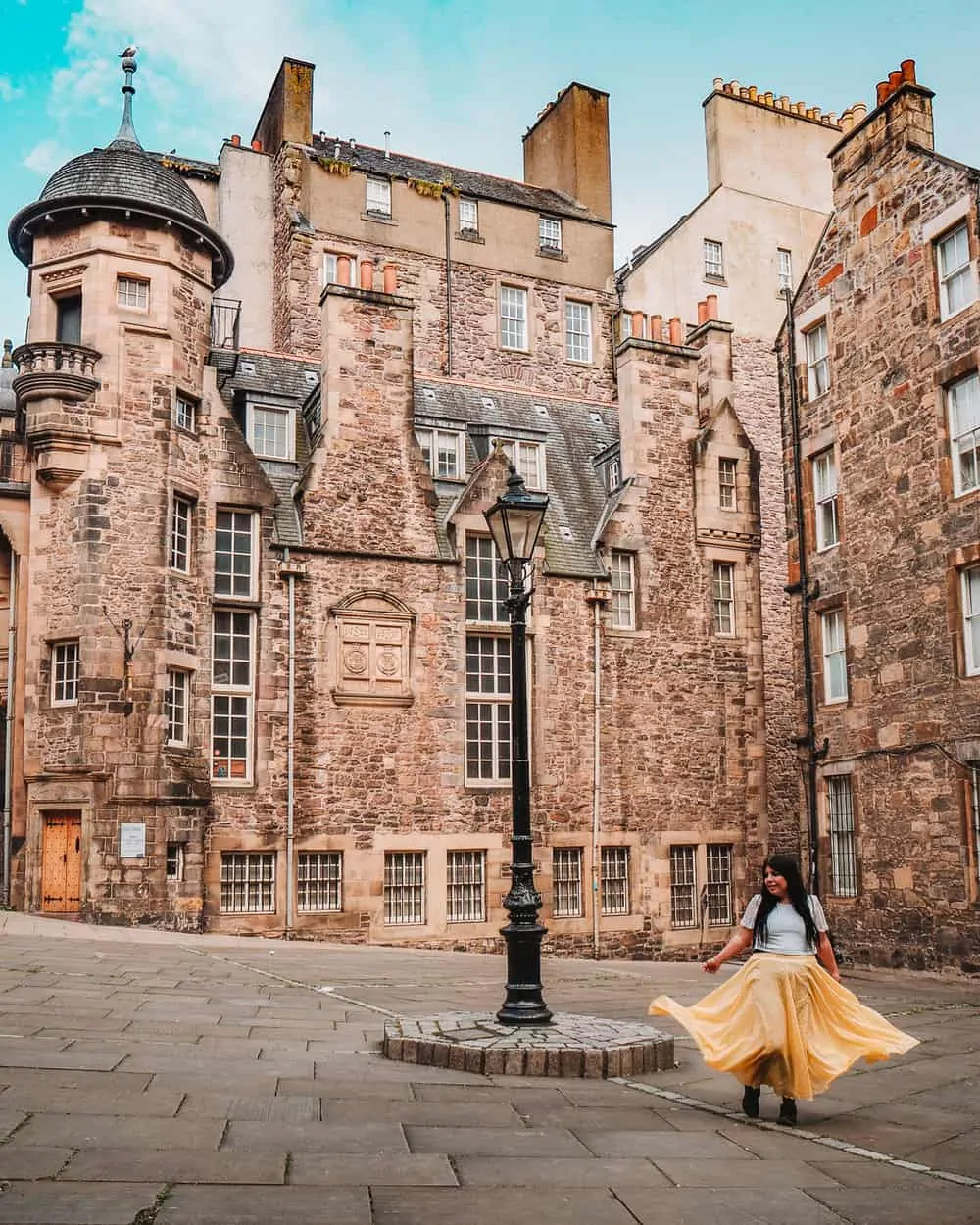 8. The Old Stockbridge Market Archway
It took me an embarrassing amount of time to find this exact location until in my desperation I stopped a local to ask for directions!
That's because the new Stockbridge market is nowhere near the old one, where this archway can be found. So, Google Maps was as useful as a chocolate teapot.
Learn from my mistake. Make sure you save the fact that The Old Stockbridge Market Archway is located in on St Stephen's Place.
It was active from 1823 to 1906 and the archway with its old oil lamp was built by Archibald Scott in 1825. It makes the ideal photo spot.
Today, the Stockbridge market runs every Sunday and brings in all the independent traders selling foodie items! It's definitely worth stopping by if you're about.
Click here for my complete guide on the Stockbridge Market Arch
9. Craigmillar Castle
There are some amazing castles in the city of Edinburgh and in the wider districts too. So, if you feel that Edinburgh Castle is too expensive, busy and touristy, I have another castle nearby that might be just up your street.
Craigmillar Castle can be found in Holyrood Park and is something out of a fairytale. With its winding iconic Yew trees at the entranceway, you could get lost in here for hours.
Unlike Edinburgh Castle, you won't find big displays or crown jewels. But, you will find views for miles and endless labyrinths of staircases and rooms to explore without all the selfie sticks and crowds.
This castle used to be a hideaway for the Stewart Royal Family away from the city. It's famous as Mary Queen of Scots stayed here for a while and legend has it, this is where she plotted the murder of her husband David Rizzio.
For Outlander Fans, this will also be recognizable as Ardsmuir Prison in series 3. Where Jamie, or Mac Dubh, is held prisoner at the behest of Lord James Grey.
Read my complete guide about the fairytale Craigmillar castle here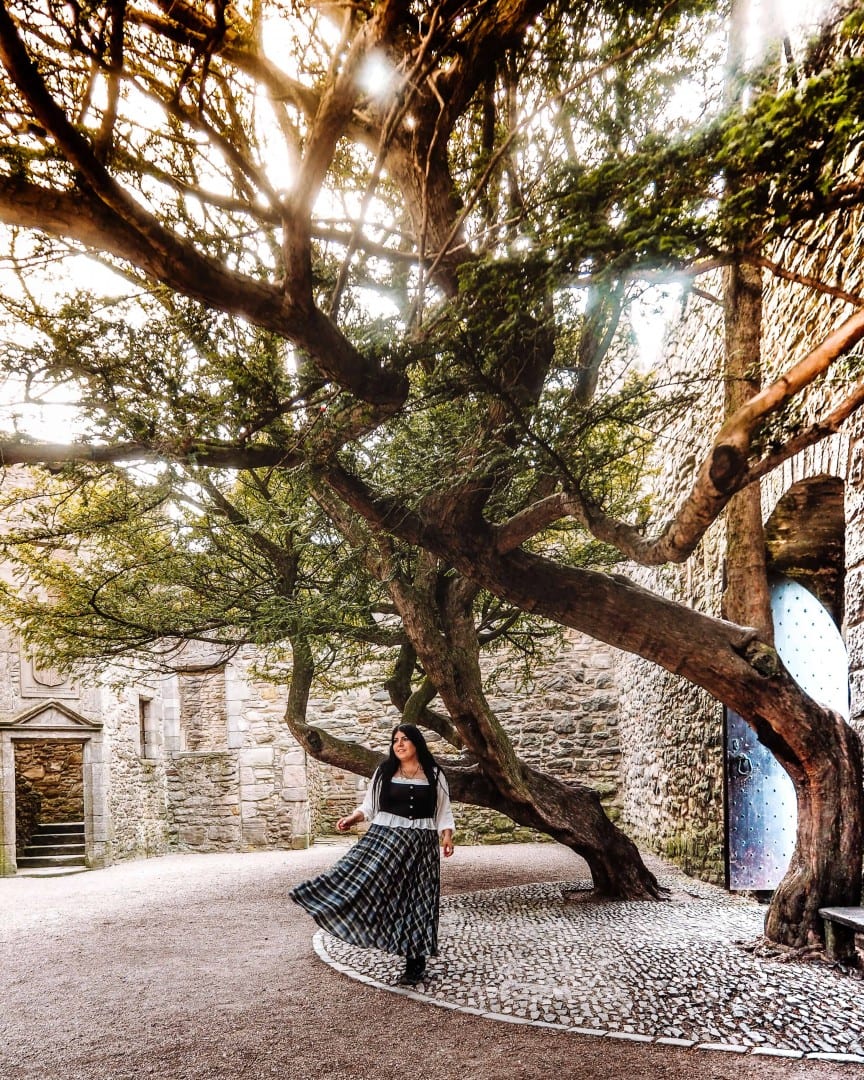 10. Salisbury Crags
An iconic sight in Edinburgh is the Salisbury Crags which is a cliff face that looks down on the city of Edinburgh. It's part of the wider Holyrood Park and is ideal for hiking if you're planning on climbing Arthur's Seat.
It's hard to believe that this area was formed over 340 million years ago! But, it still stands today and makes an iconic photo location!
You could honestly spend hours within the park exploring its lochs, hilltops, abandoned churches, and viewpoints. So, make sure you take some time to check it all out.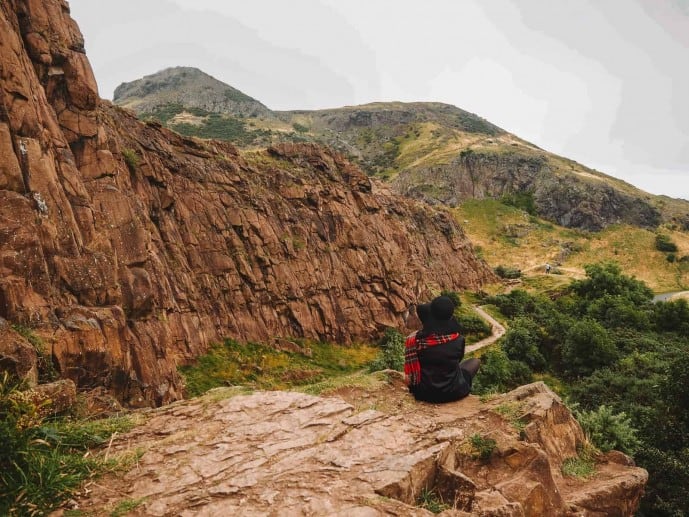 11. Arthur's Seat
Did you know that Edinburgh has an extinct Volcano that you can climb? Yep, that's right. Arthur's Seat gets its name from the legendary King Arthur and is often thought to be a possible location of Camelot!
The hilltop almost has a lion-like appearance and is located around 250 metres above sea level.
Although this is nowhere near a Munro bagging affair, you'll still be pretty lost for breath as you climb up to the peak!
Whether this view will be worth it entirely depends on the weather really. If it's a sunny day, the view will be bonny. But, if it's a wee bit cloudy or rainy, you may be disappointed with the photos.
However, I think that despite the photos, it's an awesome climb! It can get really windy up here at the peak as you're by the coast, so be careful.
12. Victoria Street and the West Bow
If you're a fan of Harry Potter then you have to make a visit to this colourful street in Grass Market a priority.
Although J.K. Rowling has never made a statement, this cobbled area is thought to be an inspiration for Diagon Alley. Even the side streets of the West Bow and Candle Maker Row were apparently the inspiration for the books.
Despite the references, the curved cobbled road and colourful buildings stacked on top of each other make a smashing photo location. Just avoid the crowds and go early!
You should definitely check out the Harry Potter shop Museum Context. It has all sorts of magical gifts and photo opportunities.
This magical street is also just a stone's throw away from The Elephant House where J.K. used to type away at her early manuscripts.
Someday this is the birthplace of Harry Potter and it has become so popular you'll be queuing a while to enter.
Click here to read my complete list of Harry Potter locations in Edinburgh
13. Princes Street Gardens
If you're looking for a pretty place to chill in the city, The Princes Street Gardens is ideal.
If it's a sunny day, you'll find plenty of office workers on lunch, people having picnics, reading books or sleeping in the shade.
The best part about these gardens is the fact that the park has a dramatic view of Edinburgh Castle from here. From this angle, you can see just how high the cliff face is!
So, you can get some spectacular views from the Ross Fountain that has had a new lick of paint.
Make sure you take some time exploring as there are lots of gems here including the Scott Monument and the quaint old gardener's cottage.
14. The Royal Mile
The Royal Mile, which is the length of a Scottish mile, by the way, is a must-visit in Edinburgh. It's made up of Castlehill, Lawnmarket, High Street, and Canongate.
For the last 500 years, it has been a processional route for the Royal families of Scotland and the United Kingdom.
Each part of the mile has something unique to offer and hundreds of photo spots including St Giles Cathedral, The photogenic streets, The Castle, hidden courtyards, old buildings like Moubray House, and even the old red telephone boxes!
Although the Royal Mile will only take you 15-20 minutes to walk completely (if you're walking down lol). It could take you all day to explore the area with all the shops, museums, hidden alleys, and restaurants along the strip.
Notable sights are the Witchery by the Castle, the Signet Library, Camera Obscura, Scottish Parliament, Museum of Edinburgh, Scotch Whisky Experience, and Canongate Kirkyard.
15. Edinburgh Castle
Another photogenic spot is the famous Edinburgh castle where the whole city first began on top of iron age Castle Hill.
As one of the oldest fortifications in all of Europe, it has had a long history of serving as an ancient royal residence, a military garrison, and a fortified prison. It also holds the title of the most besieged castle in all of Britain.
Today, the castle is one of the most popular attractions in the city and is a huge museum where you can see the Honours of Scotland, The most powerful cannon Mons Meg, watch the one o'clock gun, enter St. Margaret's chapel and enter the Great Hall and museums.
It's huge and you will find crowds throughout the day. So, I would buy tickets in advance to beat the masses of tourists!
If you didn't want to enter the castle and spend money on a ticket, the best photo spot is outside of the Castle at the entrance square. During the summer this square is where they hold the Edinburgh Tattoo.
I would come early to avoid crowds or wait until evening for a quiet spot after the castle has closed.
16. Canon Gate / Tolbooth Tavern
Canongate is hands down my favourite part of Edinburgh as the whole area is filled with beautiful historic buildings and ends with Holyrood Palace!
All the buildings here are made with greyish stone and it really feels like you've stepped back in time a few centuries.
The Canongate goes all the way back to the times of David I in 1143 AD who authorised for the Holyrood Abbey to be built. So, the entire burgh of Canongate was controlled by the Abbey. It finally got its name from the canons that used to make their way through up to the castle.
One of the spots that photographers may be interested in is the iconic Old Canongate Tolbooth where people used to collect a toll for people passing through.
Nowadays the Tolbooth is no longer there but you can visit the Tolbooth Tavern underneath it. This pub is a beautiful picture spot and the best place to capture it is from the close directly opposite.
17. The Queen's Residence at Holyrood Palace & Abbey
If you make your way a bit further to the end of Canongate, you'll find Holyrood Palace which is the Queen's Residence in Edinburgh.
This palace served as a principal residence of Scottish Royalty since the 16th century and today is the official residence of the British Monarch in Scotland, Queen Elizabeth II.
The inner courtyard, beautiful room displays, and manicured gardens outside would be your best bet for beautiful photo spots!
But, the best spot is the ruined Augustinian Holyrood Abbey which was founded in the 12th century. Although most fell into decay, you can still capture the beautiful cloisters that once stood.
It's not a cheap place to visit, but the displays are well worth the money. If you didn't want to enter, you can catch a glimpse of the palace from Holyrood Park and Calton Hill!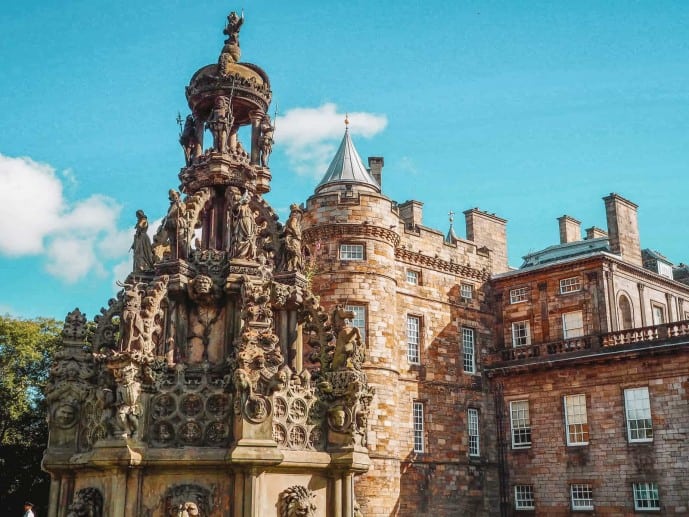 18. Tweeddale Court
The final hidden courtyard, that I feel is one of Edinburgh's best-kept secrets, is Tweeddale Court. Hidden away along the Royal Mile, you can enter through the alleyway into a gorgeous close with historical buildings.
Tweeddale Court gets its present name from the 1st Marquess and 2nd Earl of Tweeddale, John Hay. He was a senior advisor to King Charles II and was appointed as the Lord President of the Scottish Council. His house can be found at the end of the street.
An interesting fact about this close is that it was the location of the murder scene.
William Begbie was found here with a knife in his heart in 1806 and was missing some £4,000's for a bank in Leith.
No one was ever caught and supposedly his ghost haunts those who enter at night.
It's also home to Edinburgh's smallest listed building. If you can believe it, it's a Sudan Chair House!
A Sudan was a chair that transported the wealthy on the backs of the poor. Not an envious job to have.
You'll only really see locals here who want to escape the crowds so it's perfect for photography. The composition of the buildings is just perfect together.
Did you know this is another Outlander location? Read my guide for Tweeddale Court here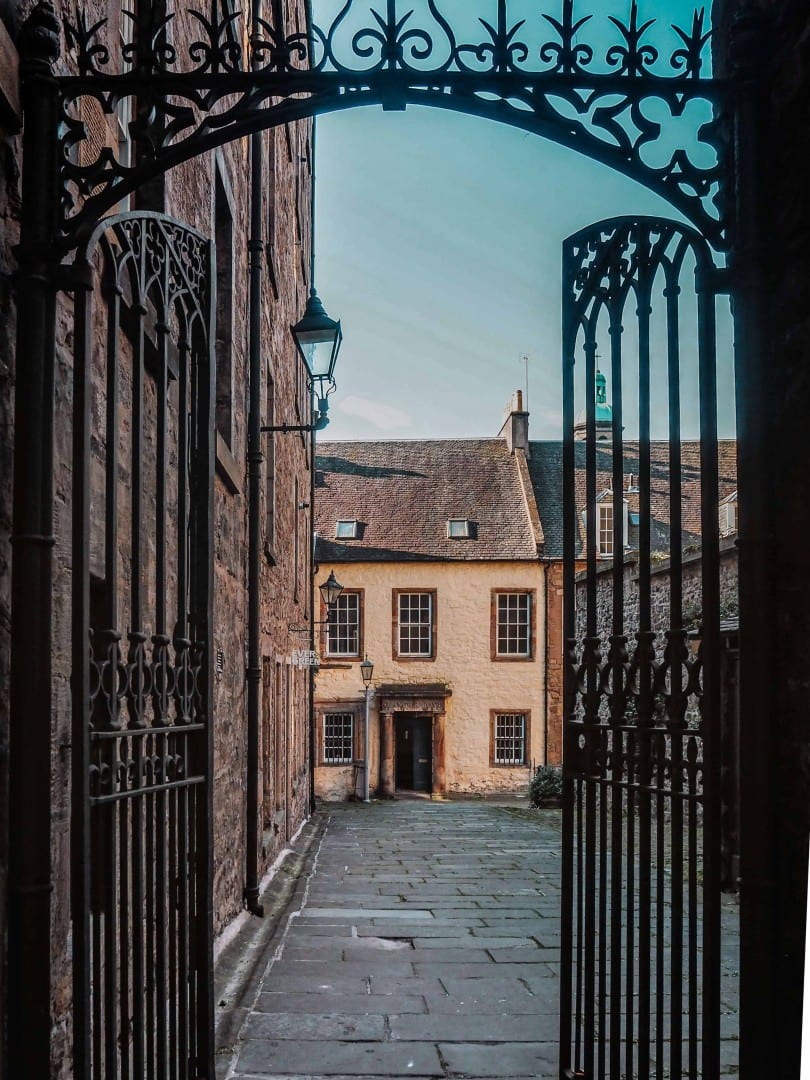 Instagrammable Cafés and Restaurants in Edinburgh
So, that's all the Instagram spots in Edinburgh but what about food?
Everyone loves a pretty restaurant, whether it's the decor, the artisan food or the views the area provides. So, you'll be glad to know that Edinburgh is full of them!
We've already spoken about The Elephant House. But, if you're after a classic pub, The World's End is a rustic favourite. You can read about it here (don't blame me for the queues though!).
But, if you're looking specifically for photo-worthy ones, I've handpicked some of my favourite Instagrammable cafés in Edinburgh here;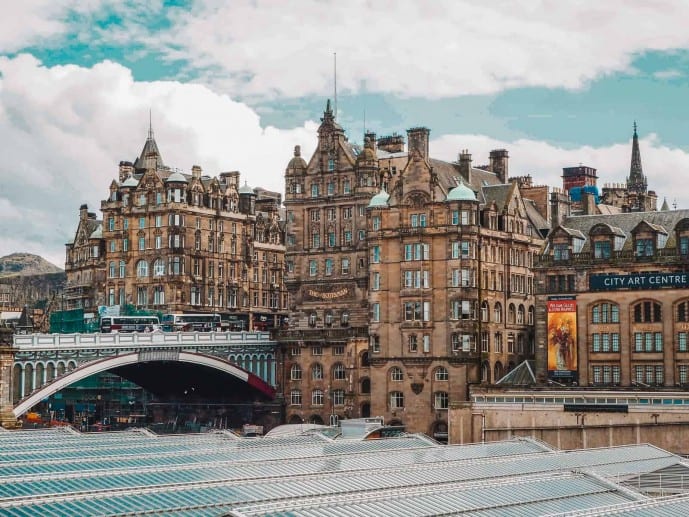 The Signet Library Afternoon Tea
I first heard about The Signet Library after I was looking for Outlander film locations in the city.
Then, when I found out that their restaurant, The Colonnades, prepared one of the finest afternoon teas in the city, I just had to book!
The Signet is home to the Society of Writers to Her Majesty's Signet. It's an association of Scottish lawyers and one of the oldest professional bodies in the world. It's now over 500 years old.
The Signet was the royal seal of old Scottish kings and queens and only the Writers of the Signet were authorised to use it.
Their luxury fine dining restaurant prepares an incredible afternoon tea with an artistic flair.
If you're lucky, you can sit in one of the alcoves with some of the oldest books in the library.
If you are an Outlander fan this is the perfect spot as they filmed the Governor's Mansion in Jamaica here in series 3! You can even have a Ginger Ale as they did in the series.
Afternoon tea times:
Monday to Friday from 1pm – 5pm
Closed on Saturdays
Sundays from 11am – 5pm.
Read my full review of this afternoon tea experience here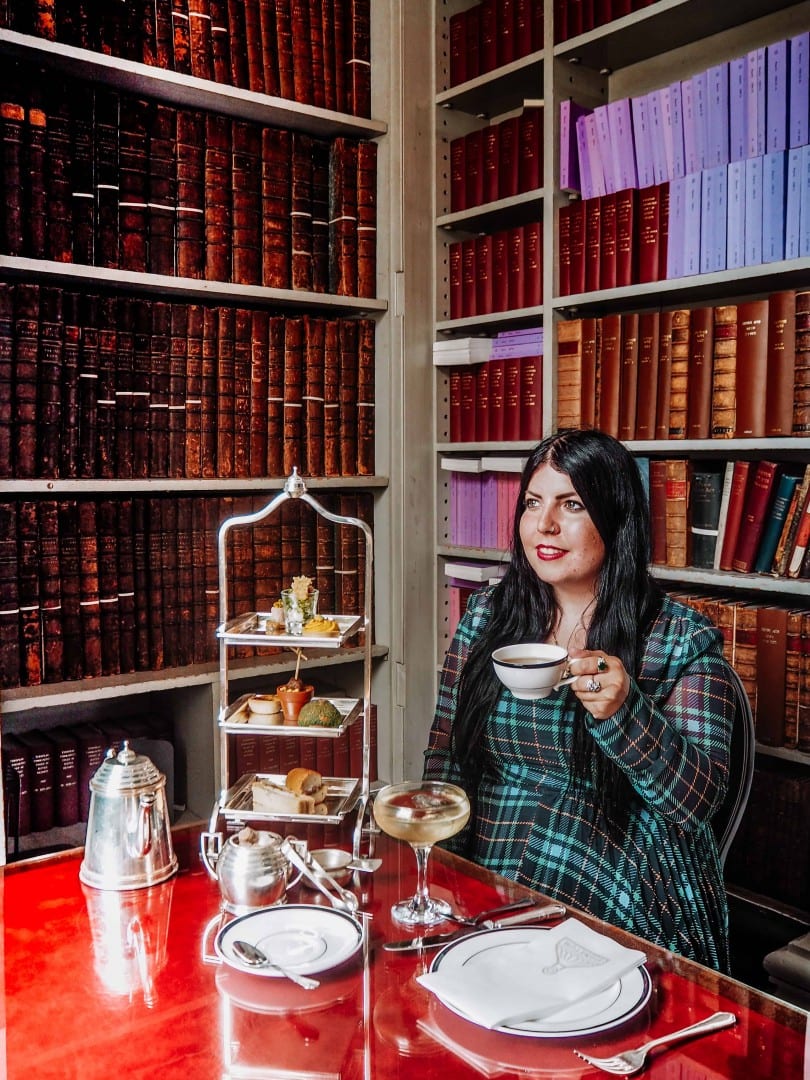 The Balmoral's Palm Court
The Balmoral is an iconic hotel in the city and you can enjoy a spectacular afternoon tea in their stunning Palm Court.
The location of the afternoon tea is head-to-toe luxurious and you'd better come hungry as you'll have a lot of food in-store.
You will be lulled by the sound of a live harpist while sipping on organic tea and enjoying savoury and sweet treats!
Then, you can help yourself from the trolley and they even give you a tea caddy to take home.
Afternoon tea is £49.50 per person but the value for money is outstanding. You can read my full review here.
The Secret Garden restaurant in The Witchery by the Castle
If you're looking for a real treat and a restaurant with a unique character, then you must go to the Witchery by the Castle.
Placed on Castle hill, right next door to Edinburgh Castle, the building takes its name from the hundreds of women accused as witches and burned at the stake on the order of James VI. He is said to have executed more than any other monarch.
You'll often find this is a popular celebrity haunt as it is a designer hotel as well as a restaurant.
The Secret Garden is decorated in a Gothic style with horns, chandeliers, velvet seats, and brocades. It's got an atmosphere like no other.
In the evening, you'll find that the place is romantically lit by candles and has a spooky feel to it. But, if you want a bargain, make sure you go for their lunch menu. They usually have a set menu offer.
I wrote about my experience in the Witchery by the Castle here or book a room for the night in their Gothic abode.
Where to stay in Edinburgh?
There are a wealth of places to stay in Edinburgh and, if you're not tired of snapping photos, are also extremely Instagram-worthy.
If you're looking at the luxury end you can stay at the Balmoral, The Malmaison Edinburgh, or The Waldorf Astoria.
Mid-range you have the Haymarket Hub Hotel and The Cairn Hotel.
For budget, there is the Grosvenor Hotel and Thistle Hotel.
The best hostels are CoDe Hostel, Castle Rock, Kick-Ass Grass Market
Looking for more things to do in Edinburgh?
Edinburgh isn't one of the most popular cities in the UK for no reason. There is so much history, views, attractions, beaches, canals, castles, and culinary delights to enjoy here!
Whether you want to try haggis, try a dram of whisky, drink Irn-Bru, eat a battered Mars Bar, or gorge on Scottish Tablet. You'll have endless choices.
I have a whole bucket list that I have made for this lively city which will make sure you cover the very best of Edinburgh and first-time Scottish experiences;
Click here to read my ultimate list of things to do in Edinburgh
Read my Edinburgh travel guides
All the Outlander locations in Edinburgh
Harry Potter locations in Edinburgh
How to visit the Harry Potter graveyard
A complete guide for Armchair Books
Why you must visit Dean Village
A complete guide for the Vennel
How to find Bakehouse Close from Outlander
The hidden gem of Whitehorse Close
Signet Library Afternoon Tea review
Why you must visit the World's End
A complete guide for Circus Lane
The mystery of the Burke and Hare Coffin Dolls
Queen Mary's Bath House in Edinburgh
Scottish National Portrait Gallery review
Discover Liberton Kirk in Autumn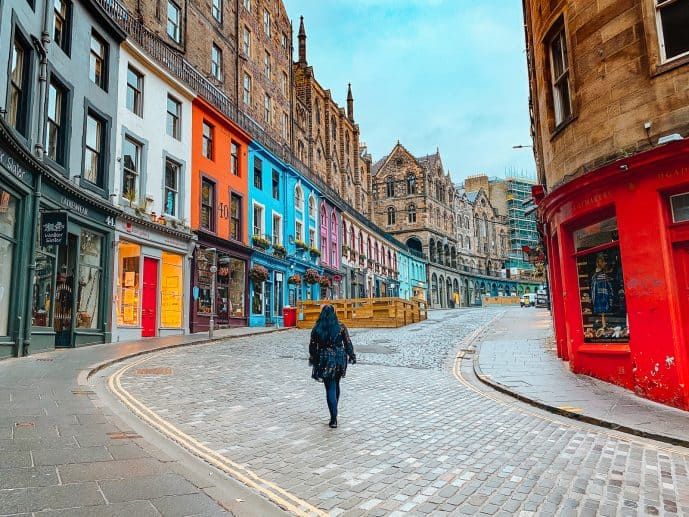 Save these Instagram spots in Edinburgh for later!