Are you looking for all the amazing Instagram spots in Vilnius? You've come to the right place.
Many of the articles I read about where to find picturesque spots had locations that weren't even in the city itself!
So, after having been there for a week and discovering some beautiful locations, I'd thought I'd share them with you.
Many people don't see Vilnius as a very picture-worthy city, but I would beg to differ.
Not only does it have some fantastic architecture from its plethora of religious and historic buildings.
It also has a quaint Old Town, a bohemian free republic with colourful street art, jaw-dropping viewpoints, and some Instagrammable cafés too!
Here is the ultimate guide to the best Instagram spots in Vilnius.
The top 14 Instagram spots in Vilnius
1. Three Crosses Hill Point
If you're looking for one of the best viewpoints in Vilnius, for me, the Three Crosses Hilltops them all.
It's a FREE viewpoint located in Kalnai Park close to the Gediminas Castle in the city and has some of the most spectacular views from the peak.
If you didn't know Vilnius was one of the last countries to convert to Christianity in the 14th Century. Prior to this, the country was Pagan and worshipped nature, something that is still practiced by many today.
The legend has it that when Franciscan Monks came to Vilnius, they were tortured to death here, nailed to crossed, thrown from the top of this hill to and floated down the river. In memory of this, the people of Vilnius erected wooden crosses in their honour.
Read more in my ultimate Three Crosses guide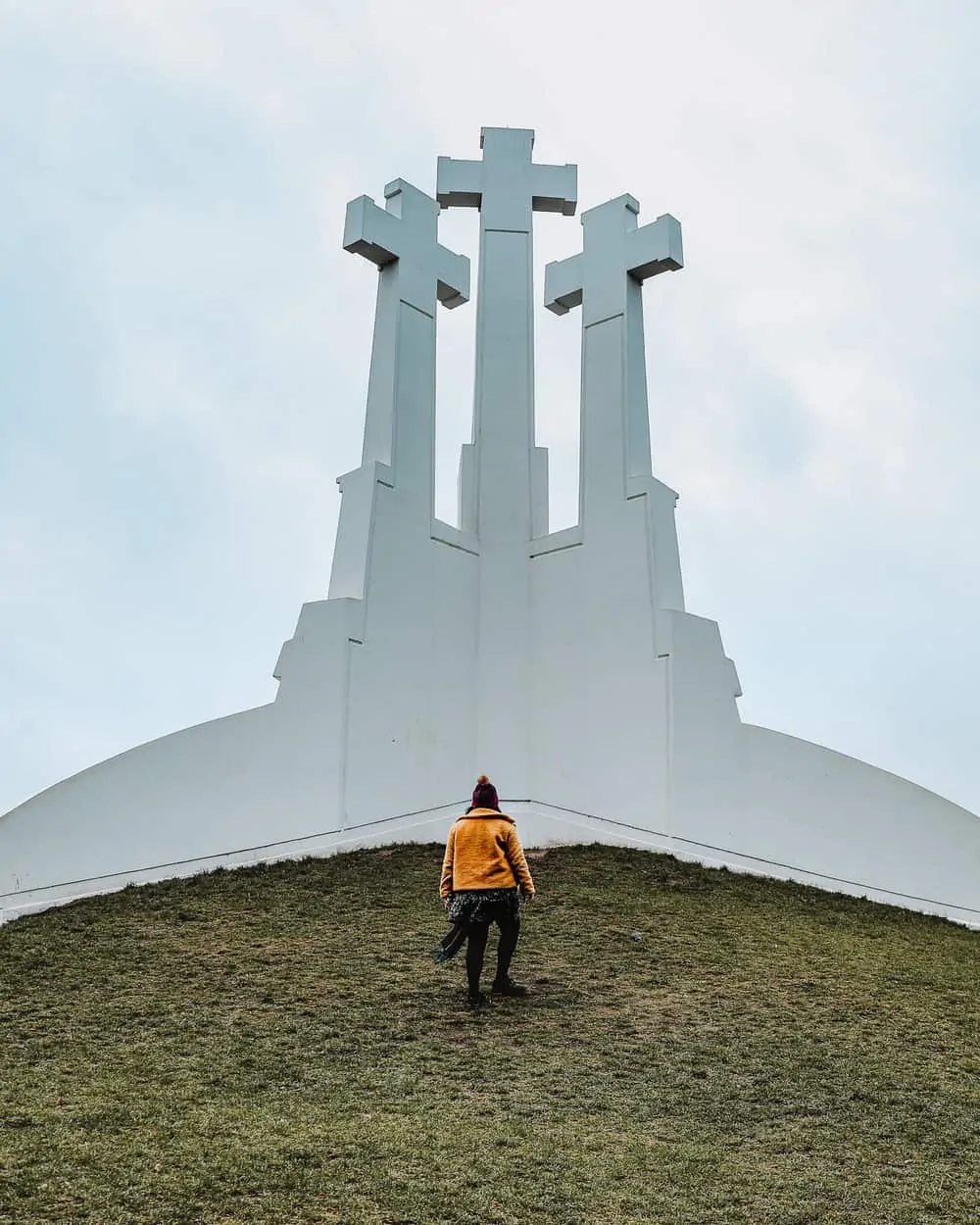 Of course, the ones we see today aren't the original crosses, they had weathered with time.
So, eventually, they were replaced with a new monument, by architect Antanas Vivulskis, of three crosses in 1989. This was after Lithuania was granted its independence from the Soviet Union.
It's a little bit of an intense climb to the top from Cathedral Square, but it's has a great pathway to take you there.
On a clear day, you can see the whole of the Old Town, Cathedral Square, Gediminas Castle, and beyond. It is well worth a visit!
If it's a warm day, the Kilnai Park around the area will take you to more viewpoints including (Stalo) Table Hill and the Hill of Gediminas' Grave.
The Three Crosses Hill is open 24 hours a day and is FREE to visit. Apparently, it's also stunning at night but I didn't want to go alone!
2. The Gate of Dawn
The Gate of Dawn, or Sharp Gate, is one of the most important religious and historical monuments in the whole city.
In the 16th century, when the country was the Grand Duchy of Luthiania, the Duke at the time decided to build fortifications around the city to defend it.
The Gate of Dawn, on Ausros Vartu Street, was one of five gates that were built at the time for people to enter in and out of the city.
As was tradition, many of these gates had religious artifacts inside to protect the city from attacks and bless travellers that walk through them.
The chapel inside the Gate of Dawn contains a portrait of The Blessed Virgin Mary Mother of Mercy or the "Vilnius Madonna" who is said to perform miracles.
Even today, when you walk through the gate, you'll see many locals pause and say a little prayer towards her portrait that can be seen through the window.
It's lucky that this gate survived at all because all the others were destroyed on orders from the government in the 18th century!
As well as an important monument in the city, it's also extremely picturesque and worth a spot on your Instagram itinerary.
But, I will warn you, this place is constantly busy with tour groups and walking tours – so, arrive early if you want to get a photo without the crowds (even in winter!).
Just try to be respectful of those wanting to pray. If you do have time, I would highly recommend popping inside the chapel itself to take a peek and the painting of Mother Mary. It's tiny but ridiculously pretty.
The Gate of Dawns is open 24 hours a day to take photos from the outside. The Chapel is FREE to visit (no photography inside) and is open from 6 am – 7 pm Monday to Sunday.
3. Basilian Monastery Gate (Church of the Holy Trinity / Uniates)
Another amazing piece of architecture just down the street from the Gate of Dawn is the Basilian Monastery Gate.
It's also known as the Church of the Holy Trinity and was built by the Ruthenian Uniates Church. Although this wasn't the first church on the site.
The first one was to mark the spot where the three Lithuanian Christian Martyrs (Anthony, John, and Eustace) died. According to legend, in 1347, the Grand Duke Algirdas' wife Julijona built a wooden Orthodox Church in their honour.
Later, in the 17th century, the church belonged to the Uniates of the Basilian Order. Then it switched hands to the Orthodox Church in the 19th century and eventually, after the independence, went back to the Uniates!
So, this seemingly small but beautiful gate on Ausros Vartu street has a big history to offer beyond a pretty photo spot. I didn't end up going inside as it was closed, but the church itself has a mix of Gothic, Baroque, and Russian Byzantine styles.
Make sure you add this to your list of photo spots to capture while in the city!
You can capture the Basilian Monastery gate at any point of the day and it's located on Ausros Vartu Street.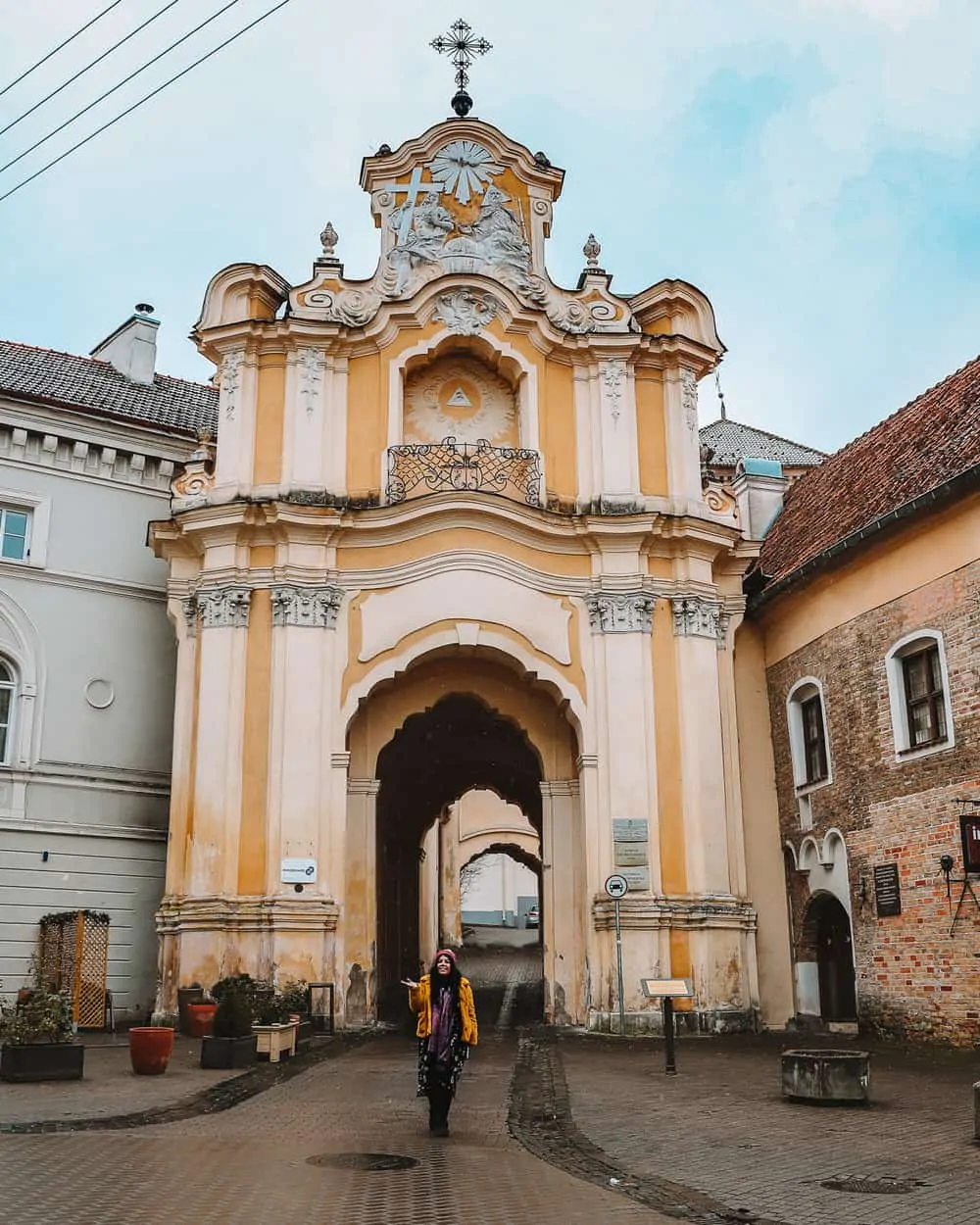 4. Ausros Vartu Street
If you're looking for a great street to capture the historic part of Vilnius, then Ausros Vartu Street is a good choice! It is by far one of the prettiest streets in Vilnius Old Town.
With the Gate of Dawns in the background, the interesting historic architecture like the Philharmonic building, spires of churches, cobbled streets, and the pops of colour this really is a great shot.
I went in the winter, when it was snowing and when it was extremely quiet. There were no cars around or pedestrians really, so I was able to get a good shot around 11 am.
But, I would say if you're visiting in the summer season, to get photos around here early if you want empty shots!
5. Church of St Casimir and Jesuits
There are thousands of churches in Vilnius, so I'm going to try and keep it to only a few of the very best for photos in this list. Starting with the Church of St Casimir!
This stunning pink cathedral that is located just off of Town Hall Square in the Old Town, is a Roman Catholic temple and is the oldest baroque church in Vilnius.
Built in the 17th century by the Jesuits, it is dedicated to the holy prince Saint Casimir. It was funded by the Great Chancellor and the Grand Duchy of Lithuania at the time.
It has had quite a colourful history since it was built, becoming an Orthodox church, a museum about Atheism during the soviet era, and then going full circle back to a Catholic Church today.
Personally, the architecture of this church caught my eye immediately and I fell in love the fact it was not only ornate but also PINK!
It's a little hard to get photos here from the outside as there are always cars parked in the car park opposite. So you can't really put your camera far away. But, you can always go from a lower or wider angle to capture it.
The Church of Casimir can be shot from the outside 24 hours a day. It's also FREE to visit.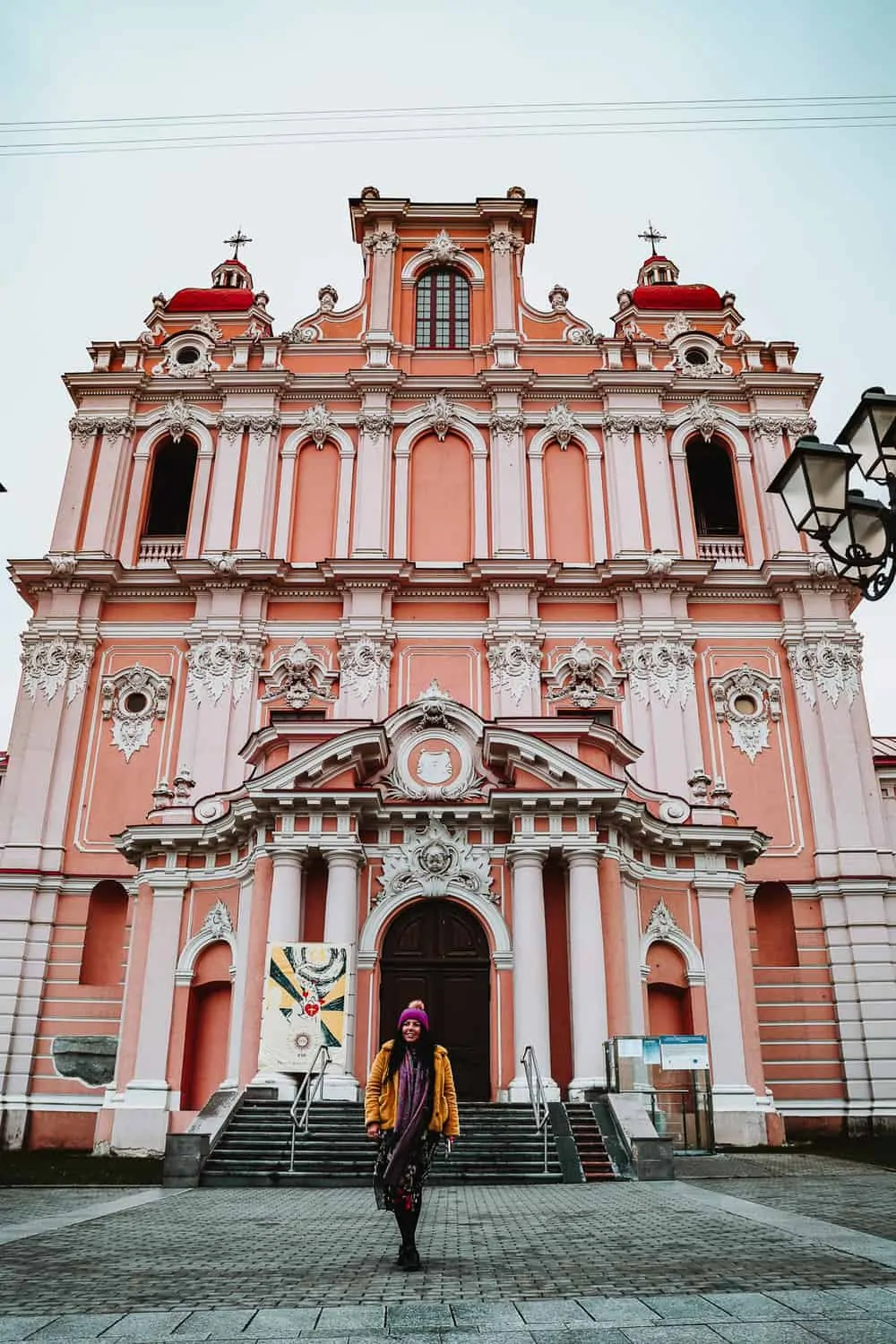 6. Cathedral Square
Cathedral Square sits at the centre point of the Old Town and, to the locals in Vilnius, is one of the most important landmarks in the city.
Not only is it home to Vilnius Cathedral, one of the most important Catholic churches, it also connects the main streets of Vilnius and is a community ground that holds several events throughout the year.
You may be surprised to know that the cathedral has only been here since the 19th century as part of refurbishing the city. Before this, the area was taken up by the Lower Castle and contained mostly congested medieval villages.
Read more about the Christmas Markets in Vilnius
When I visited Vilnius, it was early December so they had a Christmas Market in the square with the most fantastic tree all lit up with blue lights!
There are lots of things to see around the square so keep your eyes peeled.
Make sure you spot, the Vilnius Cathedral, The Cathedral Bell Tower, The Magic Brick (Tile), the Footprints to mark the Baltic Way, the statue of Gediminas, the Palace of the Grand Dukes, and Gediminas Castle in the distance!
Cathedral Square can be visited 24 hours a day, at Christmas, it was magical all lit up at night. Vilnius Cathedral is open Monday – Sunday from 7 am – 7 pm
7. Literatu Street (Literatų gatvė)
Another one of the great Instagram spots in Vilnius is the famous Literatu Street in the Old Town.
This street is like a temple for those that are fans of Lithuanian literature as there are artworks mounted to the wall dedicated to Lithuanian writers!
The wall first began in 2009, when a group of artists decided that Literatu Street should live up to the name.
They started small and placed a few artifacts, like tiles, paintings, abstract symbols, and excerpts for the City project to be the Capital of culture.
Over the years, this has been expanded and now there are over 200 plaques dedicated to authors who have a connection with Vilnius and even those from around the globe.
This colourful and quirky Bohemian project is easily accessible on foot from the Old Town and is a fantastic photo spot.
Literatu Street is open to the public, is FREE to visit, and accessible 24 hours a day
8. The Republic of Užupis
One of my favourite parts of Vilnius has to be the Free Republic of Užupis. Užupis means "beyond the River" and is named after Vilnia River.
Years ago, this district was mostly inhabited by the Jewish community. Sadly, during the Holocaust, a lot of them were deported or killed in concentration camps.
This meant that the houses in the area were altogether abandoned and were taken over by the homeless, prostitutes, drunks, and criminals.
It turned into a dangerous part of town that people avoided and It ended up being neglected until Lithuania's independence.
Eventually, in 1998, the residents in the city of Vilnius declared the area the Republic of Užupis.
This republic would have its own flag, border control, unofficial currency, a president, parliament and its very own constitution! Although it's meant to be tongue in cheek, it's taken quite seriously.
Everyone is allowed inside Užupis to explore this Bohemian area. Although there is a Border Control it's not enforced, but you can get your very own visa stamp inside the Art Incubator!
There are plenty of photo opportunities in Užupis so make sure you leave enough time to look around! There is street art, the Swing of Fate/Destiny Swing, The Art Incubator, The Angel of Užupis, and more.
The most important place to get a selfie here is the Užupis Consitution. Supposedly, when you take a picture of yourself in this constitution, you're now a residence of Užupis!
Click here to read more things to do in Uzupis. It is open 24 hours a day and also has a fantastic nightlife with restaurants, art cafés, and bars
9. Vilnius City Bastion Viewpoint
If you're looking for another viewpoint of Vilnius, a great one can be found at the City Bastion.
Originally, this Renaissance-style Bastion or Barbican as part of the Vilnius defense wall and was designed by a German military engineer, Friedrich Getkant.
It was constructed in the 17th century but suffered a lot of damage during the wars with Moscow. During World War I and II, German Military was located within its walls.
Today, the Bastion has (mostly) survived and you can get a great look at what remains of the original defense wall in the museum there. This museum will teach you all the history of what went on here to protect the city.
Related article – the best viewpoints in Vilnius!
But, the reason why so many people come up here to visit, is that you can get an incredible view of the city from the terrace.
Even if you choose not to go inside the museum the views from the top near the Bastion are stunning and worth a look!
As I visited in winter, I didn't see much sun for over 5 days. But, just as we got to the top, the sun decided to pop its head out for a few minutes for a photo.
This is another FREE viewpoint and you can see the Vilnius Cathedral, the Gediminas Castle, and the Palace of the Grand Dukes from this spot.
The City Bastion Viewpoint can be visited 24 hours a day, but if you want to go inside the museum or onto the terrace, this is only open from Tuesday – Sunday from 10 am – 6 pm.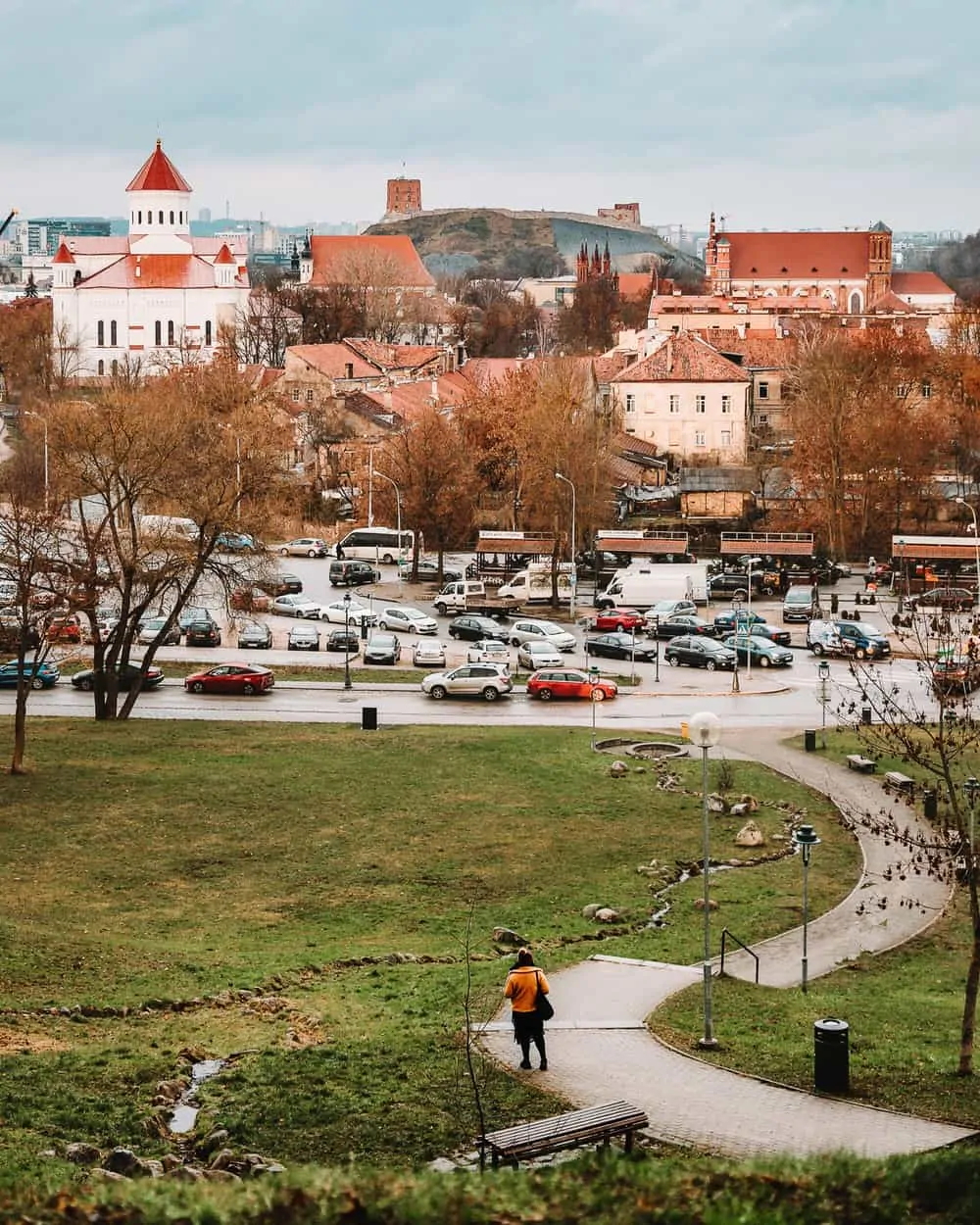 10. St Anne's church
Another church that really caught my eye here in Vilnius while I was exploring was the Church of St Anne.
Designed in Flamboyant Gothic design, the architecture is stunning and unusually made with red bricks. It is one of the finest examples of a Gothic building in Lithuania.
This church is the reason why Vilnius Old Town is included on the UNESCO world heritage list as it hasn't changed in over 500 years!
It was originally built for Anna, the Grand Duchess of Lithuania, and wife to Vytautas the Great.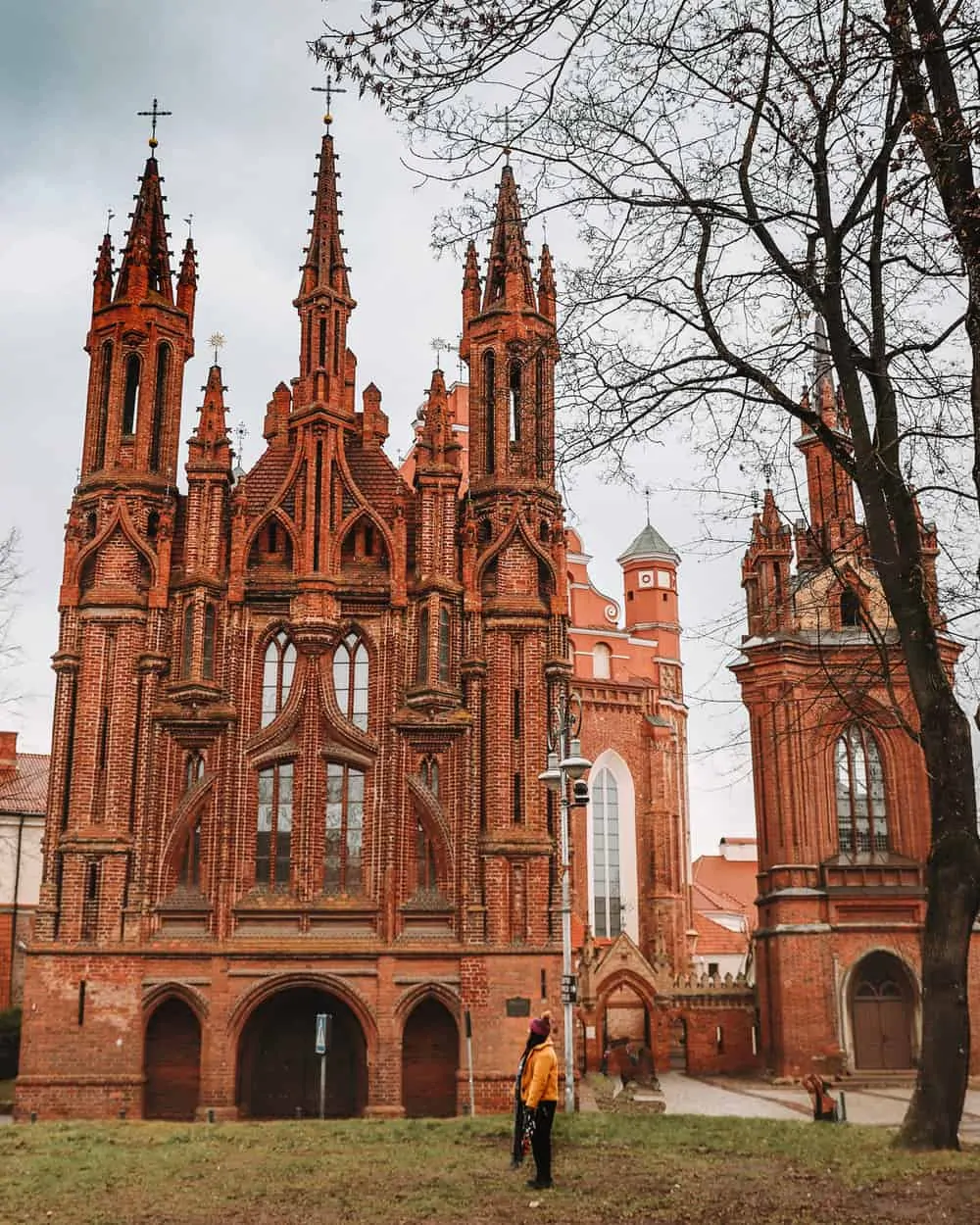 There is a popular legend that Napoleon Bonaparte fell in love with this church and he wanted to take it back to Paris "in the palm of his hand". But, the reality is that the French soldiers used it for shelter during the Napoleonic wars. Not as romantic as all that!
There is still no evidence to whom the exact architect was behind this church but many believe it was Michael Enkinger.
Regardless, it is one of the most beautiful buildings in the whole city that sits behind the River Vilnia. So, you must check it out.
I will warn you that the church is located next to a busy road. But, there is a grassy area opposite to take a nice photo. Just be patient with the traffic and masses of tourists using the crossroads!
St. Anne's Church is FREE to enter and open daily. May – September from 11am – 6pm and October – April from 5-7pm.
11. Augustas ir Barbora Love Story Café
I love an Instagram-worthy café and you can find the perfect spot for a coffee break in the Jewish Ghetto.
I was first introduced to this adorable café whilst on a Vilnius walking tour and I was so impressed with the Christmas decorations they had outside.
The whole café was decorated pink with fairy lights, baubles, and PINK UNICORNS!
So, I had to pop my head inside and it was SO cute, I was determined to visit again for lunch or afternoon tea.
Read more – The Instagrammable Love Story Cafe of Vilnius
Inside the Love Story Café were green trellises and the most adorable pink flowers covering the ceiling and the walls. They had pink velvet seats, marble tables and the whole café was for the 'gram, head to toe!
I actually ended up coming back here for Breakfast and, as I got here for opening time, I got the whole café to myself for a few minutes to take photos. It really popular and gets super busy during the day until nighttime!
I treated myself to their continental breakfast which came with a honey and jam croissant, espresso coffee or tea, and freshly squeezed orange juice.
The prices were reasonable and they also served up some freshly baked cakes and sandwiches too.
Supposedly, the name comes from a Lithuanian legend of two star-crossed lovers, like Tristan and Isolde or Romeo and Juliet. So, the whole theme fits perfectly.
The Augustas ir Barbora Love Story Café is open daily from 9am – 11pm. Take a look at their official page here or the menu here.
12. Streets & Courtyards of Vilnius Old Town
The Old Town of Vilnius is like a labyrinth of quaint streets that look like something from a fairytale!
Whether they provide a view of the castle, or the cobbled paths wind around to another church or alleyway; this is somewhere where you will want to get lost.
There are many picturesque streets in the Old Town to choose from and I've already mentioned Ausros Vartu and Literatu Street. But, I won't leave you hanging on where to find some others.
The most photoworthy streets in Vilnius
Pilies Street (Above) – Or, Castle Street is as the name suggest a street that leads to the castle or..what's left of it now. If you head from Cathedral Square you will find yourself on the gorgeous cobbled Pilies Street which is alive with shops, restaurants and beautiful quirky places to explore. The best view, however, is if you turn around and you get a perfect view of the Gediminas Tower in the distance. As pretty as a postcard!
Bernardinu Street – Just of Pilies Street this gorgeous alleyway is packed full of historic buildings, cute alleyways and oil lamps. It's perfect for those photographers who like to seek out all the photo-worthy nooks and crannies.
Stikliu, M. Antokolskio & Žydu (Jewish Ghetto) – If you get to the end of Pilies Street opposite the Town Hall, take a left turn and you'll find yourself in the Jewish Ghetto. The streets around here are incredibly quaint and colourful with cafés, bars and boutiques for shopping. You'll notice Hebrew on the signs and you can visit the spot where the Great Synagogue was destroyed. Look out for the 'people on the walls', these are paintings inspired by real people who used to live here.
Courtyards – The hidden courtyards in the historic part of town have often been a favourite of photographers. Some popular ones are the Alumnatas Courtyard and the courtyard of Sidabrynas Antique Shop.
Trump & Putin Street Art – technically not in the old town, but this famous wall on Pylimo g. 66 is famous for having a portrait of Trump and Putin sharing a romantic moment of smoke from their cigarettes. Unfortunately, despite the enormous controversy and protest to keep the mural, this art isn't there anymore. They have painted over it in pink with 'make empathy great again'.
13. Gediminas Tower (Castle)
Gediminas Tower is one of the last remaining parts of the Upper Castle in Vilnius.
It was named after Gediminas (no prizes there) who was a Grand Duke of Lithuania. He started the construction of the first wooden towers in the 14th century.
According to legend, Gediminas had a vivid dream after he went out hunting. He saw a wolf made of iron, standing on a hill and it was howling as loudly as if it were a hundred wolves.
The Baltic Shaman in his court interpreted the dream and told Gediminas to start building a great city. It would be strong like the wolf's iron and people would be talking about it for centuries to come, hence the howling. Hence how Vilnius was born, named after the river Vilnia!
The brick towers we see today were finally completed and opened by the Grand Duke Vytautas in 1409. Back then, there wasn't just one tower, but a series of towers and defense walls that made up the Upper Castle.
After the Lithuanian independence, the Gediminas Tower was seen as a symbol of the city and the Lithuanian flag now flies proudly from the top.
Read my complete Gediminas Tower guide here
Gediminas Tower Viewpoint
You can walk up to the Gediminas Tower for FREE (or, pay to get the funicular) to get some incredible views of the whole city from up there. Or, you can pay to enter the castle tower to go even higher.
As there was a lot of construction going on blocking the views in winter, I decided to go inside the museum and I thought that the top view was worth the money. Plus, it was warm and the museum was informative!
You can see all over the old town, the new town and the parks and rolling hills in the distance. Don't miss it!
Gediminas Hill is FREE to visit but the castle museum costs 5 Euros. If you want to take the funicular it's a Euro each way. It's open 7 days a week from 10 am – 8 pm all year.
14. Trakai Island Castle
Although not technically in Vilnius, it's only 30 minutes away by bus or train. So, it's not a long stretch and you could be missing out on one of the most beautiful spots in Lithuania if you skip it.
The romantic Trakai Castle is the only island castle in the whole of Eastern Europe that sits in the middle of Lake Galvé. Once upon a time, it used to be the capital of Lithuania and the home of the Grand Dukes.
The construction started in the 14th century by Kęstutis and was completed by his son Vytautas the Great who died inside the castle in 1430.
Most of the castle we see today is 19th and 20th-century reconstruction during the Soviet Era. It took over a century of various repairs and it opened as a museum to the public in 1961. Today is one of the top-visited attractions in Lithuania.
Read my complete Trakai travel guide here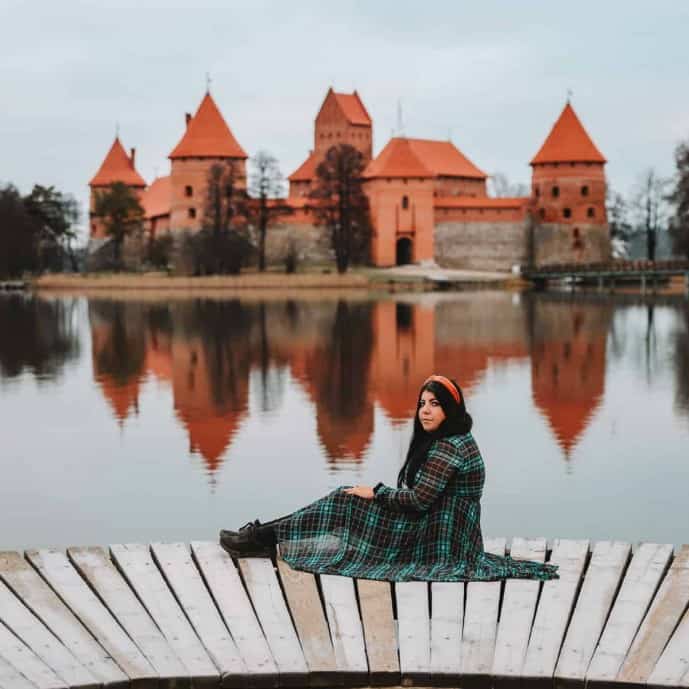 Photography at Trakai Castle
You can get a great view of Trakai Castle from the lakeside for FREE and you can even cross over the island over the bridge for FREE too.
But, if you love history and are curious to see inside and learn some history I would recommend paying to go in, it's 8 Euros for an adult and an extra 1 Euro 50 cents for photos.
For photos, I would urge you to go as early as possible. I got here around 8 am and there was no one so the bridge was empty. But, by 10 am the bridge was packed with tour groups and there were people everywhere.
Don't forget to check out the rest of Trakai too. It's home to The Karaims who are an ethnic group that settled here in the 14th century. They're a Turkish-speaking community that also follow their own religion. You can learn more at the ethnic museum they have there.
The one food you must try while you're here is a traditional Kibinine pastry made of beef and cheese. I sampled one at Senoji Kibinine and it was delicious!
You can capture Trakai Island Castle from the outside and over the bridge at any time of day. But, if you would like to go inside check their official website for visiting hours.
How to get to Trakai Castle
I got the bus here as they were quicker and more frequent than trains and the trip only cost me 2 Euros each way, bargain!
I used the official Lithuania bus transport site to check times or you can check train fees on the Lithuanian Railways site here.
Note that the walk from the bus station is around 2.5 kilometres but the path is flat and the town is (thankfully) picturesque. Luckily, there was a wee Santa train for me haha at Christmas to save my legs! The walk from the train station is around 3 kilometres each way.
Read more – how to get to Trakai from Vilnius here
How to get around Vilnius
Vilnius Old Town is really easy to get around on foot. Once you head to the Cathedral Square centre point, most of the attractions mentioned above are within walking distance and are no further than a few kilometres away (apart from Trakai Castle).
The city is well signposted but Google Maps or Maps.Me are great options to help with directions.
If you'd rather make your way around with public transport there are many trams and buses that run in Vilnius. So, If you're here for a few days why not invest in a Vilnius city card that not only gets you FREE transport but also access to some of the city museums?!
I would highly recommend that you download the Trafi App which will give you the best transport routes in Lithuania for where you would like to go.
As it was winter, I did make my way around on foot quite a bit. But, when it got too cold or if it was too far away, I decided to use Uber here which was cheap and easy enough to use. There is also a competing app Bolt, but I found Uber to be cheaper and more reliable.
Where to eat in Vilnius
Etno Dravas – If you're wanting to try some traditional Lithuanian cuisine, Etno Dravas is your best bet. It's a local chain of restaurants that specialise in Lithuanian dumplings or Cepelinai. They get the nickname Zeppelin as they look like the hovercraft not, unfortunately, from the band! As well as dumplings they serve up potato pancakes, very photoworthy pink beetroot soup, herring and more!
Snekutis – if you're on a tight budget for food or want to sample some of the local craft beers head to Snekutis! There are three of them in the city and each have their own quirkiness about them. They serve up traditional dishes incredibly cheap and their Lithuanian Mead on tap is simply the best!
Drama Burger – If you're tired of traditional food, why not try a local burger? Honestly,I am still dreaming about eating this place! The menu had me drooling from the start. Located on Gediminas Avenue, Drama Burger serve up the best, heartiest and homemade stacks in town. I got the philly steak and it was layers of juicy beef and cheese (OMG). You can also order local beers on tap here and I would totally get their signature fries as well.
Or see 12+ Traditional Luthianian foods to try here
Where to stay in Vilnius
I stayed with Tinggly on my visit to their Blogger House which was epic, but unfortunately, it's not up for rent!
But, I did check out some of the local hotels in the city which you can book below;
Luxury: Grand Hotel Kempinski Vilnius
Mid Range: Amberton Hotel Cathedral Square
Budget: Hotel Simple Plus Come to Vilnius Hostel
Looking for more inspiration for Lithuania?
I spent a week in Vilnius with Tinggly in their Blogger House and during that time I was able to cover a lot of ground.
So, I made some detailed guides about Vilnius, Trakai, and even the Hill of Crosses to help you out;
40+ places to visit in Vilnius
Why you need to visit Vilnius in December
The world's only Devil's Museum
How to see the Hill of Crosses in Lithuania
Heads up, my trip to Vilnius was sponsored by Tinggly, who is awesome! They sell travel gift experience boxes which make great waste-free presents for those who love to travel. Although I was a guest, all photos and opinions are my own.
Like it? Pin it!