If you're heading to Istanbul and want to get the best out of this city for your Instagram, you've come to the right place.
I'm going to show you all the Instagram spots in Istanbul, a thriving city crossing two continents. I'll also tell you how to get there and the optimum time to visit to get the best photos!
Now, prepare yourself for one of the most captivating cities in Europe.
Imagine the call to prayer (Adhan) hollers from the mosques, the tourists flock to Sultanhammet Cami, the vendors open their stalls in the Grand Bazaar and the fishermen start for their catch of the day at the Bosphorous docks. Get ready to immerse yourself in Constantinople.
So, grab your camera and a photo buddy and head out of your hotel to make that Instagram feed of yours on point! Here are the most Instagrammable places in Istanbul.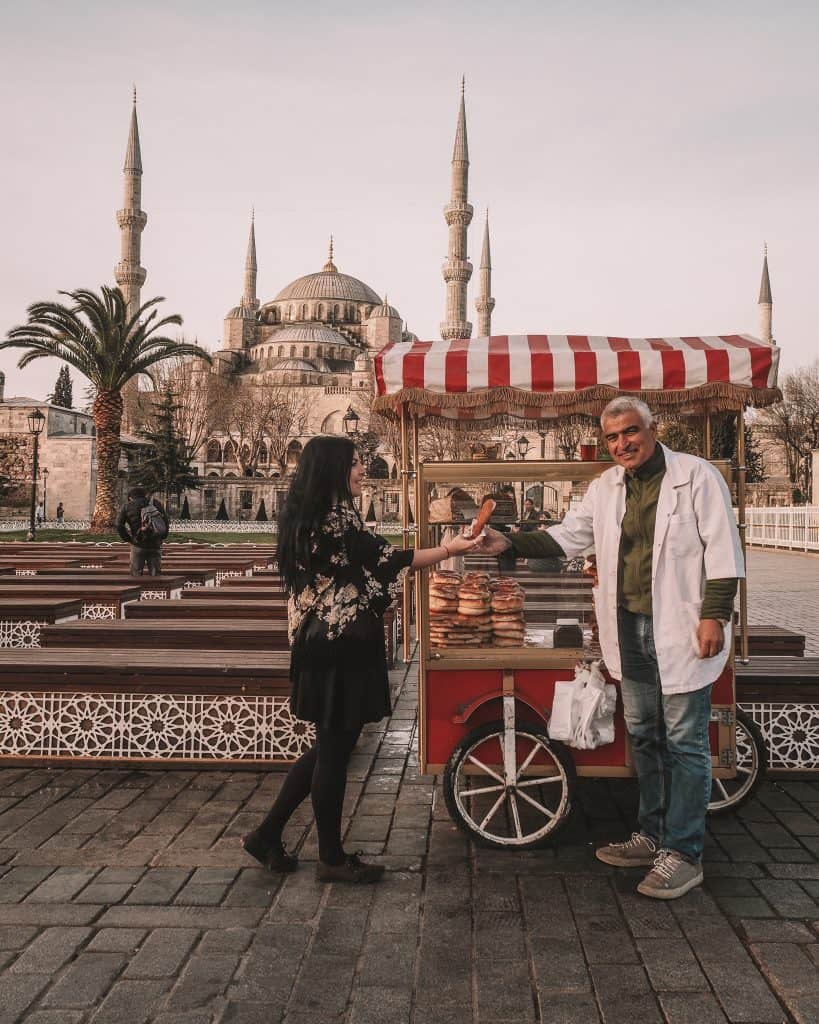 12 Instagram spots in Istanbul
1. Sultan Ahmet Cami
What is it? This is probably the place you'll start out first. Sultan Ahmet is the historic quarter and boasts most of the tourist hot spots.
You'll find the famous Blue Mosque, the historic Hagia Sofia, the Topkapi Palace, Basilica Cistern and all the rest.
Wandering around this square, you'll find many a beautiful opportunity to capture the incredible architecture. Plus, it's free!
When to go: The tourist epicentre of the city and when I mean it's swamped with tourists, I'm not kidding. Make sure you start out from your hotel early to catch this place without the crowds. I was out by 7 am and already there were photographers so you'll have to negotiate around that for your photos. But, come 8/9 am it's game over. Coach groups in their masses will be there.
How to get there: The best way is to take the Metro which links the whole city, alight at 'Sultan Ahmet' station, you really can't miss it! You'll see the spires of the mosques before you even reach there. I would suggest investing in an Istanbulkart to get you around which is valid on all public transport in the city and works on a top-up system.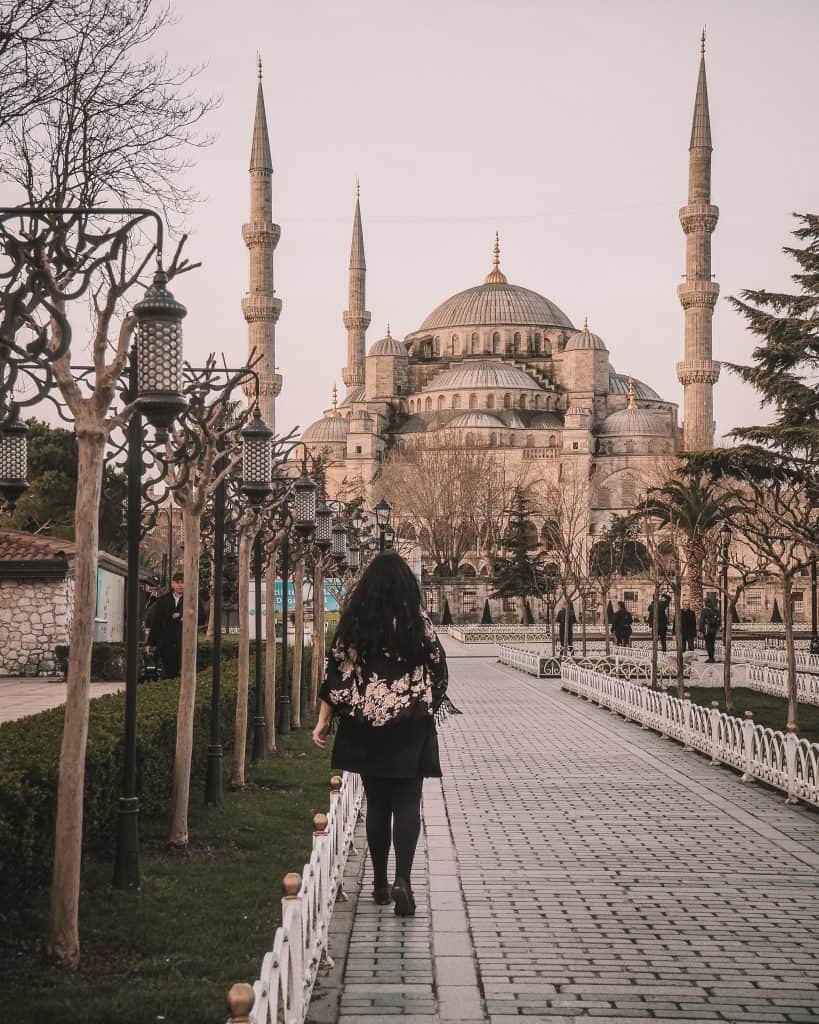 2. The Blue Mosque
What is it? Sultan Ahmed Mosque or the Blue Mosque (due to its blue tile interiors) is not only a tourist site but an active mosque too.
The dramatic architecture and spires will make your jaw drop and is one of the most Instagrammable places in Istanbul!
To enter, ladies will need to cover up. If you're not suitably dressed, you'll be given a rather unattractive skirt to wear.
When to go: There aren't any opening/closing times as this is an active place of worship but it does close 5 times in a day for local prayer.
Personally, I would get there early for photos of the complex without tourists and make this first on your list. My photos were taken around 7.30 am. I've been inside before but on my second visit, the mosque was closed due to construction. Always check on their official website for opening days.
How to get there: The Blue Mosque is located in Sultanhammet Cami directly opposite the Hagia Sofia. Alight at 'Sultanhammet' metro stop.
3. Hagia Sofia
What is it? Hagia Sofia is a UNESCO world heritage site. Due to Istanbul's complex colonial and religious history; you'll find both Christian and Islamic architecture inside. Ever since I've visited around 3 years ago, it always seems under construction. But the high colourful domes, gorgeous tiles and murals and dreamy lighting distract from that.
When to go: Again, as early as you possibly can but I don't think it will make much difference. It's a popular tourist site and groups enter in their droves. You'll need to be incredibly patient for your photo, wait for a lull between tourist groups for best results. No tripods are allowed inside, they will be looked after by security and you can collect them at the exit.
How to get there: Hagia Sofia is located within Sultanhammet, alight at the 'Sultanhammet' metro stop and it will be the peachy, rose-coloured mosque within the square.
4. Topkapi Palace
What is it? Topkapi Palace for centuries was the home to Sultan kings, a centre of art and education and a political centre of the Empire.
Nowadays, it's one of the best Instagram spots in Istanbul which is wall to wall Instagram gold.
Top tip: Don't cheap out on the Harem tickets as this is the most photogenic part of the museum. No tripods are allowed inside the complex.
When to go: For opening time at 9 am. Try and get in there and into the Harem as early as possible.
But, again, you'll be joined by swarms of tourists. There's no control on how many tour groups they allow inside so be prepared to battle through people, especially on weekends.
How to get here: Topkapi palace is behind the Hagia Sofia in Sultanhammet. Alight at 'Sultanhammet' metro stop.
5. Grand Bazaar
What is it? It's Istanbul's oldest and largest market hall. The Grand Bazaar is a huge complex where you can find pretty much any souvenir you were looking for.
Meander through treasure troves of lanterns, evil eyes, pottery, carpets, shisha pipes, tea sets – you name it, it's here to buy. Make sure you haggle, as a popular tourist site you may get ripped off!
Stop for a traditional tea or coffee at the cafés located within its walls.
When to go: Personally, you can visit this at any time of day. The people inside really add to the photos to create the 'business' of the market.
But, if you're eager then you can get here from 8 am on weekdays and 8.30 am on weekends. Closed on Sundays.
How to get there: It's a 15-minute walk from the main square of Sultanhammet. You can alight at Beyazid metro station if you're heading here via Tram.
6. The Rainbow Stairs
What is it? A set of colourful stairs is hidden away on the side of the many busy roads of Istanbul.
The original ones (pictured beneath this) was set up by a retired forestry engineer Huseyin Cetinel to brighten up the neighbourhood.
Those have since been shut down by the authorities. But, the new ones carry on the legacy. It's now a beautiful Instagram spot in Istanbul!
Read my full guide here with the shocking story of these stairs!
When to go: Any time of day! You may have to wait for others but it took no time at all.
How to get there: There's actually a google pin for this place if you can believe it.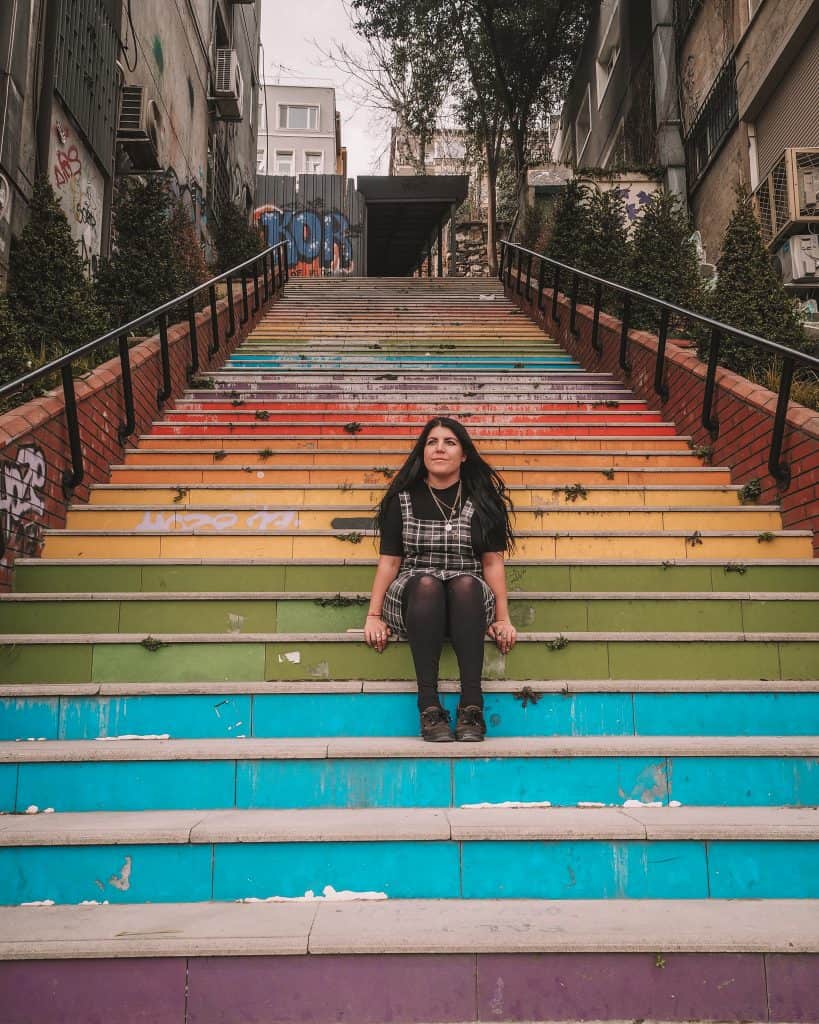 7. Ortakoy Mosque
What is it? Located near the second bridge near the swanky 5* hotel area of town. Ortakoy is a beautiful neighbourhood that used to be a small village.
Nowadays, it's a popular area full of art galleries, nightlife, bars, restaurants and this beautiful mosque on the river (pictured above).
When to go: Early in the morning to catch the best lighting. If you leave it til the afternoon, you'll find too many boats pull into the harbour.
How to get there: Depending on where you are it may be easier to find. If you're based in this area of town full of 5* hotels then it's an easy bus, taxi, or walk to the second bridge.
If you're located near the centre and you're getting the ferry from Eminonu, you'll need to catch two ferries to Ortakoy. One to Besiktas then another to Ortakoy.
This is where your Istanbulkart will be worth every penny. Leave enough time as the ferries aren't connected and so you may be waiting a good 20 minutes between ferries.
It took me around 1 hour 30 to reach each way. Then another 20 minutes to walk to the mosque. If you've got the budget, I would recommend a taxi the whole way ;) .
8. Taksim
What is it? It's Istanbul's most popular square and centre point to the busy shopping street of Iskatal. Here you can find little arcades like the above, souvenir shops, bars, clubs, restaurants and the all famous kebap outlets! (below)
When to go: Any time of day this street will be busy. As the party district, it's open 24 hours a day. It's not recommended for women travelling by themselves to be out in the late evening here.
How to get there: From 'Sultanhammet' metro stop, you can take the train to Kabatas. From here, you can walk up or get the funicular up to 'Taksim'.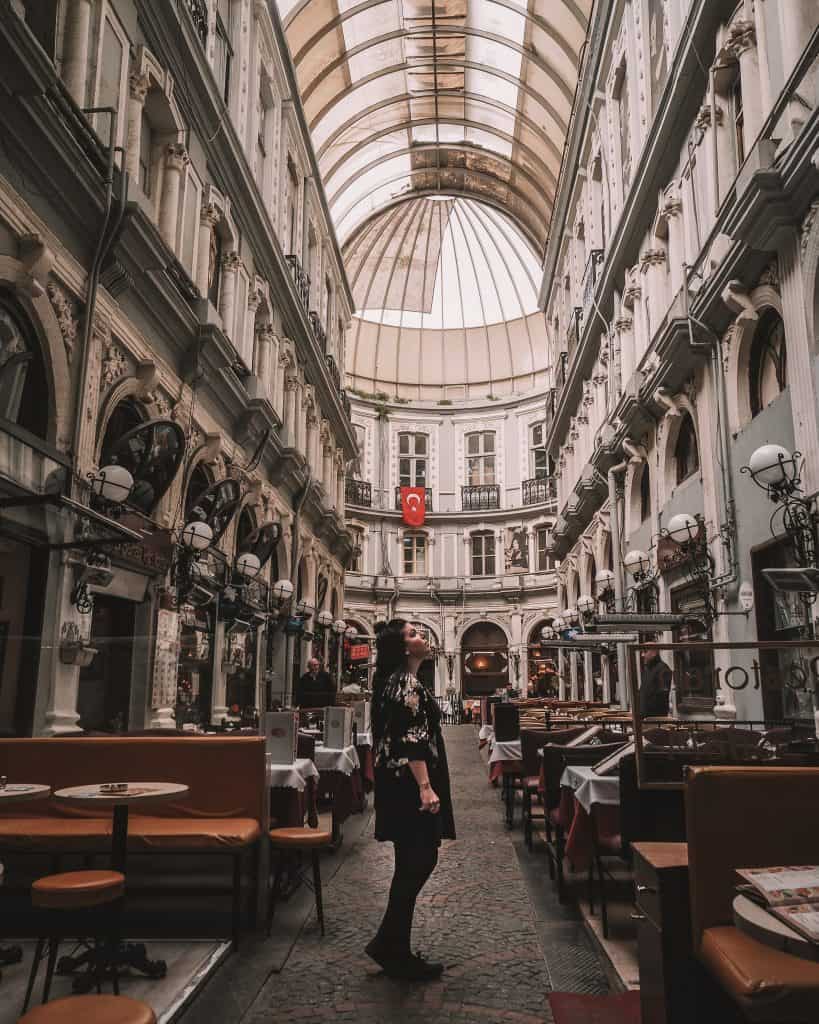 9. Eminonu Pier
What is it? Istanbul's thriving district near the Bosphorous. Here, you can find the entrance to the Egyptian spice market and the fishing boats on the river. Join the locals in eating a fish sandwich locally called Belik Ekmek.
The fish is straight from the river to sandwich and so it's totally fresh and scrummy!
When to go: Lunchtime or dinner time for a tasty snack! It's one of the busiest places I've ever visited in Istanbul as there are so many locals wanting their sandwiches. But, it added to the photos.
How to get there: Alight at 'Eminonu' metro stop or walk down towards the Bosphorous from Galata tower.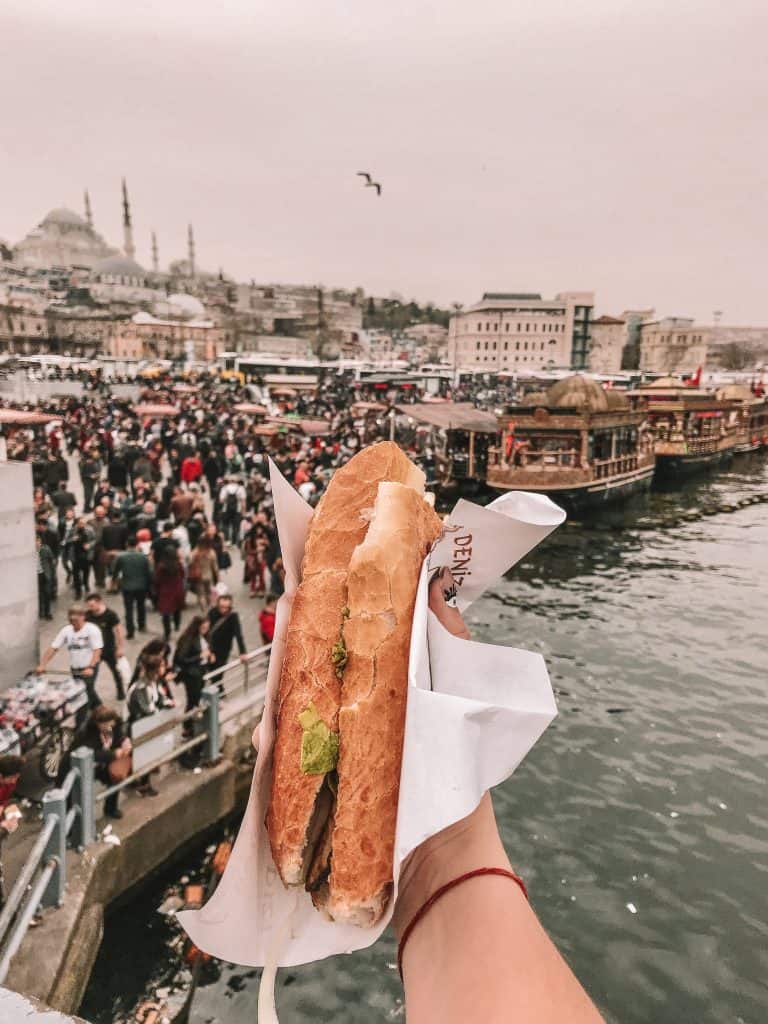 10. The Seven Hills Hotel
What is it? A beautiful mid-range hotel that I stayed in on my visit here with one of the most beautiful rooftops.
From this place, you can get a view of the Blue Mosque, Hagia Sophia and the Bosphorus. It's one of the secret Instagram spots in Istanbul! You don't need to stay to enjoy the views, you can pop in for dinner at their award-winning restaurant.
When to go: The best time to visit is at lunch time or sunset for photographs. But, if you're keen on getting some night photos the view from here will be perfect.
How to get there: The Seven Hills Hotel is located within Sultanhammet Cami. Alight at Sultanhammet and it's located behind the Hagia Sophia. Click here to book.
11. Hafiz Mustafa
What is it? One of my favourite cafés in Istanbul and a popular establishment amongst tourists and locals alike. Stop in here for the best Baklava in Istanbul and one of their super yummy insta-worthy Mocha's (below).
When to go: Any time of the day. They are open for coffee, food, and yummy desserts (drool).
How to get there: This particular café pictured is in Taksim square but there are cafés dotted all around the city. If you didn't fancy sitting down but wanted to try their Turkish delight or Baklava visit their outlet on Iskatal street. They will give you oodles of free samples too.
12. Buyuk Valide Han Rooftop
What is it? A secret rooftop location that a lot of instagrammers like to keep unwraps but I'm going to share the secret with you here.
It's called Buyuk Valide Han rooftop and it's got one of the best, unique and one of the most Instagrammable places in Istanbul!
When to go: Peak season seems to be the best time and definitely get there around sunset.
You will need to pay the guy running it a 1TL but it seems a fair price for the photos. When I visited in March it was closed for the season, but a nearby café had a pretty view to enjoy too.
How to get here: It's actually not a popular tourist spot and is located in an abandoned building. But, don't worry it's totally safe.
Now all that's left is to edit and post!
So that's my top 12 gorgeous Instagram spots in Istanbul. As well as getting your photos, I know you're simply going to fall in love with Istanbul as much as I did.
Getting these photos on your feed is guaranteed to be popular (I had so many compliments on my series here). So, get filming and knock 'em dead!
If you did happen to find this post useful and/or used it to take any of your Instagram photos. Tag me so I can see, would love to see your feed. My Instagram is here; hit me up, follow for following and all that jazz!
Like it? Pin it!