If you look up the most Instagrammable places in Barcelona, you'll soon find that there is a huge list of photography spots.
From Gaudi sites such as Parc Guell and Casa Batlló, to the Sagrada Familia, Gothic Quarter and the Bunkers.
Barcelona really is a city that has it all and there is something for everyone.
Amazing architecture, world-famous monuments, gorgeous parks, mountainous monasteries, an awesome food scene, and the beach.
But, if you needed some help finding the best Barcelona photography spots in the city, I have a list here with a FREE map with exact locations to help you.
Here is a complete list of the most dreamy Instagrammable places in Barcelona.
The most Instagrammable places in Barcelona
1. Park Güell
If there is one place that you have to make a priority in Barcelona, it's Park Güell.
It's a public park that was created by Gaudi for a business tycoon called Eusebi Güell and opened in 1914.
On your visit, you can see the famous Serpentine benches, Laundry Room Portico, Austria Gardens, and Hypostyle Room. Don't forget a cheesy selfie with El Drac.
All are very Instagrammable places in Barcelona as well as the countless views over the city as you're so high up.
Now, fair warning, this place is the definition of a hot mess when it comes to crowds. It will be packed throughout the day. Especially around the Pavilion.
You used to be able to visit this park around sunrise for free. But, the rules have now changed so that only local residents are allowed inside before ticketing hours.
I would try to book the earliest time slot available. It will still be busy but less crowded than in the afternoons.
2. Hotel Sercotel Rosellon Rooftop
The best view of the Sagrada Familia has to be from the Sercotel Rosellon rooftop.
It's a hotel that has a sky bar rooftop terrace and you can order cocktails and tapas with a jaw-dropping view.
As the Sagrada is still being built, you can watch the construction taking place during the day. It's like watching history unfold.
Of course, most people want to visit to get photos here. If you're not a resident you will need to book a table at least 7 days in advance so make sure to set a reminder!
I actually stayed here on my visit to Barcelona and my room had a view of the Sagrada Familia. I also had access to this rooftop throughout my stay. You can read my detailed review here.
It's the best way to get those dreamy photos of sunrise/sunset without having to reserve a table.
Click here to book your stay at Sercotel Rosellon
3. Casa Batlló
Another one of the famous Gaudi sites in Barcelona has to be Casa Batlló that has a gorgeous facade.
It's one of his masterpieces and the architecture is based on the Catalan legend of St George slaying the dragon.
So, beyond it being a colourful house, it's also known as the House of Bones. How cool is that?
The best place to take photos of the outside of Casa Batlló would be across the street opposite. There are some awesome benches to stand on to get photos near the bus stops.
But, I would recommend going inside too. There are many Instagrammable spots including the Noble Floor, Lightwell, the indoor Garden and the Roof Terrace.
As one of the most popular attractions in Barcelona and a UNESCO site, you can expect this place to be spectacularly busy.
But, Casa Batlló has a 'Be The First' ticket option you can select. It's expensive but you'll be one of the first visitors of the day and you can get dreamy photos sans (most) tourists.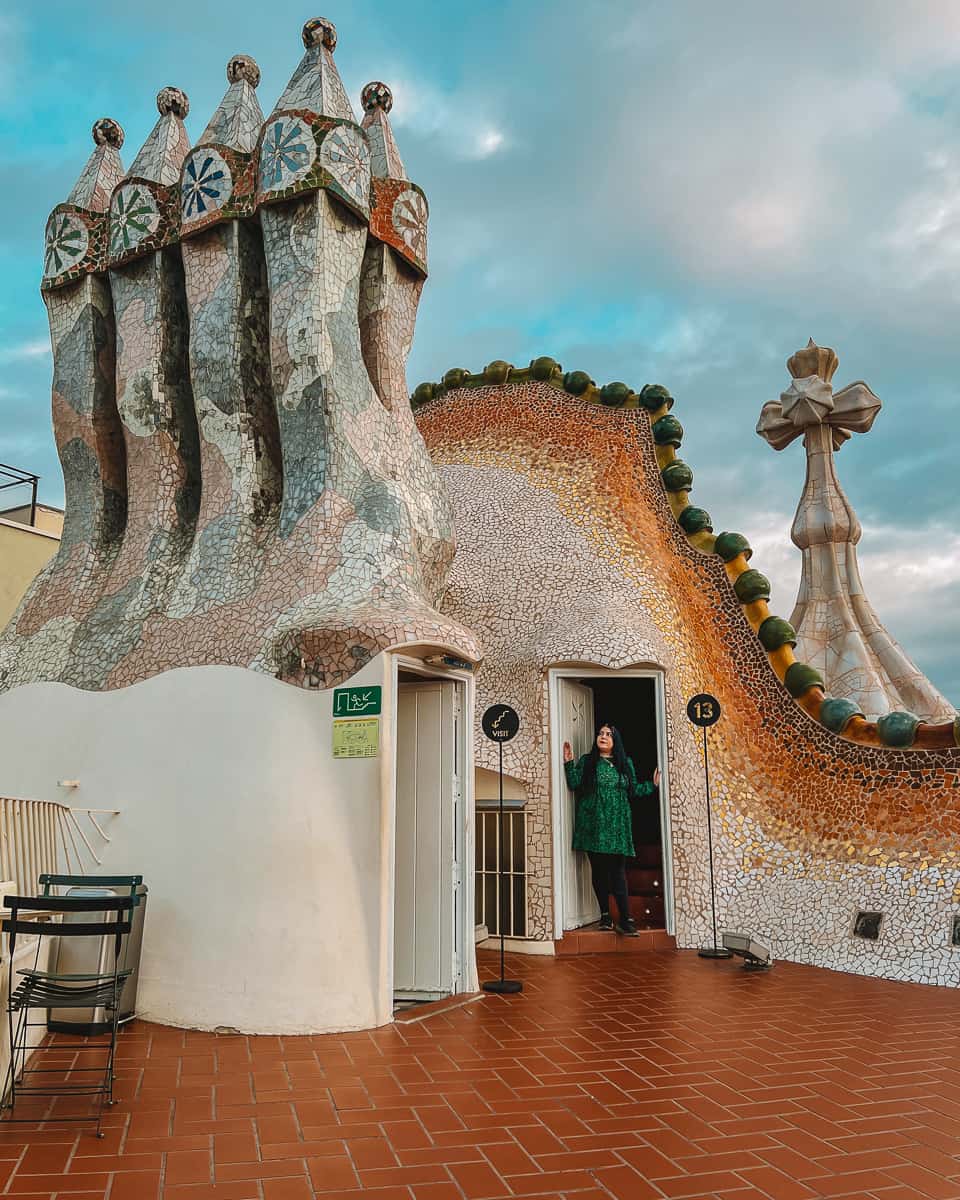 4. Bunkers del Carmel
One of the best free viewpoints in Barcelona has to be Bunkers del Carmel.
You'll feel like you're flying with a birds-eye view over the entire city and you can see iconic buildings like the Sagrada Familia from up here.
The name comes from the fact that these used to be anti-aircraft bunkers during the Spanish Civil War, they then became a shelter and it's now a museum/viewpoint.
It does get very busy at sunset so make sure to head here early to secure your space.
If you need some help finding it, make sure to read my guide on how to visit Barcelona Bunkers
5. Casa Mila / La Padrera
When he was alive, Casa Mila was one of Gaudi's most despised projects in the city and the Catalonian bourgeoisie made it a bit of a laughingstock.
They nicknamed it La Padrera, or the quarry, due to its undulating facade and 'ugly' stone appearance.
But, over time, people have grown to love this building and it's having a bit of a renaissance. It's a residential complex but also a popular museum you can visit in the city.
You can learn about Gaudi's thought process behind the design and see what life was like being a resident here at the turn of the 20th century.
One of the most Instagrammable places in Barcelona has to be the Casa Mila Warrior Rooftop. It has a stunning panorama and these 'warriors' were actually a clever way to disguise the chimney's.
If you wanted to avoid the crowds for photos, make sure to book their sunrise tour. This is what I did and it was worth every penny.
Not only is it informative, it takes place before regular ticket holders can get inside so you pretty much have the rooftop to yourself!
6. Arc de Triomf
Yes, Barcelona does have its own Arc de Triomf and it's one of the best Barcelona photography spots.
The Arc de Triomf was built by architect Josep Vilaseca i Casanovas as the main access gate for the 1888 Barcelona World Fair.
It crosses over the large promenade of Passeig de Lluís Companys and leads you into Ciutadella Park.
The best photography location of this arch is actually a little further away from it on the palm tree-lined street.
But, you'll need to be here really early to find it empty. It's a free park so it's crowded throughout the day.
I actually wasn't planning to visit here for empty photos but it was the meeting point for my Montserrat Monastery tour early morning and when I saw it empty I grabbed the chance.
7. Casa Vicens
One of Gaudi's lesser-known sites is Casa Vicens but it also happens to be one of his first residence projects.
It's a really colourful modernist building that houses many intricate rooms and exhibitions about Gaudi's early years.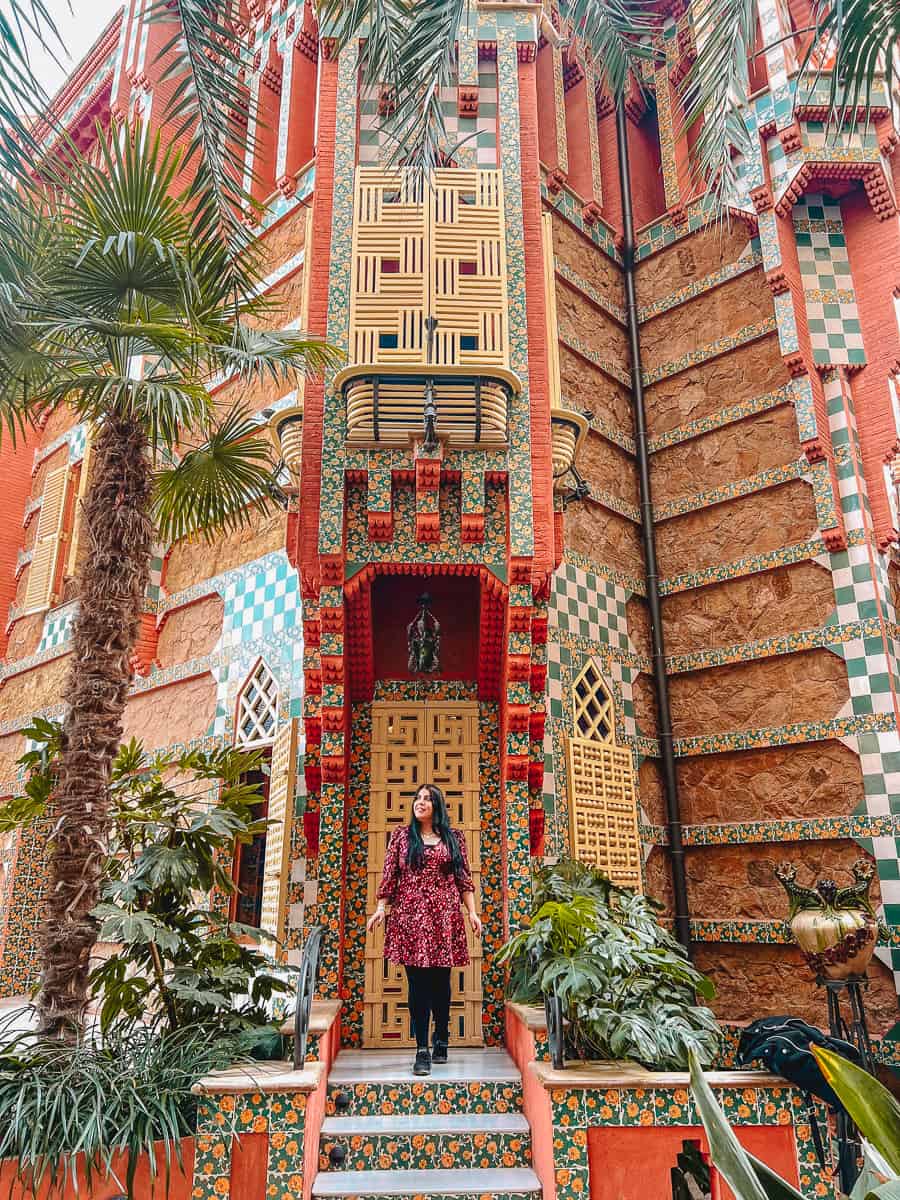 The courtyard is especially beautiful and there is a café you can visit as part of the complex. The entire place was peaceful and very photogenic.
You do have to book your tickets in advance and you can even book a photoshoot whilst you're here called 'Smile Gaudi'.
It ended up being one of my favourite museums in the city as it was quieter than the other sites.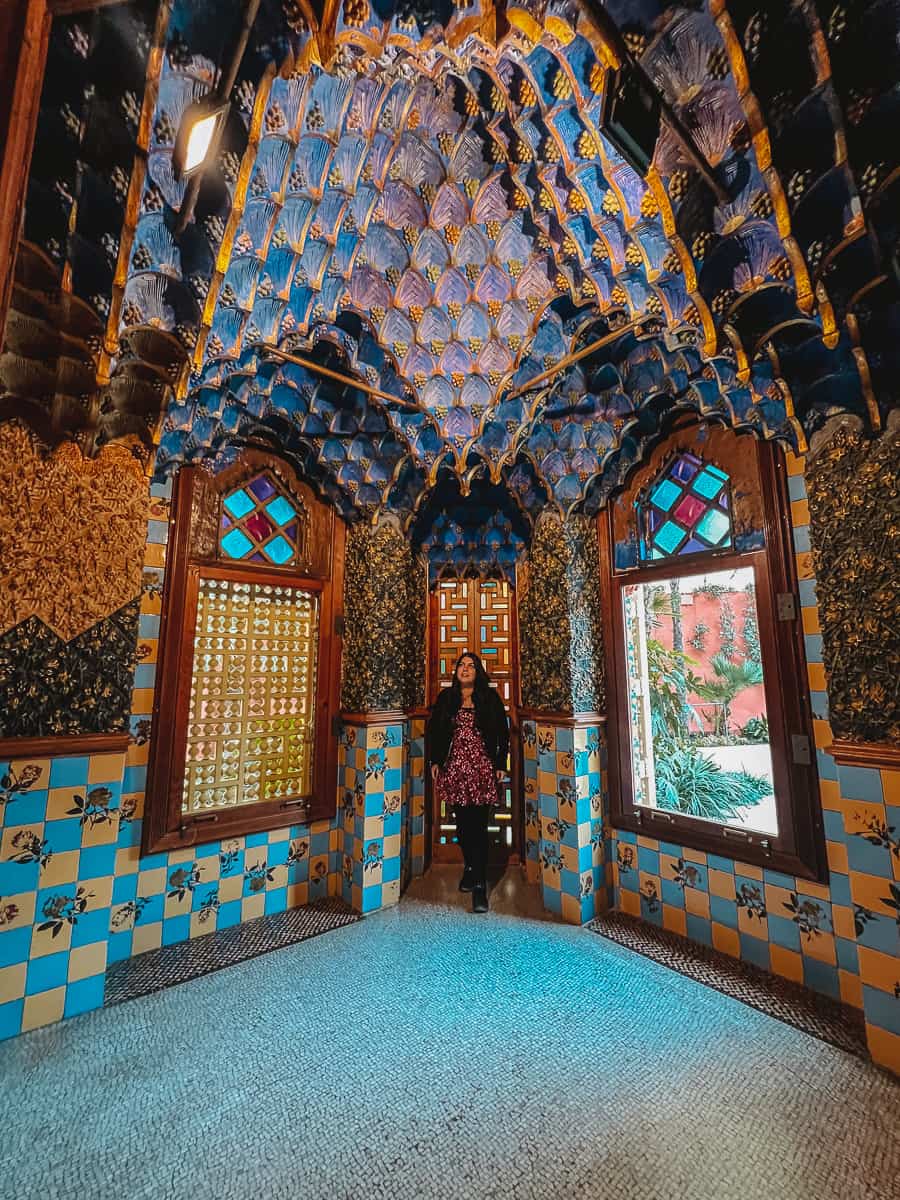 8. Pont del Bisbe
Carrer del Bisbe is one of the most Instagrammable spots in Barcelona due to the incredible Gothic bridge that spans the street.
Although it looks like something from the Middle Ages, it was actually installed in 1928 by Joan Rubió i Bellver.
He had a vision to change the entire Gothic Quarter back to its medieval roots but was denied and humiliated for it.
It's rumoured that in his anger he placed a curse under the bridge in the form of a skull and dagger.
This street can get very busy so I would make sure to visit early morning for some empty photos!
Read my complete guide for visiting Pont del Bisbe bridge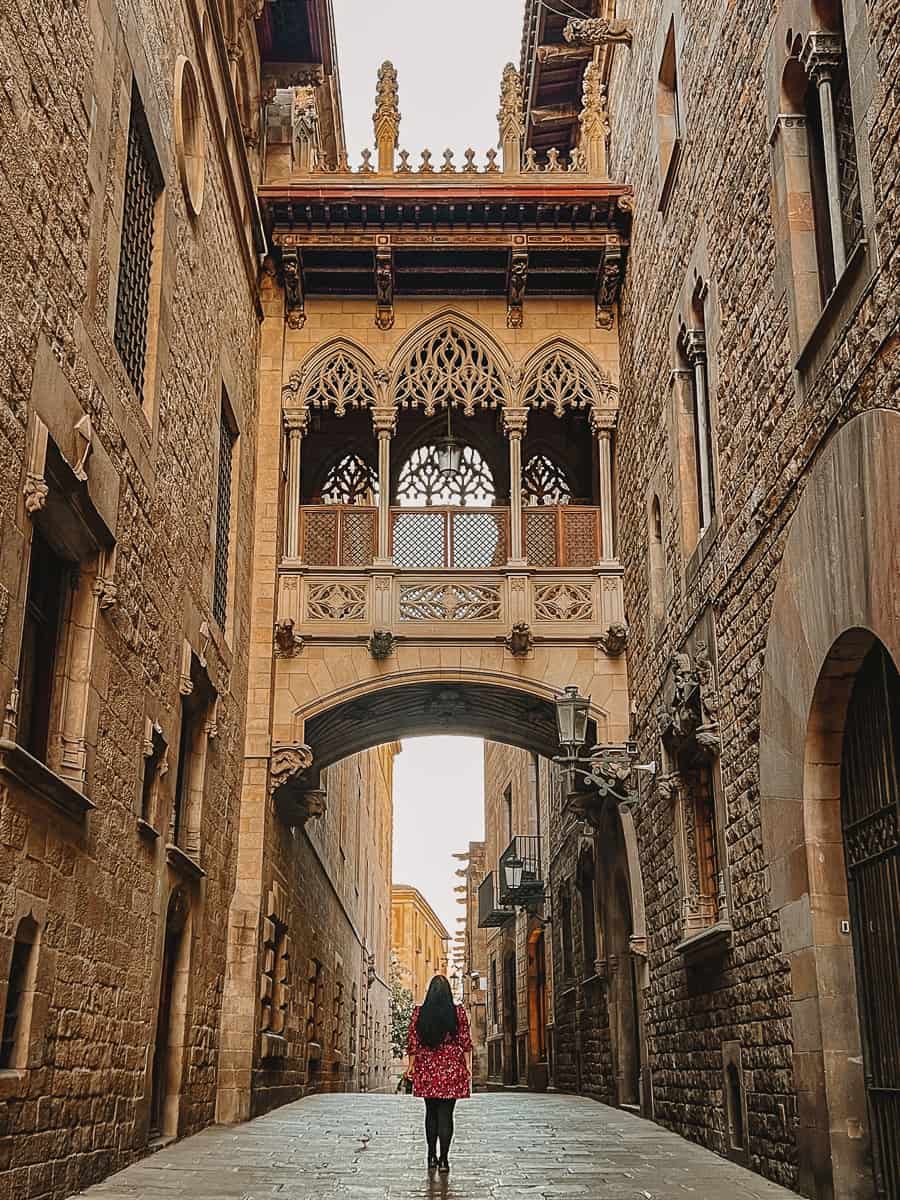 9. Palau Güell
Palau Güell is another one of Gaudi's works that he created for Eusebi Güell.
It was a Catalonian mansion built between 1886 and 1888 and is situated right beside La Rambla in the heart of the city.
At the time, the Raval District was quite run down. So, this luxurious residence was quite a surprise. Inside, you'll find a fine example of how the Catalan bourgeoisie used to live!
It's not as well known as Park Güell, Casa Batlló, or Casa Mila but it forms part of the UNESCO World Heritage site of the works of Antoni Gaudí.
You can normally go inside but it was temporarily closed on my visit for renovations.
The gates on the outside looked beautiful on the street though. The rooftop is also meant to be very pretty for photos.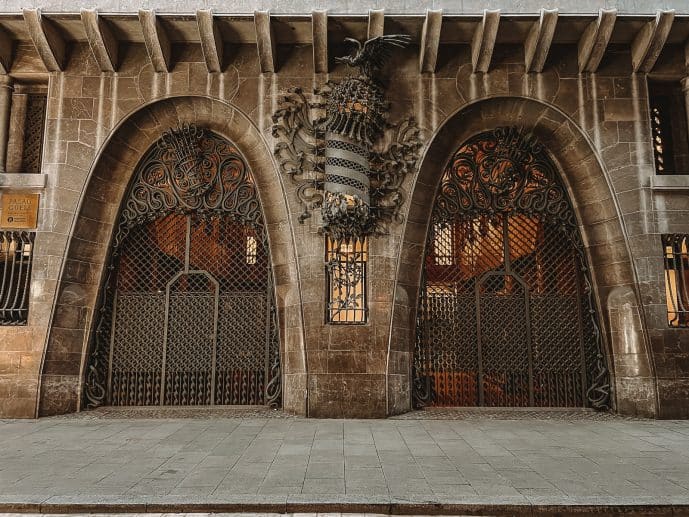 10. Palau de la Música Catalana
One of the most famous Instagram spots in Barcelona has to be Palau de la Música Catalana, the most beautiful concert venue in the world.
The theatre was constructed in the Modernist Catalan style by Lluis Domenech I Montaner in 1891 for the Orfeó Català.
It soon became a driving force of the Catalan cultural movement in its strive for identity and independence from Spain.
It's now a major symbol of Catalonian culture and a UNESCO World Heritage Site. You can visit on a self-guided tour during the day or book a show here.
The best photos spots are the stunning theatre itself from the upper floor and the Lluís Millet Balcony with its colourful tiled coloumns.
The balcony is a very busy location so I would visit during the week and book the first time slot of the day.
Click here to read my visitor guide for Palau de la Musica Catalana
11. Sant Pau Recinte Modernista
Another overlooked architectural gem in Barcelona has to be Sant Pau Recinte Modernista.
It's an old hospital that was built in the Catalan Art Nouveau style but it looks like a place from a fairytale.
The buildings that make up the outer courtyard are majestic and there are lots of photo opportunities inside the museum too.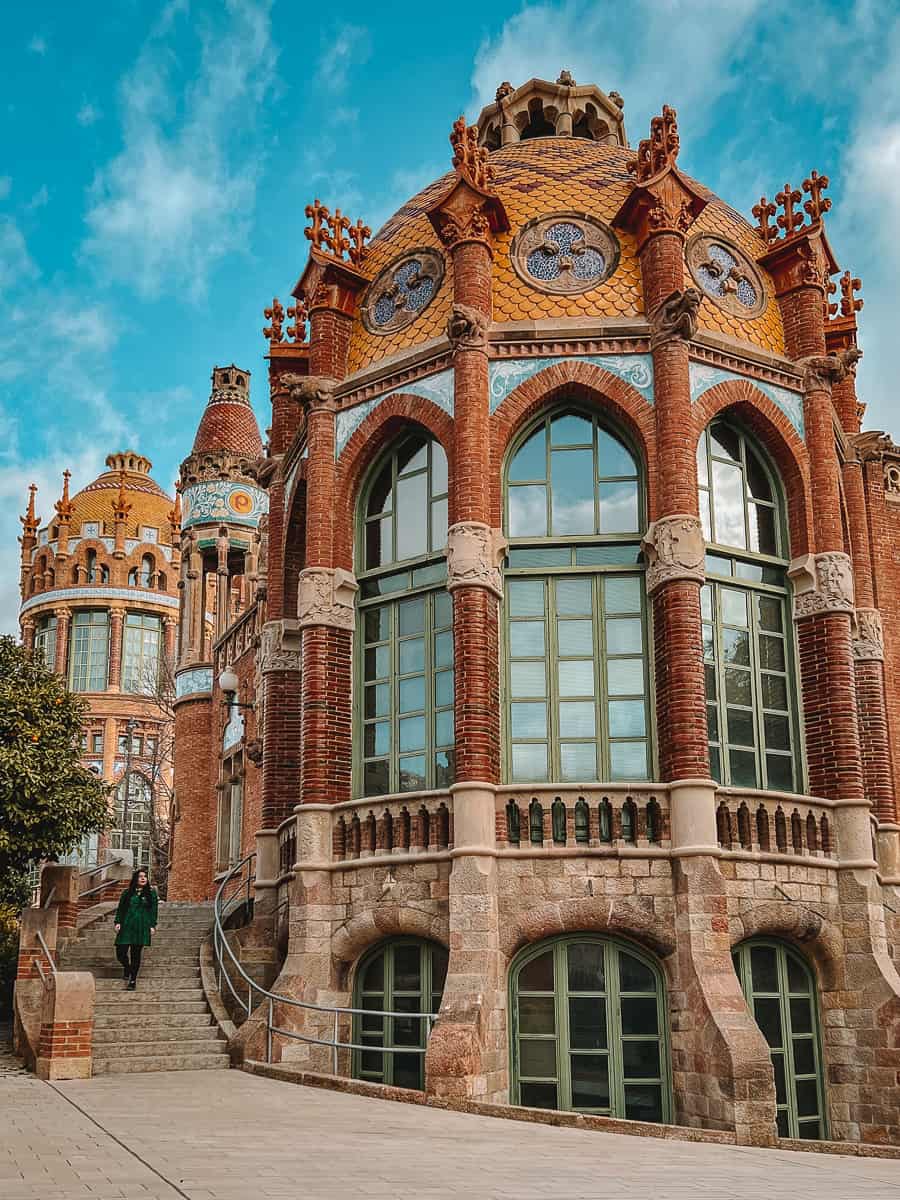 The highlights have to be the spectacular pink entry hall and their glass corridors lined with Catalan motifs. You can even see a view of the Sagrada Familia through stained glass!
You do have to buy tickets to visit and you can do so in advance online. You can even buy a combo ticket with the Palau de la Música.
It doesn't tend to sell out like the other UNESCO sites but I would still prebook to avoid disappointment and book an early slot.
Click here to read my guide for Sant Pau Recinte Modernista
12. Barcelona Cathedral
The heart of the Gothic Quarter has to be the historic Barcelona Cathedral which has a history going back to the 5th century.
You can get a great view of the cathedral from the street and I would get here early to get an empty photo.
If you wanted to get a good view of the cathedral from above, you can visit the Hotel Colón rooftop bar.
You can sip a cocktail and enjoy tapas whilst overlooking the structure. Best paired with sunset.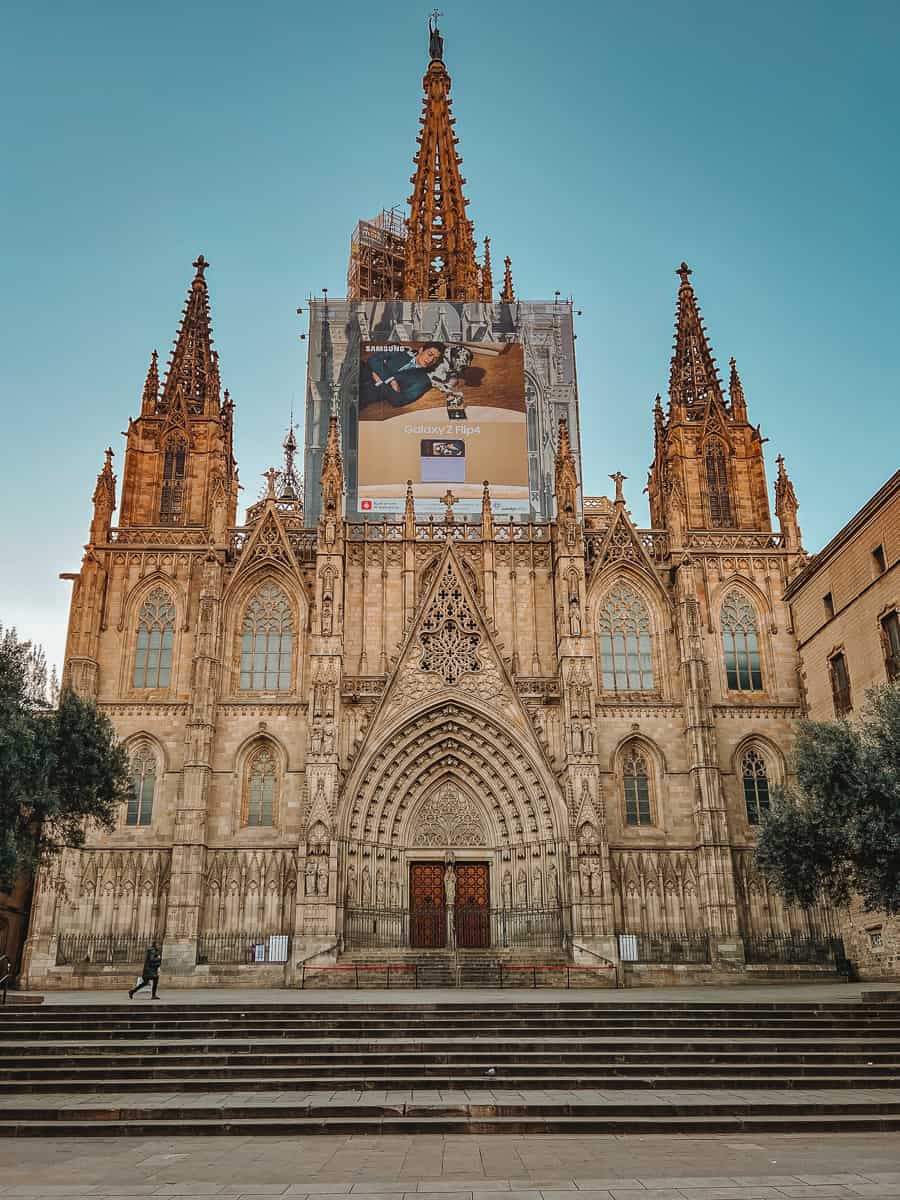 13. Barcelona Cathedral Rooftop
You do have to pay for tickets to go inside Barcelona Cathedral self-guided. Access includes their informative museum, the cathedral interiors and their rooftop.
You can take the lift to their Sky Terrace and get some incredible photos from the very top overlooking the cathedral bell tower.
It's one of the most Instagrammable places in Barcelona and there is a tip to avoid the crowds in the afternoon.
During the day, the cathedral takes a siesta around lunchtime and closes off to visitors.
So, you can wait outside the doors to re-open. Make sure to be the first in and up the lift and then visit the rooftop without the crowds.
14. Cascada Monumental
One of my favourite Barcelona photography spots has to be Cascada Monumental in Cuitadella Park.
It's a spectacular fountain that was based on the Trevi Fountain in Rome and is decorated with lots of Gods, Goddesses and mythological creatures.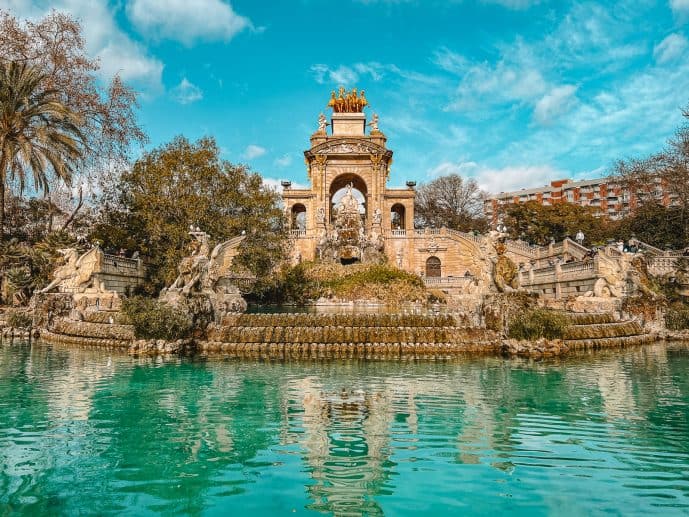 It's also known as the Gaudi Fountain as he helped to design the hydraulics for the waterfalls.
This fountain is completely free to visit and is open from 10 am – 10.30 pm at night. You can take amazing photos from the reflection pool or from the structure itself.
It is a public park and popular with locals and tourists. So, I would visit early to avoid the crowds.
Click here to read my guide for visiting Cascada Monumental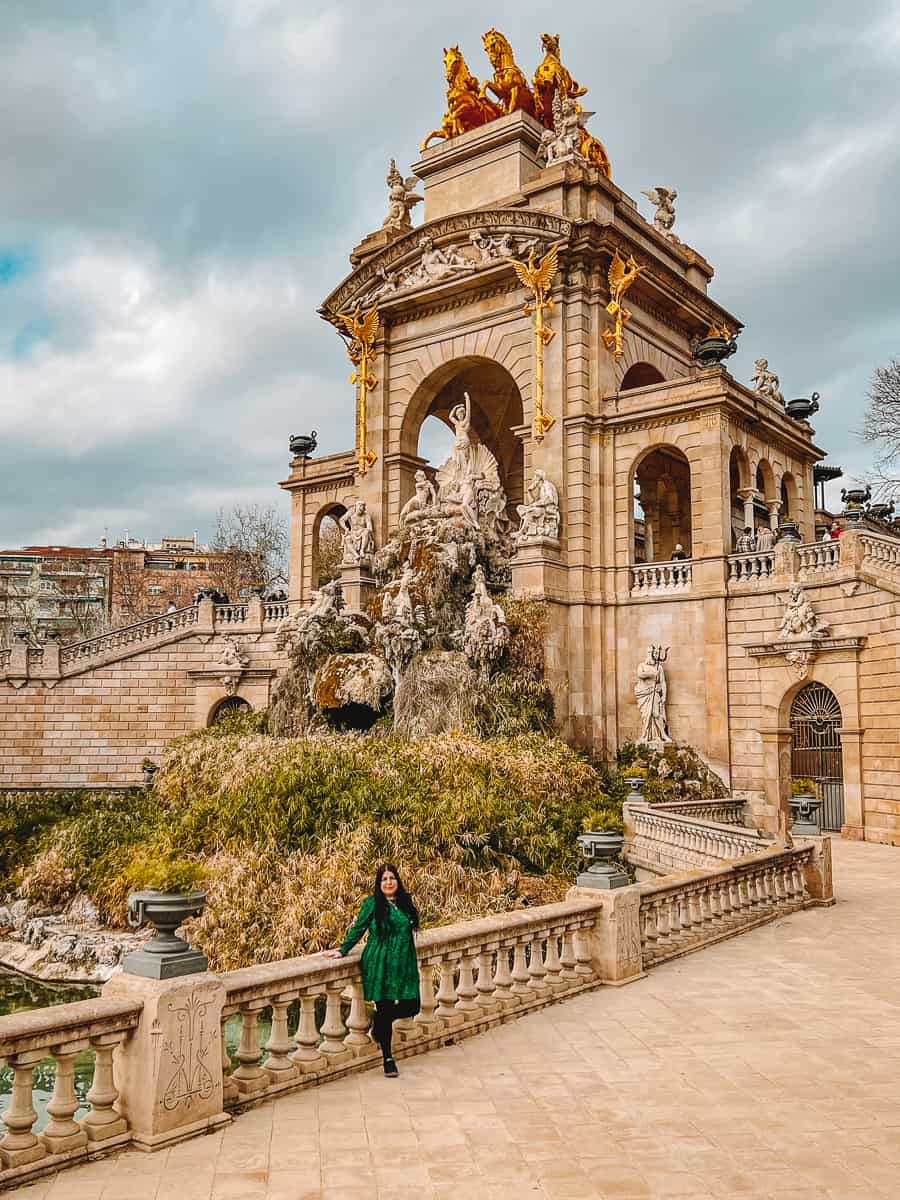 15. The World Begins with Every Kiss
The World Begins with Every Kiss is a romantic mural in Barcelona that can be found in the Gothic Quarter.
On the surface, it looks like a photo of a passionate smooch but as you get closer you'll notice it's a mural made up of over 4000 tiny photos.
The photo were all sent in by local residents and it came about on the 300th anniversary of the Siege of Barcelona during the War of Spanish Succession.
It makes an awesome photo opportunity in the city so make sure to blow a kiss!
Click here to read my visitor guide for the Kiss Wall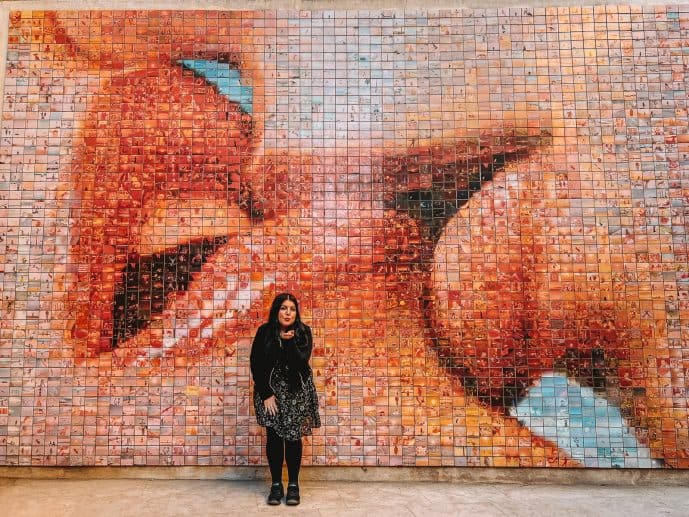 16. W Barcelona
W Barcelona is another famous hotel that can be found on Barceloneta Beach.
It's a glass building and prominent feature on the city skyline that overlooks the Belearic Sea.
As the building is made entirely of reflective glass, it mirrors the sky and so it's constantly changing faces. At sunset, it reflects a dreamy pink, orange, red ombre.
They do have a restaurant and bar you can visit but I heard it's quite snooty and there's a strict dress code.
I was happy to simply take a photo with the hotel on the seafront! It does look cool in the day but sunrise/sunset would have been better.
Better yet, why not stay there? Click here to reserve a room at W Barcelona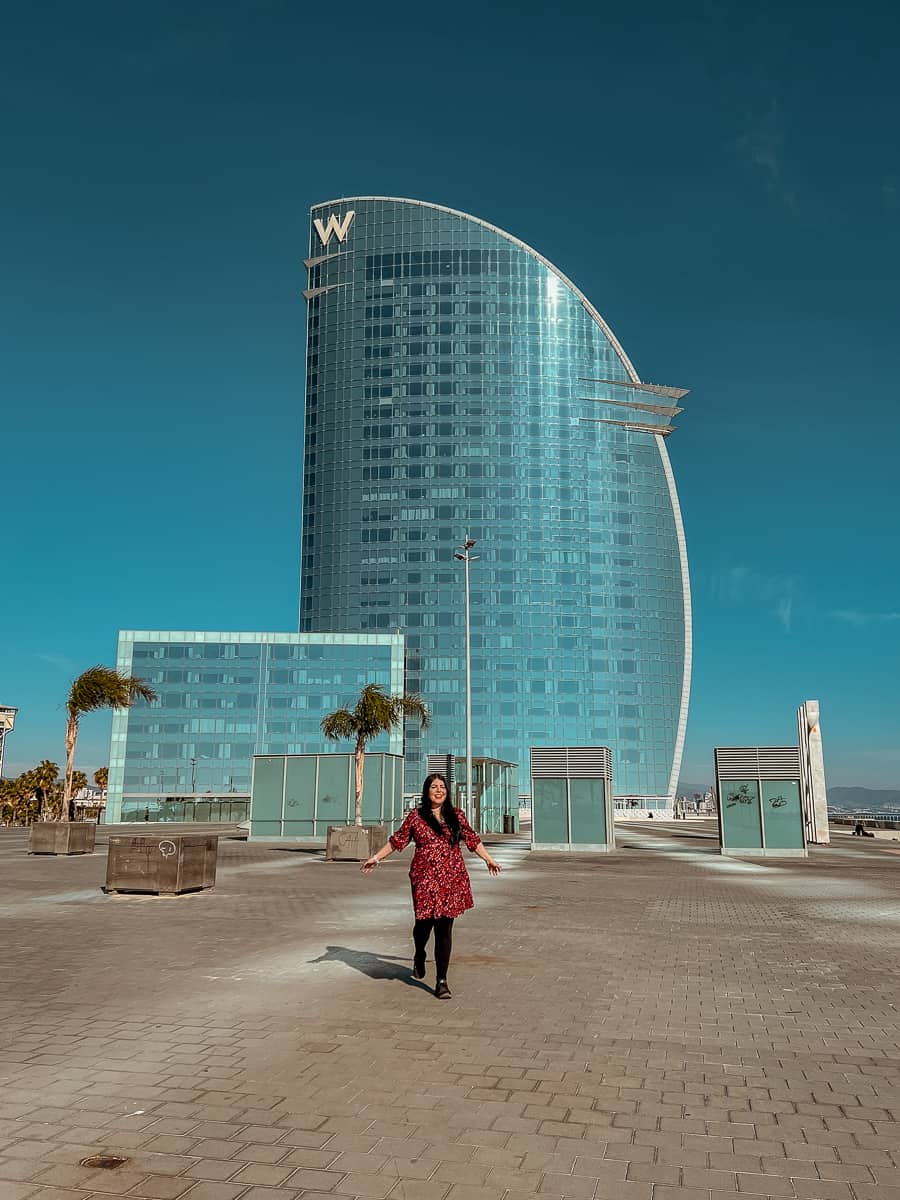 17. La Barceloneta Beach
The W Hotel is a popular landmark that overlooks La Barceloneta which is an artificial beach in the city.
It has a long esplanade that you can walk down that is lined with tropical palm trees and overlooks the Belearic Sea.
Lots of locals use this spot for walking, running, rollerblading and to hang out. So, it has a nice vibe.
It's lovely for photos as well, especially at sunset. Just remember to secure belongings as it's a hive for pickpockets.
18. Casa Padua
Carrer de Padua is a street that can be found near to Casa Vicens and it's filled with beautiful residences.
The most popular is number 75 aka Casa Padua that has a stunning green and red facade.
With all the flowers, grapes and vines you could imagine this being in Italy or a setting for Romeo and Juliet.
Although most of the early history of this house is a mystery. What we do know is that it used to be a perfume factory until the 1970s.
It was later abandoned and left to ruin and was eventually beautifully restored by Alonso Balaguer.
It's a bit of a hidden secret, even to locals, so it won't be busy. But, the street is very narrow. Make sure to use a wide angle lens to capture all of it.
19. Inside Sagrada Familia
If there is one attraction you must visit in Barcelona it's the spectacular Sagrada Familia.
The Sagrada is an intricate temple that was designed by Gaudi and started construction over a century ago in 1882.
It is still a work in progress today and is due to finish in this decade (hopefully). But, you can still go inside and explore what's finished.
Although the outside of the building is a masterpiece, the interiors will take your breath away.
The temple is lined with colourful stained glass windows that beautifully reflect the rays of sunlight on the stonework.
As well as the temple itself, you can visit their museum and see the Gaudi School. At an extra cost you can pay to climb up one of the towers for panoramic views.
It's easily one of the most Instagrammable Places in Barcelona. Book tickets well in advance to avoid disappointment.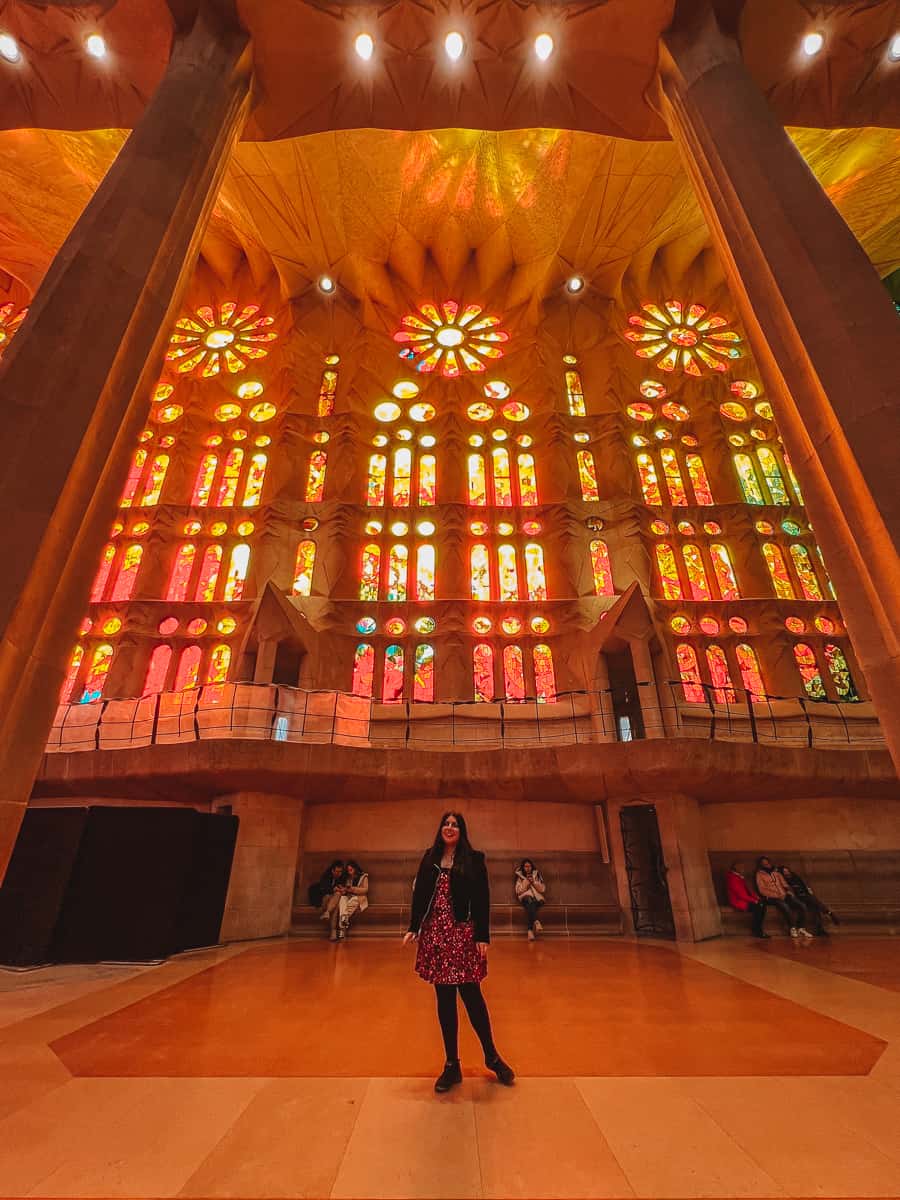 20. Plaça de Gaudi
Now, although I love the Sagrada Familia it is one of the busiest attractions in the entire city.
You'll see that the building is constantly crowded outside and inside throughout the day.
However, if you wanted to get a nice photo without the crowds you should head to a park opposite the monument called Plaça de Gaudi.
It has a pond that reflects the Sagrada in the water and there's lots of places to capture the temple without paying a single euro cent!
I would still get here early for photographs as this place does get crowded. In the afternoons, you'll be queueing up in a long line to get your photos.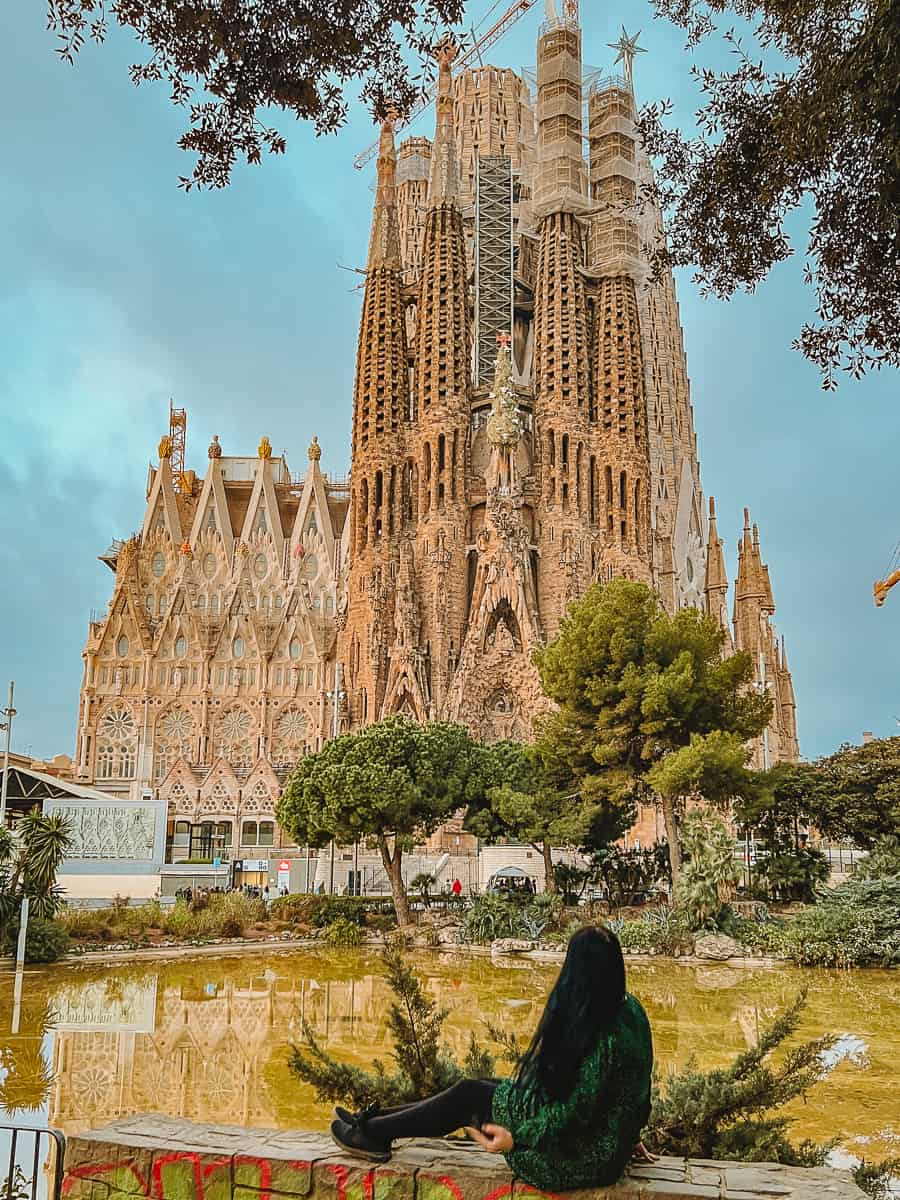 21. Montjuic
The Montjiuc area of Barcelona is a great area to visit as it has sweeping panoramic views over the city.
The name means "Jewish Mountain" and there are lots of attraction to visit on this hill.
The main event is the historic Museu Nacional d'Art de Catalunya which is a majestic building that has a series of cascades in front of it.
Montjuic Castle in the park is also a historic attraction worth visiting. It was a defence fortress built in 1640.
You can take the Montjuic Cable Car to the top from Barcelona Port or the Metro station is below and there are escalators you can take to the top.
I really wanted to visit for the Montjuic Magic Fountain show in the evening but they have temporarily cancelled the shows to save water due to drought.
22. Jardin de Cactus / Barcelona Cactus Garden
In the foothills of Montjuic you will find Jardins de Cactus which overlooks the city port.
The Bacelona Cactus Garden is one of Europe's largest gardens and specialises in desert and tropical plants like Cacti and Palm Trees.
It's completely free to visit and can be found on a 10 minute walk from La Ramblas and the Columbus Monument.
You can explore over 6 hectares of natural beauty and the displays make a fabulous photography location too.
23. Fairy Bar
Okay, so this is one of those quirkier photography spots in Barcelona but it is still really pretty.
Imagine the Rainforest Café but instead of jungle and animals it's a forest filled with fairies and magical folk. It's so fun.
You can stop here for a coffee, lunch or some drinks in the evening and it's an enchanting vibe.
It's a bit of a hidden gem that can be found off Las Ramblas near to the Wax Museum. You must visit.
Click here to read my Fairy Bar in Barcelona review
24. Sagrat Cor / Mount Tibidabo
Sagrat Cor or the Temple of the Sacred Heart of Jesus is a church that sits high on Mount Tibidabo.
It's a beautiful Gothic temple that is 512 metres above sea level and overlooks the Tibidabo Amusement Park.
You can choose to explore the church for free or pay to visit the theme park with rides like a ferris wheel that overlooks the city.
You do need to get a mix of the Tibidabo Tram and a funicular to reach the very top. Or, you can get the bus/walk there.
25. El Born
Although Barcelona's Gothic Quarter is crowded, the El Born neighbourhood is often overlooked.
It's an area that Pablo Picasso used to frequent when his family moved to Barcelona in 1895.
Here you can find the Picasso Museum, Basilica of Santa Maria del Mar, Museu Moco and many other sleepy streets and courtyards.
It makes a great area to escape the crowds and the quaint streets in this neighbourhood make lovely photo opportunities.
26. Carrer de l'Allada Vermel
There are many Instagrammable streets in Barcelona and one of the top places for photography is l'Allada Vermel.
In particular, it's a residential building that looks adorable with a series of plant pots and foliage growing outside of it.
It's not the most mind-blowing location in the city but it is still pretty for a quick photo stop in El Born.
Always remember that this is someone's house so visit with respect. Don't pry, make lots of noise or touch anything on their porch (I obviously wasn't knocking haha).
27. Placa Milans
Now, once you reach Placa Milans you're probably wandering 'why is this one of the best photo locations in Barcelona?'.
Well, you will need to look up! The buildings here form a near perfect circle and people like to capture planes flying across the sky here.
For the very best photo you will need to lie on the floor but you wouldn't catch me doing that on these dirty streets.
Although this photography location is cool, I wouldn't be crestfallen if you happen to miss it.
I'm pretty sure most of the photos of this place have been warped/photoshopped. Instagram vs. Reality strikes again!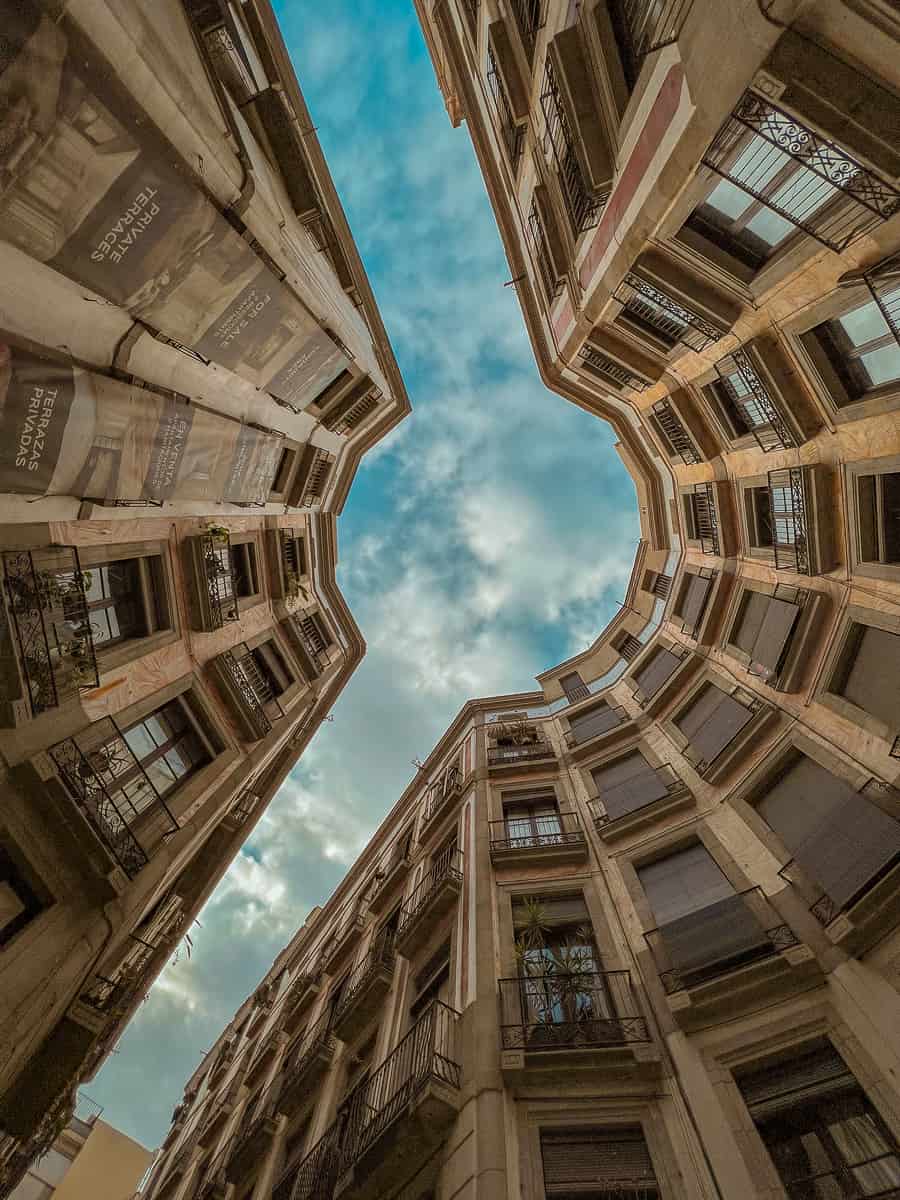 28. Gaudi House Museum
As part of your visit to Parc Güell, you can see Gaudi's House Museum. It's decorated in a pretty peach colour, has a tiled green rooftop and is lined with palm trees.
From the hillside in the park, you can take an epic photo of the house with the city and Montjuic in the backdrop.
Although it's inside Park Güell, you do need an extra ticket to enter the house. Book well in advance to avoid disappointment as there is always a long queue to go in.
29. La Boqueria Market
The most famous street in Barcelona is La Rambla which is filled with shops, restaurants, entertainment, and buskers!
If you're looking for food, I would head to Mercado de La Boqueria (Boqueria Food Market) as they serve fruit, fresh fish, olives, tapas and Catalonian delicacies at a cheap price.
It's a riot of colour and it makes a great photography spot. You can get a pretty ice cream, show off your potato tornado or have some lunch time paella and sangria.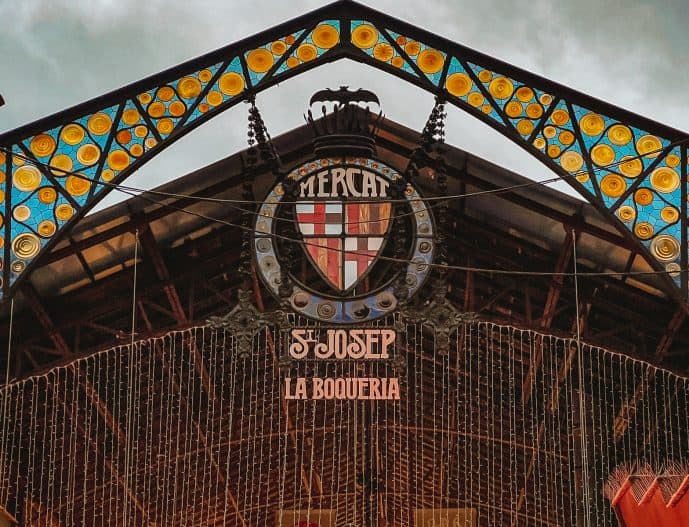 30. Montserrat Monastery
So, Montserrat isn't technically in Barcelona itself but it's less than an hour away by car and it's very easy to book a tour there from the city.
It's a Benedictine monastery that has been carved into the mountains. It was founded in the 11th century and it looks like something from a fairytale!
A famous pilgrimage site in Catalonia, the abbey is famous for enshrining the image of the Virgin of Montserrat. There's a temple that you queue for to see her statue.
Beyond the temple being gorgeous for photography, the walk you can take to St Michael's Cross is the best location for panoramic views.
We were so lucky in January to get a clear day in the mountains. A lot of the time this view is shrouded in mist. We even saw a little bit of rare snow as we were so high up.
I booked a half-day trip to Montserrat and had a wonderful time. You can book the same tour here!
Save this Barcelona Instagram photo spots map for later!
You can use this FREE map to find all the Instagrammable Places in Barcelona. Simply click on the image below or click on this link.
My top Barcelona photography tips
Planning – Always book attractions in advance in Barcelona as they sell out and book an early time slot if you want fewer crowds. There are lots of sunrise tours and 'be the first' options. Grab them with both hands.
Permission – photos/videos are allowed almost everywhere including Sagrada Familia. There weren't many places where you couldn't take photos.
Tripods – People were pretty lax about tripods as well but always heed warning signs for selfie-sticks and the like. Sagrada has an airport style security check, they won't confiscate your tripod but they will ask you not to use it there.
Safety – Secure your stuff. Barcelona is known for pickpocketing so make sure to keep your cameras and equipment safe and secure.
Drones – although it's not illegal to bring drones into Barcelona, they have strict rules about where you can fly them. Always check the local laws before flying your drone over crowded areas and residential neighbourhoods.
Book your tours and tickets for Barcelona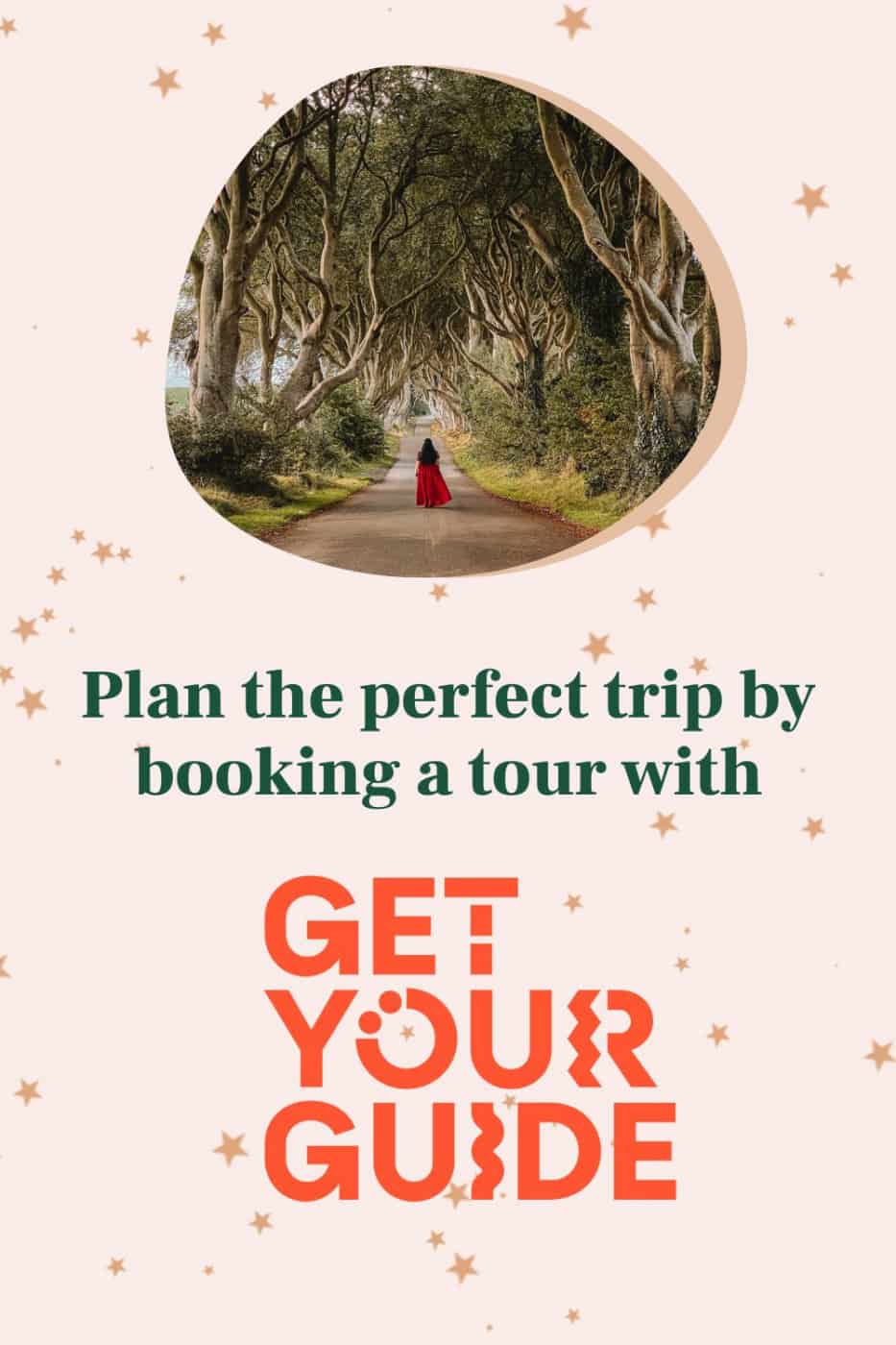 Book tours & tickets for Barcelona!
Read more of my Barcelona/Spain guides
Why Mojácar must be on your bucket list
Celebrating Noche De La Vales in Mojácar
Save this Instagrammable Places in Barcelona photography guide for later!