Bristol is one of the quirkiest cities you will visit in the UK. It's a hotchpotch of historical buildings, street art, a vibrant harbour and an independent spirit. This makes it the ideal muse for photography.
From Banksy to colourful murals, pretty cafés, incredible viewpoints and magical alleyways. This city has it all.
There are SO many Instagrammable places in Bristol hidden in amongst the labyrinth of districts. But, as this city is massive, you'll need a steer on where to find them.
In this essential Bristol photography guide, I'll provide a complete list of locations that you should hit up while you're here. Plus, the best time to visit them, some tips and a free map.
Here are the very best Instagram spots in Bristol!
Heads up: I was invited by Visit Bristol to explore their wonderful city! Although I was a guest, all opinions and photos are my own.
These are the most Instagrammable places in Bristol!
1. The Christmas Steps
The Christmas Steps is one of my favourite places in all of Bristol. It's magical and looks like a real-life Diagon Alley from Harry Potter!
This curious shopping street is located in Bristol's Art Quarter and it has a maze of streets with art galleries, shops, a cinema, pubs and a board game café.
With a history dating back to the 13th century, you'll find all sorts of historical buildings, plaques, stained glass windows and even old oil lanterns that used to light the streets!
It's the perfect muse for photography and looks enchanting by day or night. Once the sun goes down, the whole place will twinkle with fairy lights.
The best time to visit: For empty shots, I would get here early in the morning on a weekend. As a commuter spot, it can get busy during the week. Plus, during the day it's popular with shoppers.
Read my travel guide with more things to see and do in Bristol's Art Quarter here
2. Fosters Almshouses
This quirky building could give Hogwarts a run for its money and you're probably wondering why such a flamboyant building is in the middle of Bristol!
Well, it was originally founded by John Foster as an Almshouse for the poor in 1483. Then, it was rebuilt in the 19th century by Foster and Wood. They decided to rebuild it in the fanciful Burgundian Gothic Revival style inspired by the Hotel Dieu in Beaune in Burgundy!
They added turrets, spiralling staircases, chimneys and balconies to make this building look like something straight out of Europe.
The Three Kings Chapel nearby is based on the Biblical Magi and inspired by the Cologne Cathedral. Supposedly, this is where the Christmas Steps got its festive name!
Although you cannot go inside this photogenic building, you can still get a fantastic photo from outside the gates.
Curious to know more about it? Read my complete guide for Foster's Almshouses with even more history here
3. Cabot Tower
If you're looking for the best views in Bristol, then there are plenty of places to choose from as this city is incredibly hilly.
But, by far, the best viewpoint is from the top of Cabot Tower on Brandon Hill which is the highest point in the city!
This gorgeous pillar can be seen on the skyline from all over and it's completely FREE to visit.
You'll be incredibly breathless as you climb up the steep hill. Then, it will be another scramble up the spiralling staircase of the tower to see the view.
Your legs will ache and you'll be panting but the views are SO worth the effort. From here, you can see a panorama of the whole city, the harbour docks, Clifton Village and beyond over to the likes of Bath.
Brandon Hill Park is also worth exploring. It's Bristol's oldest park which opened up in 1625 and some say, this is the oldest public park in the country.
You can see the remains of an old fort used in the Civil War, explore the planned gardens with waterfall cascades or spot wildlife in the Nature Reserve. The choice is yours.
The best time to visit: It's open from 8.15 – 5.15 pm each day. So, anytime. during opening hours.
Click here to read my Cabot Tower guide with detailed directions on how to find it
4.
The Florist Café

One of the most Instagrammable places to eat in Bristol is the Florist Café which is located at the top end of Park Street.

Their restaurant and bar are full of incredible botanicals which you'll find hanging from the ceilings and they also have an incredible flower wall on the top floor!

The photo opportunities don't stop at their floral decor, they have a whole range of cocktails worthy of the gram as well. Each cocktail is colourful and has its own fresh garnish which pops!

If you're looking for more Instagrammable Cafés in Bristol, you'll be spoiled for choice.

You can visit the Bristol Lido which has a restaurant, bar and swimming pool. Hit up the Oowee Diner to find all its retro neon glory. Or, treat yourself to some bubbly in the White Lion Bar overlooking the Clifton Suspension Bridge.

Best time to visit: During the day is best. I found it really hard to get some good photos of the display at night time as it's so dark.
5. Bristol's Colourful Houses
Did you know that Bristol has a whole maze of colourful houses dotted around the city?
They are a delight to visit and you'll find many streets with a complete rainbow of colours. This is by far one of the most Instagrammable places in Bristol hidden in plain sight!
The best place to start your adventure would be in Cliftonwood Crescent which can easily be found via the Bristol Harbour Docks.
It's a really lovely neighbourhood and, as well as vibrant houses, you'll also find vintage cars, murals and street art too.
Click here for my complete guide on the best streets to find these colourful houses with a map!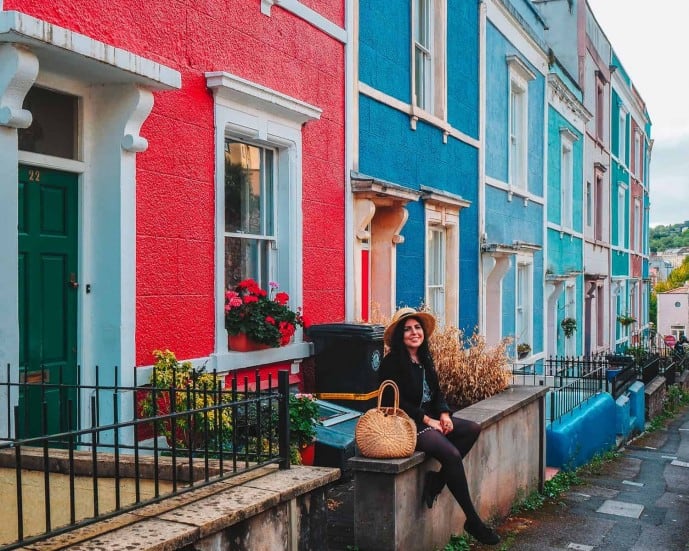 6. Bristol Harbour Docks
Bristol Harbour has been the life force of industry for centuries and even today it's still a vibrant working dock.
It's from these docks that the likes of John Cabot sailed to Newfoundland (Canada), Isambard Kingdom Brunel's SS Great Britain launched and it was even home to Blackbeard the pirate!
It's one of the most scenic areas of Bristol that has boats parked up with flowers pots, quirky bridges and colourful buildings perched over the waters. It's the perfect place to go exploring.
Many of the boats along the harbour have been converted into bars and restaurants and you can spend a lazy day here having lunch or a pint.
There are also SO many things to do on these docks. Museums, Science squares, the Arnolfini Arts Centre, The Matthew ship and the SS Great Britain.
Or, why not head out on a boat ride to the Avon Gorge? You'll certainly never be bored.
In terms of photography spots, there is an endless choice but my favourite is around the Bristol Marina.
Here, you'll find the colourful houses in the background over the river and it makes a lovely shot.
7. SS Great Britain
I was honestly blown away by Brunel's SS Great Britain museum. I wasn't sure what I would find here, but from start to finish I was completely captivated by the exhibitions.
If you weren't in the know, the SS Great Britain was created by the eccentric architect Isambard Kingdom Brunel and launched in 1843. It was a boat that changed the world and the first of its kind being made of iron and so vast in size.
It was all but lost in 1886 off the coast of the Falkland Islands and was finally returned home to the city docks in the 1970s.
It's now been renovated back to its former glory as a museum. Inside the ship, you'll get to experience what life would have been like on board for the staff, the poor and the wealthy. The journey would have taken months in cramped quarters!
Plus, there is a great informative display and movie to learn about Brunel's life.
Brunel is a big name in Bristol and the South West as he built the Great Western Railways and the Clifton Suspension Bridge!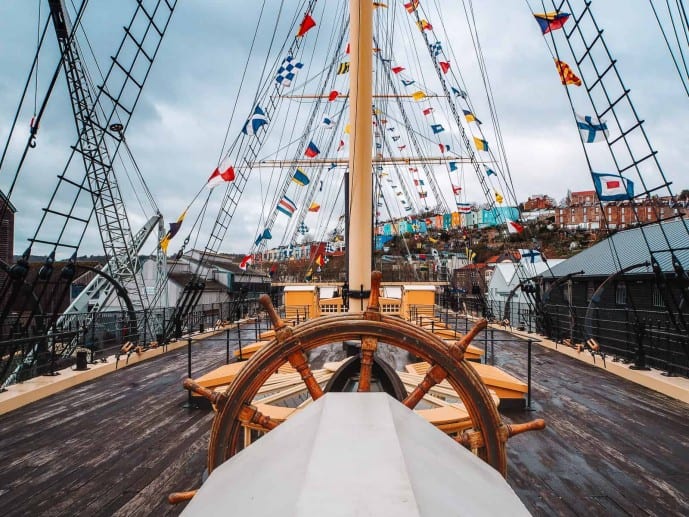 In terms of photo opportunities, you get complete access to the ship and the best spots can be found on the top decks. There are some fabulous angles with the flags, harbour and backdrop of the colourful houses!
Also, just before you go inside the museum, you'll see recreated old harbour docks with posters and barrels with the ship in the background. Also a nice shot in my opinion.
8. M-Shed
The M-Shed is a delightful museum that's located on the harbour docks and is completely free to visit.
It's an exhibition that covers three floors and has all sorts of displays on the history of the people and culture of Bristol.
From the beginnings of the Balloon fiesta to aviation, buses and festivals, you'll get to learn about how this city became so diverse!
There are some lovely shots to find here including the air balloons that float from the ceiling.
Plus, if you head out on the balcony of the top floor, you'll get a great photo of the harbour docks with The Matthew flagship and the cities buildings in the background.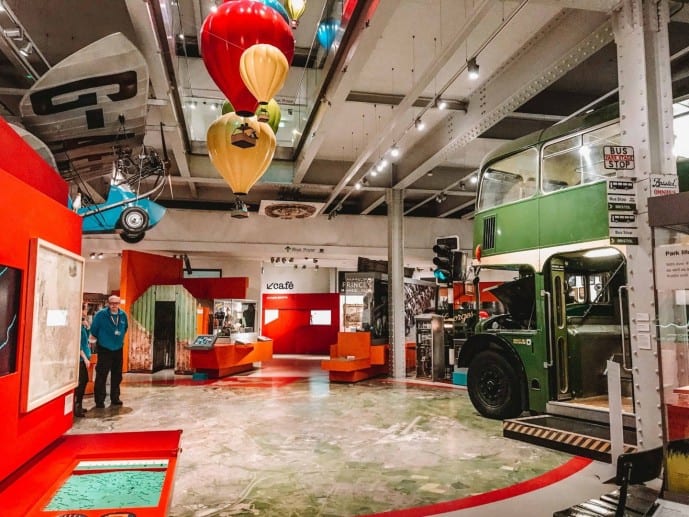 9. Clifton Village & Suspension Bridge
Clifton Village is a beautiful suburb of Bristol that can be found if you walk up the hill from Park Street.
It's a quaint area that is thriving with boutiques, brasseries, markets and beautiful buildings. You could get lost for hours exploring the village and every time I visit I find something new to do here.
As one of the most charming parts of Bristol, it's effortlessly picturesque and you'll find plenty of inspiration in the cobbled lanes, Victorian shopping arcades and historic homes.
Not to mention, it's home to the iconic Clifton Suspension Bridge and the City Observatory!
This bridge that joins up the two cliffsides of Clifton and Leigh Woods was another daring architectural masterpiece by Brunel.
It's free to cross and from here you'll get some of the best views of the city and Avon Gorge. The visitor centre is also worth a look inside to learn about the construction. They also run tours on select days of the week.
A hidden gem here is a visit down to the Giants Cave which can be accessed from the City Observatory.
You'll climb down tunnels and come out by the side of the clifftop. Another awesome photo opportunity.
Best time to visit: You can visit at any time of day but around sunrise or sunset is the very best time to capture it with some soft lighting.
10. Capture a Banksy!
Banksy is now a world-famous street artist whose name is known all over the globe but he had his humble beginnings right here in Bristol.
Over the years, he has created a number of pieces that have caused outrage, controversy and also praise.
There was even a public vote to keep his 'Well Hung Lover' as the locals felt it was a masterpiece. His work is now one of the biggest drivers of tourism to the city.
Banksy Spotting is a popular activity and there are plenty that you can visit. From the city centre on Park Street to Stokes Croft and beyond.
They all make thought-provoking and entertaining photo opportunities for your social media and you can have some serious bragging rights too.
11. Graffiti at Stokes Croft
On the subject of Street Art in Bristol, you will find no end of areas filled with murals, tags, artworks and paintings here.
But, if you want to find the most colourful and bohemian area of town then Stokes Croft is it. It seems that nearly every household, building or wall has some form of street art here!
From Banksy to house aquariums and thought-provoking messages, you'll find so many colourful and fun things to photograph. So, make sure you take the time to look around.
The Canteen is also another great place to pop into which is a restaurant, music venue and bar. It has a famous portrait of its own 'Breakdancing Jesus'!
12. St Nicholas Food Market
St Nick's Food Market is one of the most popular places to eat lunch in Bristol, it has a maze of local food vendors from all over the world.
Every lunchtime, you'll hear the sizzling of pans, the chitter-chatter of people, the bartering and the smell is completely divine!
Treat yourself to an organic smoothie, some noodles straight from the wok, falafel, pasta, paella and of course a world-famous Pieminster.
As well as the food being the main draw, the historic building is also gorgeous and set inside an old Georgian Arcade! So, you'll find glass windows, ornate architecture, old signs, ancient clocks and of course the lively market. It all makes a great photography location.
Best time to visit: this depends on what you want. If you want people and the food market come at lunchtime. If you'd rather get more empty shots, I'd come in the morning or later in the afternoon when this place becomes a ghost town.
13. Bristol Cathedral & College Green
An unlikely contender, but don't knock it until you've tried it! Even if you're not religious in any way, this Norman temple will wow you with its elaborate Gothic architecture. Inside and out.
It was built all the way back in the 12th century as an Augustinian Abbey, with many renovations being made to the building over time. It was briefly dissolved as an Abbey by Henry VIII but was revived as a 'New Foundation'.
The building today is in the Gothic Revival style and the interiors are dreamy!
Inside, you have these fabulous archways with stained glass windows and towers. There is so much to photograph.
Entry is free but donations are always encouraged to keep this building running and open for everyone to enjoy.
College Green is also a lovely photo spot as you'll find a delightful range of wildflowers on the grassy common in between many historical buildings.
14. Leonard Lane
Another hidden gem within these city streets is Leonard Lane, where you can go down the rabbit hole and discover a whole plethora of street art in the area.
From the longest street name in Britain, a Corbyn revolution, the Inbetweeners and even Charles Darwin, there are plenty of colourful and interesting murals to find.
It's all part of a project called Human Nature that explores the growing concerns of climate change.
You can find this fabulous hidden gem off Corn Street. It's free and open at any time of day!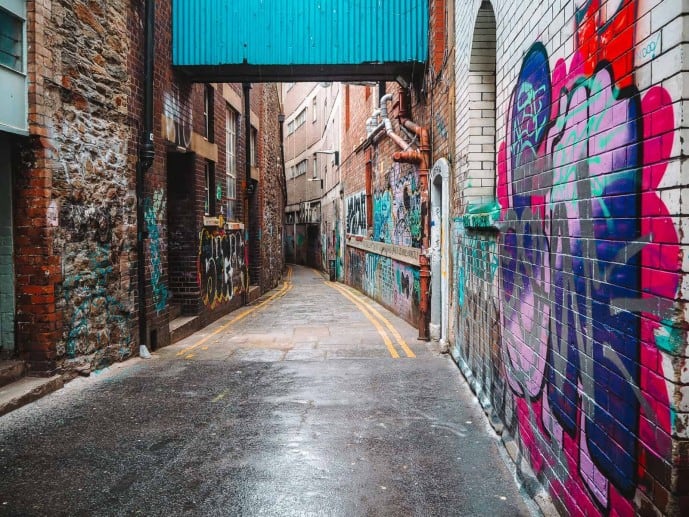 15. Church of St John's the Baptist Archways
This medieval gem in the heart of the old city of Bristol can be found at the end of Broad Street.
St John's used to be part of five churches that would line the city walls. The city walls back then acted as a place of spirituality, a resting place for travellers and also as a line of defence from enemy forces.
The Church of St John the Baptist, or St John on the Wall, is now the only one remaining and was founded around the 12th century.
A fun fact about this church is it has the St John's conduit fountain. This was a pipe created by the Carmelite Friars in the 14th century. The spring, where the fountain water is sourced from, can be found all the way up in Brandon Hill Park!
Although it has been known to flow with red wine in years gone by, it was the only source of freshwater during the Blitz!
As well as the church tower being very pretty, it's the archways at either side of the clock tower that will surprise you.
As you enter, you'll find a fantastic mural painted within of a Lion and a Unicorn, Scotland's National Animal! It makes a great shot.
16. Quay &
Nelson Street
Ah, Quay Street. One of the best places to see the larger than life street art that has been placed on the sides of sky-high buildings!
The most Instagrammable part of this street would be the fabulous 'Welcome to Bristol' sign that has been painted above the Quay Street Diner.
So, get your camera at the ready but be patient with the cars driving through…
Here, you'll also find a giant dog by Aryz and Stik and some reverse graffiti.
You'll also find plenty of pieces from the 'See no Evil' art project in 2011. The 'Mother and Child' portrait on Nelson Street is by El Mac.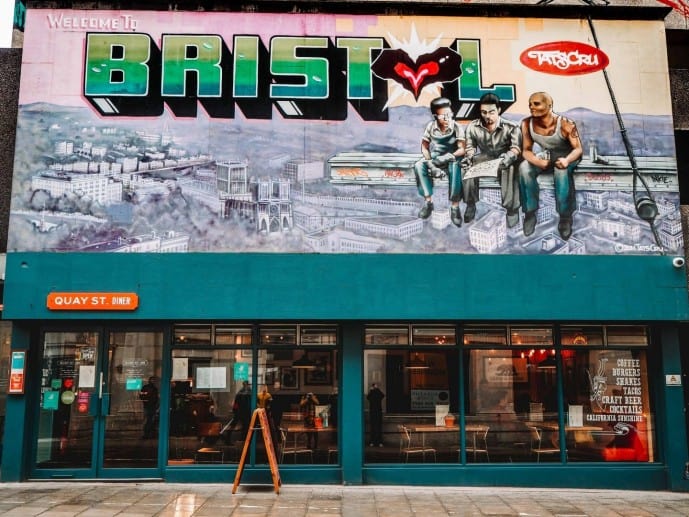 17. Blaise Castle Estate
Although this is a few miles out of the city centre of Bristol, Blaise Castle Estate is definitely somewhere worth visiting!
It's one of the most Instagrammable places in Bristol as it has a huge parkland with historical buildings, caves, views over the Avon gorge and a folly castle!
When you first walk in, you'll notice the Blaise Castle House which is a museum currently under renovation. Also, you'll see the Dairy Farm nearby which is home to a gorgeous thatched cottage.
If you walk upwards to Castle Hill, you'll be able to see the Gothic sham castle folly which was made famous by Jane Austen's Northanger Abbey.
It's only open to visitors on the third Sunday of each month but it's a lovely spot to visit at any time of the year! From Castle Hill, you'll get spectacular views over the Avon gorge and beyond. It's perfect for photos.
You'll need to get a bus from the city centre here which will take you around 30 minutes. Or, you can get a connecting train service to Sea Mills from Bristol Temple Meads.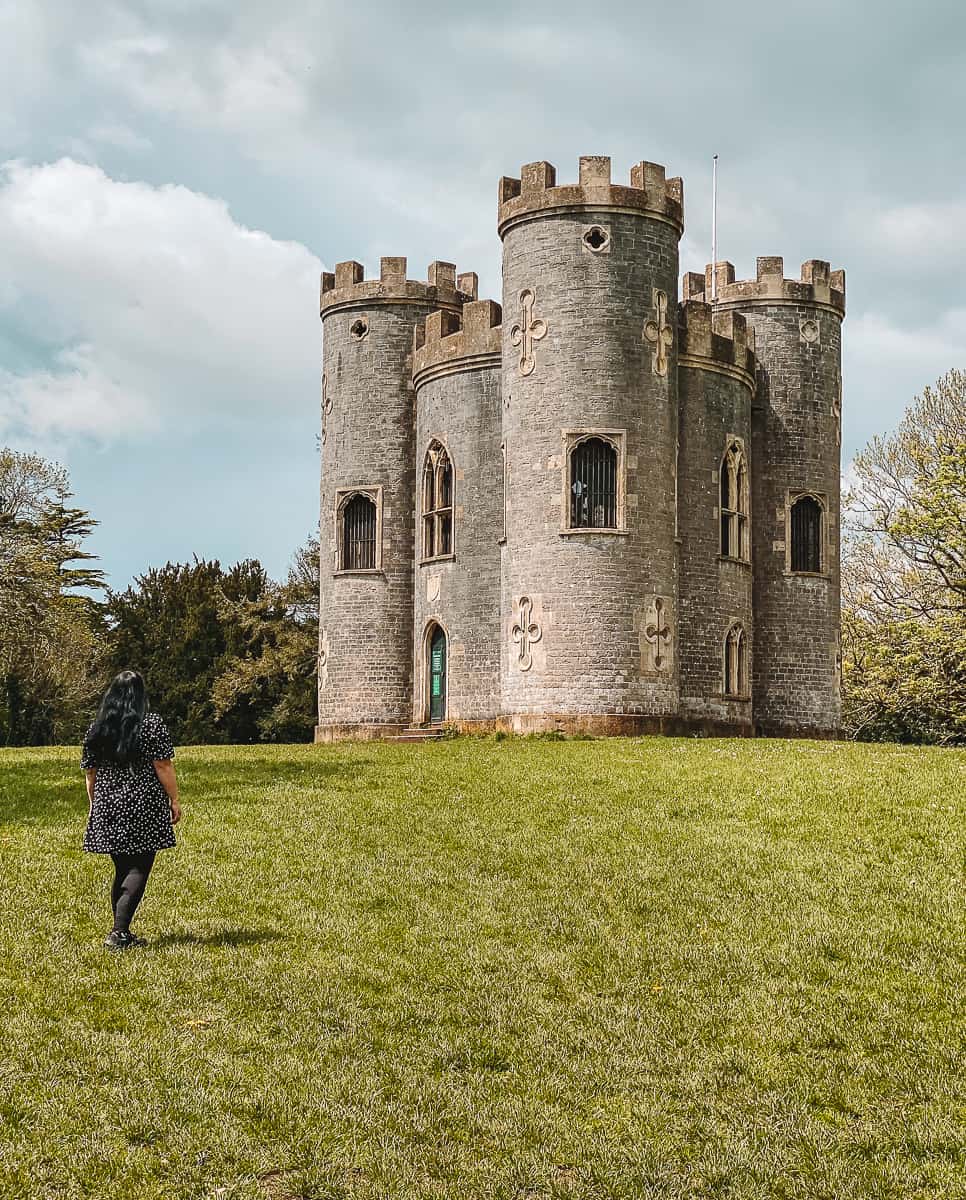 18. Blaise Hamlet
Just nearby to Blaise Castle Estate is National Trust's Blaise Hamlet. It's a gorgeous collection of nine fairytale cottages surrounding a green.
These cottages were built in 1809 on orders of John Harford who owned the Blaise Castle House. They were designed for the workers who retired from service on the estate as part of their pension.
The design was made by John Nash, who was best known for building the Brighton Pavilion. Then the famous architect Henry Rapton brought Nash's designs to life in the Picturesque style!
Ever since 1943, they have been owned by the National Trust. Visitors are welcome to stroll around the green for free.
These little cottages are the perfect place for photography, so have your camera at the ready! But, remember that these cottages are occupied. So, respect the resident's privacy!
Click here for a complete guide on how to visit Blaise Hamlet.
19. Montpellier Station
I know it's kind of unusual for a train station to be on a list of Instagrammable places in Bristol but this one is singular.
Montpelier is a laid back, trendy and dare I say it 'hipster' neighbourhood in the city and you'll find it has a bohemian spirit. There is so much colour and life here, with its own street art and colourful buildings.
Recently, a vibrant mural of a whopping 50 metres was revealed at the Montpelier train station. It was to send a positive message to young people to be fearless about reporting crime.
It's a really lovely piece and a great spot to have on your gram feed!
20. University of Bristol Botanical Gardens
This pretty Bristol Botanical Garden in the centre of Bristol has over 4,500 plant species spread over five acres! You won't find this range of diversity in plant life anywhere else in the city.
From their Evolutionary Dell to threatened plans, medicinal herb gardens and Mediterranean collections there will be no end to exploring.
The most Instagrammable place here would be their glasshouses that will transport you to the Amazon with the Great Amazon Waterlily. Plus, you can see a Cacao (chocolate) tree that was prized by the Aztecs. There are also a great many cacti and succulents to admire too.
These are now located in Stokes Bishop in Bristol and tickets are £7 an adult. Click here for opening times.
How to get around these Instagram spots in Bristol
Bristol is really easily accessible on foot and many of the spots on the list are within reasonable walking distance in the city.
This is by far the best way to explore as there is so much that you can see and find on the way.
From hidden alleyways, steps, museums and many pubs, cafés and shops.
But, there are also a wealth of buses, trains and taxis that will be able to take you around should you not wish to walk. Plus, there is always Uber too!
My biggest tips would be to make sure to take breaks and wear some good walking shoes. Bristol is very hilly, with lots of steep streets and so you'll need something comfy.
Looking for more things to do in Bristol?
Beyond the Instagram shots, Bristol is one of the most amazing cities in the UK with so many unique things to do. Plus, the good news is most of them are absolutely FREE which make it a great budget day out!
If you wanted to explore some free museums, you have the Red Lodge, The Georgian Museum and the Bristol Art Gallery Museum (with more Banksy)!
If you wanted to go shopping, Park Street is a good choice with its vintage shops or try Cabot Circus for your High Street brands.
Festivals make a great time to visit Bristol and you'll find a Balloon Fiesta, Harbourside Festival and the lively St Paul's Carnival.
Or, you can explore some different areas outside of the centre of Bristol.
Like a ramble around Leigh Woods, Ashington Court deer park or Blaise Castle, a magical folly.
Click here for more things to see and do in Bristol!
Where to stay in Bristol
On my recent visit to Bristol, I stayed over in the luxurious Berkeley Suites. Set in an enchanting Georgian crescent, I had my own apartment for the night in the city centre!
It has an en-suite bathroom, double bedroom, plus an open plan living room and kitchen with all the amenities I could wish for. But, it wasn't all self-catering.
These apartments give you your own private living space while still having access to the facilities of a normal hotel. So, you still get breakfast and room service from Berkeley Square nearby.
Inside my room, I had a welcome basket of goodies plus a welcome drink of classic Bristol Cream Sherry.
Also, I had my own visual art gallery on the TV. It was the perfect place for a luxury staycation.
Click here to book or you can read my full review
Like it? Pin it!