If you're looking for the best Delhi Photography spots in the city, you've come to the right place.
I lived in Delhi for over a year and, although many people hate the chaos, I learned to love this crazy capital of India!
Yes, it may be busy, you'll hear the honking of horns everywhere and it's a city that never sleeps. But, beyond the dust, there are some amazing photography spots too!
From the busy spice markets of Chandni Chowk, ancient tombs, gardens, and monuments. You'll find an endless list of inspiration for your social media.
So, I've put together the ultimate list of the most Instagrammable places in Delhi to help plan your trip!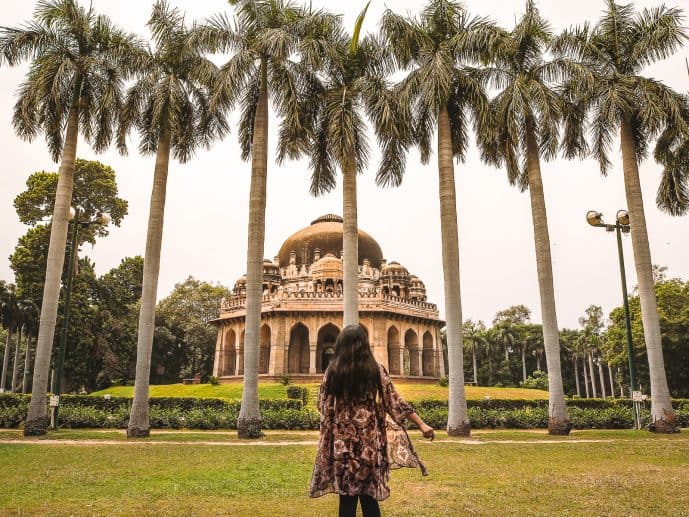 Top tips for Delhi Photography
Before we begin with the list, I think it's important to go through some warnings and tips before you set out for your photography tour.
Although photography in India is inspiring, it's also not the easiest and does come with a few challenges.
Here are some things to look out for and prepare for;
Photography bans – The interiors of some temples and mosques come with a photography ban. There will usually be a sign. Or, some temples will not allow you to take photos of certain things like idols. For example, the ISKON Temple in Delhi.
Photography fees – Most Delhi photography spots are Archaeological Survey of India (ASI) sites and come with an entry fee. 9 times out of 10, photography is included in this price. But, you may find on the odd occasion you have to pay extra for photography.
Tripods – Every single ASI site in Delhi has a ban on tripods. Don't ask me why but they are super strict on it. If you happen to have a tripod with you, they will confiscate it on the bag check at entry. You will then collect the tripod on exit.
Poses – If you're visiting temples, mosques and tombs in Delhi; it's important to remain respectful of that religion or of the dead. It's not always appropriate to pose like a model or show PDA in front of these places! People may tell you off if you step over the mark.
TikTok – I know this is an Instagram post but India has banned TikTok. Many attractions have signs now that warn you not to film TikToks.
Crime – Delhi does have a reputation for crime. But in all the years I've been travelling in India, not once has anyone tried to steal my camera or tripod. I wouldn't say flash it around or leave it unattended. But, it's definitely safe to take it out with you and have it out in attractions!
What to wear & an important note on appropriate clothing
Delhi is a very conservative city as is most of India. It has come a long way in recent years and many of the younger generations now wear Western clothes as opposed to the traditional sari.
However, I don't believe India is quite ready for revealing Western fashion choices yet!
It's really important to dress respectfully in line with the culture. Especially as most of the top attractions are temples and tombs. So, that means covering up your knees and shoulders.
I understand it's important to look nice for your photos and the heat here is often unbearable. But, wearing mini dresses or something that shows too much skin is not appropriate. Plus, it may bring some unwanted attention.
My biggest tip would be to wear loose, comfortable clothing that's breathable, like cotton.
You don't have to go full-on head-to-toe covering. But, you can still look just as gorgeous in a maxi dress, playsuit or t-shirt, and cropped trousers! As long as it covers you enough, you'll be fine.
Some attractions are prepared for Western tourists and provide you with a covering in line with their religious conformities, like Jama Masjid.
These are the most Instagrammable places in Delhi!
1. India Gate
The India Gate is one of my favourite attractions in the whole of Delhi!
It's an arched memorial nearby Rajpath and was built to commemorate 6,000 Indian soldiers who died fighting in the First World War. The foundation stone was laid down in 1921.
The architecture is also very similar in style to the Arc de Triomphe in Paris and the Gateway of India in Mumbai. This makes it one of the best Delhi photography spots!
It was designed by Sir Edwin Lutyens who was a pioneer of the Arts and Crafts movement and built many War Memorials around the UK.
Did you know that New Delhi is also called "Lutyen's Delhi" because he had a major role in designing the government buildings you see around the city today?!
Visiting the India Gate is busy at all times of the day. Especially in the evenings with the cooler temperatures.
So, for the least crowds, I would recommend visiting in the early morning. It opens from around 9am until late. They also light it up at night and it's very pretty.
You can buy snacks here, go boating, see the eternal flame, take a picnic on the grounds or just simply enjoy the atmosphere!
Opening times: 9am – 9.30pm daily (light show 7 pm – 9.30 pm)
Ticket Price: FREE
Address: Rajpath, New Delhi
Nearest Metro station: Central Secretariat
2. Rajpath
Formerly known as Kingsway, Rajpath is the ceremonial boulevard in New Delhi.
It starts from Rashtrapati Bhavan, the official residence of the President of India on Raisina Hill. Then runs through to Vijay Chowk passing the India Gate War Memorial.
Rajpath translates to "People's Way" and it's regarded as one of the most important roads of all of India. This is usually where the Independence Day celebrations take place in the city!
As well as playing an important role in New Delhi, it's a great place to take photographs. But, take care. You may not be able to take photos on certain days if there are VIP guests. Security will be tight on these occasions.
It's quiet at most times of the day as security shoo you on after a while. But, it's gorgeous in the early morning light. Or, around sunset is also a nice time.
Opening times: 24 hours (you cannot go inside)
Ticket price: FREE
Address: Rajpath, New Delhi
Nearest Metro station: Central Secretariat
3. Agrasen ki Baoli
In recent years, one of the most Instagrammable places in Delhi is an ancient stepwell that can be found hidden away on Hailey Road.
This amazing historic monument can easily be missed in between all the sky-high buildings of Connaught Place!
The mysterious thing about this stepwell is no one really knows who built it! But, many believe it was constructed by the legendary King Agrasen in 3000BC. He was the Maharaja of Agroha, The Kingdom of Traders.
There are no historical records of this place whatsoever but there are legends that the water collected here used to be black. It would entice people to jump in and they would fall to their deaths!
Many people say this is the most haunted place in all of Delhi. So, be sure to take care if you're taking photos, you may not be alone!
Just kidding. But, if you do plan to take photos here I'd recommend early morning as it does get crowded all day.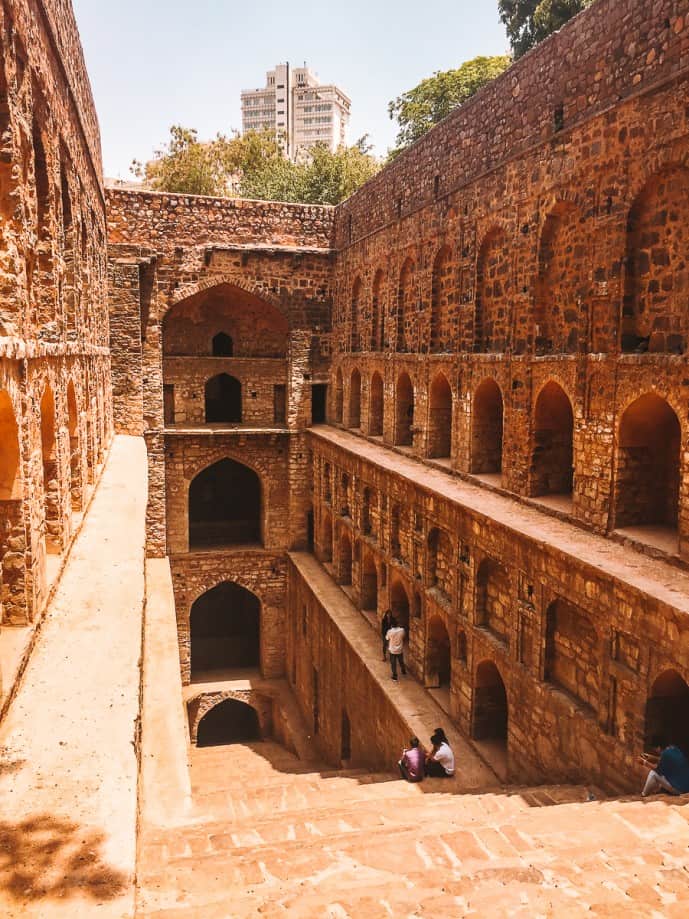 4. Lodhi Gardens
Delhi is chaotic and the sound of horns can grate on even the most relaxed of tourists to the city.
It's important to take a break from the noise every now and then and the Lodhi Gardens are the best place to do it. Even better is that this is an awesome Delhi Photography spot!
You can take a relaxing stroll in between palm trees, lakes, gardens and see the old tombs as well. There are well over 90 acres to explore.
You may be surprised to know that this oasis in Delhi has a history of over 600 years! It started when the tomb of Mohammed Shah of the Delhi Sultanate was built by his son.
You'll discover many tombs around the area, a gorgeous eight arched bridge, and some ancient mosques that have been left behind too. It's now managed by the Archaeological Survey of India.
You'll find this place really peaceful at all times of the day. So, no rush to beat the crowds! Tripods are allowed (woohoo!).
Opening times: 5am – 8pm daily
Ticket price: FREE
Address: Lodhi Road, Lodhi Estate
Nearest Metro station: Jor Bagh
5. Lodhi Art District
Close by to the Lodhi Gardens is the Lodhi Art Colony. This is one of Delhi's and India's first open-air art districts/museums!
Located between Khanna Market and Meharchand Market in Lodhi Colony, you'll find streets and streets of artwork on the buildings and walls.
This incredible project saw 25 artists from India and around the world come together to create some masterpieces.
The artwork ranges from simply colourful and vibrant to addressing important subjects on world matters today. It changes often so it's worth checking it out. Plus, it's the perfect photo opportunity!
Opening times: 24 hours
Ticket price: FREE
Address: Lodhi Colony
Nearest Metro station: Jor Bagh or INA
6. Humayun's Tomb
One of the most amazing Delhi Photography spots is Humayun's Tomb which also happens to be one of the most popular attractions in the city!
Also known as Maqbara-e-Humayun, it is the mortuary tomb of the Mughal Emperor Humayun. It was commissioned by his first wife, Empress Bega Begum in 1569.
It was designed by Persian architects, Mirak Mirza Ghiyas and his son, Sayyid Muhammad, and was the first garden-tomb of India!
Nowadays, it's a UNESCO world heritage site and is well maintained by the Archaeological Survey of India.
The building is spectacular and you'll find so many photo spots and inspiration here for photography. But, it may take some patience to get your shots as this place is busy every day. All day. So, I'd get here as early as possible. By closing, you'll be ushered to leave.
The best place for photos, in my humble opinion, is to the side of the monument. That way you avoid the crowds and get some incredible palm trees in your composition!
Also, don't forget to visit Sa Khan Niyazi's Tomb which dates back to 1547. A lot of people miss this and it's equally as stunning.
Opening times: 8am – 6pm daily
Ticket price: 30 rupees for Indian Nationals, 500 rupees for foreigners
Address: Nizamuddin, Mathura Road
Nearest Metro station: JLN Stadium
7. Chandni Chowk
I was always warned about visiting Old Delhi, but most of all Chandni Chowk. It is a little hectic and can be overwhelming.
But, it didn't deter me and I have now fallen head over heels in love with this area of the city.
It's a labyrinth of stalls, restaurants, and marketplaces. You get a real buzz walking around the streets. There are SO many people and so much life going on. If you want a culture shock, this is it.
As well as exploring on my own, I've now taken a cycle tour through Old Delhi and a Street Food Tour at night and loved both!
You'll find that Chandni Chowk is split up into certain areas for jewellery, clothes, food, tools etc.
If you don't fancy walking make sure to hire a rickshaw (not an auto-rickshaw). This is essentially a bike with a carriage on top! They can show you the highlights.
8. Khari Baoli / Old Delhi Spice Market Rooftop
In amongst the many sections of Chandni Chowk you can find Khari Baoli, or the Old Delhi Spice Market.
This is a popular stop on any Old Delhi tour as you'll find spices everywhere. Men are carrying bags of it, the smell of spice fills the air (be prepared to sneeze) and you can buy a lot of it from the shops too.
For a Delhi Photography spot, the Old Delhi Spice Market Rooftop seems to be really popular on Instagram.
From here, you get an amazing view of the whole of the spice market. It's definitely worth going for sunrise.
The only thing I would say is that this place is difficult to find as it's hidden in amongst the streets. So, you should take a guide to show you the way.
This is especially important if you're visiting at sunrise. In the early hours, Chandni Chowk isn't as safe as during the day.
Also, don't expect there to be lavish blankets, cushions, or a bag of marigolds waiting for you to pose with as other photos would suggest. These have been brought here or organised beforehand. Remember, it's someone's home!
9. Jama Masjid
Another amazing spot to visit near Chandni Chowk is the majestic Jama Masjid which is the largest mosque in all of India!
Also known as Masjid-i Jehan Numa, it translates to "World Reflecting Mosque".
It was built by Emperor Shah Jahan in 1650, who also built the most magnificent mortuary tomb in all of India, the Taj Mahal!
It has three large gates, three domes, and two minarets that are a whopping 40 metres high. It's made of sandstone and marble and can accommodate over 25,000 people.
Beyond an Instagram location, this mosque is spectacular to see. The architecture, patterns, and design are marvellous. It's well worth exploring.
You can also climb the minarets for a fabulous view of the city!
Warnings & tips for visiting Jama Masjid
Shoes must be taken off to enter the mosque. The floor is super hot in places so if you don't want to walk bare foot I'd bring socks. They may try to charge you to store your shoes as a foreigner. But, it's a bit of a scam.
Women will need to cover up to enter Jama Masjid. This includes your arms and legs fully. if you don't have the appropriate clothing, you'll be given a rather ugly smock to wear around the temple. But, the good news it's floral! Men can wear whatever they like but shorts could be a problem.
You're allowed inside the mosque as a tourist in non-prayer times, but women are not allowed to congregate with men in the prayer hall.
They will try to charge you 300 rupees to take photos. If you don't pay then you need to leave your camera or phone in your bag. Most people just ignore this. However, they have gotten stricter over the years.
Opening times: 7am – 12pm and then 1.30pm – 6.30pm
Ticket price: FREE entry but they will try to charge you 300 rupees for photography
Address: Jama Masjid Road, Chandni Chowk, Old Delhi
Nearest Metro station: Jama Masjid
10. Haveli Dharampura
Another stop on the Chandni Chowk photography tour is the ancient Haveli Dharampura.
Although you'll find many Haveli's that have survived throughout Rajasthan, there aren't many in Delhi these days.
This gorgeous Haveli was built in 1887 but was unfortunately abandoned until fairly recently. It took six years and over 50 men to restore her but now it's reopened as a hotel and restaurant in the old city!
Haveli Dharampura gives you a feel of being Mughal Royalty and brings you back to an era where the Delhi Sultanate ruled over the land.
You can enjoy dinner in their Lakhhori Restaurant. It has a rooftop with a view of Jama Masjid. Or, you can stay the night in one of their boutique rooms and have breakfast there!
Click here to book a room for the night
Restaurant opening times: 12pm- 12am
Ticket price: FREE entry but it's best to visit Lakhori Restaurant
Address: Opposite Gali Guliyan, Chandni Chowk, Old Delhi
Nearest Metro station: Chawri Bazaar
11. Red Fort
If you head a little further on down from Chandni Chowk in Old Delhi, you'll arrive at the famous Red Fort.
This historic residence of Mughal Emperors gets its name from the Lal Qila or Red Sandstone that it is built out of.
This fort was again commissioned by Emperor Shah Jahan in 1639 when he shifted the capital from Agra to Delhi.
Today, it's a popular tourist attraction and the Prime Minister of India addresses the people on Independence Day from here. This is a tradition since the first Prime Minister of India, Jawaharlal Nehru, raised the Indian flag from here in 1947.
As you enter the complex you'll walk through the many vaulted gates which has the most stunning architecture. These gates are now home to many market stalls which are great for shopping!
Once inside, you can explore the many rooms, museums, and arched palace or 'mahal' areas where the Emperor would take an audience with his court. The list of photo spots is endless, so take your pick!
Opening times: 9.30am – 4.30pm ('light show' from 6pm). Closed on Mondays.
Ticket price: 35 rupees for Indian Nationals and 500 rupees for Foreigners
Address: Netaji Subhash Marg, Lal Qila, Chandni Chowk
Nearest Metro station: Chandni Chowk
12. Qutub Minar
One of the most Instagrammable places in Delhi has to be the minaret and complex surrounding Qutub Minar.
This huge pillar at the centre is 72.5 m high and is the largest minaret in the world made out of bricks.
It started construction in the 12th century as a "Victory Tower" and was named after the Sufi saint Khwaja Qutbuddin Bakhtiar Kaki.
Although you cannot climb the tower, you can wander around the Qutub Complex which is now a UNESCO World Heritage Site!
The architecture around here is outstanding and the many pillared archways provide an incredible shot.
I would also recommend visiting this place at night for the 'light show'. Not only is it incredibly peaceful at this time but the tower lit up at night looks amazing in photos!
Opening times: 6am – 6pm, some evenings its open until 10pm for a light show.
Ticket price: 35 rupees for Indian Nationals and 550 rupees for Foreigners
Address: Seth Sarai, Mehrauli, New Delhi
Nearest Metro station: Qutub Minar
13. Hauz Khas Village & Fort
Hauz Khas is a neighbourhood of South Delhi and is one of the coolest areas of the city too!
The Hauz Khas market was definitely a favourite of mine when I lived here. I would go almost every week as there are great shops, boutiques, restaurants, and the historic Fort as well.
I have to admit this area is quite far from Old Delhi. So, I would plan lots of time to arrive here with the traffic. But, it's a great place to end a day with dinner or stop by for lunch.
My personal recommendation would be the Social at Hauz Khas. They have an incredible rooftop overlooking the lake where you can lounge on beds! The food and cocktails are also epic!
It's a great photography spot but I'd recommend booking a rooftop table. It packs out almost every night and all day on weekends.
Also, the Hauz Khas Fort is a great way to get some photos. It was built by the infamous Mughal Emperor Alauddin Khilji in the 14th century!
Opening times: The Market & Hauz Khas Fort are open Monday to Saturday 10.30am – 7pm, closed on Sundays. Restaurants/night clubs remain open until late and are open all days of the week.
Ticket price: FREE
Address: Hauz Khas Village, South Delhi
Nearest Metro station: Hauz Khas
14. Gurudwara Bangla Sahib
This temple is one of the most spectacular in all of Delhi. It may not be the Golden Temple in Amritsar, but this holy place is the most prominent Sikh place of worship in the city.
It is known for its association with Guru Har Krishan, the eighth Sikh Guru, and was constructed in 1783.
As well as the main Gurudwara Temple, you'll find a Holy River in the middle of the complex called the "Sarovar".
It's a HUGE temple and it's almost like a mini-community. There are schools, temples and it has large kitchens called 'sivaks'. These kitchens feed over 35,000 pilgrims for FREE every single day.
Personally, I loved visiting this temple at night time as it's extremely calm. You can stroll around in the cooler temperatures listening to songs from the Guru Granth. These songs are broadcast live from the temple.
They often film the services here for Indian TV so don't be surprised if you see cameras when you walk inside!
The whole area is also extremely photogenic, so remember to bring your camera.
You will need to dress appropriately and take your shoes off to enter. Both men and women will need to cover their heads. So, remember to bring a scarf or the temple has some for you on entry.
Opening times: 24 hours
Ticket price: FREE
Address: Hanuman Road, Connaught Place
Nearest Metro station: Patel Chowk or Rajiv Chowk
15. Imperial New Delhi
If you were looking for an Instagrammable place in Delhi to go for dinner or afternoon tea. I would recommend Imperial New Delhi!
This 5-star hotel is one of the most affluent in the city and it's like a palace as you walk inside.
It was built in 1911 by Ranjit Singh, during the British Raj when New Delhi was pronounced as the new capital. Before this, the capital was Kolkata!
What we see today is mainly a restoration but it's transformed this colonial building with all sorts of modern amenities.
I visited the Imperial New Delhi for afternoon tea and loved the photo opportunities from the gardens. That, or you could have dinner in their swanky 1911 restaurant!
16. Connaught Place
Connaught Place is one of the busiest shopping areas in all of Delhi. It's a huge circular area and you'll find a ginormous Indian flag at its centre.
Along with the India Gate, Connaught Place was a showcase in "Lutyen's Delhi" and opened to the public in 1933.
A little-known fact is that this is one of the most expensive office locations in the entire world.
Today, Connaught Place is SO big, the shopping areas are organised in nearly every letter of the alphabet to help you navigate it!
It has the most magnificent colonial buildings in gleaming white which make an amazing photo spot. Not to mention all the amazing bars and cafés around here.
Although I love Connaught Place, it's important to be aware and keep a lookout for your safety. I would always stick to the central areas of this market and not veer off the outskirts.
Watch out for scams, pickpockets, and for people trying to lead you down alleyways or into shops.
This area is also a little dodgy in the early hours. Always have transport available to you and don't walk around here alone at night.
Opening times: 24 hours but I strongly recommend NOT staying until the early hours! It's simply not safe.
Ticket price: FREE
Address: Connaught Place, New Delhi
Nearest Metro station: Rajiv Chowk
17. Lotus Temple
No visit to New Delhi would be complete without a visit to the marvellous Lotus Temple.
It's a Bahāʾī Faith house of worship also known as mashriq al-adhkār. Which translates in Arabic to "a place where the uttering of the name of God arises at dawn".
It was consecrated in 1986 and designed by Iranian architect, Fariborz Sahba. It has nine sides or marble petals that correlate with the Bahāʾī faith and the mystical properties of the number nine. Also, there are nine pools in the gardens surrounding the complex.
This is by far one of the iconic Delhi photography spots and cannot be left off your list. I would recommend taking photos outside the temple though.
There are always large queues to enter the Lotus Temple every day. You will be given a bag to keep your shoes in that you must return on exit. There is no talking allowed inside the temple.
Opening times: 9am to 5.30pm (7pm in summer). Closed on Mondays.
Ticket price: FREE
Address: Lotus Temple Rd, Bahapur, New Delhi
Nearest Metro station: Kalkaji
18. Safdarjung Tomb
The tomb of Safdar Jung is often left off tourists list when they visit Delhi. But, it's somewhere I would highly recommend. It sees far fewer crowds than Humayun's Tomb but is equally as pretty!
It was built in 1754 during the late Mughal Empire as a mausoleum for Nawab Safdarjung.
Just like Humayun's Tomb the red sandstone architecture, minarets and domes make this one of the most Instagrammable places in Delhi.
As well as the main tomb, there are smaller tombs in the large gardens you can visit as well! It's a beautiful place to spend an afternoon or watch the sun go down.
Photography is included in the entry price, but video recording comes at an extra fee of 25 rupees. Tripods are forbidden.
Opening times: 7am to 6 pm daily
Ticket price: 15 rupees for Indian Nationals and 200 rupees for Foreigners
Address: Airforce Golf Course, Delhi Race Club
Nearest Metro station: Jor Bagh
19. Yamuna Ghat
The Yamuna Ghat is one of the most popular Delhi Photography spots, but I think it's important to understand the area as well.
It's near a cremation ground and is revered by Hindus as a holy place. This is because the sacred Yamuna River is a tributary of the River Ganges.
A 'Ghat' is a series of steps leading down to a river and you'll find them all over the country mostly from temples. The most famous ghats are in the ancient holy city of Varanasi. You can read about that here.
The best time to visit Yamuna Ghat is at dawn and, as the sun rises over the horizon, you'll see many seagulls that flock around the area.
I will warn you though this river stinks. It's one of the most polluted in the entire world. A lot of people wear masks to cover from pollution.
The best way to experience Yamuna Ghat is by taking a boat ride at sunrise. There will be a few boatmen here that will give you a ferry ride for a fee. Negotiate hard!
Opening times: 24 hours
Ticket price: FREE
Address: Kashmere Gate, New Delhi
Nearest Metro station: Yamuna Bank
How to get around Delhi
I know there are many locations on this list. But, it's important to plan your trip wisely and not plan too much!
Although the attractions look close together on the map, the traffic in Delhi is a nightmare at the best of times. Everything runs on Indian time. So, you could be travelling anything from 30 minutes to an hour between attractions.
The good thing is New Delhi is a huge city with many districts and so it has an endless list of transport options.
Personally having lived in Delhi for well over a year, I would avoid taking the local buses at all costs.
If you're stuck for time click here to learn how to spend the perfect day in Delhi!
Delhi Metro & Walking
The Delhi Metro is far more convenient and safer to use – plus it has some much-needed air-con!
TheDelhi Metro works on a coin-token system. So, simply go to a machine in any of the Delhi Metro stations.
Then, select your station, pay your rupees and you'll receive a coin token. You must keep this with you on your journey as it's collected on exit.
Most of the top attractions have a metro station nearby. You can use Google Maps or Maps.Me to plan walking routes to the attractions from there. A lot of them are well signposted too.
The Delhi Metro is not a 24-hours a day type of deal. It opens around 5 am and runs until 11.30 pm.
So, if you're planning a sunrise shoot, I'd hire a driver instead. You don't want to miss that sunrise!
Hire a Driver for the day
Alternatively, you could hire a driver to take you around Delhi for the day to hit up the photography spots.
Depending on where you organise with from will depend on the price. For example, a five-star resort will charge significantly more than a cheaper guesthouse.
You can negotiate 8-hours for around 2,000-2,500 rupees, remember to tip!
Auto-Rickshaws / Tuk-Tuks
Finally, there are also auto-rickshaws or Tuk-Tuks which are super fun! But, remember to haggle hard.
Delhi Tuk-Tuk drivers are always waiting to rip-off unsuspecting tourists.
You could negotiate one to take you around for the day. Also, remember there is no air-con and it will feel like a hairdryer hitting you in the face!
Where to stay in Delhi
Delhi is huge, chaotic, and busy at all times of the day. Where you stay in the city can have a large effect on whether you enjoy it as a tourist or not.
Most travellers tend to choose Paharganj as this is where most of the backpacker hostels are and cheap guest houses. But, It's not the most peaceful. In fact, it's noisy pretty much all hours of the day and night.
When I backpacked through Delhi, I chose Paharganj. Personally, I don't mind it and I love the atmosphere around the area in the evenings. However, it's not for everyone. I can recommend the budget Yes Please Treebo Natraj (it's actually quiet) or the mid-range Hotel Ajanta.
For a more peaceful area, I'd pick New Friends Colony or somewhere near Hauz Khas Village. There are a couple of 'Poshtels' here and some friendly Homestays which provide more of a relaxing dwelling.
For hostels, I like the Zostel chain. They come highly recommended and I've stayed in a few myself. As a bonus, the Zostel Delhi is located in Connaught Place so it has a nice central location and it's near the Baoli.
For more luxurious residences, I'd always choose The Imperial New Delhi, Taj Palace or the Shangri-La.
Read more of my India travel & photography guides
The ultimate Rajasthan itinerary
A first timers guide to Jaipur
What Instagram doesn't tell you about the Ahar Cenotaphs in Udaipur
My complete guide for Rishikesh
Save the most Instagrammable places in Delhi for later!