If you're looking for the best Fes photography spots in the city, look no further. This gorgeous list of pretty places will include all of the Instagrammable locations in Fes for your visit!
I have to be honest with you, I really didn't expect Fes to be all that great for photos. I mean, most people make a beeline for the glamorous Marrakesh or just use this as a stopover on the way to the blue city of Chefchaouen.
But, I'll be the first to admit, I was completely WRONG! Fes is filled with incredible inspiration and you can find amazing hidden places all over this golden city.
From the Fez Tanneries to the golden gates of the Royal Palace, ruined gardens, panoramic viewpoints, the sumptuous riads, and bustling bazaars. You'll honestly be spoilt for choice!
Here is your list of the most Instagrammable places in Fes, Morocco.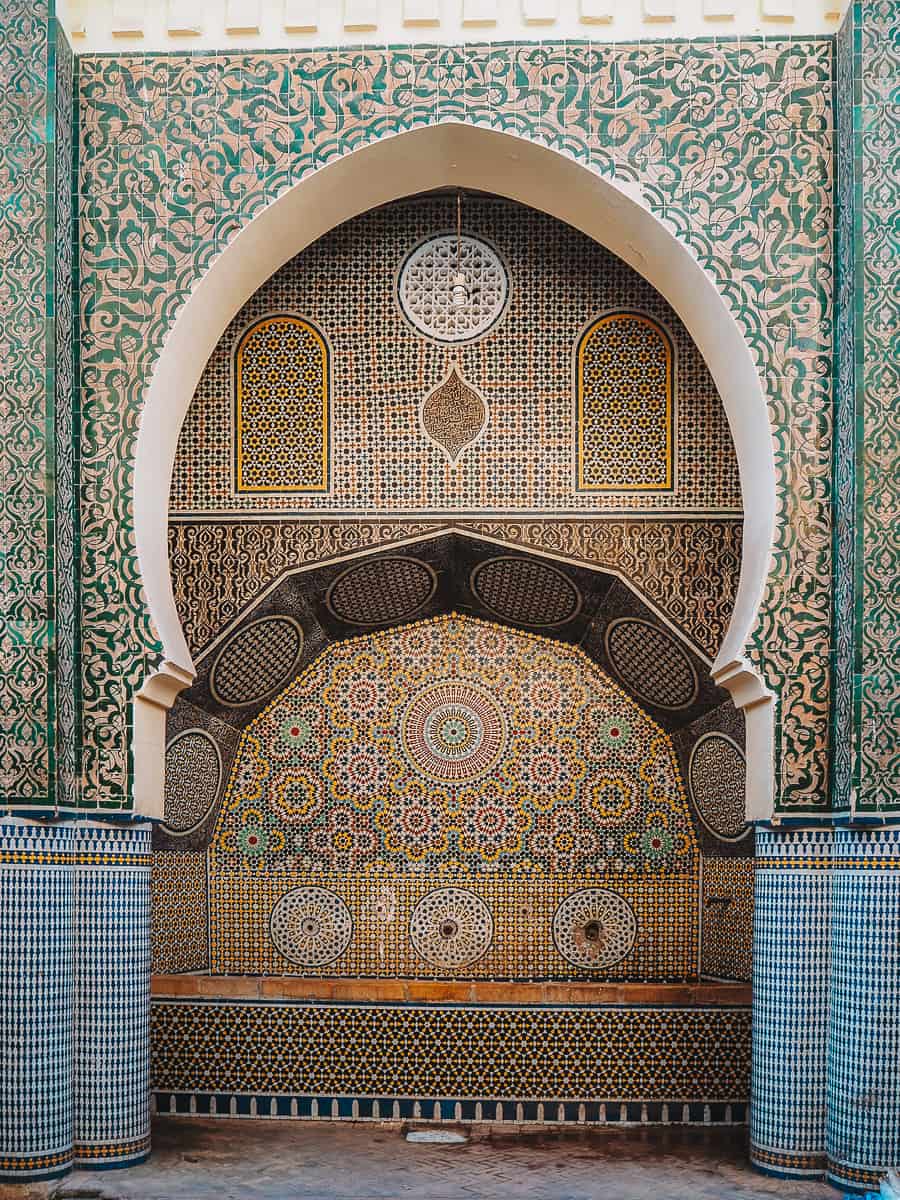 Top Fes photography tips for Morocco!
However, even if you do dress appropriately, don't expect to be completely immune to male attention. Especially if you're travelling solo. Catcalling is common here and could be made worse if you're posing for photos. Just rise above it. For more solo female travel tips see here.
I used my tripod in Fes to take these travel photos solo! Most attractions are not bothered if you bring a tripod inside. For the most part, photography fees are also completely free and included in attraction tickets. For more tips on solo photography, see here.
Many of the attractions in Fes, especially the Medina, will be busy and crowded throughout the day. My top tip is always to get up as early as possible and take photos while there are little people around. I took photos around sunrise and found that the medina was a ghost town.
These are the most Instagrammable places in Fes, Morocco!
1. Chouara Tannery
The first stop on our Fes photography tour has to be the Fez Tanneries. There are actually three main tanneries located around the city but the most famous is the Chouara Tannery.
This 11-century workshop is located in Fes El Bali and I hate to tell you this but you will smell them before you see them!
Although the clay pots of dye look amazing and similar to an artist's paint palette, you may be surprised to know that they also contain a mixture of pigeon poop and cows urine!
That's right, all those beautiful leather products you see around the market require some pretty nasty ingredients to make. Take a sprig of mint if you're sensitive to smells, but you'll actually get used to it within a few minutes.
Before you visit, you should know that these tanneries attract a lot of scams and unofficial 'guides' who will approach you. They will offer to take you inside a shop to look at the tanneries. Unfortunately, you can't really see the tanneries from above without entering one of these shops.
This is normal but I would have an idea in mind of what shop you would like to go inside to get a great view. Both the shops of Number 10 and 64 have amazing views! So, when you approach Fes El Bali try to look for one of those numbers on the wall.
You should expect to pay around 20-50 MAD (£5) for a tour of the tanneries. Any more and it's too much. Stay firm and if they get aggressive and try and force you to buy leather products, just leave.
Click here to read my tips for avoiding tannery scams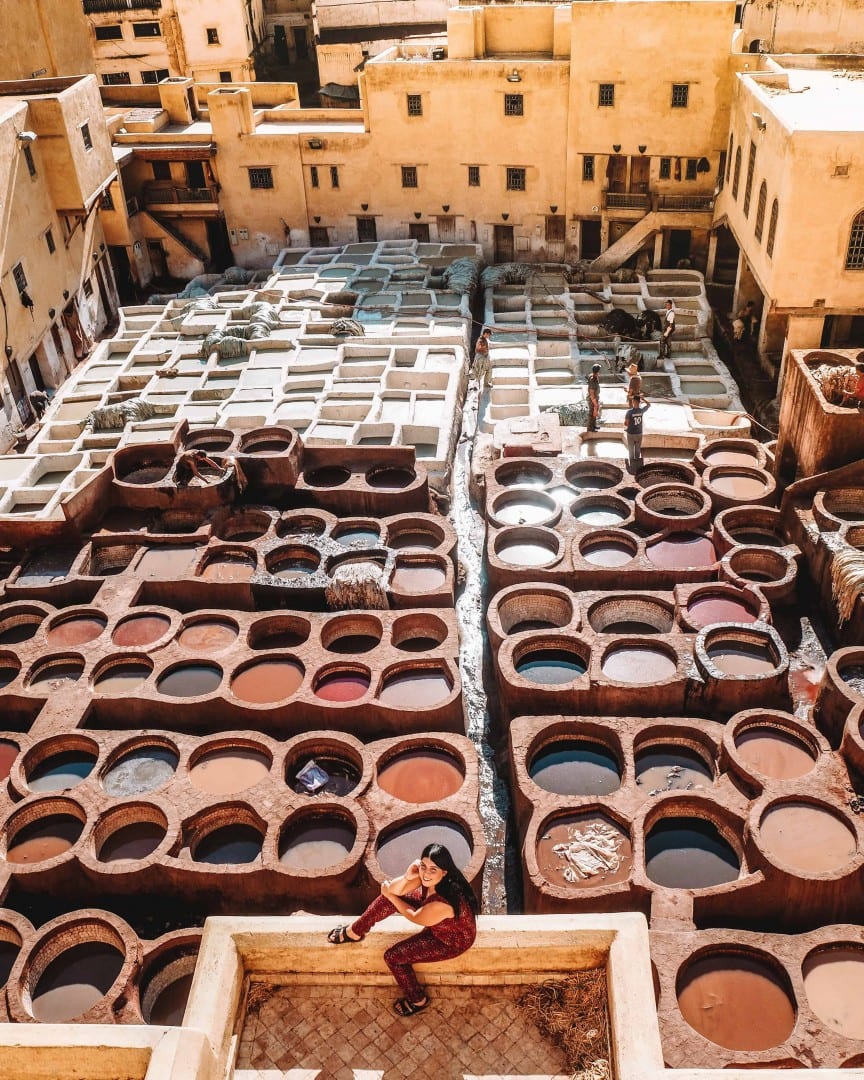 2. The Royal Palace of Fes Doors
One of my favourite Instagrammable places in Fes has to be the Royal Palace Doors at Fes Palais Royal.
Although the palace has been here since the 13th-century, the golden gates of Place el Alouites were built in the 1960s following Morocco's independence from France.
Today, it's the official residence of the royal family of Morocco and, unless you have an invitation, you cannot go inside the palace for a tour. Even when the family is not in residence!
However, tourists always flock outside the new palace square to take photos with the fabulous golden doors at the entrance!
I would personally get here early to get photos of this place as you'll usually find tour groups queuing here throughout the day.
Also, don't take a picture of anything other than the doors. Not of the royal guard or anything beyond it. You could see your camera confiscated.
Entry is FREE and it's open 24 hours a day. But, just be conscious of the guards and follow their rules. They may not let you get close to the doors if there are special guests.
Read my complete guide for the golden gates!
3. Fes Medina
The old walled city of Fes and the medina is like a labyrinth of laneways and you can easily get lost – but that's the best part!
These markets and bazaars are not as glamorous as those of Marrakesh. It is very normal to see animal entrails and even camel heads on spikes here. But, it should come as no surprise that camels are traded here in Morocco and their meat is a delicacy.
There are endless laneways and hidden corners that you can capture around here. The bazaar sells just about everything!
From colourful leather slippers, tiled fountains, spices stall, lanterns, hookah pipes, nuts, and even tobacco.
My biggest tip would to be explore blind and not worry too much about where you'll end up. You never know what you may find and it's way more fun this way.
The medina does have some signs to guide you through if you're worried. Or, you can use Google Maps.
4. Blue Gate
The Blue Gate in Fes or "Grande Porte Bab Boujeloud" is one of the first amazing sites you'll see as you enter the Bab Boujloud area of the Fes Medina.
It's funny that they actually call this the 'Blue Gate' as one side is actually green!
Did you know that Fes is the world's largest surviving medieval city and urban car-free zone?! This gate marks the point where cars have to stop and people enter the boundaries of this once ancient market!
The Bab gate was built in 1913 is almost like a portal from the 21st-century side of Fes. As you enter under its magnificent archway with blue tiles, you almost get transported back in time to the ancient city!
Although it's incredibly busy throughout the day, it's an incredible Fes photography spot. The early bird definitely catches the worm with this one.
5. Cafe Clock
Cafe Clock was one of my favourite spots to eat in Fes. In fact, I went back here three times over!
I just couldn't get enough of their refreshing avocado smoothies when I went exploring around the bazaar.
The cafe can be found near Bou Inania Madrasa but you'll need to walk through a bit of a dark alleyway to reach it. Don't worry though, keep heading down to the end!
Inside, you'll find three open floors to take a seat and a wonderful outdoor terrace on the rooftop. This has an incredible view of the minaret that is part of Bou Inania Madrasa.
The cafe is so colourful and it's a really lovely place to relax a while over lunch or dinner. You must try their famous dish of a camel burger – it just has to be done, if you eat meat of course! If you don't, the cafe also sells amazing salads and vegetarian dishes too.
The cafe not only serves up food but also has jam nights, workshops and cooking classes to get involved in.
Read my full review of Cafe Clock here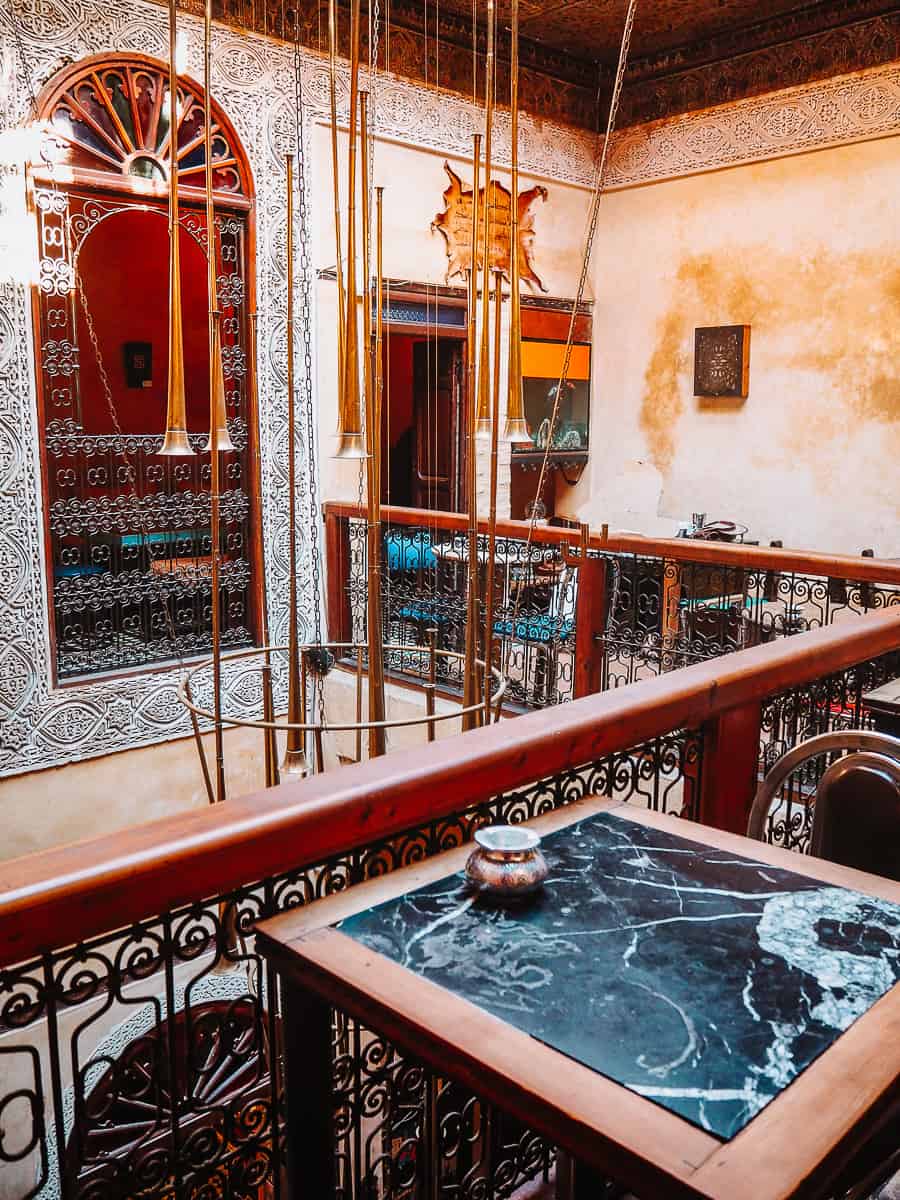 6. Riad Fes Relais & Chateaux
Fes is filled with gorgeous riads on every corner and most of these are traditionally decorated in gorgeous tiles and have beautiful courtyards and fountains! A lot of them could be considered Instagrammable.
But, I think one of the most photo-worthy hotels in Fes has to be the luxurious Riad Fes by Relais & Chateaux.
Everything about this hotel is sumptuous and it's a little oasis from the bustling medina outside!
From their incredible reception lounge, a peaceful pool, and a luxury dining restaurant that's surrounded by dancing fountains.
The best part of being a guest of Riad Fes is enjoying the views from their rooftop bar. Alcohol isn't really big in Morocco due to the culture, so coming up to their sky lounge for a glass of wine is a bit of a treat.
You can sip on a cocktail while watching the sun go down over the city. When I sat here, the butter coloured buildings were awash with pink light and then the stars started to twinkle. It was a magical way to end my trip! Click here to book a room for the night.
Related post -is Riad Fes worth the price tag?
7. The Merinid Tombs
If you're looking for another panoramic viewpoint in Fes, then I would highly recommend making a trek up to the Merenid Tombs.
This hillside, which overlooks Fes El Bali, was once home to the great royal necropolis of Merenid Sultans. They ruled over Fes from the 13th-15th centuries.
However, nowadays, all that's leftover is a couple of empty and desolate tombs. Over the centuries, once the Merenid Dynasty fell, people ransacked and robbed these tombs of every last piece of treasure.
So, although we know it was made by the Merenid rulers it's remained a bit of an ancient mystery. There has never been an excavation made here and so no one knows who was buried here!
Although it is a shame that the necropolis no longer stands, its removal has made way for a magnificent panorama over Fes. So, I'd recommend visiting at sunset to take in the views!
But, don't stay too late as this area is known for muggings at night where tourists are the main target. If you would prefer you can get a taxi here instead of walking, it will cost around 10 MAD (£1).
Click here for more safety tips for visiting the Merenid Tombs
8. The Ruined Garden Restaurant
The Ruined Garden Restaurant is one of the most popular restaurants in Fes but it can be a little difficult to locate.
It's hidden away in a far corner of Fes Medina, but the ambient location and the food are well worth the effort locating!
As the name would suggest, this restaurant provides a clandestine setting in amongst all the plants and foliage that grows here.
You'll find crumbling walls with huge trees, plants, and bushes. It's like a little botanical oasis within the somewhat dry medina. It's easily one of the most Instagrammable places in Fes!
Years ago, this riad and garden was once a grand house that was abandoned by some merchants who opted to move to the capital of Rabat. So, it left the grounds open for development.
Two young expats, Robert and John, had the vision to transform this place into a beautiful setting for food!
You can order amazing Moroccan craft beers, Tapas, set menus, fresh fish, and daily specials. Their sweet desserts and cheesecakes are also to die for!
It's only open from Thursday to Tuesday from 12 pm to 10.30 pm. Reservations are highly recommended, especially for the evenings. But, I found there was plenty of space at opening time.
9. Bou Inania Madrasa
You may (or may not) be disappointed to find out that many of the intricately decorated mosques are not open to tourists in the Fes Medina. They will only allow those of the Islamic faith inside who want to pray – which is fair enough.
So, if you did want to see some of the incredible architecture that Fes showcases, you'll need to look elsewhere. The best way to find some of these amazing buildings would be to visit one of the schools or Madrasas in the Medina.
There are two main historic schools that are now open as tourist attractions. Those are the Al-Attarine Madrasa and Bou Inania Madrasa.
Although I cannot comment on the Al-Attarine Madrasa (it was under construction on my visit), I found the Bou Inania Madrasa incredibly impressive to explore! It's one of the top Fes photography locations.
It was opened as an ancient college in the 14th-century for Islamic instruction. Although it's not very large in size, the beautiful archways, tiles, carvings, and craftsmanship are breathtaking.
This used to be free, but they now charge an entry fee of 30 MAD to go inside. It does get really busy with tour groups throughout the day, so I'd visit at the opening time of 9 am or after 4 pm for photos!
10. Dar Seffarine
If you're looking for another equally as Instagrammable hotel in Fes, you must look up the spectacular Dar Seffarine.
This riad is over 600 years old and one of the oldest in the Medina today. It used to be a royal palace but, unfortunately, it ended up in ruins over the centuries.
It's now been lovingly renovated by its new owners, Kate and Alaa and they've even managed to maintain a lot of the original carving work and details. So, you'll really feel like Moroccan royalty on your stay!
Every room is traditionally decorated with lots of space, comfy beds, and luxurious decor. Plus, you can enjoy their incredible views on the rooftop at sunset with a cup of mint tea!
In the evenings, the riad holds a family meal with the residents of the hotel which is a great opportunity to meet new travellers. They serve up some local Fes dishes like Tegine with Lamb and Prunes. It was delicious.
I'd highly recommend their property. Click here to book yourself a room.
Related post – this is the best riad in Fes!
11. Rainbow Street Art
The first photo of Fes I saved on my Pinterest Board was this very rainbow street! Although a lot of people know of it and see it on Instagram feeds, there isn't much information about this amazing street anywhere really!
Well, having now been here, I can safely tell you that it's quite easy to find in the Fes Medina by putting in 'Rainbow Street Art' on Google Maps! It will lead you right to it.
But, if you wanted a steer in the right direction, you can find this small colourful alleyway near the Blue Gate, Bou Inania Madrassa, and Cafe Clock.
Locals will know this street to connect Talaa Kebira and Talaa Seghira. So, if you need help, ask a local to point you in the right direction!
Although this is one of the top Fes Instagram spots, be aware that this is also a business too set up by some local artists.
So, you'll find that their paintings hang on the walls, as well as some stunning jewellery and handicrafts that are up for sale.
Remember to support local businesses as well as gain free content for your portfolio!
How to get around the most Instagrammable places in Fes
Most of the attractions in this list are all centred around the old city of Fes in the Fes el Bali area of the Medina.
Attractions like the Tanneries, Cafe Clock, Bou Inania Madrassa, the Ruined Garden, and the Rainbow Street can all be accessed on foot.
But, remember, it's a labyrinth of laneways and it's easy to go around in circles! So, if you're on a limited time frame, I'd recommend having data to use Google Maps or download an offline map via maps.me.
If you wanted more of a guided tour, there are a couple of private walking tours with guides you could look into booking here!
Attractions like the Fes Palace and the Merenid Tombs will be far easier to access by taxi. You're looking at an hour's walk in the heat from the medina to the palace and the route is not straightforward.
As the Medina is car-free, you'll need to walk to the outskirts of the old walled city to find the taxi ranks. From here, you can flag down one of the red taxis to take you to each attraction.
I found it almost impossible to get the metre turned on (the typical 'metre in broken' rhetoric) and had many heated debates before I eventually gave up haha! So, remember to negotiate a taxi fee before getting inside.
I found that most of my taxi journeys cost around 10-20 MAD though (£1-3). So, not too expensive! But it can add up.
A small note on safety tips and taxis scams in Fes
Remember, if you have negotiated a private rate for a taxi in Morocco, this is private hire.
If they start picking up extra people or letting their 'friends' inside to hitch a ride for free. Just tell them no! It's a common scam and it's not always safe.
This is completely different to 'Grand Taxis' and 'Petite Taxis' which are shared and should be charged by the metre!
Also, remember not to pay your money to the driver until you have arrived at your destination.
If they ask for more than the agreed price at the end of your journey, just refuse, give them what you agreed, and walk away.
Read more of my Morocco travel guides
The ultimate 2 weeks in Morocco itinerary
The top things I wish I knew before travelling to Morocco
What to wear in Morocco as a woman
Solo female travel tips for Morocco
Taking a Sahara Desert Tour from Marrakesh
Top places to visit in Chefchaouen
Save the most Instagrammable places in Fes for later!