Let's face it, Warsaw isn't really known as a photographer's highlight destination.
But, I'll be the first to put my hands up and say I was completely wrong about Warsaw. It wasn't grey, boring or drab as people would like to make out!
In fact, it was so bright and colourful and there were loads of Warsaw Photography spots that I fell in love with.
From the historical buildings of the castle square, colourful courtyards in the Old Town, spectacular viewpoints, churches, and adorable kitsch restaurants. There is SO much inspiration in the capital of Poland!
So, I've put together an extensive list of the most Instagrammable places in Warsaw to help others find them.
A brief overview of Warsaw & it's turbulent history
As it goes for European cities, Warsaw has had one of the most turbulent histories on the continent. It's definitely important to research this before you go!
It was founded in the 10th century and beyond several historic plagues, invasions, and fires. It's also faced a German invasion, The Warsaw Uprising, and Communist rule.
Recent notable events in the city include the German invasion of Poland. It saw the entire Jewish population of Warsaw, around 400,000 people, herded into a ghetto.
Another is the Warsaw Uprising in 1944. This saw Polish Resistance fighters trying to drive out German forces in the city.
It miraculously lasted two months despite the resistance fighters being outnumbered. Unfortunately, the Germans overpowered them and many of the resistance members were executed.
As a message, Hitler completely destroyed the city with systematic bombings killing thousands. This is why so many of Warsaw's historic buildings are reconstructions of the originals.
After that Warsaw, like the rest of Poland, was subject to Communist rule. This saw many of the buildings restored and the start of the famous Polish Milk Bar!
Ever since 1989, Poland finally gained its independence and became part of the European Union.
Finally, after centuries of tragic chapters, Warsaw is heading into its golden era. Today, it's thriving with tourism, culture and has many amazing photography locations to visit around the city!
Warsaw photography tips
Tripods – In most attractions tripods were absolutely fine. But, there were some places like the Warsaw Rising Museum and churches that do not allow it.
Photography bans – some churches and museums do not allow photography inside. You'll usually know due to the signs. But, just be prepared for someone to shout at you anyway!
Photography fees – all attractions in Warsaw usually allow photography free as part of your ticket fee.
Crowds – Warsaw does see a lot of tourists, especially in the Old Town. In summer, you'll find that the Castle Square (Plac Zamkowy) is busy with tour groups all day. So, if you wanted to get some clear shots, I'd visit in the low season or get up early in the morning to beat the crowds!
These are the most Instagrammable places in Warsaw
1. Palace of Culture & Science
No visit to the capital of Poland would be complete without a stop at the most notable building in the city!
The Palace of Culture and Science (PKiN) is a high-rise building that's 237 metres high making it the highest building in all of Poland.
This incredible Art-Deco structure was built in 1955 and is a multi-complex that houses some amazing restaurants, cinemas, libraries, theatres, and even a swimming pool inside!
It was made with approximately 40 million bricks and houses 3,288 rooms. It was built as a 'gift to the people' from Stalin as 'the people's castle', so it does also stir quite a lot of controversy today.
In terms of photography spots, there is really no end to them! Personally, my favourite composition was by the beautiful water fountain in the park square underneath.
However, many people wish to take the elevator to the 30th floor to get an incredible view of Warsaw from above.
PKiN is a great spot to photograph at any time of day. In fact, it looks amazing lit up a night!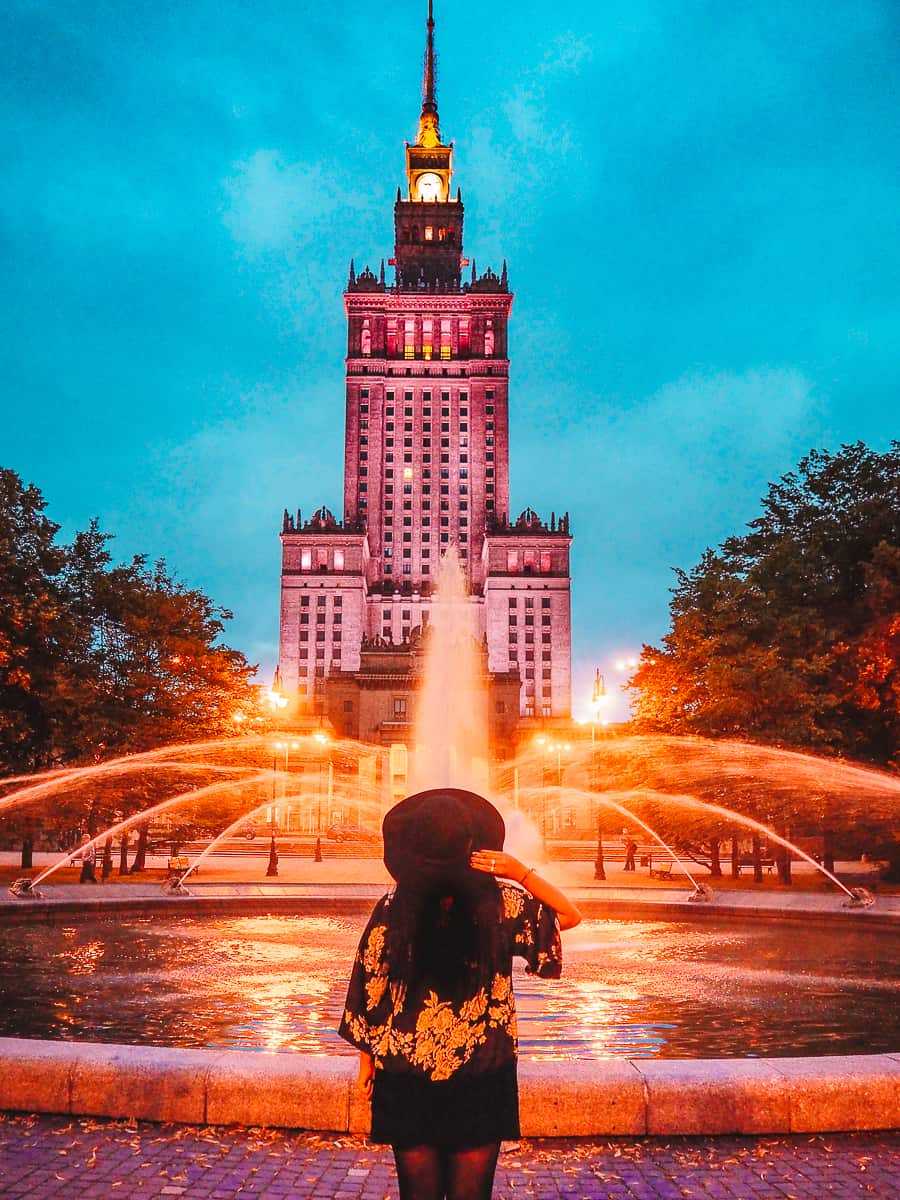 Palace Culture and Science viewing platform
One of the most Instagrammable places in Warsaw has to be the spectacular view you can get from the top floor of the Palace of Culture and Science.
It's a viewing terrace that can be found by taking the lift up to the 30th floor!
As it's one of the tallest buildings in Poland you can get spectacular views from above. This includes a peek at the Old Town and the many high-rise buildings.
It's a view not to be missed and makes the perfect photo. There is also a café up here too for a coffee with a view. You can book tickets online here.
Ticket prices for the Palace of Culture and Science viewing platform are 20 PNL (£4/$5) and opening times are 10am – 8pm daily. Special night viewings take place on Friday nights until 10 pm.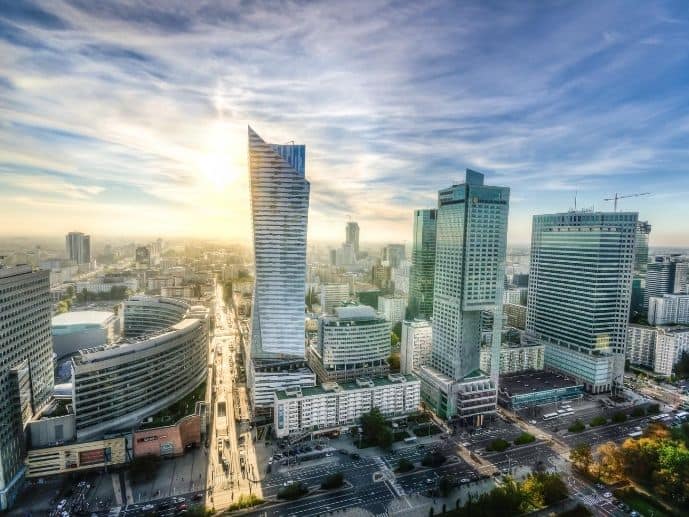 2. Warsaw Old Town – Plac Zamkowy Square
The second stop on the Warsaw photography tour is the impressive and vibrant Plac Zamkowy or Castle Square.
This is one of the most iconic parts of the city where you'll find gorgeous historical buildings, churches, 'The Royal Way' and Warsaw Royal Castle!
This was the former official residence of Polish monarchs. The column you see here is to commemorate King Sigismund III of Poland and is one of the oldest and most significant landmarks in the city. You'll often see walking tours start here!
It's funny that this is called a square as you'll find that it's almost triangular and the buildings here lead you into the other parts of the Old Town.
There are many photography spots in this area. From the steps leading down passed the Royal Castle and the colourful buildings in the square itself.
It's also one of the busiest areas of Warsaw. So, to avoid the crowds, I'd recommend getting here as early as you can!
3. Warsaw Old Town Market Square
Once you're here, you'll find that the Old Town of Warsaw has so much inspiration for photography. One of those areas is Warsaw Market Square!
This is the very oldest part of Warsaw Old Town. However, it was largely rebuilt following the mass destruction from World War II and the Warsaw Uprising.
This spectacular courtyard has the most photogenic colourful houses, in all different shapes with terraces.
You'll find gorgeous cafés with umbrellas, knick-knack shops, fountains, and artists selling paintings on boards outside.
This was by far one of my favourite areas of the old town and it's lovely to take a seat and watch the world go by!
4. Pretty streets & colourful houses of Warsaw Old Town (Wishing Bell)
One of the best things to do in Warsaw Old Town is to explore the tiny streets that fall off the main squares.
Here you can find some amazing colourful buildings, cobbled streets, and courtyards that make great photos.
My personal favourite of these was the area that surrounds the Wishing Bell. Here you'll find some pretty pink and pastel buildings in a secluded square.
It's a great way to avoid the crowds and you can find some hidden gems in amongst the touristy areas.
5. St Anne's Church Observation Deck
One of the most recognisable and best photo spots in Warsaw has to be the birds-eye view of Plac Zamkowy Square.
No, it's not a drone photo! In fact, it's a viewing terrace that can be found on top of one of Warsaw's most notable churches.
If you head back towards Castle Square, you'll find a church with a striking Neo-Classical facade. This is St Anne' Church.
Just next to that is the standalone Bell Tower and from here, you'll be able to take the 150 steps up to St Anne's Church Observation Deck. There is no lift so prepare for that!
For just 5 PLN (£1), you'll receive one of the best views in all of Warsaw. It's also worth popping inside St Anne's Church too which is free. The architecture is breathtaking.
Click here to read on how to find this amazing viewpoint
6. Warsaw Royal Castle
In the spotlight of Plac Zamkowy is the gorgeous red brick building of Warsaw Royal Castle.
It was the official residence of Polish Monarchs from the 14th century up until the Final Partition of Poland in 1795.
This building has been here through many notable events in Polish history. From the monarchy to the four-year parliament, World War I, II, and the Warsaw Uprising. It's stood here through it all.
It saw notable damage made during World War II and Warsaw Uprising. So, what we see today is a complete reconstruction from 1971 – 84.
Nowadays, it's a museum and a significant part of the Old Town UNESCO World Heritage Site. As one of Warsaw's most recognisable landmarks, it sees well over half a million tourists each year!
Whether you take photos outside in the square or in its many courtyards and grounds; they will be spectacular. It's one of the most Instagrammable places in Warsaw!
7. Warsaw Barbican
Although it's hard to believe it nowadays, Warsaw used to be fortified city. This was in order to protect the monarchy, city, and people from foreign invaders.
Although not much of the old city walls exist anymore, one of the most notable parts that have been preserved is the Warsaw Barbican.
The Barbican was constructed in 1540 on Nowomiejska Street. It was designed by the famous Italian architect, Jan Baptist the Venetian.
Although originally built to defend the city, the tower was only ever used once during an attack by Sweden!
Like most of Warsaw's historic buildings, it was reconstructed after mass destruction during World War II and the Warsaw Uprising.
Today, it's a popular tourist attraction in the Old Town and its turrets make an incredible photography spot.
8. Palace on the Isle (Pałac Łazienkowski) & Łazienki Park
Warsaw seems to have a never-ending list of amazing palaces but the Palace on the Isle or Pałac Łazienkowski in Lazienki Park is one of the most romantic.
Also known as Baths Palace, this ornate classicist building was originally designed in 1675 by Count Stanisław Herakliusz Lubomirski.
He wanted to create a baroque Bath House (Lazienka) like the ones found in other parts of Europe. Including, England's city of Bath who was famous for its healing methods of 'taking the waters'.
Today, the palace still stands in the park on the banks of a gorgeous lake. The reflections on the outside and the rooms inside, make this a gorgeous Warsaw photography spot.
As well as taking photos of the palace, there are numerous locations within Warsaw's Royal Baths Park that makes a great composition. From romantic bridges, an oriental garden, the reflective lake, and more.
Lazienki Park is one of the largest parks in Warsaw, so leave lots of time to explore. It receives over 2 million visitors a year!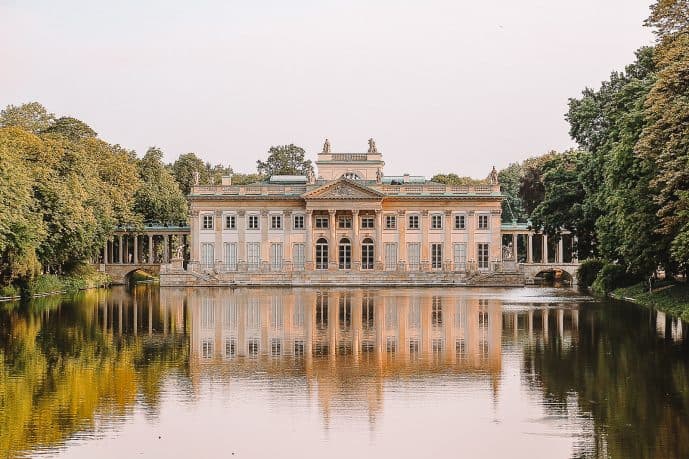 9. MOD Donuts
If you're looking for Instagrammable places to eat in Warsaw, you'll find plenty of adorable restaurants in the city beyond the traditional Milk Bars.
They not only have amazing decor but also Instagrammable food options too.
One of those places is MOD who serves up an amazing combination of artisan doughnuts and Ramen, if you can believe it!
Their handmade doughnuts have some incredible decorations. We had their famous one with a real pink flower on top.
The doughnuts change by the season so make sure to have a look at what's in store. They also serve them in pretty pastel pink boxes and you can sit in their amazing kitsch restaurant.
It's well worth stopping by! Click here to visit their website
10. Wilanów Palace
One of my favourite Warsaw Palaces is the gorgeous Wilanów Palace, the historic home of King Jan III!
The reason why I love it so much is that this amazing residence is completely painted head to toe in beautiful lemon colour. Quite unique, wouldn't you say?
It was originally constructed in the 17th-century and was established as a museum in 1805, making it the oldest in the entire country.
It's well worth taking a tour of the palace rooms but, if you're on a budget, you could just buy a ticket for the ornate gardens. These really reminded me of Versailles!
There are plenty of photography spots inside and outside of the palace. It's truly spectacular.
Click here to read my complete guide for taking a day trip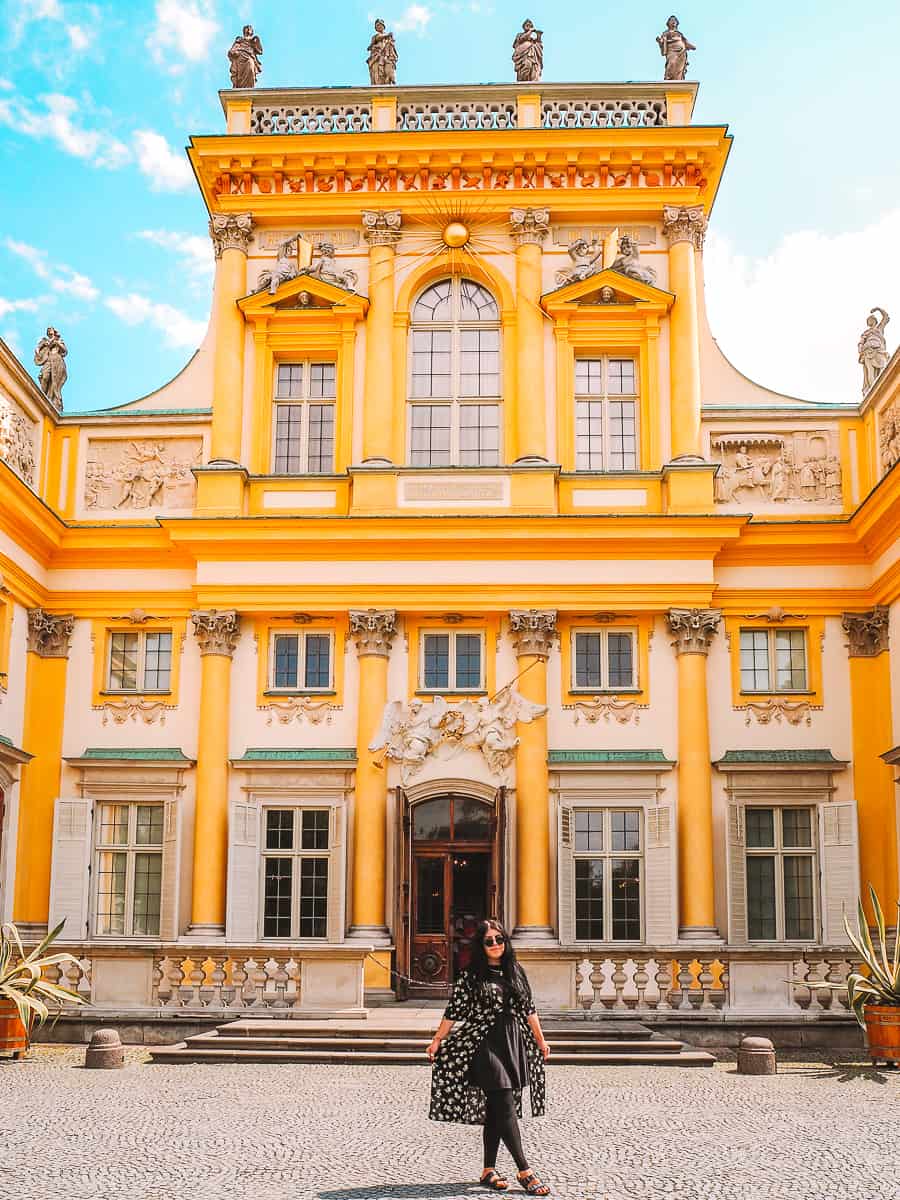 11. Hotel Bristol
If you fancy going for an afternoon tea while in the city, I'd recommend the famous Hotel Bristol in Warsaw.
It's easily one of Warsaw's most famous hotels and has a long history dating back to 1901.
It has stood here through Poland's independence, the German invasion, and even the Soviet Era. It's been a hotel, administrative office, and even a library.
After the fall of Communism, the hotel was brought back to its former Art Nouveau glory in 1993. Ever since, celebrities, politicians, and even royalty have stayed here!
The hotel is stunning from the inside and out but one of the best ways to experience it would be to have afternoon tea in their Column Bar.
My friend and I stopped by and really enjoyed the experience. It's also incredibly good value for money.
Read more about my afternoon tea experience
12. Hala Koszyki Market Hall
Hala Koszyki is the perfect blend between the historic and modern culture of the capital of Poland and is currently Warsaw's first and only food hall.
It's a lively market that has eighteen restaurant concepts and has only recently been reopened to the public!
Previously, the Old Hala or Hall was built as the 'People's Bazaar' in 1906. It was designed in the Art Nouveau style by famous Polish architect, Juliusz Dzierżanowski.
It was then repurposed for public use in the 1940s, then in 1964 it became a public department store.
Recently it underwent a significant re-design in 2012 and by 2016 it has reopened to the public!
As well as sampling some of the many amazing restaurants, you can take a photo of the incredible architecture of the Market Hall from above! The best location is on the first floor.
13. Polish Milk Bar / Bar Mleczny
No visit to Poland would ever be complete without experiencing a visit to a Polish Milk Bar or Bar Mleczny.
These are almost institutions across the country and were set up as Polish cafeterias during the communist era. The Milk Bars used to serve up Polish cuisine that was highly subsidised by the government.
Although the communist era has long gone, the Polish Milk Bars still remain and are highly popular places to eat for locals.
These cafés aren't The Ritz, but they serve up wholesome traditional food at a cheap price that doesn't break the bank!
It can be quite a tough, 'no frills' experience for tourists who visit Polish Milk Bars as not much will be in English at all. Plus, it's completely self-service. So, it is helpful to learn a few words before you go.
The most popular meal is Pierogi, Polish dumplings, that's easy enough. But, you can also have meals like borscht which is a bright pink cold beet soup!
This is what I would recommend if you're planning on taking photos. It looks pretty but tastes amazing as well.
It's really filling and a pierogi-borscht combo with a drink will cost you only a few Euros!
I would highly recommend Bar Bambino which is kind of upscale. However, you'll find them all over the city!
14. Gdanski Bridge
The Gdanksi Bridge is a historic double-decker truss bridge that spans along the Vistula in Warsaw!
It originally opened in 1959 and was constructed alongside the Citadel Rail Bridge which was largely destroyed during World War II.
It went under a massive reconstruction in 1998 but now its architecture makes an amazing Warsaw photography location!
It's a bit of a hidden gem. As well as the bridge being charming, you'll find that the view from here provides an incredible panorama! You'll get to see the city skyscrapers reflected in the river below.
15. Bubble Waffle Warszawa
Another place with highly Instagrammable food in Warsaw is Bubble Waffle Warszawa!
Of course, Bubble Waffles are not unique, or even originally from Poland. But, it doesn't make it any less yummy to eat and it's really popular with the locals here.
The café has an endless amount of sweet treats to accompany your waffle on the menu. From Smarties, brownies, and Oreos all the way to strawberries and ice cream.
They're extremely delicious and make a great photo! I would make sure you arrive with lots of room in your tummy.
16. Warsaw University Library Garden on the rooftop
An unlikely photography location in Warsaw is the amazing botanical gardens that can be found on top of the Warsaw University Library.
The gardens opened in 2002 and are now one of the largest rooftop gardens in Europe covering 1 hectare!
There are two floors to these gardens and both have fantastic flora and fauna, ponds, bridges and pergolas.
As well as the gardens being one of the most Instagrammable places in Warsaw, it also provides a spectacular panorama.
You can take a glimpse from here at the city skyline. It's well worth seeing.
The best part? It's completely FREE entry!
The upper gardens are only open to the public from April to October. However, the lower garden is open all year round.
17. Praga district street art & murals
Did you know that the capital of Poland is home to some incredible street art?
If you were interested in capturing some of the incredible murals, then I would recommend heading over to the Praga district.
Here, you'll find some captivating pieces from Polish and international artists. Famous artworks include, 'The Castle', 'Fight Club', 'Goose', 'Bird and Snake' & 'Dziura'.
It's well worth exploring around here to see what amazing creations you can find!
How to get around Warsaw
The Old Town of Warsaw is easy to get around on foot. You can visit Plac Zamkowy, the Market Square & The Castle really easily as they are right next to each other.
However, if you want to travel to the Palace of Culture and Science, the Palaces and Praga, I would recommend taking public transport.
There are buses, trams, and metro to easily navigate your way around.
Journeys are quite cheap but this is dependent on the zone you wish to travel to. You must buy your ticket in advance!
Click here for transport information
Where to stay in Warsaw
On my visit, we stayed in the fantastic Hotel Rialto in Warsaw. This boutique hotel is a 5* property but has reasonable prices.
The whole building is decorated like Art Deco in retro-deco decor and the staff service could not be beaten.
Our room was on the top floor which had a great view and we loved the peace and quiet!
It's right next to the Chopin Museum and only a five-minute walk from the iconic Palace of Science and Culture. I would highly recommend it.
Read more of my Warsaw & Poland guides!
Afternoon Tea at Hotel Bristol
St Anne's Church – The best view of Warsaw Old Town
Save these Instagrammable places in Warsaw for later!