If you're looking for the best Whitby photography spots, I've got a complete guide of the most Instagrammable places in Whitby for you right here!
Whitby is one of the most gorgeous harbour towns in the UK located in the North York Moors National Park.
Its beauty brings thousands of tourists every year and it also has a sense of mysticism and macabre due to its Bram Stoker connection.
This is the famous place where the Vampire Dracula lands on English shores! So, every scene oozes with character.
From the ruins of Whitby Abbey, the 199 steps, the Whalebone Arch, and gorgeous houses stacked on top of each other by the sea. There is endless photography inspiration around every corner.
Here are the top Whitby photography spots to find on your visit with a FREE map!
My top Whitby photography tips
Whitby is an extremely popular destination in Yorkshire. For that reason, I'd always recommend getting up early to capture places like the 199 steps. During the day, this is packed!
As Whitby is the famous home of Dracula, don't underestimate how cool these places look at night as well as during the day. Especially when there's a full moon! The whalebone arch is particularly beautiful at night as well as the 199 steps and St Mary's Church. It adds a whole new spooky perspective.
Whitby Abbey is the iconic location that's by far one of the busiest places for photos. So, I'd recommend getting there early for opening time or waiting until the very end of the day.
If you're concerned about crowds, I'd alway recommend planning your visit in the shoulder seasons of Spring or Autumn. That way you have the best chance of good weather and far less tourists than in the summer months and school holidays.
Most of these places you can easily walk to in the town. But, if you're wanting to save some energy, you could get the hop on hop off bus around Whitby for the day. This is a great way to take in all the sights and learn about the history of what you're seeing as well. Click here to book.
The Most Instagrammable places in Whitby!
1. The view of Whitby Abbey from the grounds
This photograph of the dramatic Whitby Abbey is truly the créme de la créme of Whitby photography spots in the town.
What could be more emotive than a ruined church that sits desolate on top of the cliffs?!
As it is the most popular tourist attraction in the town and sees hundreds of visitors exploring during the day. You may find it hard to capture it. But, don't fret. There is a way to capture this abbey without all the people.
All you need to do is head out on the abbey grounds and explore the area around the 'lake'.
As you're further away, it appears that there are far fewer crowds than there actually are. Plus, you get that gorgeous reflection of the abbey in the water as well.
This was, by far, my favourite place to take photos on my visit. It's actually really peaceful around this part of the grounds and you can just enjoy the views.
Whitby Abbey is open from 10 am – 5 pm daily. Tickets are £11 an adult and £6.60 for children. It's free for English Heritage members.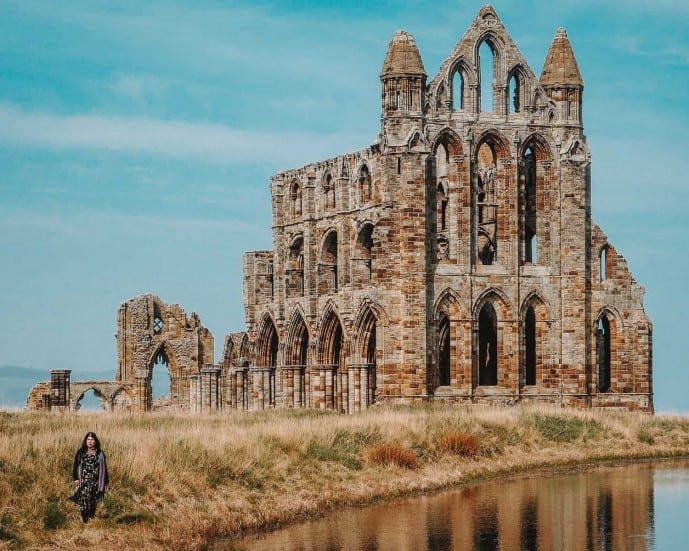 A brief history of Whitby Abbey
You may be surprised to know that this area around the abbey has a history dating back to the Bronze Age! But, it became a religious centre for Roman Christianity in 657 AD.
Back then, this place was called Streaneshalch in the Kingdom of Northumbria! It was eventually abandoned due to raids in the 9th century and then a new religious community was founded in 1068.
Unfortunately, the Dissolution of the Monasteries meant that the abbey was again dissolved in the 16th century on the orders of King Henry VIII.
As a consequence, Whitby Abbey fell into ruin and this is how we see it today. But, now, it's been reborn as the new home of Dracula!
Bram Stoker first visited Whitby in 1890. His view of this abbey from his hotel room inspired him to write his classic vampire novel. Also, he used Bran Castle as an inspiration in Romania.
You'll find that they regularly host Dracula plays here, there are Dracula gifts to buy in the shop! They take Dracula tourism very seriously and it's a great place for some spooky fun.
Are you a Bram Stoker fan? Click here to see the best Dracula spots in Whitby!
2. Inside Whitby Abbey
As well as capturing Whitby Abbey from the outside, there are countless photography spots inside the abbey complex.
Although it is a ruin, I think this is what makes it even more beautiful. It actually gives you more to work with and some great lighting as it's outside.
You'll still find plenty of archways and unique angles to capture its beauty!
My personal favourite places were the ruined cloisters near the Great Hall of the abbey. But, I did have to wait for an age to get this place to myself.
A big tip would be to visit this place as early as possible to avoid too many crowds. Or, wait until the very end of the day when people are leaving.
I'd recommend planning 1-2 hours to explore. There are museum exhibits, lots of gorgeous views to take in, and events that happen throughout the year. Click here for more details.
3. 199 Steps
So, if you're walking up to Whitby Abbey, your legs will have already been introduced to the 199 steps!
But, the funny thing is, no one really knows if there are actually 199 steps or not.
Some people swear that there are over 200 whilst other travel guides have said 194. So, I guess the only way you'll know is to count them yourself. There are some Roman numerals at the side to help you count.
Although it is a bit exhausting to climb up these stairs, the views from the top will be ALL worth it.
It's one of the most Instagrammable places in Whitby and it's completely free.
I absolutely loved capturing the stairs themselves. The scene with the historic lamp post and the steps sweeping down towards the harbour tells such a story!
Read more about its secrets in my 199 steps guide!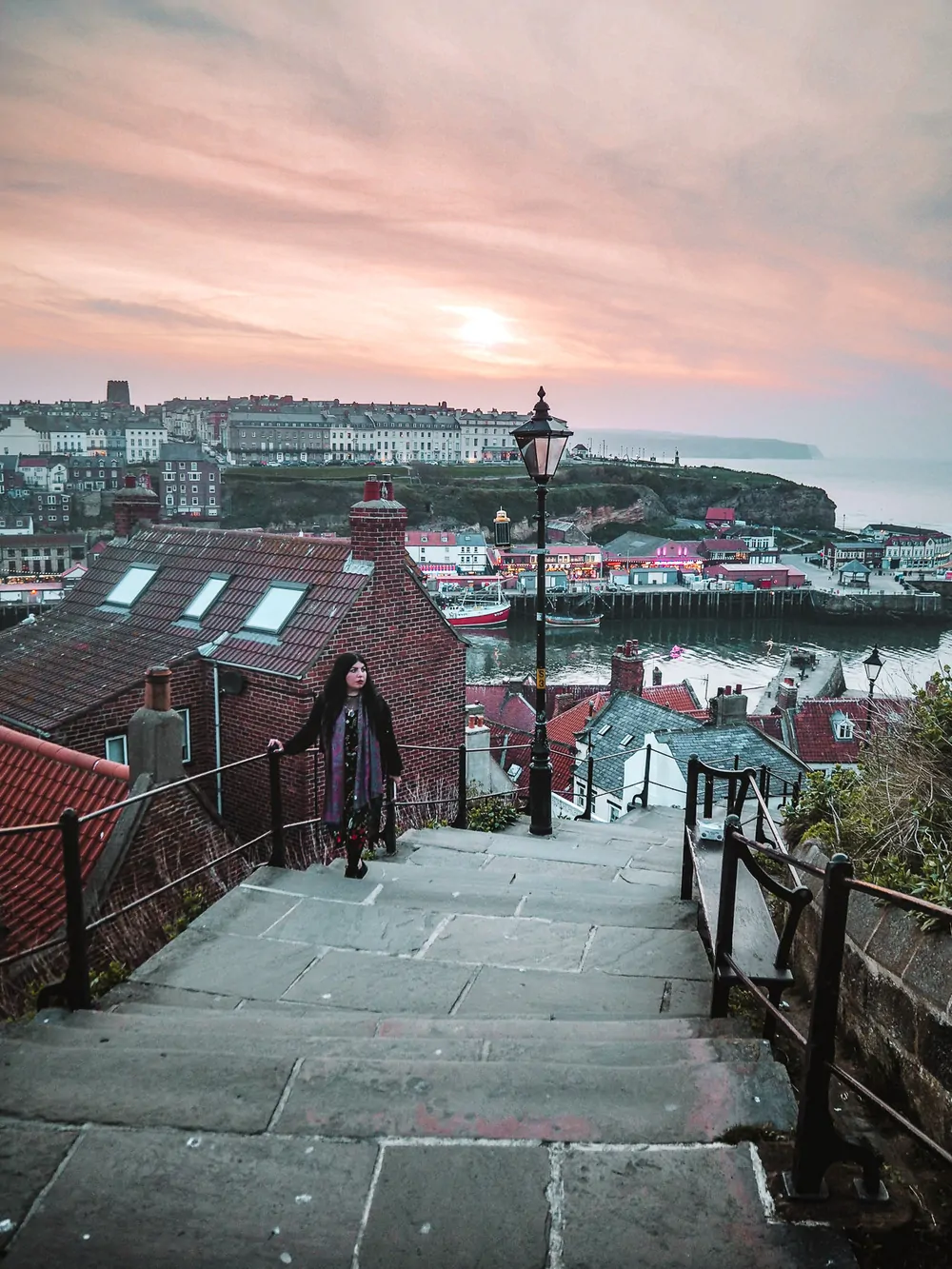 But, as you're so high up on the clifftop, there are some incredible landscapes you can get from here too. Mostly of the harbour below and the hotchpotch of houses on the other side of the river bank.
I actually visited the 199 steps three times while I was in Whitby – although my legs were not happy about it! Once during the day, once at sunset, and then by nightfall.
It's hard to choose, but I'd definitely say I preferred the views at sunset and by night. I had a blood-red sky the night I visited which was perfect for setting the Dracula scene.
If you are patient with a tripod and can stand the cold, taking photos of these steps at night is also one for the list.
The soft glow of the lamplight, the indigo starry sky, and the endless views together are spectacular.
4. St Mary's Church
Just above the 199 steps is the atmospheric St Mary's Church and graveyard.
It's been an Anglican religious site since the 1100s but the building we see today was built in the 18th century. It's now Grade I listed which means it's of significant importance.
But, many people visit the graveyard today for an entirely different reason. People believe that Dracula himself is buried on the grounds.
Although there is not a marked grave officially, visitors always love to explore and try and guess which one it is!
There are plenty of anonymous tombstones with skulls and so it leaves a lot to the imagination.
I visited this church at night time, on a full moon and it is devilishly spooky! I was totally in my element but it's not for the faint-hearted.
In terms of a Whitby photography spot, you can't get much better than this. There is so much texture from the church, to the gravestones and the views of the red roofs and ocean below!
It's a winner at any time of the day. But if you visit at sunrise with the early morning mist rising, it transforms into something from a horror movie. Ugh, I love it!
5. Church Street
If you're heading back down the 199 steps, you'll arrive at the quaint cobbled lane of Church Street.
It's Whitby's finest street and as cute as a button. There is a great range of historic buildings along here that all make a picture-perfect street scene.
You'll find so many pubs, cafés and independent boutiques selling just about anything!
There are chocolate shops, antiques, sweets, and jewellery shops selling the famous Whitby Jet stone.
It is a bit of a bottleneck as it's so narrow. Plus, it's often teeming with people as it is the only way to get up to Whitby Abbey from the harbour and town.
So, if you visit on a bank holiday or the famous Goth Weekend prepare for it to be packed to the rafters all day long.
I would personally make this one your priority in the early hours or after sunset to avoid it being too busy – unless you want to take pictures of people, of course!
6. The Whitby Whalebone Arch
This location on the West Cliff goes up there with the 199 steps in terms of incredible landscape photography spots.
As wells as the Whitby Whalebone Arch being stunning to look at. The bones will frame the scene and make a postcard-worthy view of Whitby Abbey and St Mary's Church.
This is the iconic scene that first inspired Bram Stoker to write Dracula and you can easily see why.
Bram Stoker then continued to live in Whitby for six years and he was known to walk this way on the headland.
There is now a Bram Stoker memorial seat dedicated to him up here on the Khyber Pass.
This is one of the most Instagrammable places in Whitby and, as such, many photographers arrive here at sunset.
I had to wait for an age to get that photo below. But, patience is key and the perseverance eventually paid off!
It may be another location to add to the sunrise photography mission if you don't want to wait.
7. The view from the New Bridge on A171
Before I arrived in Whitby, I kept seeing this iconic view of the estuary and harbour from the River Esk.
It's the photo you'll see on all the postcards and travel guides. But, I had absolutely no idea where to find it!
It was only when I took an open-top bus tour of Whitby that I discovered that this view can be found over a bridge on the A171 road.
I actually got lucky and managed to take a steady photo of the view from the bus tour as we drove by. It doesn't stop but I just pressed down on my shutter and held it to try and get something!
However, if you did want to visit and take some photos, you only need to walk towards the New Bridge on the A171 that heads over the River Esk to Whitby Abbey.
It's a gorgeous photo that captures the essence of Whitby. So, although it's a bit of a venture off course, it's well worth putting in the effort.
It's one of the most Instagrammable places in Whitby!
8. Whitby Harbour & Marina
So, we've spoken about all the stunning views that can be found on the clifftops. But, there are also some equally as pretty photography locations below by the sea!
Whitby Harbour is a fabulous inlet that joins the River Esk with the North Sea. It has a huge natural history that dates back thousands of years. But, what we see today is centuries of human intervention.
In the 1300s, this was the only harbour that could be accessed for miles in the area.
So, you'd find merchants from Northern Europe would all land here in the North in the hope of trading with Whitby Abbey.
Before it fell into ruin, this was one of the wealthiest religious sites in England.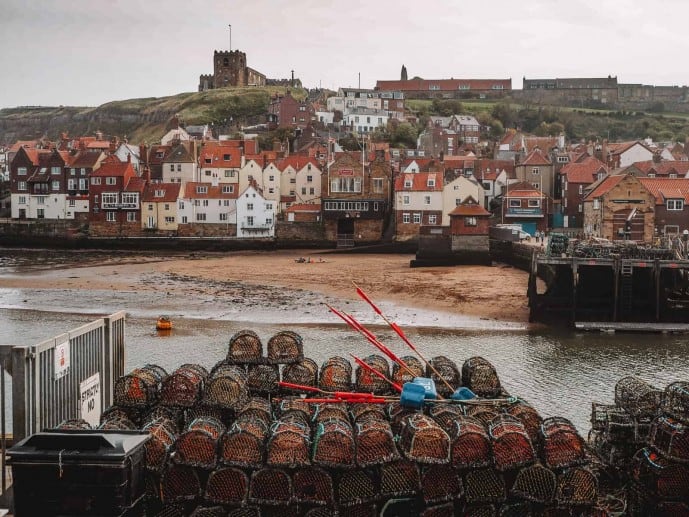 By the 1700s, Whitby Harbour reached its peak. They weren't just receiving boats, they were making them!
It was the second-largest producer of merchant ships after London! There were 14 shipyards and dry docks. Plus, many coastal cargo merchants would pull into port to trade with the Alum Shale mine.
Although Whitby no longer makes tall ships today, it is still a busy active harbour! So, you'll find plenty of boats docking up or making their way out to the sea.
From pleasure cruisers and yachts to merchant fishermen, there will be people using it all day. Plus, the seagulls that follow.
As well as the boats that line the harbour, there are plenty of amazing buildings that have been built surrounding it. You'll find traditional sailors pubs, Fish 'n' Chip shops, and traditional sweets. These all make a lovely photo.
Some of the best photography spots here can be found via the Swing-Bridge. This opens throughout the day to let boats through. But, there are also some beautiful views to be found from it as well
If you like to photograph boats in their numbers, I'd suggest walking over towards the Whitby Marina. You can fill your boots!
9. The Endeavour Experience boat trip
It's been over 250 years since Captain Cook first sailed out from Whitby on the Endeavour but the town still keeps his memory alive today.
Although I don't always agree with his actions in terms of sailing to the Pacific and spreading life-threatening diseases. There is no denying he was one of the great sailors of his time.
He moved to Whitby from Staithes to become a trainee with a local shipping firm in 1768. He eventually moved to Grape Lane with his master. This residence is now the Captain Cook memorial museum.
Whitby is where he learned his craft and both his 'Resolution' and 'Endeavour' ships were built right here in the town!
Of course, those ships are now long gone. But, you can experience a small piece of what life would have been like at sea with the Endeavour Experience.
It gives you the chance to sail around Whitby Harbour and it's a great photography opportunity too. You get some unique angles from the sea!
If you don't find you have very good sea legs, you can always take a picture of the tall ship sailing into the harbour. Also, a great photo!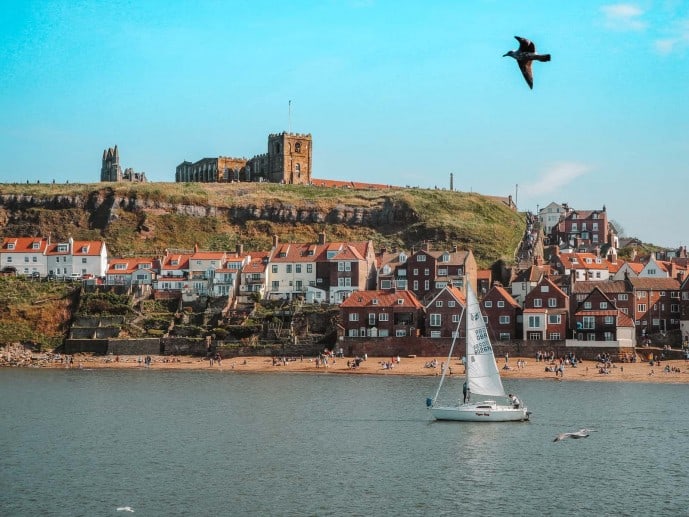 10. Whitby West Pier & Lighthouse
If you're tired of being in amongst the crowds on the streets of Whitby, I would always recommend heading out onto the West Pier & Lighthouse!
This is not to be confused with the Whitby Lighthouse on Ling Hill. This lighthouse was first lit in 1858 and is now automated by Trinity House.
From the West Pier, you can get some of the prettiest views of Whitby Abbey on the clifftops along with some of the boats heading in and out.
It can be quite windy out here so it's not the place for tripods unless you hold on tight!
The Whitby West pier and lighthouse do make some great photos from the ground.
However, if you're after a great view from above, I'd personally recommend heading inside the lighthouse and climbing to the very top.
It costs £1.50 per person and you'll get some amazing birds-eye views of the area. It's perfect for aerial photography – no drones required!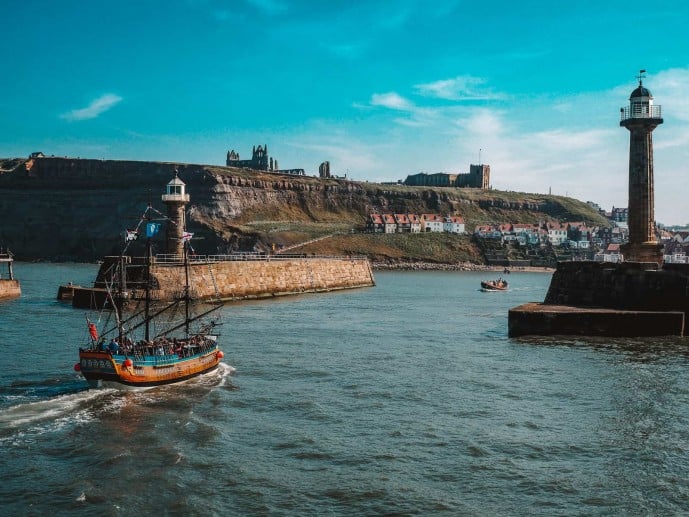 11. Sherlock Holmes Coffee Shop
If you're looking for an Instagrammable cafe in Whitby, you have to check out the incredible Sherlock Holmes Coffee Shop.
It's decorated head-to-toe in Victorian style and it has so many little nooks and crannies to hide into with a coffee.
I loved the decor in here. You'll find vintage lampshades, old-fashioned clocks, a hotchpotch of vintage photos and posters. Not to mention the Instagrammable cakes you can buy!
I had a Creme Egg Easter egg cheesecake while I was here which was not only delicious but also highly photogenic as well.
This is one of my favourite haunts when I visit Whitby. You can also take part in Escape Rooms and there are lodgings too.
As a lover of Arthur Conan Doyle and the myriad of TV and films about Sherlock – it's a fabulous place to be!
Click here to read my complete Sherlocks Coffee Shop review
12. Whitby Jet black ice cream from Trillo's!
Did you know that Whitby is famous for its Whitby Jet stone? It's formed naturally, over millions of years, in an organic way from fossilised wood.
It's extremely popular to buy here and you'll find plenty of shops that sell jewellery and precious objects made of this black stone.
But, a unique way that Trillo's of Whitby honour Whitby Jet is by making their own black ice creams to sink your teeth into!
I had been waiting to buy black ice cream for ages, so I was extremely happy that I finally got the chance.
As it had just been the Goth Weekend in Whitby, they ran out of black cones on my visit. But, I still absolutely loved chomping down on it.
It makes a great photo opportunity while you're here. Just watch that it doesn't drip on your clothes. I was covered in it!
Grab my FREE Instagrammable places in Whitby Map!
Click the photo below to download my Instagrammable places in Whitby Google Map. It's completely free.
This has every Whitby photography location pinned on it and you can use it on your phone whilst exploring the town;
The best place to stay in Whitby
If you're looking for somewhere unique to stay in Whitby, why not check into the UK's best gothic guesthouse – Bats & Broomsticks?!
This place is perfect if you're a fan of Dracula and they have some bespoke rooms for you to call home for the night.
Each room has a different theme and they are like works of art!
There is a Dracula room, with a vampire theme. Also, the Green Man room which has more of a Celtic vibe to it.
I absolutely loved my four-poster bed with cobwebs! I even had a view of Whitby Abbey on the headland.
The owners were super friendly and they cook up a smashing breakfast in the mornings. I would highly recommend them.
Where is Whitby in England & How to get to there?
Whitby is located in the North of England on the Yorkshire coast. It has two dramatic East and West coastal cliffs which are split by the River Esk.
It's encompassed by the North York Moors National Park and can be accessed on the North Yorkshire and Cleveland Heritage Coastal road;
How to get to Whitby by Car: If you're already on the Yorkshire coastline, you can follow the A171 road which leads you up to Whitby. From the South or the West, you can drive up the A64, then the A91, and finally the A171 to Whitby.
Trains to Whitby: Fortunately, Whitby has its own train station, so you can take a Northern Rail service and it will drop you right in the centre of town. Or, you can ride the scenic North York Moors Railway steam train too!
Read more of my Yorkshire posts
The best Dracula spots in Whitby
A complete guide for Robin Hood's Bay
Why you must visit Staithes in Yorkshire
The top Harry Potter spots in York
The top places to visit in Scarborough
The nation's favourite – Peasholm Park
A visitor guide for Scarborough Castle
How to visit the Fountains Abbey Witcher filming location
Brontë Waterfall walk – Wuthering Heights inspiration!
The best things to do in Haworth Brontë Village
Magical Things to do at Mother Shipton's Cave
Save the most Instagrammable places in Whitby for later!