I may be a little bit late to the party, but I am well and truly obsessed with The Last Kingdom series on Netflix based on the popular Saxon Stories novels by Bernard Cornwell!
If you're also new to these stories, then the plot surrounds the history of Anglo-Saxon England, in the time of King Alfred the Great and stars Uhtred of Bebbanburg.
Uhtred was born a Saxon lord but he ends up being captured and adopted by the Danes as a child!
So, he has a bloodline in Northumbria but all the strength and knowledge of a Danish Viking. Which causes quite a few complications in the series as he pledges allegiance to both sides who are at war with each other.
Many fans of the novels and the TV series often wonder, is Bebbanburg a real place? And was Uhtred a real person?
Well, Last Kingdom Fans will be pleased to know you can actually visit Uhtred's Bebbanburg in the UK!
Here's a complete guide to Bamburgh in Northumberland for Last Kingdom fans.
**Warning: If you don't want to see any spoilers, then look away now. However, I will only be discussing all 5 series (10 books) made so far!**
What is Bebbanburg in The Last Kingdom?
Die hard fans of The Last Kingdom will need no introduction to Bebbanburg. But, if you've never heard of it, I'll briefly summarise.
You really can't understand the storyline without the backstory of Uhtred's home and how this all came about. So, let's go back to the beginning!
Bebbanburg is a settlement in the Anglo-Saxon Kingdom of Northumbria. During the start of The Last Kingdom series, it's controlled by Ealdorman Uhtred. He has two sons, Uhtred the Elder and Osbert who is 10 years old.
On seeing Viking Longships on the shores, the Ealdorman sends out his eldest son Uhtred to scout the ships. A while later, a Viking called Earl Ragnar returns riding Uhtred's horse. He delivers Uhtred's head!
This makes Osbert the new Uhtred and he is baptised again and given the new name, Uhtred son of Uhtred.
Later, a bloody battle ensues near Eoferwic (York). The Viking shield walls mean that the English quickly lose and are slaughtered.
Ealdorman Uhtred is killed in battle. This makes his only living son and heir, Uhtred, the new Ealdorman of Bebbanburg.
However, Uhtred's Uncle Ælfric orders for Uhtred to be killed so he can control Bebbanburg himself.
As fate would have it, Uhtred escapes the fort where he is meant to be hiding and tries to attack Earl Ragnar himself to avenge his father. But, he fails and instead, he is captured by the Danes as a slave!
When his Uncle learns that he's alive, he tries to get Uhtred back from the Danes with a mind to kill him. But, Father Beocca warns of Ælfric's plan and Uhtred is bought by Earl Ragnar.
Bebbanburg is then controlled by his Uncle who becomes the new Ealdorman.
Meanwhile, Uhtred is stripped of his birthright by his uncle's treachery and lives amongst the Danes.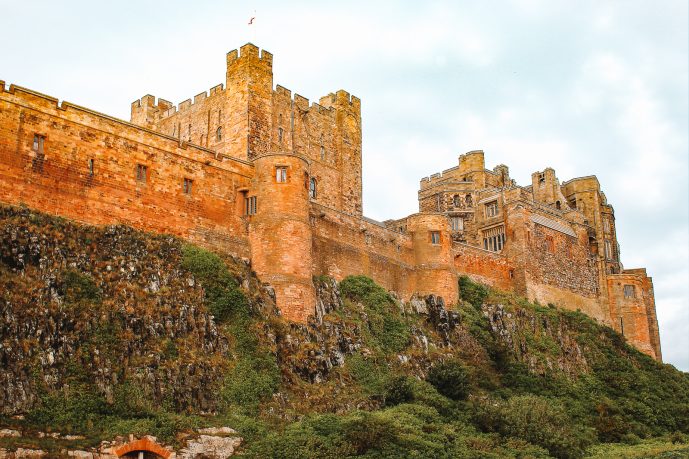 Who is Uhtred of Bebbanburg in The Last Kingdom?
Uhtred is many things throughout the series of The Last Kingdom!
First, he is Osbert. Then, he becomes Uhtred of Bebbanburg and eventually Ealdorman. Who is a Saxon and Christian.
Then, when he is brought up by the Danes he is known as Uhtred Ragnarsson and is Pagan, following the Norse Gods. He trains amongst his new Danish family to be a great Viking warrior and is finally seen as a son to Earl Ragnar!
Later, once his Danish family are attacked he runs away to take Bebbanburg back. But, ends up landing in the court of King Alfred and becomes a warrior for him. He then takes the name of Uhtred of Bebbanburg again.
As he has both a bloodline in Northumbria and the fighting skills of a Viking, he becomes an indispensable ally to King Alfred and the Saxons. But, that doesn't mean he is always loyal. Throughout the series, he's constantly switching sides!
However, if there is one cause that he is always loyal to throughout the series, it's trying to get his birthright of Bebbanburg back!
Is Uhtred based on a real person?
Although Uhtred is a fictional protagonist in The Last Kingdom, there was in fact a real Uhtred of Bebbanburg during Saxon England.
His name was 'Uhtred the Bold' and he ended up becoming an Ealdorman of all Northumbria!
He was born of an ancient family who were the Ealdorman of Bamburgh and ruled on the Northumberland Coast.
Just like in the Last Kingdom, Uhtred the Bold really did fight off a Scottish invasion that took place at Bamburgh Fort. There were also heads of enemies mounted there as well. Plus, he became the most trusted warrior for King Ethelred The Unready.
Bernard Cornwell was also inspired to write the Saxon Stories when he found out that he was a direct descendant of Uthred the Bold.
So, despite what Alfred said, people will remember Uhtred after all!
However, Uhtred the Bold fought and died in the 11th century, years after Alfred the Great. The Last Kingdom is set in the 9th century.
Although the stories do reference real historical events and characters, the overarching plot in the series is entirely fictional.
Is Bebbanburg a real place? What is Bebbanburg today?
Yes! Last Kingdom fans will be glad to know that Bebbanburg is a real place and you can follow in the footsteps of Uhtred if you wanted to!
Although the Saxon Kingdom of Northumbria has long since fallen, you can find Uhtred's precious Bebbanburg in the county of Northumberland in England today.
The village is called Bamburgh on the Northumberland coastline, Bebbanburg being the old Saxon word for Bambugh. There is even a pretty impressive castle to visit while you're here too!
The whole area will take you right back and through the chapters of the Saxon Stories. It's a must for any Last Kingdom fan.
Did The Last Kingdom film at Bamburgh?
Yes they did, however it was a very small feature indeed.
The production team filmed a pretty impressive battle scene in a quiet beach area of Bamburgh coastline near the Golf Club.
Unfortunately for fans Alexander Dreymon, who plays Uhtred in the series, he was not in attendance.
They were reported to be there for an entire day but the scenes only featured for around two minutes in the series! The castle, as it is today, also was not featured.
It may surprise you to know that hardly any of The Last Kingdom is actually filmed in England at all!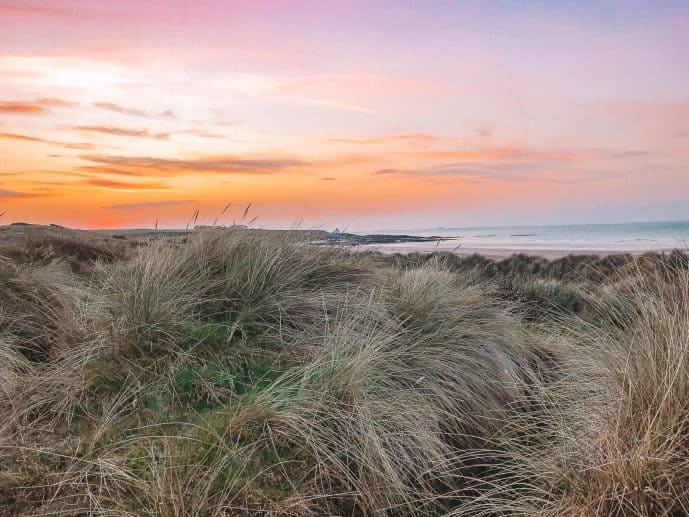 Where is The Last Kingdom filmed?
Although Bebbanburg in the Saxon Stories is based on Bamburgh in Northumberland. Hardly any of The Last Kingdom series was actually filmed there!
Pretty much all of the sets are built from scratch in Hungary and this is where most of the series is filmed as well.
However, the production team did use Bamburgh Castle as a prototype and inspiration.
They then rebuilt what Bamburgh Castle would have looked like as a Saxon Fort over in Hungary to film the TV Show! The scenes of the castle on the coast is some impressive CGI.
Although hardly any of the series was actually filmed in Bamburgh, It's still worth visiting today to take a look around and follow in Uhtred's footsteps.
Things to do in Uhtred's Bebbanburg or Bamburgh in Northumberland
1. Visit Bebbanburg Castle (Bamburgh Castle)
The main thing that tourists come to see is the impressive Bamburgh Castle that dominates the coastline.
Also nicknamed King of Castles, this fortress has a history spanning back thousands of years to 10,000 BC!
A Saxon fort would have definitely been around at the time of King Alfred the Great and ties in with Uhtred's Bebbanburg Castle.
This would have also been where the real Uhtred the Bold ruled out of in the 11th century.
However, it won't look exactly the same as it does in The Last Kingdom.
Bamburgh Castle has undergone many transformations over the centuries and has even been involved in famous battles like the War of the Roses!
What we see today is a Romantic style building from the Victorian era. This is when Lord Armstrong bought the property in 1894 and transformed it into a family home.
It is still a privately owned castle today but it's open to visitors throughout the year. Inside, you can explore the huge complex including fortifications, state rooms, artillery and dungeons.
Click here for information on how to book castle tickets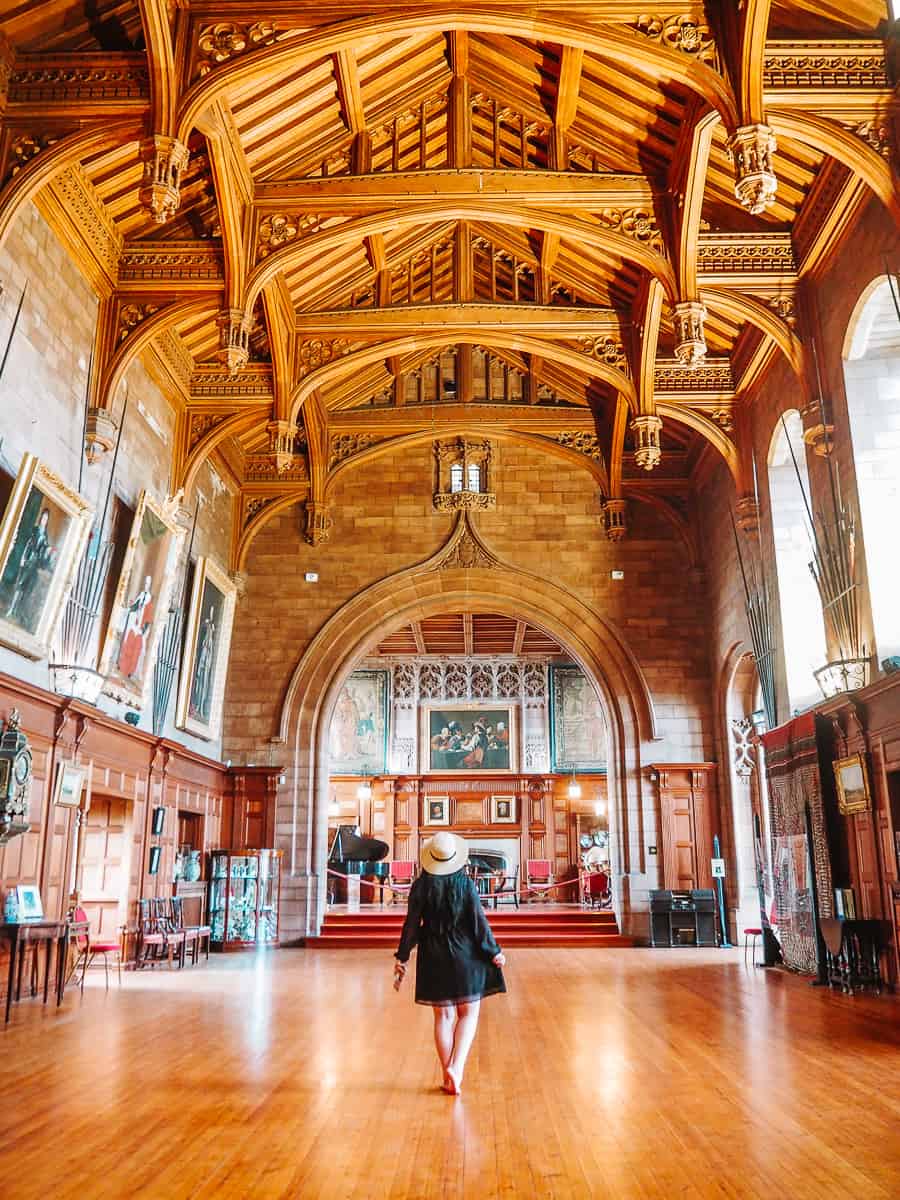 2. Take a stroll on Bamburgh dunes & beach
One of my absolute favourite things to do in Bamburgh is to take a walk along the spectacular coastline surrounding the castle.
It can be quite hard work to make your way over the dunes and onto the beach but it is so worth the effort!
From Bamburgh beach, you can get a really good look at the castle and it's dramatic position on the coastline.
You can just imagine Uthred and his men scouting out the fort from here and planning how to make an attack!
3. Explore Bamburgh Village
Although most tourists visiting Northumberland make a beeline for the castle and then leave, I would highly recommend sticking around and exploring what this quaint village has to offer!
It's not extensive by any means, but there are a few bits and pieces to do.
Although Bamburgh is famous for its castle, it's also known for the RNLI Grace Darling Museum.
Grace Darling is seen as Victorian Britain's greatest heroine. She saved the lives of nine sailors from the SS Forfarshire shipwreck in 1838. You can learn about her life and achievements in this popular exhibition.
In terms of tourist attractions, there is the Bamburgh Lighthouse and also St Aidan's Church.
You could watch a cricket match on the green outside the castle, This is quite popular and anyone is welcome to have a look at what's going on!
Or, if you fancied a pick me up, there is a lovely café called The Copper Kettle Tea Rooms that can be found a bit further up the High Street.
Inside they do a great coffee, some cakes to indulge in or light lunches. It's much quieter and cosier than the castle café on busy days.
Where is Bamburgh located in the UK & How to get there?
Bamburgh is in the North East side of the United Kingdom in the county of Northumberland.
It's located in the heart of the Northumberland Coast which is an Area of Outstanding Natural Beauty (AONB). It's halfway between both Berwick upon Tweed and Alnwick.
The easiest way to travel to Bamburgh is by car. You can take the coastal route using the A1 and turn off on the B1341 Road from Seahouses.
If driving is not an option, there is no direct train Bamburgh, you must alight at either Alnmouth or Berwick-on-Tweed. From here, take an Arriva or Travelsure bus service to the village.
Bamburgh parking
There are a number of free parking spaces located on the roadsides of the village.
But, there is also a Castle Car Park that charges £3 for all day parking.
Plus, some pay & display beach car parks at either end of Bamburgh Beach.
Even more Last Kingdom locations in Northumberland
If you're on the Saxon Stories trail and want to visit more places mentioned in the books, then there are plenty of locations that you can visit in Northumberland;
Bedehal / Beadnell
In Saxon times, the name Bedehal is thought to originate from the word 'Bedewine' or from 'Bede's Hal'. It's mentioned in the Saxon Stories as a Northumbrian settlement.
Today, Beadnell is a stunning village and sandy cove located in Northumberland. It's large and pristine coastline is a great area to get involved in surfing, kitesurfing and scuba diving.
At the end the coast is also a beautiful harbour where you can see the boats bobbing about in the bay!
It's the only West Facing harbour on the East coast and is home to a set of gorgeous 18th Century Lime Kilns you can explore.
Farnea / Farne Islands
Another place mentioned in Bernard Cornwell's stories is Farnea or the Farne Islands!
These are an archipelago of 20 Islands that sit off the coast of Northumberland. In fact, you can see them from Bebbanburg or Bamburgh Coast!
Throughout time, these islands were inhabited by Celtic Christian hermits and monks. This includes both St Aidan and St Cuthbert who is mentioned many times in the Saxon Stories.
You can visit his 14th century Chapel on the Inner Farne Islands. I visited myself and it's beautiful.
Today, however, the Farne Islands are famous for being home to thousands of migratory birds.
Every year between April and July, it is estimated that around 150,000 seabirds dive on these islands for mating and included in that are around 43,000 pairs of puffins!
As well as seabirds, there is other wildlife including dolphins and grey seals. This is a big pupping site and every year around 2000 seal pups are born here in Autumn. Squeal!
Visiting the Farne Islands is possible by taking a boat ride from Seahouses. It's well worth it if you have good weather.
Click here for my complete guide to taking a boat trip to see the Farne Islands
Lindisfarena / Lindisfarne (Holy Island)
Lindisfarne has had a long history and is famous for being the first landings site of the Vikings when they came to raid England!
It's also the famous home of St Cuthbert who is mentioned in Cornwell's stories. He references the fictional journey of the body of St Cuthbert in the novels.
This echoes a true chapter of history where Uhtred the Bold helped transport the body of St Cuthbert from Lindisfarne to Durham Cathedral. His final resting place!
Today, Lindisfarne Island is one of the most magical places to visit in the UK. As a tidal island, you must drive over a causeway at low tide to get there.
Make sure you read the tide times before you visit.
Here, you can visit Lindisfarne Priory which was sacked by the Vikings and head over to the famous Lindisfarne Castle.
Or, why not pop inside St Aidan's Winery to try some traditional mead? You can buy your own Viking horn to drink it out of too!
Click here to read my complete guide for visiting Holy Island!
The Last Kingdom Q&A
Is The Last Kingdom based on real people, places and events?
The Saxon Stories are inspired by and mention true events, however most of the overarching plot is fictional.
For example, King Alfred the Great was around in the 9th century and he did really run away to the Somerset marshes (plus he burned the cakes in the process)!
There was also a real Æthelred, Æthelflæd Lady of Mercia, Æthelstan, Cnut, Ragnar and many more characters who played a role in Anglo-Saxon history.
Also many of the battles that take place in the series are real (i.e. The Battle of Edington) as are the Saxon towns and cities mentioned in the Last Kingdom.
Click here to see where Alfred burned the cakes in Athelney!
Does Uhtred ever get Bebbanburg?!
YES, Arselings! In the final installment of the Last Kingdom series 5, Uthred FINALLY manages to secure his birthright and takes back Bebbanburg. With it, he promises a safe home for Saxon and Danes.
To do this, he makes a little bit of a shady deal with King Constantine which supersedes King Edward's control over Northumbria.
As you can imagine, Edward's not too happy about this and so the story of the Saxon Chronicles is far from over. In the books, there is lots more of Uthred's story to tell beyond Last Kingdom series 5.
To follow up, Netflix has started production on a new Last Kingdom movie called 'Seven Kings Must Die' which should be with us in a year or so!
ALL HAIL UTHRED, LORD OF BEBBANBURG.
Will the Last Kingdom have a season 5?
Yes, Netflix has now officially released The Last Kingdom series 5! So, you can now watch the rest of the story unfold.
Click here to watch the Last Kingdom on Netflix!
When is The Last Kingdom series 5 due to be released on Netflix?
It's finally here! You can now watch The Last Kingdom series 5 on Netflix now.
Will there be a Last Kingdom series 6?
Unfortunately, it's not planned for there to be a Last Kingdom series 6. But, the story is far from over!
They made a movie called 'Seven Kings Must Die'. It's a must watch and a great end to the series.
Read more of my Last Kingdom inspired & Northumberland articles!
How to visit Blast Beach, Last Kingdom filming location
How to visit the Farne Islands
A complete guide to Holy Island
Why you must try Lindisfarne Mead!
Dunstanbugh Castle walking guide
Harry Potter film locations at Alnwick Castle
Why you must visit Ford & Etal
Visiting the only poison garden in the world
How to see the Alnwick Cherry Blossom
Eating in the world's largest treehouse!
How to do the Steel Rigg to Sycamore Gap walk on Hadrian's Wall
Visit the magical Barter Books in Alnwick
Why you must visit Bamburgh Castle at Christmas
Save this Last Kingdom Bebbanburg location guide for later!