Did you know that there are two castles in Bavaria's Schwangau? Underneath the world-famous Neuschwanstein Castle, you'll find the equally stunning Hohenschwangau Castle.
This 'swan village' sees millions of tourists each year and most make a beeline to the fairytale Schloss Neuschwanstein and Marienbrücke Bridge.
But, I wouldn't leave without visiting the equally enchanting ochre keep of Schloss Hohenschwangau. The summer residence of King Maximilian II and the Bavarian royal family.
It was the childhood home of King Ludwig II and a place where he sought inspiration to build his legendary castles!
Here is a complete guide to Hohenschwangau and whether it's worth visiting.
Introducing Hohenschwangau Castle
As soon as you arrive in Schwangau, most people will be looking out for the towers of Neuschwanstein Castle to come into view on the mountainside.
But, what truly catches the eye is the magical ochre castle of Hohenschwangau that looks over the village.
This enchanting fortress can come as a surprise to many. Indeed, most tourists don't realise that there are actually two castles in this hamlet and this is the summer home of King Maximilian II.
Although this is now seen as 'Schwangau's second castle' due to it being far less famous than Schloss Neuschwanstein. You may be surprised to know that this Neo-Gothic keep was actually built first.
This was the childhood home of King Ludwig II. His holidays here would inspire him to create a fairytale castle that would capture the hearts of millions around the world.
Schloss Hohenschwangau history
Bavaria's oldest castle was called Schwanstein and was built in Schwangau (Swan District) in the 12th century.
It was a fortress of medieval Wilf knights and came into the possession of the Wittelsbachs in the 15th century.
In the 17th century, the Bavarian rulers used it as a hunting lodge until King Maximilian I sold it off in 1820.
His son, King Maximilian II bought it back in 1832 even though it was a ruin that was dilapidated.
He then commissioned a reconstruction of the castle into a Neo-Gothic fortress with several towers.
He wanted it to resemble a medieval knight's keep like the Wilfs used to own as he was fascinated by German and Bavarian legends.
It was renamed Hohenschwangau (The High District of the Swan) and later became the official summer residence of King Maximillian II, Queen Marie of Prussia, and their sons Ludwig and Otto.
Inside, there were over 90 wall paintings of legends including scenes from the tale Lohengrin, the Swan Knight.
This is something that would later inspire his son Ludwig to build Neuschwanstein Castle.
King Ludwig II
After Maximillian passed in 1864, Ludwig became king and inherited the castle. He moved into the King's Quarters.
Despite his dislike of her, his mother Marie was able to keep the Queen's apartments as Ludwig never married.
When Neuschwanstein was being built, Ludwig stayed here during its construction. He would monitor progress on the mountainside using a telescope.
Tragically, King Ludwig II's life was cut short at just 40 years old under highly mysterious circumstances. It is still something that is widely debated today.
After his advisors couldn't stop him from spending all his money on castles, they had him declared insane without examination.
They then deposed him from the throne on the 12th of June 1886. They were to take him into custody but the following day he was found dead in Lake Starnberg along with the therapist who diagnosed him.
His death was officially ruled as a suicide but there was no official investigation carried out to say otherwise. There is now a memorial cross laid at the site.
Many people dispute this ruling and think it was a coup and/or a murder plot by his advisors. One of the main people suspected was his Uncle Luitpold.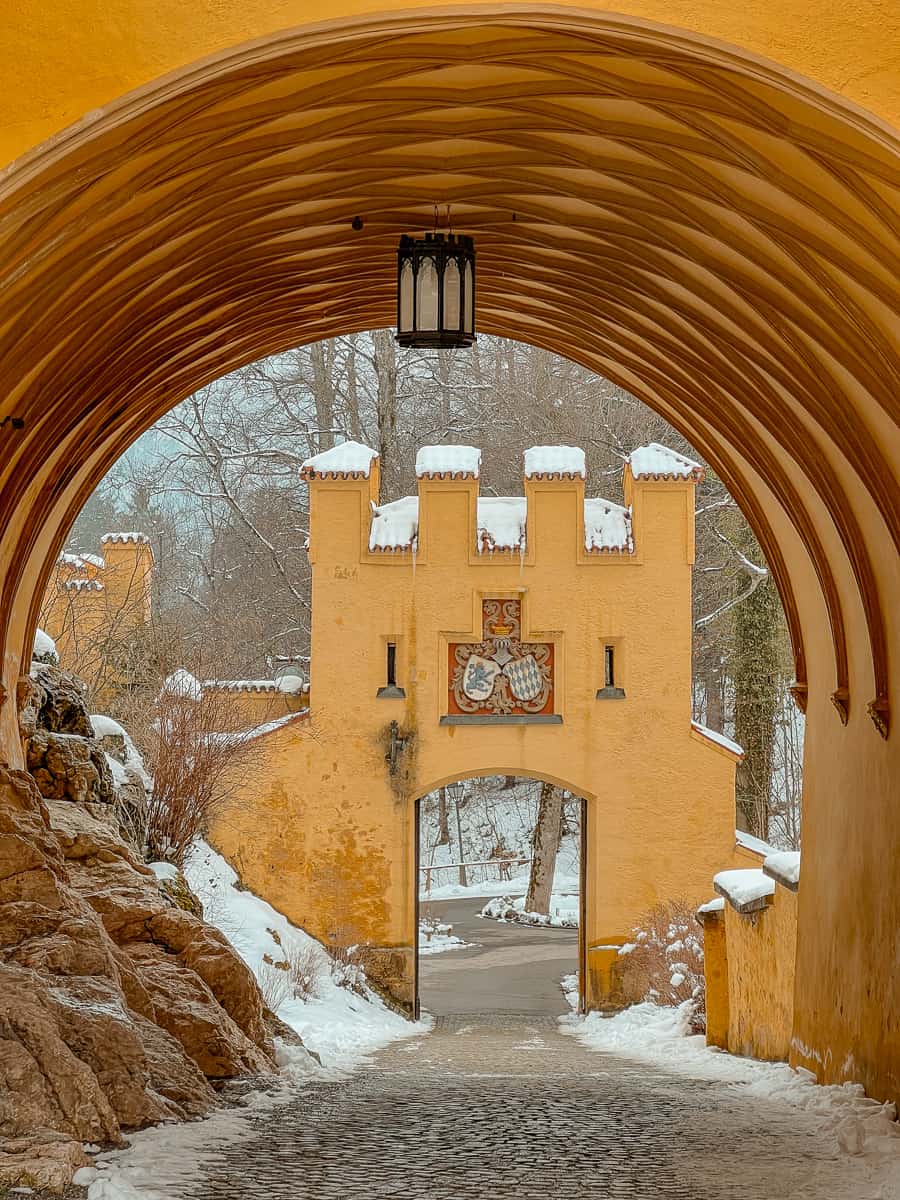 After Ludwig II and today
After Ludwig's death, his brother Otto succeeded the throne in 1886. But, he didn't actively rule due to an alleged severe mental illness. His uncle Luitpold served as a regent.
Queen Marie spent her summers at Hohenschwangau until her death in 1889.
After her passing, Prince Regent Luitpold took up residence and introduced electricity to the castle and an elevator.
He was later crowned King Ludwig III after he deposed Otto and was the last King of Bavaria. Despite the controversy, he was a well favoured monarch and popular with his people.
Fortunately, the castle suffered no damage during World War I and II. Today, it is still owned by the Dukes of Bavaria but it is open to the public as a museum.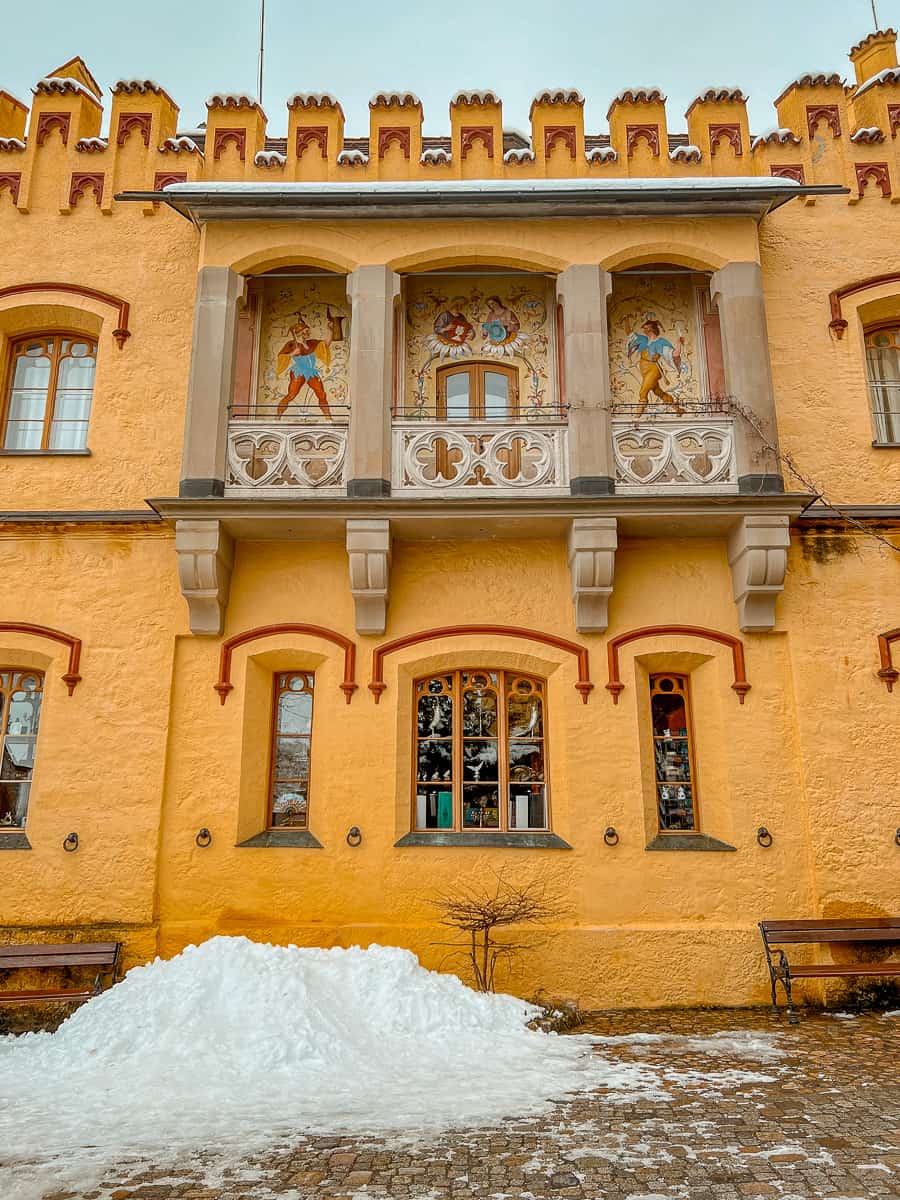 Highlights of Hohenschwangau Castle
Out of a million tourists that visit Neuschwanstein Castle each year only 300,000 visit Schloss Hohenschwangau.
It's a real shame as it's such an enchanting castle in Bavaria and one I feel you shouldn't miss.
Here are some of the amazing reasons why Hohenschwangau Castle is worth visiting on a trip to Schwangau.
You can enjoy the scenic views from the outer courtyard, take a guided tour of the stunning interiors, visit the gift shop, kitchens, and orangery chapel.
Note: You are not allowed to take photos inside the castle.
1. Spectacular views on the walk up
If you take the shorter 20-minute route from the Schwangau ticket office, you will traverse many steps on the scenic route up to the castle.
But, if you look back you can see some beautiful views of Neuschwanstein Castle above.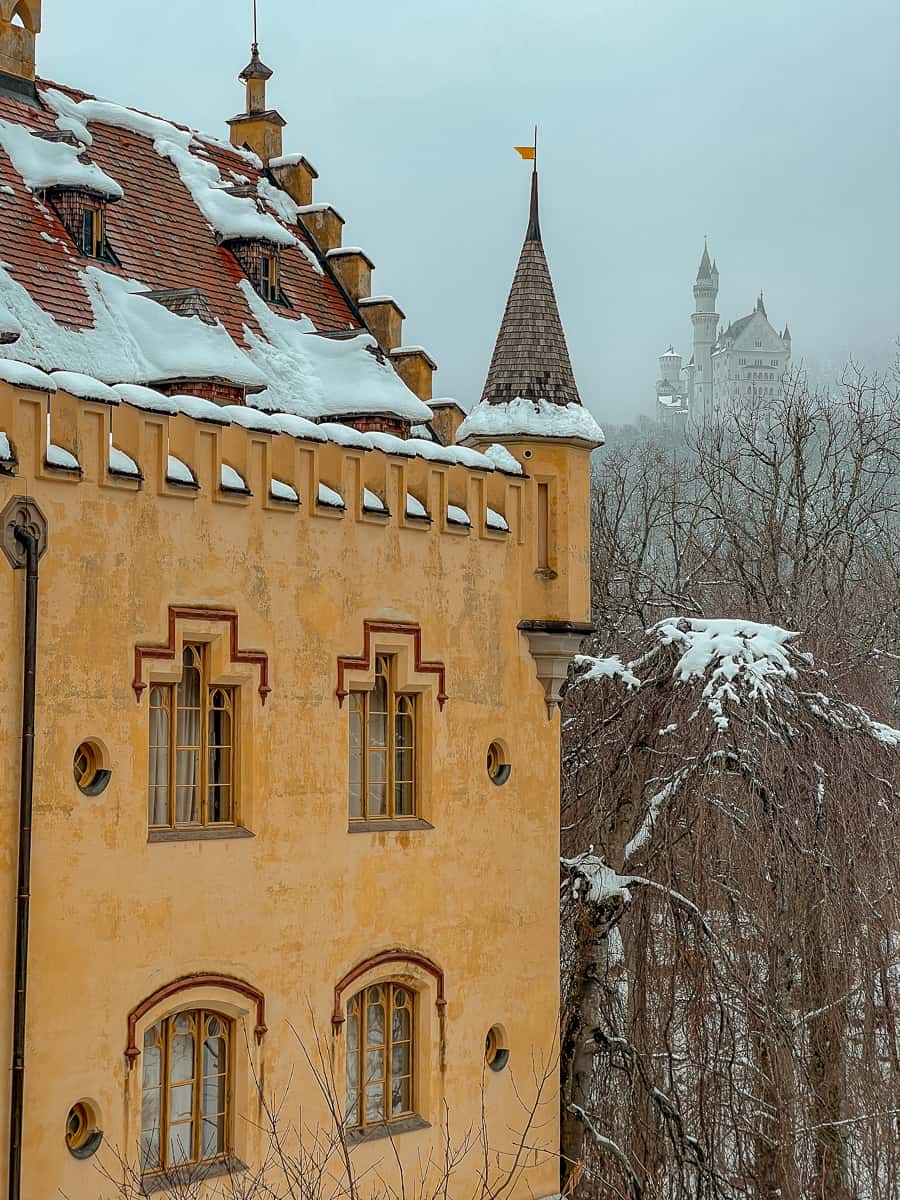 You'll meander through the woodland past the many yellow buildings that make up the fortress.
Certain viewpoints provide a beautiful view of the village. You can see Alpsee lake and the peaks in the distance.
You'll also pass the orangery building which has been turned into a chapel (more on that later).
2. The exterior courtyard & gardens
When you finally make it to the entrance of Hohenschwangau Castle, you'll enter a grand courtyard where you can get a closer look at the charming architecture.
It was built as a medieval keep in a Neo-Gothic style, so you'll find several round towers plus crenelated walls.
I loved all the old oil lamps found around here. As it was snowing it looked like a painting.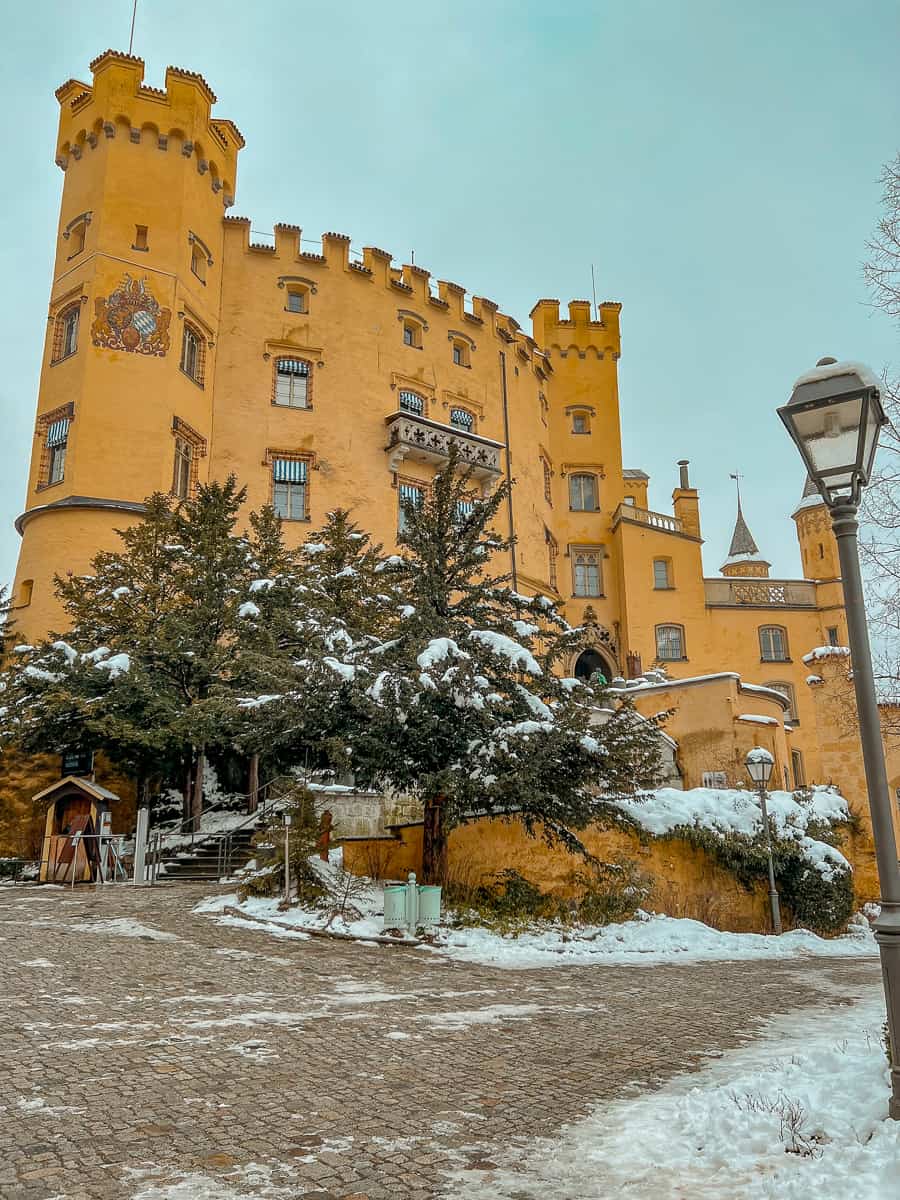 Look out for the small details and motifs found around here including the Wittlesbach Coat of Arms painted on the tallest tower.
There is also Queen Mary's fountain with the Virgin Mary and Jesus. The water is funneled through a lions mouth. In winter, some of this was covered up due to snow.
Related post – is visiting Neuschwanstein Castle in winter worth it?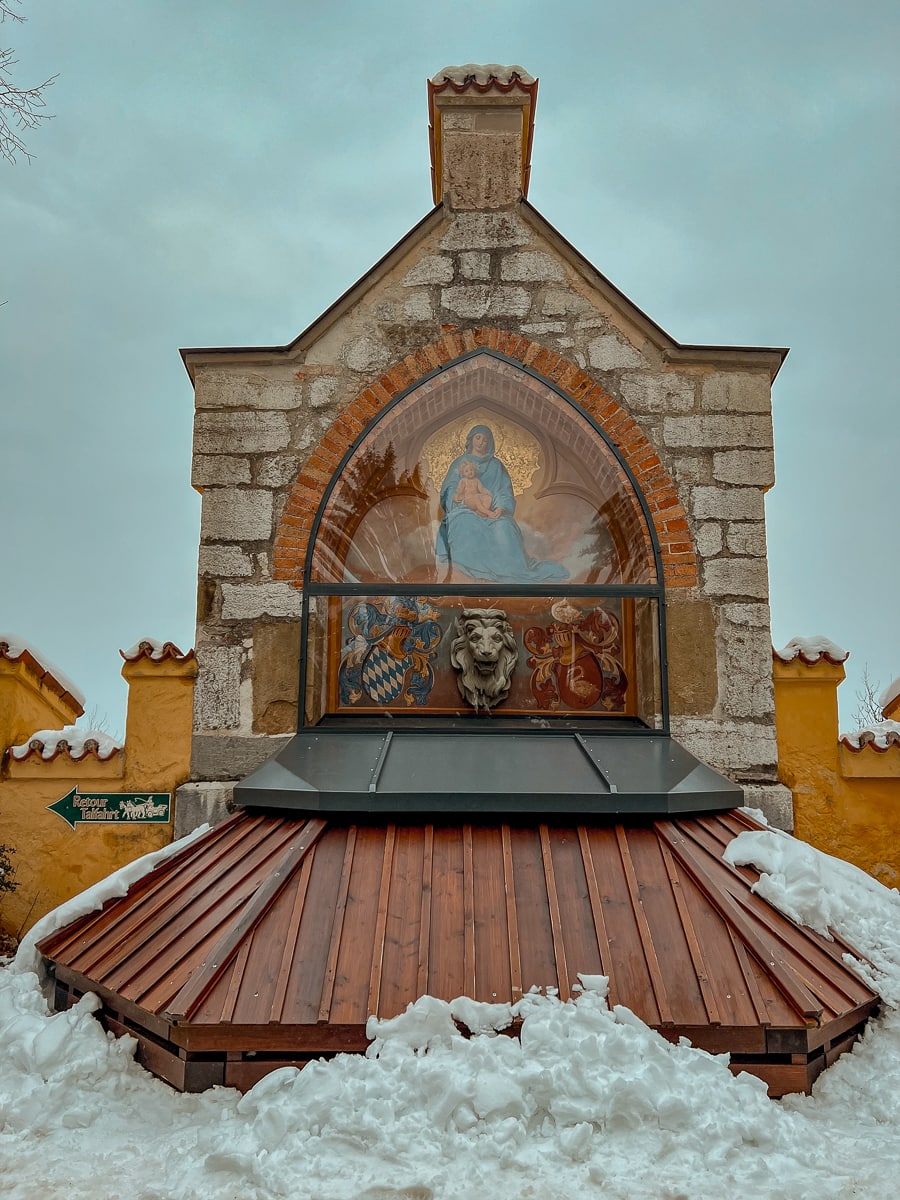 The building behind the main fortress is the gift shop but the upper balcony has a lovely mural of a medieval banquet.
You can usually find two swan fountains here in the castle gardens and a red bathing grotto too. Again, as it was winter, a lot was closed off.
3. Entry gate
From the courtyard, you can walk down to the original entry gate for the castle which would have been a route for horses and carriages.
I loved heading down this pathway as when you turn around you can really see how spectacular this fort is!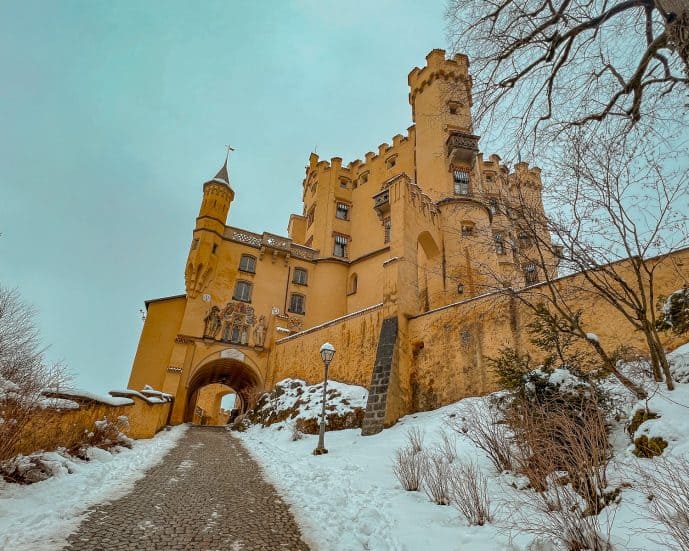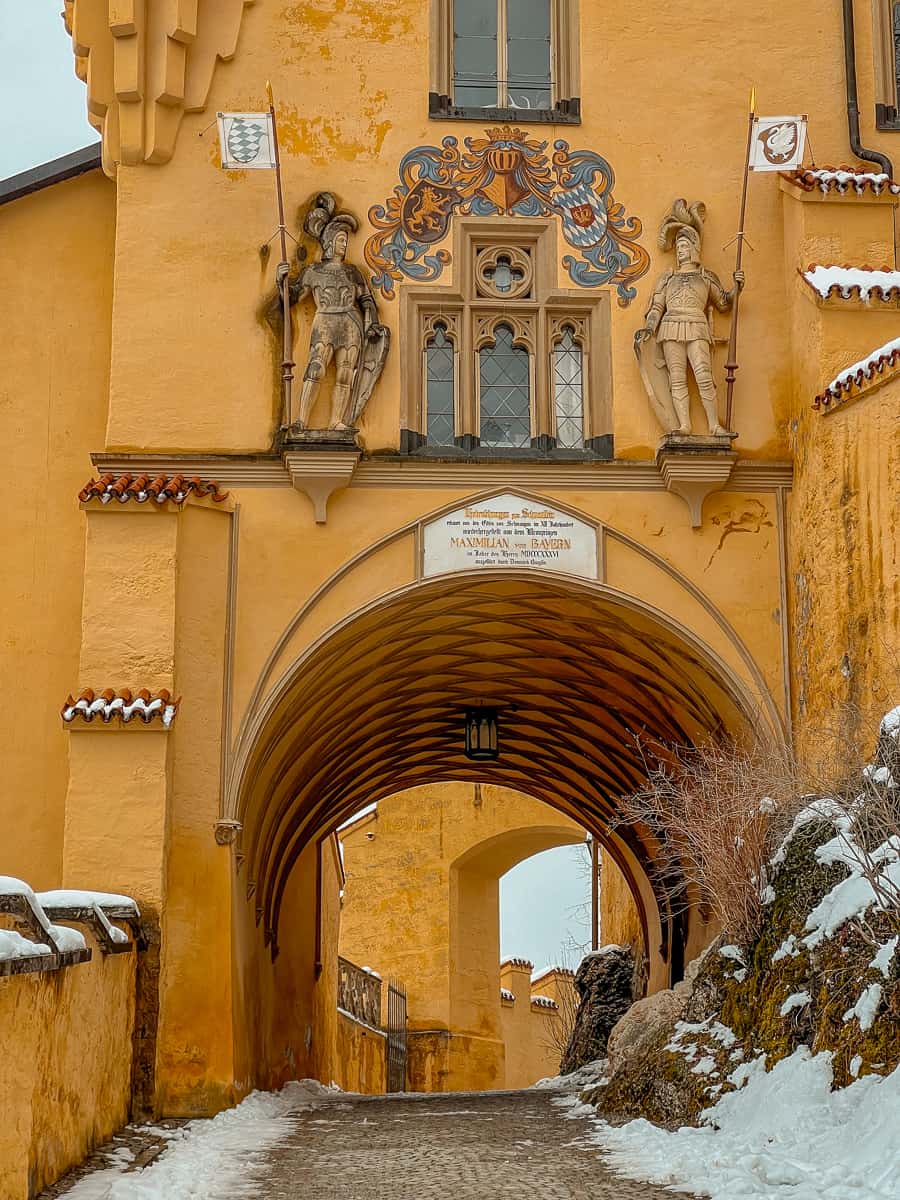 Look out for more beautiful details found around here like a colourful motif with two stone knights guarding the tower. One has a Wittelsbach flag and the other a swan.
As this castle is The High District of the Swan, you can also find little swan carvings at the bottom of the vaulted arches in the tunnel.
Rooms Inside Hohenschwangau Castle
Once your tour time is called on the TV screen, you can scan your barcode at the turnstile and then make your way up for your guided tour.
If you're doing the audio tour, each person is given an audio guide by the host.
In each room, the guide has a laser pen that he will shine on every gadget that activates the audio message. It's weird but it works!
Here are some of the wonderful room you can see inside Hohenschwangau Castle. I couldn't take photos but I'll try my best to describe them.
4. Hall of Heroes & Swan Knight
The Hall of Heroes and Knights is the banquet room of the castle and is the largest room that takes up the entire width of the fortress.
There were many murals painted here by Domenico Quaglio that portray the history of Germany and Bavaria. They also depict legends from the Wilkina saga like Dietrich Von Bern.
Some of the murals inside the castle tell the tale of Lohengrin, the legendary Swan Knight.
Seeing these paintings as a child is what inspired King Ludwig II to build Neuschwanstein Castle.
5. Oriental Room – Queen Marie's Bedroom
King Maximilian II visited Turkey in 1833 and was inspired by its architecture and culture.
So, he decided to design Queen Marie's room in a Moorish design now known as the Oriental Room.
It's painted in a cornflower blue with gold stars and it's very ornate. There are several portraits from Greece and Turkey from Maximilian's travels.
6. Schyren Room & Berchta Room
The Schyren Room used to be a dressing room for Queen Marie in her apartments.
Today, it has many family portraits of the marriage between King Maximillian and Marie of Prussia.
The Berchta Room was Queen Marie's writing room. There are lots of paintings of Charlemagne here as the Wittelsbachs believed they were his descendants.
7. Hohenstaufen Room – Music Room
The Music Room is where Richard Wagner played the piano for King Ludwig II in private.
Indeed, Ludwig was a big supporter of Wagner and became a patron of his work. He was again inspired to build Neuschwanstein Castle from his opera Lohengrin.
You can still find the square piano here today and it's made from a maple tree.
You can also see Ludwig's reading chair and the telescope where used to spy on construction of his new castle.
8. Tasso Room – Maximillian's Bedroom
The King's bedroom has a beautiful mural on the walls that depicts a story of during the First Crusade of the Knight Rinaldo and Armida.
It was inspired by a 16th century renaissance poem, Jerusalem Delivered, by Torquato Tasso.
Originally, Domenico Quaglio painted this scene with naked ladies swimming in the lake. But, King Maximilian II wanted the ladies covered up as he had young sons living in the castle.
They were restored to their original nude design in the 1960s. When Ludwig moved into the King's Chambers he created a starry sky on the ceiling with a swathe of crystals.
Around Schloss Hohenschwangau
9. Kitchen Museum & Gift Shop
Is it really a castle if you didn't exit through a gift shop? All jokes aside, I really loved the Hohenschwangau gift shop that had some lovely souvenirs to take home.
Beyond buying gifts, there is a free exhibition room at the back of the shop that is a reconstruction of the old kitchens.
You can see how meals were prepared for the royal family using a huge range of copper dishes and stoves. They also had original trays and a dinner service.
It's only small but it's free and gives you an insight into the other side of the palace beyond the fancy rooms. There were hundreds of servants that would keep this castle running seamlessly.
10. Orangery Hohenschwangau chapel
On your way back down to Schwangau, I would recommend checking out the small Hohenschwangau chapel.
It's called the Chapel Of Christ The King (Schlosskapelle Christkönig) and it is painted the same colour as the castle. That's because it used to be the former Orangery.
Today, it provides a place of worship and prayer for the people living and visiting here.
It is quite plain inside but the windows let in lots of light to this airy space. You can see the statue of the Virgin Mary inside and an 18th-century Tyrolean crucifix.
Entry is free and regular services are held at the chapel every Friday around 5/6 pm depending on the season.
How to visit Hohenschwangau Castle
Schloss Hohenschwangau is located on a hill above Schwangau village and is metres away from the famous Neuschwanstein Castle.
You can easily visit Schwangau from Munich. If you're not driving, regular trains run to Füssen daily and the journey takes around 2 hours.
It's then a short 10-minute bus ride to the village of Schwangau. Taxis will be available to hire from the station too.
Alternatively, you could take a guided tour from Munich to both Schwangau and Linderhof. Click here to book.
From the ticket office in Schwangau, you can access Hohenschwangau on a 20-30 minute scenic walk.
You can enter the courtyard surrounding Schloss Hohenschwangau for free. But, if you wanted to go inside you must book tickets for a guided tour.
Opening times & booking tickets for Schloss Hohenschwangau
Schloss Hohenschwangau is open every day of the year apart from the 24th, 25th, and 31st of December and the 1st of January.
Guided tours are provided in German, and English or you can choose an audio tour which has many different languages available.
In summer, the first tours start at 9 am until around 6 pm and in winter this is brought forward to 10 am and the last at 4 pm.
I would recommend booking tickets in advance to avoid disappointment. Although it doesn't see as many visitors as Neuschwanstein Castle it does sell out quickly.
You can book them online via the official website or queue at the visitor centre on the day. Tickets are 23.50 euro and 13.50 for children 6 – 17. 0 – 6 year olds are 2.50 euro.
At the time of writing, 'combo tickets' for both castles aren't available anymore.
How long is the walk to Hohenschwangau Castle?
There are two routes up to the castle from the ticket centre in Schwangau.
One takes 20 minutes and is a more direct route. This is steeper and has many steps.
The other is a more scenic route that takes you around 30 minutes and is more of a gradual incline without steps.
The longer route takes you by Alpsee, through the woodland, and then up to the castle through the old entry gate.
I personally loved the steps route as you get panoramic views of Neuschwanstein Castle on the way up.
Alternatively, there are carriage rides provided in summer for those who cannot walk or would rather not. These are provided at an extra cost and tickets are cash only.
Is Hohenschwangau worth a visit?
YES, this gorgeous castle is well worth a visit on a trip to Neuschwanstein Castle.
It was the childhood home of King Ludwig II and a place that inspired him to build his enchanting castles.
Even if you don't choose to go inside the castle itself on a guided tour, the exterior courtyard is beautiful and free to visit.
From up here, you get incredible views over Schwangau, Alpsee, and Neuschwanstein Castle.
It was one of my favourite places I visited in Germany as it's such a beautiful fairytale fortress in Bavaria.
I wouldn't skip it and you definitely won't regret visiting!
How long does it take to see Hohenschwangau Castle?
A guided tour of Hohenschwangau Castle will take you around 30-45 minutes.
If you're planning on visiting both Neuschwanstein Castle and Hohenschwangau Castle on the same day you will need at least 2.5 hours in between visits.
This is because Neuschwanstein Castle is high up on a hillside and takes lots of time to walk up and down and/or take public transport.
Queues for buses/carriages can be extremely long so you want to leave a contingency to reach Hohenschwangau in time for your guided tour.
You also don't have to visit the castles in any particular order.
My top tips for visiting
The courtyard is stunning – even if you don't go inside I would urge you to explore the outer courtyard. It's free and spectacular.
No photography inside – you're not allowed to capture any images inside the castle. You can outside.
Leave enough time – Walking up to Hohenschwangau takes time as it's high up on a hill. In summer, there are often carriage rides that you can take up the hill at an extra cost.
Book in advance – Although not as popular as Neuschwanstein Castle, tours of this castle still sell out. Book tickets at least a few days in advance online.
It's not dog-friendly – no dogs are allowed inside the castle.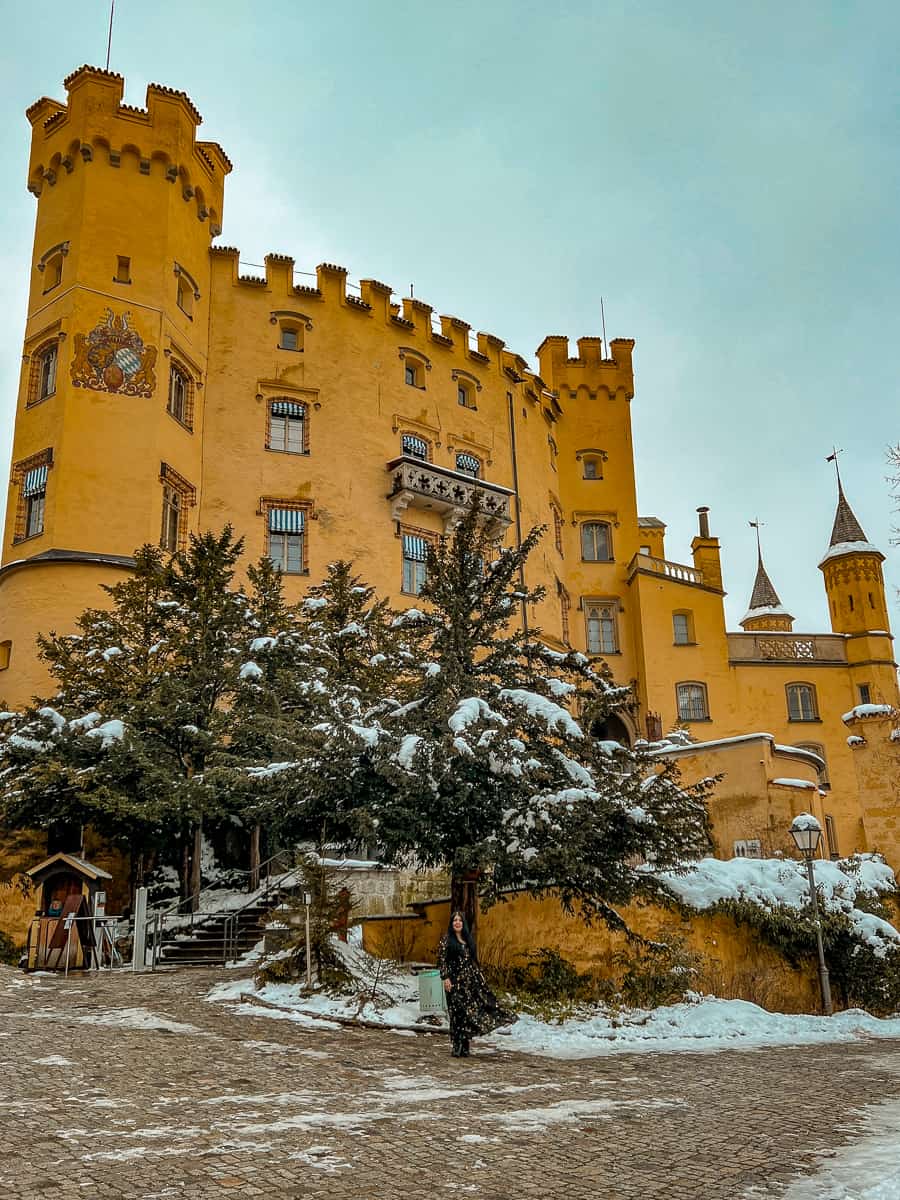 Where to next in Schwangau?
Most people head to Schwangau to visit the majestic Neuschwanstein Castle, a fairytale fortress in Bavaria.
It was King Ludwig II's masterpiece that is now one of the most famous castles in the entire world.
It has inspired millions since its construction including famous figures like Walt Disney who used it for Sleeping Beauty's Castle.
Even if you don't plan to take a tour inside the castle, exploring the castle grounds is still worth doing.
You can visit the viewing platform, have a hot chocolate at the gift stand, and then take a walk over to the Marienbruke Bridge to see the iconic view.
Read next – Is it worth going inside Neuschwanstein Castle?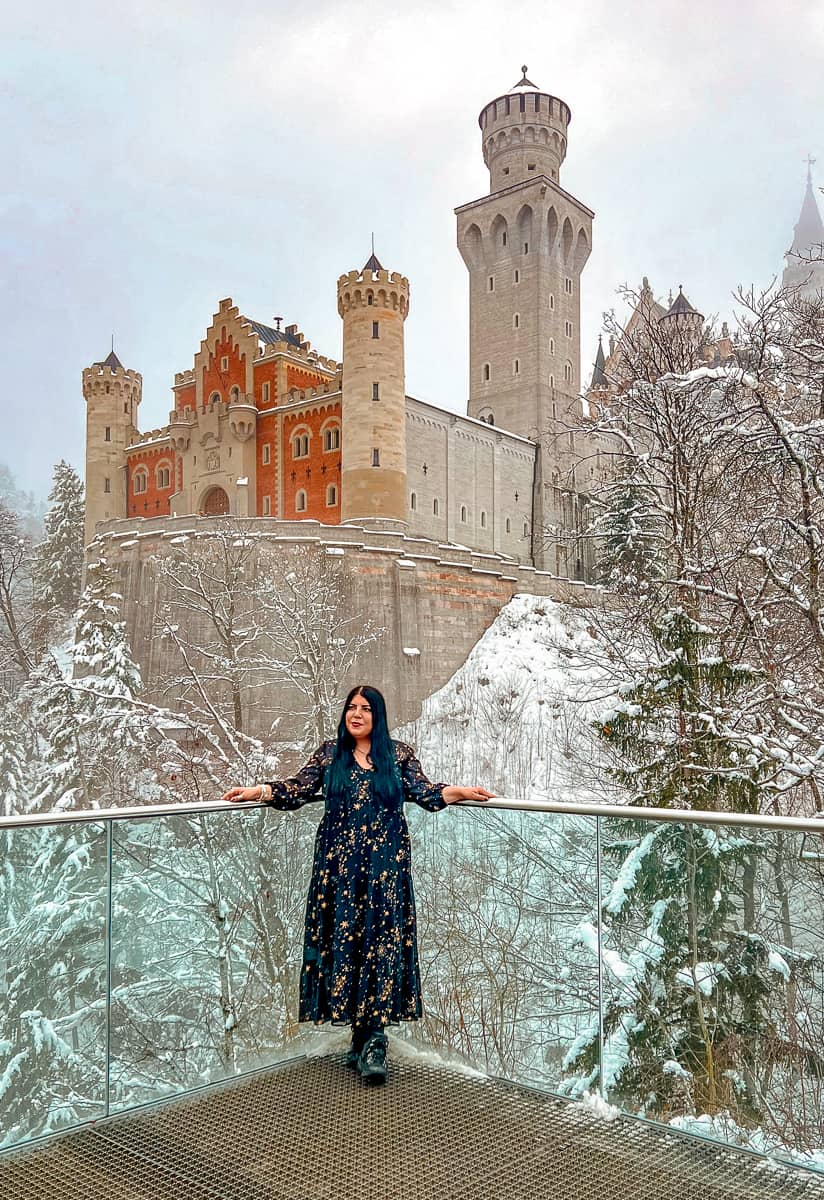 In Schwangau below, there is another attraction called the Museum of the Bavarian Kings. This doesn't have a specific entry time but you do need to buy a ticket.
I would also recommend visiting Lake Alpsee nearby. There is a path that loops around the lake and it beautifully reflects the mountains and scenery in this area. You can also see some resident swans who make a home here!
Schwangau has a few shops and restaurants. Plus, there are lots of walks to Pöllat Gorge and waterfalls.
There is even a Tegelberg Cable Car a few kilometres away that takes you higher up in the mountains. You could honestly spend a few days in this area and not see everything.
Where to eat near Hohenschwangau
The area beneath Neuschwanstein Castle has a few restaurants to choose from but my favourite was Schloss Bräustüberl Hohenschwangau.
It's an incredible tavern that serves up traditional Bavarian dishes and beer throughout the day and evening. It has a laid-back vibe compared to the fancy hotel restaurants.
As it was winter and I was craving comfort food I ate here a couple of times and every time the service and food were spectacular.
Their fried apple doughnuts were delectable, I still think about these on a semi-regular basis.
It's in a beautiful location opposite Hohenschwangau and next to the Museum of the Bavarian Kings. So, it's the ideal place to eat on a visit to Neuschwanstein Castle.
They also had these really cool beer mats with King Ludwig's portraits on them. I collect them on my travels so it was nice to add these royal pieces to my collection!
Where to stay near Hohenschwangau Castle
Most people travel to Neuschwanstein Castle from either Munich or Füssen. But, did you know you can actually stay in Schwangau itself?
As it was my birthday, I treated myself to a wonderful stay at AMERON Neuschwanstein Alpsee Resort & Spa.
My luxurious room was so comfortable and had a spectacular view of Hohenschwangau Castle from my window!
There was even a little sofa to relax on there to enjoy the views with a cuppa. The perfect little book nook.
The resort was wonderful with a Ludwig Bar & Restaurant. They had a huge buffet breakfast in the mornings.
There was also a heated swimming pool, steam room and sauna as well as treatments you could pay for.
Waking up to these views each day made my first trip to Neuschwanstein Castle really special.
Click here to book your stay at Ameron Hotel
Read more of my Germany travel guides
How to visit the magical Munich Law Library
How to visit the hidden gem Justizpalast Munich
The baroque hidden gem of Asamkirche
Discover Nymphenburg Palace in Munich
Magical Plönlein in Rothenburg ob der Tauber
How to visit Wiblingen Abbey Library
Save Hohenschwangau Castle for later!